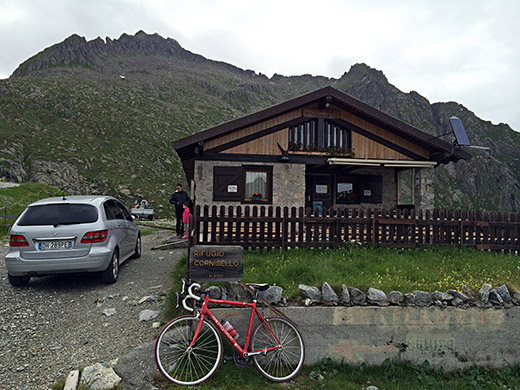 This day started with me waking up to thunder and rain. I sort of felt relaxed about that as I had no reason to hurry up then. Went up anyway to make sure I got breakfast and took my time. After breakfast I still had to wait more than an hour before it was possible to think about going outside.
I had thought about climbing a curious road to Malga Vacil (1810m) as it might be regarded as a pass (but is not really as far as I know). This had to be ruled out on this day and thus it was the direction of Madonna di Campiglio for me. There was one climb on the way up there and the clearly highest asphalted climb of the area that I wanted to visit and as I had nothing much else extraordinary on my schedule for the day, I had to try that climb. Sometime after 11:00 I was on my way down the wet road to Tione di Trento (534m). From here it was thankfully only uphill as I hate to ride down in wet weather. It is a very slow rising road up to Pinzolo (780m), but then the climbing starts and it was now almost dry.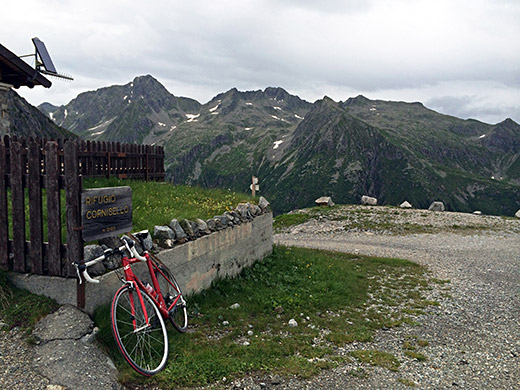 Just before reaching S. Antonio di Mavignola (1123m) a road takes off the main road up to Rifugio Cornisello (2125m). This road soon becomes pretty steep, but it was well asphalted and newly so higher up. Asphalt ends at 2080m just below the rifugio, where an easy gravel road continues up to the rifugio.
Above I just arrived at the rifugio and next by here I am looking at where I came up.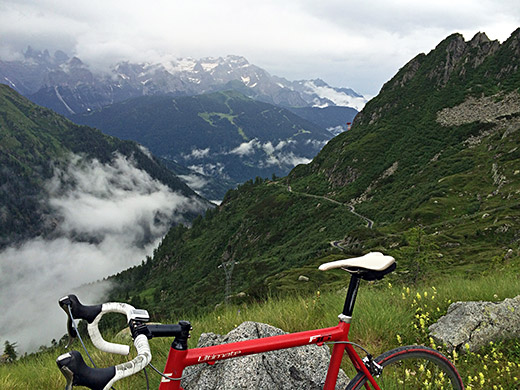 Took two photos here at the parking, but was a little slow or I could have gotten two nice goats into the photo too. The weather does not look very good, but I got up all the way without any rain.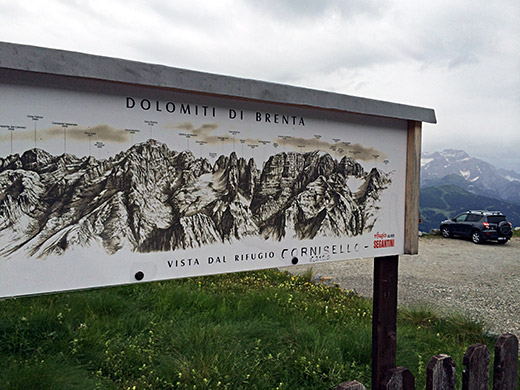 As I thought about whether to descend right away or go inside to have a coffee, some rain came here so decided to take a coffee and see how things went. There were two other guests (mountain bikers) also waiting a while for the worst rain to stop, but the weather did not attract a lot of people going to places like this on this day. (Some people left just as I arrived as you see in the first photo.) The rain just increased, so could not do much but wait it out. This was not a super day, but at least I got a bit more rest this day.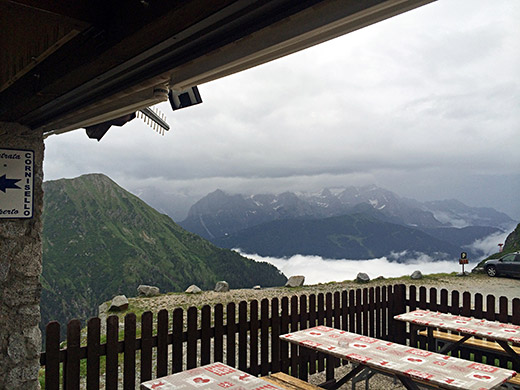 No day to sit outside. A rather humble little rifugio run by an older couple. I see on the time for the photos that I was not up here before 16:45 in the afternoon and guess I stopped for a coffee also in Pinzolo (after looking long for a good café there, which I doubt exists there). The photo here was taken as the rain eventually withdraw at around 18:30 in the evening and now I really had to go as this was not where I wanted to stay this night (not sure they had any beds anyway).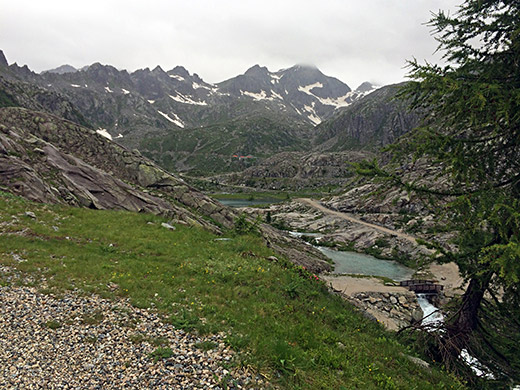 Here I look up the valley one climbs up here, where some gravel tracks continue higher. It was quite cold when I took this photo, I now remember. Been sitting still for too long and the rain had chilled down the area further.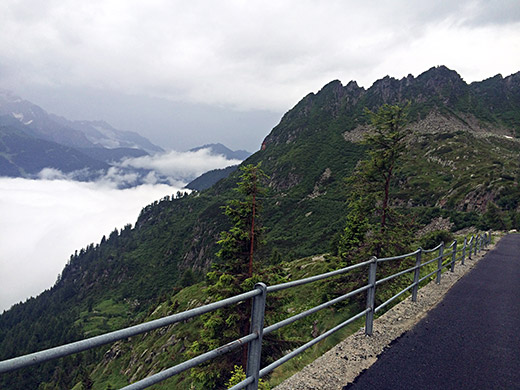 Here a photo of the nice last asphalted section contouring the mountainside over here from where the roads fork ahead behind the mountain right ahead. (The other fork continues asphalted for a while but does not go as high.)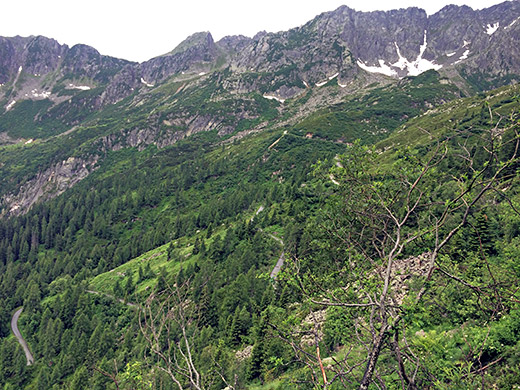 A final photo before the long descent showing the steep serpentines up through the wooded mountainside.
Now just as I got down the steep section and was close to the main road, I got a flat and was not really in the mood to fix it. The bicycle was dirty and I was shaking of cold and it was soon about to get dark. I just walked ahead the kilometre or so to S. Antonio di Mavignola to search for a place there to spend the night at. I took off on the first road to the right to the church seeing the sign for the Soldanella albergo (seemed more like a bed & breakfast to me) and I think that was the one I eventually found in on the residential road below the main road. It was a fine house and they had a room for me. The family running the albergo were very nice and friendly. However, they served no dinner and the only place for food this evening was the Hotel Tosa on the main road and it was not so good.