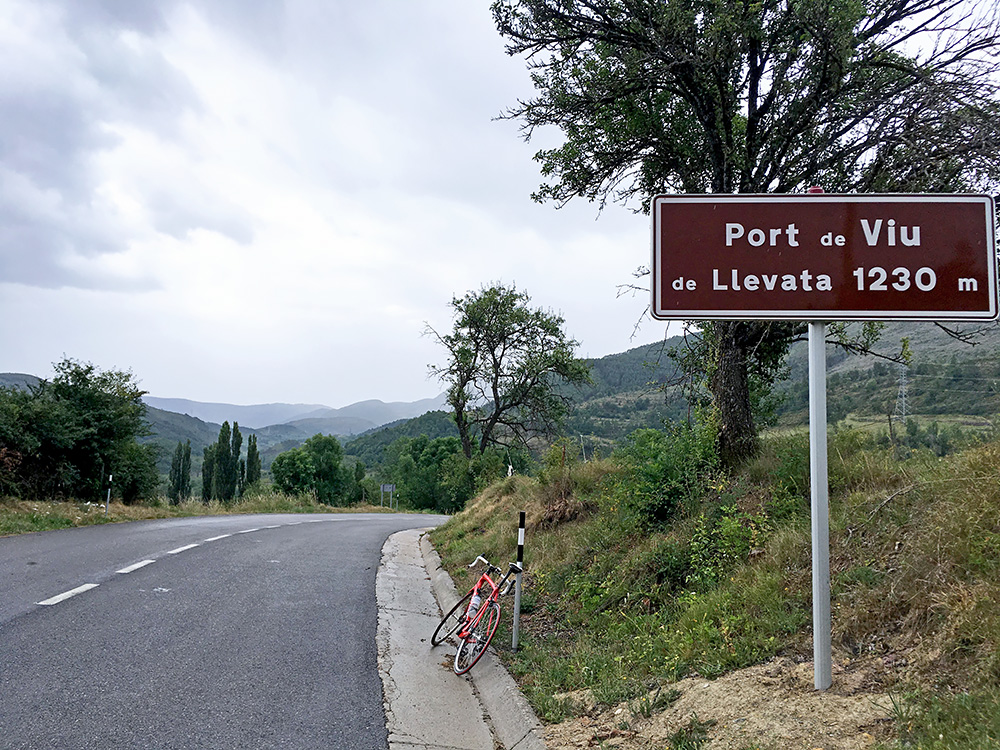 Today I would again start with a tour and "retour" – from El Pont de Suert (824m) where I left my bag at the hotel until I came back. Soon after leaving it started to rain a little, but I was going uphill to Port de Viu de Llevata (1231m) so it was not a problem, I just wished it would stop raining so the descent back could be made fast without getting wet. It got a bit wet and I got a bit cold, but I pushed on enough to stay decently warm.
The pass is only just over 400 height metres up, but there is another pass a bit above 1300m that was the reason for the detour. I took shelter shortly at a nearby house at the top here, but as quickly as I did so, it stopped raining.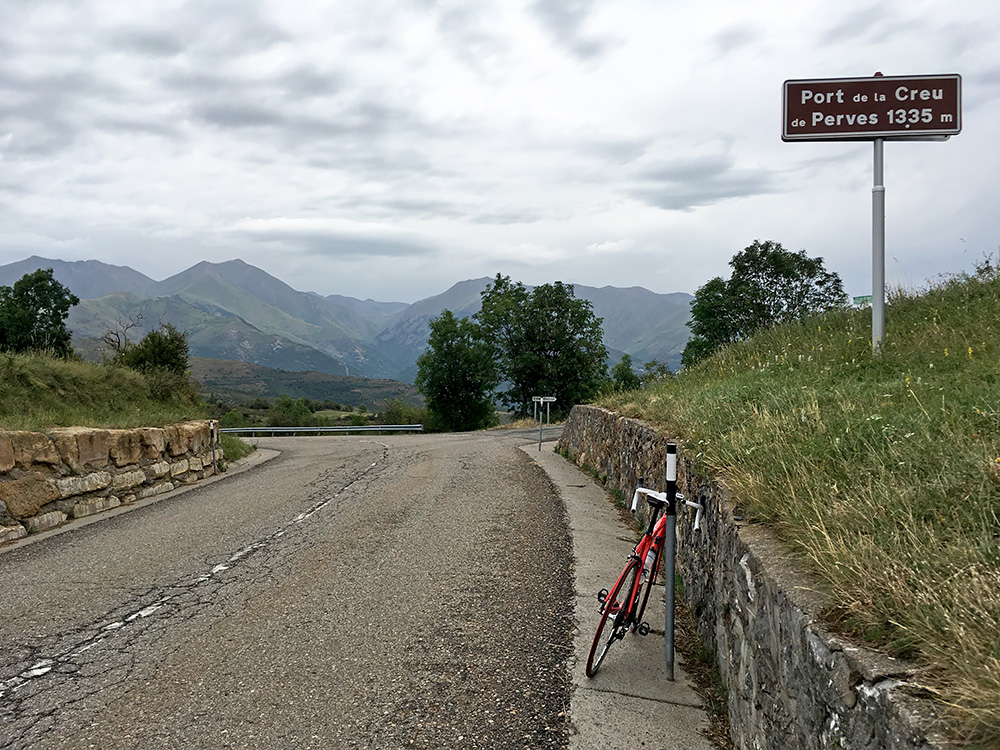 First one descends and soon the ground was dry again via the unnoticeable Coll de Llevata (1186m) and then there is a climb from 1177m to Port/Coll de la Creu de Perves/Puerto de Perves (1335m), which is thus a pretty easy climb from this side. From Senterada (729m) it is a much longer climb, but about the same height metres if one counts from my start this day. (From Senterada one could do a +1000m climb to Pantà de Sallente (1773m), but it long and it does not look like the most exciting climb, so left it out of my plans.)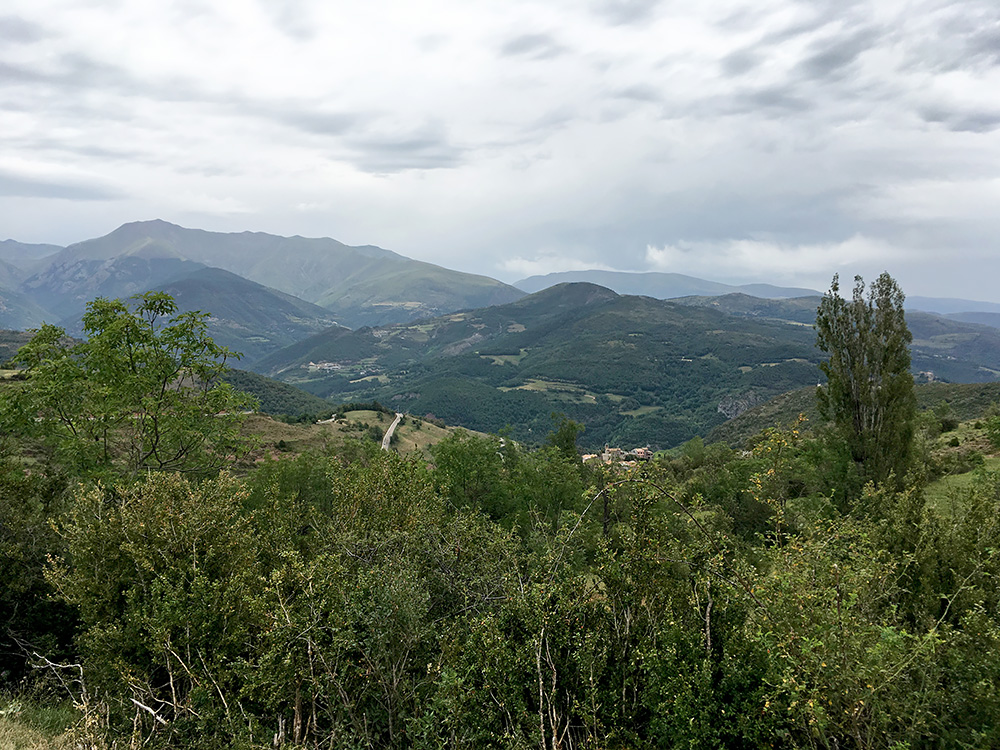 I went down the other side just a little bit to get a better photo east down over the Senterada area.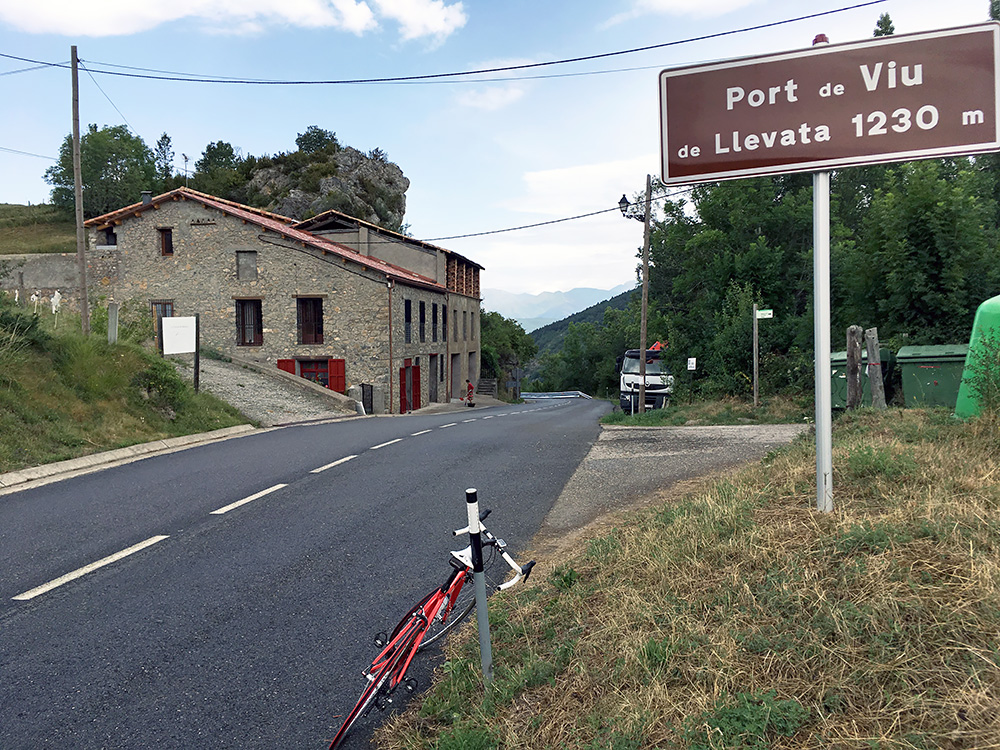 Then it was the same way back again and now it was starting to dry up and the sun was coming as I went back over the Port de Viu de Llevata. Think I said hello or nodded at least to the old lady cleaning a bit outside.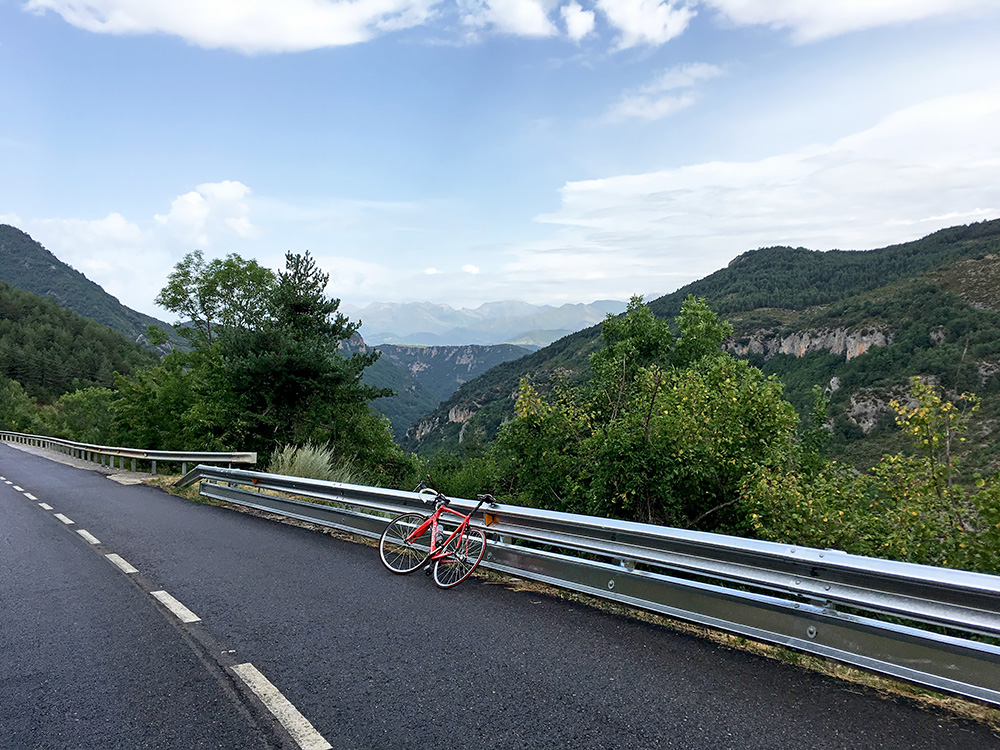 There had been no views at all on the way up here, but now all of a sudden I had great views and the road was drying up, so stopped a few times for photos west.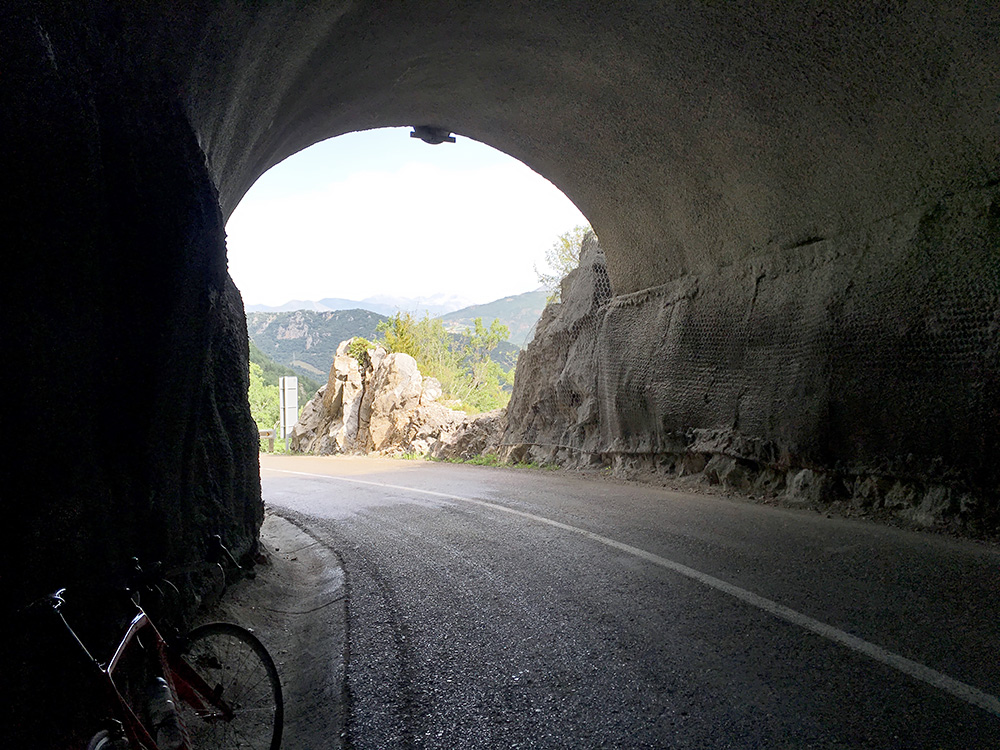 Hard to make the distant mountains visible in tunnel photos like this, but include it nonetheless (had one more where I cannot make them visible at all).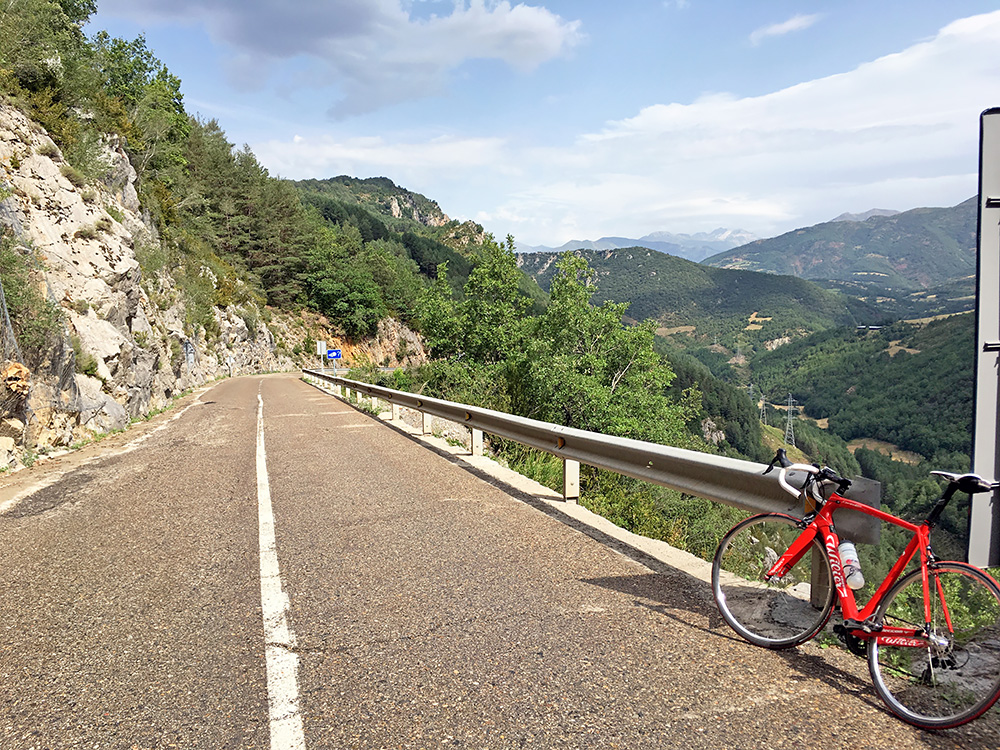 And a last photo showing a section of the road where the surface was not so good.
Back in El Pont de Suert an got my backpack and stopped for a can of coca-cola from a shop. The road continues gently up west from here. Right up from El Pont de Suert is a very minor pass ("flank pass") that I missed to find out beforehand and thus missed: El Colladó (1310m, road height 1404m) – this would have worked as nice short-cut to climb up to Estació d'Esquí de Boí-Taüll (2052m), which is a worthwhile climb that I had decided to leave out. Ski station, no pass, no BIG, but there is a gravel road pass only 560m from the asphalt road that might be possible with a road bike called Collada de la Llobarçana (2018m), so for another time maybe. There are also two more roads up the Vall de Boí worth exploring including the one right up to Pantà de Cavallers (1785m) and the Vall de Sant Nicolau to Sant Esperit (1826m).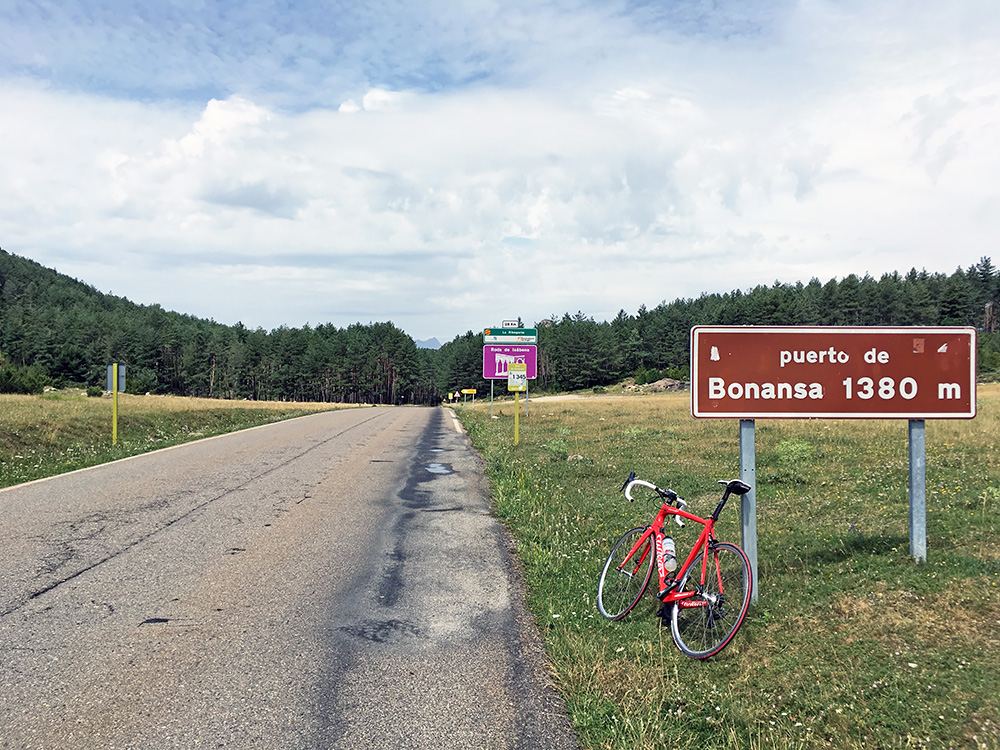 I was heading to another pass, taking off the road to the Tunèl de Vielha and then west, but soon a bit to the south up to nearby Puerto/Alto de Bonansa/Coll del Plano (1363m), which is an easy pass from this direction (much longer on the southwest side). It is a nice road and here I met another cyclist coming up from the other direction apparently also out on a longer ride. We exchanged photos and said goodbye.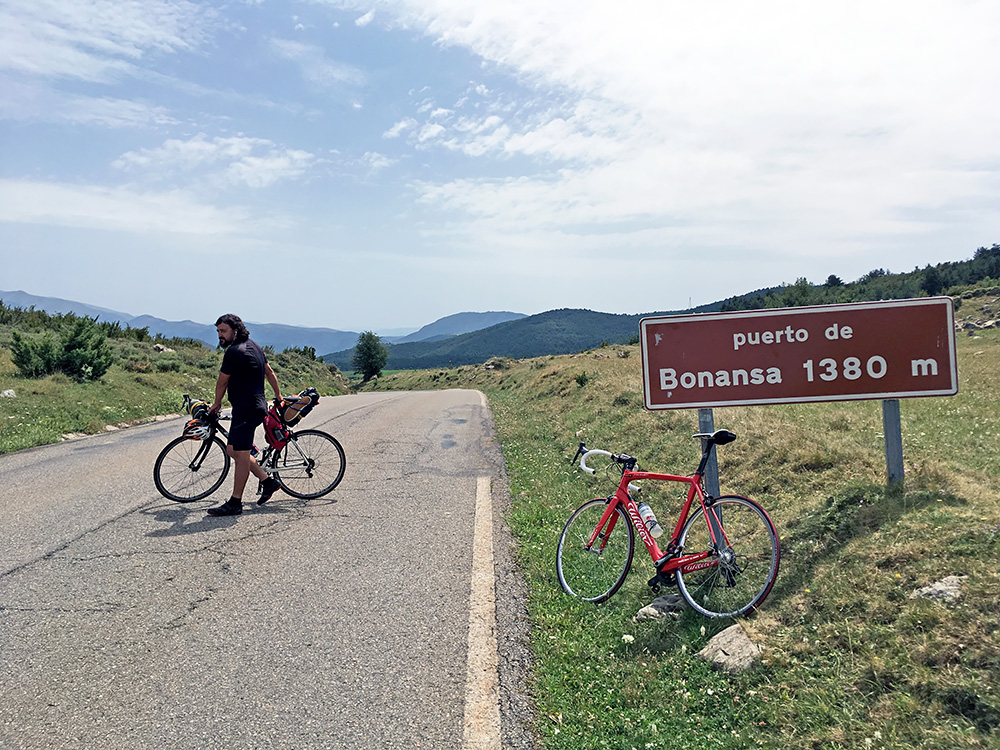 Catching here the guy as he took his bike from the sign on his side.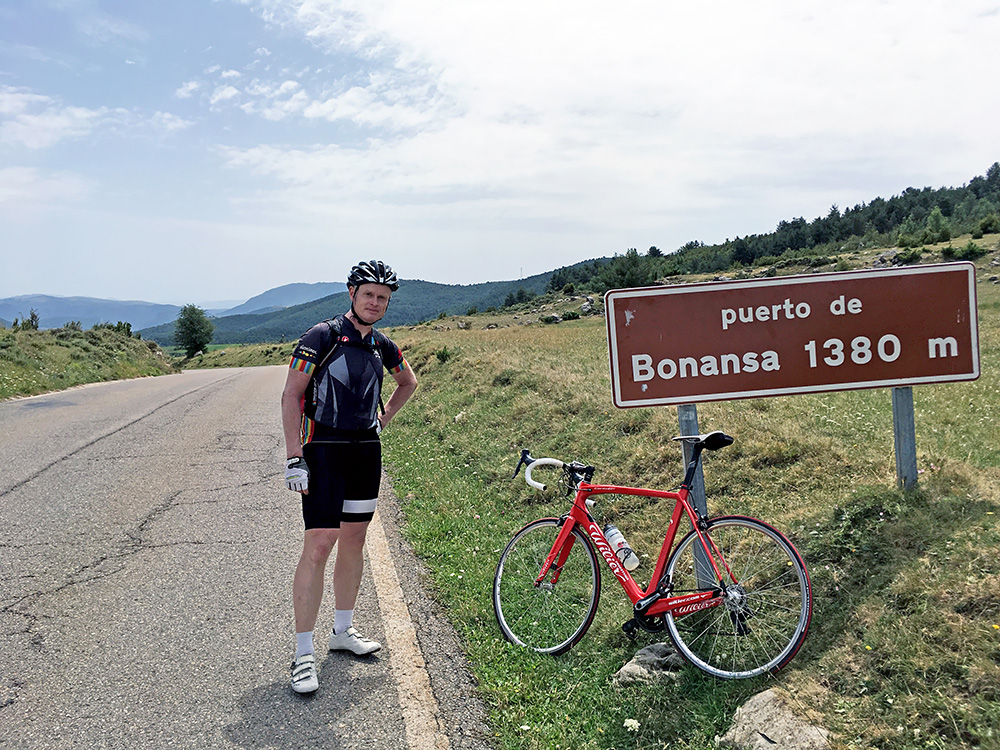 Here is the photo he kindly took looking back from where I came up.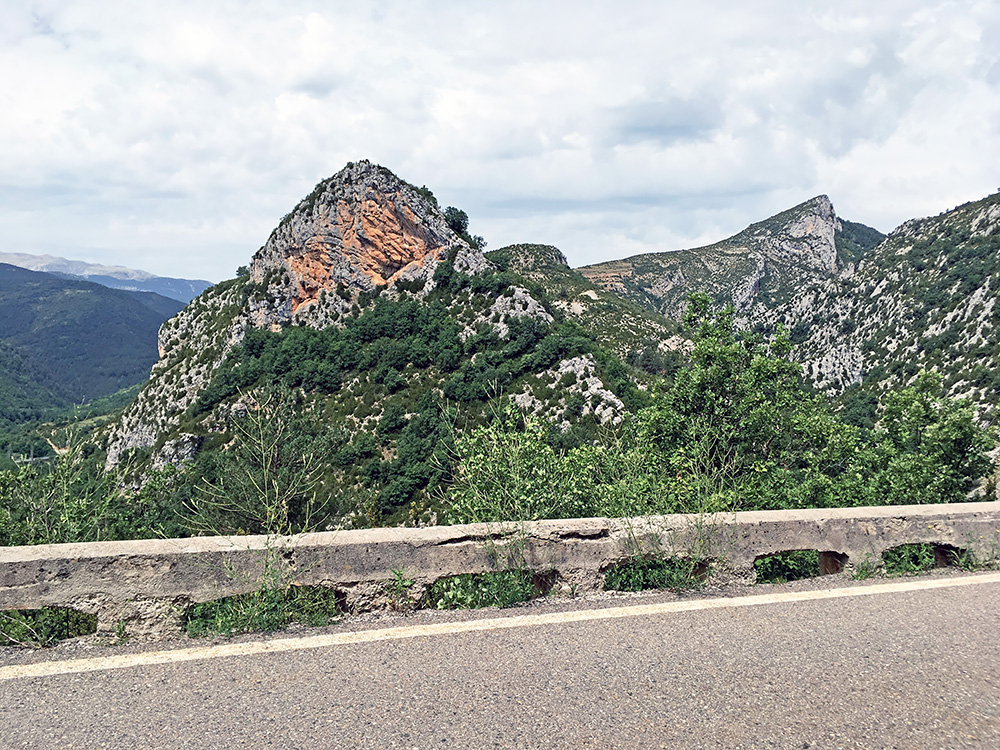 Had one more photo on the early slightly dramatic last little part of the climb up the southwest side.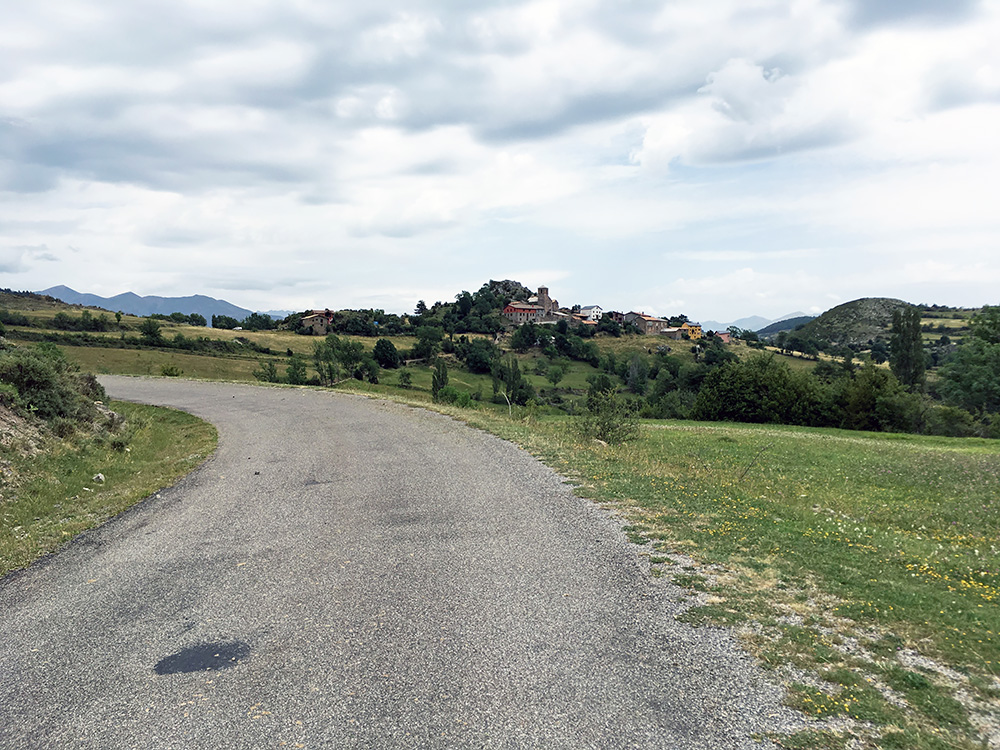 I was soon to take off this road to follow a road I had to look carefully up beforehand as it was only clear by looking at Google street view that it was indeed all paved. The road over what local bicycle tourism signs call Puerto de Espés (1464m) (that little info exists about on the Internet) is a very nice little road that starts out steeply from the Bonansa road. But then it disappointingly descends quite long, before it again ascends steeply to Espés de Dalt.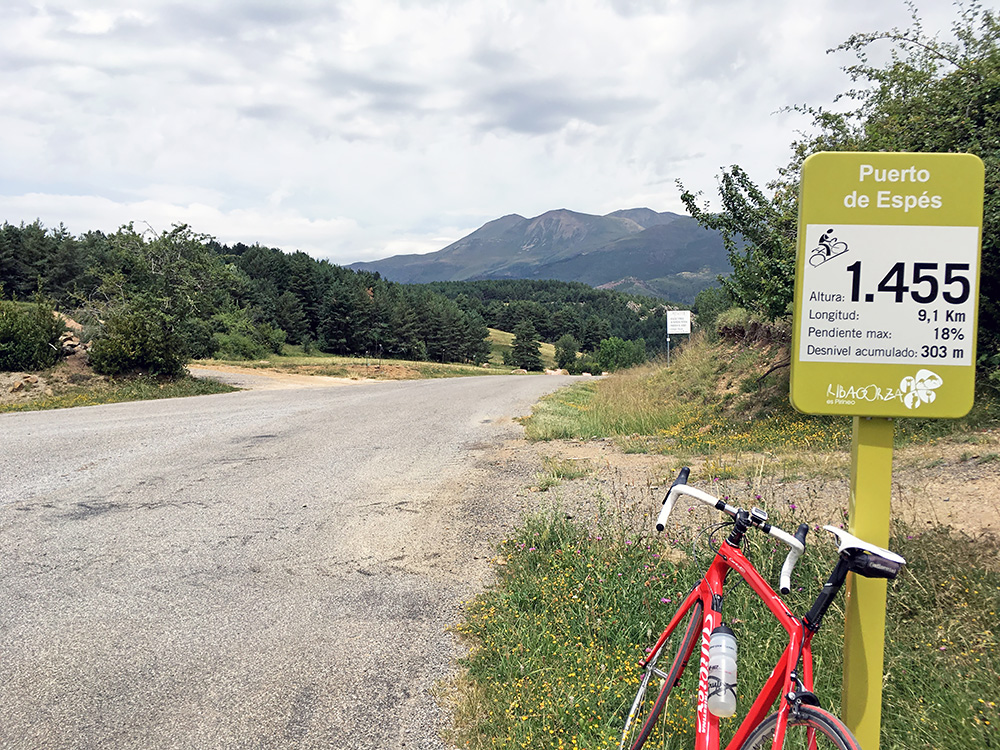 Now we have at last left the gigantic Cantalunya region (before the Bonansa pass) and entered the Huesca province and maps here are certainly not as good as the ICGC for Catalunya, so whether the pass named Puerto de Espés corresponds to a named pass or not is not totally clear. I found a reference for Collada a little earlier near the high point on the road on another map, but the pass location itself (the high point of the road) looks hard to overlook naming.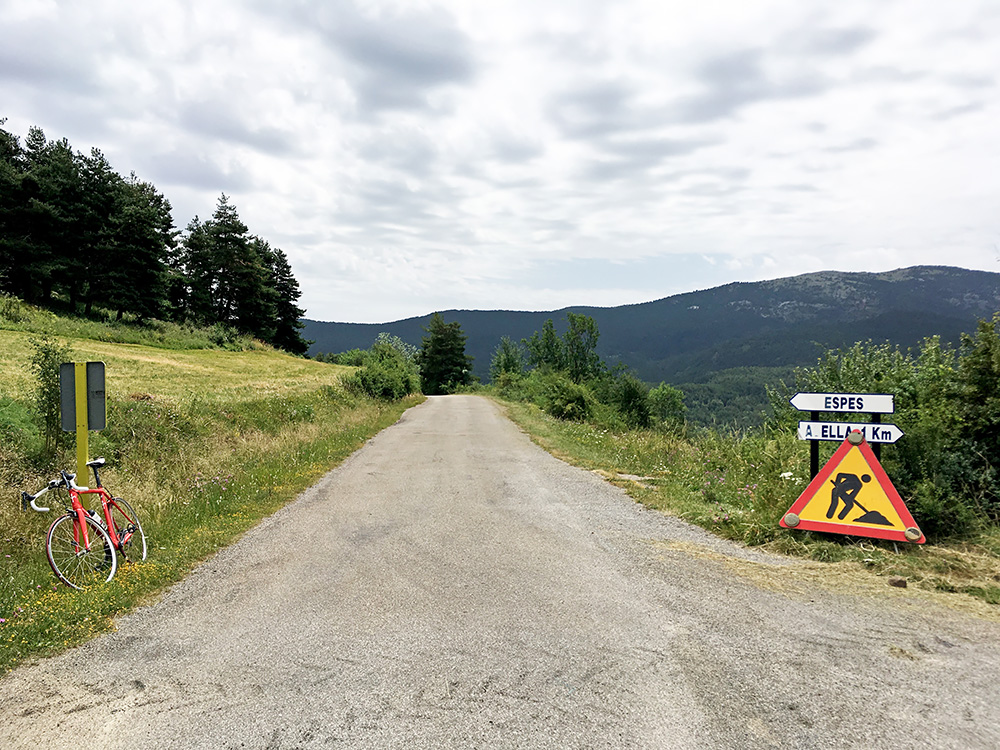 Although the Espés road is a much more quiet and nice road than the more straight road over the Fadas pass, one has to join the main road for that pass before continuing west here. Here in the photo I look back from where I come (from the same place as in the photo above).
After a quick descent to 1343m on the main road the climb to Coll de Fadas/Fades (1471m) is easy.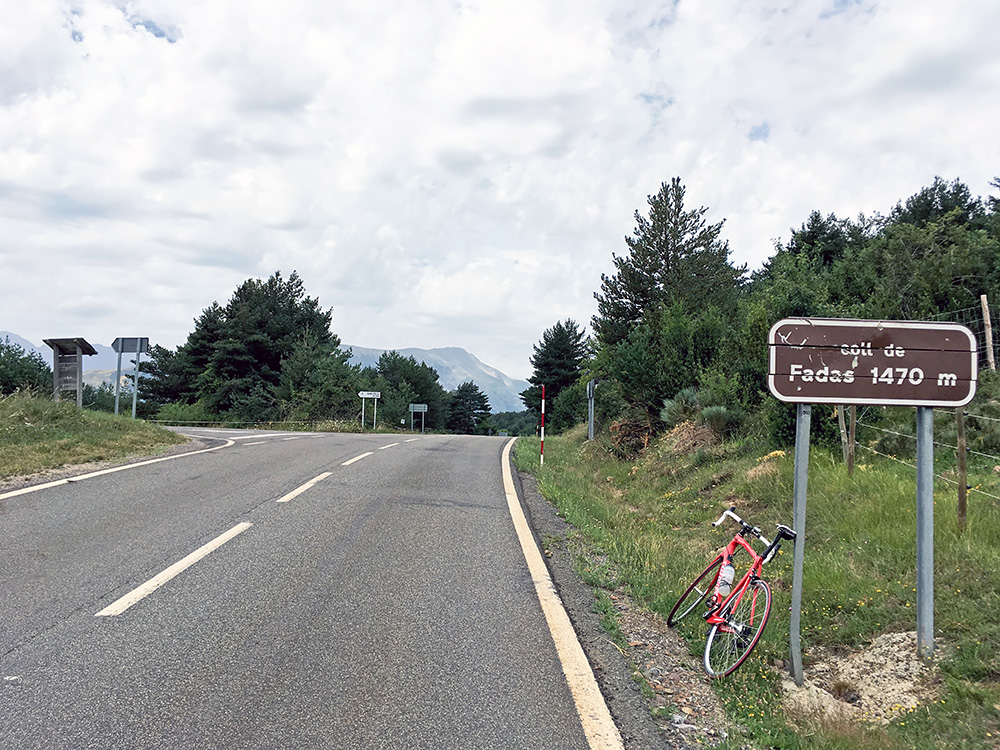 From the Coll de Fadas the descent is long and nice down to Castejón de Sos (896m). There I stopped for a real lunch for a change. I then continued up the Val de Benasque to Benasque, where I for some odd reason thought I needed another coca-cola before starting the climb to Plano del Ampriu (1916m).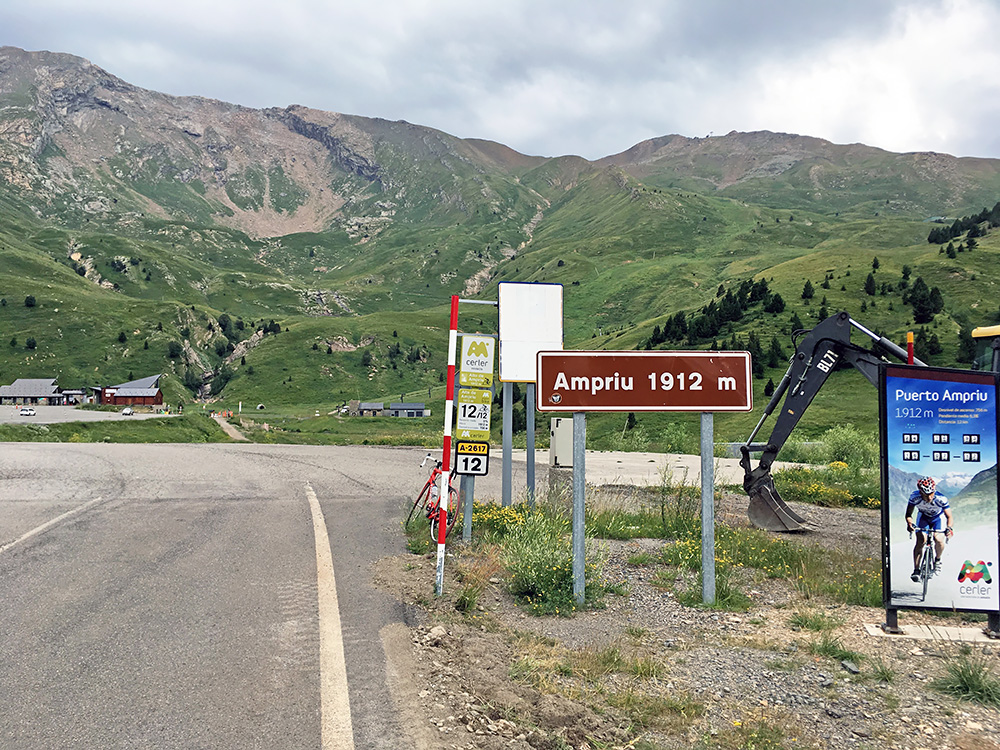 It is then a short stretch until the turn-off for Cerler/Cerllé (1192m) and the Plano del Ampriu (1916m). This road is never really steep and goes to the ski resort up here. However, more worrying was the weather that turned much worse now.
Moreover, and even worse, was that I started to hear some more pronounced bad sounds from the bicycle that I only heard a little of before. I could not quite make out what the sound was and wondered if I had broken a spoke or if the hubs started to fail or something else like the pedals that caused problems at some time also (had to be fastened really hard and no that I got help with that I cannot get them off). I stopped soon after Cerler/Cerllé to look what the hell was happening and realised that it was coming from the Shimano Dura Ace bottom bracket. It was no good and I did not now how bad these new 'press fit' bottom brackets would go when they started to fail. I decided to continue with more even careful pedalling to the top, but this was a sad discovery.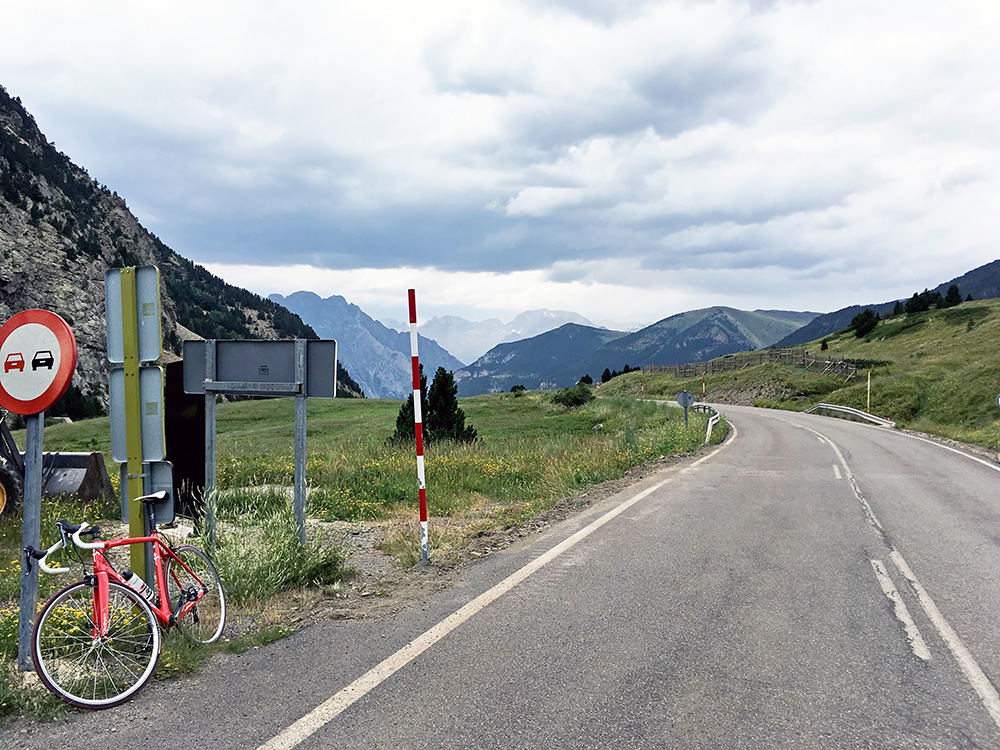 I got a little rain on the way up and it was not very nice at the top in this weather, so rather hurriedly took a few photos and returned down full speed. I got a shower on the way down but fortunately not enough to get really wet.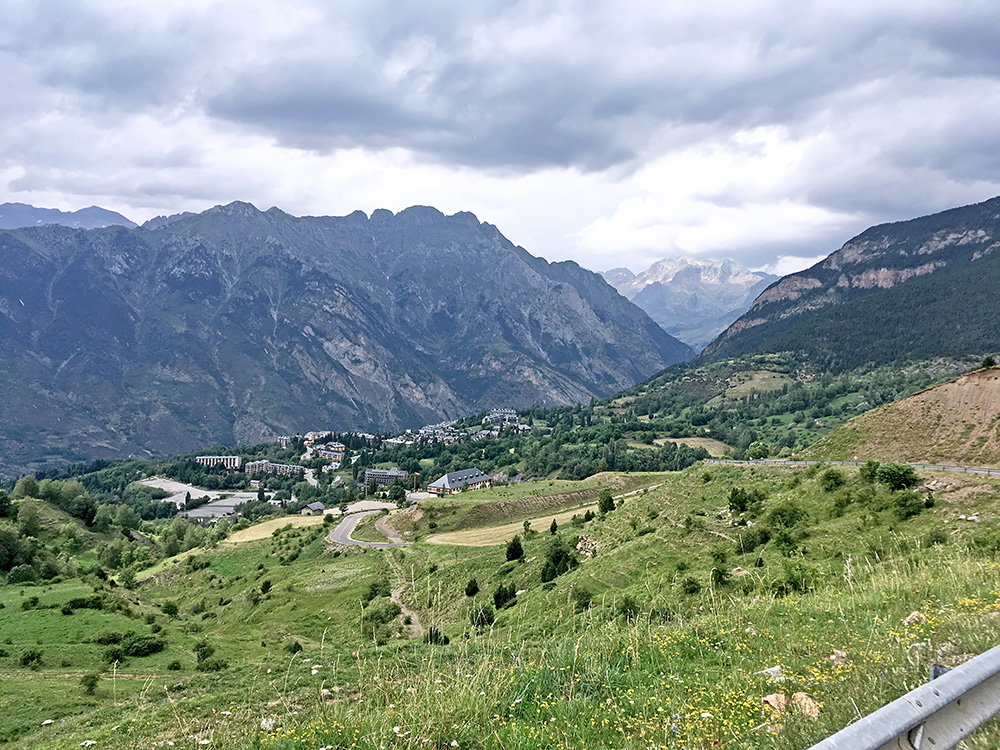 I stopped one time on the way down as it really looked quite nice here. This is very close to the highest mountains in the Pyrenees. Back in Benasque I thought to see if they had a bicycle shop and someone told me about one in the centre, but the man there simply did not have the tools and much less the components to do anything about it and said I should go down to Graus – maybe I should have done so, but it seemed a bit too far away in exactly the direction I was not going in, so was hoping the bicycle could take me back to Vielha before it broke down more seriously. The only problem with that was that I wanted to do at least one more climb before (apart from going back over the Fadas pass in the other direction), but was hoping that the bicycle would make it.
This made me a little downhearted and the time was running away for me. Even if I had escaped the rain it looked seriously bad up the Fadas pass as I got back to Castejón de Sos (896m) and decided to stop again for a coffee to see if the weather would get better or worse. I was also not totally sure if I would find suitable lodging along the road up there, but possibly I could have done so in Laspaúles/Las Paüls. However it soon started to rain and after a while I decided to ask if they got beds as it said Hostal on the building. The lady there suggested that I went over the road to the hostal there as she was not running the hostal. I went over to the Casa Miranda and it turned out to be a nice little hotel with good, but small, rooms and good food prepared by the same man running the grocery next door. Had to wait for dinner until he closed the shop. Then it stopped raining, but now it was soon 20:00 so it was as well that I stopped here a bit early this day. I was a bit unhappy about the short day and the bicycle problems, but one cannot do much.