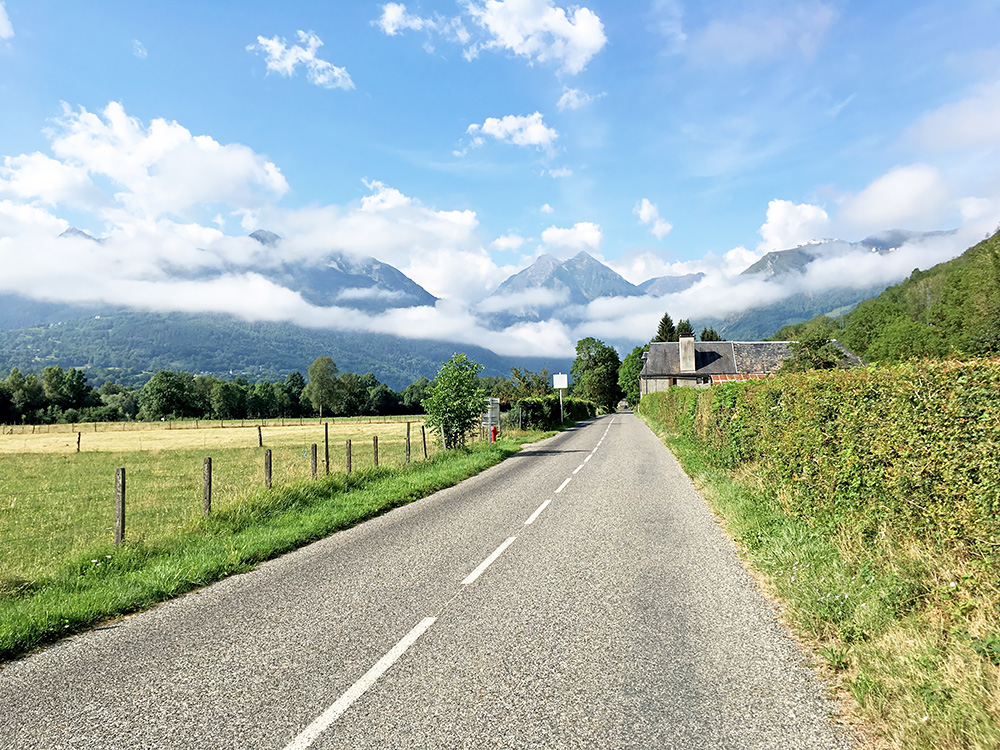 Breakfast at usual time and hopefully now a more full day of cycling again. First thing I saw when leaving were cyclists, but it was Saturday on a popular route for cyclists, so no wonder. I was still deciding to simply go around the mountain than over the Col d'Azet/Col de Val Louron (1580m), which would have taken a longer time. As I turned around the corner (there is also a lower pass road via Lançon that one could take) I passed over the doubtful Pas du Tir (752m) which is not really a pass (photo below as I had not heard about a possible pass on this road before).
Later up I went via a smaller but more straight road than the main road from Ancizan (762m) (also the start of a good climb I never done from here to Hourquette d'Ancizan (1564m). The road goes to Vielle-Aure and I stopped near Agos to take the first photo here (nicer so put it above the first one).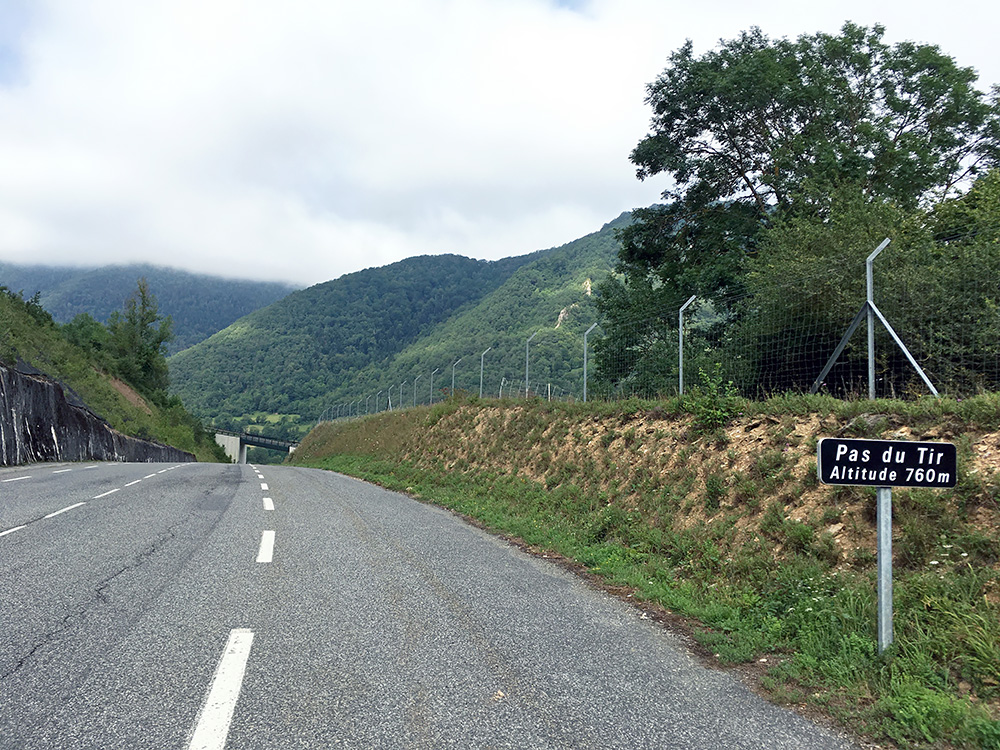 The views ahead looked pretty good in the photo above, so I had reason to hope for a nice day. I thought about making a first stop in St-Lary-Soulan (816m) (the start for the Col de Portet (2214m) that I climbed in 2005, that will now for the first time ever be asphalted to the top for the 2018 Tour de France, as I understand). However, St-Lary was a very busy village this day with some kind of market day and I found no obvious place to stop by at, so I continued through the village hoping to find a place along the road later on. I stopped by a bar in Moudang to have a coffee and coca-cola.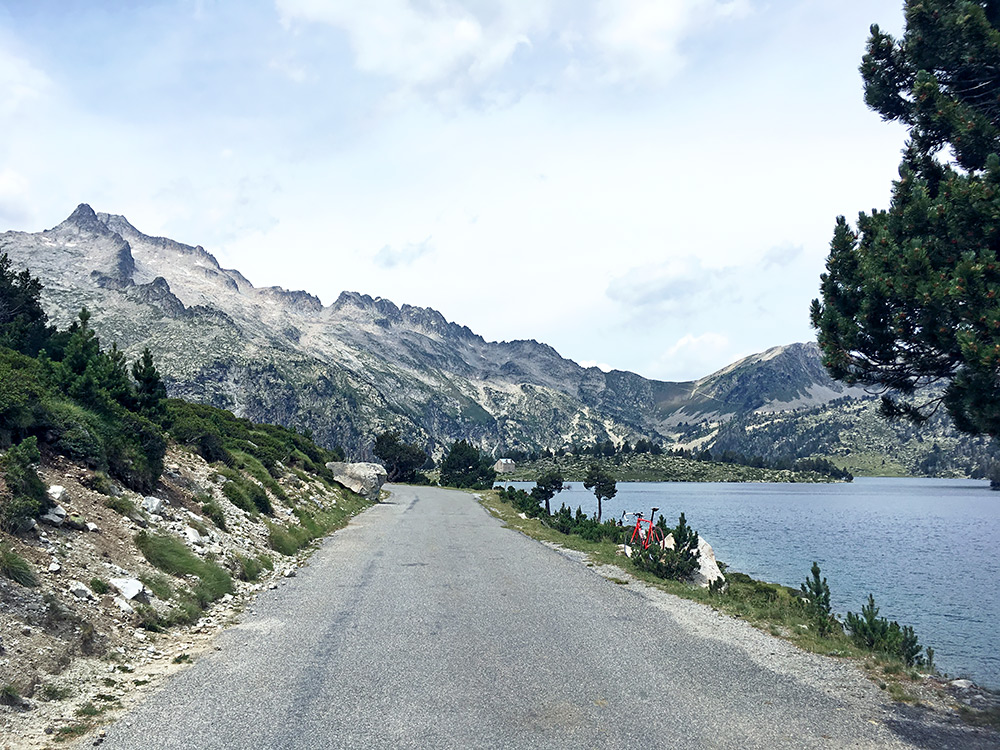 The road now starts to climb a bit more and a little later I reached Fabian (1142m) and the turn-off for a climbed I had looked forward to when planning this trip as maybe the most interesting climb I had not done before in the Pyrenees. It is the classic road to Lac de Cap de Long (2171m), but also to the slightly higher laying Lac d'Aumar (2201m) that I decided to visit first. The road forks higher up to these two lakes and the road up here is one of the highest paved roads in the Pyrenees, so an obvious destination.
I started by going up to the highest lake (which is not also a dam, by the way), the (Col and) Lac d'Aumar. Here is one of several photos I took at the lake.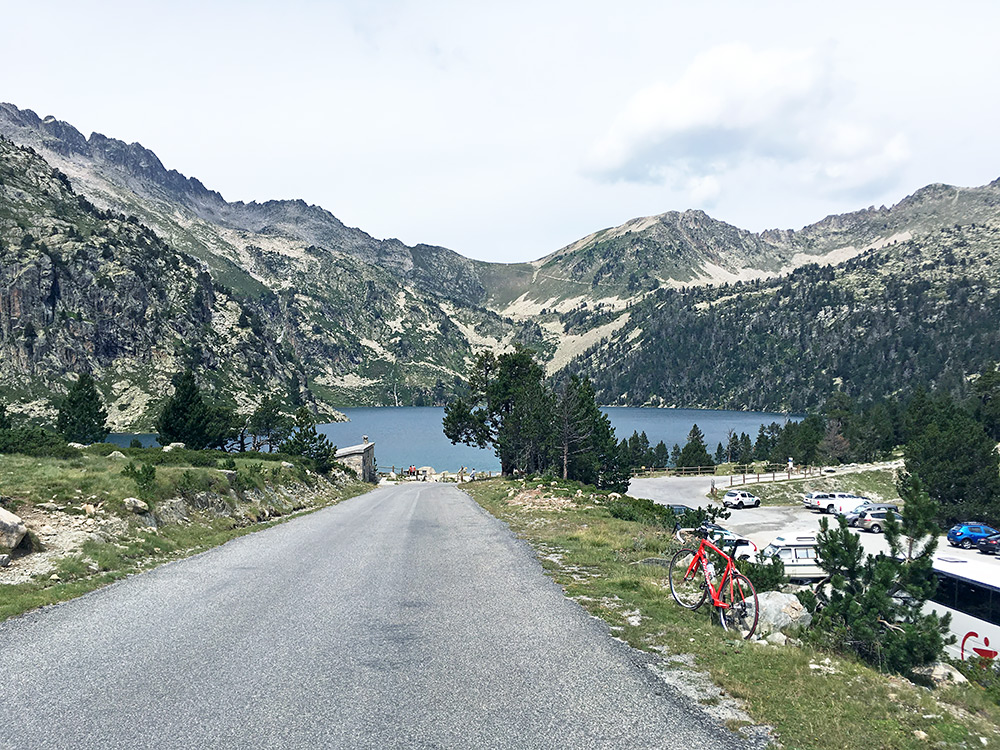 The climb is not particularly steep and only occasionally goes above 10%, which is a bit odd for a road of this kind. But the road surface was quite a bit bad and early on it was hot and had some insects. The steepness and road is also very varying, so it is a hard climb for sure. When one arrives at the Lac d'Orédon (1899m) fork there is a short descent to the dam building (1855m). After a restaurant and a parking there is a road closed to motorised vehicles up to the Lac d'Aumar. This road is much better than before, but also a little steeper.
The views are lovely at the lake as seen above. The road then continues down to the Lac d'Aubert (2158m) in the photo here. Here I turned around and went back down.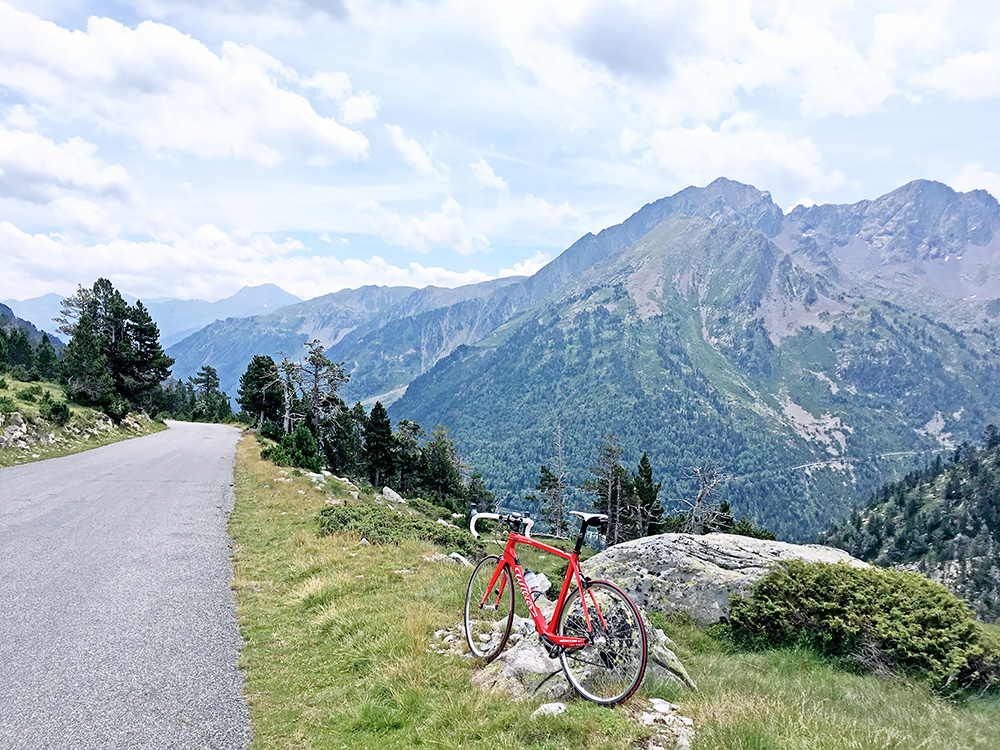 I stopped just after the very high point at the "Col d'Aumar" (only referred to in this way, with citation marks, officially as it may not have a history of being referred to as a pass, but it is a little pass of sorts). Great views back here down and across the Lac d'Orédon to the road going up to Lac de Cap de Long, where I would go next.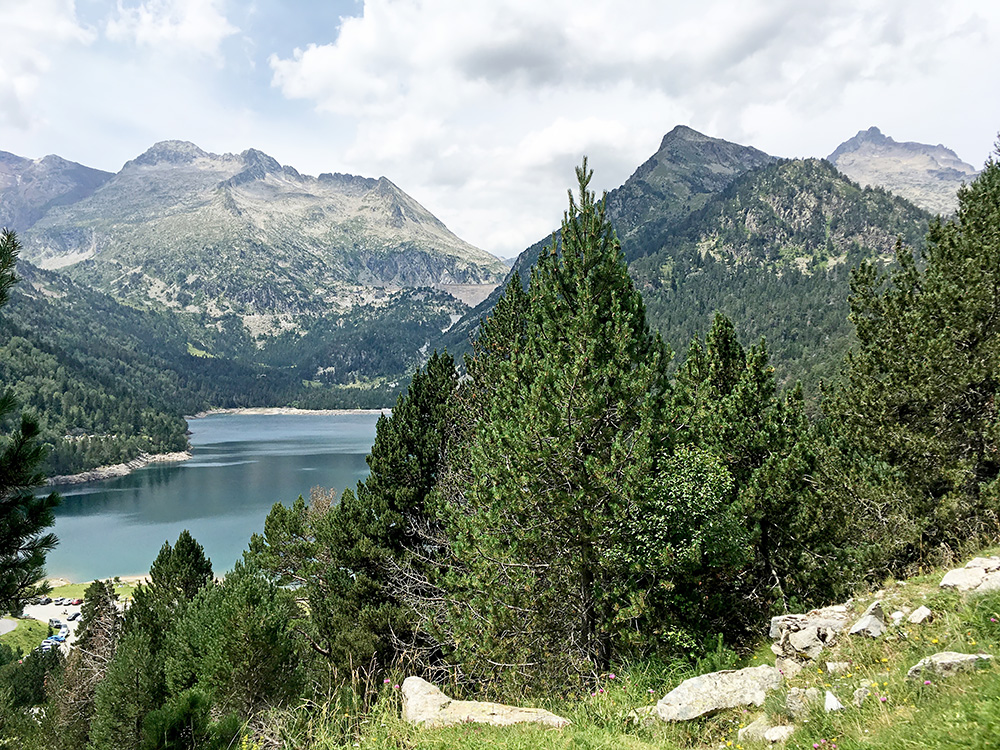 Just before coming down to the turnpike I had a fine view over the Lac d'Orédon and the dam building at Lac de Cap de Long.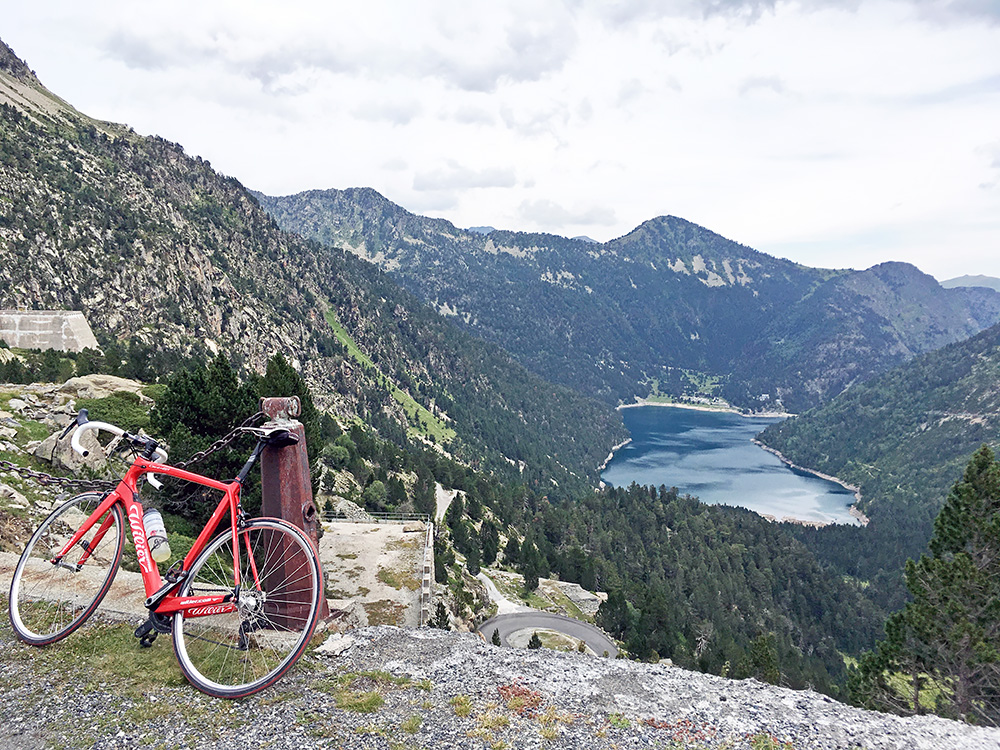 The oldest road is the one that goes straight up to Lac de Cap de Long and it has nice kilometre stones here and there. There is a small descent as the road climbs in a difficult way up the last part to the dam. In the photo here I just reached the dam.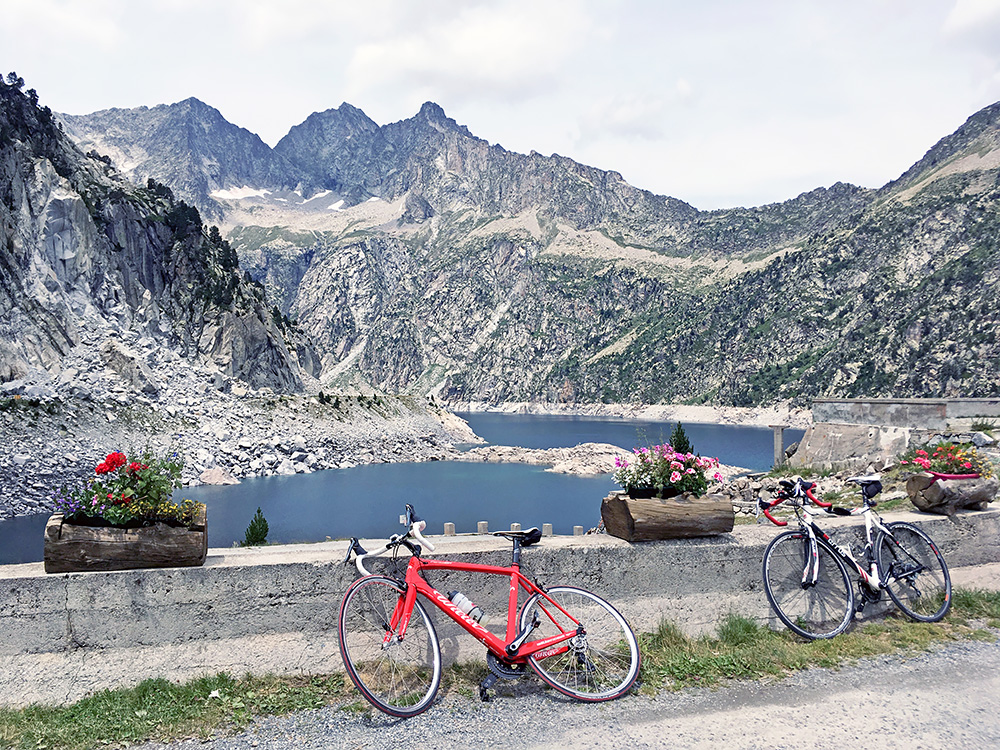 There was an open bar at the top and could not resist ordering a small ice cream and coca-cola. Quite nice view from the bar and I was not alone here. Another cyclist came up and when I left the bar there came more Spanish cyclists up. I decided to check out the dam road as I noticed the little road down to it was basically paved too (looked like gravel first, but just a lot of stones on the concrete pavement).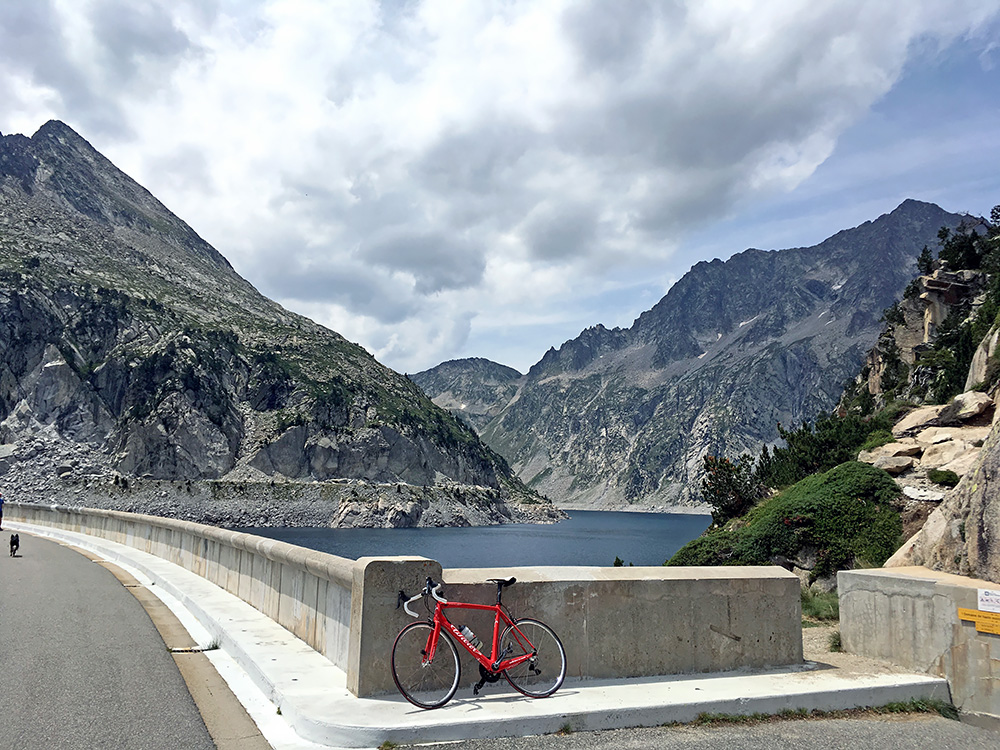 Quite nice views also from the other end of the dam!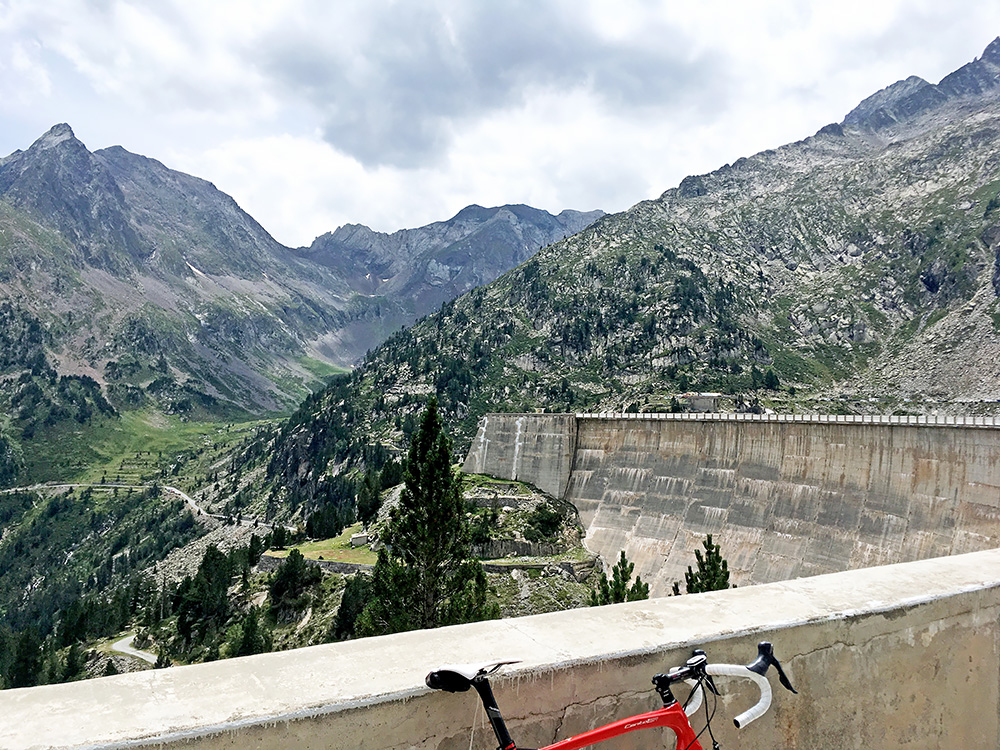 Here is the dam building and the last part of the road coming up here.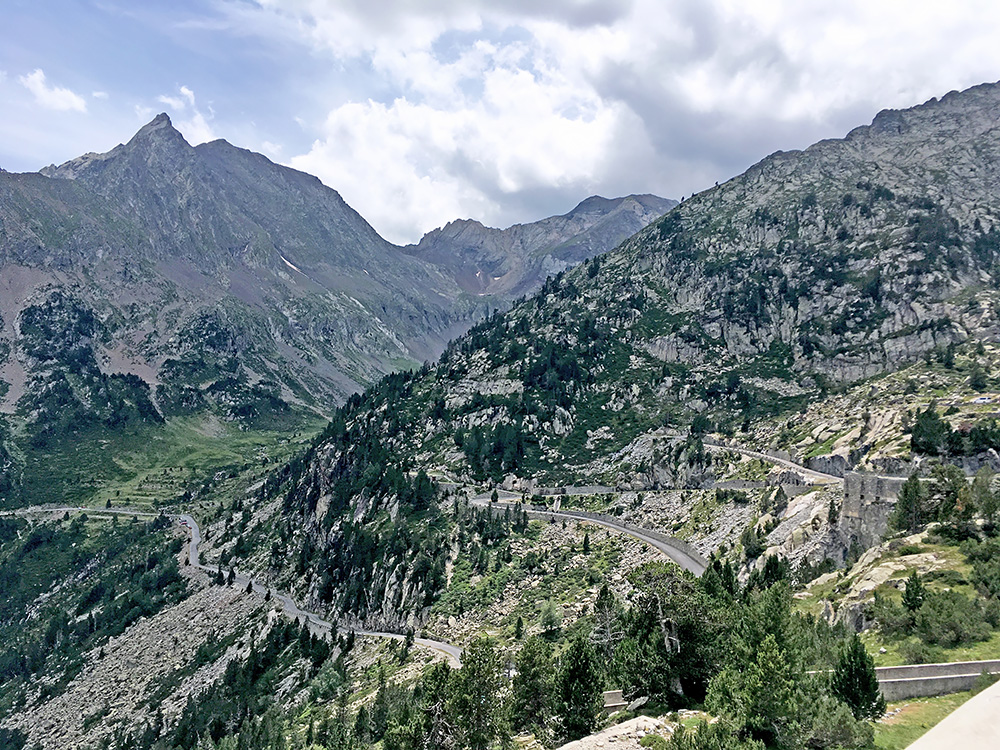 One more photo with a close-up of the last road section. The last serpentines coul be hard if one is tired when arriving there!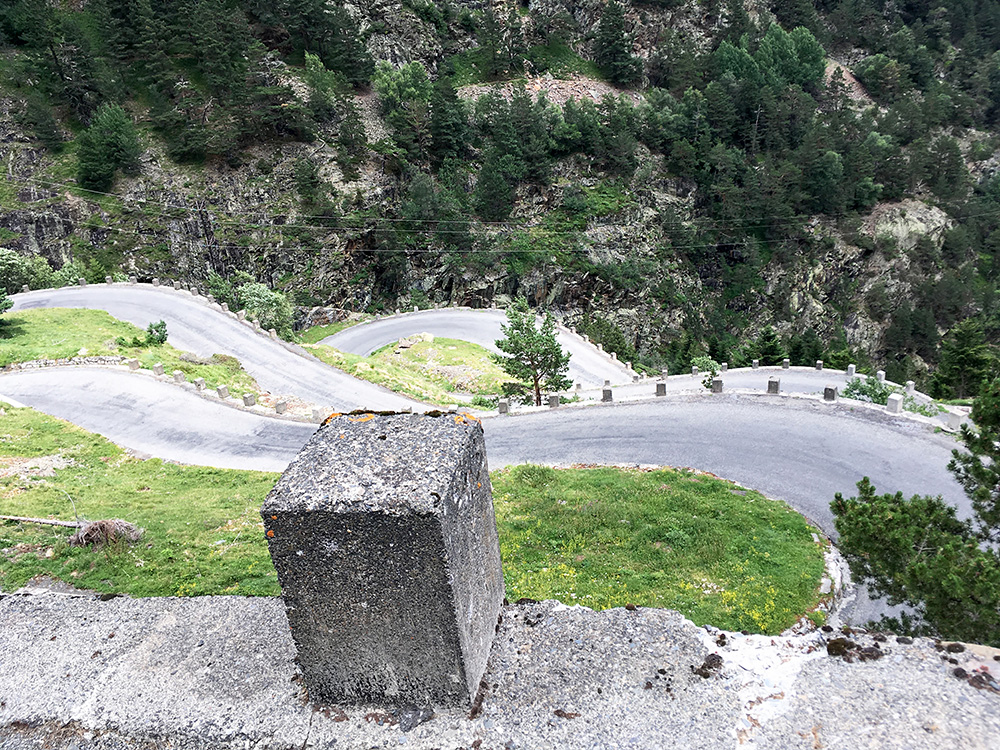 I made a last stop on the way down to take a photo at the Lactets des Edelweiss (a nice set of serpentines not far below the fork between the lakes). To save the bicycle and myself a little I went down rather slowly, but down I came and was soon on the way up to my next pass.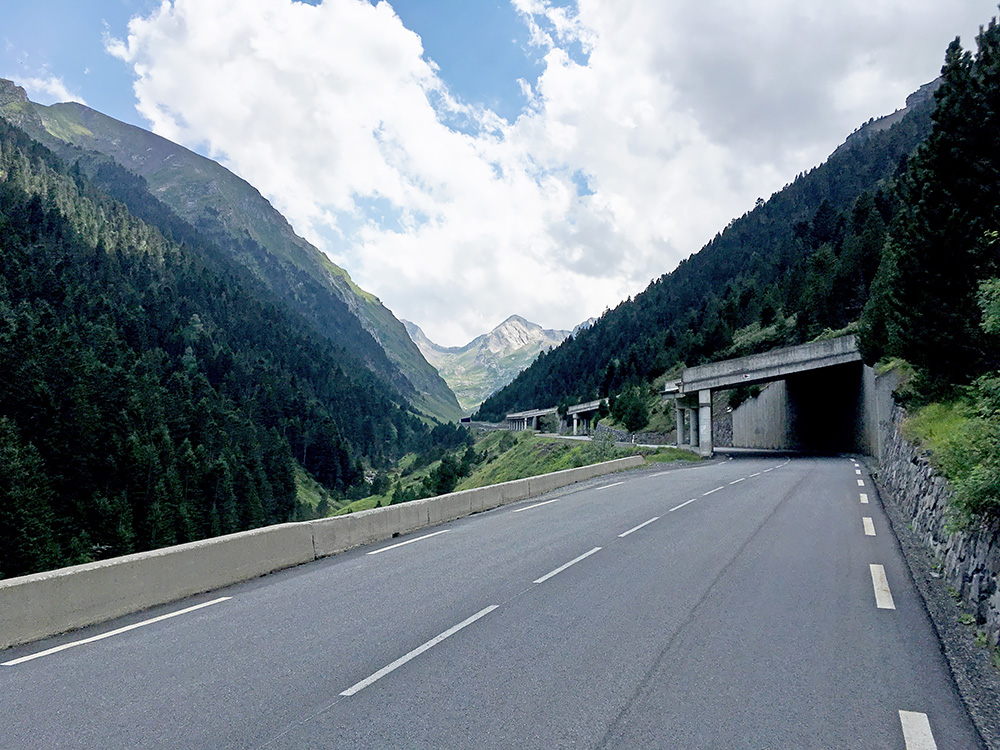 There is a climb up to the ski station at Piau Engaly (1873m) which is likely a nice climb, but I was on my way to Spain for the last time through the Tunnel d'Aragnouet-Bielsa (Port/Puerto de Bielsa) (1821m) and that is oddly enough an even steeper road (in part). Here I am on a steep section up through galleries to the tunnel.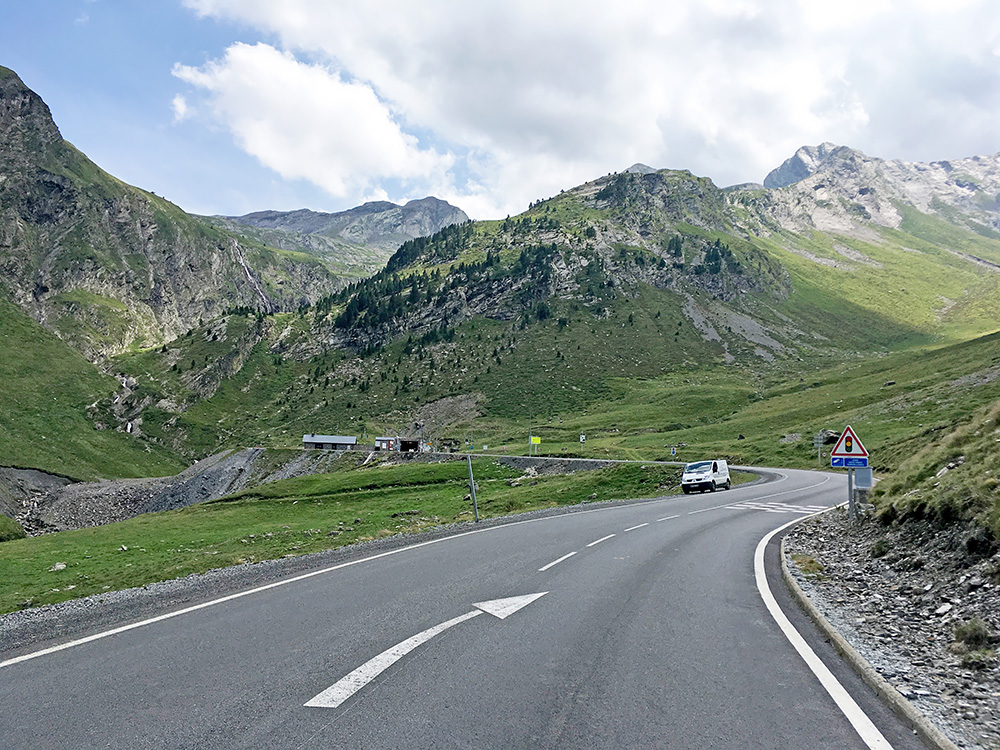 I had hoped to cycle through the tunnel, but had heard contradictory reports on whether it was allowed to cycle through the tunnel. Apparently it was no longer allowed by a company on the Spanish sides that operates the tunnel. I had hoped to arrive there late enough (in my original plan) to be able to avoid any guards, but now I arrived there in the middle of the day. I was also hearing someone had not seen any signs saying it was forbidden to cyclists, but apparently they had taken note of that as there were now 4 big signs, so even if I tried to look the other way, it was difficult. Anyway I went up as I wanted to claim this pretty high tunnel pass and it is one of the highest paved passes in the Pyrenees after all.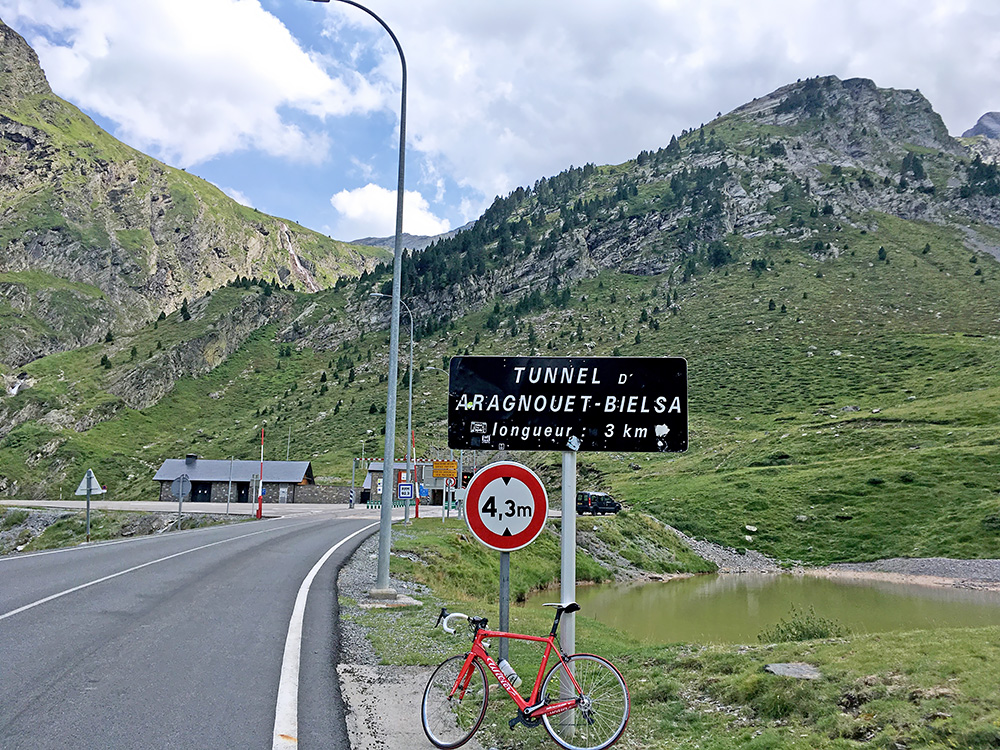 Finally there I noticed the red light and apparently it was only green light every 20 or 30 minutes. I thought about taking a chance first to go down as I at least did not see any people stopping anyone on this side (but heard someone was transported back when arriving on the Spanish side (though most said they passed by without any problems). I noticed a car waiting for green light with an empty rack on the back on their car and told them about the situation and they agreed to take me through the tunnel. We just got the bike fixed and all as the green light came on and we went through. I did not see any people on the Spanish side guarding that side either though, but at least I got through safely (safely from guards as there is no safety issue in cycling down the tunnel to Spain, but maybe a little in the other direction as it is 5% uphill for 3 km).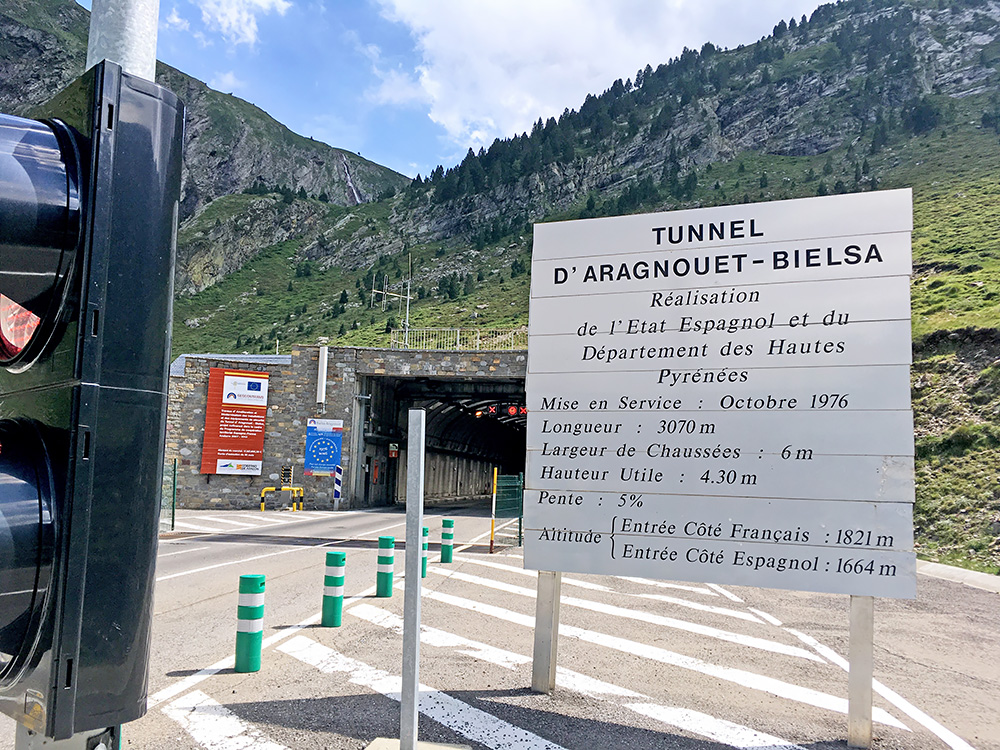 The French family was going on a little vacation in Spain, but they were also a bit concerned with the very warm weather this summer. They did not brake in time for the first place to stop, but let me off at the second place one could stop at down the Spanish side.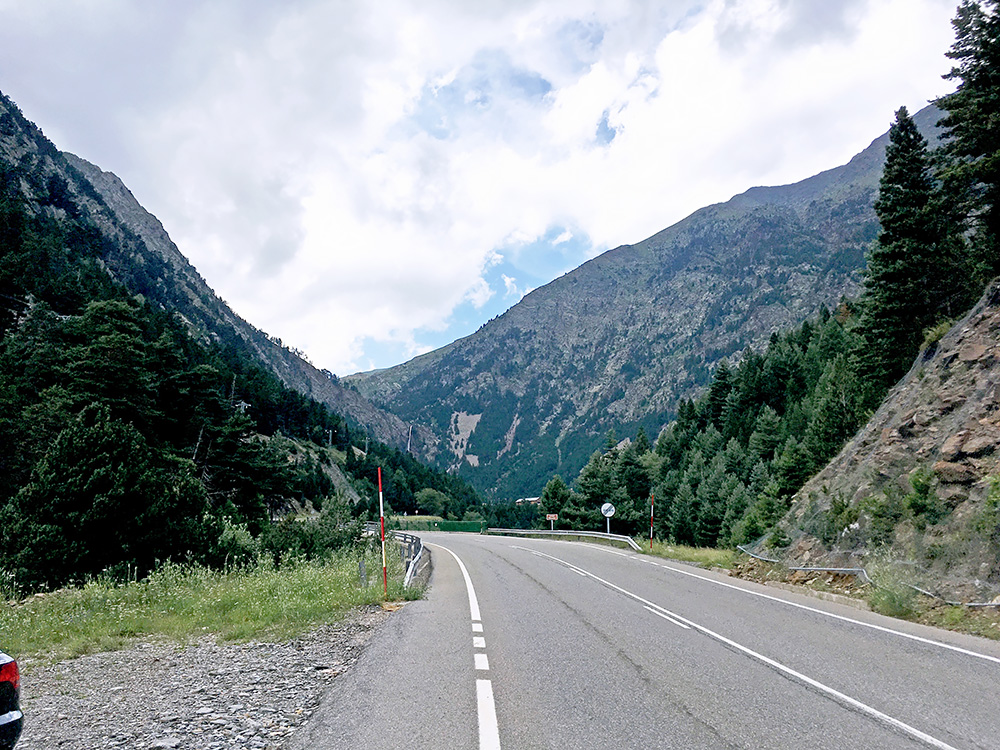 I was happy to have that worry with the tunnel passage behind me now. I took a last photo up the Spanish side here on the Bielsa road.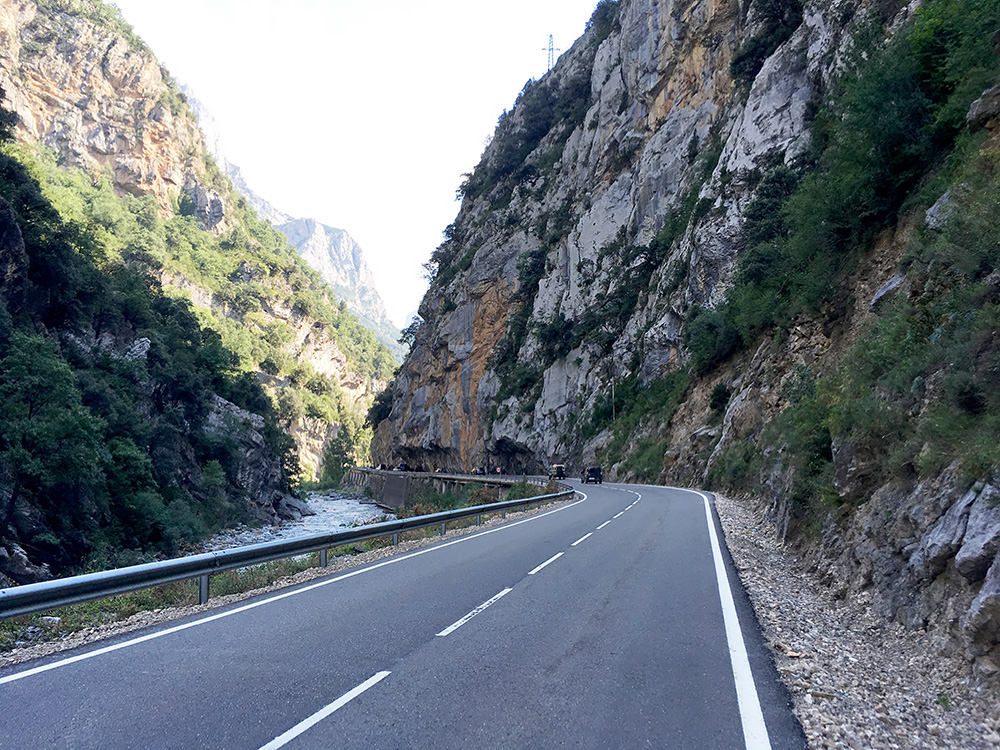 It was a nice descent, but it was not so long before the road flattened out and it got really warm again. Here I am at nice gorge, the Paso de la Devotas before arriving in Lafortunada, where it got really hot. Soon thereafter comes the one-way road to Tella (1341m) that I looked at several times as it looks like a pass there, but have not found a name and it is not an obvious pass there, but before at Dolmen de Tella (but this is under 1300m).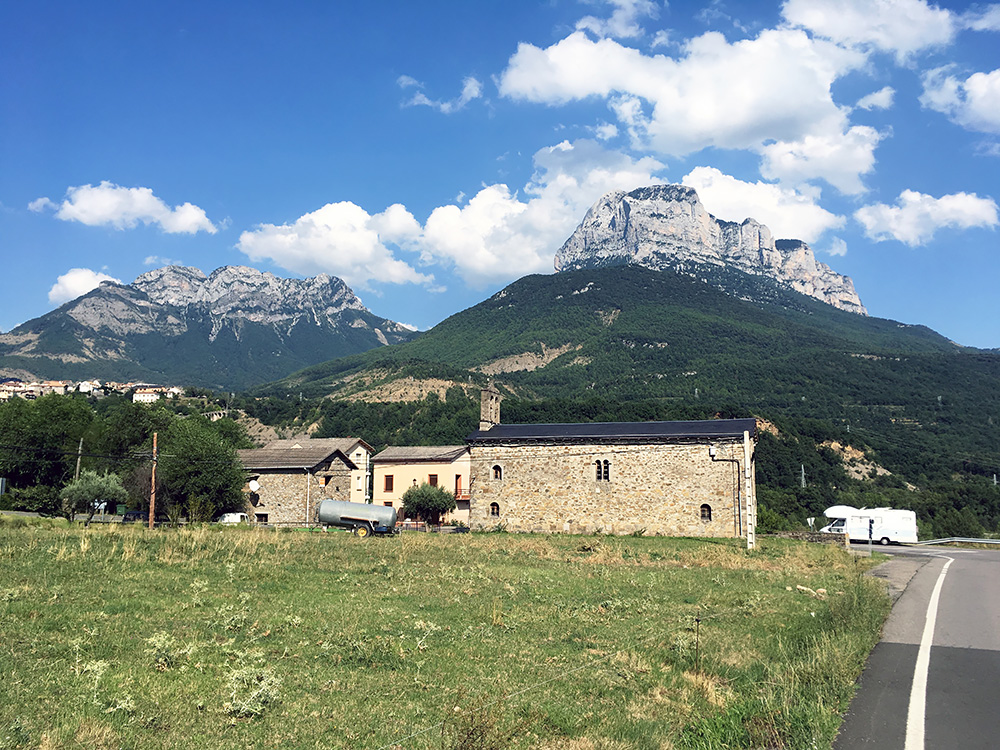 I went further down as the first road west is far down here at Escalona (605m). Here I stopped at a busy little shop where I managed to buy a coca-cola and some local made energy bar.
I guess it was at least 37°C again as I started on my way to Alto/Puerto de Fanlo (1373m) just to the left in the photo here. After a fork where people were bathing in the river, the road got worse and there was some kind of sign saying something about the road, but I continued thinking it must be passable with a bike. After a while it looked less likely this was the road to take and a car came by me and I waived at them to see if they knew something about the road ahead. They stopped and said the road was blocked and they also did not know of it, but also went to see how it looked. They got ahead of me, but soon came back stopping and telling me that not even walkers could pass by above there as it was totally closed of in the deep gorge starting here. It all looked like a lovely gorge to go up, but maybe it was also a bit too optimistic to build a road up here. They showed me some local map they had and explained I could get to Fanlo using the other road at the fork below, so I thanked them and did so.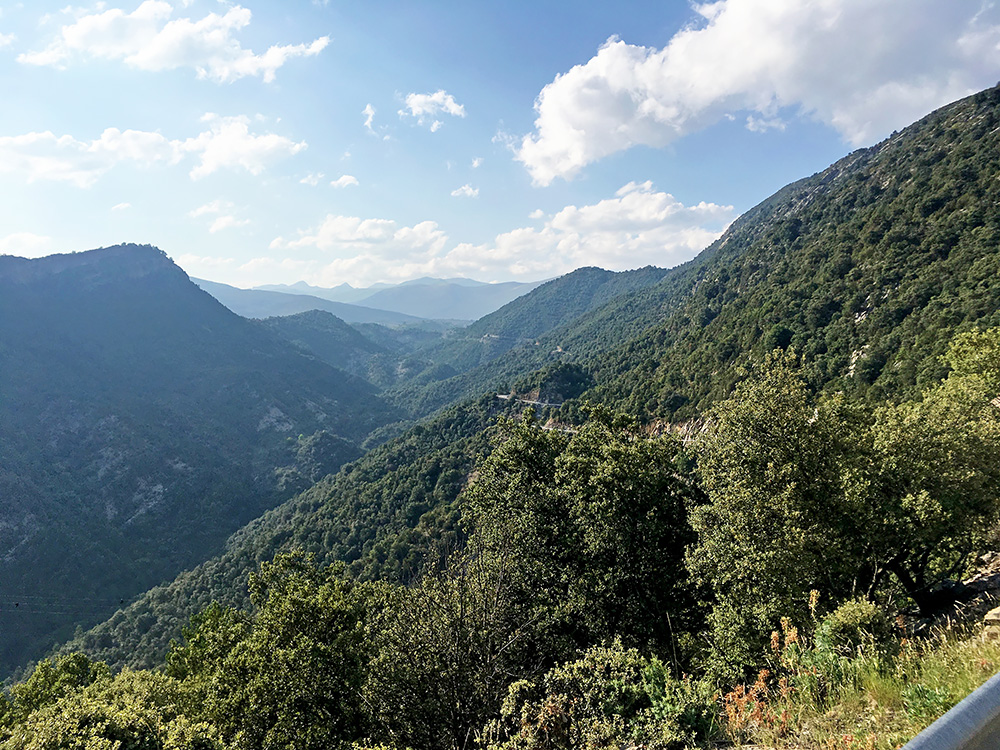 It was the road via Puyarruego that on my maps looked like it was maybe just a gravel road for quite some time, but now this was the only road, so maybe it was fine now I hoped. This was also a much longer road to Fanlo. It was hot and it was fairly steep up from Puyarruego in places. Moreover the asphalt had a lot of gravel on it (in French fashion) so it was really hard going up here. There were also some traffic.
After reaching an unnamed pass at Gallisué (1008m) and going around the next corner I was greeted with the view in the photo here. Now the gravel was gone on the road and it was no longer steep, but I felt like cycling in a tropical jungle. I said to myself to remember this when it got cold at home in the winter, that I did really have a lot of hot weather this year too. At the end of the ridge in the photo is the location for a pass called Collado de Planascuás/Planacustas (1143m).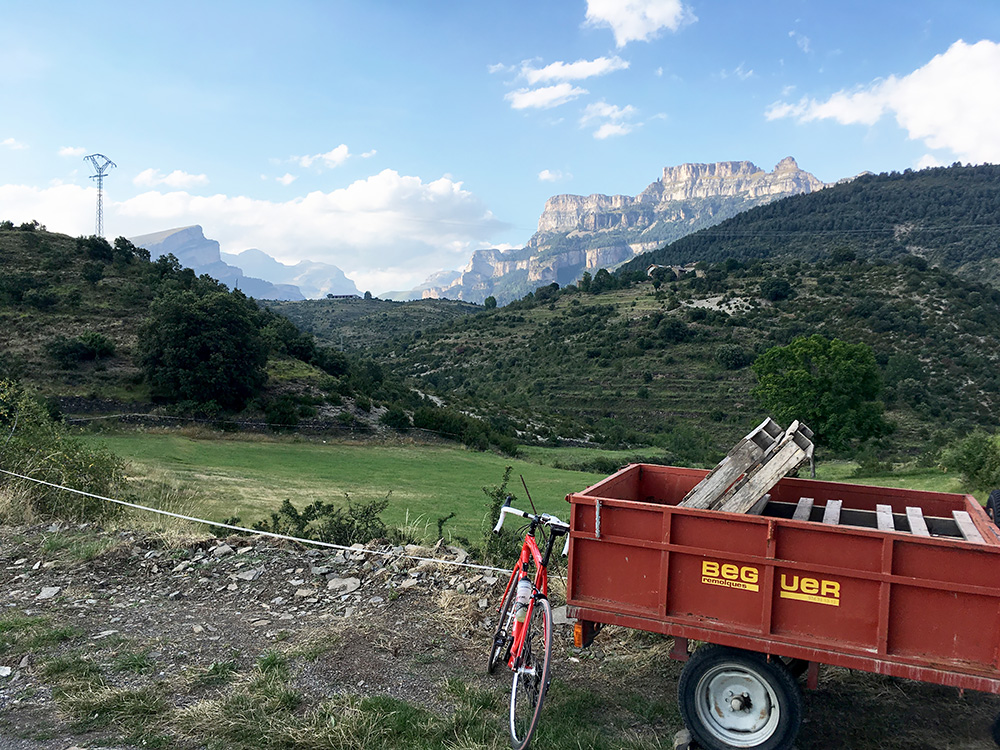 At the end of the valley up here I reached the village of Buerba and was greeted by great views up the Monte Perdido mountains. Said hello to a local old lady after the photo and continued up the mountain to near Vio.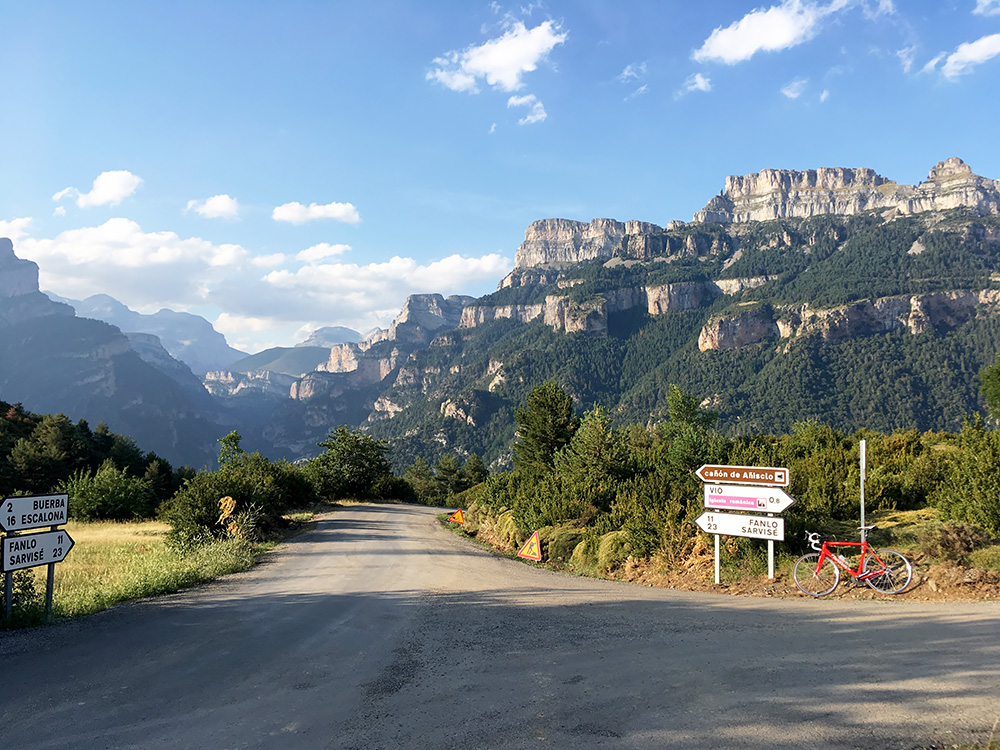 At the road to Vio I had reached the high point of this detour road, which is alos the location for the Collata de las Fuebas (1268m) pass. Here I had the best views on my whole tour and was very happy I had to make the detour road as I would otherwise have missed the best views here, which are from this pass.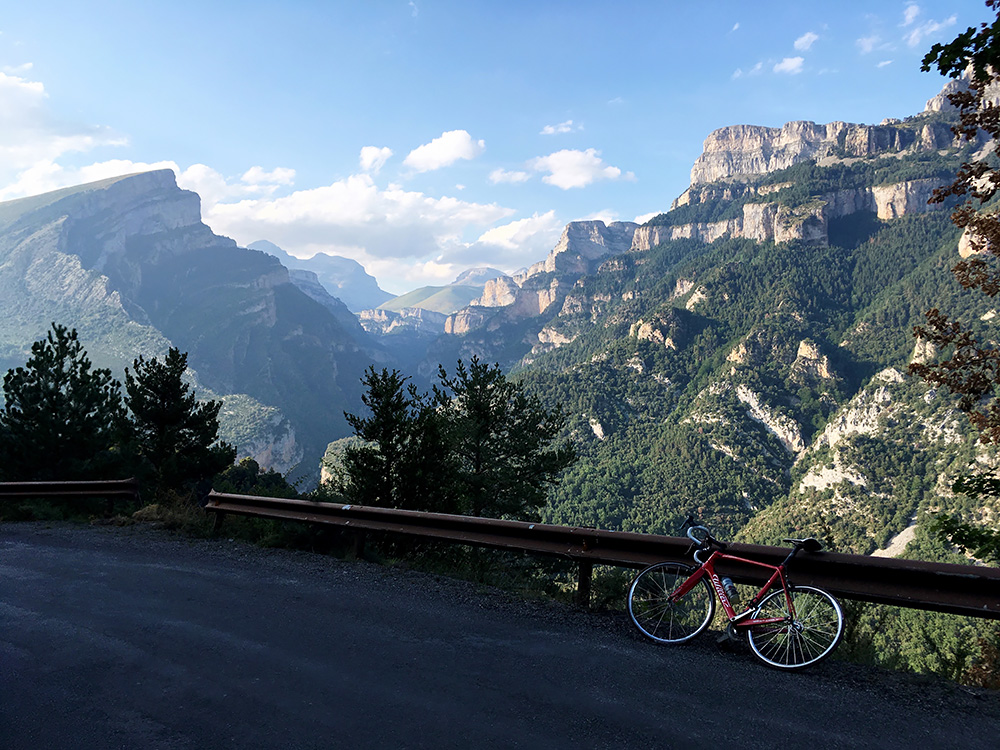 Maybe I should have gone a bit into the road to Vio also to see the views there, but it seemed unlikely I would get any better views anywhere. I descended a little and soon just had to stop again to take another photo, and this is my favourite this year.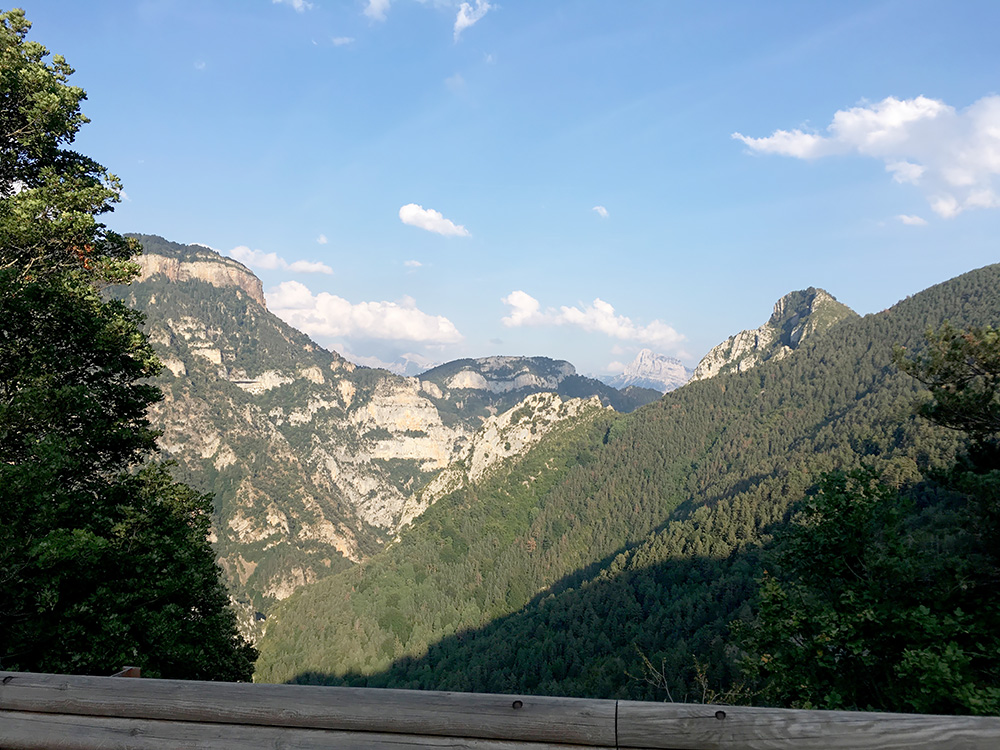 Down at the road that I should have come up from it was totally and completely impossible to go down that road from here as it was tightly blocked. They should maybe have had better warning signs at the other end. It might be nice if they ever reopen that road again though, but it did not look very likely. Looking down the closed valley here.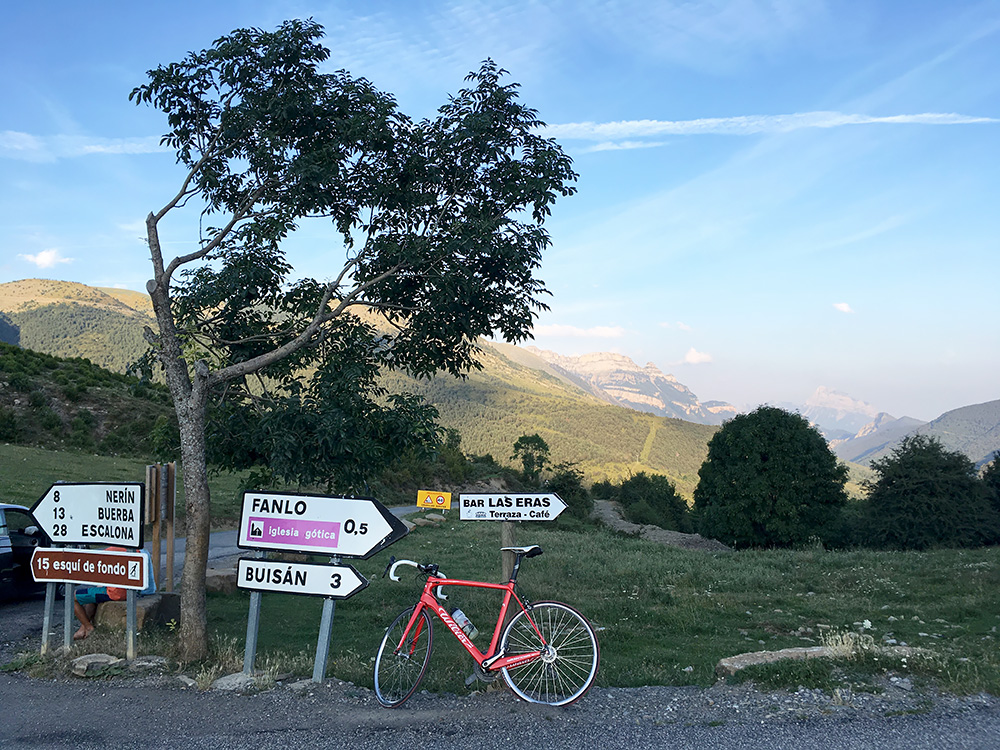 I thought I would then be close to Fanlo after this long road, but I was still only a little longer than half-way up that pass. The road up to Fanlo was nice though and in a good state even if it was somewhat narrow, so it was a nice climb to Alto/Puerto de Fanlo (1373m).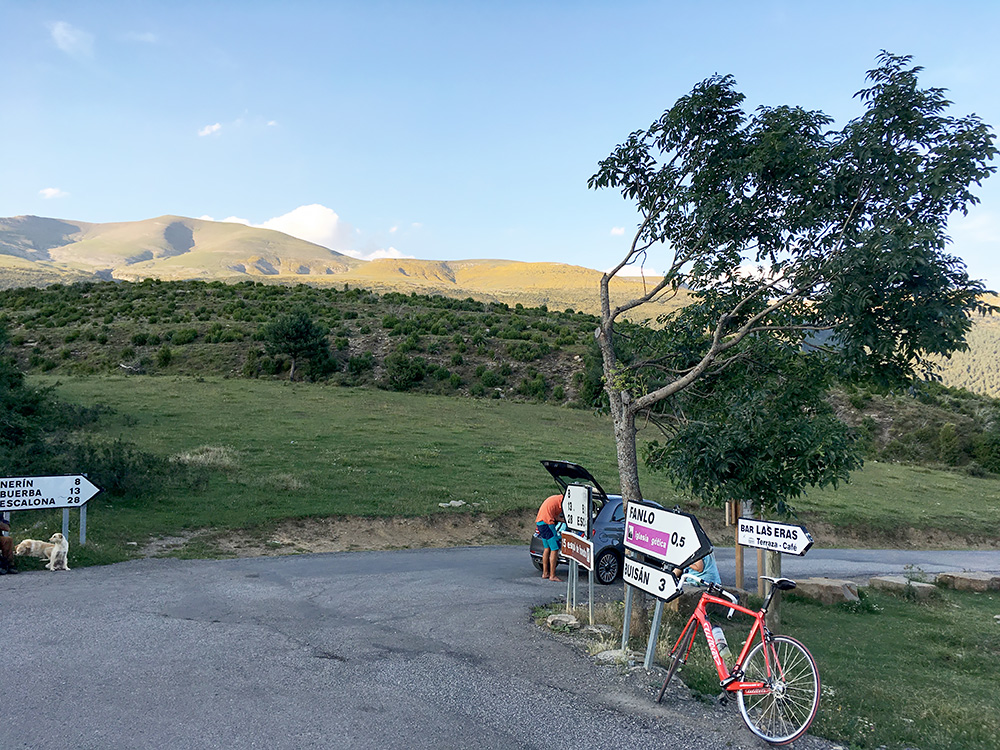 Said hello to the old man with his dogs here (I just missed him in the photo) and descended the somewhat long, but faster descent to Sarvisé/Sarbisé (860m). Along the way down there I heard lots of young people sing like religious songs from a camp (that happened once more at some other location in Spain). Maybe some religious summer camps for kids or something, but felt a bit odd.
There were at least there hotels in Sarvisé and I asked at all three, but none had any room for me. At the last one the lady suggested I go down to a place a bit below Sarvisé on the plain (just a kilometre or more down the Vall de Broto). It was a bigger vacation complex of some sort (like Vacances de France places in France). It was simple but they had room and were nice. The food was terrible though (like the worst school kitchen food). It was the second worst place after the more expensive terrible place in France mentioned earlier. The other hotels in Sarvisé would likely have been quite nice otherwise, but apparently this is a very popular place in the summer for Spanish tourists. I could likely have continued to Broto also, and probably should have done so, but this was ok. At least a bit better results today than the three days before and lovely views most of the day.