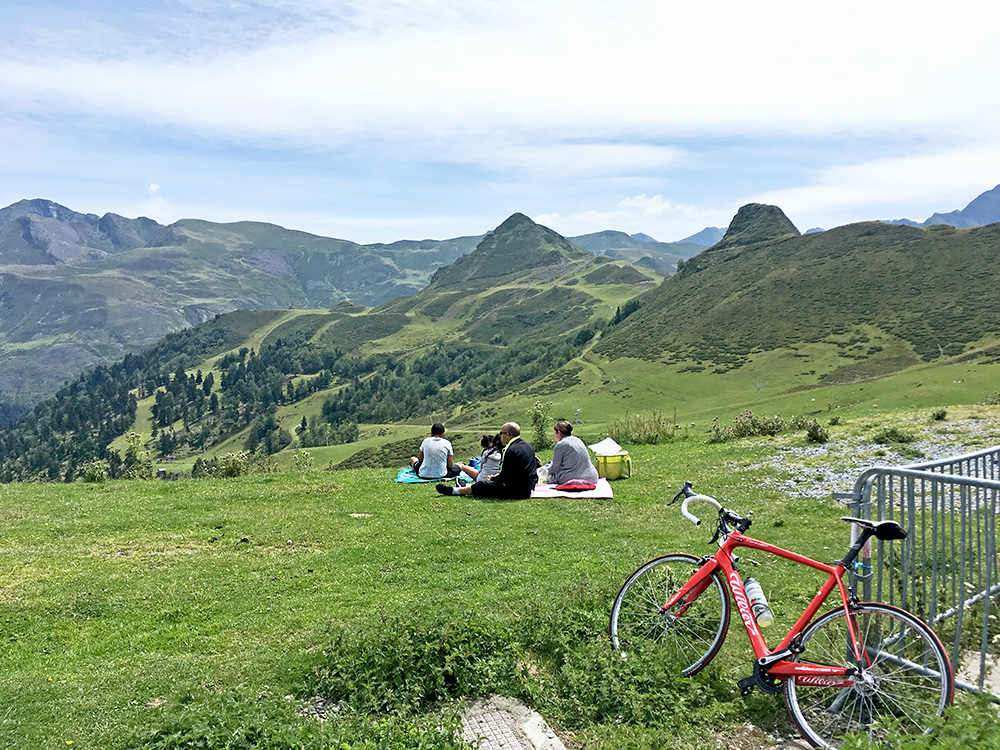 I was up according to plan to get in time to Argelès-Gazost (423m) from Lestelle-Bétharram (305m) to meet my friends. It is mostly slightly uphill there though and through Lourdes centre (where I have stayed two times before), but arrived there just on the minute we had agreed upon. Not sure where to meet exactly, I sent a message and saw a gas station where I could clean up the bicycle and went ahead with doing a quick fix-up while waiting for a reply. Got the bicycle cleaned, but no reply, so started cycling through the village and then into the centre and bought a coca-cola. Then I received an answer they were elsewhere and expected me the next day.
Ok, got a bit frustrated thinking they apparently didn't care about what I was up to (given that I obviously could not decide upon anything two days ahead), but later realised they had indeed told me they could only see me the next day, so maybe we could make it up to miscommunication and my bad memory here. I said I did not know where I would be the next day, but then later realised I might still be in the vicinity given I had several climbs to do here. Originally I had planned to be able to stay around here for at least two days, so just had thought I should be able to meet up one of the days. We later came to agree to meet up the next day (they also got irritated on me, but we got over this little thing rather quickly).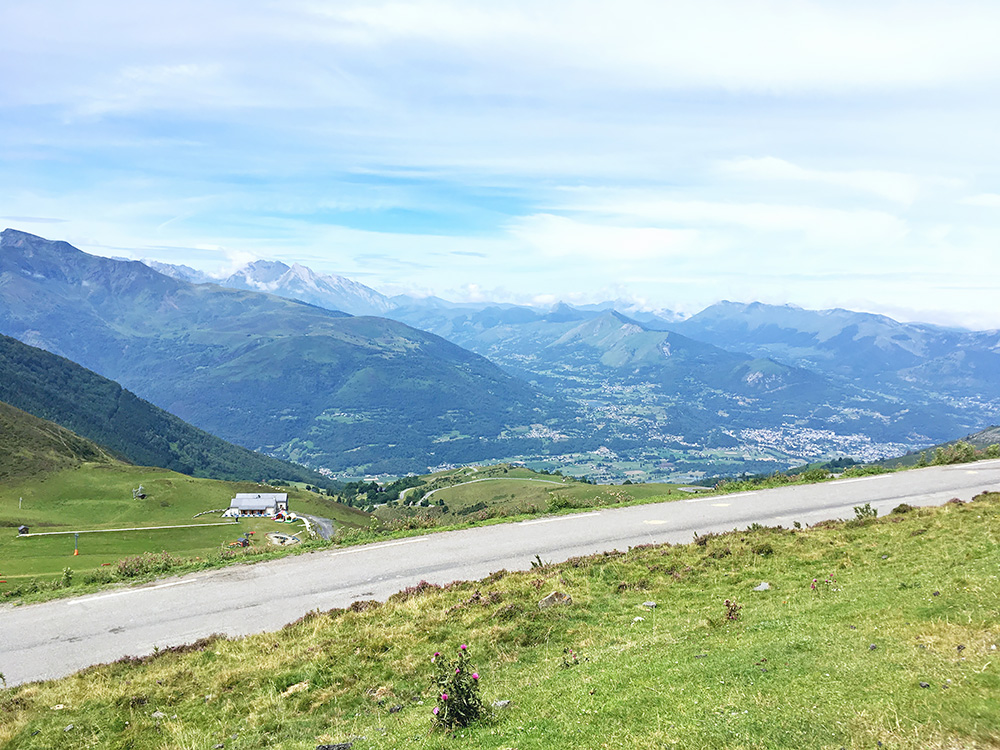 In a way this was all good for me as I could then do the climbs in the order best suiting my plans and start with climbing the nearby Col de Tramassel/Buraou (Hautacam) (1629m) which Marie and Ulf had already visited by then. Originally I had more spare time to do the climbs here in whichever order, but now I had to do them all in two days including the travel back to the start. Also I likely got up to Argelès-Gazost a bit earlier than otherwise.
The classic climb to Col de Tramassel (Hautacam) was something very much missing in my list of Pyrenees climbs from before and includes yet another paved pass at high altitude not yet climbed (this is also BIG climb). The road is fairly steep, but nothing extra ordinary. Here were many people passing by me and several people descending at high speed. This is really close to the centre of attraction for cyclists coming to the Pyrenees. In the first photo I reached the top of the paved road (1629m) looking over to the other side. And in this photo I am looking back down.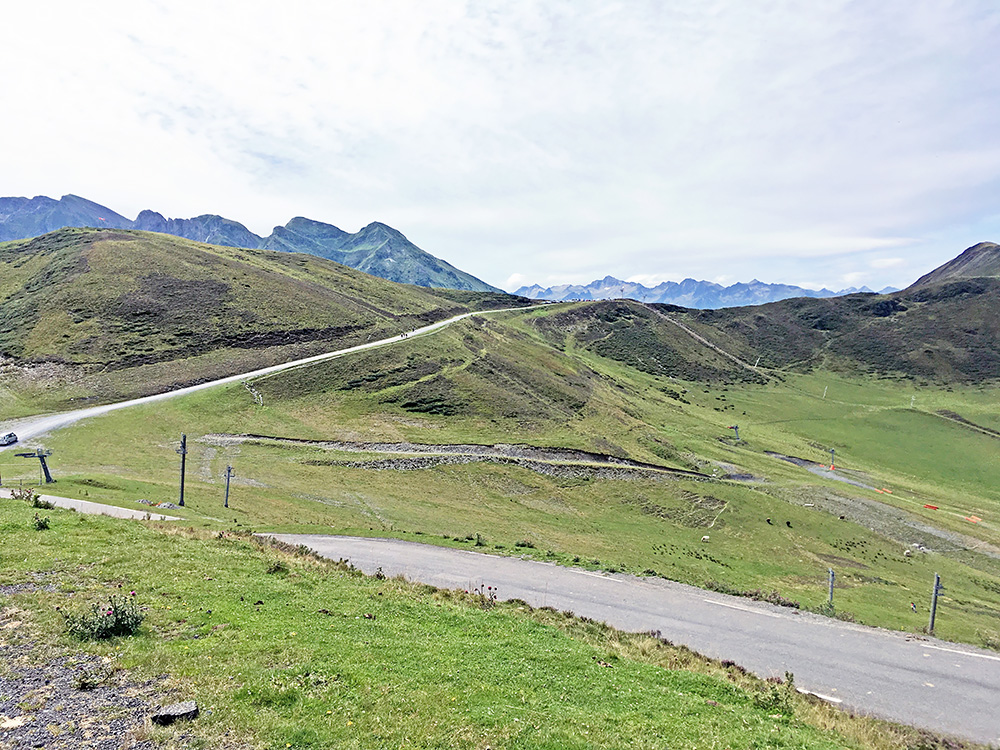 Here I am looking across the Col de Tramassel up to another nearby pass, called Courade de Maucasau/Maucazau (1660m), where a road mostly gravelled goes, but there is some asphalt on it and if it was not for the Col de Tramassel, I think we could have counted that pass as a road pass instead. It is a bit higher and a slightly steep ramp up there.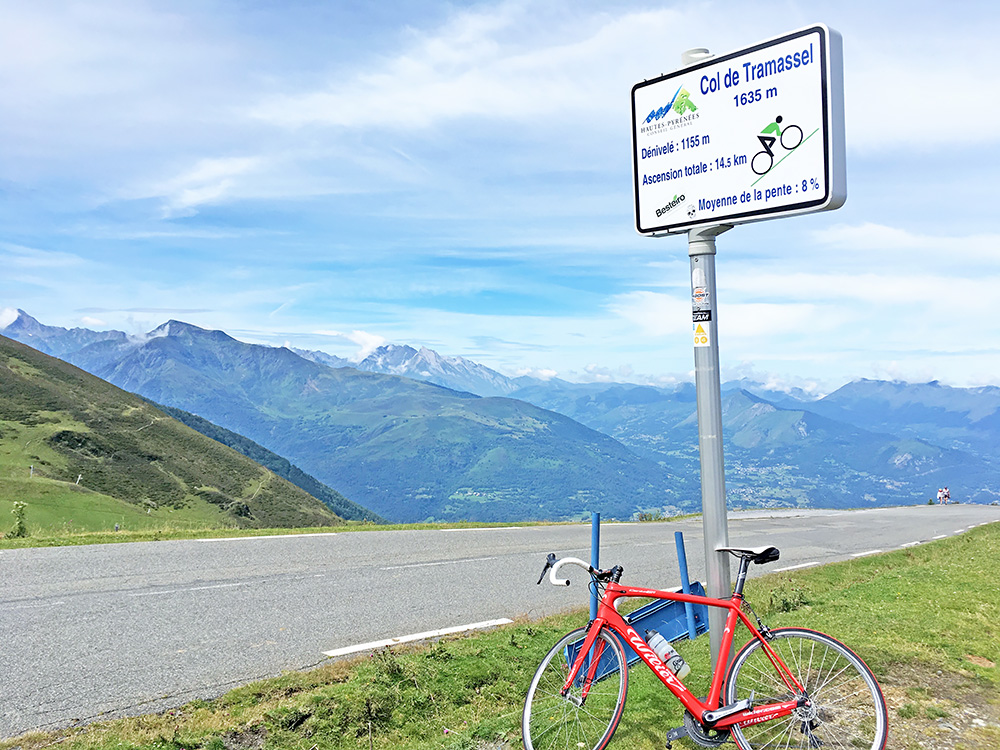 Here ar Col de Tramassel/Buraou (1616m). Those cycling signs are not always the most accurate ones, but nice to see along the road climbs. The climb starts at Pont du Tilhos (422m) and ends at the parking place above the pass at 1629m, so a climb of 1207 height metres, which is a big climb.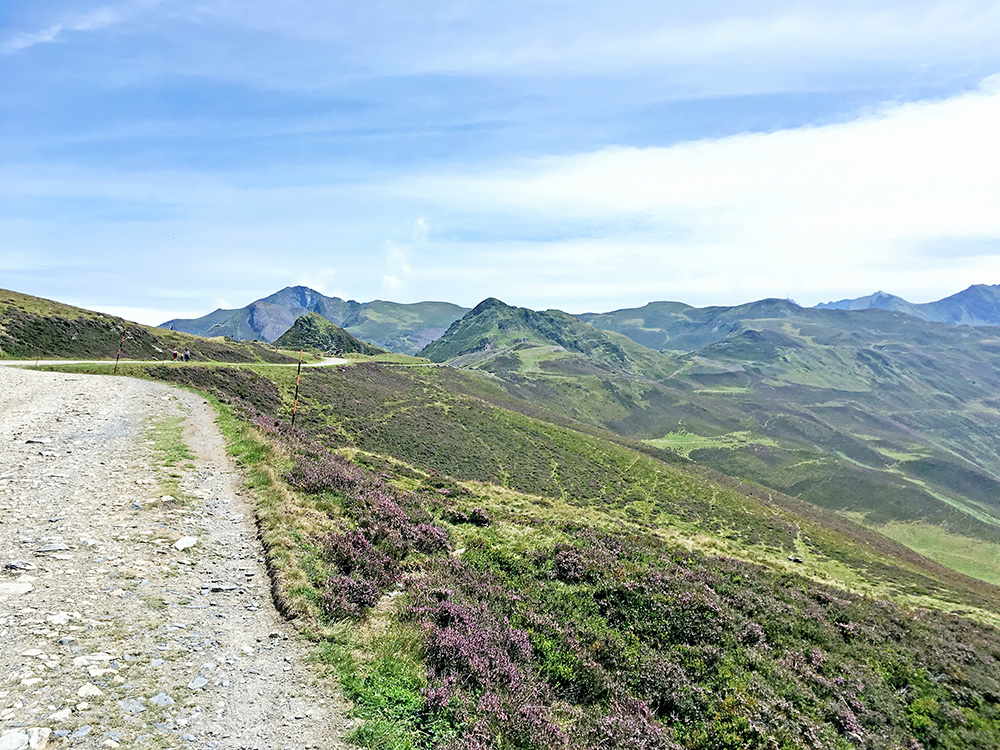 I went up the road to Courade de Maucasau/Maucazau and thought to visit the later pass called Col de Moulata (1676m). That pass is just a few hundred metres ahead in the photo here, but the gravel road there turned very stony as you see, so decided there was nothing much extra to see there and turned around here. It was difficult to edit the photos taken up here as it was much more sunny than it is possible to get the photos to show. (The sky looks a bit dark even though I have raised the light more than 100% from the original … . I might give it another try and later on and they are fairly accurate anyway now.)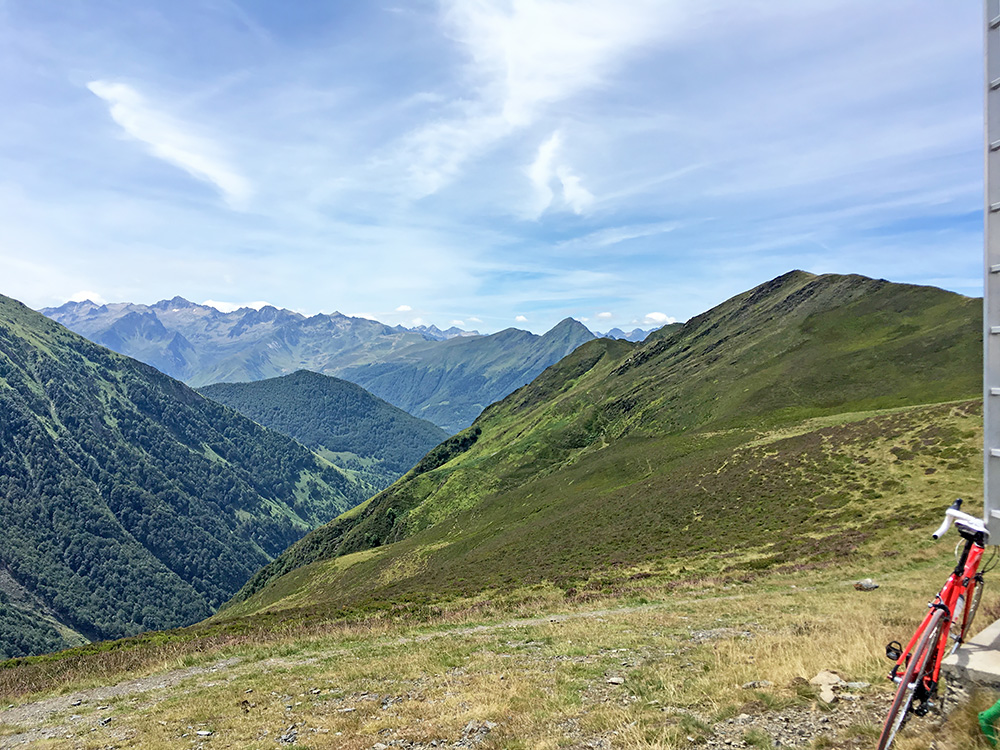 Here is the view down the valley on the other side of the Courade de Maucasau/Maucazau pass.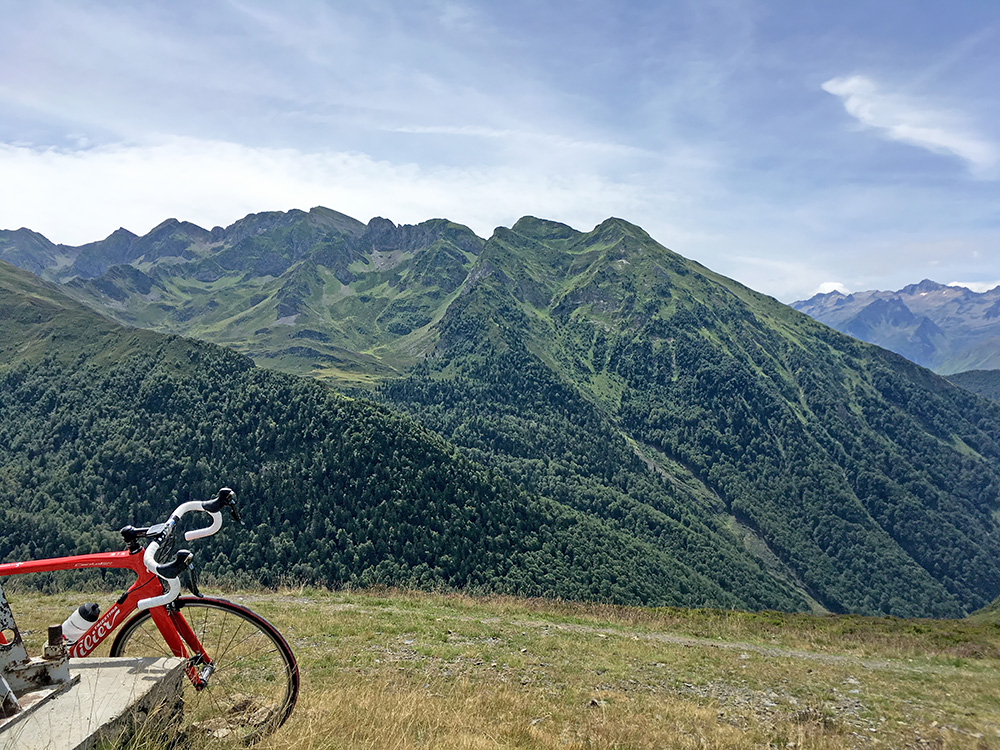 Here is the view right across this valley and it was nicer going up here than going to the parking at Tramassel.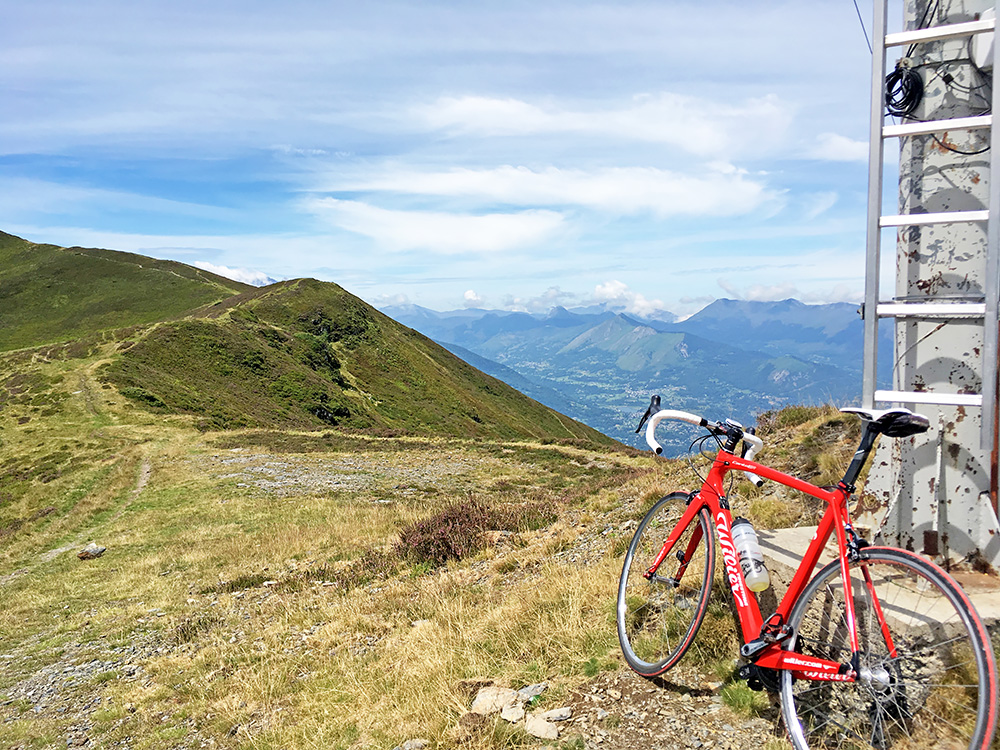 Here the pass and the view down toward the Argelès-Gazost area.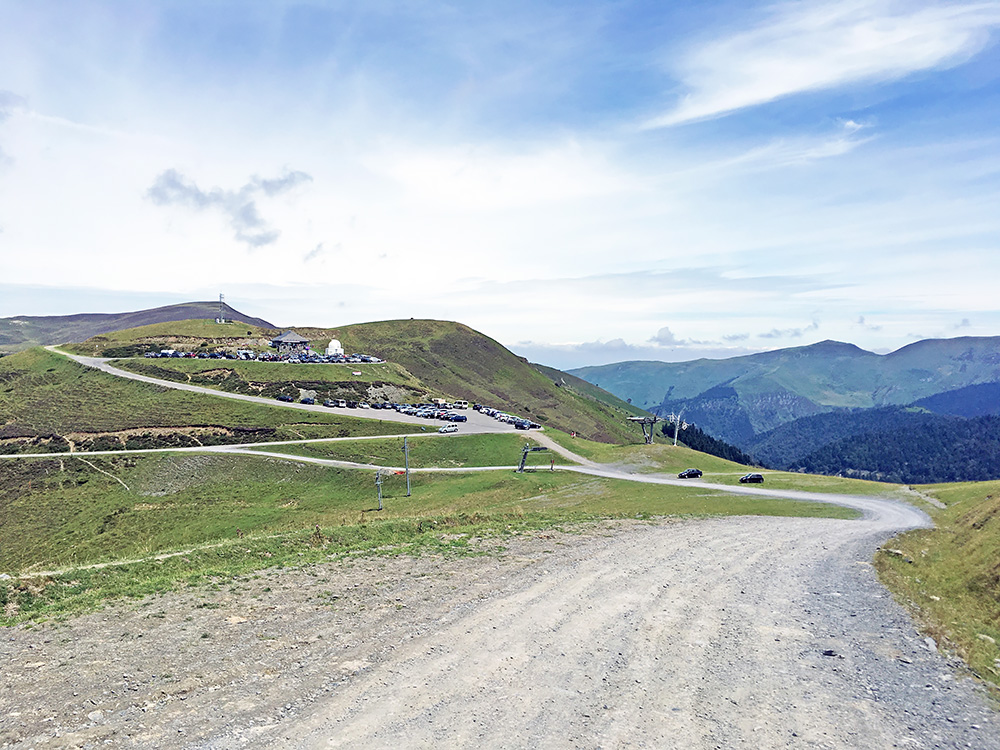 Final photo down over the Col de Tramassel (Hautacam) before I went down. One has does well to descend the road a bit careful as there many houses, cyclists, cars and odd bends on the road down.
I took a small road via Préchac and was almost on the way up to Cirque de Troumouse that I had thought to do today with my friends, when I realised that maybe I could save it for the next day as I might not be able to do it this day too and then we could possible go there the next day. Also the BIG climb up to Pont d'Espagne was closer by and to do that I would have to go down all the way again, so better do that climb first and likely then would only manage to do the Luz-Ardiden climb too, and so it turned out to be.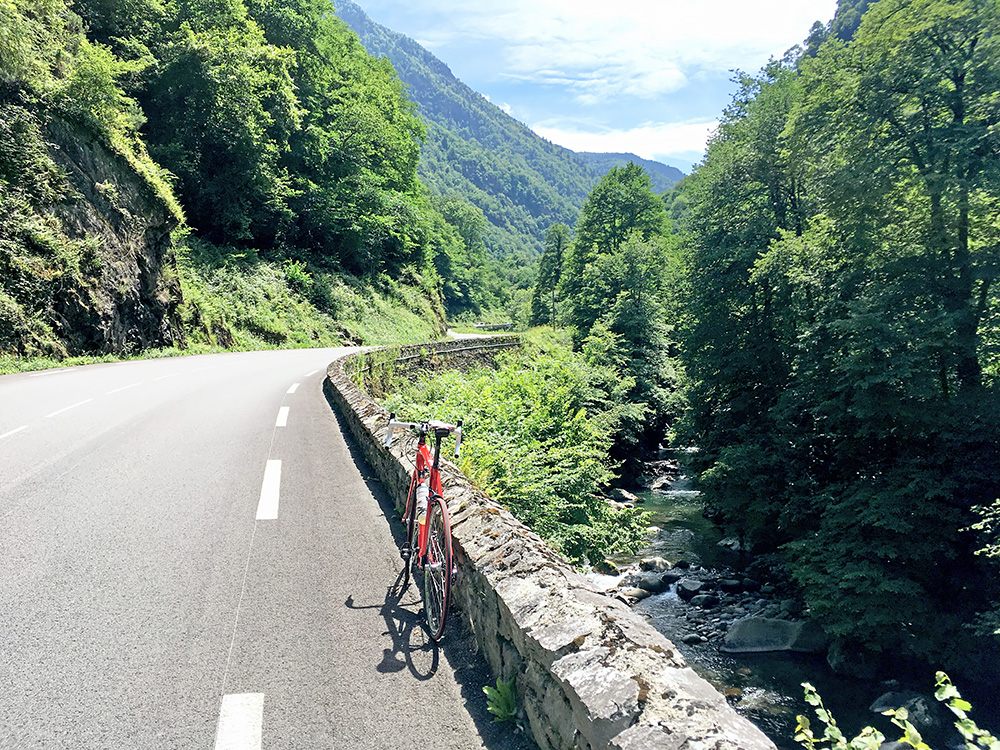 So I went a little back to Pierrefitte-Nestalas (490m) where I found a bar and had a sandwich and coca-cola. It was quite hot now, but not as bad as earlier on my tour. The Vallée de Saint-Savin is quite nice and the road was nice to climb (and very nice to descend), despite some traffic.
The road continues up to the Cauterets village, which is a pretty busy village almost the size of a small town. This seems to be the most popular place up (or south) from Lourdes.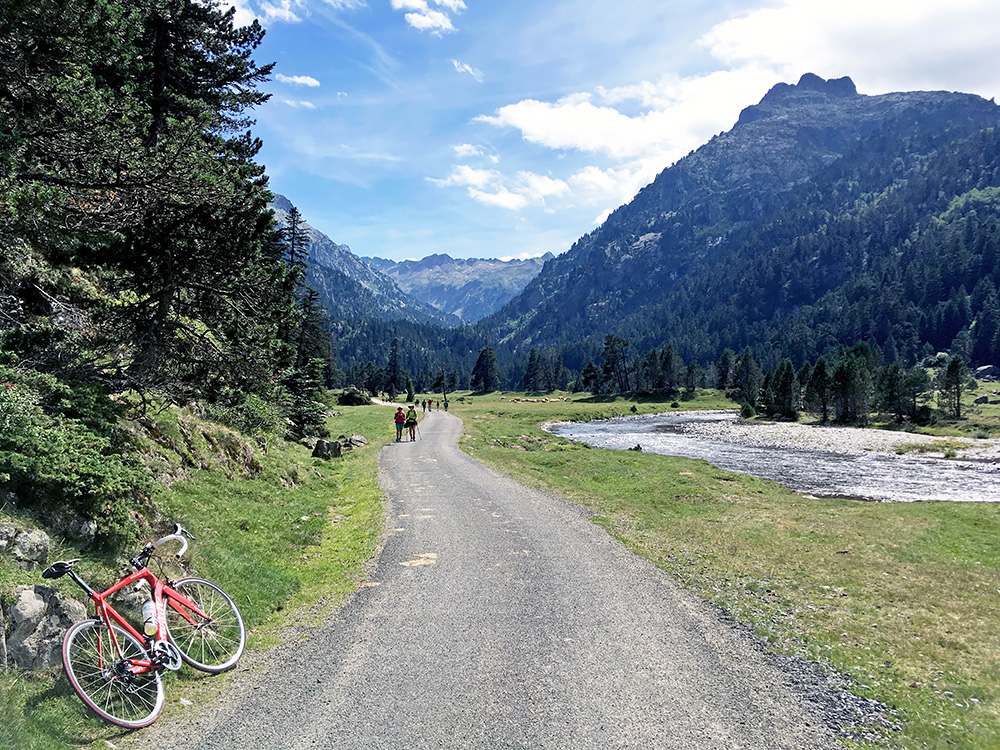 There are some side roads up here, but only the road straight ahead to Pont d'Espagne is paved above 1400m. Asphalt runs out soon of the point in the photo here up the Vallée du Marcadau and the high point is just before at ca. 1625m.
The climb seemed nice and easy, but it is indeed quite steep up from Cauterets to the parking at Pont d'Espagne (1461m). I did not know an was a bit confused by the ticket area at the parking and lifted my bicycle up some stairs there (one could go around the house on the side on a road without stopping). Then I just continued up the narrow road where people walks all over and everywhere. One man stopped me (or if I stopped to ask him about the road ahead) and told me politely that I was not allowed to bicycle on the road here and might get into trouble if the people working in the area came by, but said I was merely going up to the end of the asphalt road that I thought ended soon.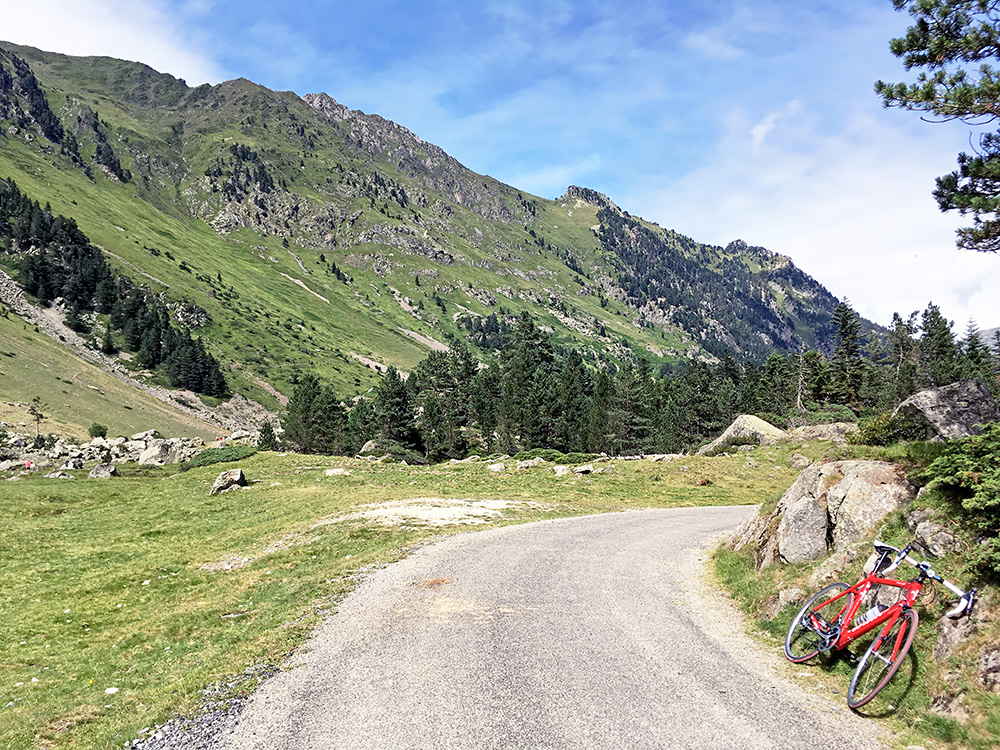 However, as I crossed a wooden bridge higher up, I realised the road continued surfaced up through the woods that had looked like unsurfaced on satellite images (but maybe not so recent or detailed). Now the road got steep again and quite nice with less walkers on it. I got up to the upper valley from where I had these photos. Got someone to take some photos of me and he repeated the road was not allowed to cyclists, but assured him I would be careful going down. Looking back in the photo here.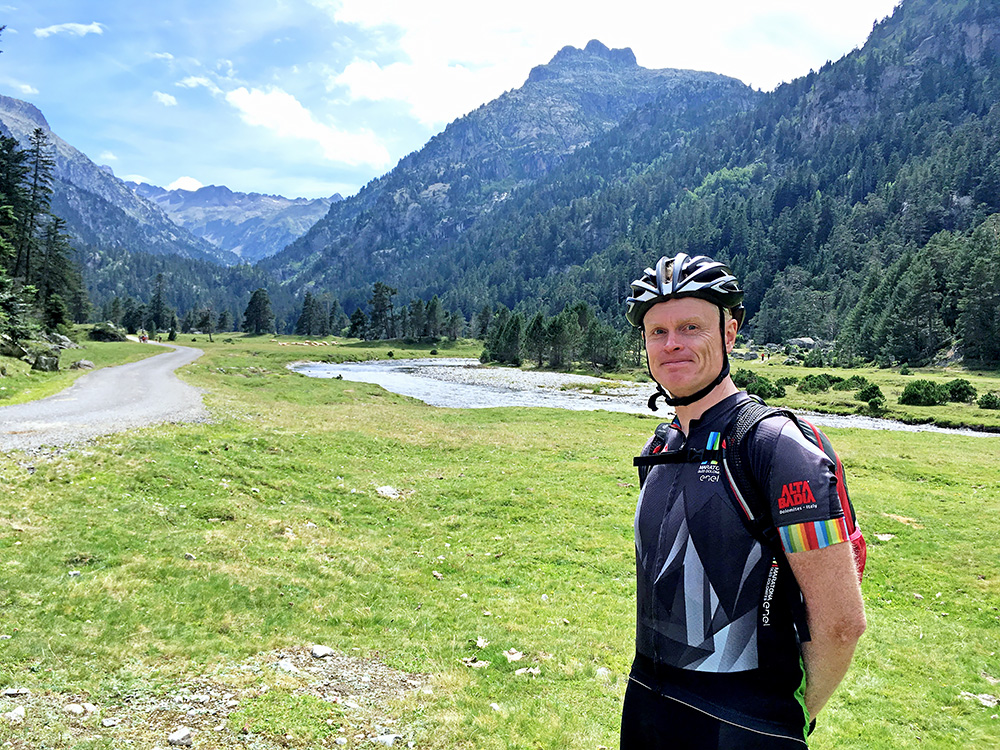 Me at Vallée du Marcadau and this is really the only interesting place to go up the valley to Pont d'Espagne as stopping down at the parking would be an big disappointment as there is virtually nothing to see on the way to that place apart from one nice waterfall and nothing at all to see at the parking apart from more cars than you have ever seen at a shopping centre area.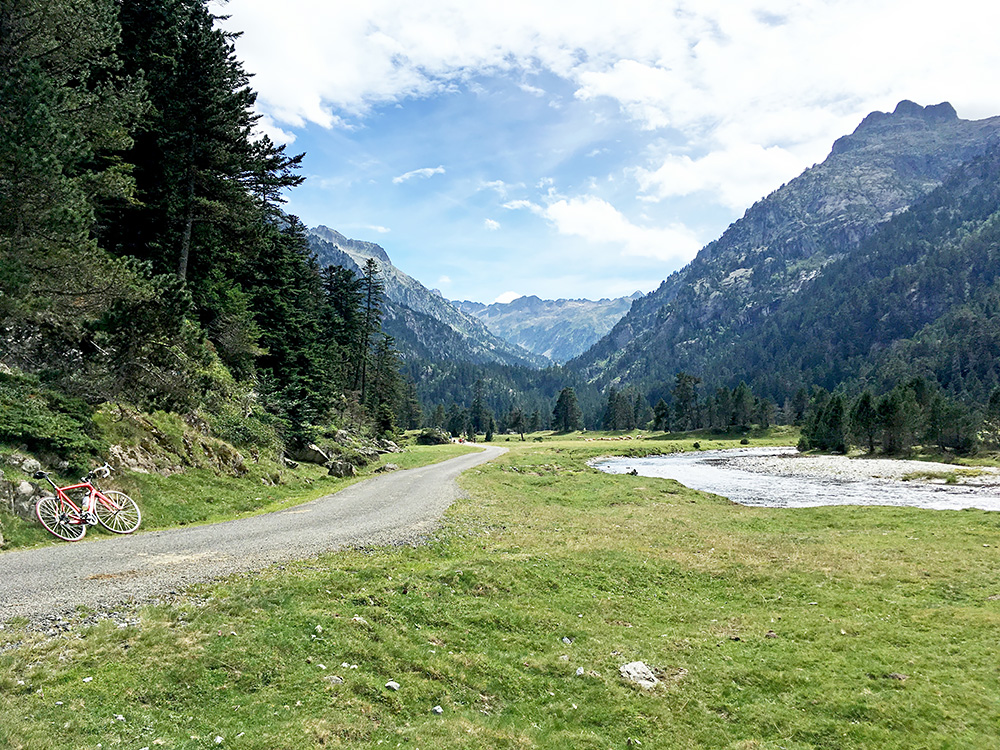 The same view without me, but with the bike instead. The man taking the photo wanted to lecture me on the mountain seen up here, which he said was the Vignemale (3298m) and earlier thought to be the highest mountain in the Pyrenees, but later looking on the map, I realised it is only possible to see from the parallel valley (Vallée de Gaube) or one has to go up to the refuge ahead, which he might have had in mind. Probably the place to go to if walking (or higher up), but cycling better ends here with a road bike at least.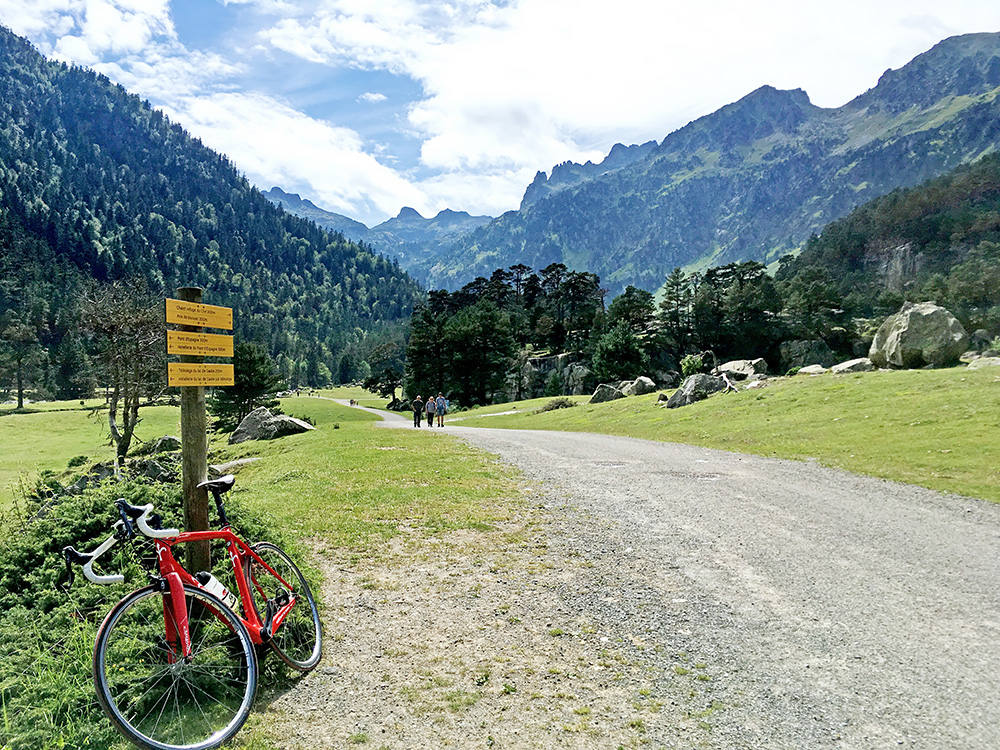 It was clearly worthwhile going up to the end of the asphalt road and I felt lucky I took the chance to do so despite all the walkers and the man warning me. Despite the warning I later met another man on a mountain bike down at the Pont d'Espagne (above the parking area) and he seemed to be a local man knowing what he was doing. Also I was looking carefully for a sign forbidding cyclists down at the parking, but could not see such a sign anywhere. Even if it is not forbidden you really have to go at the lowest speed and show lots of respect for the walkers if you go here or otherwise you should not really go here at all.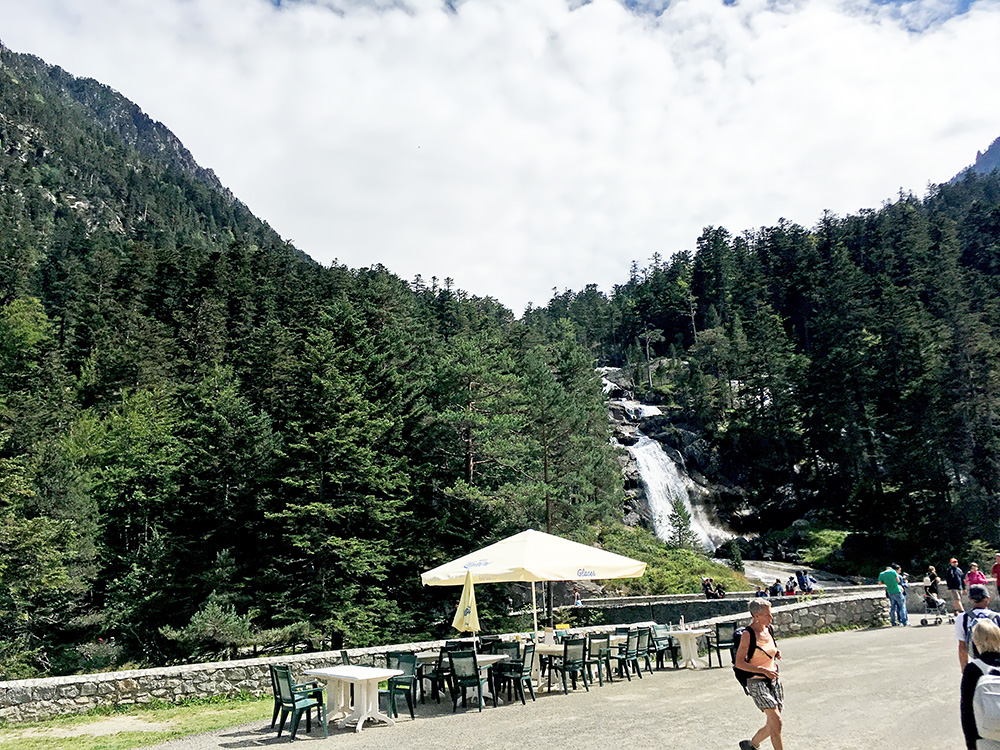 The photo above is from near where I thought the asphalt road ended (1521m), but further ahead here the road continues asphalted on the other side of the river. Here I am at the actual Pont d'Espagne just a bit above the parking. This is a busy place with a restaurant.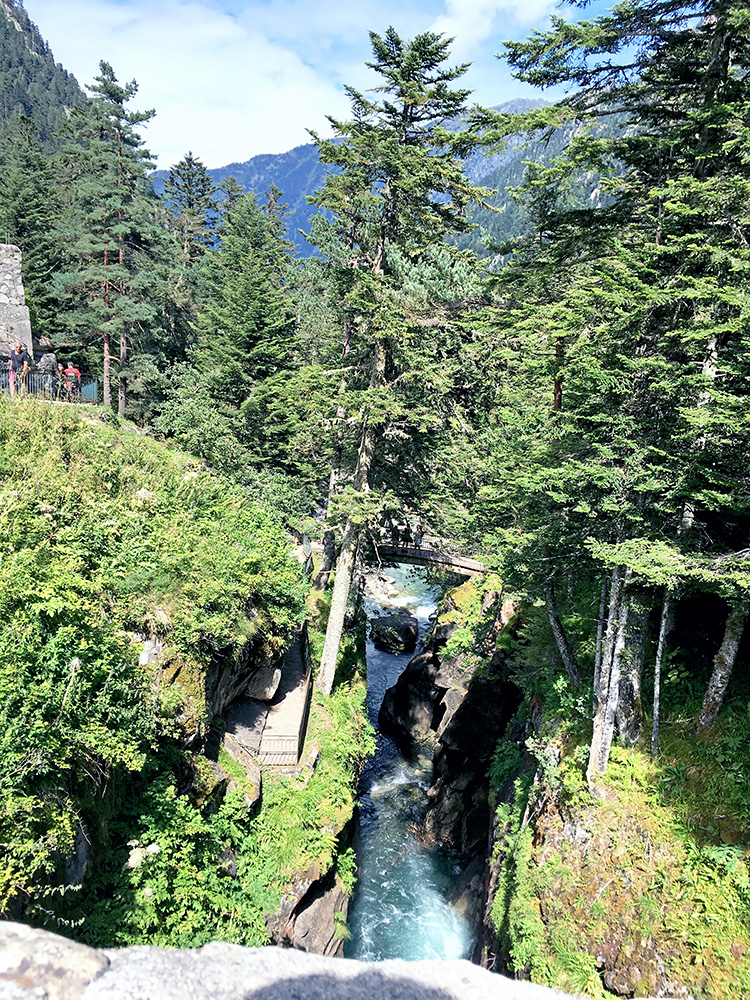 Here a last photo looking down from the Pont d'Espagne (1496m). So I had another +1000m climb here in the middle of the day (1135m more precisely).
I stopped for a grape soda by a grocery in Cauterets on the way down and then had an unusually lovely descent back to Pierrefitte-Nestalas (490m) where I nearly never needed to touch the brakes until the last bit down.
The main road up to Luz-Saint-Sauveur is in a terrible state (wobbly and bad surface). I was happy when the road crossed the Gave de Gavarnie river and I could turn off up to Viscos at Larise (622m). It was now around 18:00 in the afternoon already and thus it was clear that the climb up to Luz-Ardiden (1788m) from here would be the last for the day.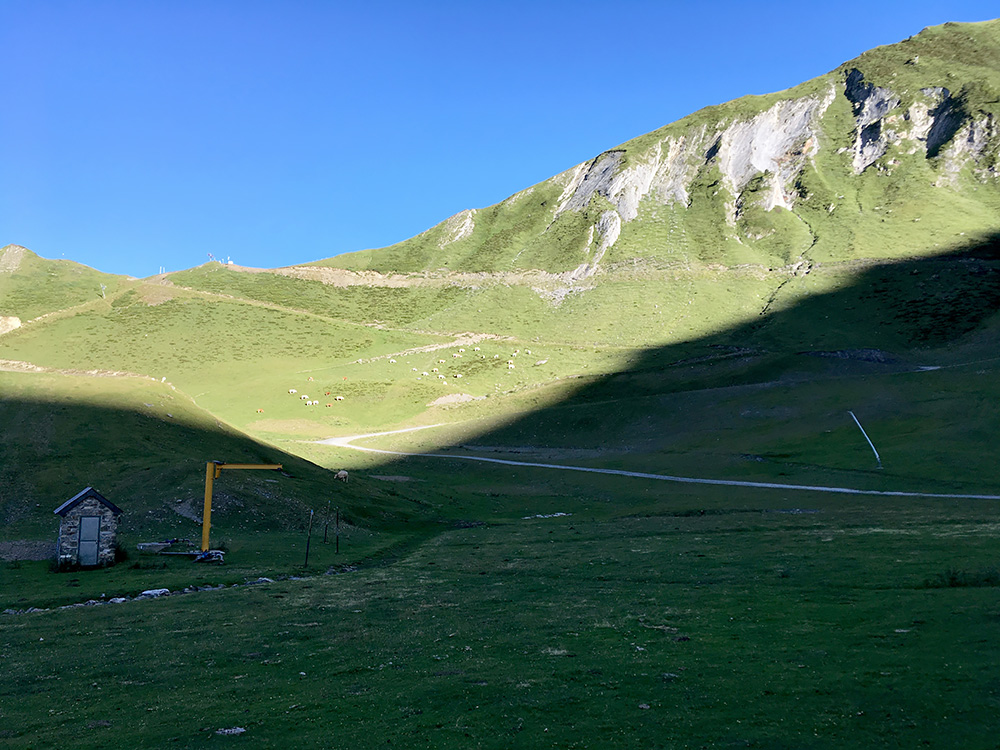 Another +1000m climb this day (1166m) and this is a decently hard climb, but thought it was steeper than it was from my memory of having gone some way up there back in 2001 when I watched the Tour de France for the first time. They arrived on this stage at Luz-Ardiden and the Basque Roberto Laiseka was winning ahead of usual suspects (Lance Armstrong and Jan Ullrich) this time. I think I went up the road from Luz-Saint-Sauveur then which is more consistently steep, but both roads are somewhat equal in how difficult they are).
I stopped in Viscos for water and had thought the road went up through Viscos, but realised it did not so had to go back a little there and continue the climb which is a very lonesome climb with almost no houses along this road on the way up. It was all in the shadows as the sun was on the other side of the mountain, but good while climbing even if it was no longer hot outside. In the photo here I am at the very top looking up to a gravel road pass above (Pourtère d'Enbat).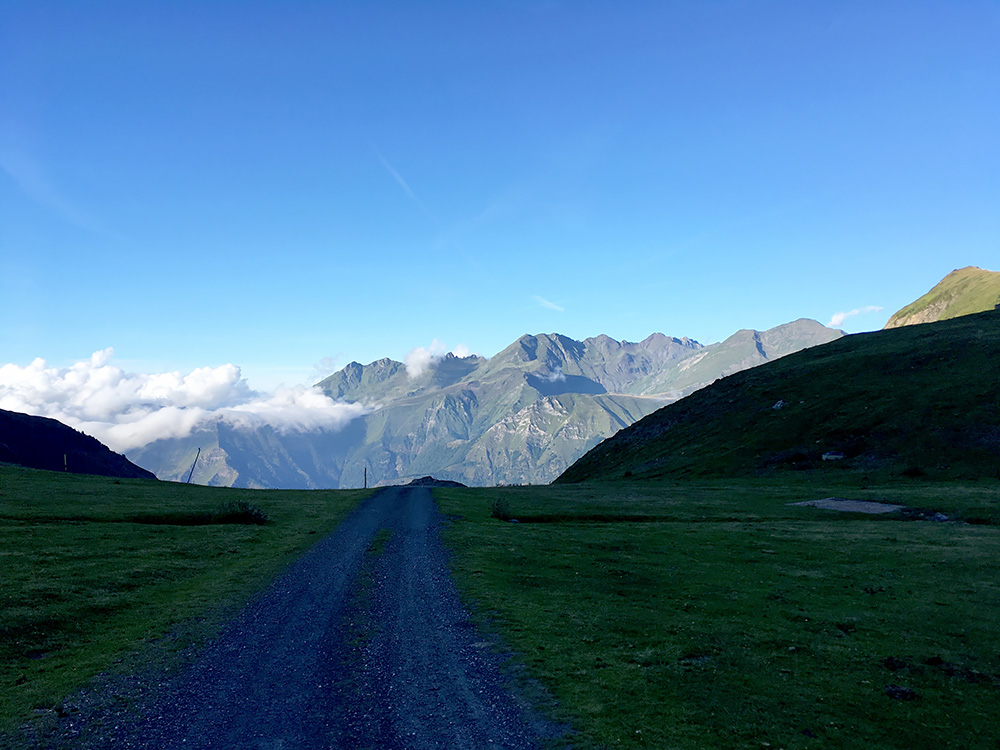 It was a bit cold in the shadows on the way up and was a little afraid the road might not be open all the way as it looked very little used, but there were no problems and when I joined the other road it was all nicer again. The sun had disappeared no so long ago high up. Just before I reached the top I saw two cyclists on their way up that I did not manage to catch up with before they stopped at the parking at Luz-Ardiden.
I had noticed that a road that looked paved continued a bit higher up and just continued passing them by and went up this quite steep road that was missing asphalt only at the place where it was steepest, which made it a bit tricky, but got up all fine to the little plateau just above where the asphalt runs out at ca. 1788m and with very nice views as seen here.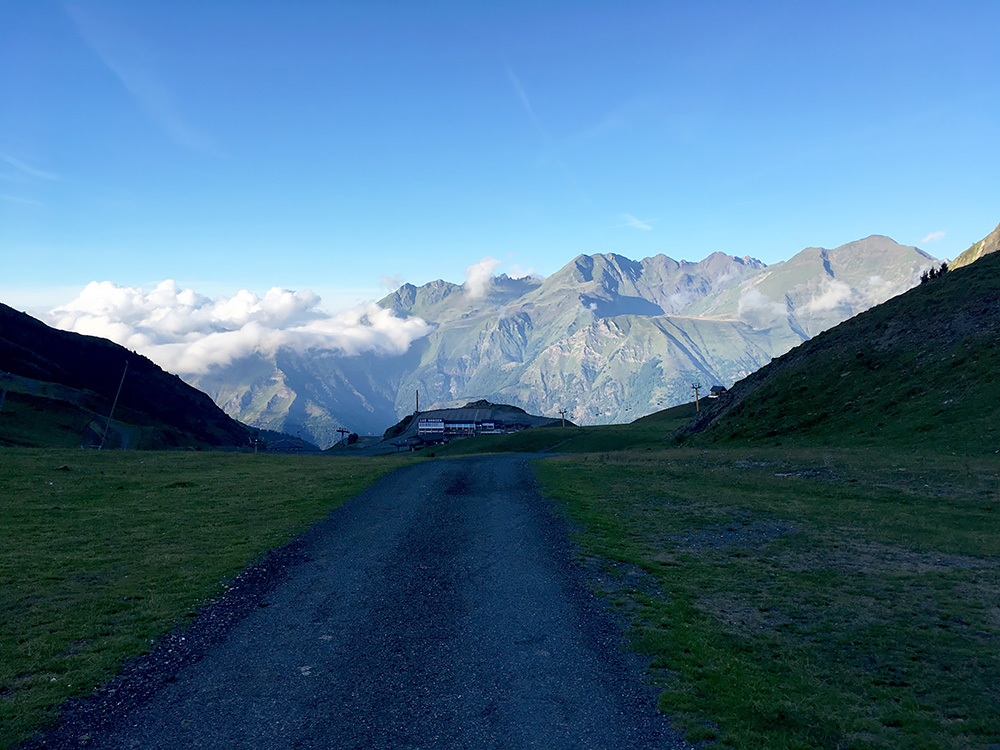 I took some photos and di not think much about trying the gravel road above as it was getting late and returned back, stopping for another photo just where the station became visible again (in this photo).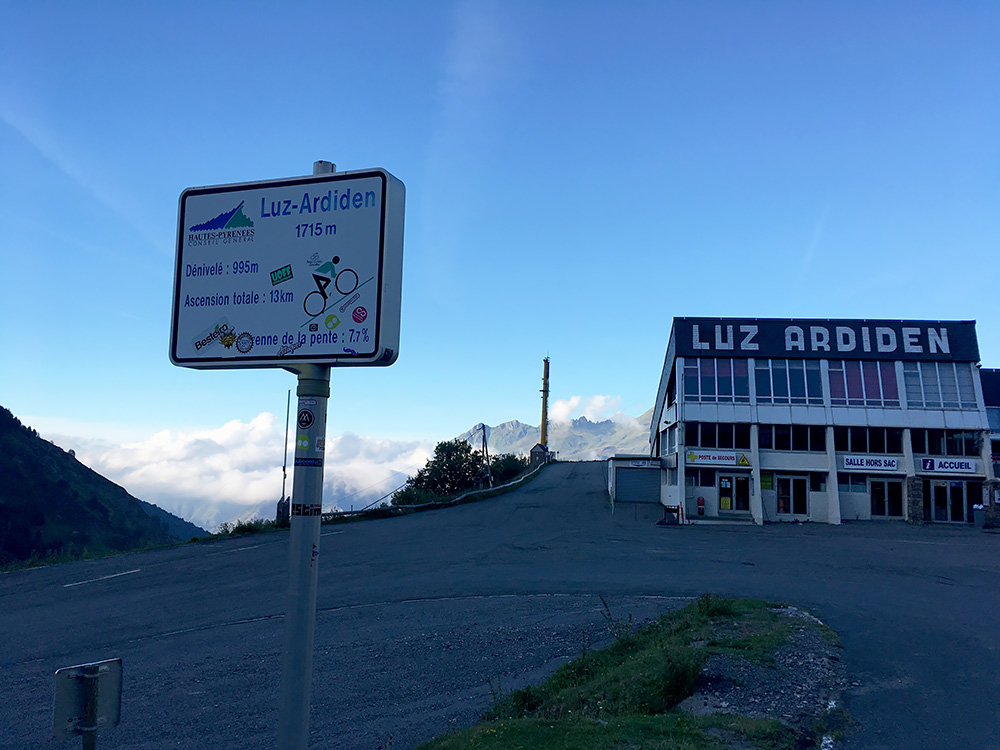 Then I went down to the guys still waiting at the sign putting on wind jackets and so I think. I pointed out that the climb was not finished there, but they knew all about the road ahead and had been up there before as they were local cyclists. They also knew it was nicer up here in the evening which was why they had been up this late here. They went down as I stopped for some more photos.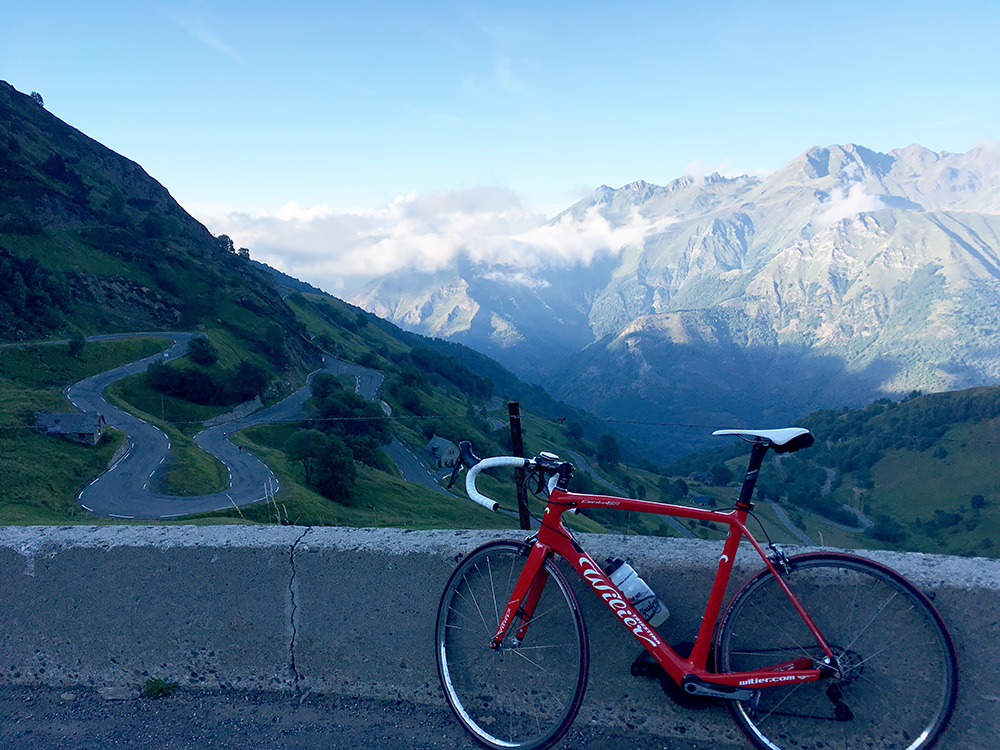 The guys are visible in this photo as dots on the road after the bend closest to me.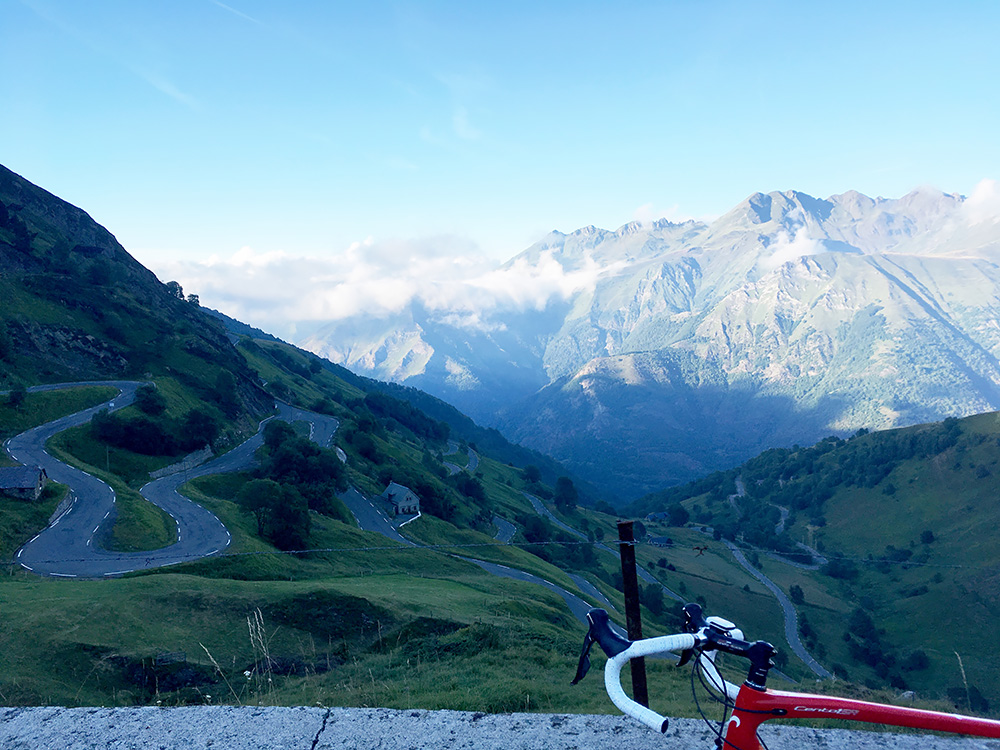 Another photo to show the nice serpentine road of the last section up here. It was getting dark and cold, so I better hurry on down now to find some lodging. It was 20:03 now.
It was cold, but thought it would soon get warmer so didn't put on the wind jacket, but it took quite some time before it got warmer as the shadows had been there longer lower down. I had actually looked for places in advance to stay at here on the road down to Luz-Saint-Sauveur, so I knew there should be some bed & breakfast places at two locations down the road. The first was in Grust and although it looked like a nice place to stay at, the lodging place looked closed and it was still quite cold here, so I continued down to Sazos just above Luz-Saint-Sauveur where I found a sign for the auberge and eventually located it (which was not so easy), but they had no room and I was anyway too late for dinner also I guess, so had to continue down.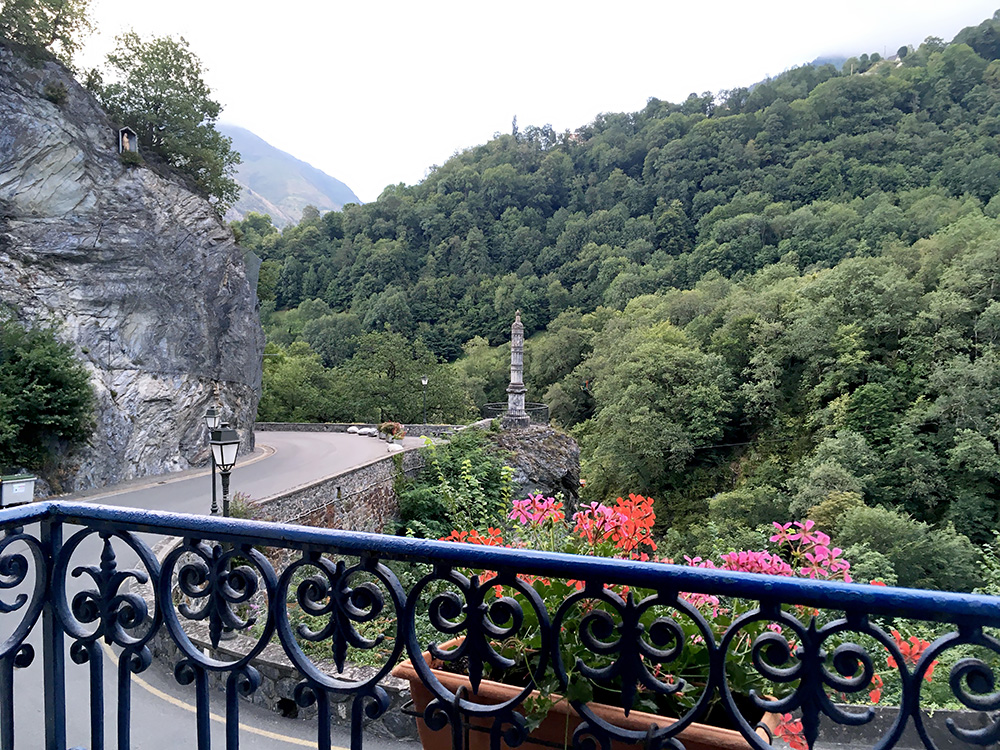 Down at the crossroad (708m) it was now warm again and it looked like there could be some place to stay at just a bit up the road here, so I went a little up the road and around the corner was the 2-star Hotel Ardiden, which looked nice. I got a room there. It was not the cheapest place but was nicely located and all was fine there and had the menu for the day. This was after all the last day at a hotel and did not want to search for too long as I might not be getting any dinner then at this time. Here is the view from my room already at 20:46, which was rather quick despite not descending very fast and cycling/walking around in Sazos.
I agreed with my friends to meet down in Luz-Saint-Sauveur in the morning, so got to sleep a bit longer than they (not being a morning person myself).