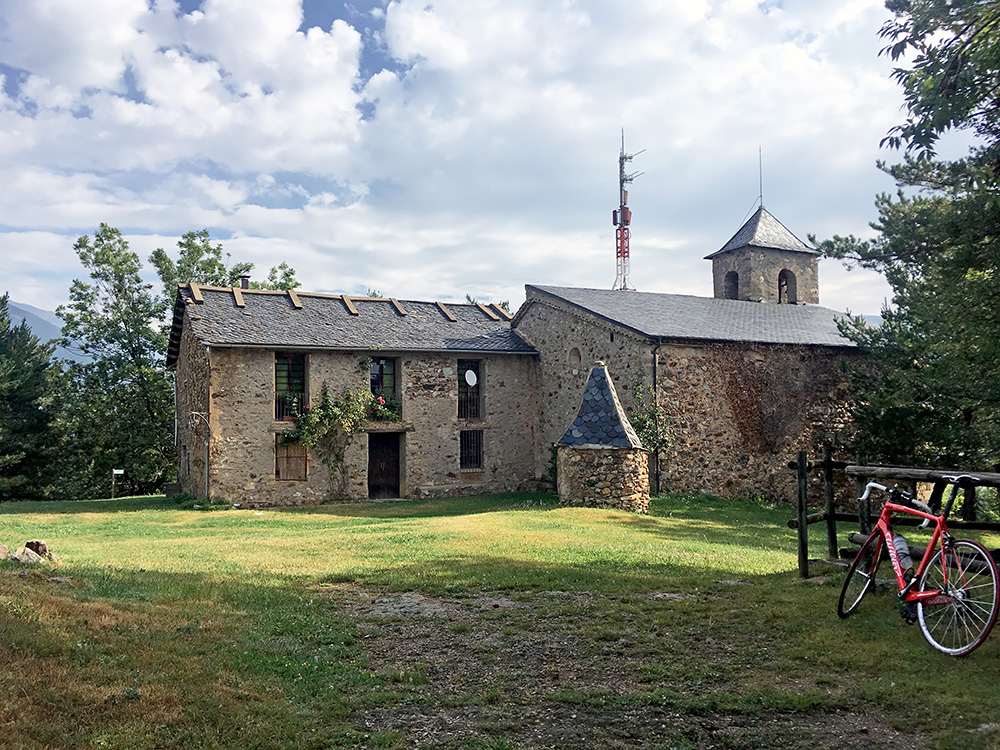 Not so impressive distance and amount of height metres for this day, but still a rather impressive day in my mind. Also no day with as many photos as on this day (thought it was hilariously many photos from day 4 (40 photos and think I used like 35), but here I have 61 (using 50) photos to choose from (so the page may take a while to load …).
One day behind schedule and first I had to do the climb I came here for again, the only pass in the area above 1300m that I thought little of when being here the last time and it is indeed not a very exciting climb or pass compared to others in the area. First I went up another small pass located close by, the Coll de la Casassa (1219m), where a nice very narrow little road continued on to the little Sant Antoni chapel (same name as the hotel I stayed at for the night and there is a direct path up here from just behind the hotel, so it is just above). I had thought the views would be better (probably better on the other side of the chapel), but it is still a nice area and there were a little recreational space just next to it.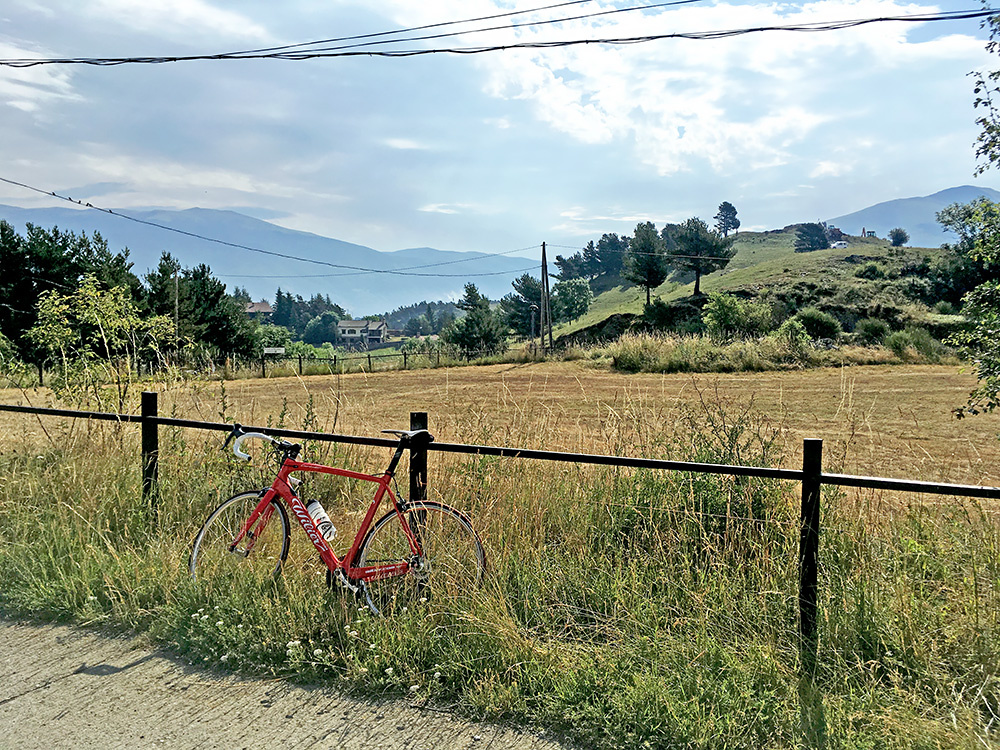 This Sant Antoni climb (to 1274m) was in fact more interesting than the climb up to the Coll de Jovell/Collet de Cal Climent (1319m) (not sure about the source for the first name). Anyway I went up there and back down again.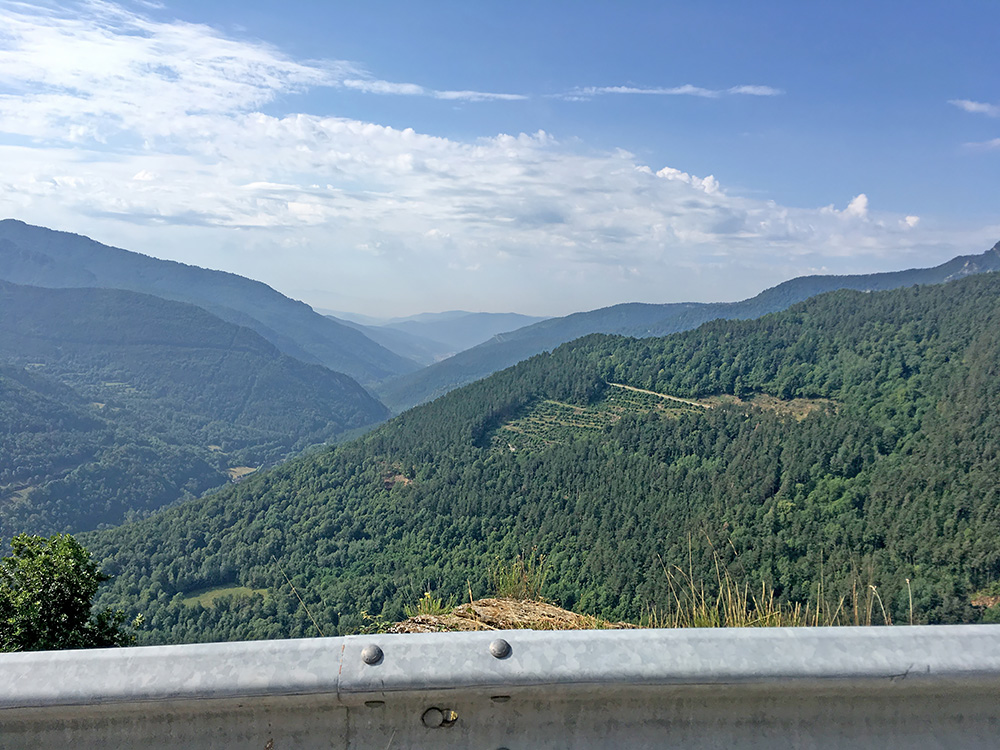 Decently nice views down the valley where I would soon being going down to Campdevànol (733m). I stopped in Campdevànol by a café just before leaving the village for a coffee and micro-sandwich. I had seen some cyclists in the morning, girls on road bikes at breakfast and later some guys down to Campdevànol, but not many people out as it was getting really hot now.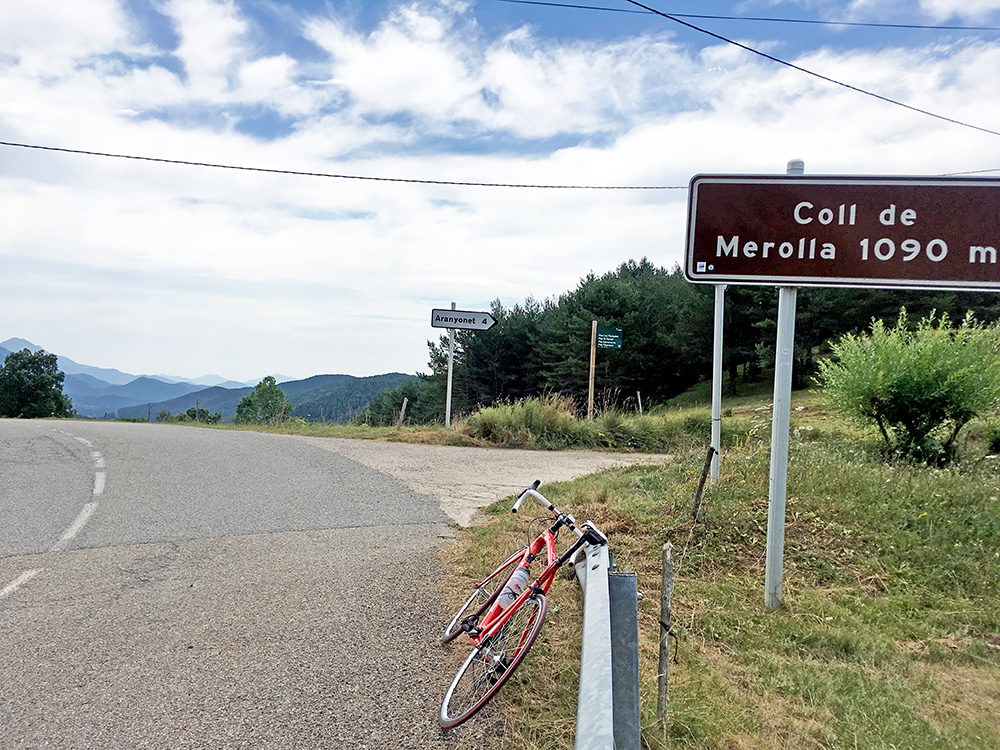 Still fair temperatures as I winded my way once again (third time now I think) to Coll de Merolla (1099m), which is a strategic road in the region for cyclists (with some options). Coll de Merolla is a nice pass in that it is one of few passes one could climb without having to go down on the small front chain ring, but its gets tougher the closer one comes to the pass on the long road. Stopped for water in Gombrèn that I remember had water since before.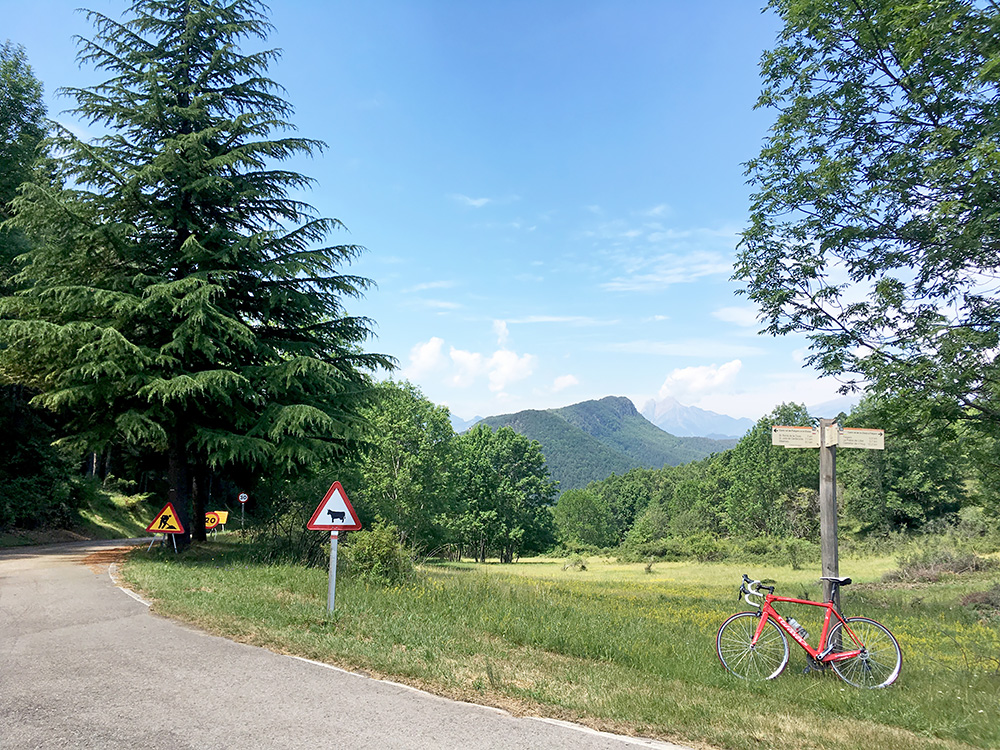 Passing Collet de Montbardó/Collada de Montverdor (1035m) and Coll del Puig (956m) on the way down to La Pobla de Lillet (840m) where I once again stopped for a coca-cola at a more local looking café combined with a shop. Nice place, but soon went on. Just a little west out of the village I was taking off the main road down a small road that climbed up the other side to Mare de Déu de Falgars (a hotel/restaurant there apparently), but I was interested in the Collada de Falgars (1256m) just before where I turned around.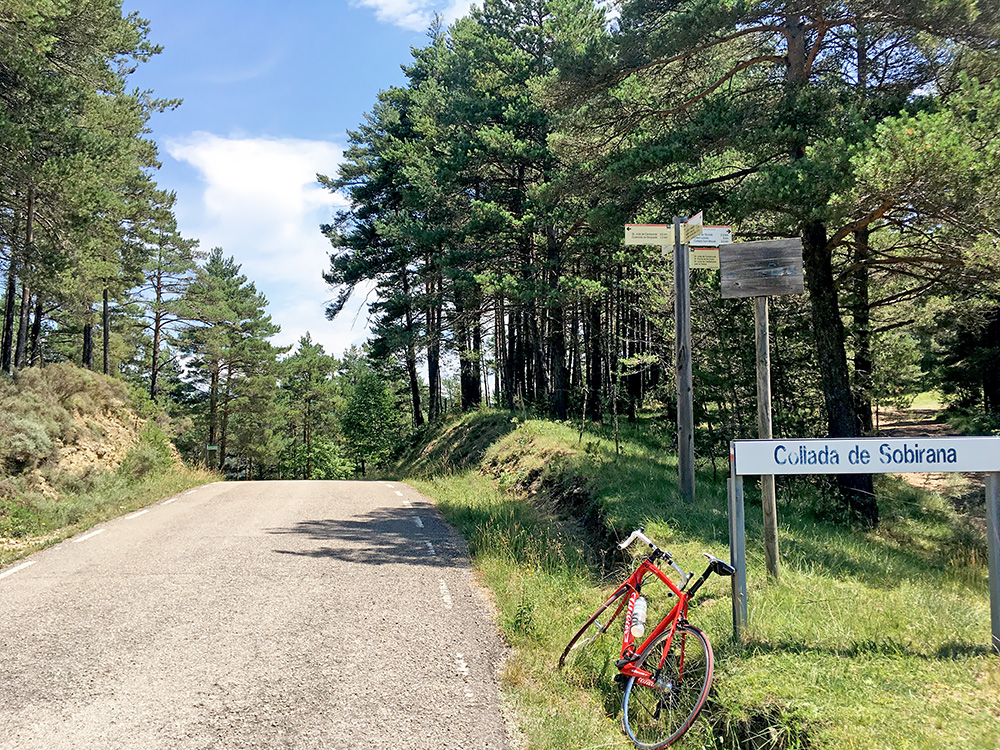 They were working on the roadside as I climbed up, but there was no problem going up, but met a cyclist going down and he would have had to take it a bit easy. This is a pass obvious to combine with the Collada de Sobirana (1212m) which is the only through road that is paved here. Now I had thoughts about skipping these two passes as they are both below 1300m to catch up a little with my plan, but it seemed like I really should visit something more in the area while passing by this time and decided they would not take a lot of extra time. It turned out the Sobirana pass is actually quite nice with great views after the pass. It is very steep up there from the turn-off to the Falgars pass, but it is only a short stretch.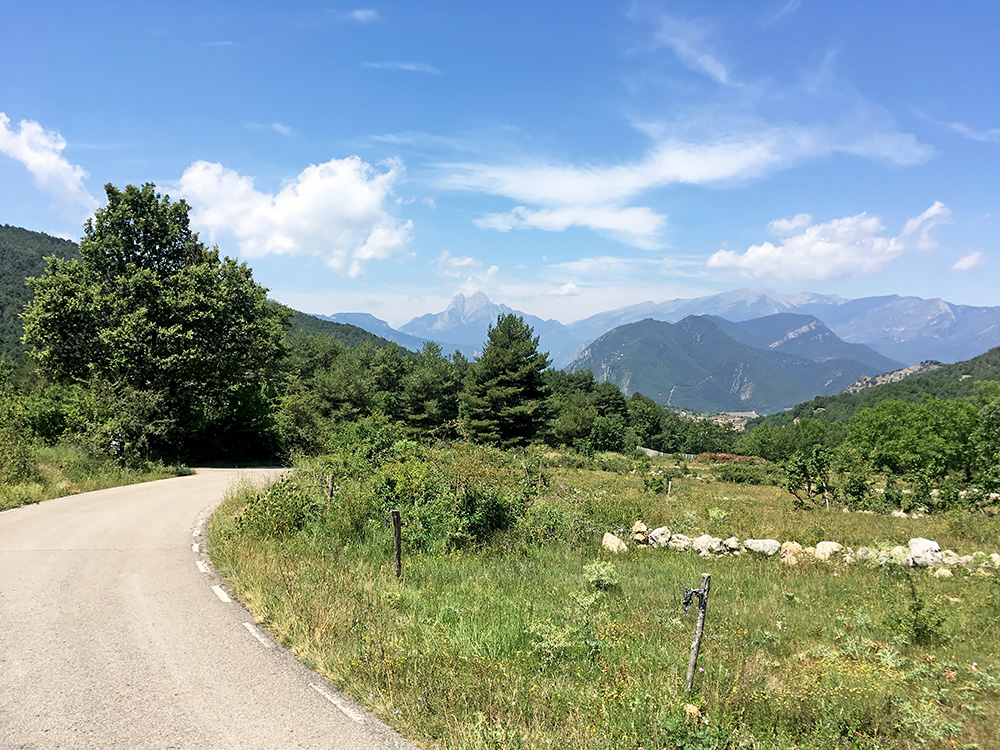 Likewise it was a bit steep down the other side on a small road to Sant Julià de Cerdanyola. Here looking down in that direction.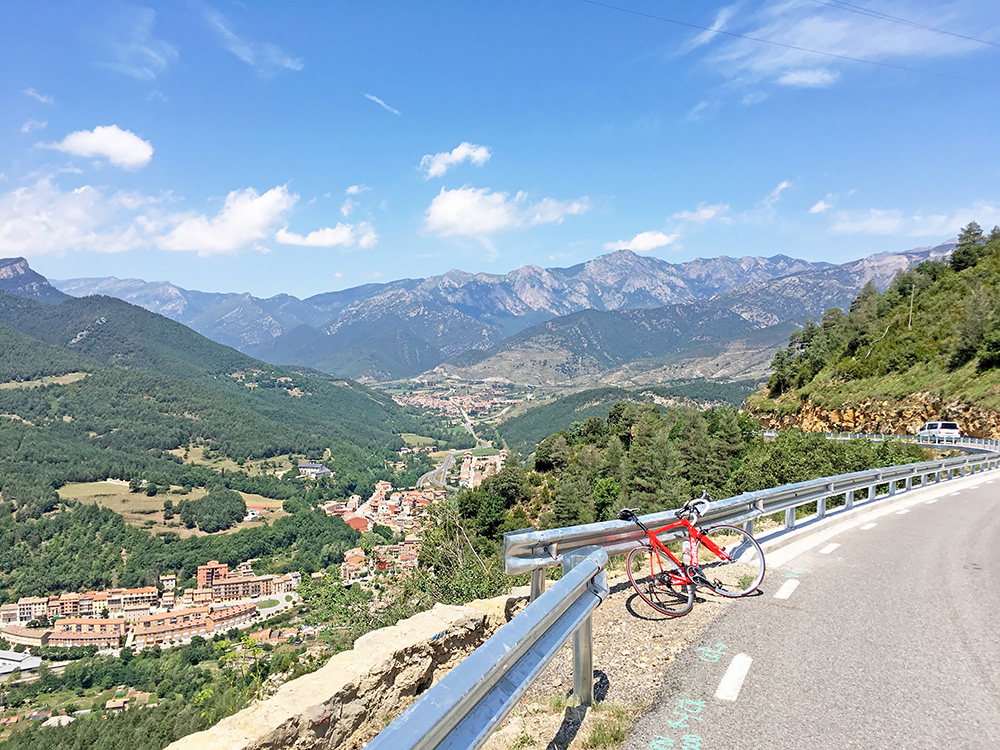 From Sant Julià de Cerdanyola down to Guardiola de Berguedà one has great views and I had to sop again before the start of the nice set of serpentines down there. Guess I also wanted to delay going down there as it was really hot down there now. I almost lost willingness to continue to cycle when I came down there and struggled to get up to Bagà and decided to buy some yoghurts and coca-cola again to make sure I had as much energy as possible to get going.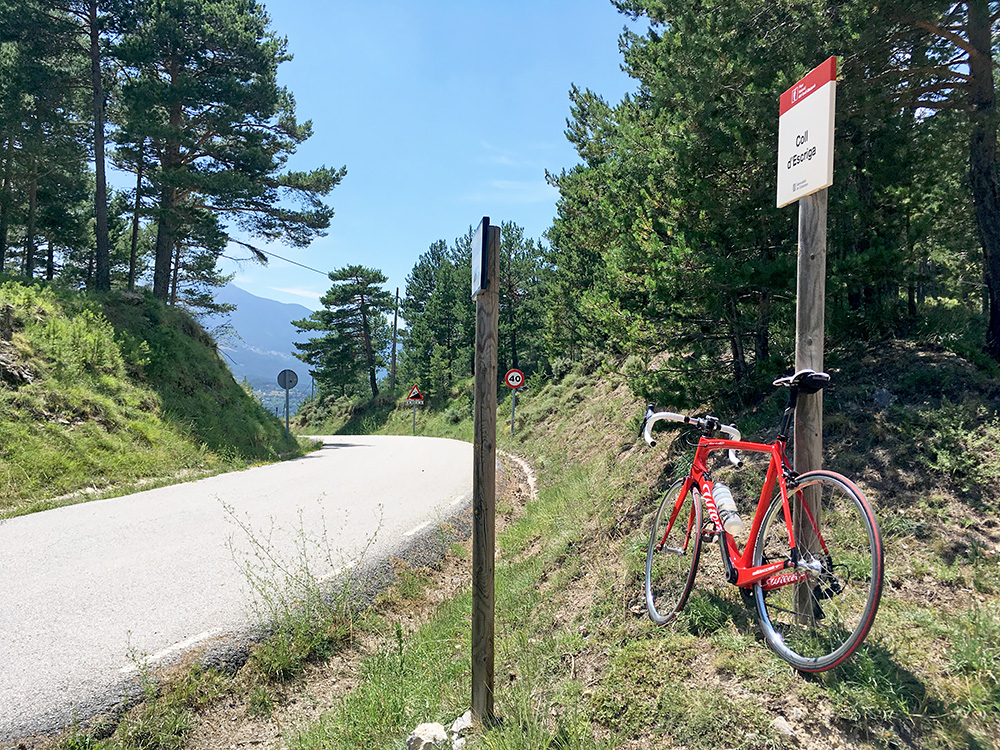 I found the small road out of Bagà and it was a small road that turned bigger as one crossed the river where I had a car driver drive not so careful, but all fine. The road up to Coll de l'Escriga (1352m) was surprisingly boring and on top of that it was hopelessly hot in the middle of the day, but I just kept going thinking it would get more endurable the higher up I got. Only the last stretch was steep. Stopped by the pass that looked slightly better than before, but little did I know how great things would look on the other side.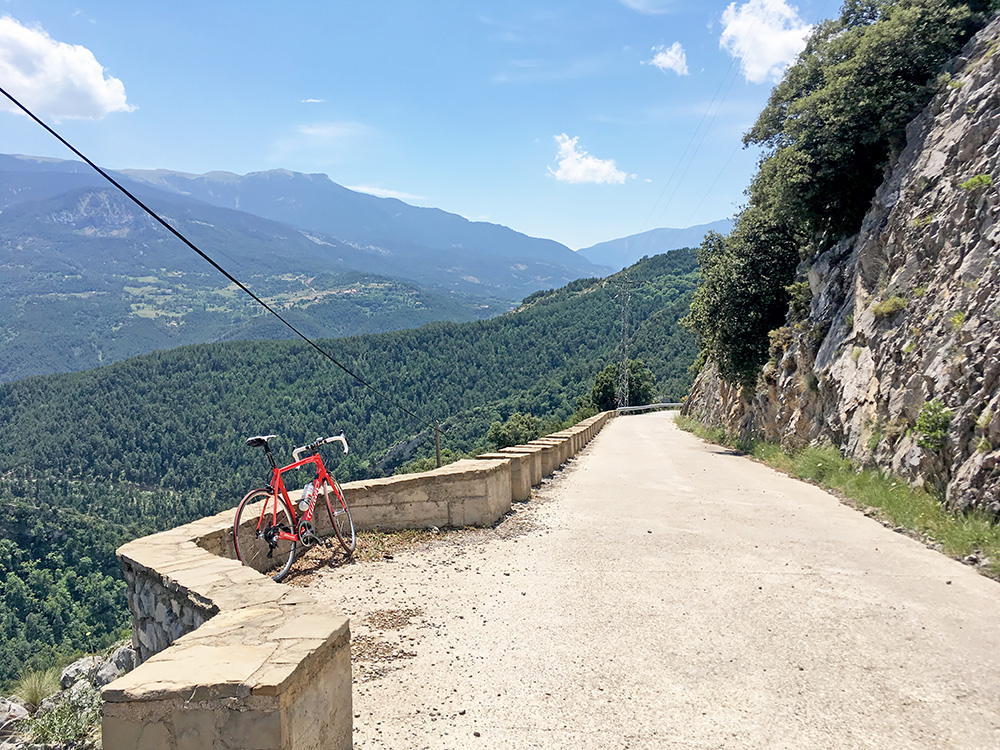 Stopped on the steep section down the other side for more photos.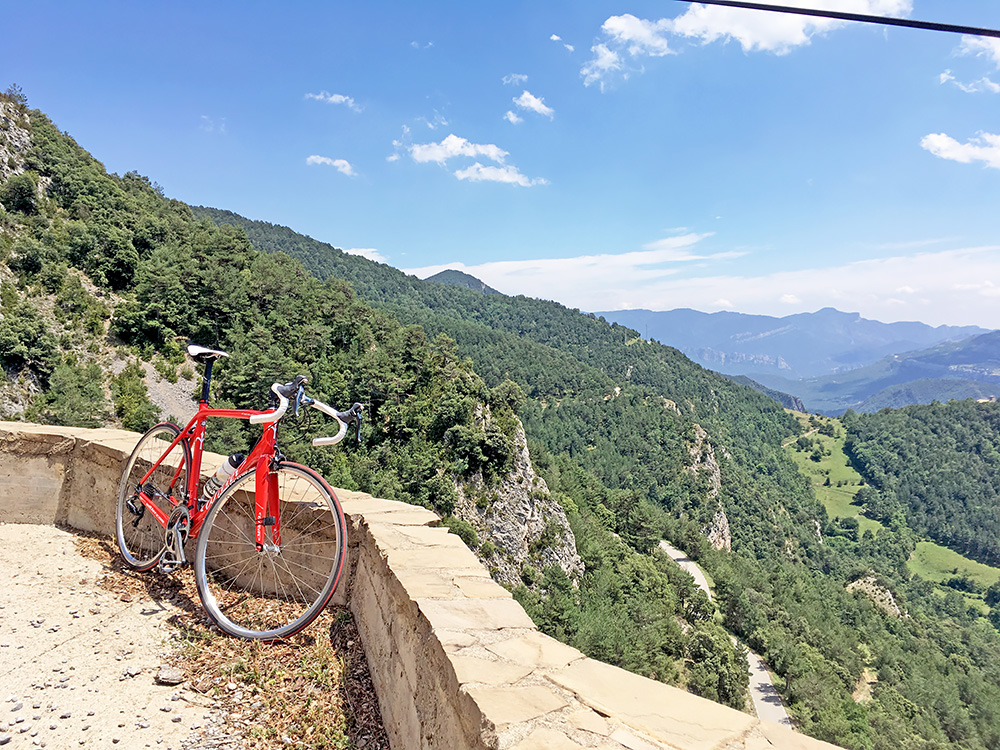 Below here you see the road I had to take to claim the one-sided (for all purposes with a road bike) Coll/Collada de Turbians (1455m) that few seems to have realised being a surfaced pass from this side. I thought it would be a stupid and boring back and forth there, but it turned out the views were the best in the whole area along that road and it is quite sad that road is not asphalted up from Bagà as it would also be a much harder climb than over the Escriga pass.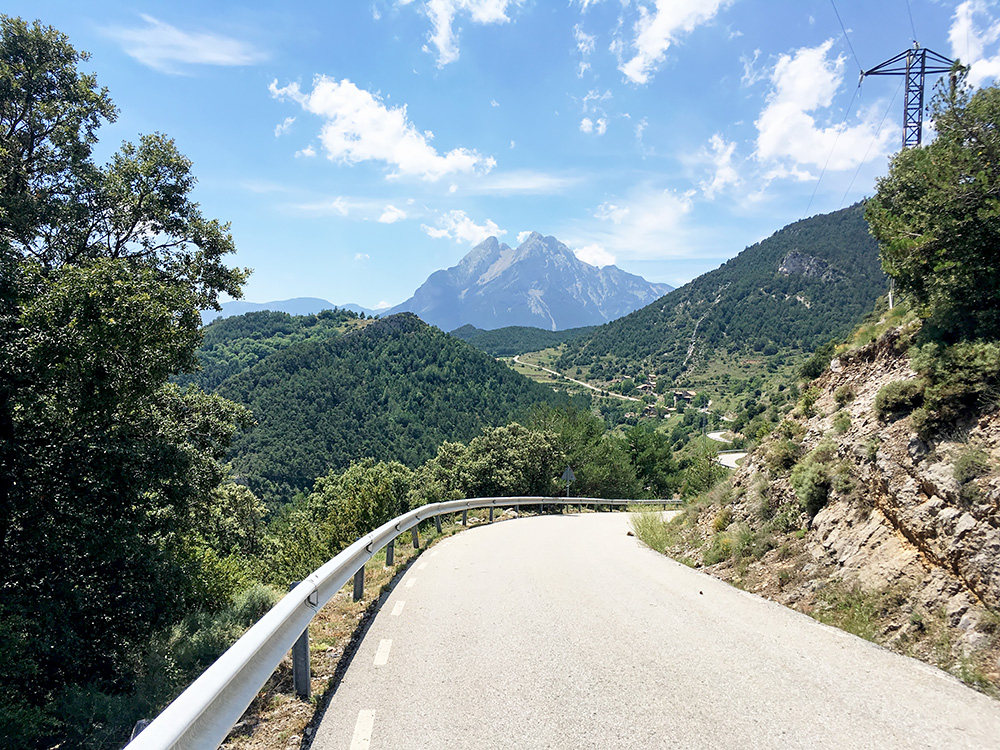 It was damned hot and above 37-38°C at least, so had to take it easy. The road to Coll/Collada de Turbians is nice and lonely and not very steep though, but of course always a bit longer than expected. Here first a nice photo just before the turn-off for the Turbians pass.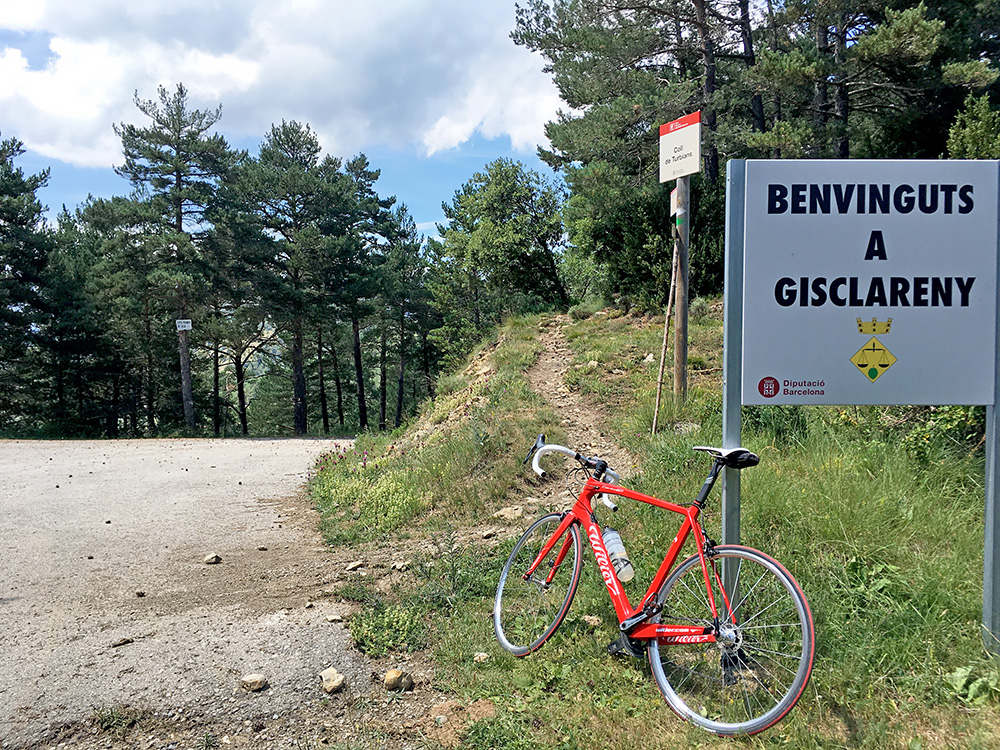 Here is one of the photos of several signs for the pass.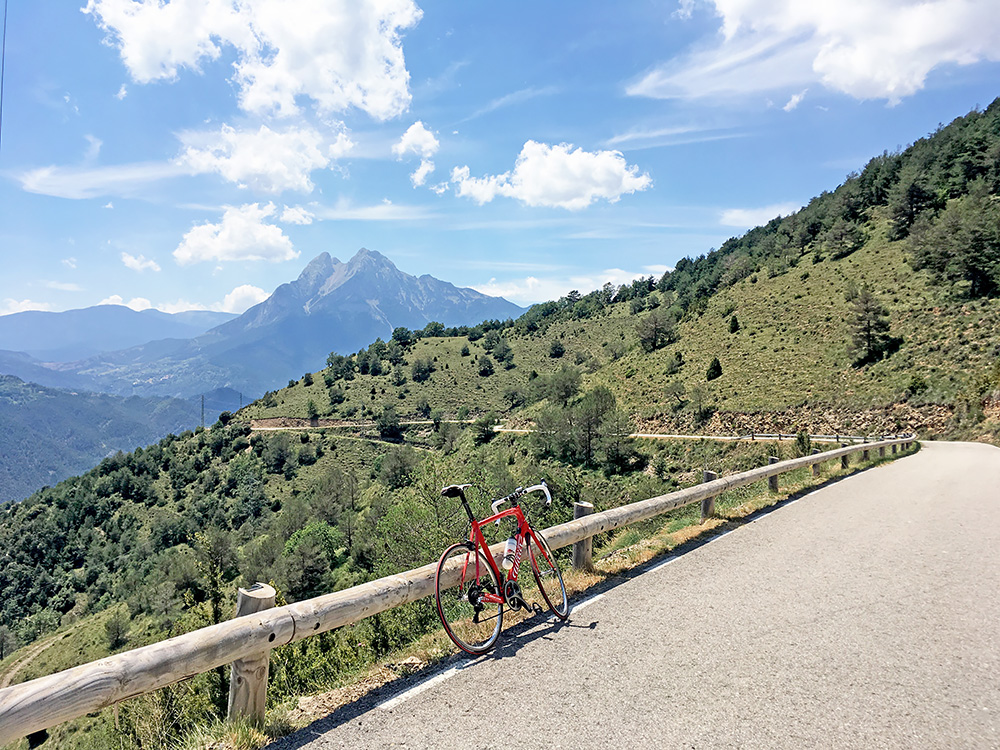 Here is from one of the highest open viewpoints down this side of the pass. It was a very abandoned road, but there was actually one sort of restaurant along the road up there, but even if someone was there I was not quite sure it was open and had stopped not long ago anyway.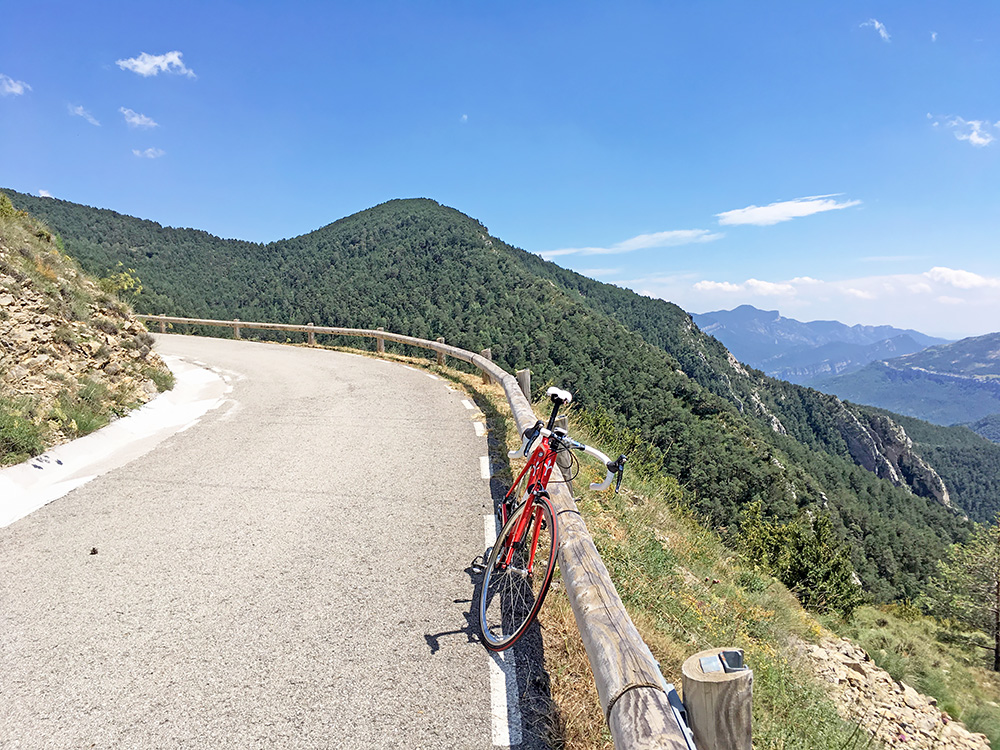 The only proper view of the pass, which you can guess the location of up at the depression and one could guess the road down the other side would be much steeper than the Escriga road.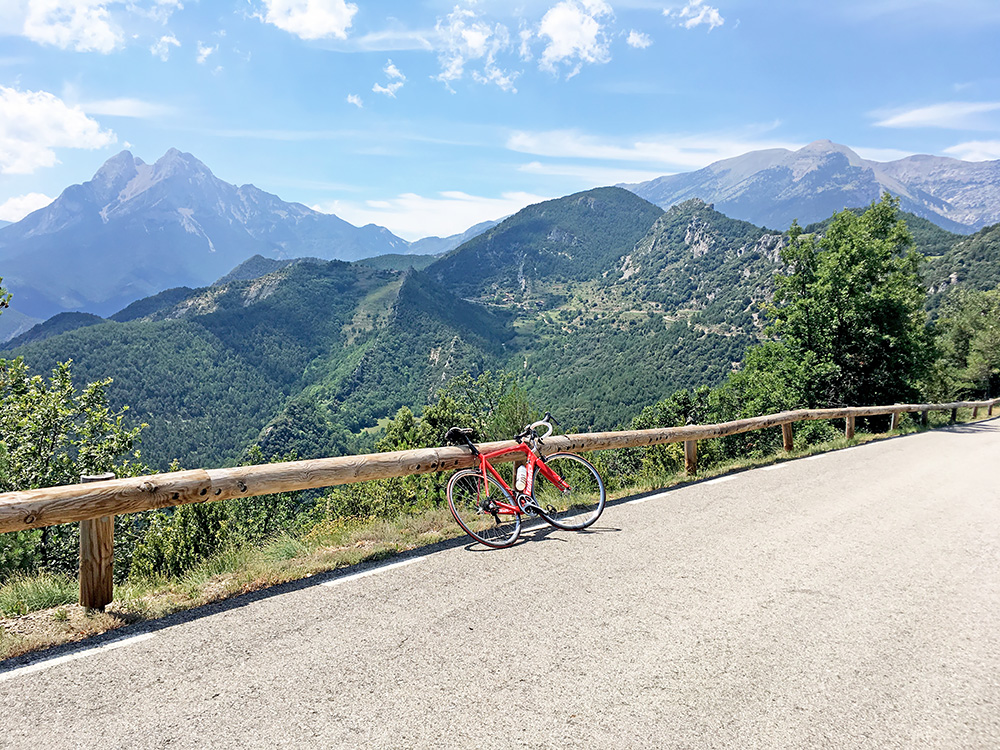 Then a bit similar view to the one coming down the Escriga pass in the same direction, but the view was lovely so another one is fair I think.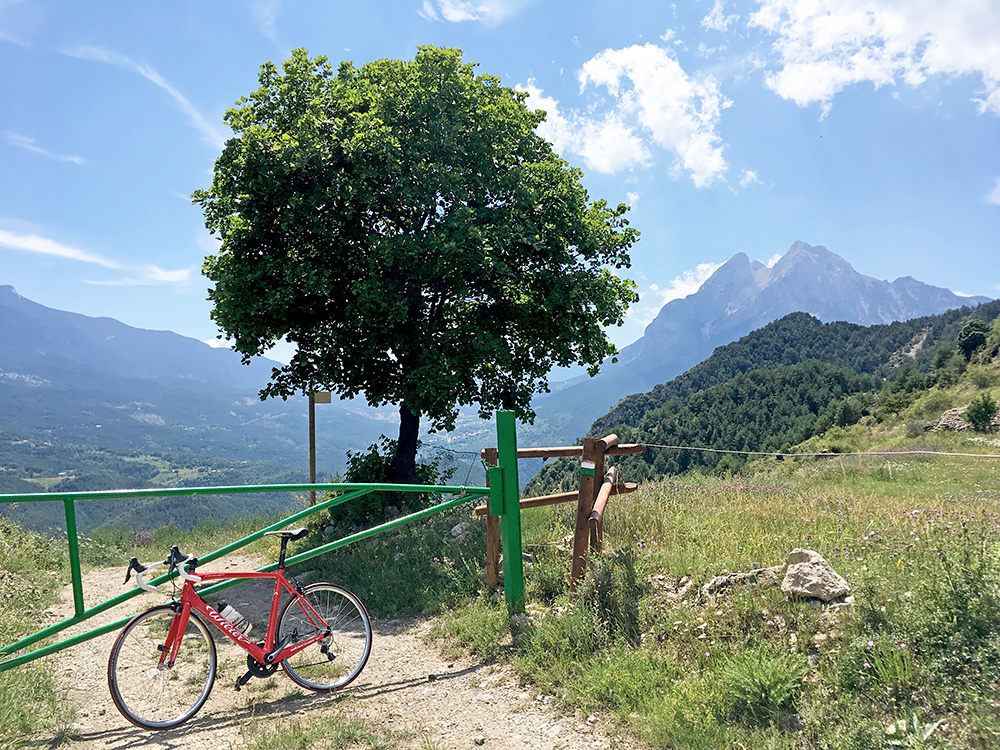 Then continued on the road to Gisclareny, which is the main destination in this valley that has no surfaced road out of it other than the Escriga road. There is a chapel up there and a few houses, but I just went half-way to a supposed (not sure about the proper name here) pass, Coll de Jovell (1318m) which is just some metres off the road on a track. Anyway it is a clearly defined pass (and above 1300m!).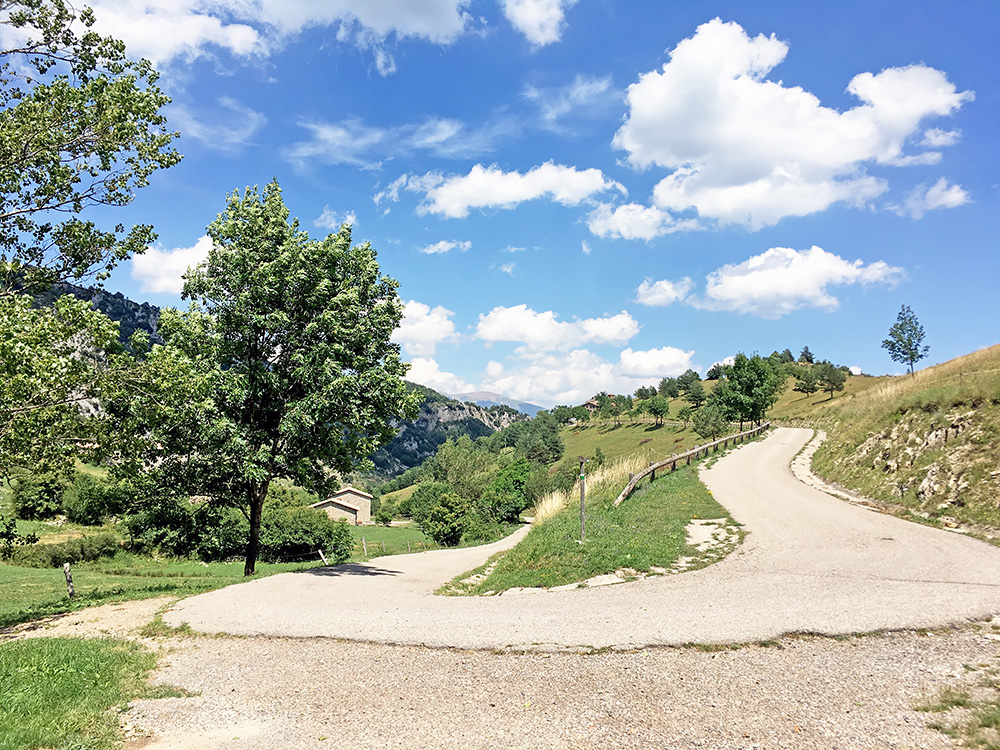 Lovely views and lovely weather. Maybe I should have gone up that road after all. Would have had even more nice photos then, but we got enough for this day as it is.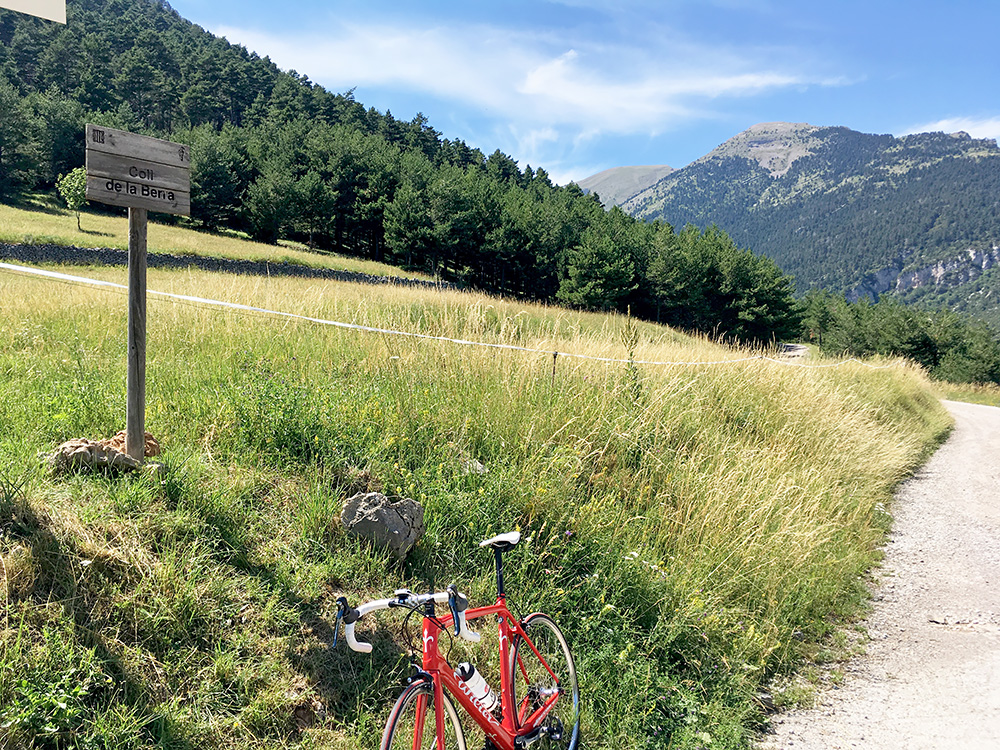 I went back down a little to a fork, where the road continues to the end of the valley at Coll de la Bena (1437m), which also marks the end of the asphalted road. Here at the pass.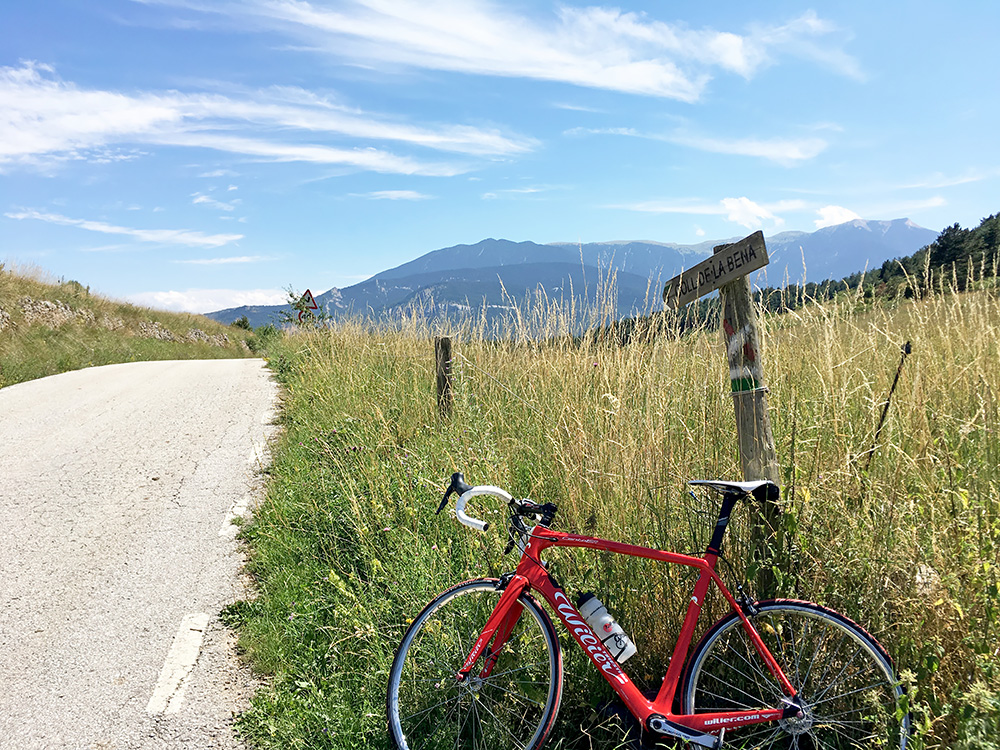 Not until I arrived at Coll de la Bena I made a decision about whether or not to follow my slightly adventurous plan from here. Looking back here for the last time. One re-enters the valley from Bagà here but much higher up. There is a gravel road that continues ahead up that valley here first to Coll de la Bauma (1573m) to where I had seen in Cent Cols catalogues that the road should be R1 (meaning good gravel road), but if one continued higher up after that then the road would turn to R1-2 (mostly usable only by mountain bike). Now those gradings are given by individuals who most often have been up the roads on mountain bikes and thus the gradings are as imprecise as one would expect mountain bikers to be about road conditions (never seen one single mountain biker document road quality at all ever).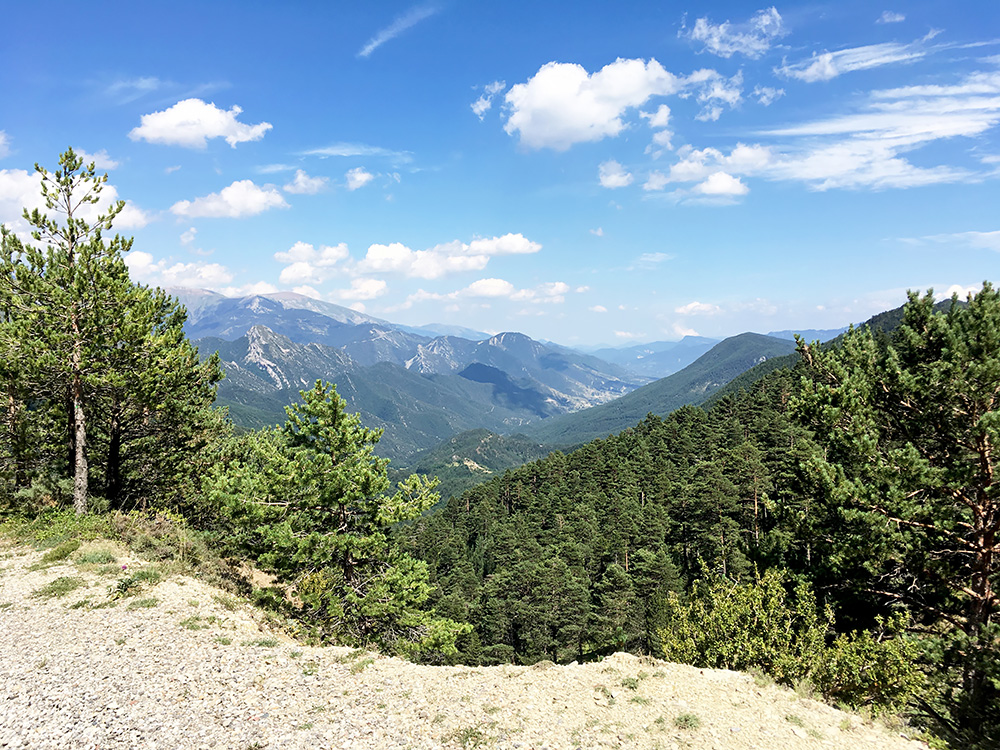 The road was a bit loose at first, but thought the weather was stable and it was still in the middle of the day, so decided to go up to Coll de la Bauma and see how bad it was and how the road looked that continued from there. The thing is that the road that continues up the mountain is quite long before it eventually comes back down to asphalt again. It is in fact 13.77 km of gravel from Coll de la Bena to Mirador de Gresolet and those kilometres will not be fast on a road bike. Here looking down toward Bagà on the way to the Bauma pass (possibly at a short stretch that was paved with concrete).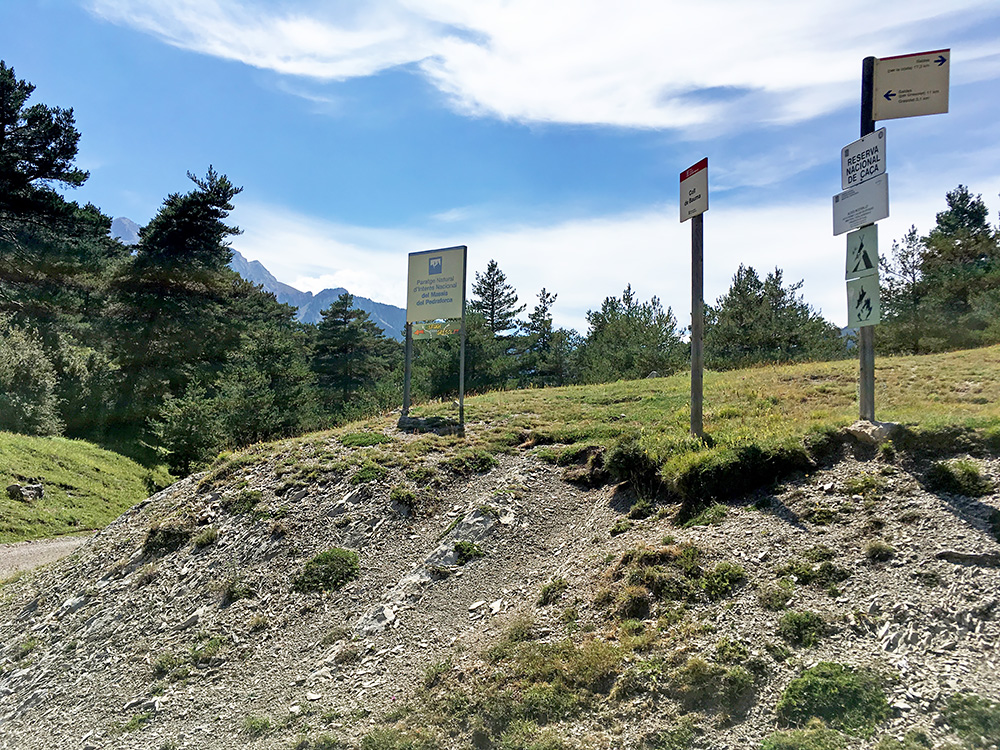 It turned out the road actually improved after the Bauma pass. I am not sure about the gravel road going down on the other side of the Bauma pass, but that would be a pretty boring choice here and not worth it unless you had to descend quickly because of bad weather and dark (but likely better then to return to the Bena pass as this road looks long and lonely down the woods here). Not much to see at the pass and right here the roads in every direction looked more or less the same quality.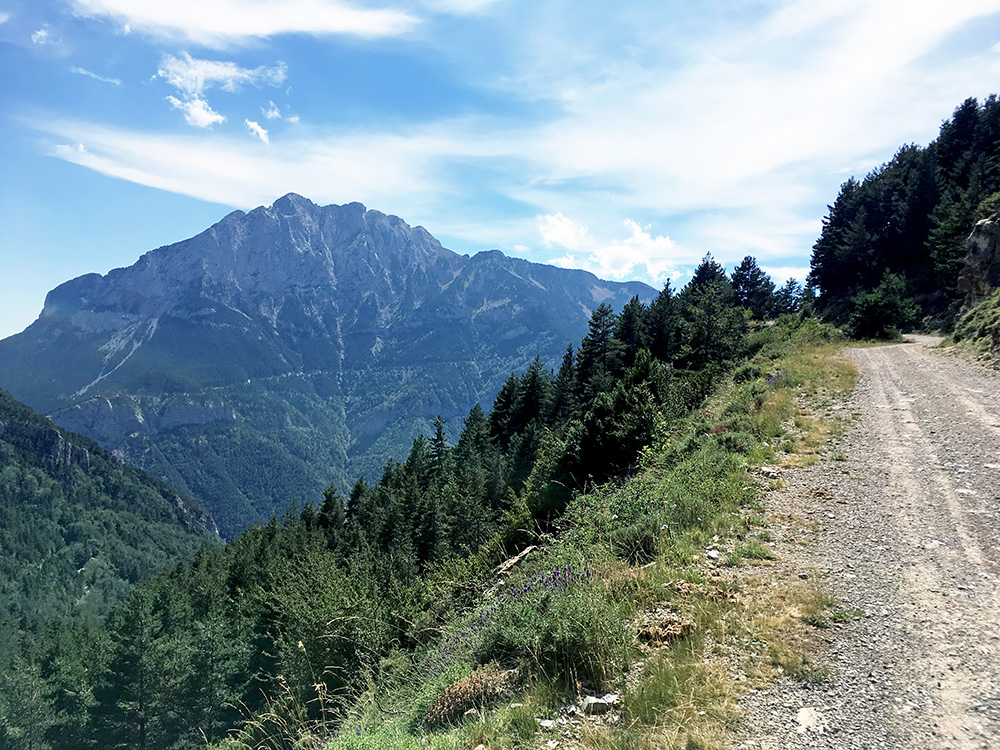 I continued up, but luckily the road got a bit better and it was an agreeable gravel road now even with a road bike (not as smooth as they can be at home, but not loose and not much big stones). Now the views improved as expected from previous glances of photos from up here. I stopped along the road to Coll de Font Cerdana/Coll de la Jaça (1857m) to give a sense of the road and views. This pass is the real climb up here in fact. In the photo here you can see a road along a steep big mountain ahead and that is the road I was going to take and it is still gravel there.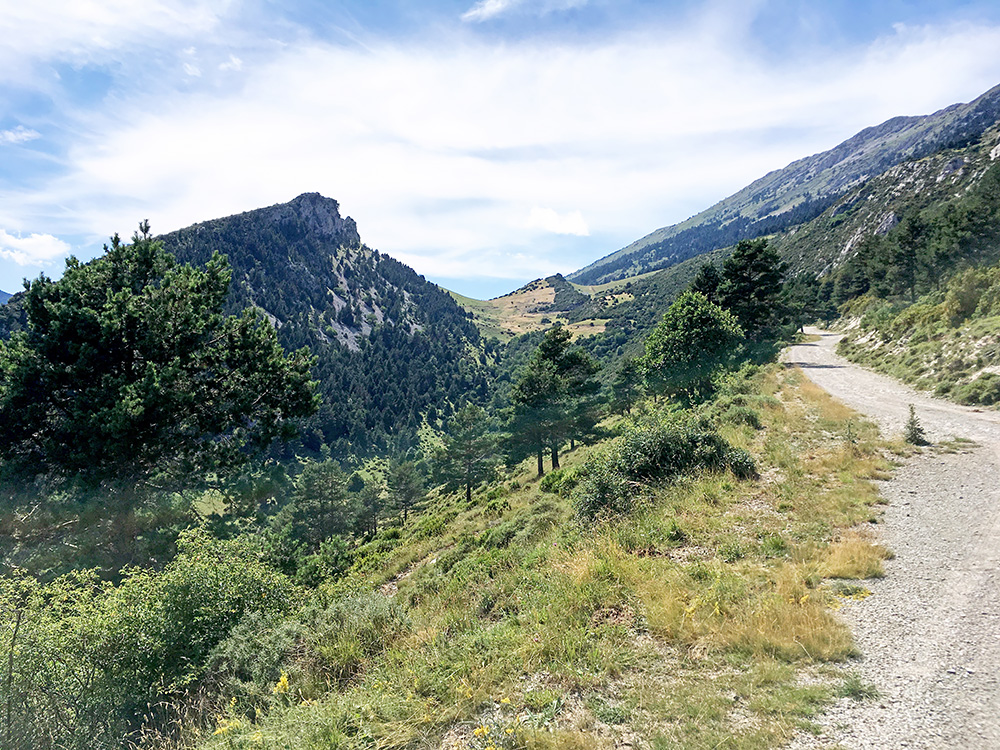 A bit higher up and the views improved more, so had to stop again. Here the road was fairly good. This view is a bit perplexing as I would later come to a place (photo further down) along the road which looks like déjà vu from this place.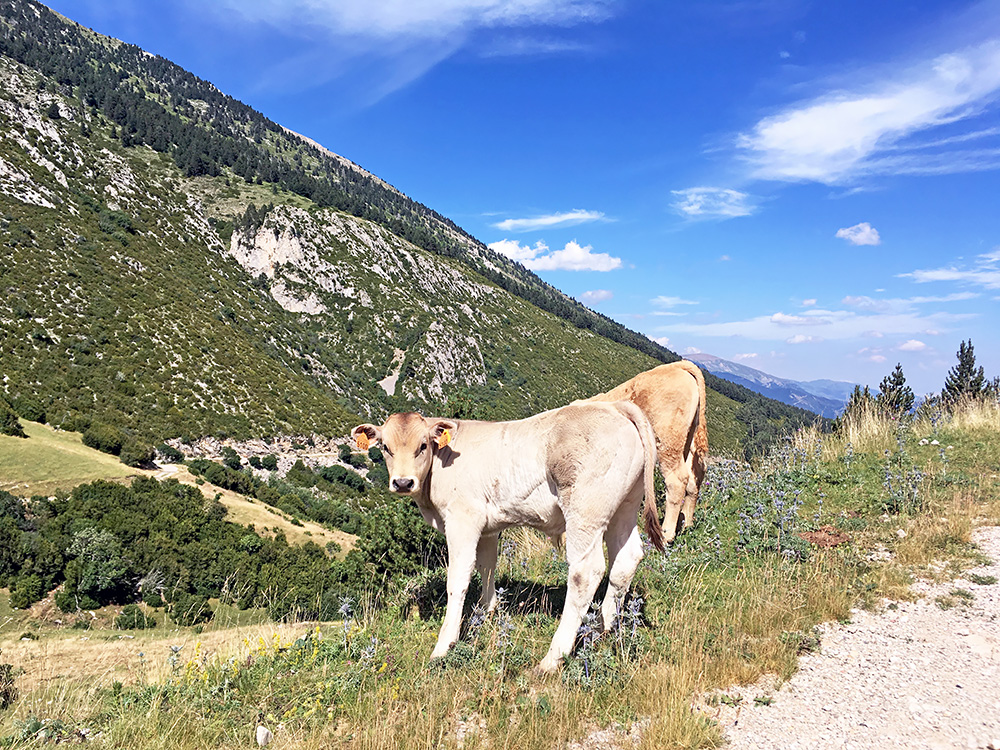 The last section up to the pass was on nice serpentines but with mixed quality of the road, but I made it up cycling all the way. I met a 4-wheel car coming down with two children looking at me through the sun roof waving hello. Next up was the cows to be amused by the road biker coming up here.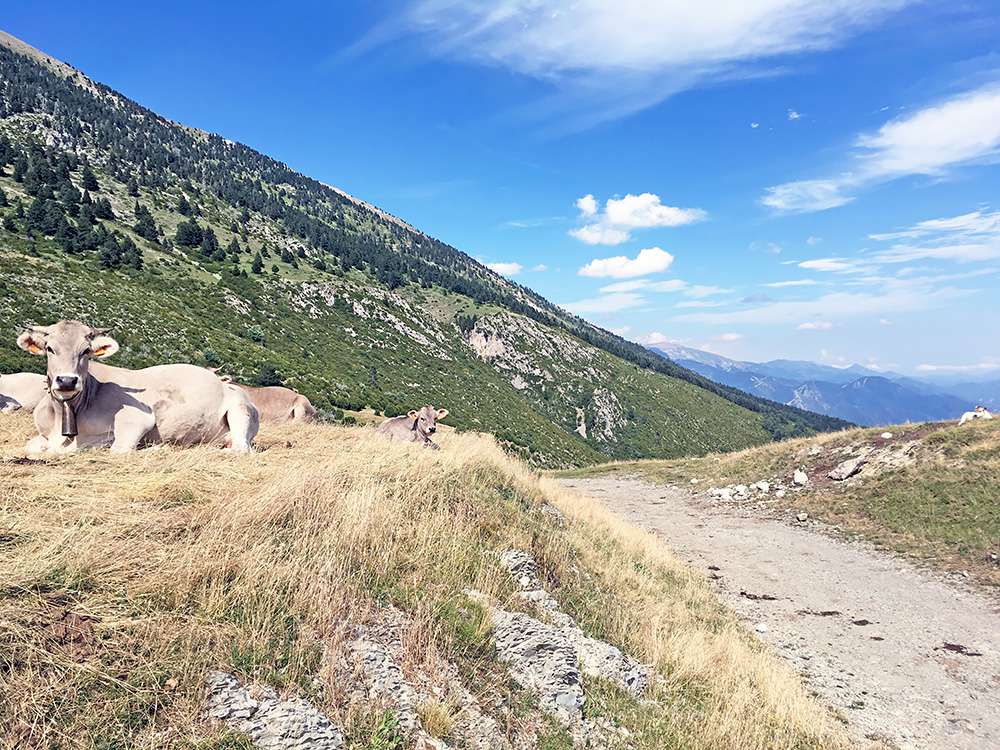 Here I am finally at the pass itself also with some cows taking it easy. Now it was starting to be breathable outside.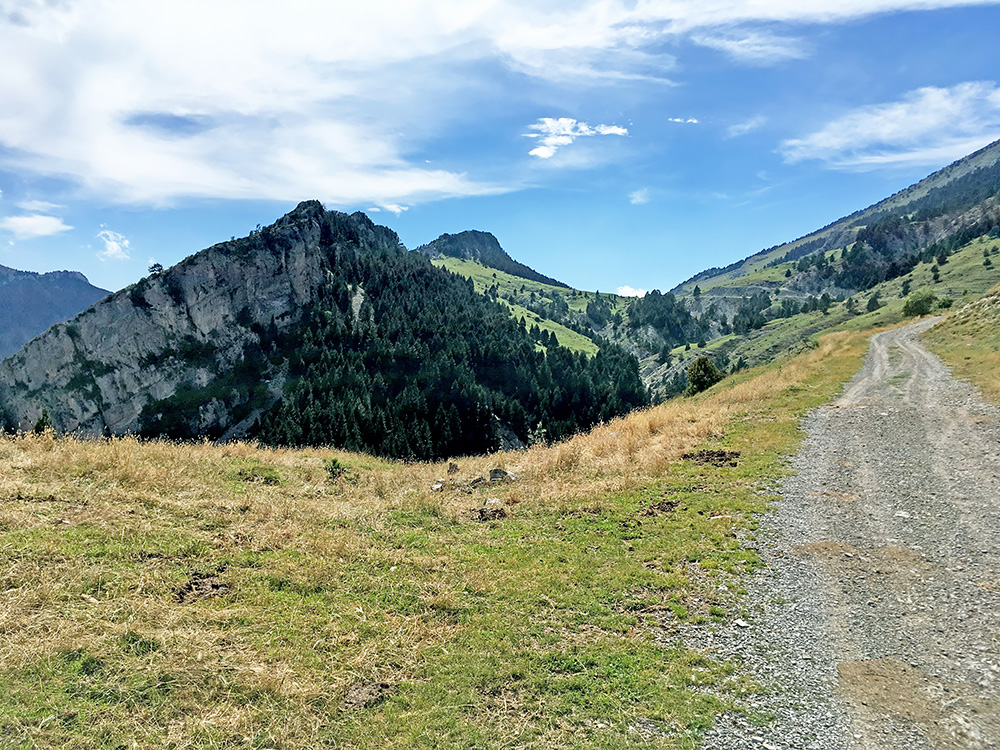 The final climb up to the highest pass was a real delight on a good road to Coll de Torn (1918m) and as you see the photo here it does look like you just saw it above, but not quite.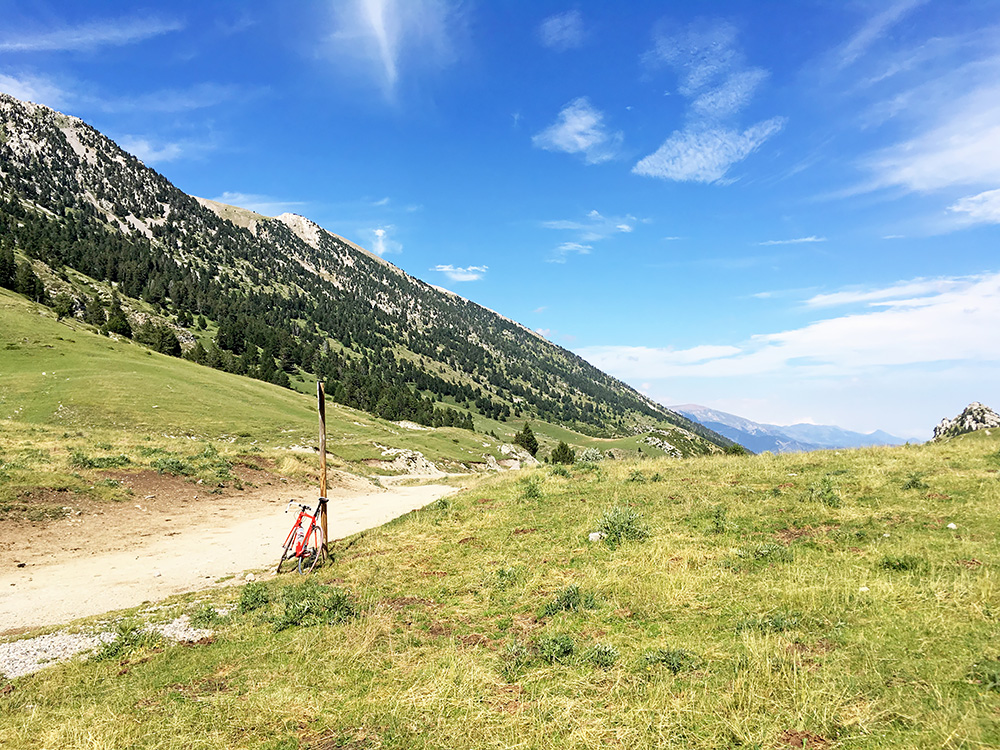 Finally up at Coll de Torn and surprised the road was better than reported I was hopeful the downhill would be nice and easy now (always being optimistic).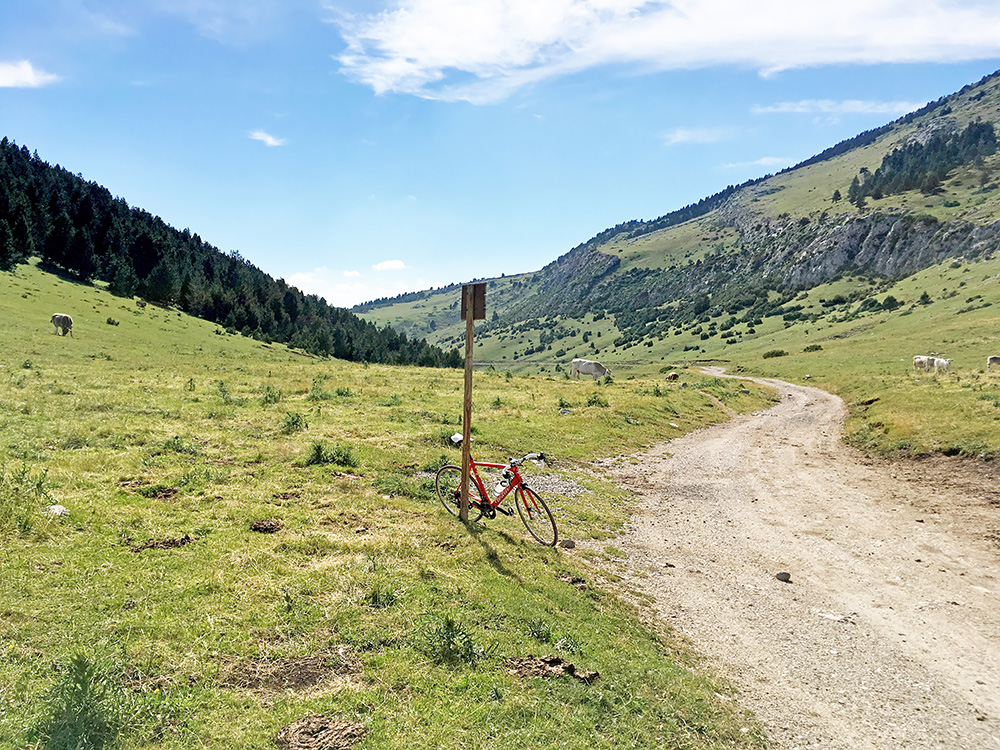 The road ahead here was nice and easy to Coll de les Bassotes (1873m).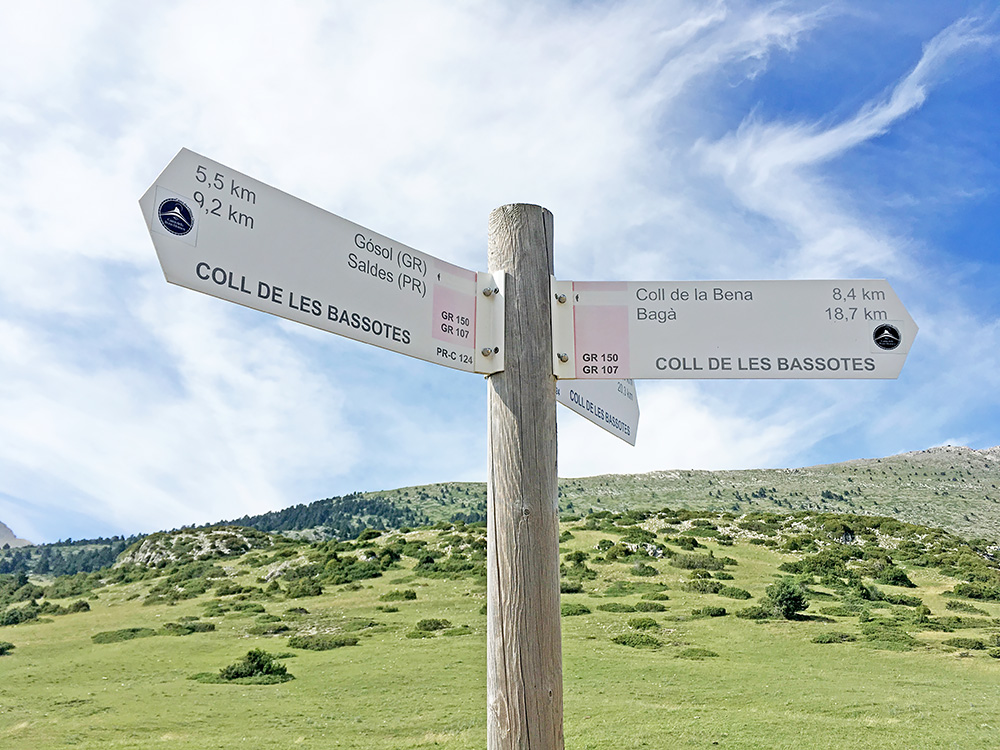 Coll de les Bassotes was properly stated unlike the two previous passes and now views got interesting again.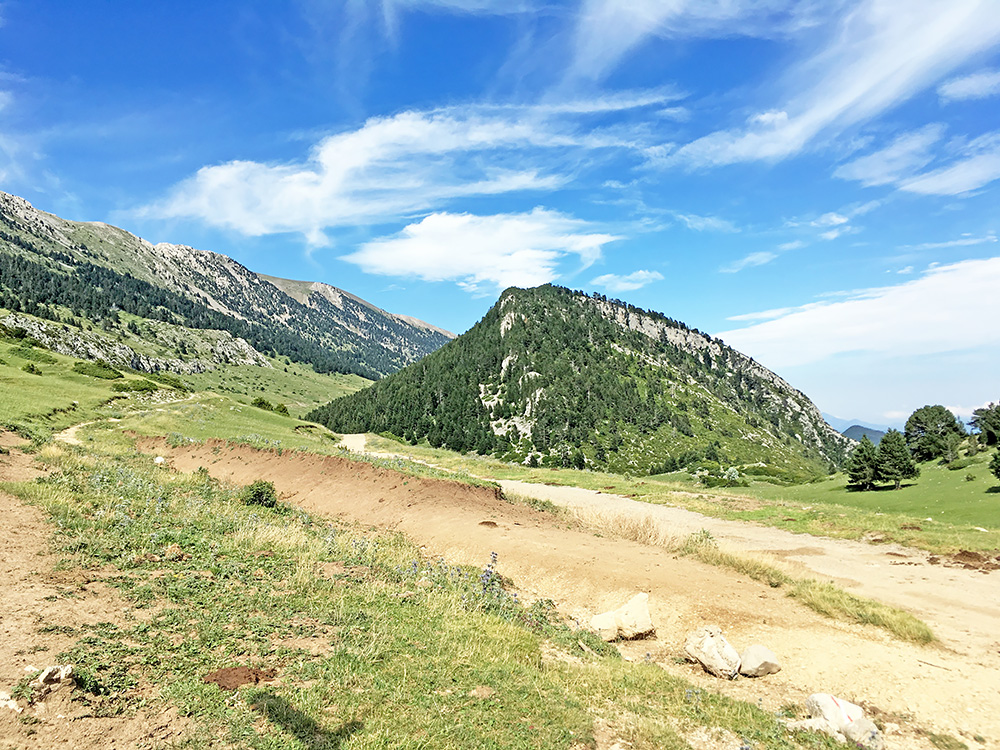 Here looking back.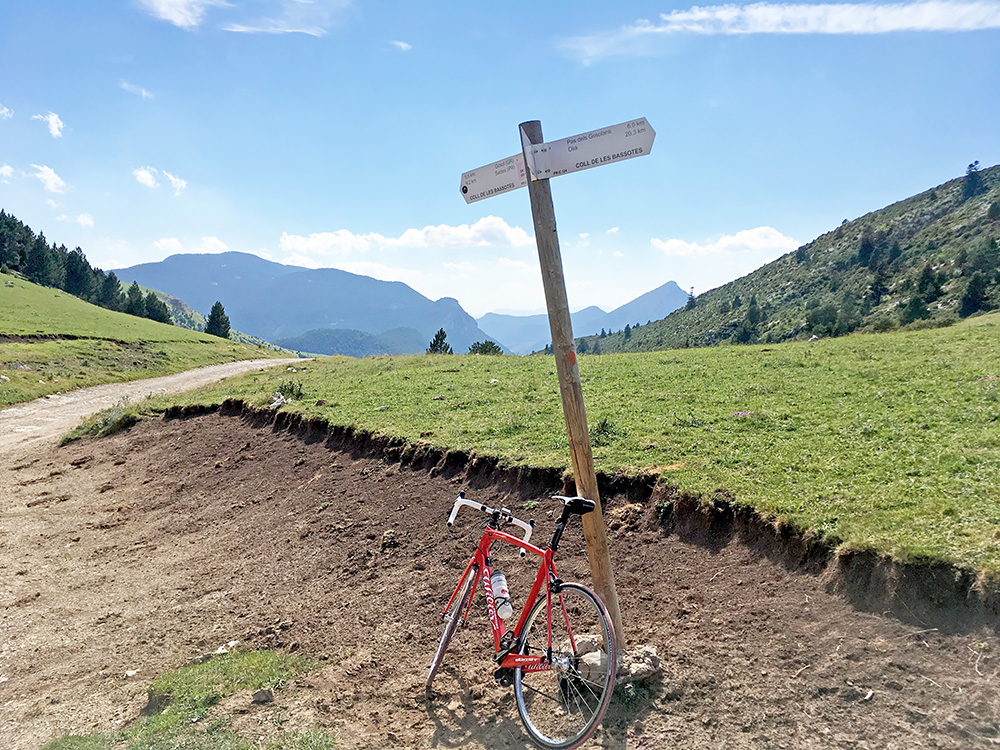 And here looking ahead.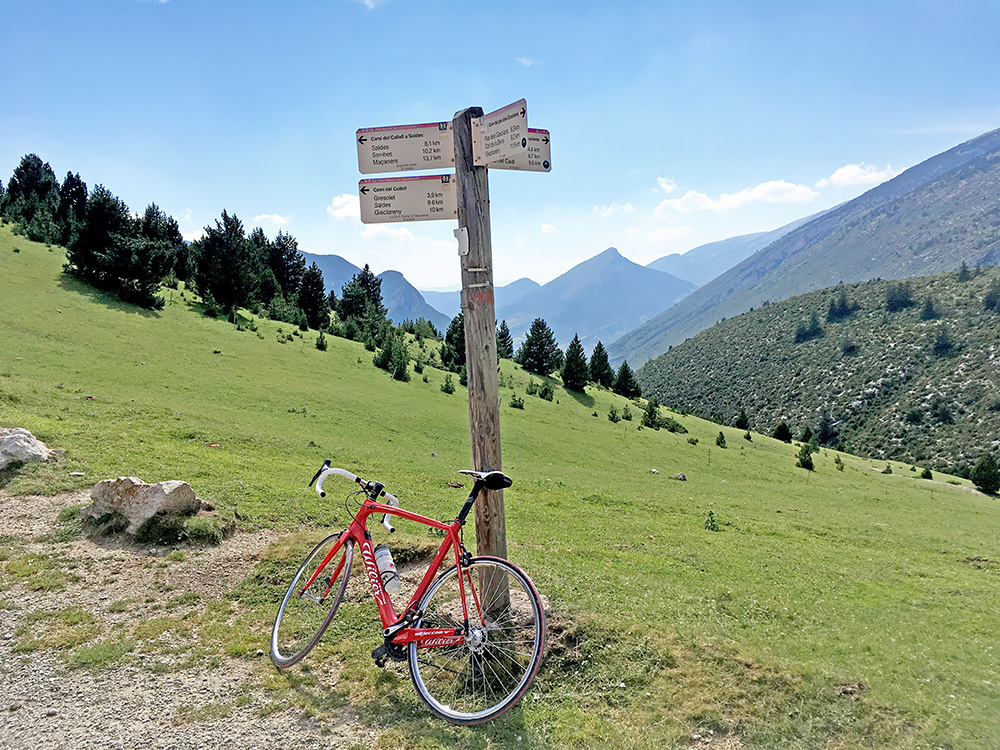 Here shortly after at El Collell (1844m), which marks the final pass along the road from the Bena pass to the valley that goes down to Tuixent/Tuixén where I was going this day. The track/path down there did not seem very good and I would likely have had to walk almost all the way down to the asphalt road coming down from Coll de Josa, but even so it would have been much faster than going around as I planned to do. The reason was that I wanted to climb the Josa pass and a small other pass (and not walk too much and was also interested in the circuit road here if it was as good all along).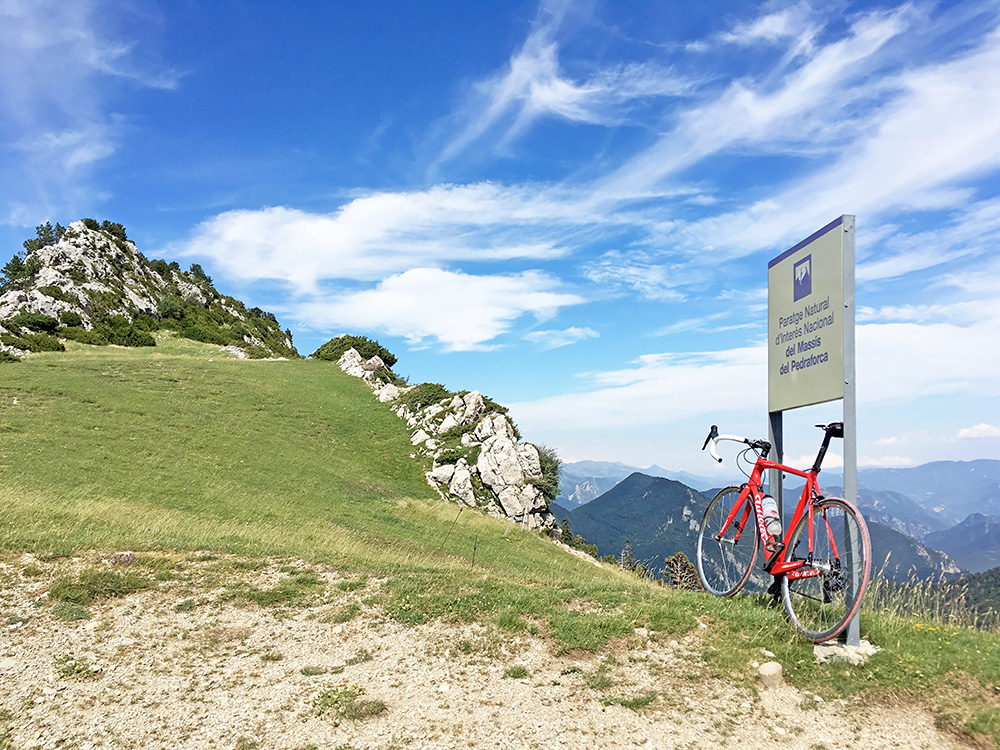 Good views from El Collell in every direction.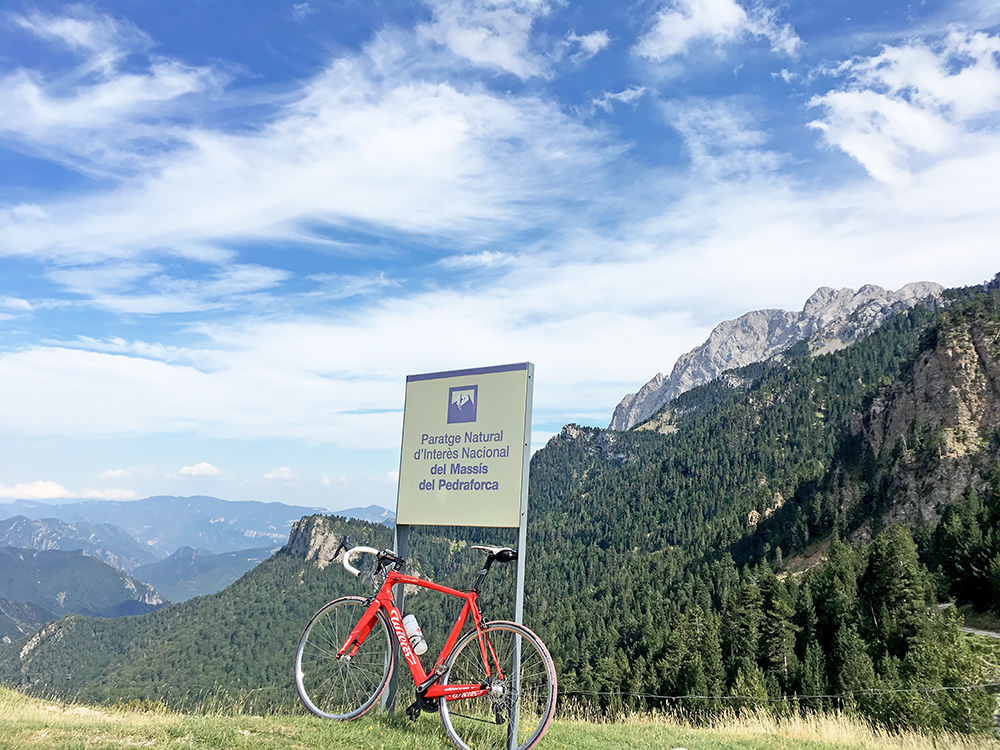 And yet one more photo before I headed down the road that had some warning signs, but the road seemed fine at first.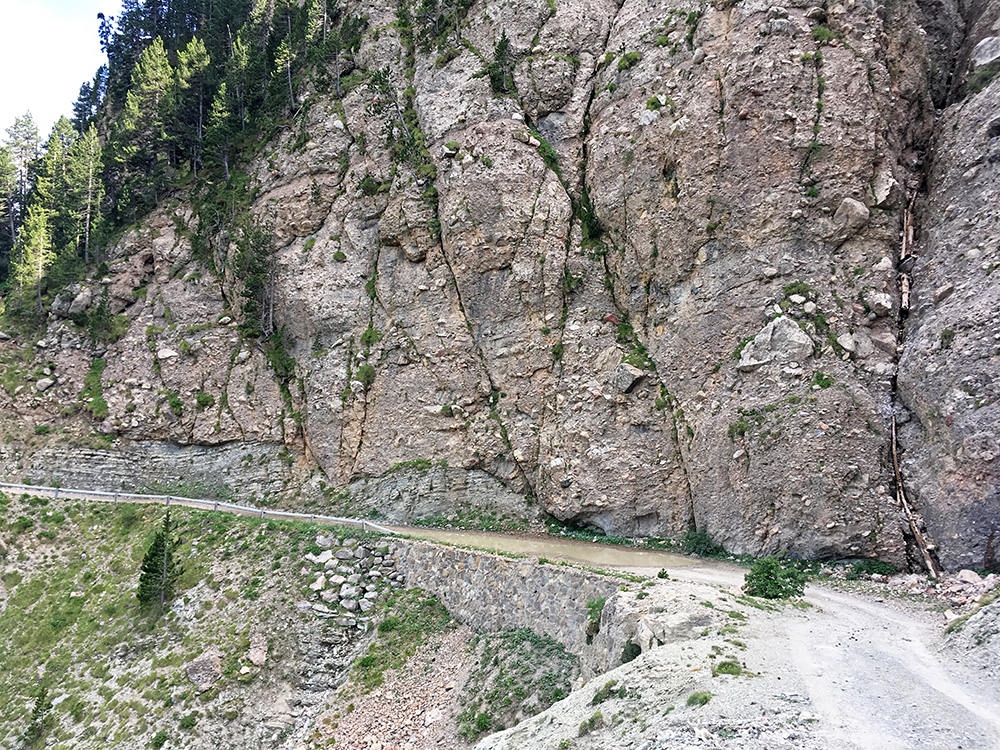 However it soon got a bit worse and then came this place with a steep rock wall and water all over the road. I could only be happy it was as dry out now as it was and managed to cycle slowly through the water seen in the photo here.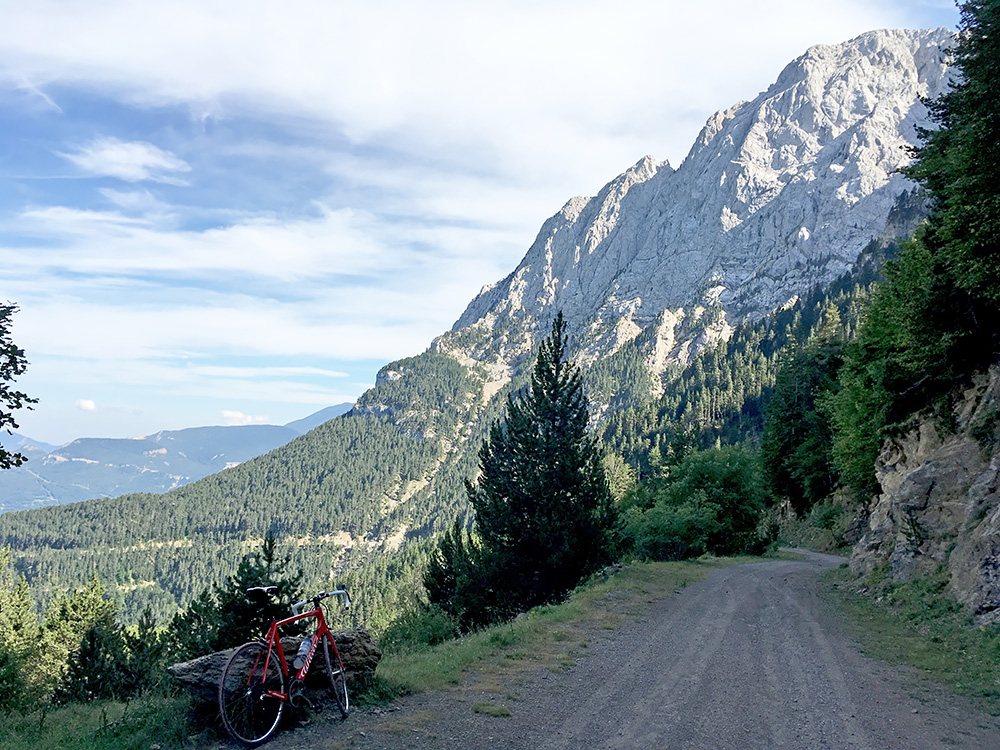 The road was mostly ok to another (and last) pass on this road, the Coll de Pi Ajegut (1769m), where I am in the photo here.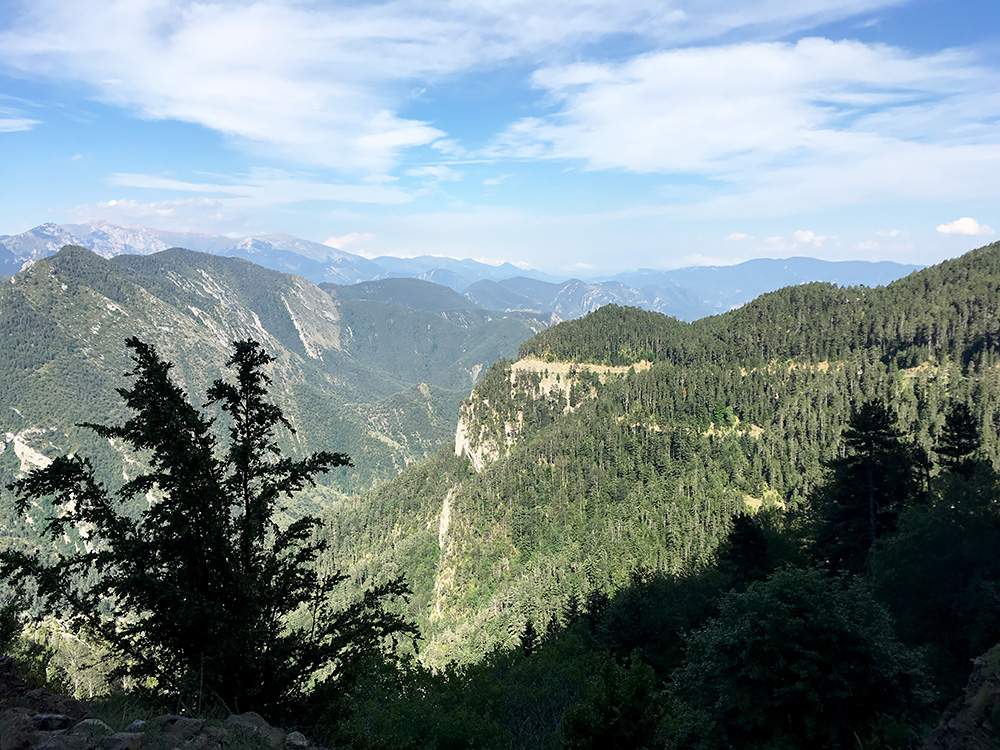 The road was a bit more stony than before, but just about manageable with a road bike, but not really recommended any longer. Now I could see to Mirador de Gresolet (1573m) where the asphalt should return and was thinking that the road surface was likely soon improving, but it kept getting worse and the last section was so bad I had to walk part of it and that was after passing a road block for cars. The road only got good again when the asphalt returned. The mirador/viewpoint is just at the edge of the mountain where you see the road disappear here.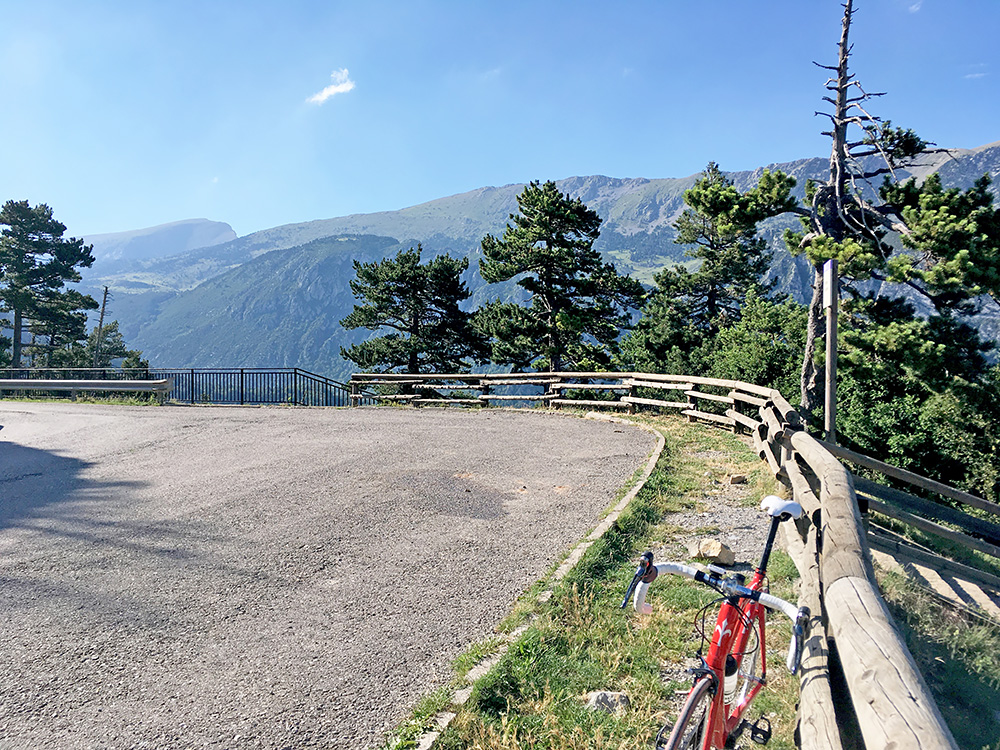 Finally at the Mirador de Gresolet and lucky I made it without any flat or other problem. I was a bit disappointed with the bad ending of the road, that otherwise would have been recommendable to adventurous road bikers, but now less so (or they need to be seriously adventurous).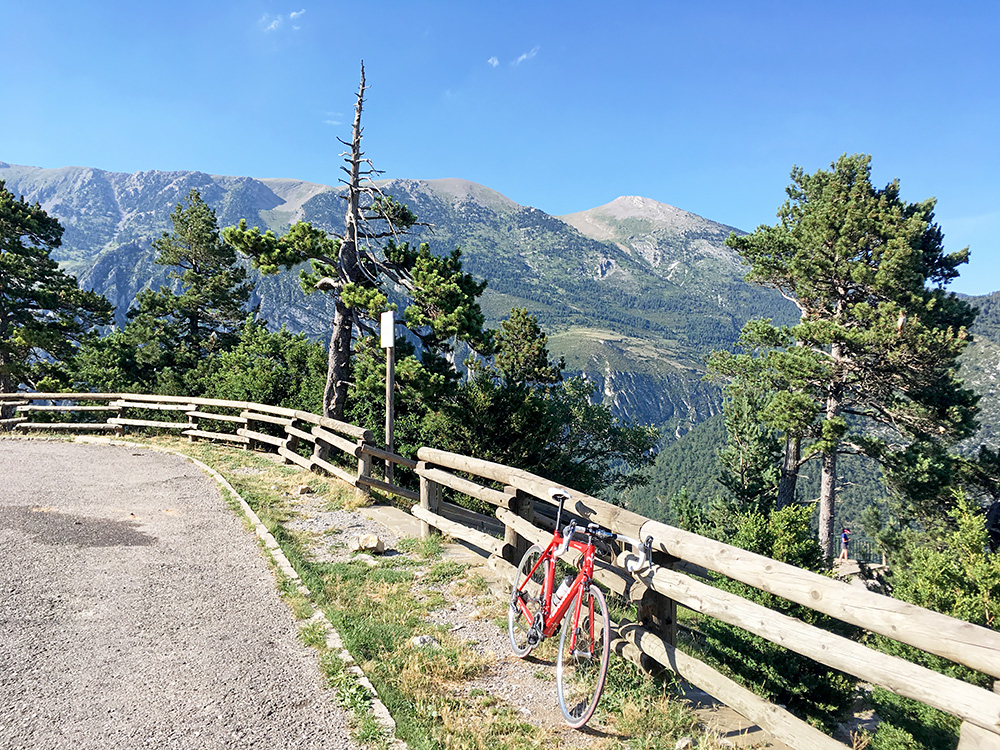 The viewpoint area is apparently down some stairs here where one could glimpse a few people. The views was good enough up at the parking for me (given I have had better views on the way down here already).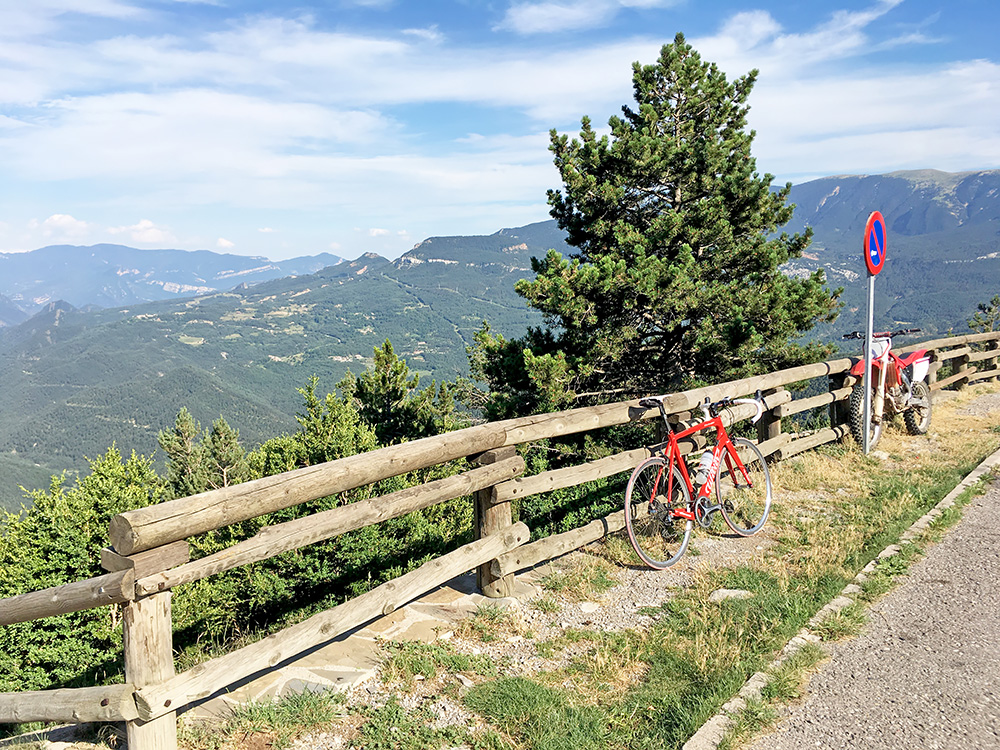 In the photo here one overlooks the road going down (also a bit up along the way) from here and one I took when I was in the area in 2014. I was going down to the same road but would only follow it in the other direction for a few kilometres of where I cycled on it in 2014.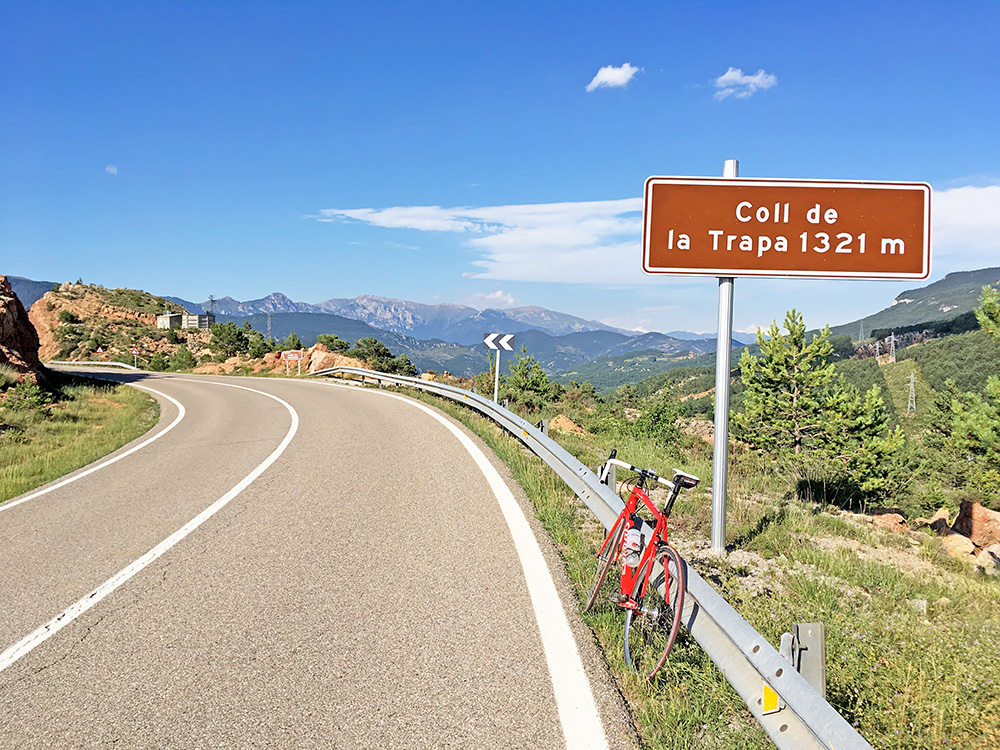 Coll de la Trapa (1323m) was a pass I visited also in 2014 and standing here looking back and in the direction I went then, but now I was going west from here.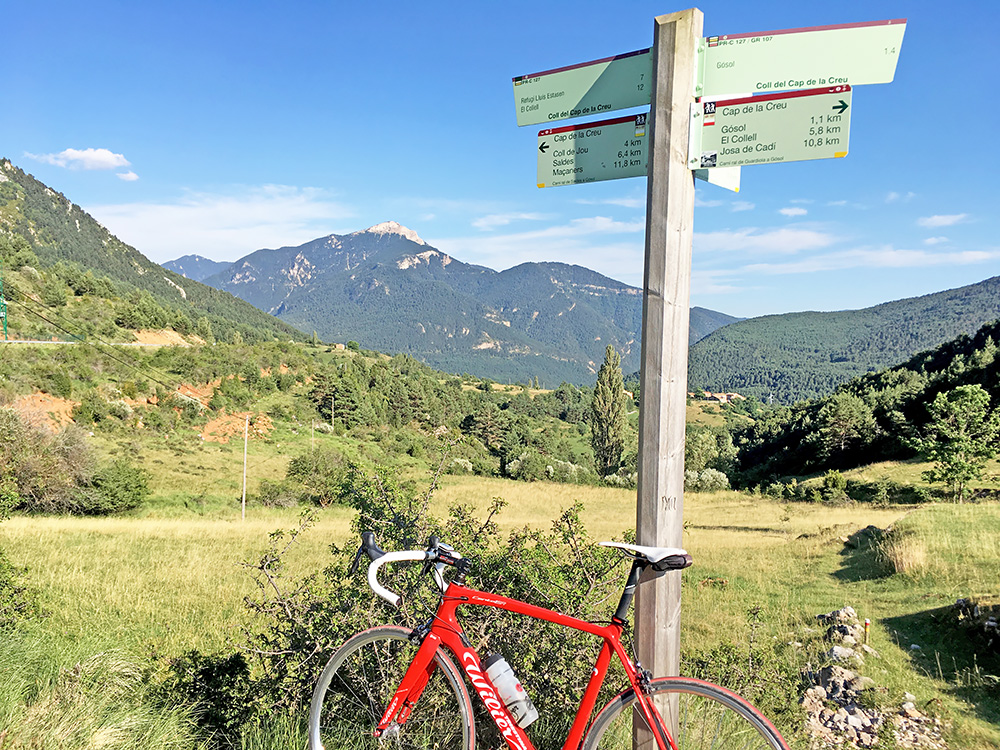 Visiting a road-side pass and walked down 50-100m to the actual pass and pass sign, but for all purposes you do visit this pass on the asphalt road itself also. Coll del Cap de la Creu (1439m).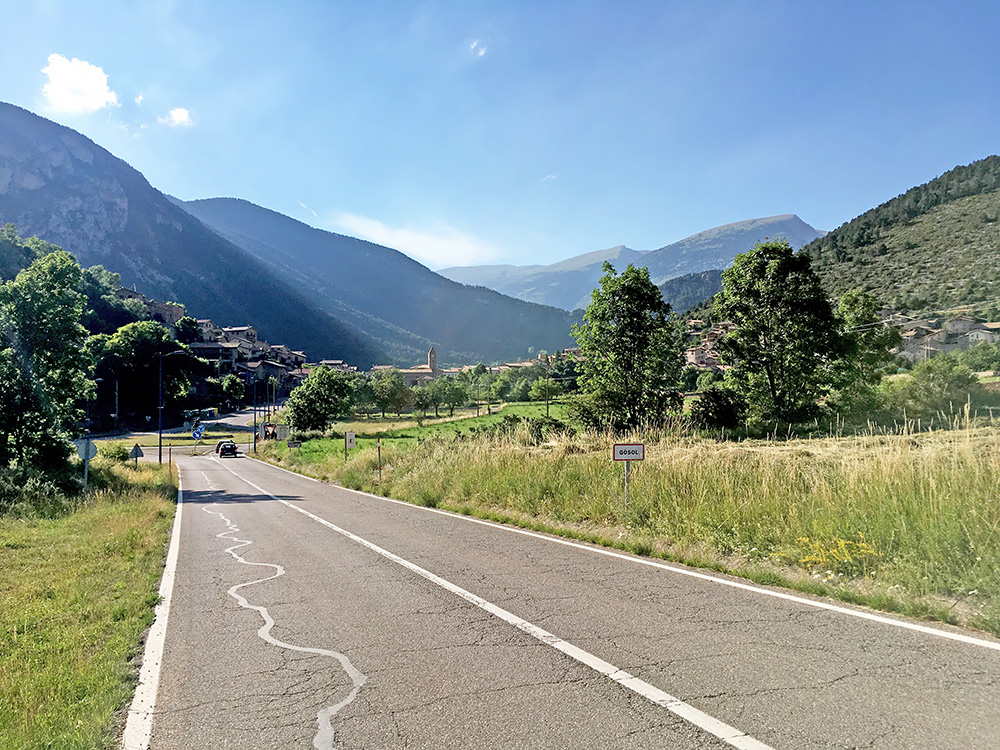 Then I arrived at Gósol (1416m) and had to stop as the village looked so nicely located here in the evening sun. It was getting a bit late now and I was getting a bit tired. I stopped at a bar in Gósol and had a beer and a coca-cola.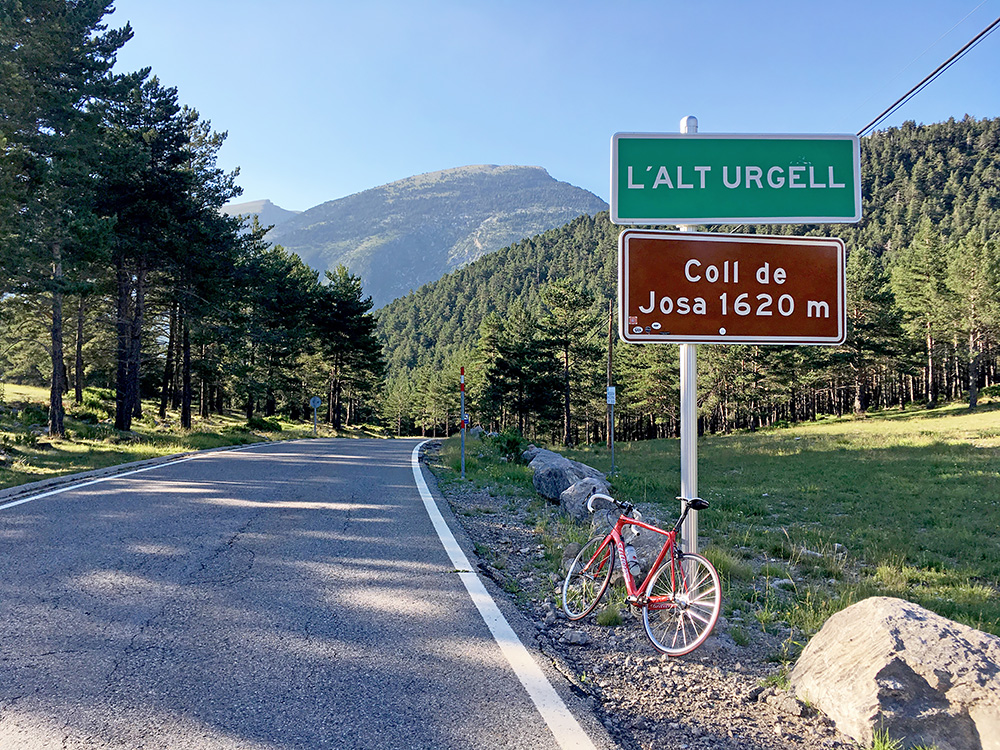 Then I felt fine again and all felt easy now as the worst planned gravel section this year was done with and only an nicely asphalted pass ahead to climb before the end of the day. Also starting this high up the Coll de Josa (1630m) is a rather easy climb for its height. This climb is longer on the north side which I have to leave for another time.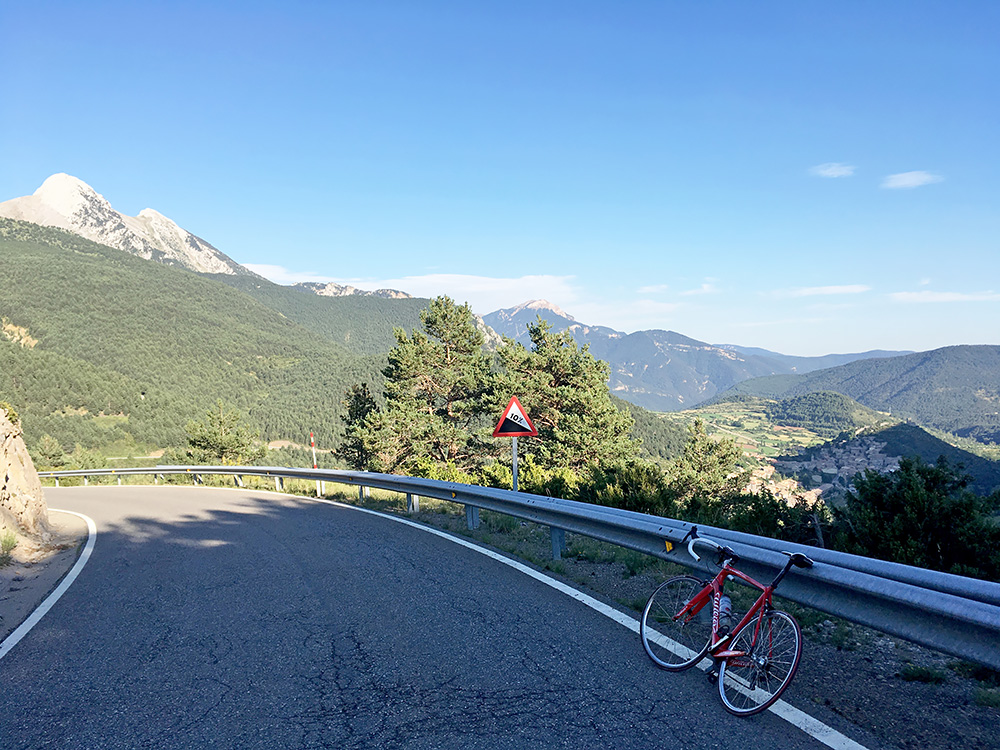 Here I look back down to Gósol. Now it was a nice wheeling down the other side in the late evening and the temperature was just perfect now at last.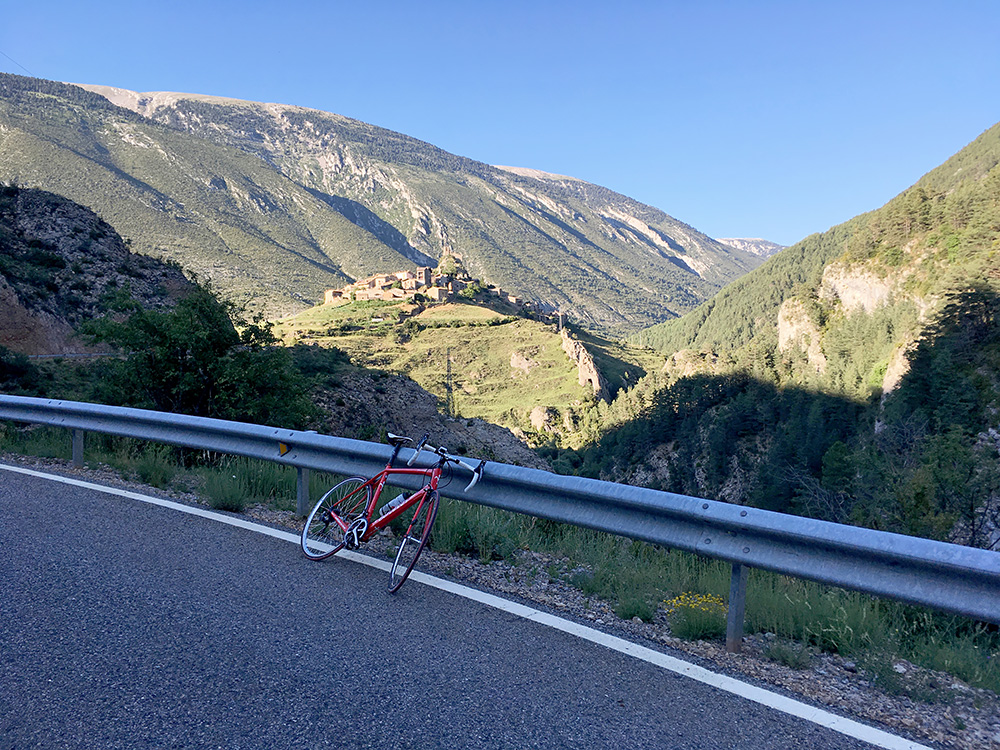 The only worry was that the area down here was not very much populated and I really hoped there would be lodging in Tuixent/Tuixén or I could be in trouble. I passed by a small nice village (the only one in the valley) which I stopped after passing by to take a photo of. Josa de Cadí did not seem to have any lodging and anyway I wanted to get to Tuixent/Tuixén where I had planned to stop according to my plan, but then came to realise something was missing. I was supposed to do two more passes before going to Tuixent/Tuixén when coming down there. That was out of the question now and decided that I had to leave them for the next day.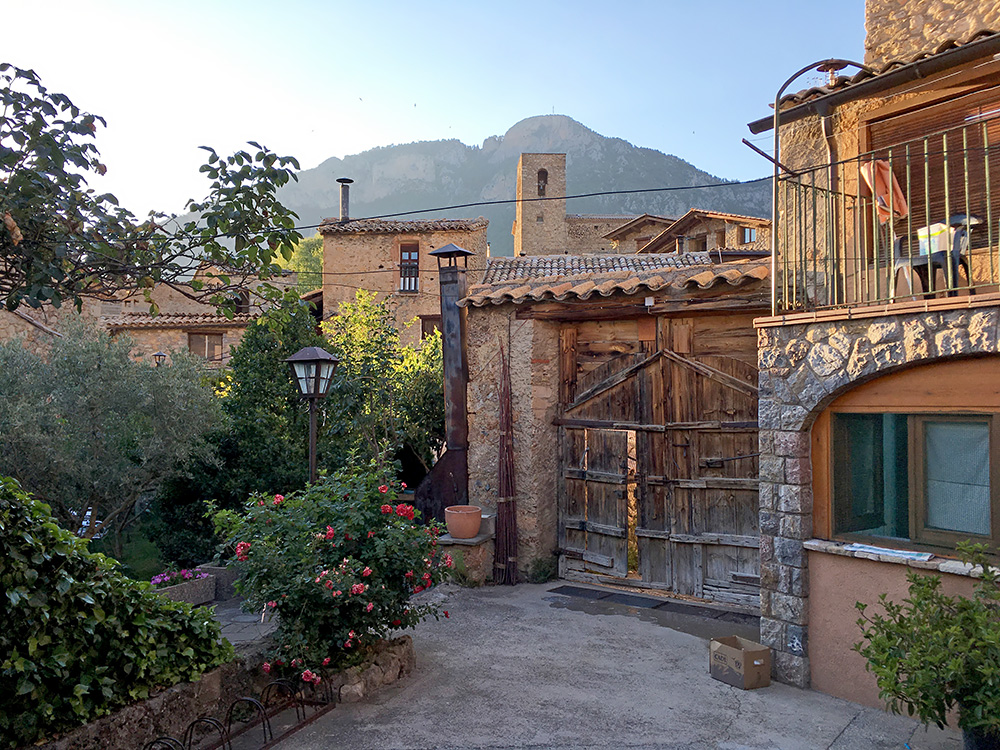 Down at Tuixent/Tuixén (1127m) one climbs up a kilometre along the road to the next pass here, the Col de Port, before going into the centre. I asked at the bar in the centre and they had rooms in the hostel in the next door (think it was the same family). However the other places I had seen looked very much closed, so possibly I was a bit lucky. This place was however very good and the people here was very nice. Here is the back garden of the hotel/bar.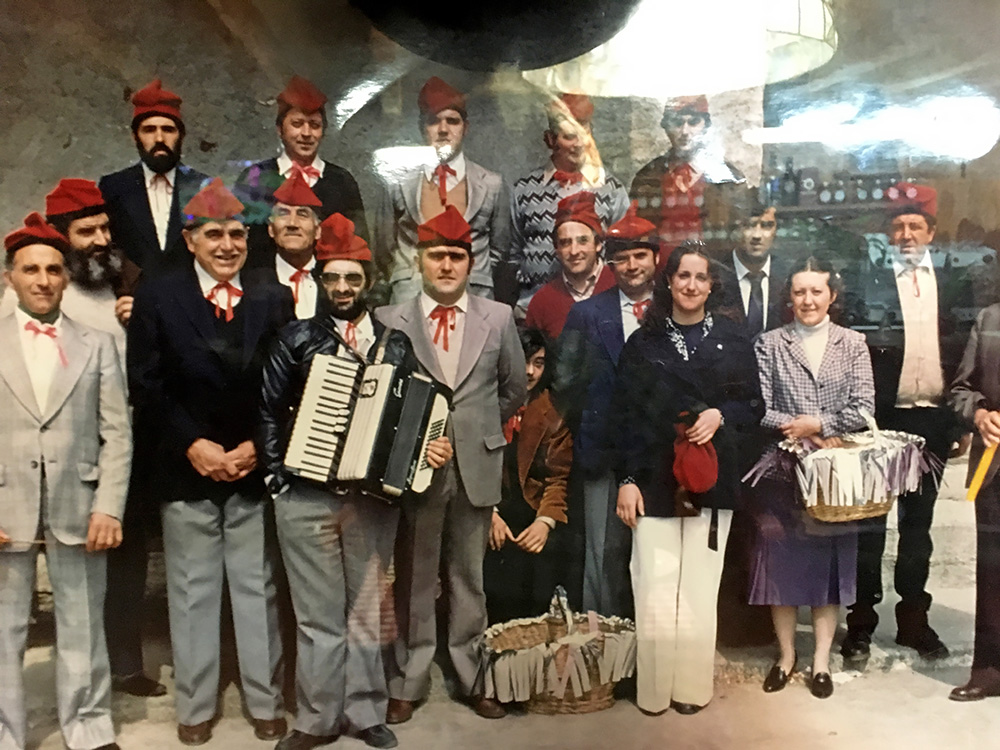 A funny looking card sitting next to me as I was eating dinner, but probably just some local hats used at occasions. The lady said something that it was from some festivities a long time ago.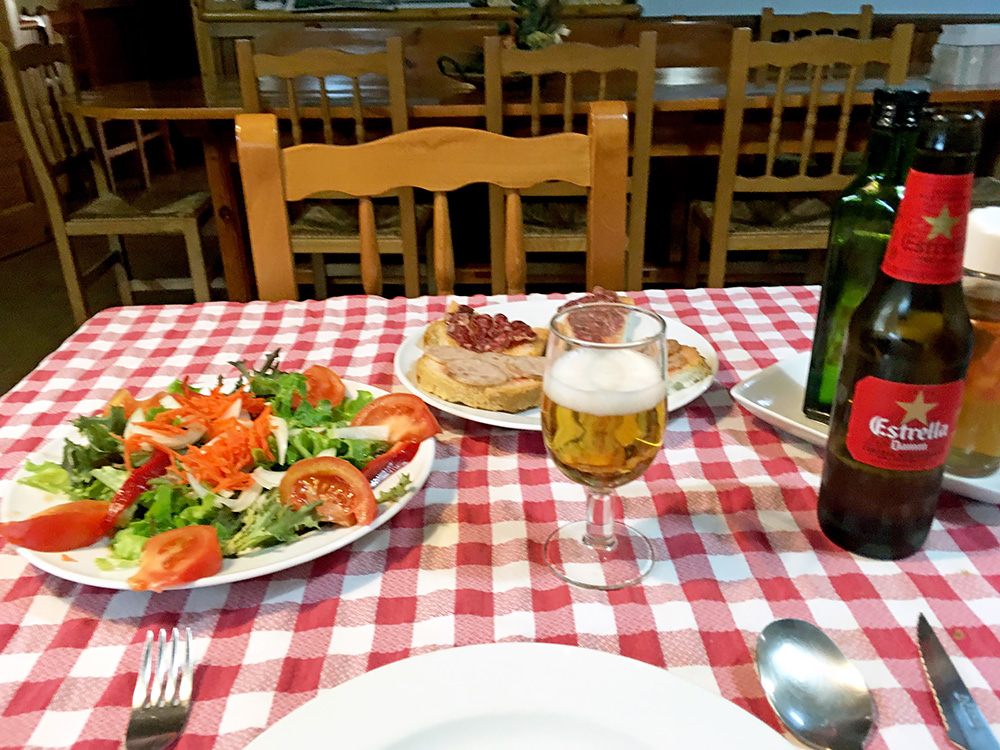 The dinner was varied and just what I wanted. I was later sitting outside drinking two local beers before going to bed. A very nice evening and happy ending of this day too. Not all food on the table yet in the photo. A much recommended place!