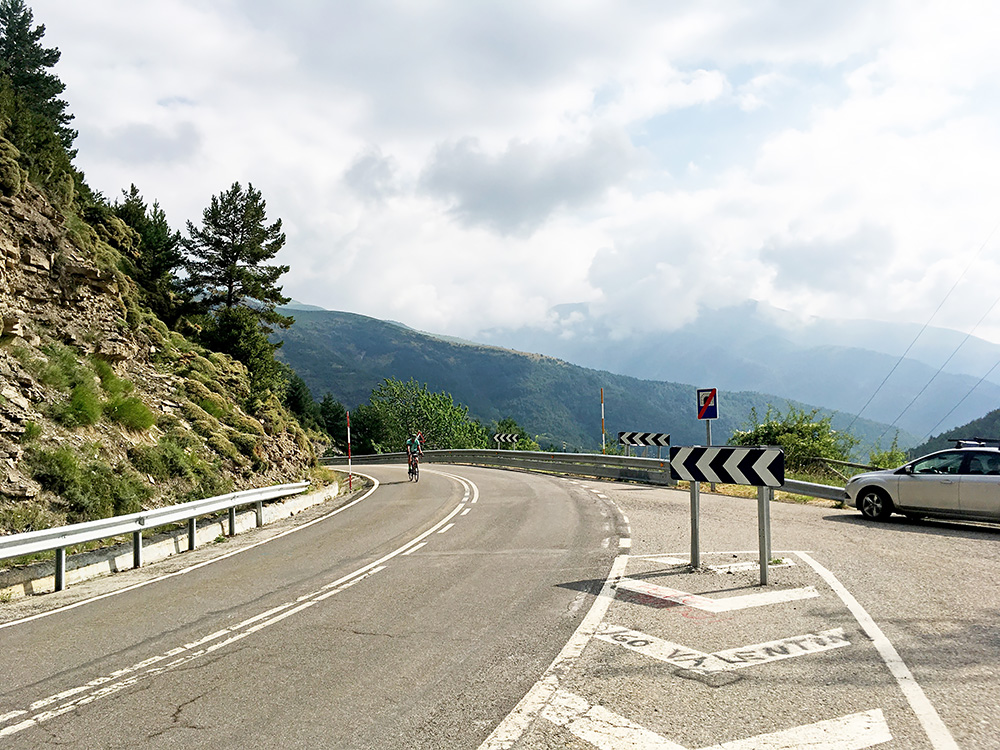 There was no breakfast in any normal fashion at the poor place below Sarvisé/Sarbisé. I went there early to get breakfast, but nothing much happened and then a big school class sort of invaded the place and quickly took all that they made available, so I left. It was a short distance up to Broto (895m) where I stopped by a busy but nice old-fashioned bar/café in the centre by the road and had a sandwich and coffee. All was fine now and I was soon on my way up to the first pass for the day.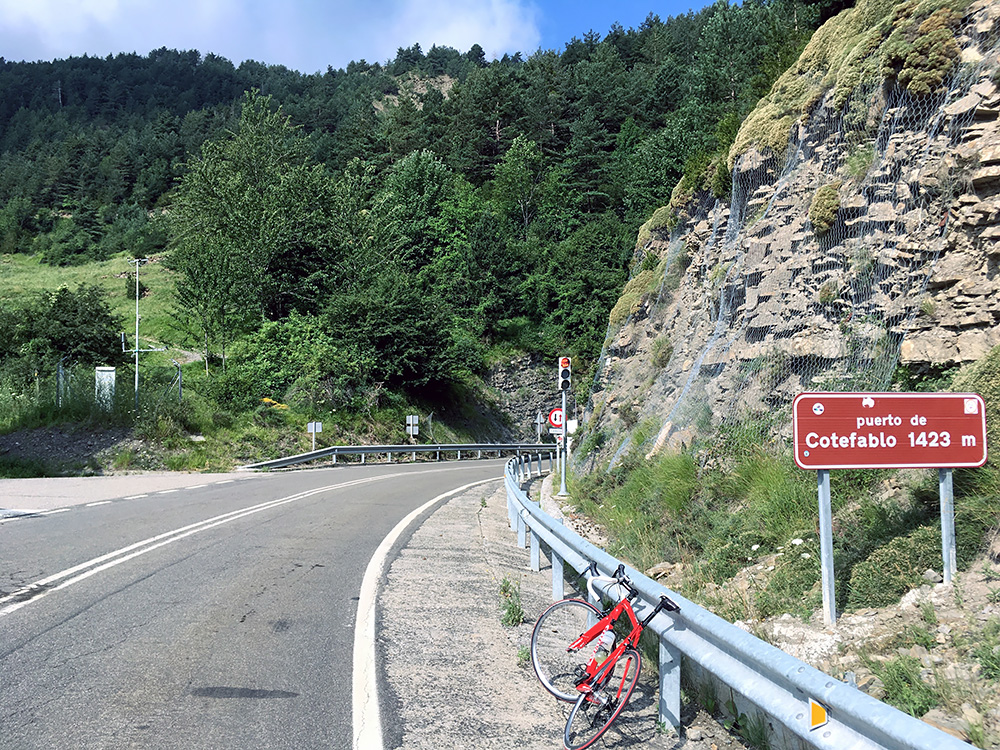 The Puerto de Cotefablo (tunnel) (1423m) is impossible to avoid for anyone wanting to cycle east-west through the Spanish Pyrenees (instead of going down on the plains). I caught up with a local cyclist and was happy to be faster than him even if I did not feel fast in the morning, but think he had his girl with him also and think she was slower.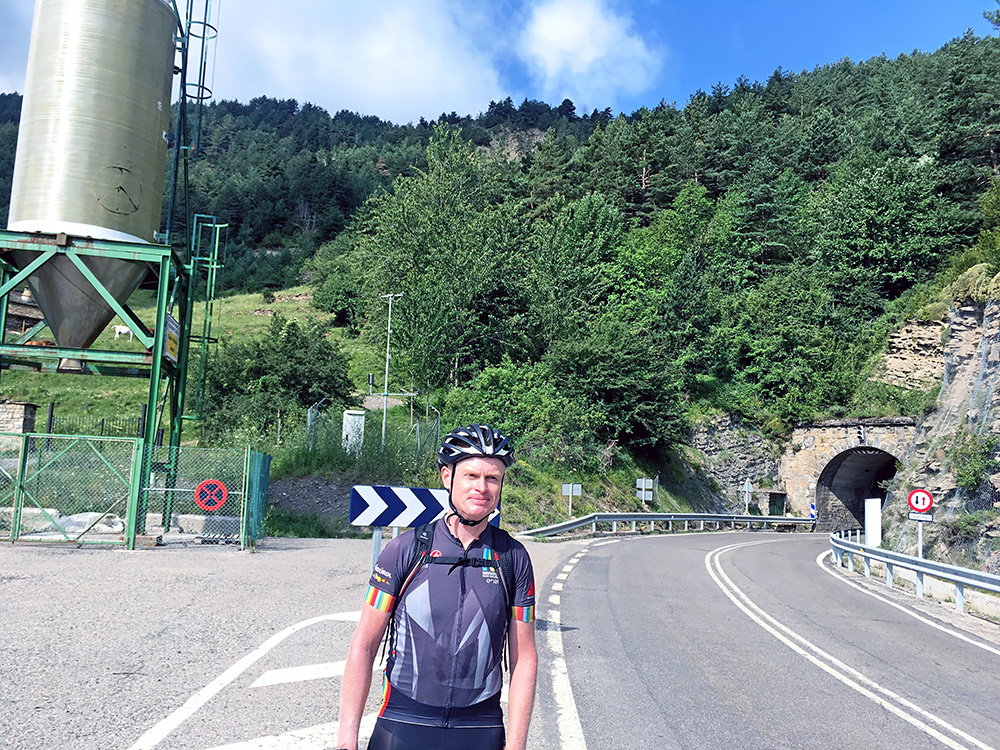 As I stopped for photos on the top of this quite easy tunnel-pass, the guy came up (first photo above) and took two photos of me (one here). We talked shortly while waiting for his lady to arrive and he apparently lived down the other side in Biescas (865m), from where the climb is also rather easy.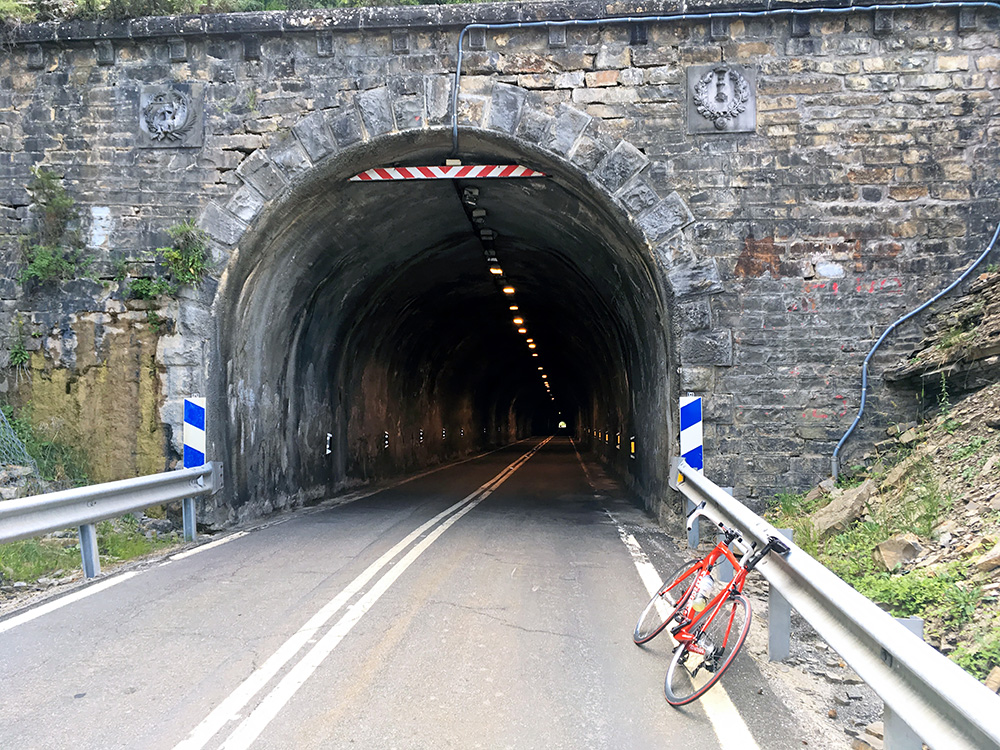 Here is the tunnel from the other end. Nothing much else to see on this rather boring road. It was nicest down in Broto. Now here is a missing link for those wanting to stay up in the mountains on the Spanish side. There is no mountain road between the Valle de Tena (where Biescas is) that goes to Col du Pourtalet/Puerto del Portalet (1704m) and the Valle de Canfranc that goes to Puerto de Somport/Col du Somport (1632m) on the Spanish side and the options on the French side are almost as non-existent here too with only the steep Col de Marie Blanque (1035m) pretty far north.
So it was a long hot and boring detour via Jaca (still seeing a lot of cyclists along the road, maybe as it was Sunday). When I eventually arrived at Jaca, I felt relieved, but it was hot down here so did not want to stop anywhere until I got up the Canfranc valley and stopped at last in Castiello de Jaca by the bar at the junction. Not many places from Broto to here at all to stop by really and here there was only this bar.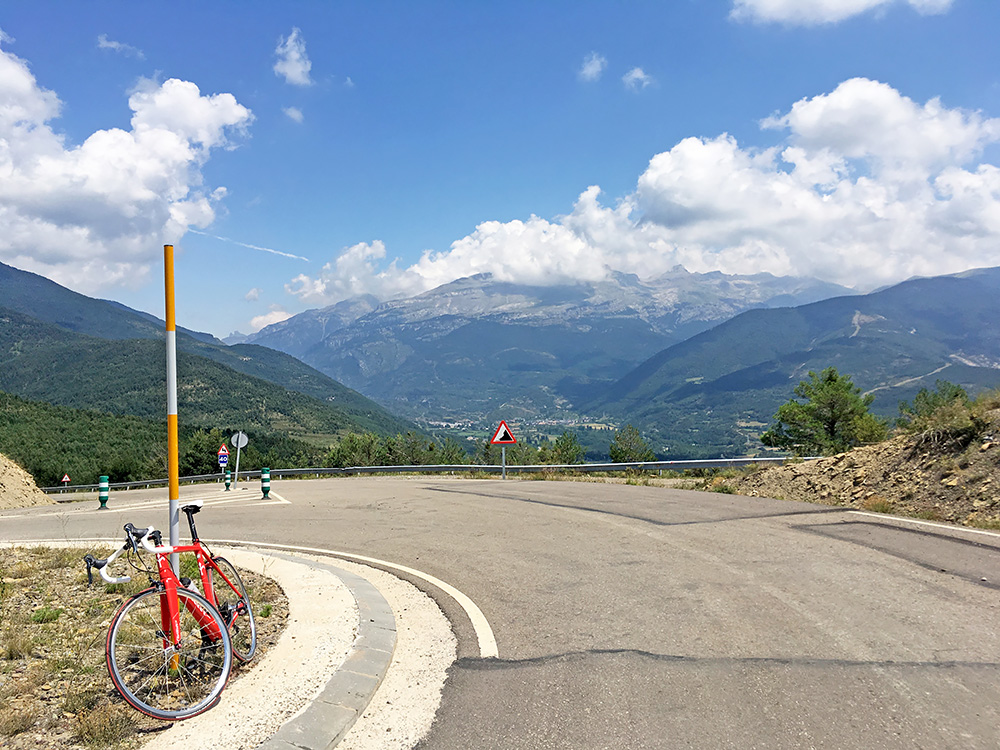 I was a bit tired as I arrived in Castiello de Jaca and was happy to have a relaxing stop. I went on my way, but was soon to abandon this valley up the road to Aratorés and Collado de la Sierra (1144m). The climb up there is short, but it was a surprisingly steep road.
I am looking down and up the Canfranc valley from the pass here. I had originally planned a totally different route here to go over to France at the Portalet or Somport pass, but had to short-cut to catch up time on the plan to make sure I would not be short of time at the end. So also no revisit of Puerto de Larrau (where I first entered Spain ever back in 2001) and no revisit of the Col de la Pierre St Martin/Collado de la Piedra de San Martín (1767m) that I wanted to explore a little more for documentation of all the odd passes along the high part of the road. Thus I did not know that there was any official pass names for the passes I travelled over from Jaca to Ansó as I had not remembered to check them much beforehand.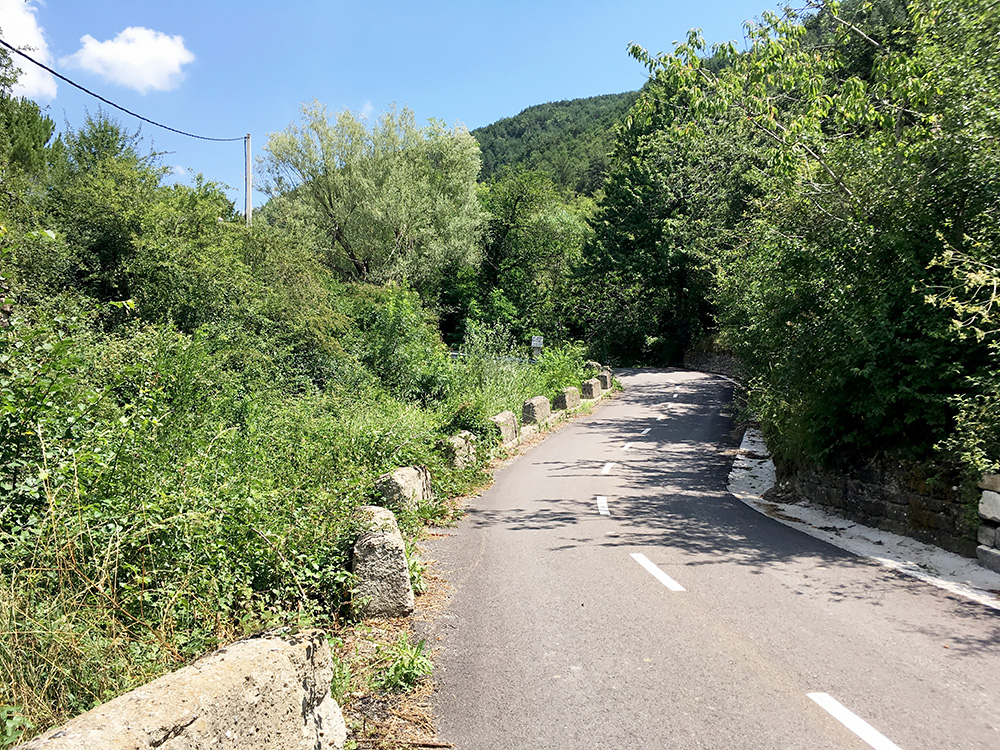 The road up to Collado de la Sierra was big and wide above Aratorés, but then it was less wide down to Borau (987m), where it became tiny. It looked really ridiculous with a painted centre line on this road which was more narrow than many cycle paths and you could not really have three cyclists cycling side by side on this road even if they used the full width. Cars met on the road but the speed was limited to 30 km/h and I think they both had to go outside the asphalt to pass each other. In the photo it is not quite as clear how small it looked. It was a very nice road to climb.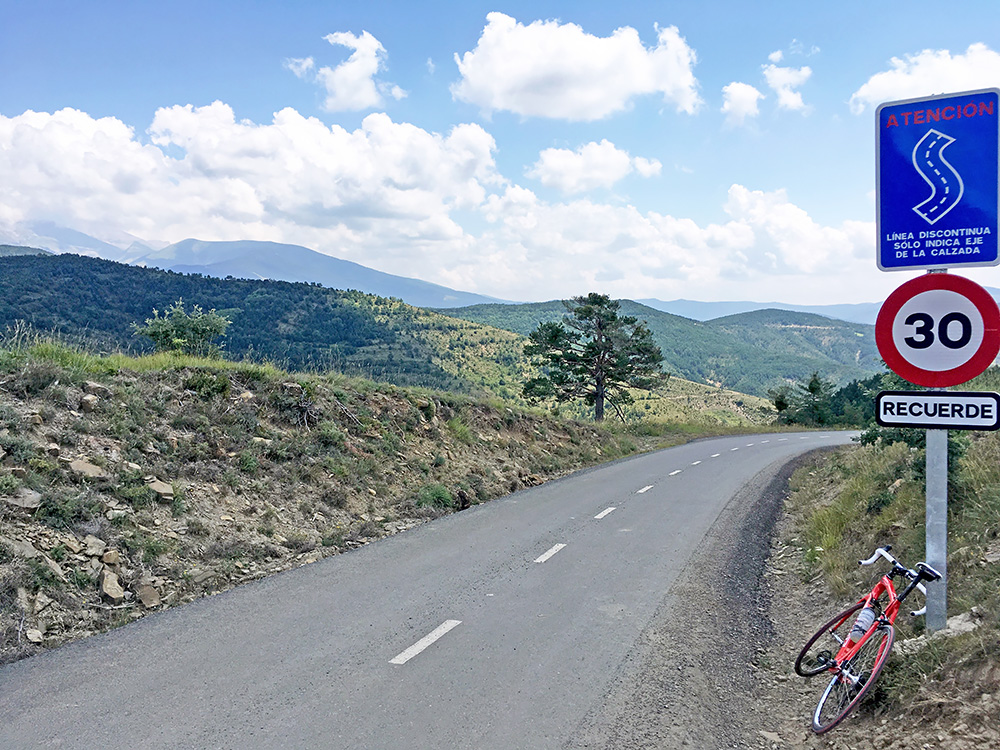 Eventually I got up to Collado de Array (1182m), where I met some cyclists. This road I could really recommend to any cyclist coming by. Borau seems like a very nice place to stop for a café visit also (but I had just stopped before).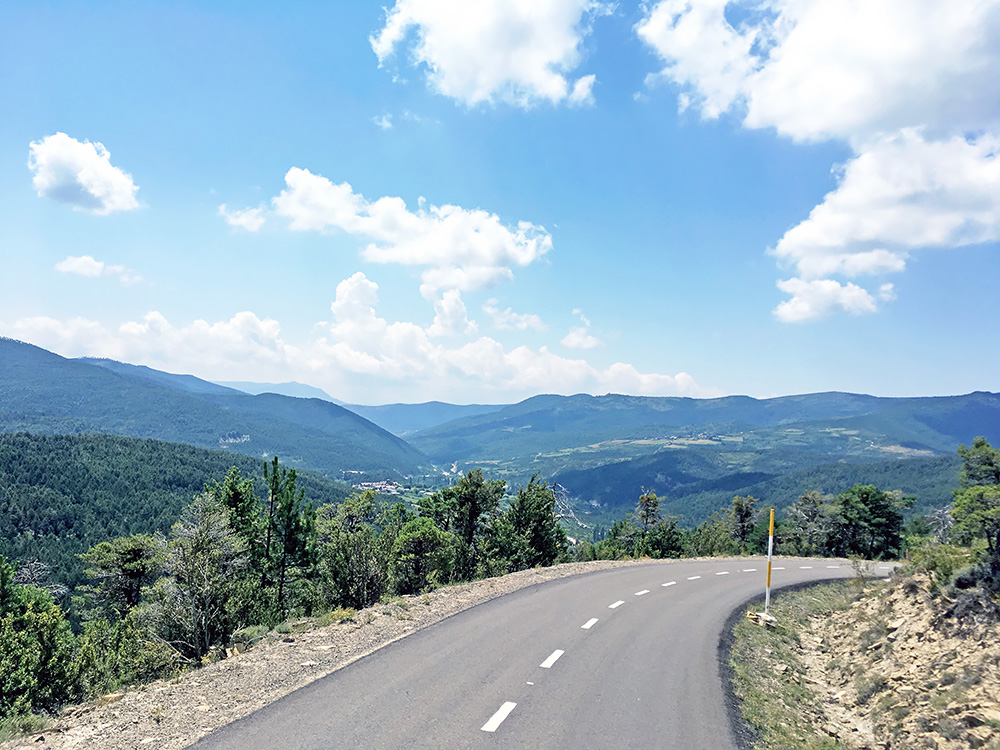 The road continues a bit higher to ca. 1199m before it after some times starts to descend rather steeply to Aísa (1032m, centre at 1046m). Looking down here from just before the descent to the southern part of the Valle de Aísa.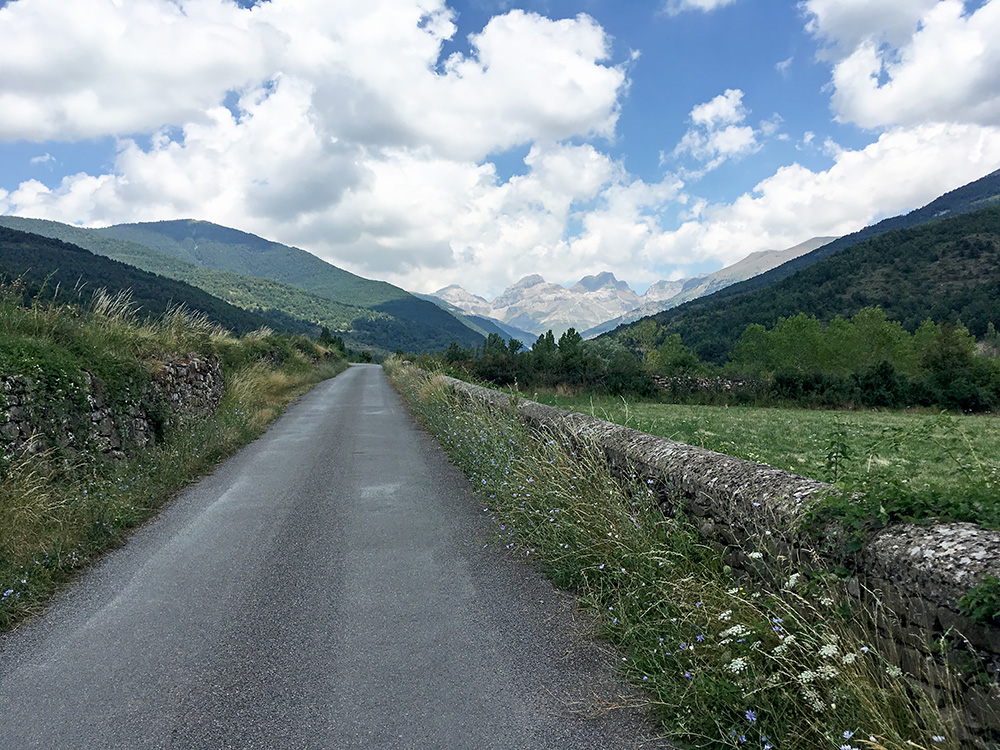 I filled up water in Aísa and then went down the other side to 1036m and over a little bridge. From there the road ahead was quite nice even if the surface was not as good as over the Collado de Array. I stopped for two photos on the road going up the Valle de Aísa.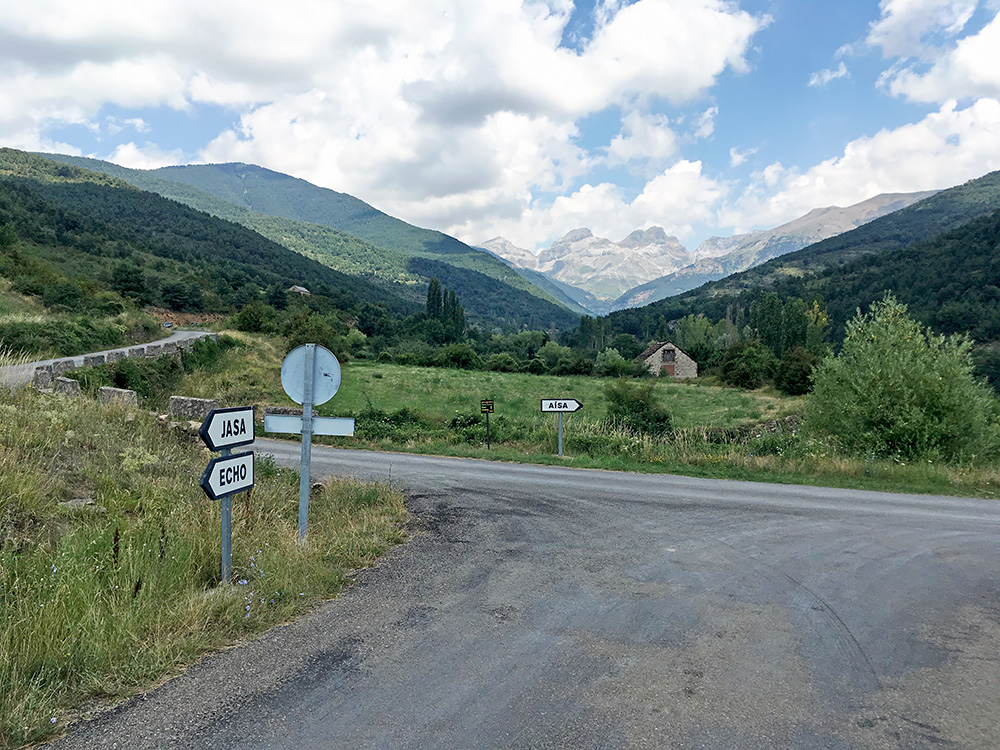 Here is the second photo up the nice valley at the turn-off for the road to Jasa where I went next. The road ahead does not really go anywhere and ends near a rifugio quite a bit higher up at ca. 1500m.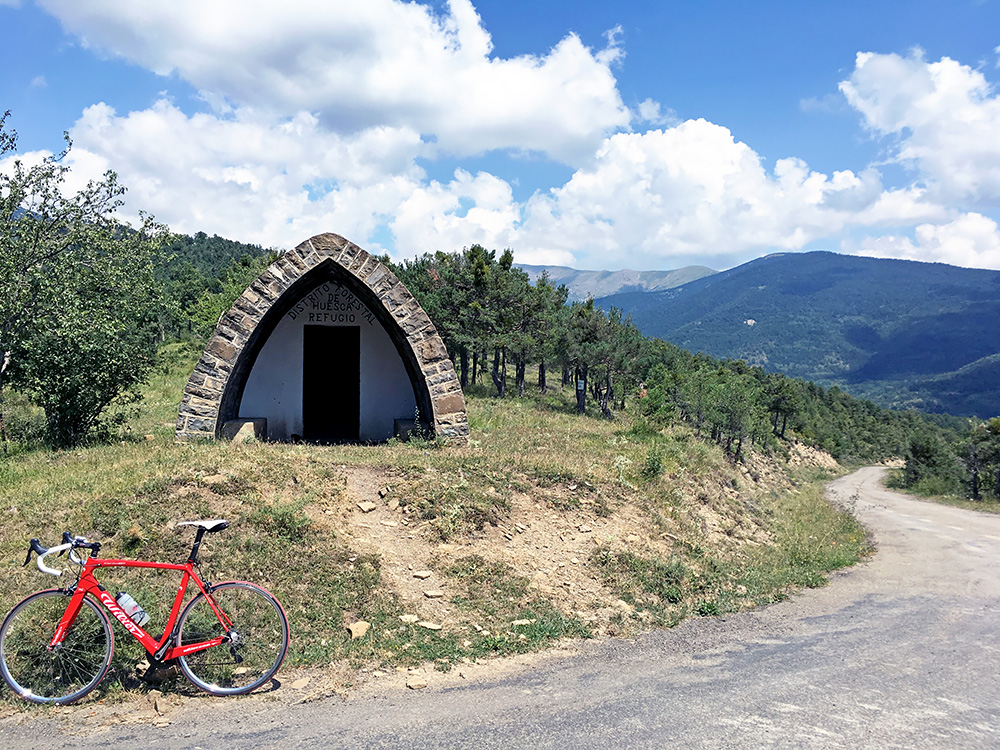 The road to Jasa starts nicely, but as it passes by the last farmland (soon after) the surface got worse up to the Collado de la Loma de Aísa (1228m) pass. Here I am up at the pass looking down where I came up from.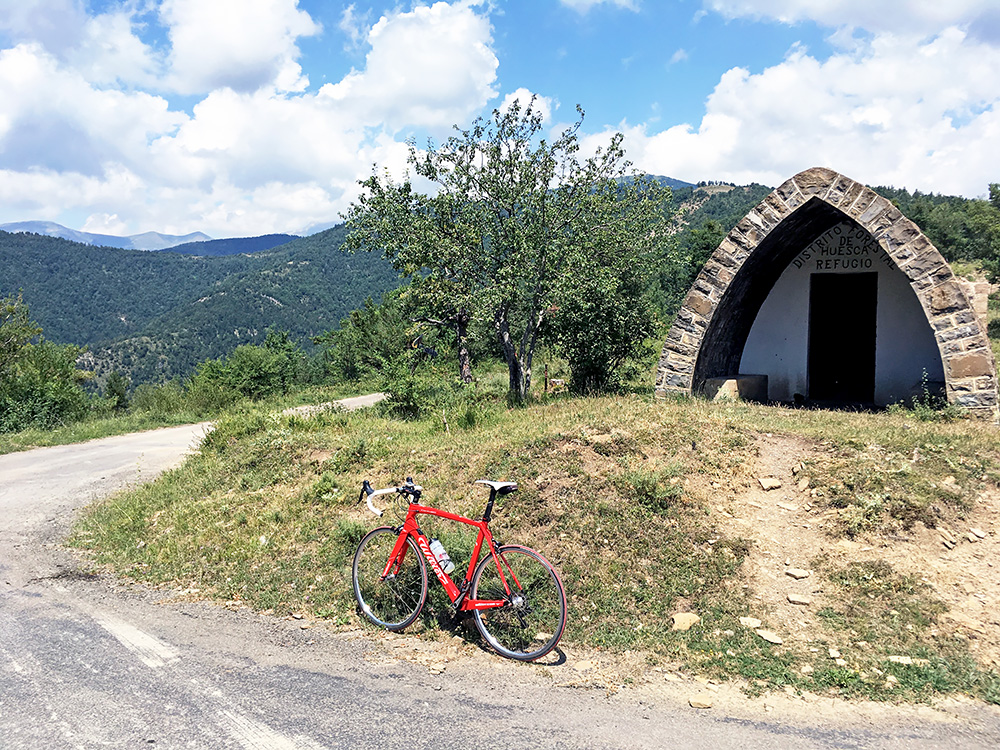 And here I look around the corner of where I am going down. I took a photo also of a wooden walking sign announcing the pass name, but leave it out here.
Soon after the start of the descent the road turned really bad and asphalt was totally gone here and there, but the road was still possible to descend with some care. Down in Jasa the road was fine and one sort of came in the back door to the village and came to a cobblestoned square where there was a bar and stopped for a quick coca-cola at the much less tourist-looking village than Aísa.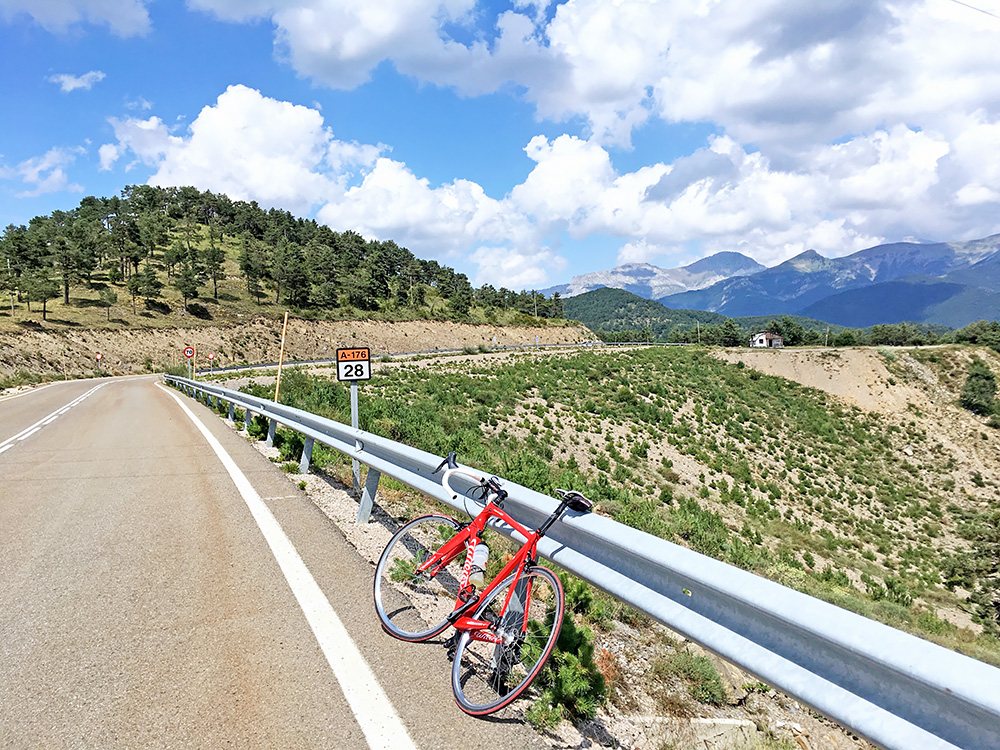 The road down from Jasa was nice and smooth with very little traffic down the Valle de Aragüés, which once again is only a dead-end with the road going up to a rifugio just above 1500m, so I went down and arrived in Valle de Hecho (743m). Here I went up to just before the Hecho village where the next road west starts up to Collada de Terit o de los Arrieros (1072m) (road height 1078m before). This road is wide and good, but surprisingly steep and I got a bit tired here as the temperature was quite high still. This is not a particularly nice pass though.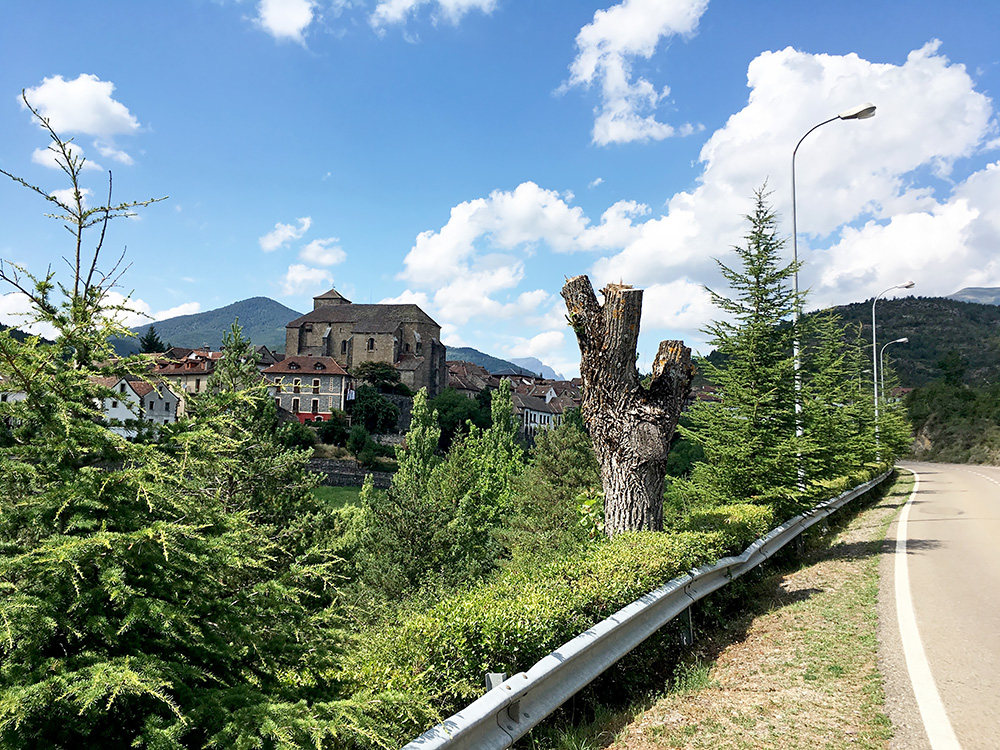 I went through Ansó looking for maybe a new place to stop at, but did not see anything along the road, but as it looked like there was nothing much ahead up the valley, I went back and down the centre where a bar was open. I had a fruit cake and soda, I think. The nice bar is called Zuriza after the location that the asphalted road up the Valle de Ansó goes to.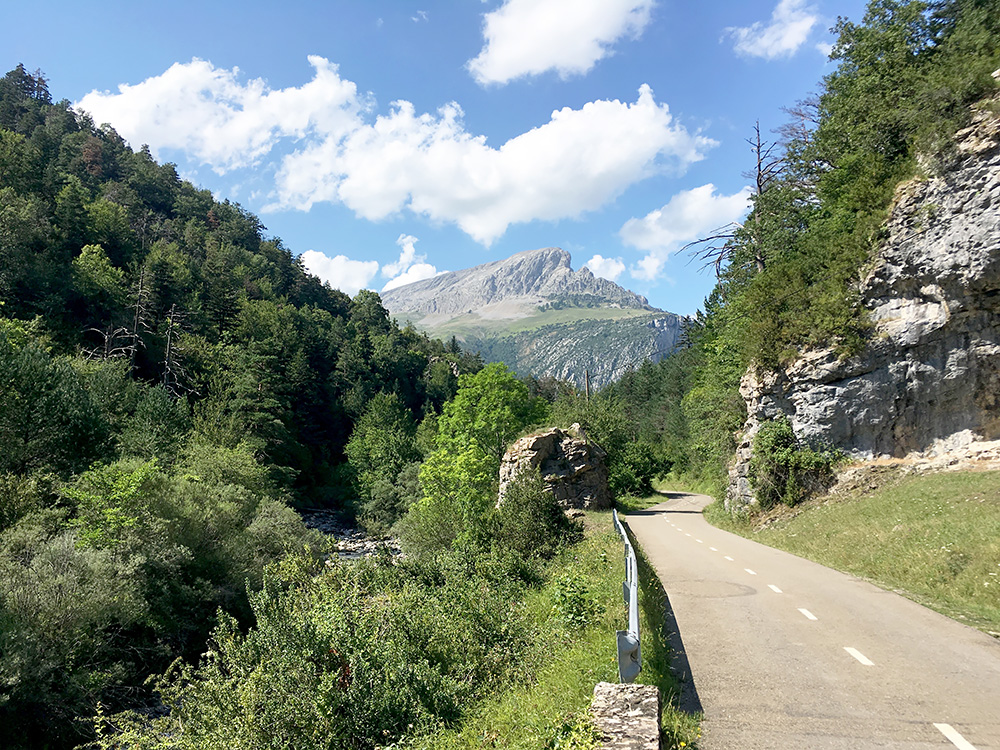 The valley up from Ansó is one of the nicer places to go cycling in the Spanish Pyrenees and is good road for making a circle route over the Col de la Pierre St Martin/Collado de la Piedra de San Martín or Puerto de Larrau and Puerto de Somport/Col du Somport passes. It is a long valley, but the road is never steep until the very last short part when one turns off at Zuriza to climb the Portillo/Puerto de Argibiela/Collado de Arguibiela (1297m). There were one restaurant open half-way up the valley. I met only one man on a bicycle along the road.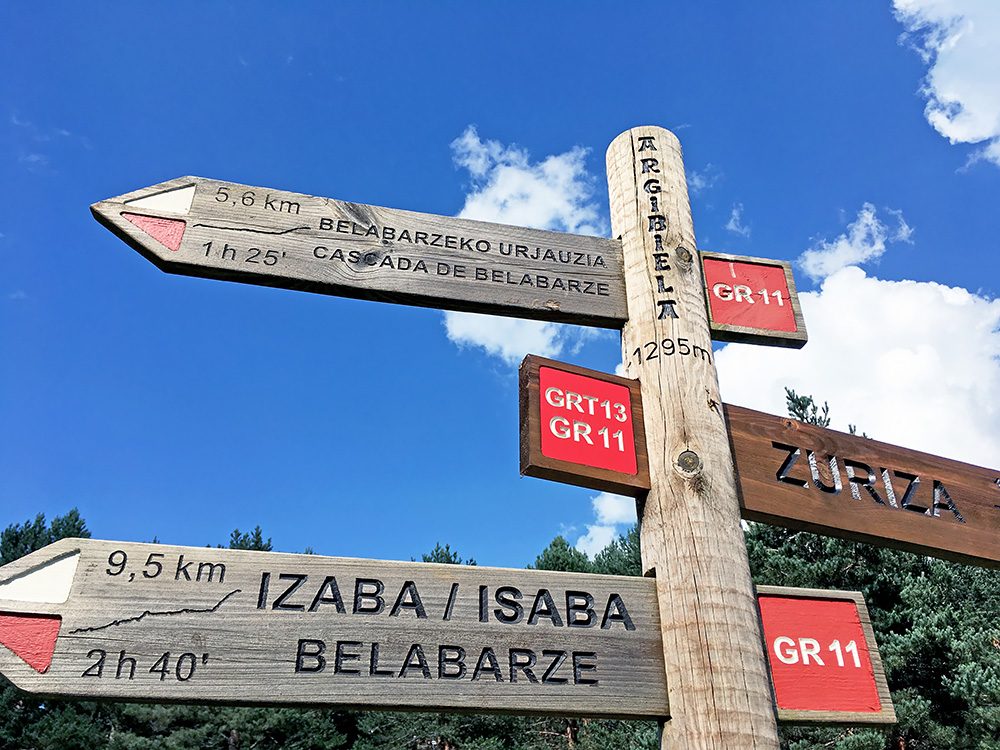 There were many people here and some people cheered me on on the last way to the pass. There were very nice views also at the pass. The pass sign is of the typical basque variation popular on many passes in the Navarra and inside the French side too as of late. The pass name is given without the full name (also popular in other places) and thus they avoid some of all the variant names used for passes in the area. There might be a specific basque name even for this pass, but for some reason I have not found it and it is a bit away from more obvious basque areas, so maybe there have not been so much influence here with those names. (The height given on the sign might be the best as the technical maps of Huesca has it at 1293m while the Navarra maps has it at 1297m, but also the IGN suggests 1297m and the Huesca map is not giving the exact point.)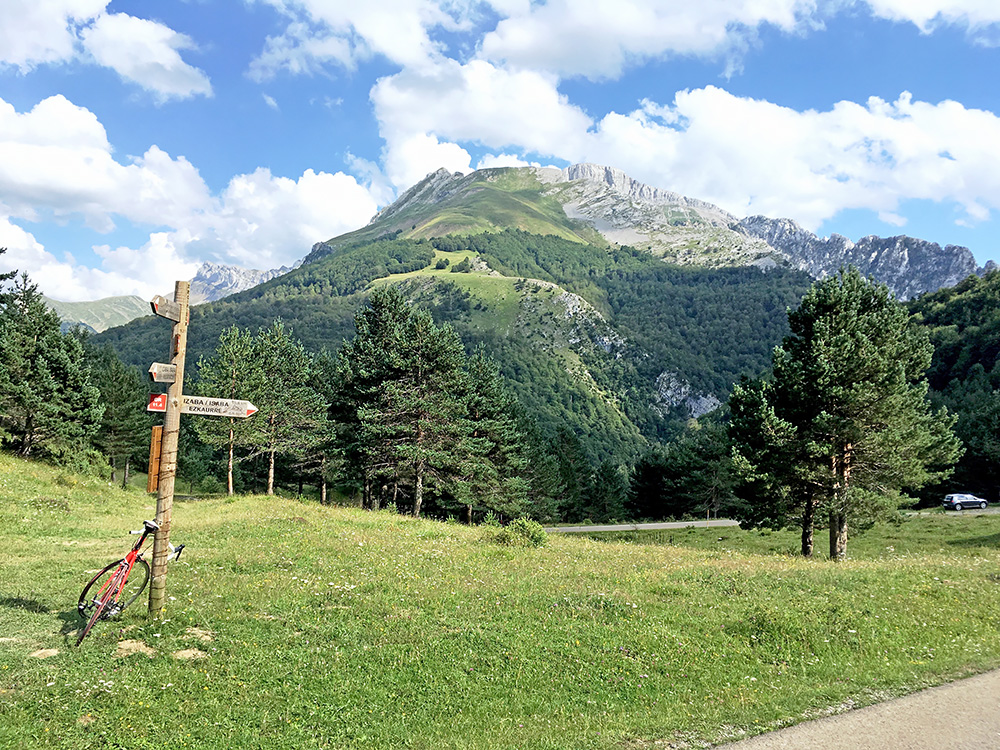 Great views east from the pass! The climb up here is rather easy from any side.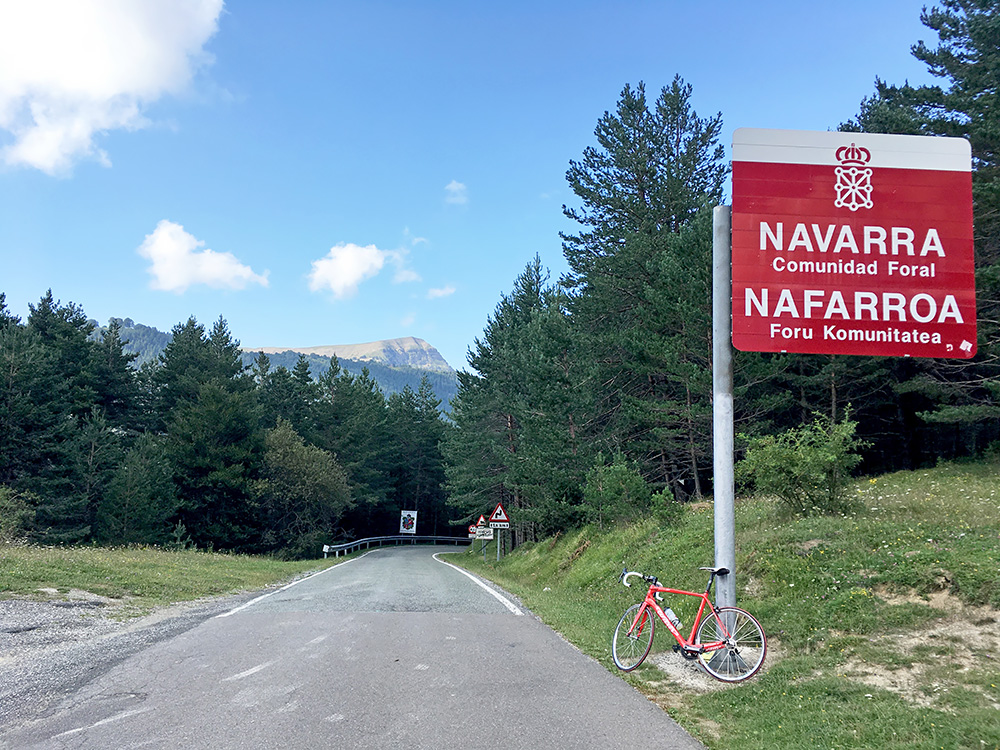 They make it difficult to miss that you cross the border between Huesca and Navarra/Nafarroa here! Still there are some mountains ahead west from here.
It is a nice and easy road down from here to Isaba/Izaba (784m) and one crosses another supposed little pass on the way, Portillo de Belabarze/Belabarce (1043m). I noticed one had to be a bit careful down the road from the last pass to the main road down to Isaba, but no problem. I stopped in Isaba hoping to get something more to drink, but the only open shop was full with kids, so I went over to a bar and bought an expensive little soda, but at least remembered to borrow the toilet.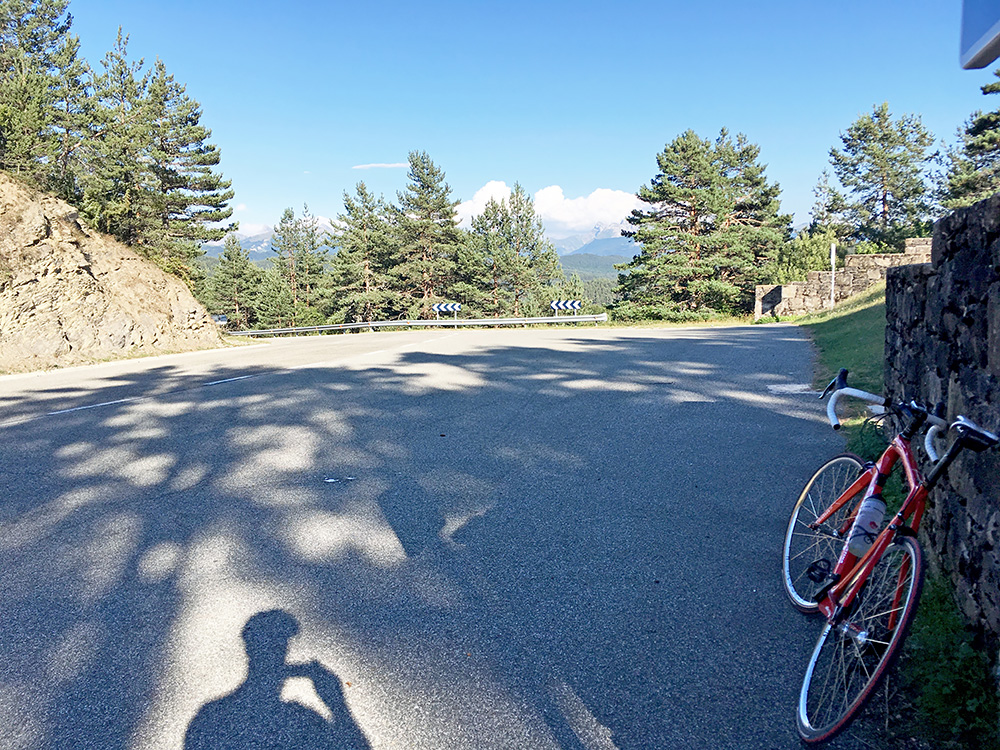 From Isaba I went west again over the rather unavoidable Puerto de Laza/Portillo de Lazar/Meakatxorrotxa/Lazagaina/Meacachorrocha (1107m) (to list some of the names for the pass … ). It is again a very easy pass where one could basically climb it all on the big chain ring (at least from the east side). There are decent views at the top back, but otherwise it is mostly just a practical through route east/west.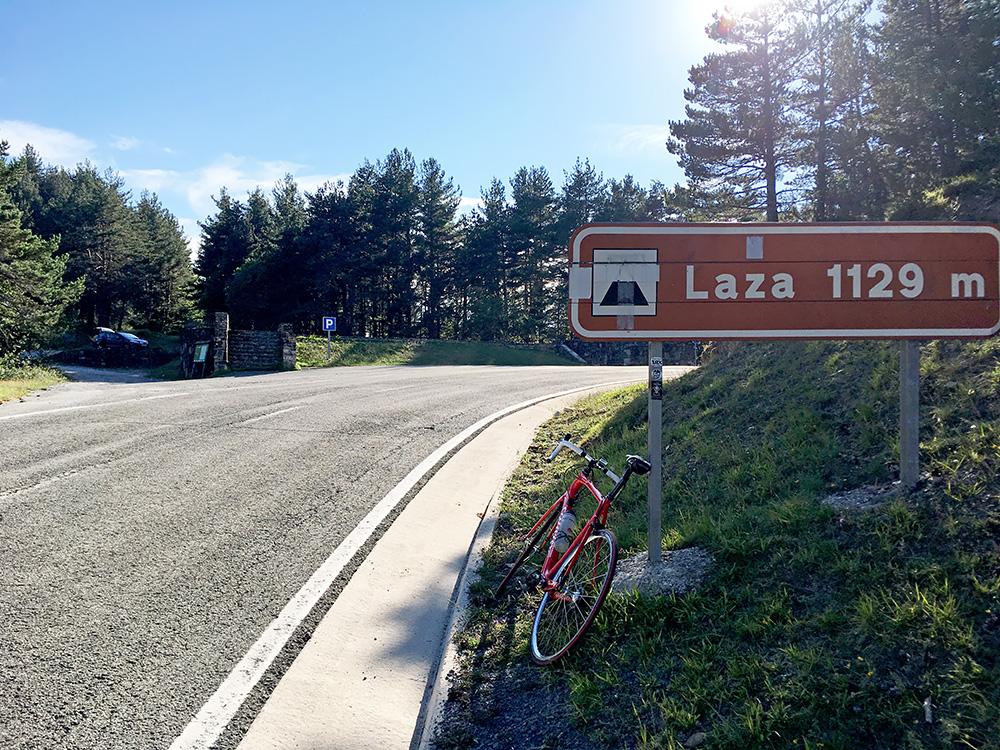 From the Laza pass one has the last views of the really high mountains more to the centre of the Pyrenees. West from here it is also quite nice and much greener, but no really high mountains. The last +2000m mountain is just north and a little west of here by the Larrau pass, the Pic d'Orhi (2017m).
It was again a long downhill ride to Ochagavía/Otsagabia and to Ezcároz/Ezcaroze (735m) and was worried I was loosing a lot of height metres, but was surprised it was not more. Now I did not stop anywhere more this day and temperatures had been going down after reaching the Laza pass to very normal.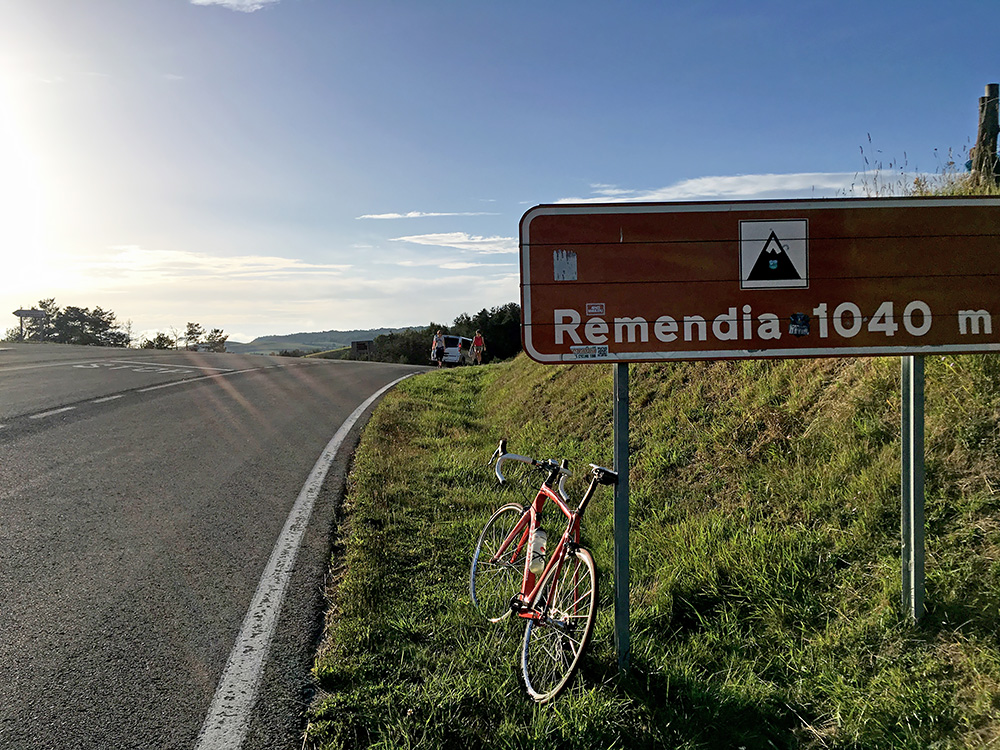 I was starting to feel better now in the evening and enjoyed the curvy road up to Alto de Jauretia/Eaurtea Mendatea (975m), but it seemed (lie always) a bit longer than I remembered it (have been going this way once before). Down at Jaurrieta I wondered if I should try and find a hotel for the night as I was not sure where I could find one next. There was one hotel, but it looked a bit expensive and also closed, so continued, but saw nothing else and as the sun was still up, I could well go on a for a while I thought. Soon I was up at the next pass along this road, the Puerto de Remendia/Erremendia Gaina/Portillo de Arrese (1034m). Here I met two girls as they came walking up here as I stopped for the photo and one of them complemented me for my Maratona dles Dolomites jersey as she had also taken part in the maratona the year before. "Thank you" I said a little too tired to say anything intelligent now.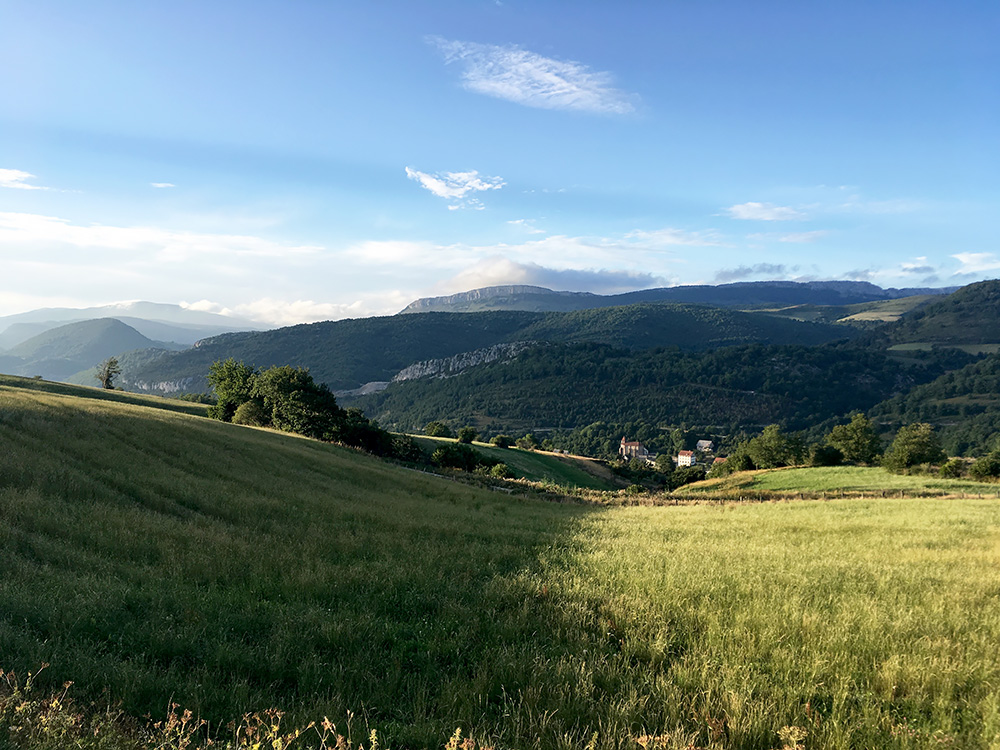 I went on. After a little donhill the road climbs up to Abaurregaina/Abaurrea Alta (1046m) which is the highest point on this road. There were no obvious place for lodging here either. As one leaves the village there is an obvious, but unnamed pass at Zokoa (1033m). It was a nice descent in the evening to Abaurrepea/Abaurrea Baja and stopped on the way there for a last photo for the day over the next real climb I was going here for. Far in the distance to the left in the photo you see the highest mountain west of here, the Ortzanzurieta (1566m) with a paved road to the top. Little did I know what the weather would be like the next day though.
There was no lodging down below, so continued to Garaioa. Here it looked like there could be a hotel and saw that it said Pensión Lorea down the road in the village so went down there and opened the door and a lady arrived to explain that it was no longer offering lodging and that I would do best to continue down to Aribe (699m). I went down there and there was a hotel that was open. It was a quite good hotel with a nice lady speaking good english that welcomed me. I had a good dinner and slept well, but think she explained that maybe the weather would not be so good in the morning. Very happy with the longest day of cycling even if not so impressive number of height metres.