The chain jumped off here again where I stopped in the photo – a problem with the internal wiring of the Wilier bike and the front shifter that seemingly no loctite helps against – could not be a good thing to have road racers using those Wilier bikes, but the mechanic in the Netherlands that sold the bike said he knows how to fix it, while no bike mechanics at home seem to have any idea, but as long as I keep turning the adjustment screw/knob after going on a less than smooth road, there is no problem. Other problem with the Wilier frames is that they have a design fault in that one positively destroys the frame if one tries to get the chain up on the front chain ring again while riding after it had fallen off (not very clever and not exactly something one could live with if racing, but I am not racing any longer so just an annoyance here). Otherwise the frame is less stiff than the old Canyon carbon frame, aside from those things it is a nice frame, but likely my next frame will not be a Wilier (but cannot change frames now and then and usually expect a frame would last 5-10 years at least). The pass just above Cambrils where I started in the nice morning is called Coll de Boix (1256m) and is the location here.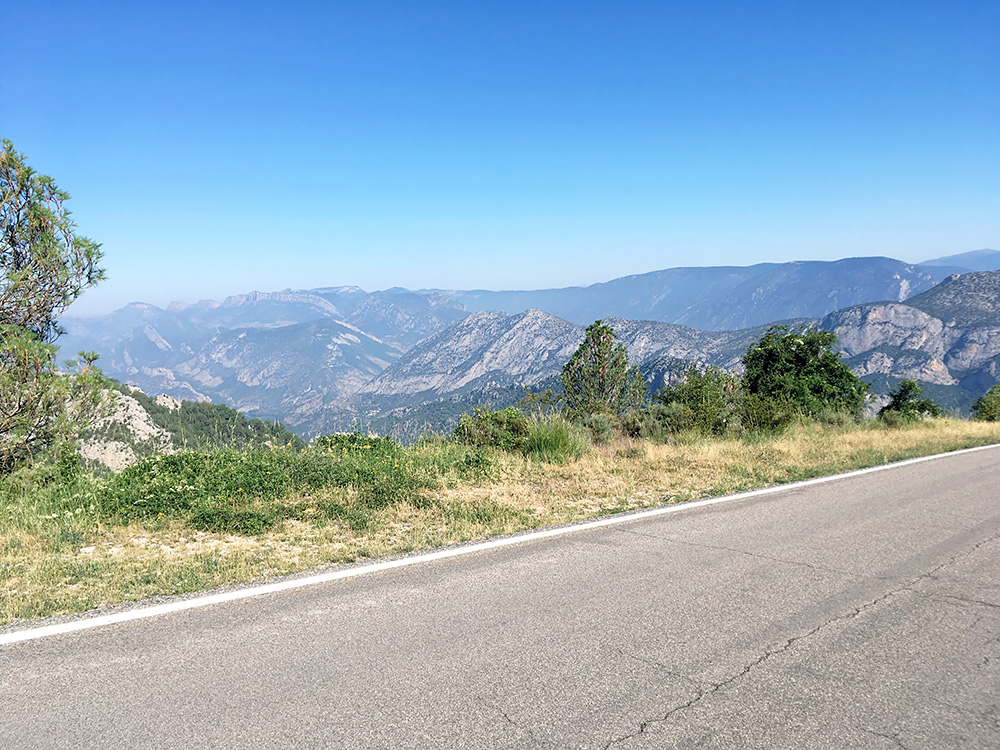 It was already warm up here in the morning and this would be yet another hot day for sure. Still it was time to descend and descending is always nice when it is warm. Before (photo) and after a minor pass called Collet del Bas (1174m) the views are great (as seen here) and a long downhill ride to near Coll de Nargó starts. Down at Pont d'Espia (531m) I turned south to Coll de Nargó (527m) (a village and not a pass, though maybe a little pass up in the centre). I stopped there by a bar for a coca-cola before I continued.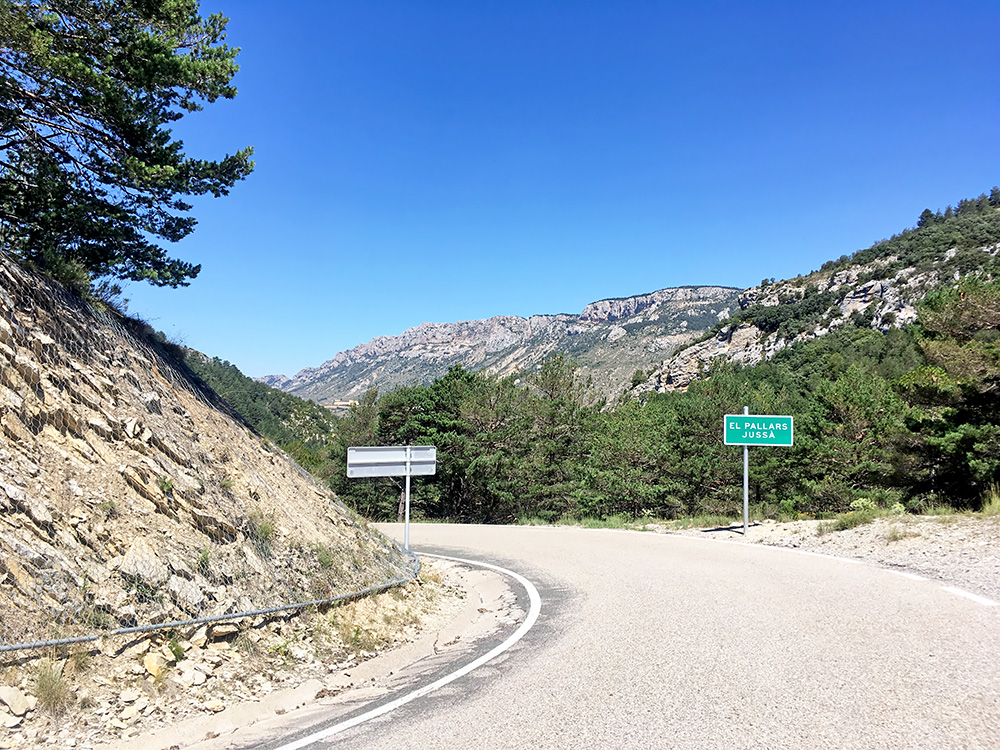 It was then a long, long climb on a gently sloping and winding road to Coll de Bóixols (1332m) in terrible heat, but not quite as warm as the day before, but there were many days after each other here with the temperature at around 38°C. Absolutely no water along the road and no bars and almost no houses. I did meet a few cyclists out here though, so some people living down here have managed to live with the heat apparently. This is also not the most demanding climb. Here I am looking in the direction the road descends on the other side.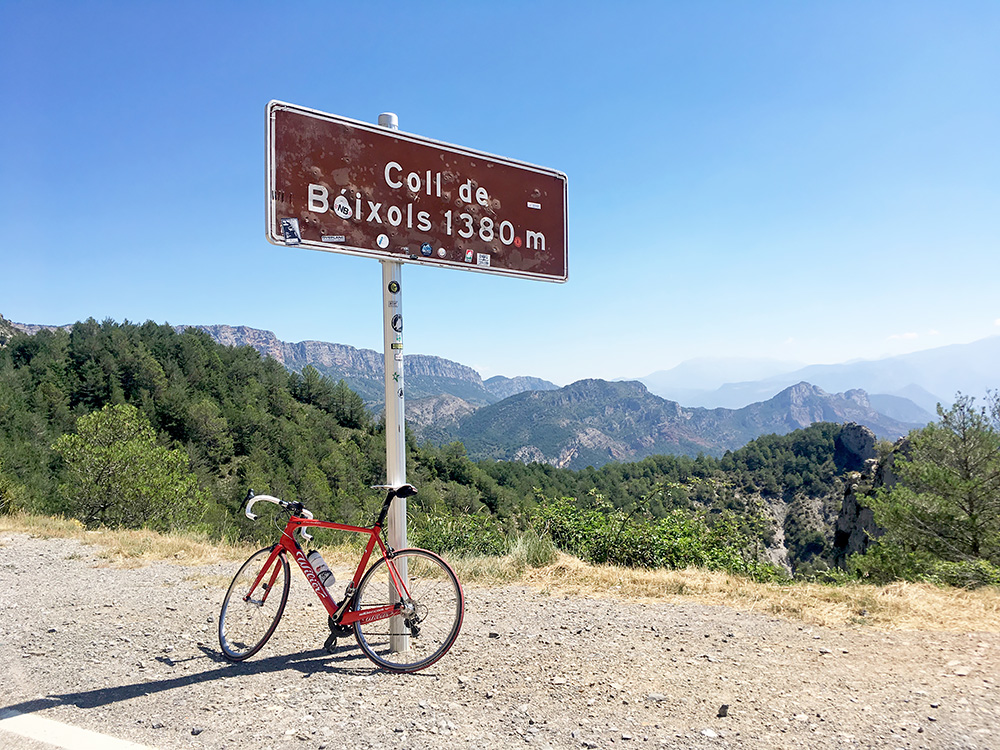 It is very nice up at the pass, but a little lack-lustre road otherwise and I was wondering a little about my goal of climbing all the +1300m passes and if it was such a good idea after all, but this is a strategic pass in the area, so nice to know it even if only from one side as I was going back down the same way. I had a lot of planning difficulties in taking in all passes and BIG climbs in as smart a way as possible and it ended with me having to do many through road passes as cul-de-sacs, which may look a bit strange without studying all the parametres carefully … . I also wanted to climb passes from the hardest and most scenic side if possible and make as nice a tour as possible, so many considerations to take into account.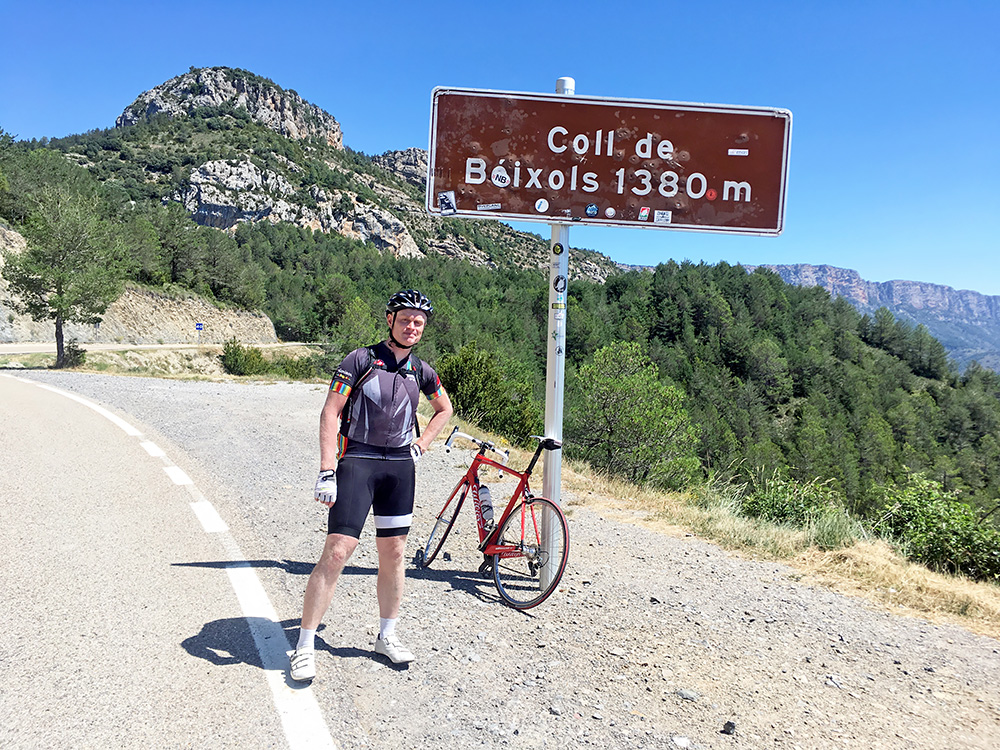 Was lucky to meet some nice motorcyclists at the top who took some photos. They jokingly suggested I should walk down the cliff path a little as the views down there should be dramatic, but it looked a bit dangerous in cycling shoes (you see the path in the photo below).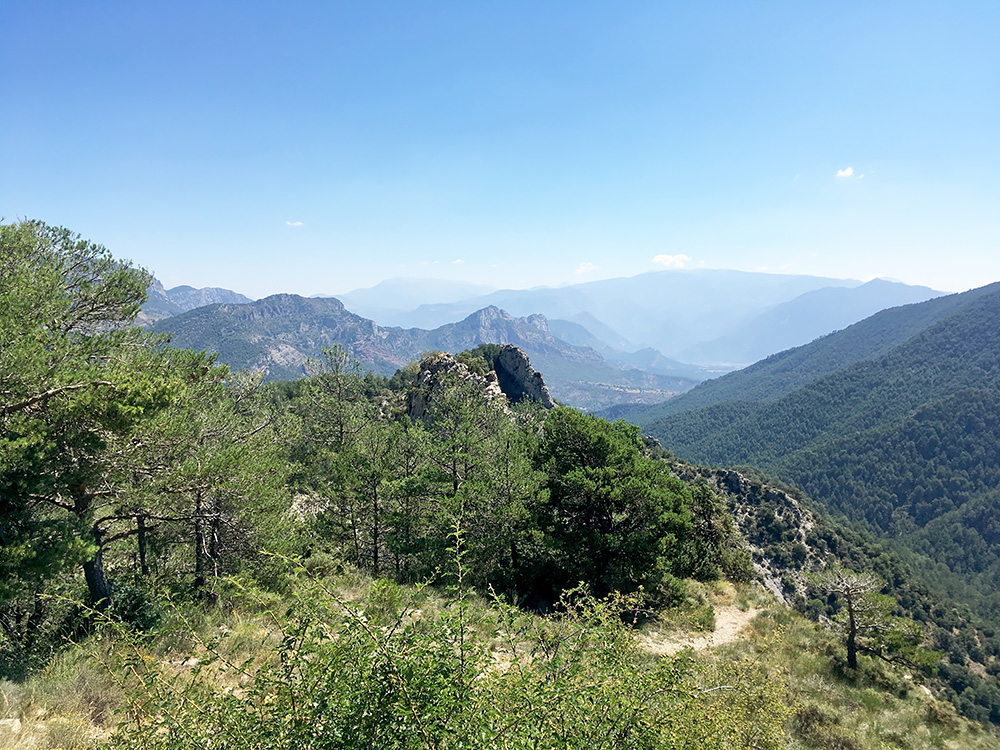 One looks down the valley to Coll de Nargó in the photo here, but it was not that valley one climbs up here, but a valley to the south of it. There is a pointless pass on the way up here called Coll de Mola (1217m), but the actual pass one reach soon after that where one crosses the ridge between the two valleys is only called La Cruïlla (1260m), which I doubt is recognised as a proper pass name, but the map is quite clear Coll de Mola is not located here (as I first thought).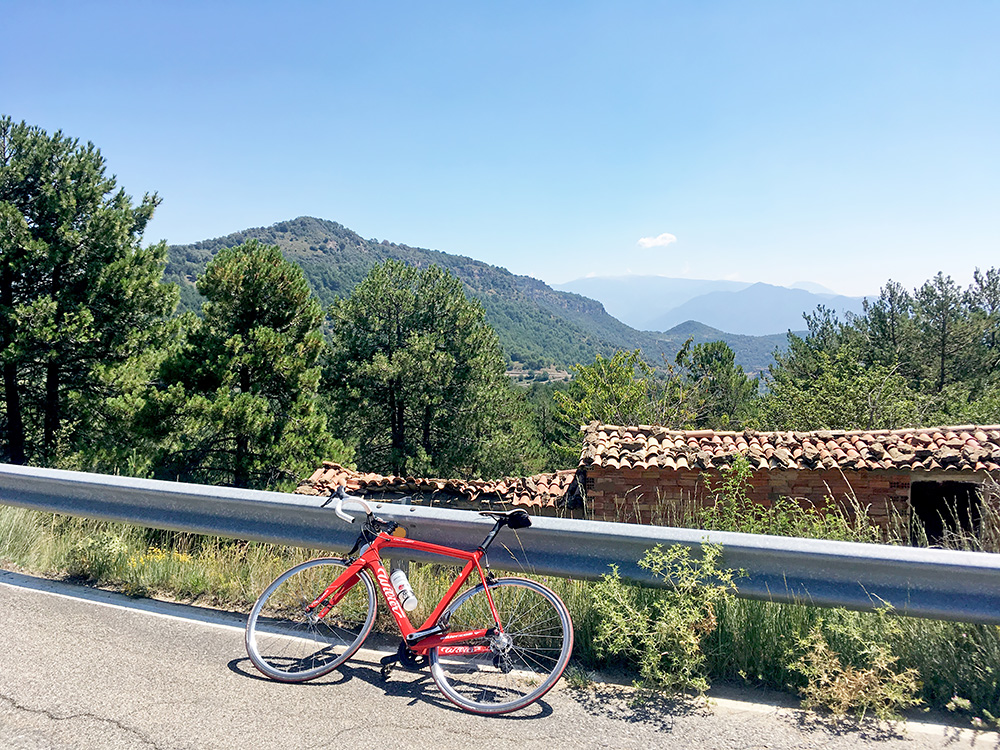 At La Cruïlla a paved road goes south (Carretera de Gavarra). This is a one-way road to the village of Gavarra. I had noticed a pass very close by here so thought I could at least go there to collect that even if it was below 1300m. Here in the photo I am at Collada del Calçó (1280m) looking down the valley I climbed up and was going down again. there were open views in the other direction and had a photo, but a boring view. What I did not realise then even if I knew there were further passes down to Gavarra was that in order to get to the next pass, Coll de Conseu (1278m) one has to climb up to 1342m, which would sort of make it a +1300m pass measured by road height, but I was close!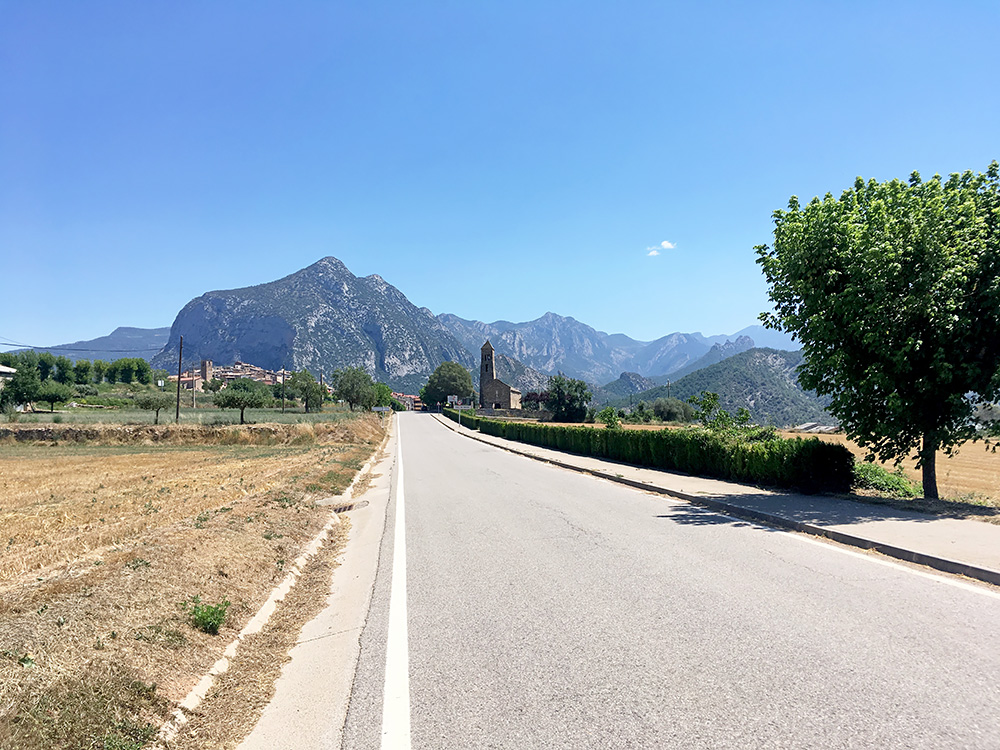 I was thankful this climb was over as I had not much looked forward to it. Once again I was going back to higher mountains. Back at Coll de Nargó I took the photo here also overlooking the mountains in the background that I had descended in the morning.
Back on the busy road to Andorra. I stopped already in Organyà again for a coca-cola and a croissant. Was not allowed to sit inside. I had originally planned to stay the night here, but of course did not get that far. The road climbs unnoticeable as it continues up the now narrower valley. On the way up one passes by a road that goes to La Guàrdia d'Ares (1589m, highest paved point in the village) which passes the Coll de Mu (1218m) and could well have been a road to a pass above 1300m as there are two point along the road higher up that could well have pass names. There is also a really proper pass Collada de les Saleres (1609m) on a side road near La Guàrdia d'Ares, but it is gravel for just a bit too long to make it count as a road pass on my rules (max like 600m gravel, and this is 1 km.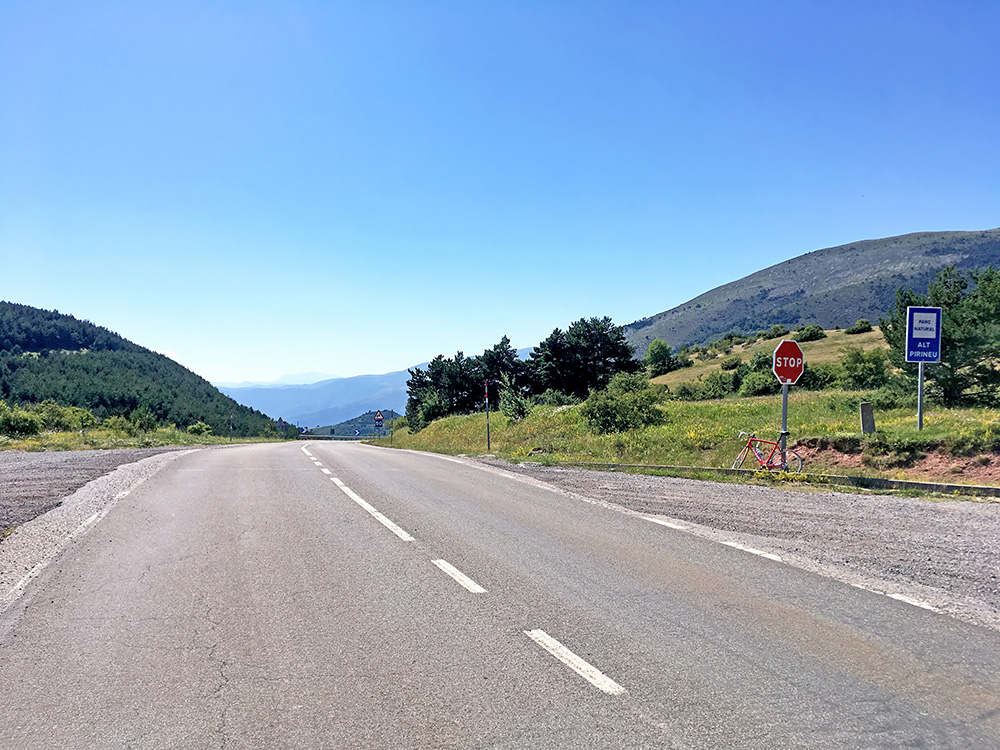 At Adrall (636m) it was time for the next climb, but it was hot and in the middle of the day, so I needed to prepare myself I thought and after choosing between two restaurants went back to the first and had a litre of water and something simple to eat. Said hello to an old cycle tourist man who was spending a bit more time there.
I did underestimate the next pass, the Port del Cantó/El Cantó (1721m) which is quite a hard climb with well over 1000 height metres unlike many of the passes recently. It also had some steeper section and it was steepest at the first part. This pass also has a little descent along the road and a false summit being another pass, Coll del Roc Picó (1560m) along the way. Looking ahead west at the pass, but that nice short-cut of my plans was not an option and I was going back the same way here too.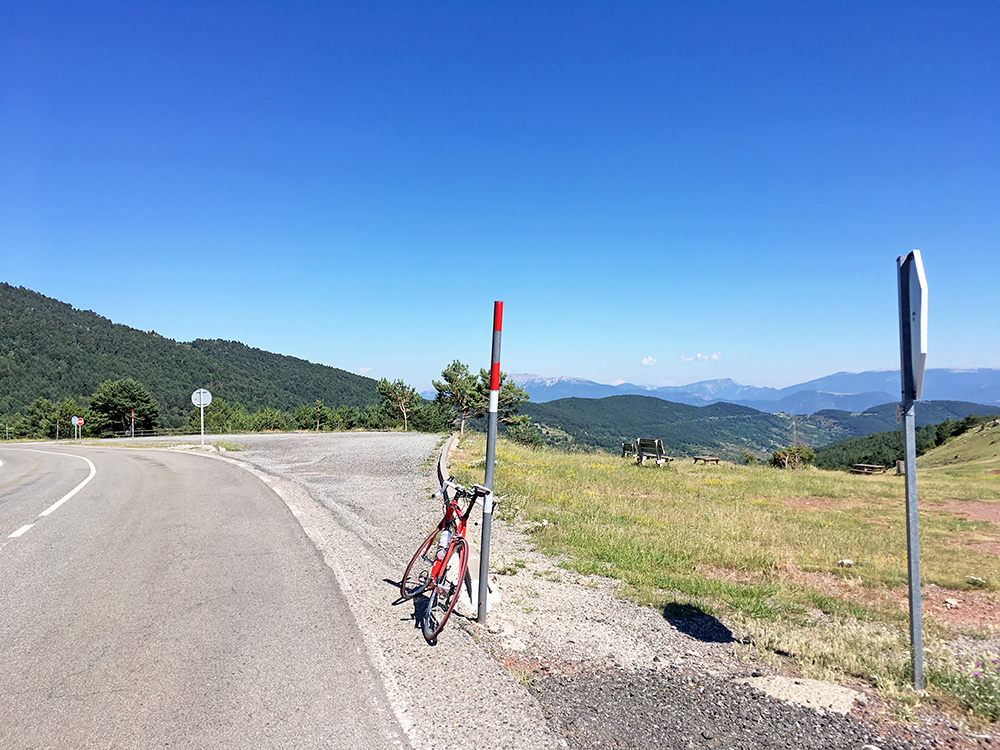 Looking back here to Coll del Roc Picó. I was quite tired when I reached the pass. This is a classic pass in the area as it is the most obvious pass to use when coming down from Andorra going west. Well the alternative would be going far down to the Bóixols pass and that is not much of an alternative. Well, one could optionally also go over Port de Cabús (2304m) which I did in 2005 and then descend a long gravel road via Tors, but that is also not an obvious choice. So I did see one more cyclist here, but he looked like he had also gotten problem with the heat and had stopped at Coll del Roc Picó for a rest apparently.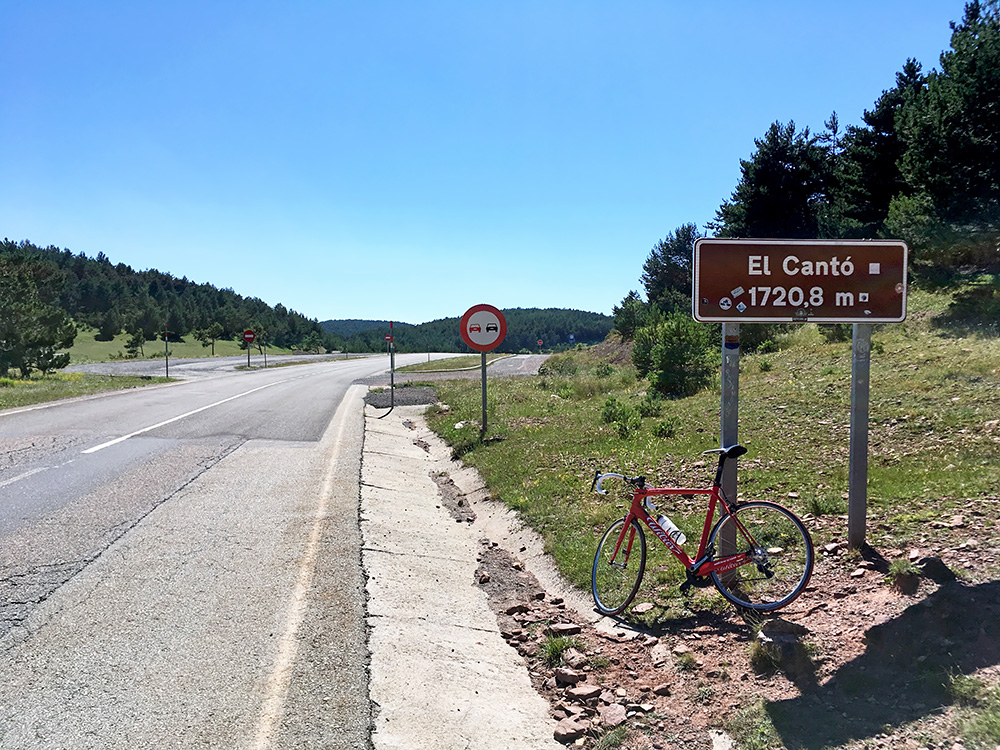 Very precise height given on the pass sign! I felt a little relaxed, but also a bit unsure about the ending of this day now. I know I was on my way to yet another pass similar in height to Port del Cantó, but on a much more obscure one-way road. That concerned me as I was not sure how long time it would take to get up there and if I could get back down to find a place for the night before the dark. I was also tired.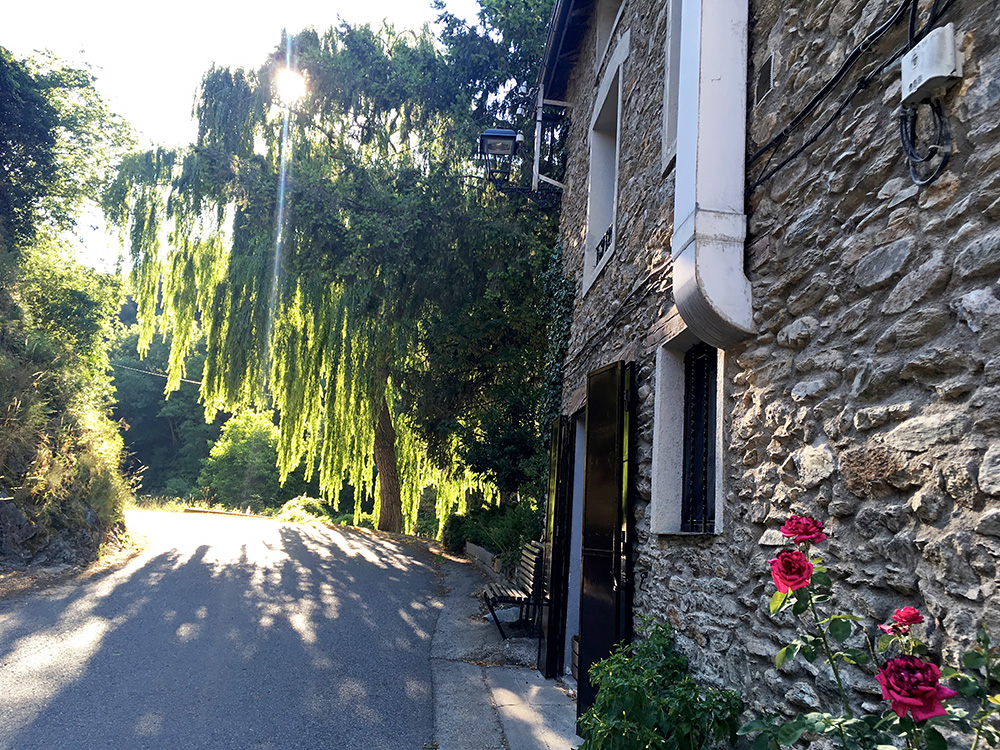 At Montferrer (684m) I had hoped to find a sweet café, but this was an industrial site with no room for cafés. (It is a suburb to La Seu d'Urgell. There is a curious little road going to the airport (cannot be seen) here that continues close to a golf course area of Aravell with expensive lodging. But I decided to just keep going and hoping to find something in the little village of Castellbò (796m) where one goes back into another valley and then climbs up the road before one descends to this village. It was hot and I really needed something to drink at least now.
In the centre of Castellbò there was a bar and I had a coca-cola with ice. I noticed they had rooms and asked if I could stay there as it was now around 19:00 in the evening, but the place was fully booked. When I borrowed the toilet I also noticed it did not look too well. There should be other places nearby I was told and they also said they thought I could stay at the refuge by the pass I was going to, which looked like a good idea to escape the heat. I continued out of the village stopping for the photo here.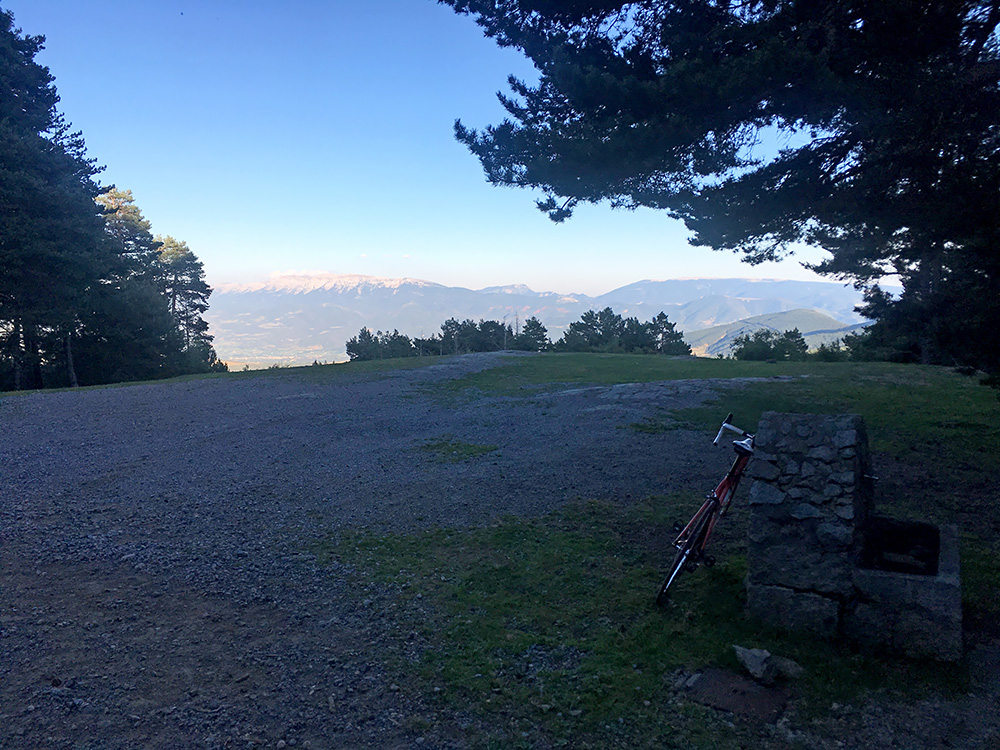 Just after the village one comes to a crossroad where it is signposted for Sant Joan de l'Erm on the road climbing up to the left, while the same direction ahead was crossed over. Still I knew that normally both ways should be possible to take up to the Sant Joan de l'Erm and the Refuge and Coll de la Basseta (1721m) (exactly the same height as the Port del Cantó).
Just as I decided to take the sign-posted road and started on the climb I noticed three cyclists coming up here at just the right time to go out and bicycle (and likely because they had finished work for the day). They went straight ahead and I decided to turn around and go after them and see if maybe I could keep them company or not. They soon stopped to fill up water and I continued ahead as I had filled up water just before. Then it seemed like they were either going slow or they had turned around, but all of a sudden they caught up with me and passed me by without saying much. I tried to hang on to them and did that more or less, left a gap up to them, but as they stopped by the place the two roads meet again I caught up.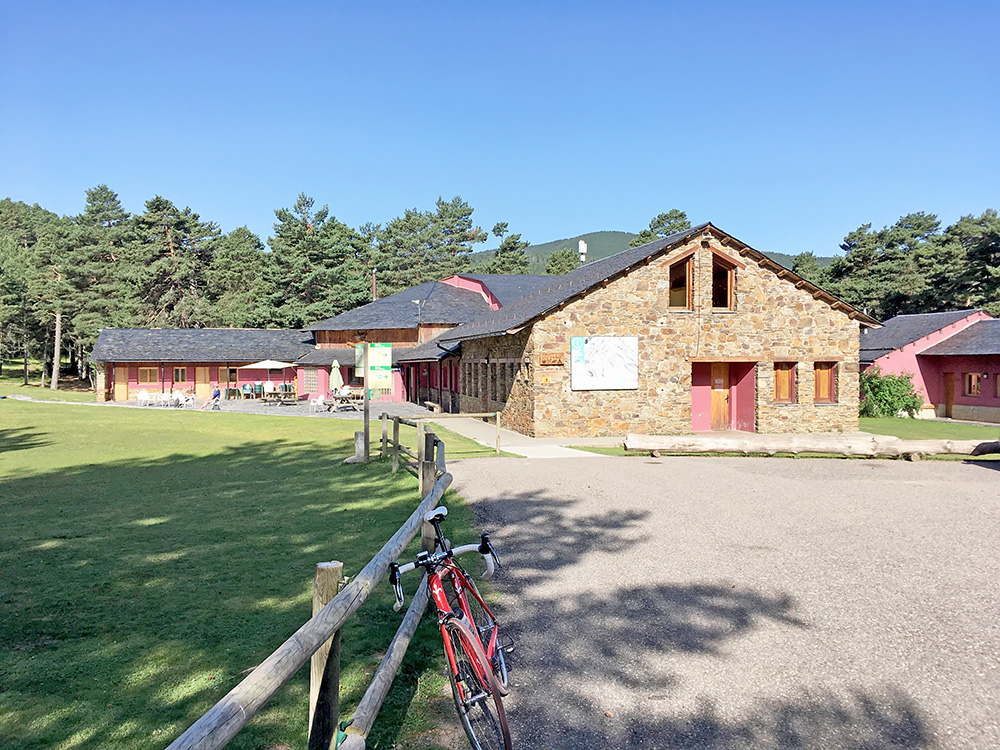 The guys had suggested I should be fine up at the refuge, so went up there, still like 5-6 kilometres and finally it was getting less hot again. It was a very nice round trip in the valley they made there. Up above it was mostly wooded. I finally got to the viewpoint area (before the actual pass and refuge) where the photo here was taken. The Refuge de la Basseta was open, but not many people there. I got like a 8-bed room for myself and maged to get a towel. Best of all was the food and the nice guy there made sure I was happy with the dinner. Best price and also one of the best places to stay at during this tour (less than 38 euros in total). I was surprisingly lucky again. Think the mobile connection there was a bit weak (not surprisingly) and guess it could be cold sleeping there if had been colder outside, but a great place for me this day! Photo here is from the morning when I was leaving. Had to wait a little before they opened up in the morning.