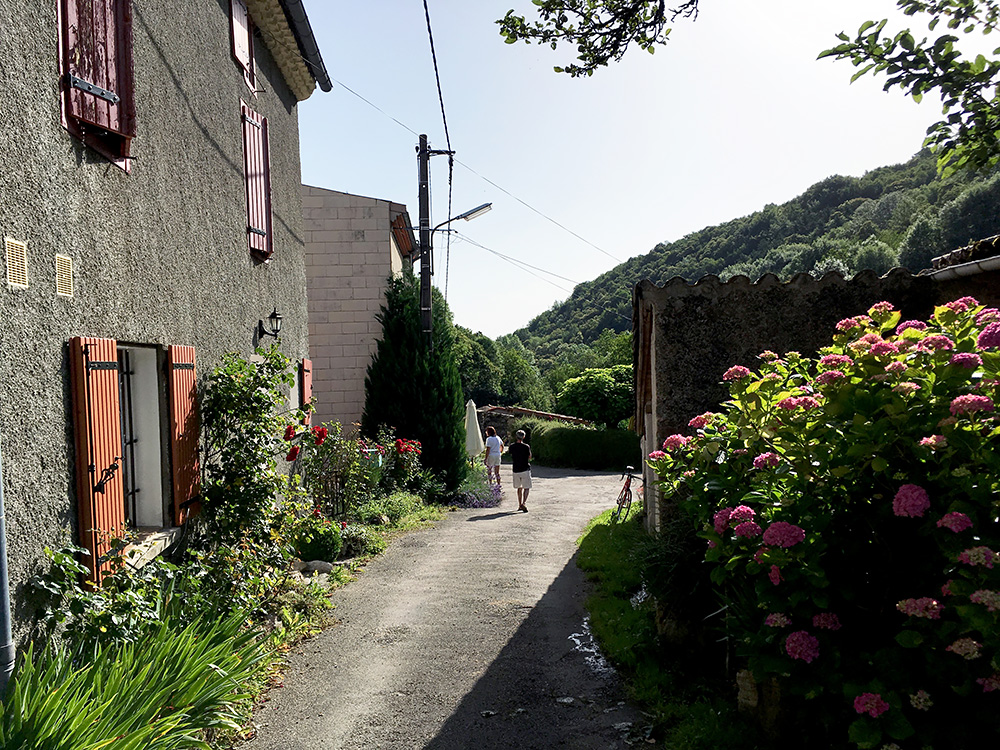 After sleeping well in the 8-bed room (they apparently have nicer more expensive rooms too, but this was good for me), I had some breakfast at the very good B&B Les Ninouninettes. The weather was splendid this day too, but would get more hot later on. A nice little wheeling down to Montferrier (691m) and then the climb directly starts to Col de Montségur/Col du Tremblement (1059m) (which is also a BIG climb). The climb is not very hard or long, but it is famous for the castle/fortification (ruins) built on the mountain here (it had previously a fortress by the Cathars later destroyed by Catholics/the royal French army).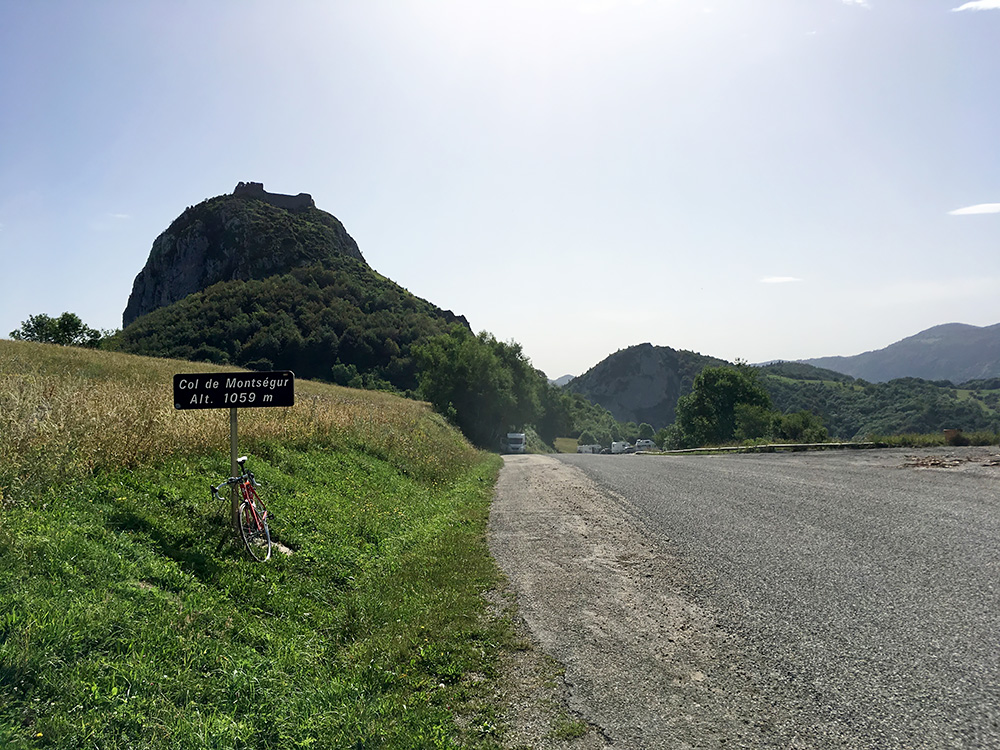 In the days before airplanes, a mountain like this would seem a good place for making it easy to defend a group of people and maybe a hidden treasure. The other side down from pass was along road all filled with a thick layer of gravel on the asphalt (popular in the eastern French Pyrenees I later realised). I was lucky to get down to Bélesta (504m) without a flat or accident. I went into the village for an early stop. Got a coca-cola and simple ice cream and then went back a bit to climb the next pass, which was Col de la Croix des Morts (899m).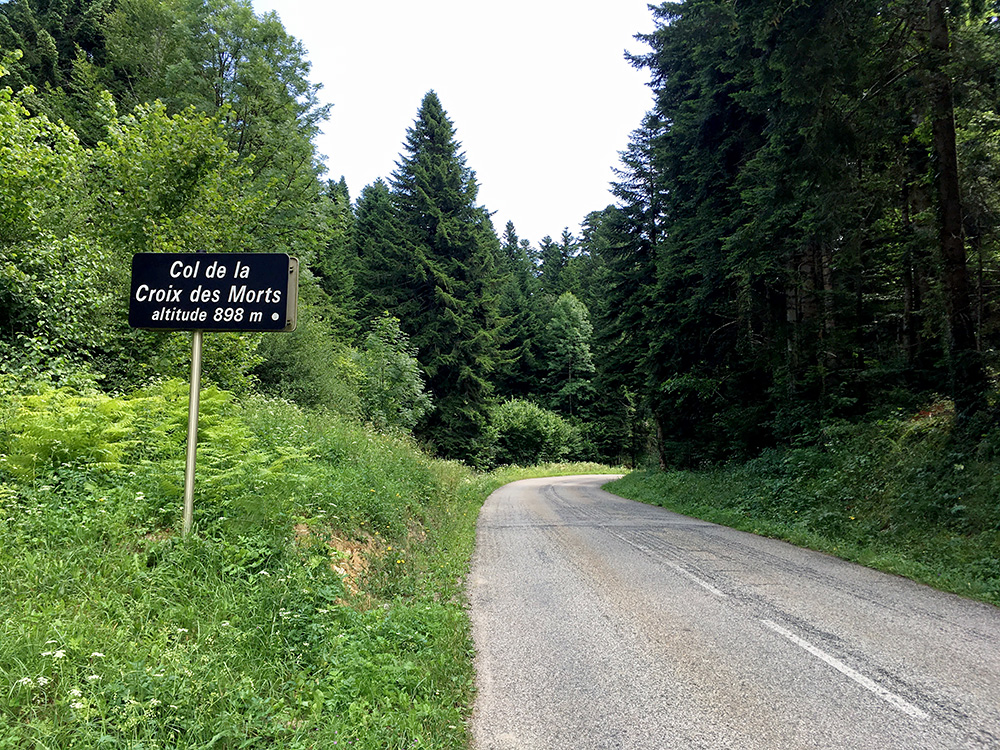 Col de la Croix des Morts is very much a one-sided pass and only a step on the way to higher passes to the south.
In Belcaire I found an open grocery and you basically have to stop at every such place as they are far between out here in the countryside. There are many villages (nearly all it seems like) without anything at all. Hillbilly country as I said to myself, but it is the way of modern society – still the situation is quite different in Italy and Spain for example. Some say it is because in those countries they do not pay taxes, but I wonder and even if so, then maybe they should not have to pay taxes (or only to the local community). The man in the shop and was apparently cycling a lot himself (which I also would have done if living in this area).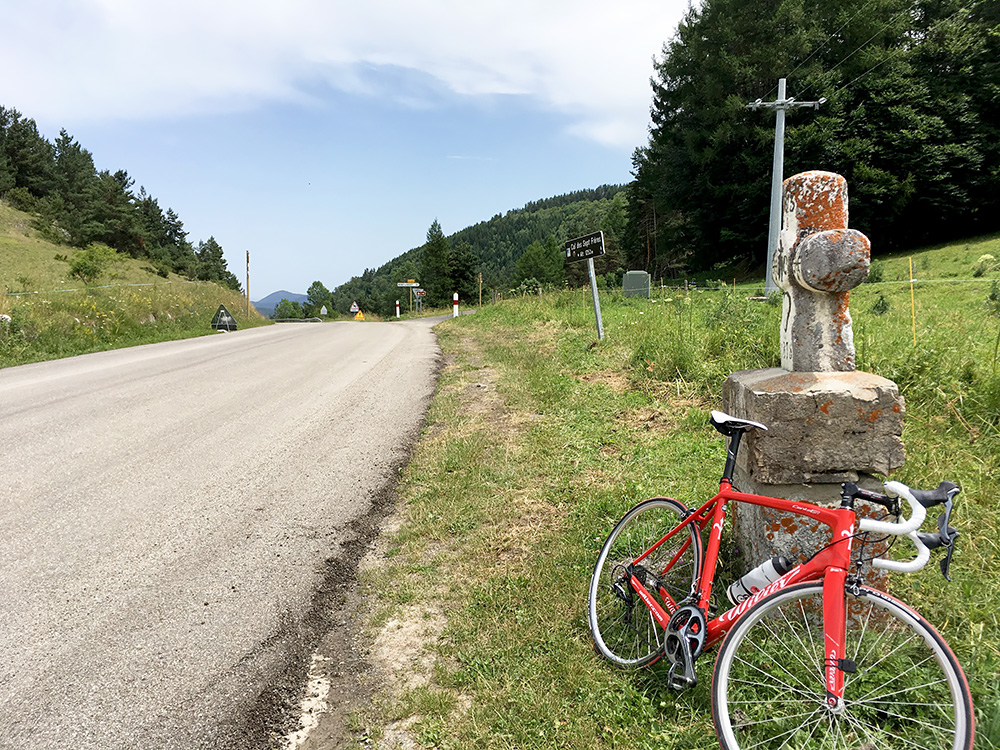 From Belcaire it is a short distance up to Col des Sept Frères (1253m), which is located at a crossroad. I went down the other side (very short descent before the main road continues up to Col de Marmare (1364m)).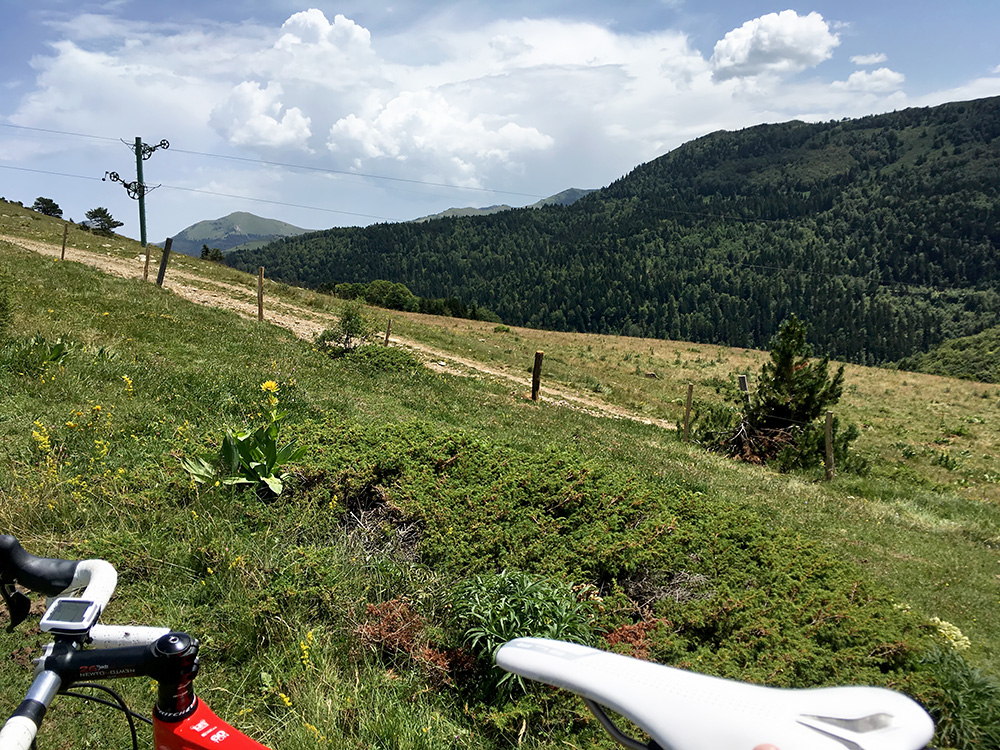 My main interest in the area apart from Col de Montségur, was the paved, but one-sided Col du Teil (1628m) pass, which is one of the highest passes in the Pyrenees I have not previously visited. Here I am up (a bit above the actual pass at 1644m as that is where the asphalt road at the pass ends, with a gravel stretch along the way) and walked a few metres in the grass to get a better view. There is a gravel road below crossing the pass and going down the other side, but thinks it might be a bit to rough for a road bike.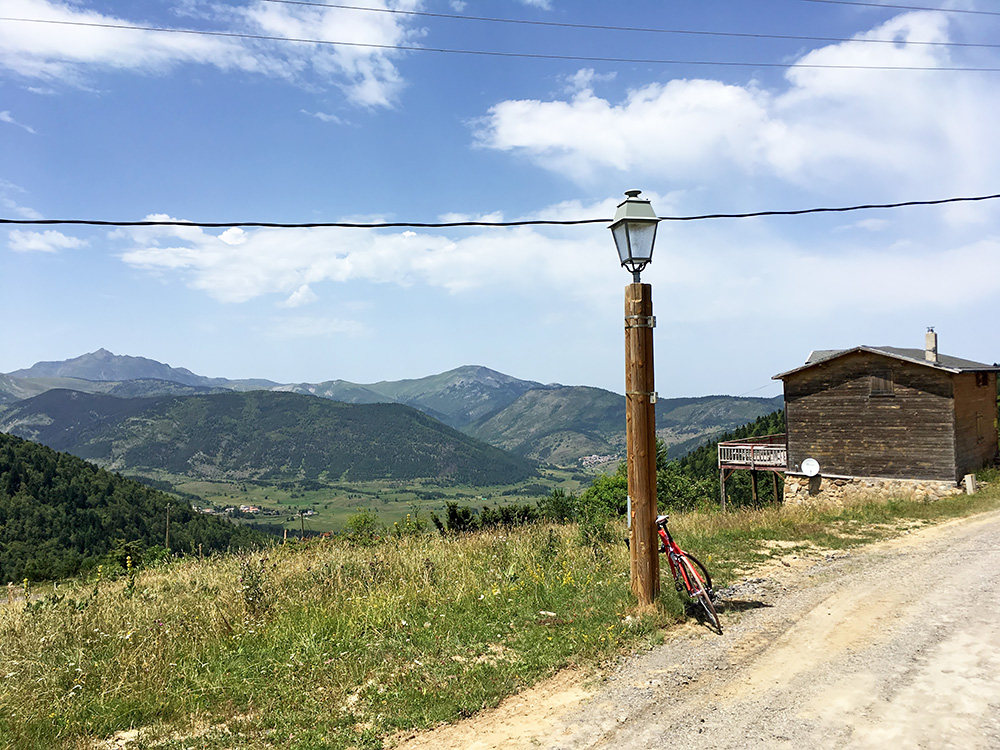 I went back down the same way as it was quicker even if going in the same direction. The road to Col du Teil is a bit steep especially at first, but it is not so long. Here I am looking back over the Comus area where a gravel road goes down to Bélesta and would have been a great road up here if all asphalted (think it is popular with mountain bike riders). This Col du Teil road is also mostly frequented by mountain bikers.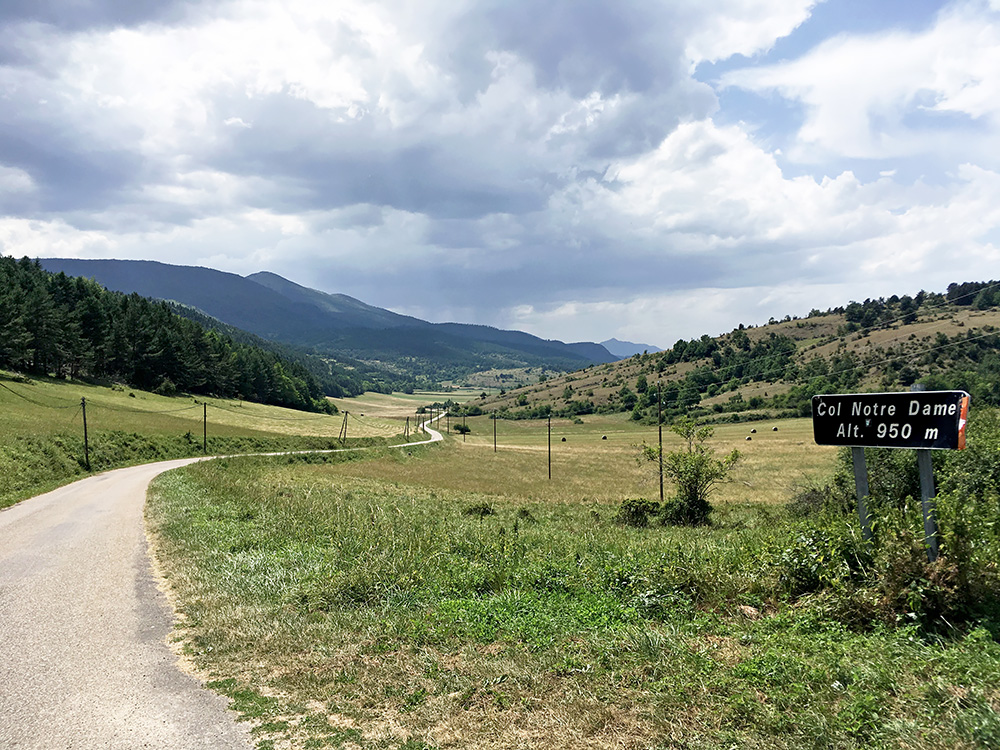 Back at Col des Sept Frères I took the third road here to Niort-de-Sault in the nice valley leading up to Col du Pradel (1673m) where I have been before. Instead I continued down and took the next road up east down the valley. The road climbs a bit steep at first but is then up on another big plain there crossing Col de la Serre (947m) before arriving at Col Notre Dame (951m) marking the high point over to the next valley. Had 37°C up here and it was going to get even hotter in the days to come.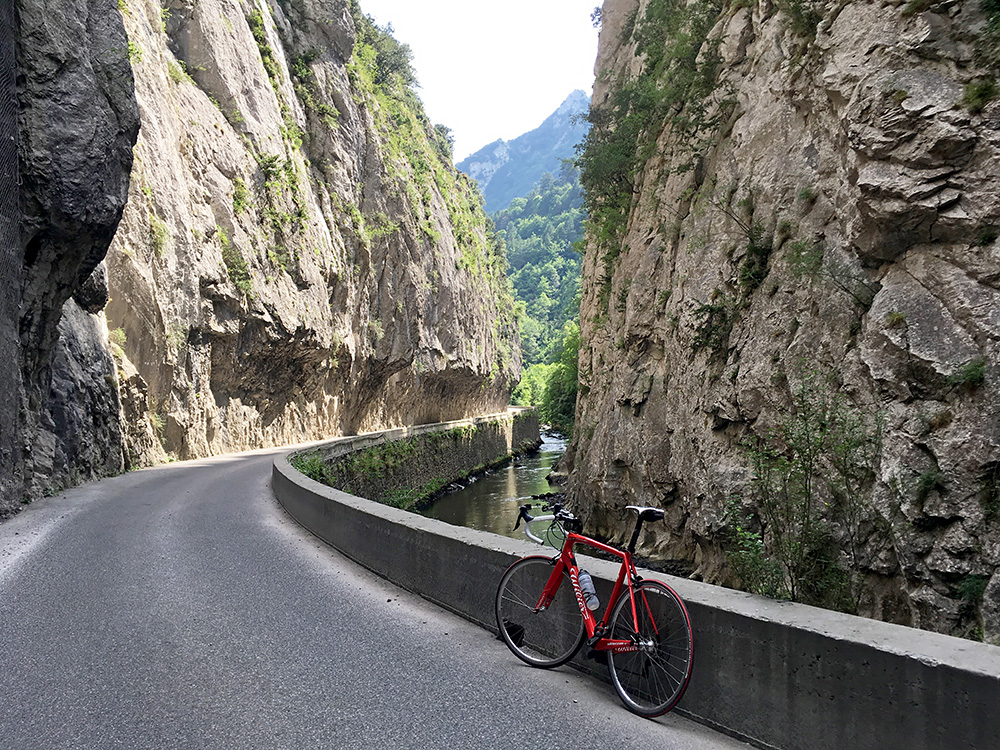 From there I descended a nice road via Col du Castel/Château (658m) to the deep valley of the Gorges de l'Aude. Now the weather did not look too good, but anyway I was going down here. The road was not very good and some other cyclists had stopped as one of them had got a flat tyre. There was light rain now and I still did not find any place to stop at since Belcaire. Down at the crossroad for the next pass to climb, the Coll/Col de Jau (1506m) the weather looked really ominous up the mountains there and I had no hope of finding any restaurant or grocery along that road to stop at either. As the weather clearly looked good down I decided to continue down to Axat (402m) to get a coffee and cake at a pastry shop there and see if the weather might get better up in the mountains.
Here below the turn-off for Coll/Col de Jau at Gorges de St-Georges where the weather looked fine.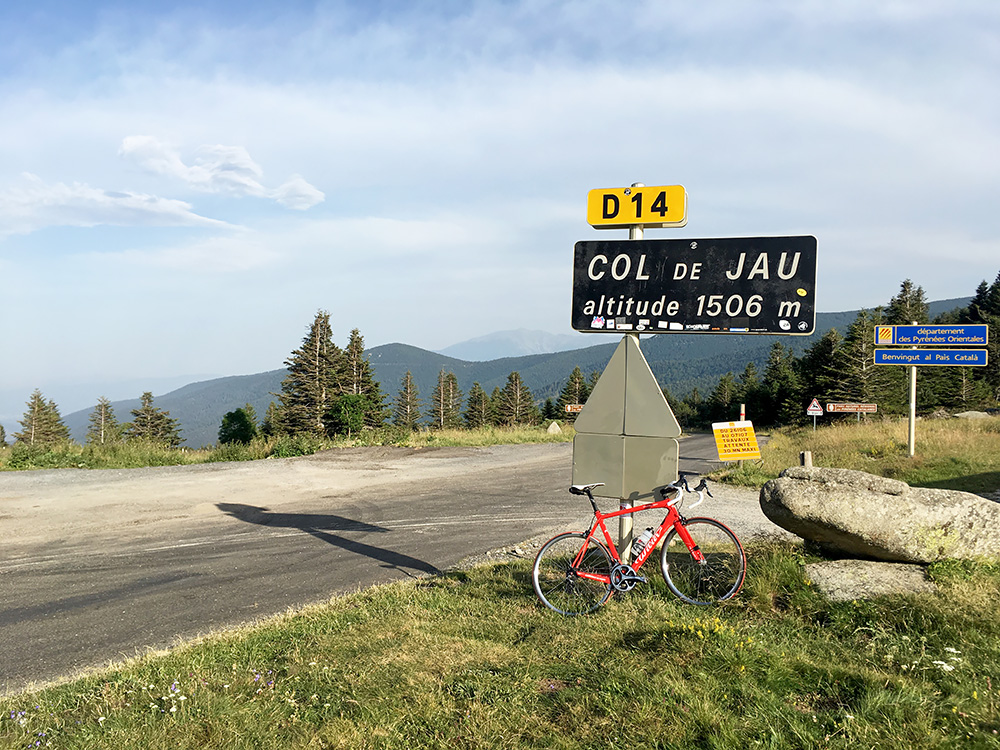 I went back up and it seemed like the weather was better, but as I started out on the climb to Coll/Col de Jau I did not even manage to get up to the first little village Ste Colombe sur Guette before I had terrible rain that I might have avoided if I had not went down to Axat, but who knows, maybe I just had gotten more if I had gone up earlier. So when I reached the village it was too late to search for cover and I just continued and the rain also stopped again as I came up above the village.
Usually the second day on tours like mine is the worst day and on the way up the long road to Coll/Col de Jau I got really tired and also bitten by horse flies several times and it was a real problem here (had much problems with those stinging insects during the first week or so). On the long last climb up to the pass I decided I had to stop for a rest and felt embarrassed as that almost never happen, even if the thought is often there. I think it was at the first hairpin at 1205m, but there were lots of stinging flies here too, so had soon to get going again after like 5 minutes of rest.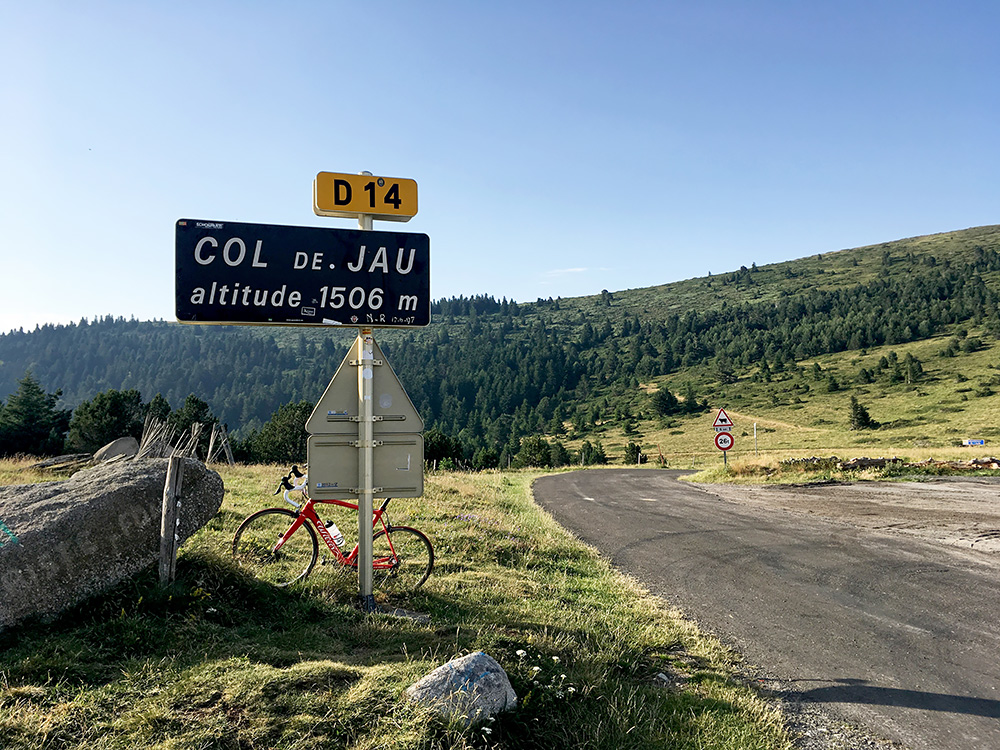 On the last little way up it started to feel better again as I knew it was going to be the last climb for the day. The original plan had included one more pass though, but there was no chance for that now. In the photo above I just reached the pass and this was the most obvious pass missing in my list of climbed passes in the Pyrenees before this year. This is one of the true classic major pass climbs in the Pyrenees, but now that was done (at least from the classic west side).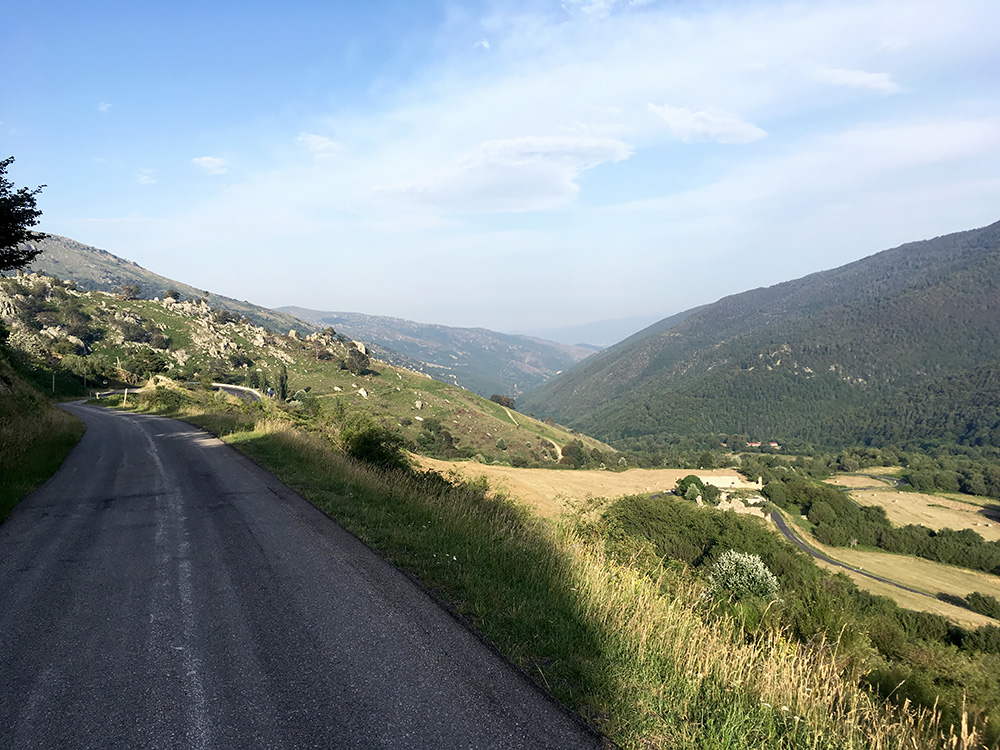 No more stinging insects and only a nice descent in good weather! I had hoped to stay somewhere up the mountainside and asked at two places on the way down to Prades. The first place was no longer an auberge as the sign said, but only a restaurant and they referred me to a place up on the side of the mountain, but it did not look so good up there and was not sure the detour would be worthwhile as I guessed I could find more places further down the road. Asked at the next little hotel, but it was fully booked and they referred me to a hotel down in Prades, but must have looked the wrong way as I missed it upon entering Prades.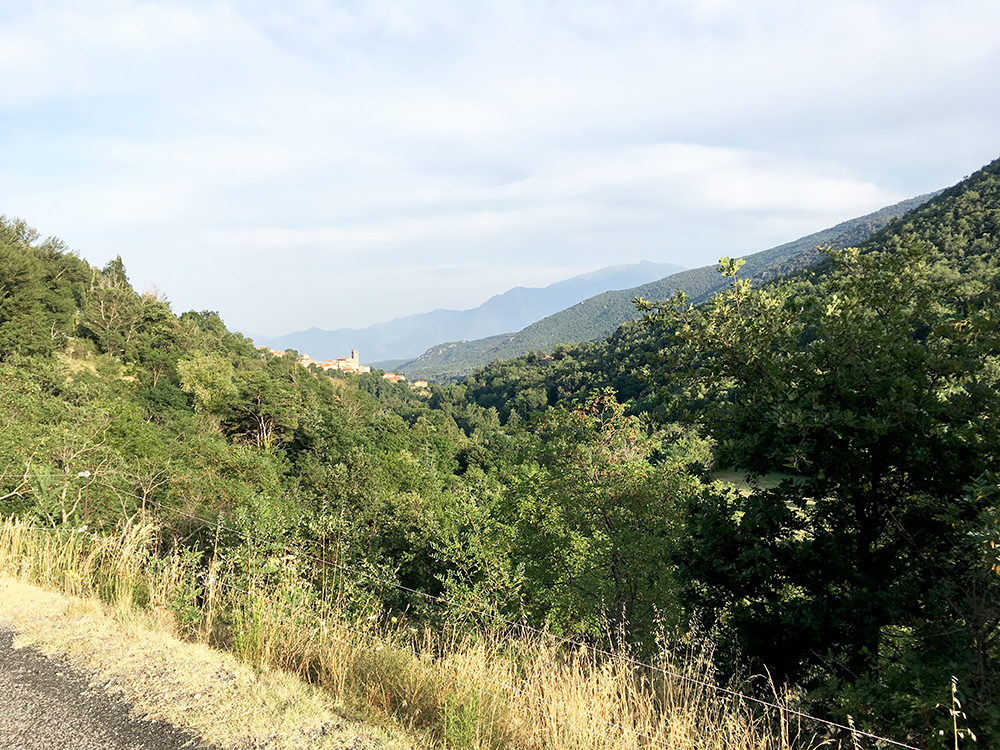 In Prades I thought it should be easy to find a place to stay at, but first I did not find anything and after asking was directed to some strange religious place that did not seem open. Asked some other people and they again mentioned the same hotel as mentioned before, but again I did not find the ay and only saw the hotel they said I should avoid at all costs (and so I did). Reluctantly I left Prades after more than half an hour circling around there and continued on my way toward Perpignan.
Again I thought I had seen some places on Google maps to stay at along the main road, but now I did not find anything. It was starting to get late so decided I have to find some place and went into Vinça where a couple directed me to a nearby B&B which I again did not find. I went to a take-away pizzeria and asked there and they actually googled up one place just outside (guess I could have done so myself, but slightly unsure of how to search there and also it was good getting help on directions). It was a place outside near the village Joch 2 km away and got a pizza with me and arrived just as it started to get dark and a lady waving at me as I was about to miss the house there too (but knew I was close). Very good B&B and got some fruits and beer in the evening. Much better than staying at a hotel. Cannot see it on Google maps, but it is on the road from Vinça centre to Joch near Joch.