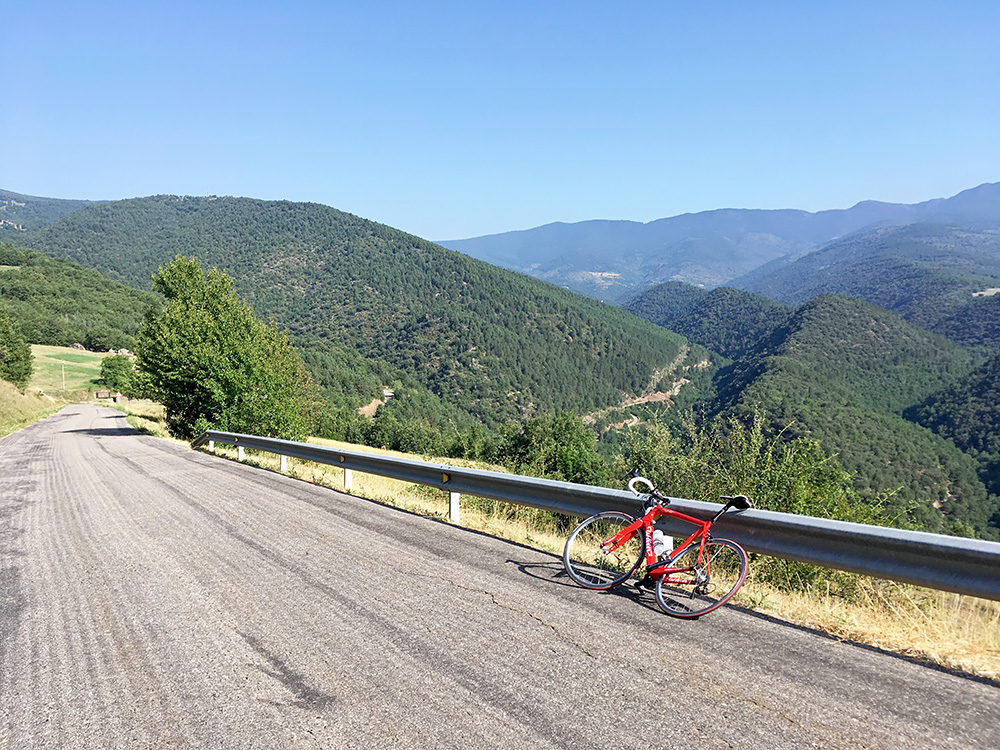 Today I was looking forward to escape the heat down south and to revisit Andorra, which always feels a bit exotic. First I had a terribly lovely downhill ride in the morning from Sant Joan de l'Erm/Coll de la Basseta (1721m), stopping below Collada del Pubill (1279m) to have a photo up the Castellbò valleys where I was cycling up yesterday. It was lovely cycling back to Montferrer and I tried to enjoy it before hitting the busy main road to La Seu d'Urgell (700m) where I stopped shortly for a coffee.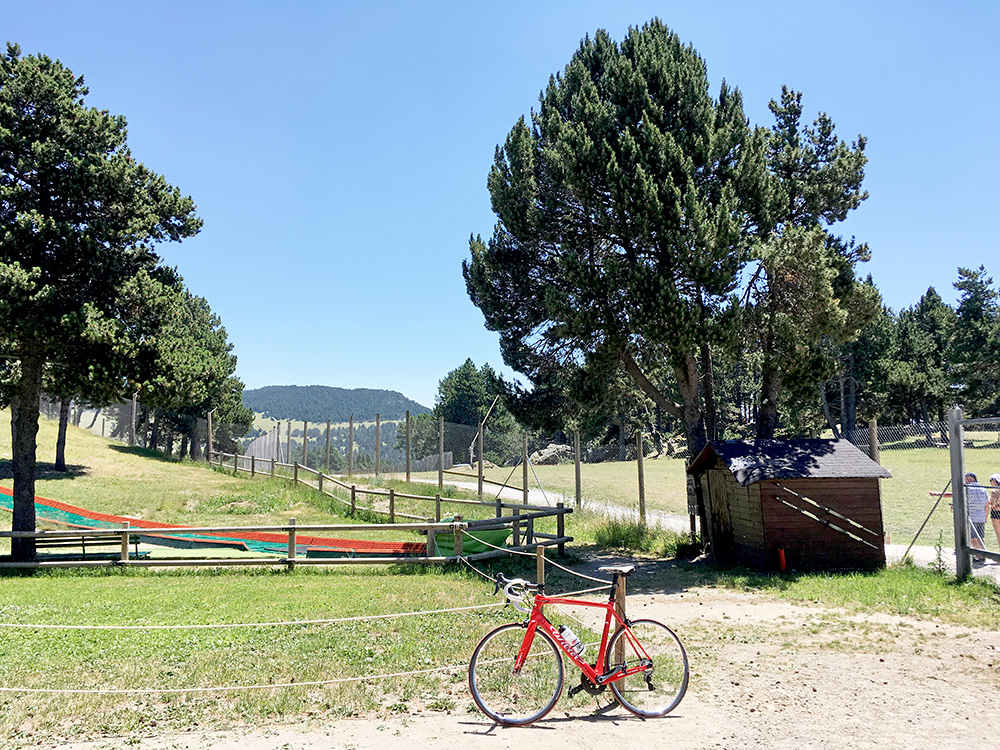 I had thought it would take some time for me to cross into Andorra, but I was there quite soon. Then at every possible free space there were some shopping centre. Soon I was in Sant Julià de Lòria (908m) and first I stopped by a bicycle shop to buy a spoke adjustment key as that was the only thing I had forgotten to pack down for this tour, but luckily had not had any use for it (and this time I did not really need one at all, but that I did not know here and last on the shorter spring tour I did need it). Then I stopped by a café yet again (a bit unnecessary, but it was warm and I try to make many small stops then). Was alerted to the fact that you would get ruined rather instantly if you use cellular data in Andorra, which seems the be an important strategic scam in the country, but the side effect of that was that you would find free wi-fi almost everywhere you stopped.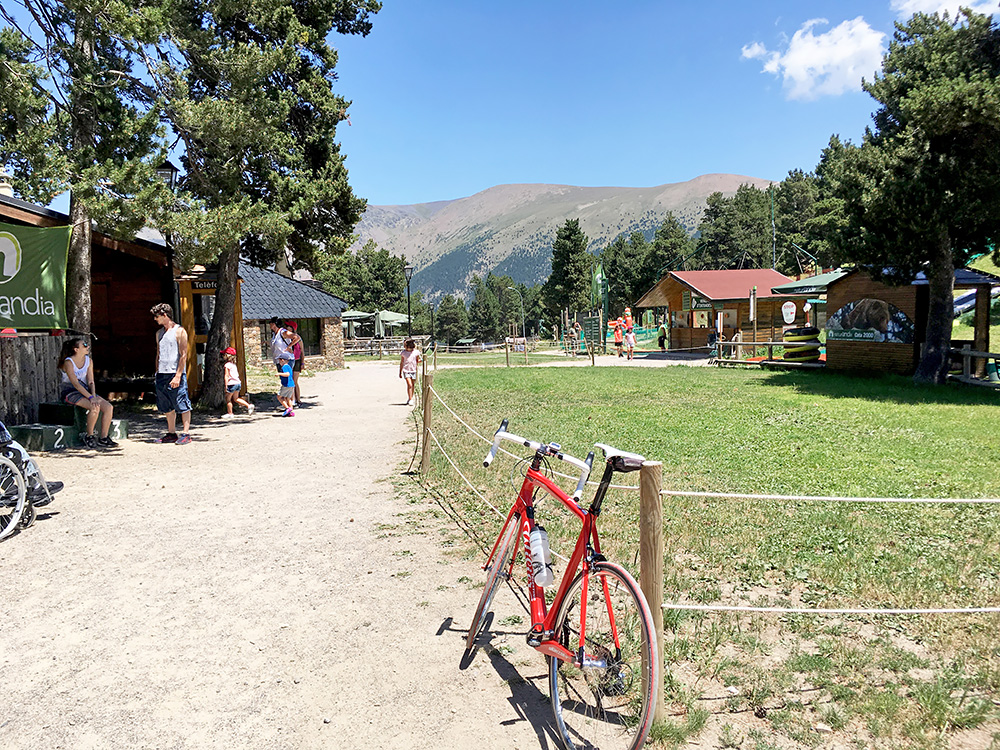 Ok, it was already very hot now, but I would soon get up to higher altitudes, so it should be fine. It was time for the first Andorra climb, and I had a couple here to do that I had overlooked before. In Andorra there were plenty of cyclists, most looking like they came up from down in Spain just like me. La Rabassa/Collada Fosca (2041m) is a climb that offers two alternative routes to the top. I took the road via Juberri, but not sure if it is the hardest variant (the other one have a small descent). What is noteworthy is that just like most other climbs in Andorra this one starts out quite steeply from the the Valira valley. After Juberri the road becomes wider and less steep. This is long climb, but it never becomes very steep after Juberri again.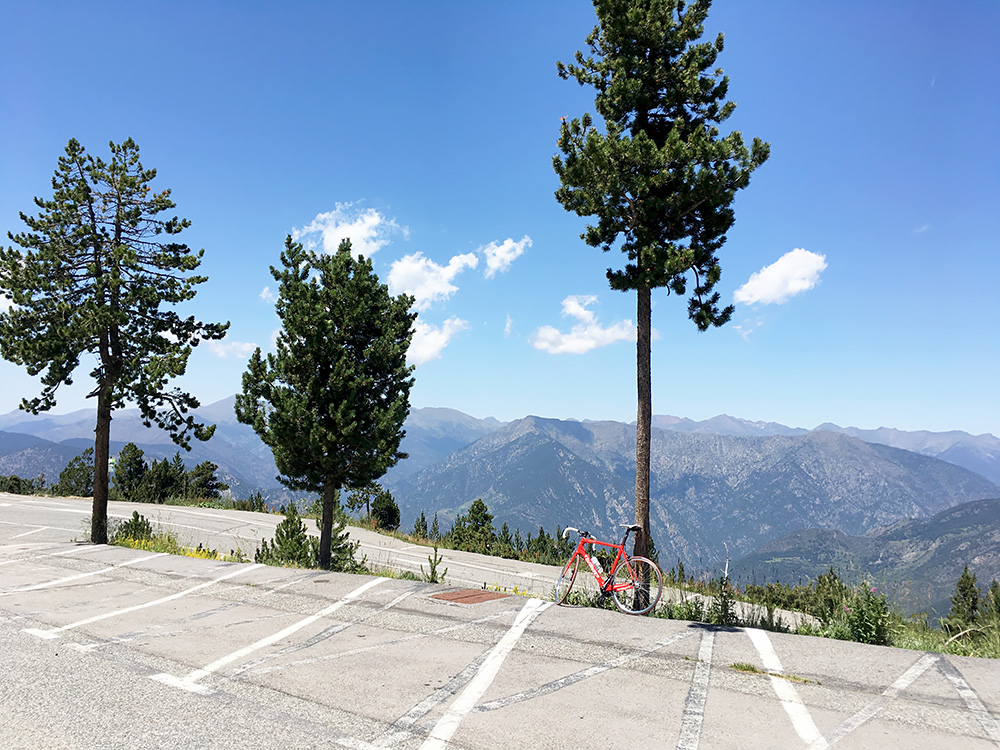 Just walking up a few metres from the parking at La Rabassa (2036m) one comes to what I think is the location for the Collada Fosca (2041m). This is never really mentioned nor is there any sign there for it. The Andorra map has it on the slope down the woods a bit down from when turning up on the parking (at 1997m), which doesn't make much sense. The ICGC Catalonia maps has it even further down the slopes at 1863m (at Planell de la Gallina according to the Andorra map). The Spanish IGN maps seems to agree with the Andorra map at 1:50000, but at 1:25000 places it very close to where I am here (above) with the bicycle at 2041m, so for the reason that this is the only of the three places that have slightly higher ground outside it, it qualifies best for being a pass location and is then also for all practical reasons a (one-sided) road pass. (The ICGC map is not reliable in Andorra. The Andorra maps could have taken info from older maps, but it could also be correct, but their location is not typical for other colladas (but for some colls, maybe also the Collada de l'Estall) in Andorra. The ICGC and Andorra map agrees on another dubious pass, the Coll del Rep, which IGN again places at a (slightly) more meaningful place for a pass.)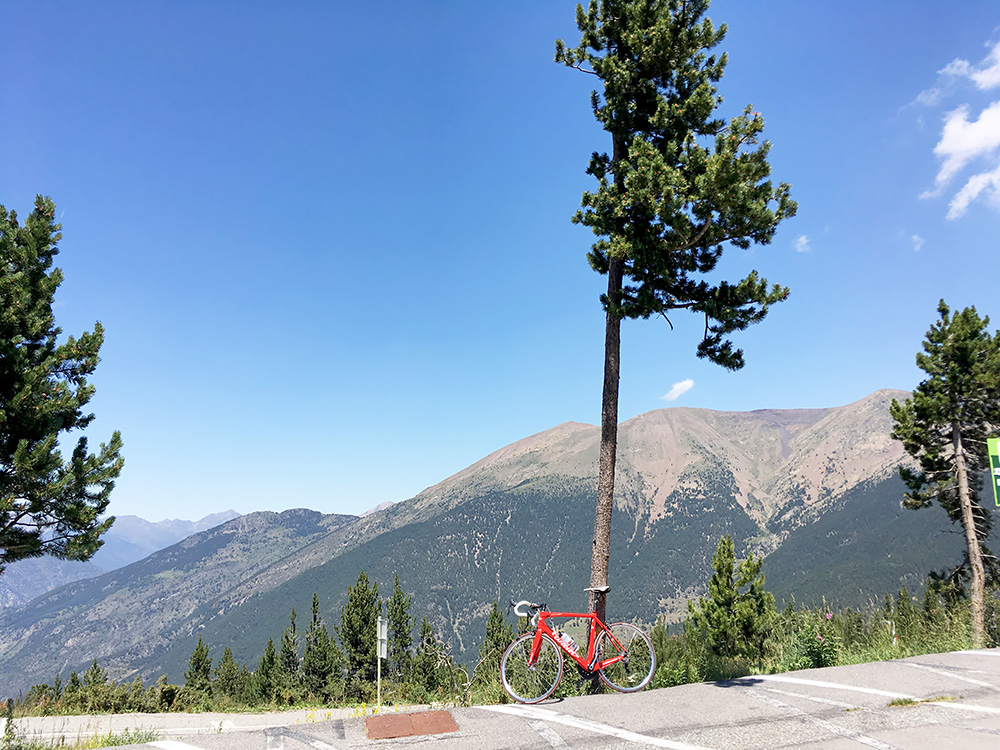 A last photo here before going down again. I stopped at the top restaurant to have a small lunch (think I had a sandwich and a citrus beer, not very cheap though). I had originally planned to go a bit along the gravel roads up here to visit two more nearby passes (and less disputable ones), but the gravel road did not look too inviting and I was more concerned to get the main asphalted climbs done.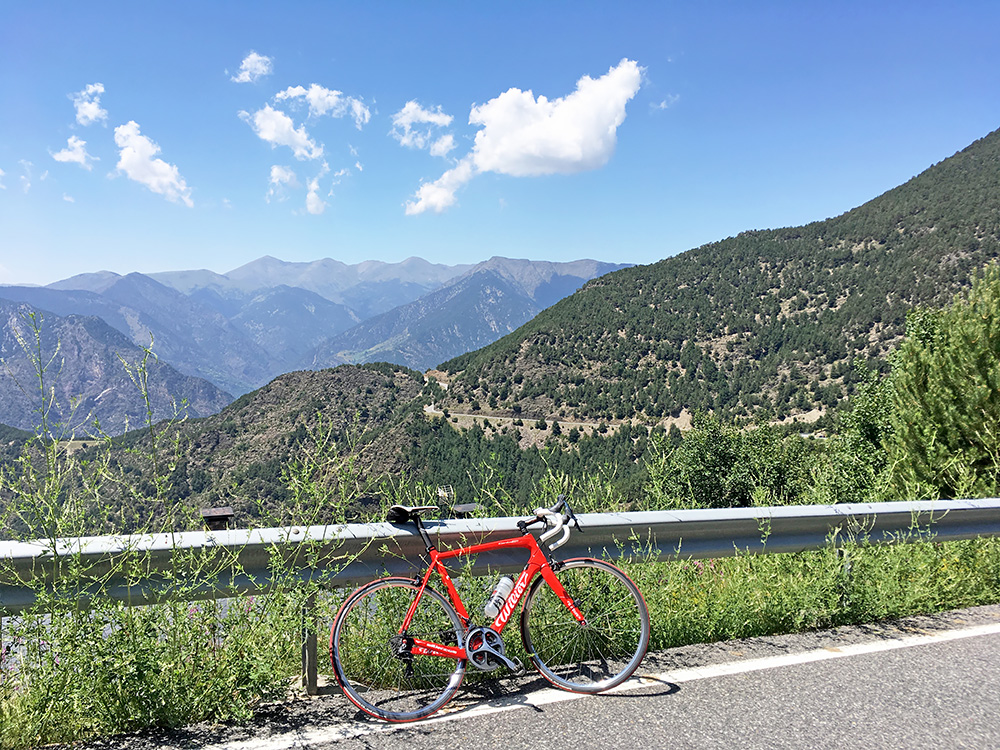 I stopped where the two roads up here met below the Rabassa woods to take a photo of the next pass on the way down – the Coll Jovell (1672m) where there is a short little ride up from this side.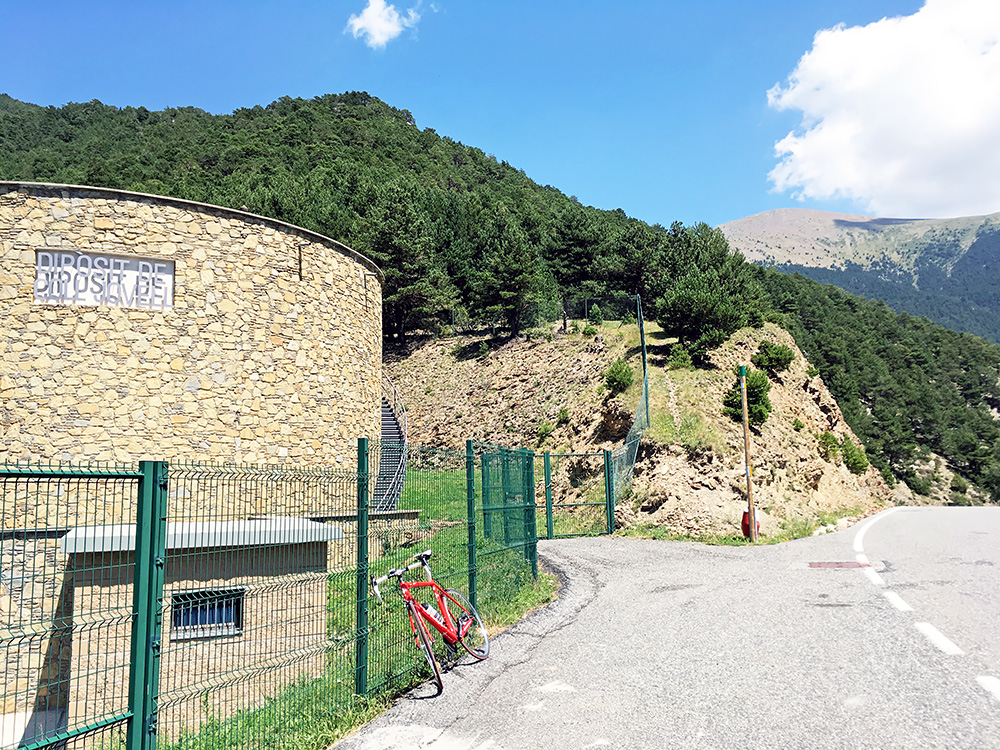 Coll Jovell is not a very noteworthy pass, but stopped for a photo and continued down to the next of the two passes on the way up here.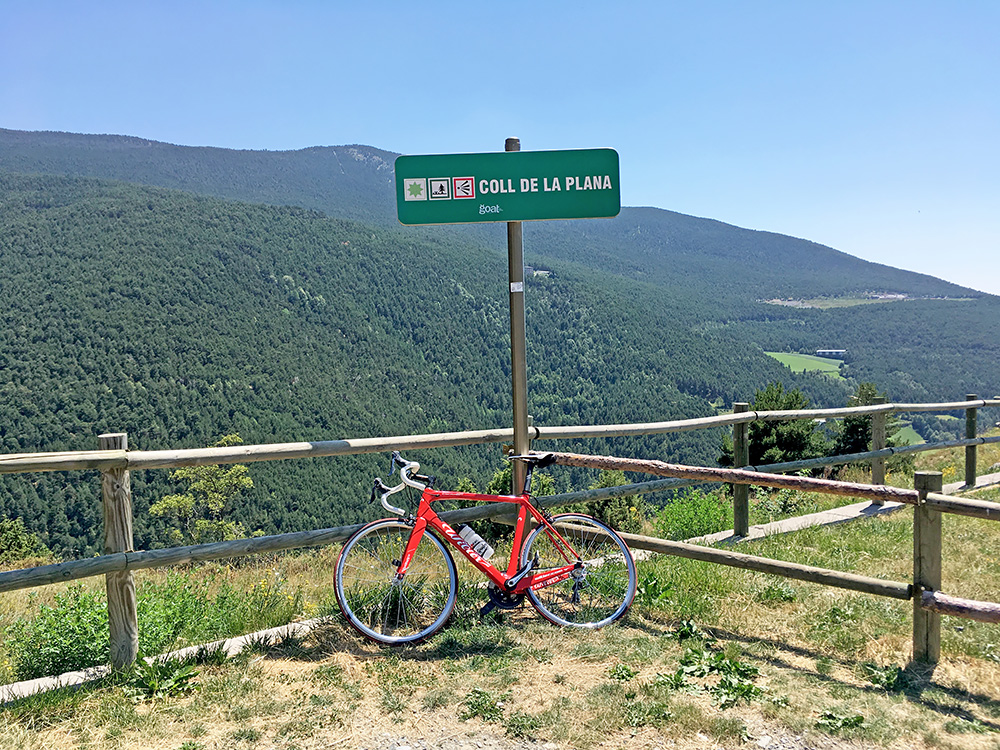 Here down at Coll de la Plana (1512m) and it even had a sign, but it is there to alert people to the pick-nick area. I continued down to Sant Julià de Lòria and back down to the Pont de Fontaneda (891m) at the south end of the city. It was terribly hot again now and I stopped once again for a coca-cola before the next climb and the climb I had most reason to fear in all of Andorra.
Next up was the newly surfaced climb (surfaced in november 2014 on this side as it was then going to be a part of the La Vuelta a España in 2015). I had read about it already in 2015 before the Vuelta that year, but now it was finally time for this tough climb and something that measures up quite well with some of the harder climbs in the Alps.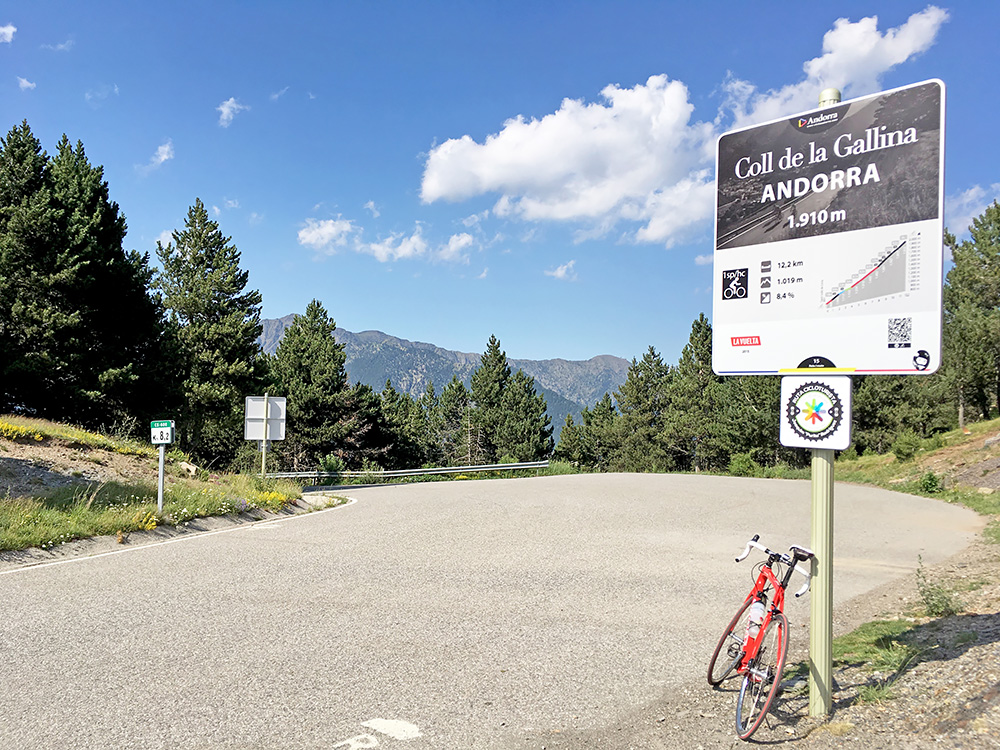 Collada/Coll de la Galina (1910m) is steep from the start and I felt like dead when reaching the first little Coll de Jou (1139m) pass after only 2.5 km, mostly because of the heat at the lower altitude, but the slope is frequently up to 16%. Still I knew the hard part was to come much later. There is then a descent to 1104m before the road more "normally" starts to climb again. One passes by a supposed (and marked on most maps) pass called Coll del Rep (1386m) and I go by the Andorra maps here, but not sure there is any path down the steep mountainside at the location. Then one takes off the main road to the right (straight into the mountain where there is a little plateau). Soon after a farm here the road used to turn to a tough gravel road, but is now asphalted.
Probably the first (and maybe the best) report from the climb is found at the ramacabici.com site, which offers a very nice profile of the climb at the end of the page.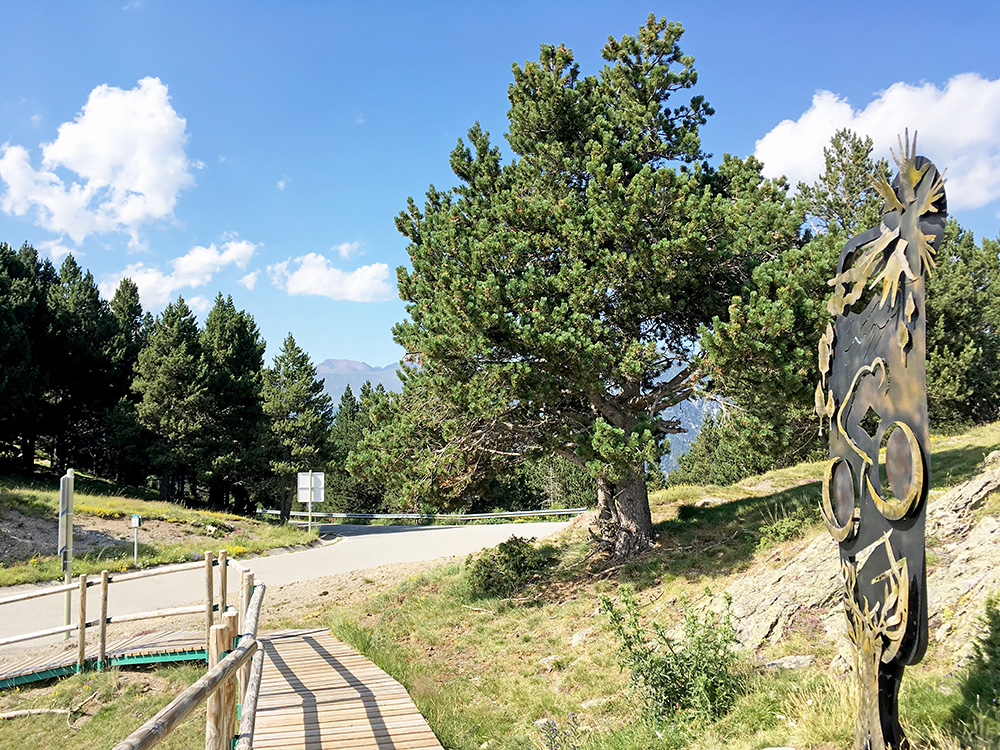 The first part of the newly asphalted road is nice and sweet and offers a little rest before ones reaches the woods at the steep mountainside. It does not take long before the gradients goes up to 18%, but the steepness keeps varying (which is not always for the best). Eventually it becomes a little less steep as one gets out of the woods to where there are a few houses, but then it is steep again and it so continues to the top.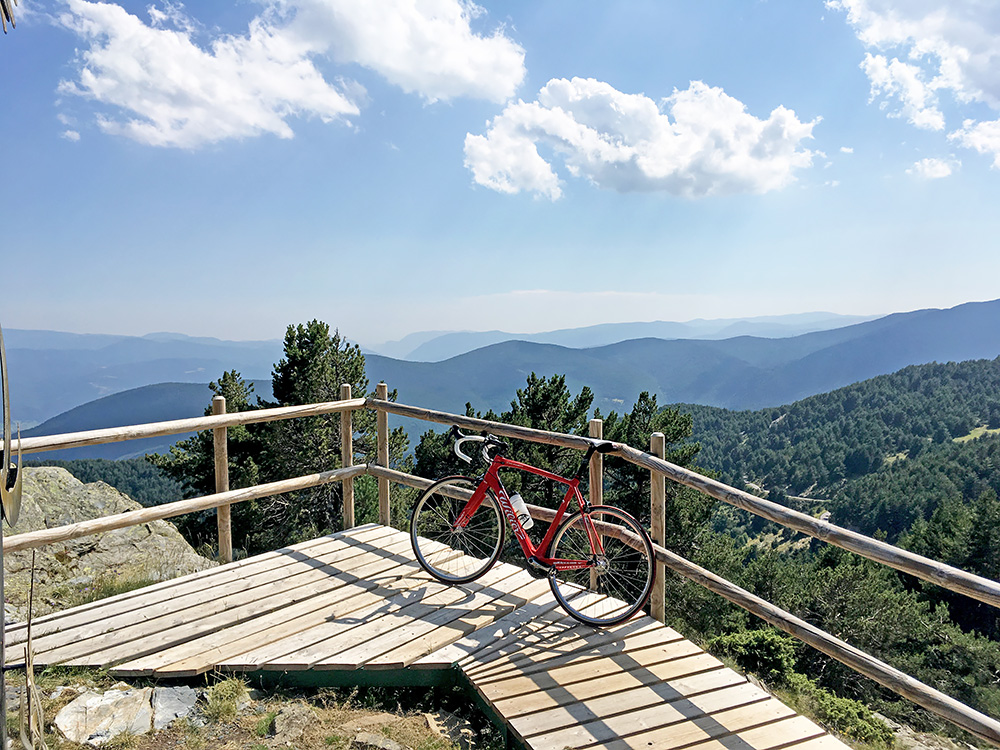 They have built a nice little viewpoint ramp and had to go out there to get a good view over the area below and across to the La Rabassa area where I had come down from. I think I look a bit more south into Spain in the photo though. There are also good views along the road while not in the woods and the road is very good apart from the steepness. It is almost too narrow to try and zig-zag your way up on though.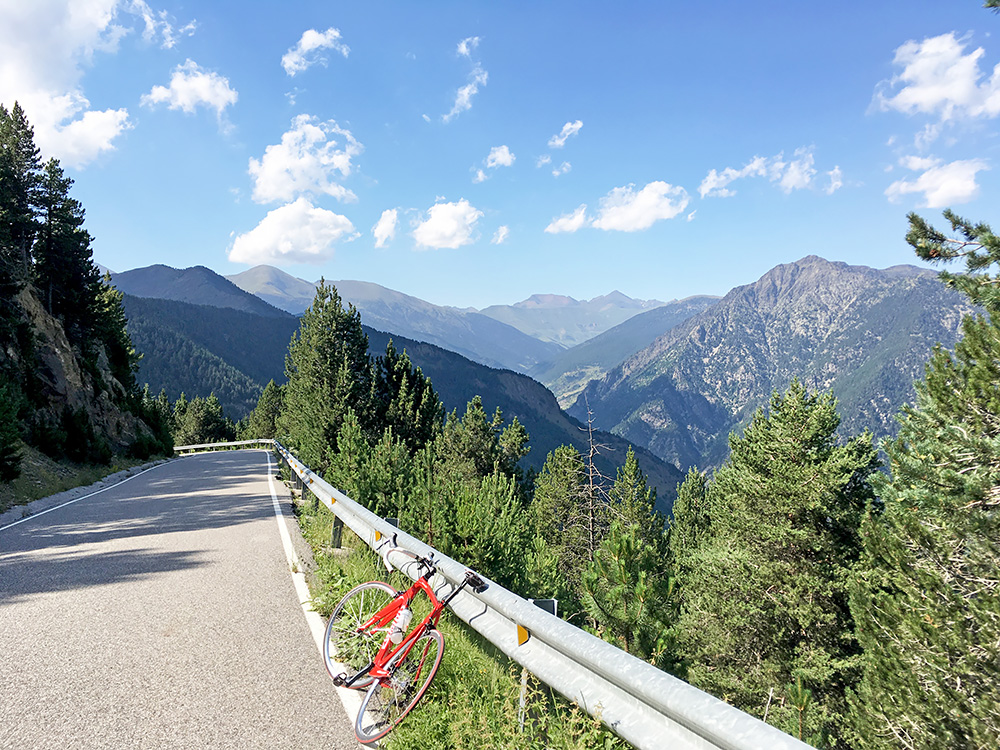 I felt surprisingly good after this climb, but it was a nice day and was really happy by the climbing thus far. I stopped just a little bit down the north side of the pass to take the photo here. This side used to be the hardest paved climbed in Andorra before the south side was paved. It turned out to be a somewhat troublesome and hard descent. One has to brake A LOT down here! The road is twisting and curvy and irregular in all ways while nearly always rather steep, so it is a real challenge to descend. It continues all the way down to Bixessarri (1161m) and I had to try and shift braking front and rear and hard on both, but the heat will build up and got a bit worried after having a tube explode once (but once because of the heat luckily and then a no-nome tube on an even steeper road in the same heat or worse). Down the valley to Aixovall (928m) it is then a gentle and short ride.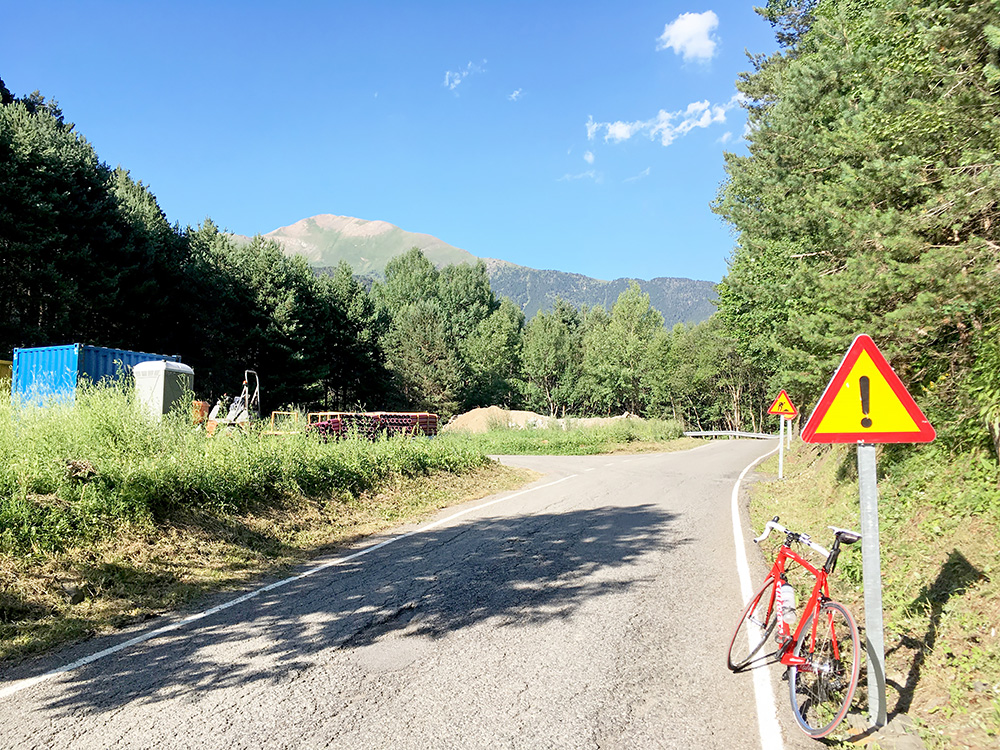 Then I got a bit tired as I reached the capital Andorra La Vella and had to navigate through the busy centre and I sort of guessed myself through the shop filled centre up to a road climbing up through the village and stopped at the first little grocery store I found there to get a coca-cola and a banana from the lady in the shop. It was very hot and I just had to stop here. I was already on the right road to La Massana, where I was heading now. La Massana is as busy a place as Andorra La Vella and almost hard to find a place to stop even with a bicycle (well, was tired and heavy traffic all the way up here did not make me more happy).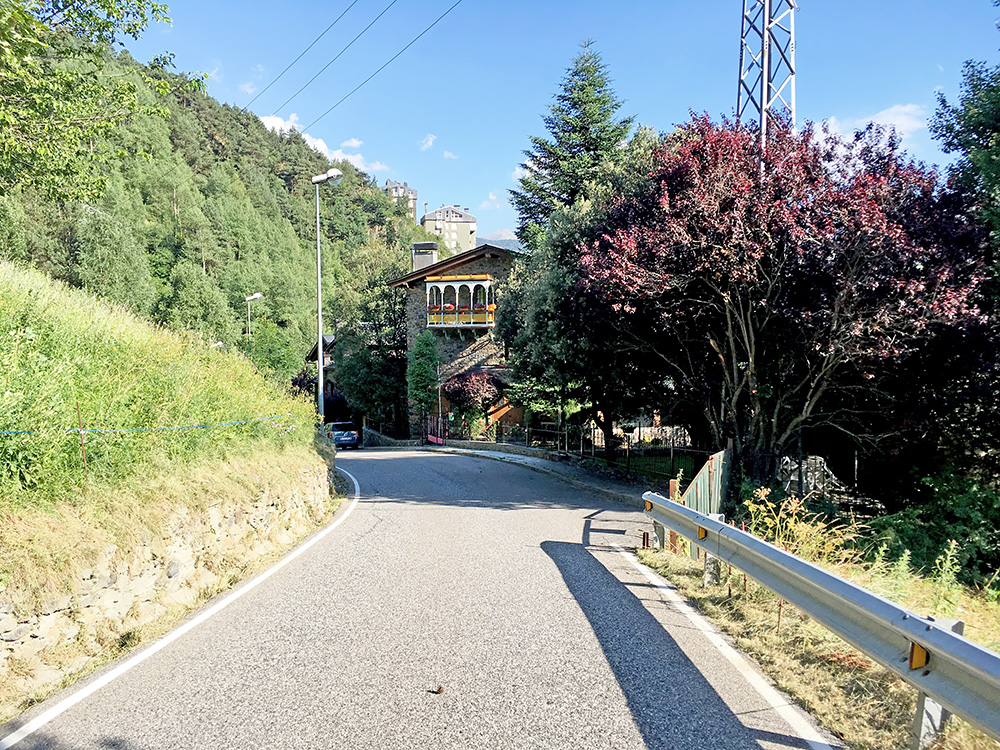 I was going to see a very minor little cryptic pass here though – Collet dels Colls (1374m) (photo above). With the moderate height given that I started from Andorra La Vella, which is at around 1000m (a bit higher where I stopped on the way) one would think this would be quite easy, but already the climb up to La Massana (1234m) was a bit of a drag, but of course the last little part up was short, but at ca. 11% for a little over a kilometre, but short. Nice house on this road that made me stop for a better photo and to show something else.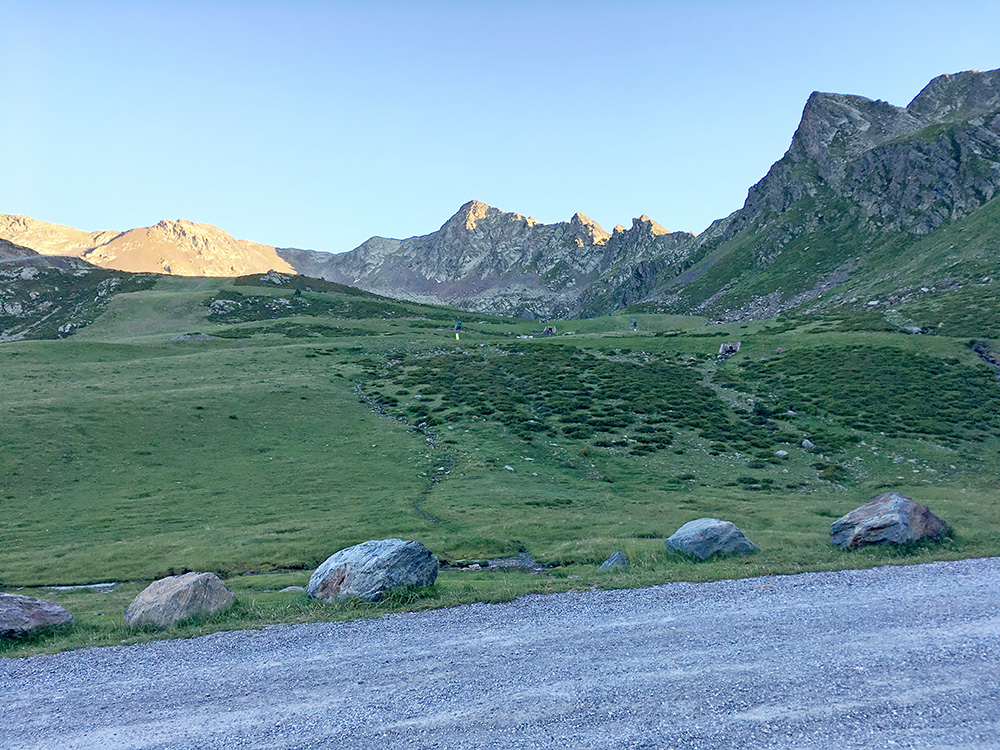 I know where I was going next, but had mixed feelings about it as I frankly did not believe I could make it to the top of Arcalís (2245m) and then get back down before dark to find a good place to stay at, but there were no options here in my plan left and I decided to go ahead and if I found a good place along the road then stop at it. I got out of La Massana and the road then descends a little and then climbs up to Ordino (1288m) (where the climb over the Coll d'Ordino (1980m) starts on this side – came down here in 2005). Then there is a short downhill and then the climbs is more or less sustained all the way up from 1277m. So from La Massana this climb is over 1000 height metres too.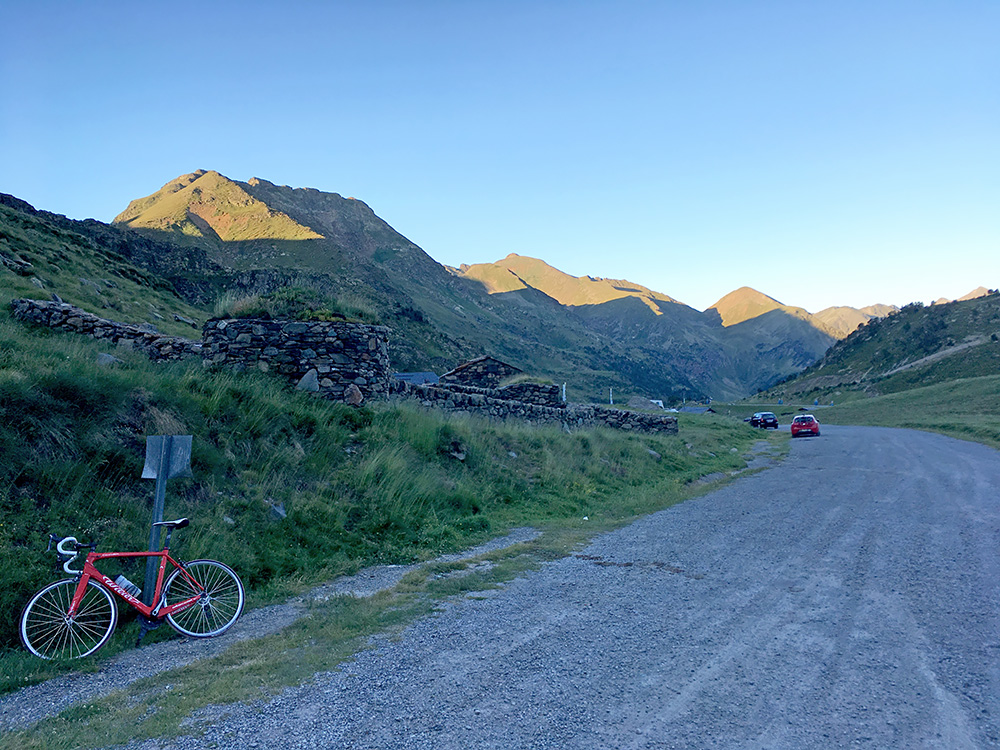 After Ordino the road was calm again with only an occasional car in the evening with mostly workers coming up from below, I guess. I stopped by the Pont de la Cortinada (1331m) to fill up water and to drink (good place to stop at). I continued up the valley and saw a few hotels along the way, but I wanted to get a bit higher up and continue while the sun was still up. I was later getting a bit worried there would not be many more places along the road to stay at, so when I came to the last village, the Sant Pere del Serrat, I thought it was time to stop for the evening. However, there were 2-3 hotels here and they looked all fine, but a little too fine that came as a surprise to me and I was worried they would be as expensive as they looked, so I decided to continue to see if maybe there was another cheaper-looking place ahead. It did not look very likely I soon realised and a bit ahead I decided to just go ahead to the top and see if maybe there was a place to stay at there or then return down however late it would be if I had to.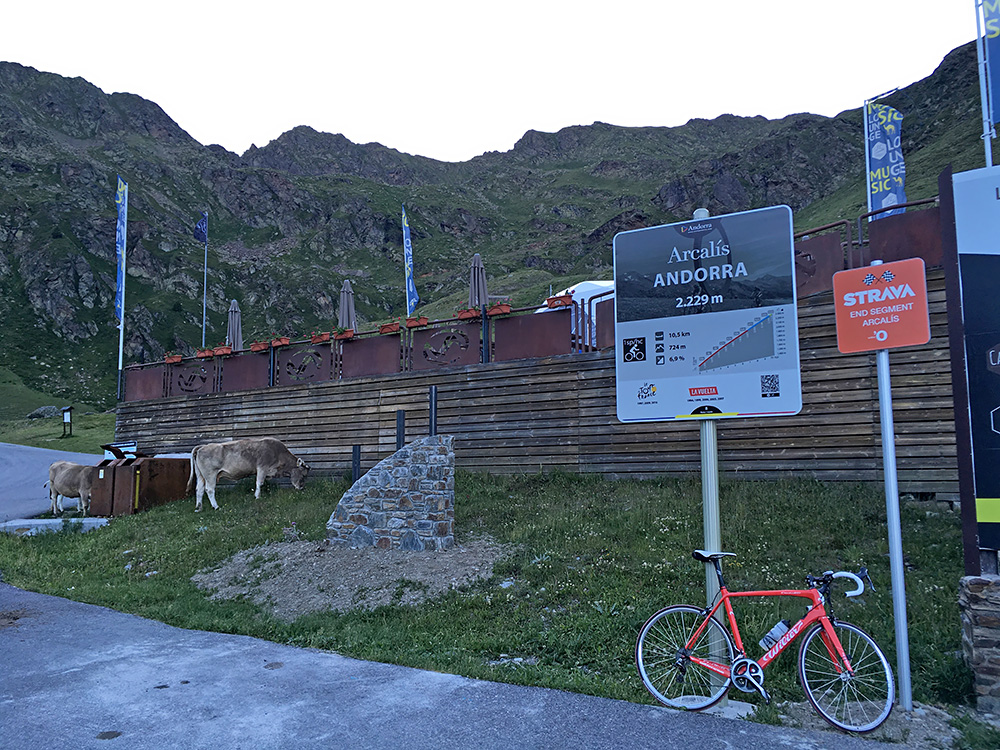 It turned out there were no more open places to stay at for the night higher up. It got a bit cold after the sun no longer reached me sometime after a tunnel near the supposed pass Coll dels Abòs (1723m), but it was all fine and probably it was no so cold, at least not until very high up. The climb took time and I got very tired, I must confess, but not so tired that I had to stop. The ski station area below the top was a very boring area apart from the serpentines, but the asphalt was a bit damaged here by the snow clearing machines also (otherwise the Andorra roads are really great) and it was a spooky feel here as everything was deserted). Once above it got a lot nicer and soon I was at the end of the asphalt, that I had hoped would continue a bit higher up on the wide road continuing up to where they once started to build a tunnel over to France under the Port de Rat (2540m) pass where I had a real adventure on my second tour back in 2001 when I was not quite aware of the possible dangers of walking with bad equipment up in the high mountains. Had they completed that road, it would possibly have become the most popular road in all of the Pyrenees and maybe even more than the Tourmalet road as it would make other pass roads rather bleak experiences by comparison – even more so if they would have built it over the top, but that would have needed more engineering efforts than they would ever put into building a mountain road these days. See the Pyrenees 2001 tour for more on that!
I stopped at ca. 2245m just to get a little better views of the area for the two photos here above. The asphalt ends a few metres after the sign here at 2232m. The sun was not all down yet and I had reached the top, so I was quite happy with that and now felt I should be able to get down just fine and so I did. I think I was stupid and descended without putting on the wind jacket or maybe it was so cold anyway, as I remembered I had to steel myself quite hard until getting back around the last village. Further down the valley it was also a bit cold now as the shade had been there for long, thus I wanted to continue further down.
I saw a nice place on the way down but thought it also looked expensive and it was cold there too. I stopped then in Arans, but they only had the restaurant open as they were rebuilding the hotel. Then down the next hotel in La Cortinada (1359m) I stopped by the Hotel Antic and it turned out to be the perfect place. I had feared high prices in Andorra as I had a bit hard to find good priced hotels when searching in the Rabassa area beforehand, but here it was moderately priced and the hotel was run (apparently) by some nice ladies. Saw when looking later that some complained about the food, and although it was not the best, it was quite fine with me (but hungry cyclists are easy to please). A good place to stop at if you are in Andorra and outside the busy villages! Cannot complain about the results for this day, but still slightly short even if not more than a few metres gravel, but again it is the height metres that counts (people home in Sweden seldom understands that … distance means next to nothing compared to height metres, but distance matters too, esp. if on bad surface).