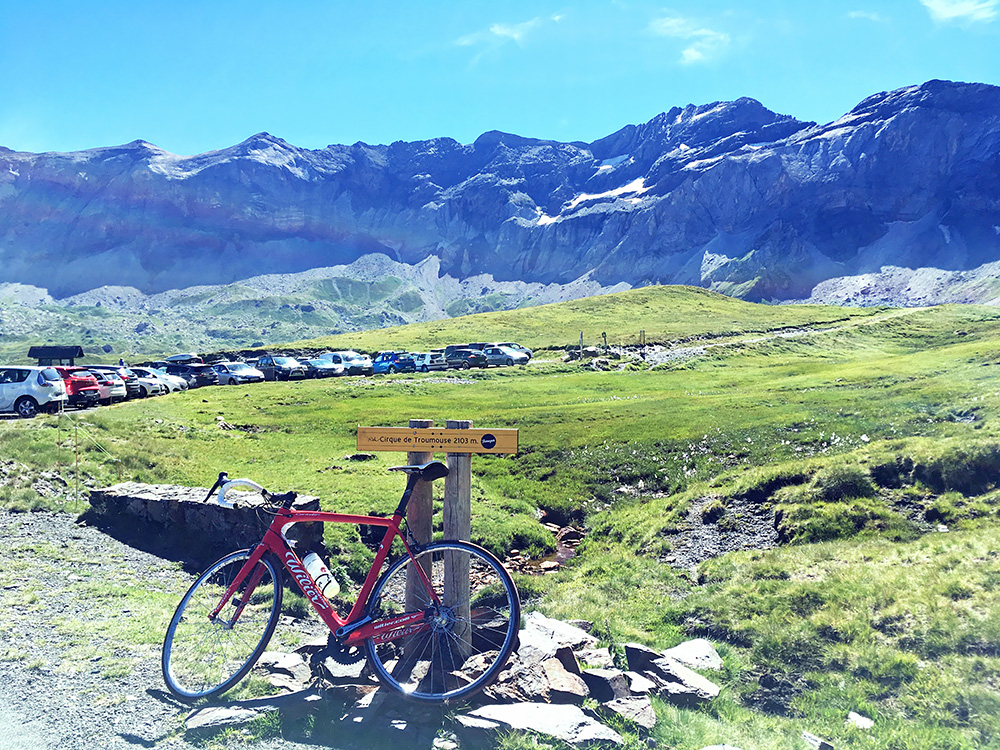 Another day with wonderful weather and now much more moderate temperatures. Now it was really perfect summer weather for cycling the big climbs in the Pyrenees. So a great end to the 22 day tour. After breakfast I got down to Luz-Saint-Sauveur centre to meet up with my friends and now things worked out just fine. We soon was on our way up from Pont du Gave (683m) on the road via my hotel (where I had left my back-pack for the first climb).
The road up to Gavarnie is nice and at first not so steep. We stopped in Gèdre to fill up water and it it here the real climbing starts. Ulf and Marie had been up to Col de Tentes earlier this summer and I was up there in 2005 (my first pass that summer), so now we all wanted to see the Cirque de Troumouse (2088m), which is a bit lower and no pass, but it is still a famous +2000m climb with great views.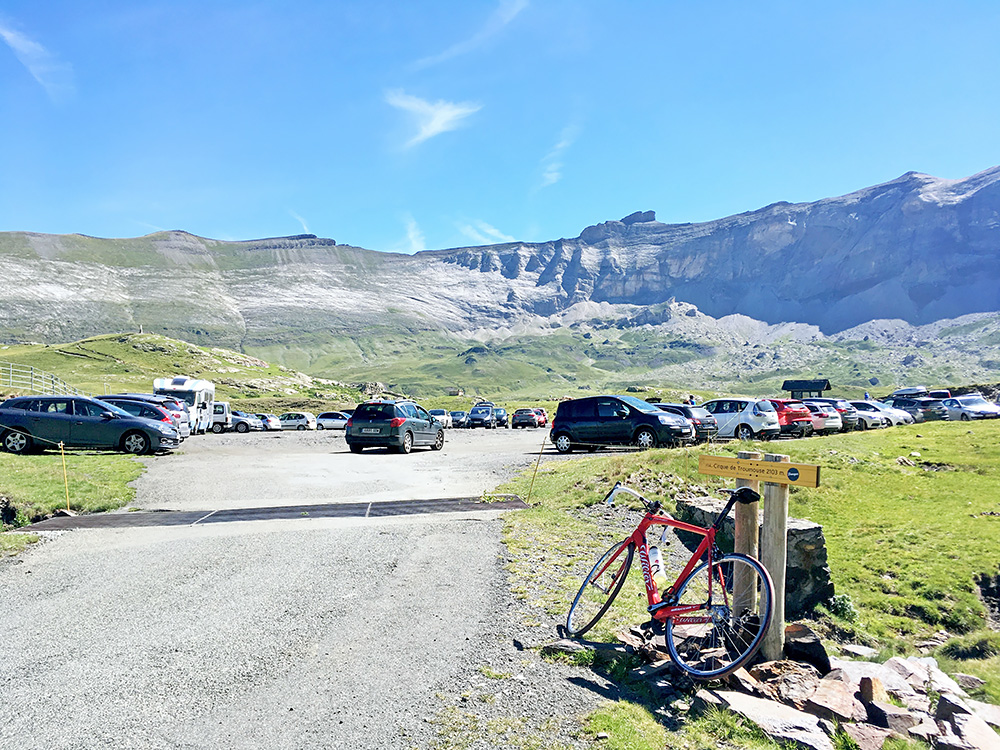 Marie was surely the strongest of us early on and both I and Ulf had to let her go ahead. I tried not to fall too much behind and caught up just before reaching a little flat section before the toll road starts (free for cyclists). I managed to have the chain fall off and we waited a little for Ulf and started again. Now I managed to hang on to Marie, while Ulf was taking it easier (we all did two Gran Fondo races the year before and at the Maratona dles Dolomites Ulf was faster than either of us, while Marie had an accident on the second one (l'Etape du Tour), so that did not count.
When it got steeper I got more into the climbing mood and felt fine and went ahead thinking Marie would catch up, but for reason I was apparently feeling too fine and got up first. Probably I felt good as I did not have my back-pack on for once. We waited for Ulf who was a bit surprised himself, but I am sure he has good chances to beat me another time again. Some views at the top here before Marie and Ulf arrived.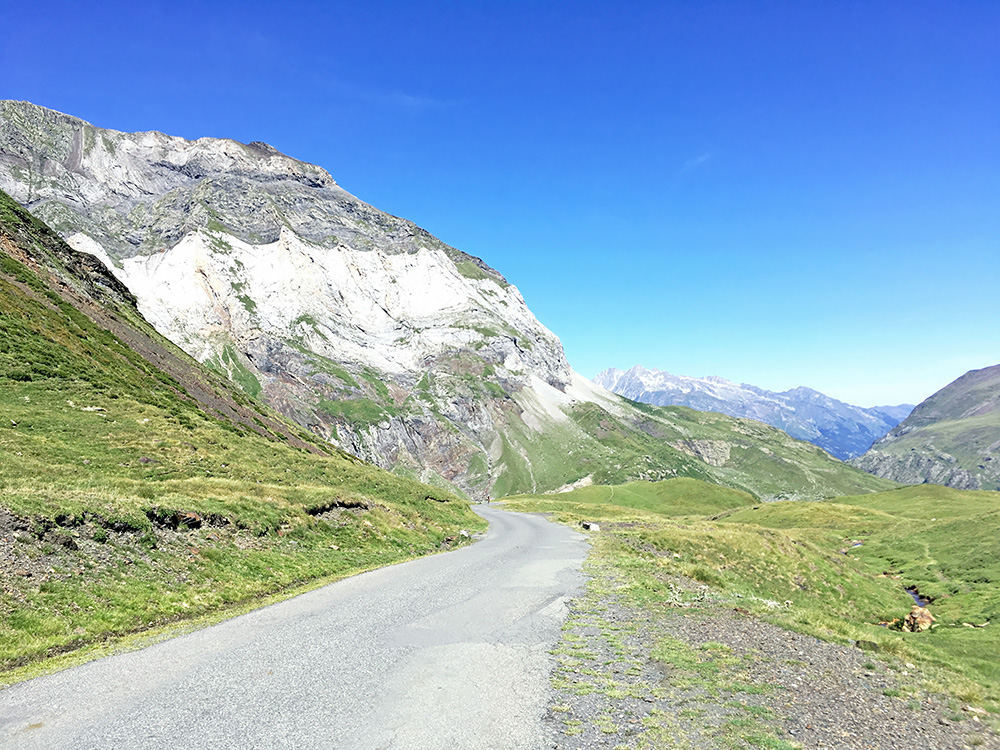 Here Marie is coming up.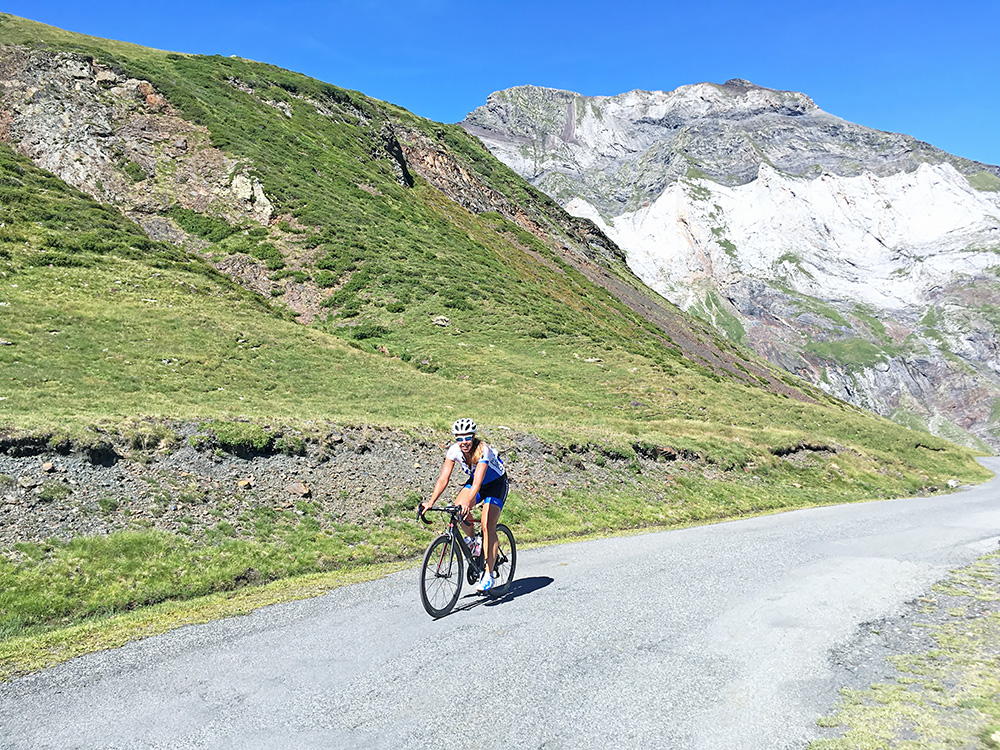 And she does not look so tired and maybe she slowed down a little waiting for Ulf on the last part … .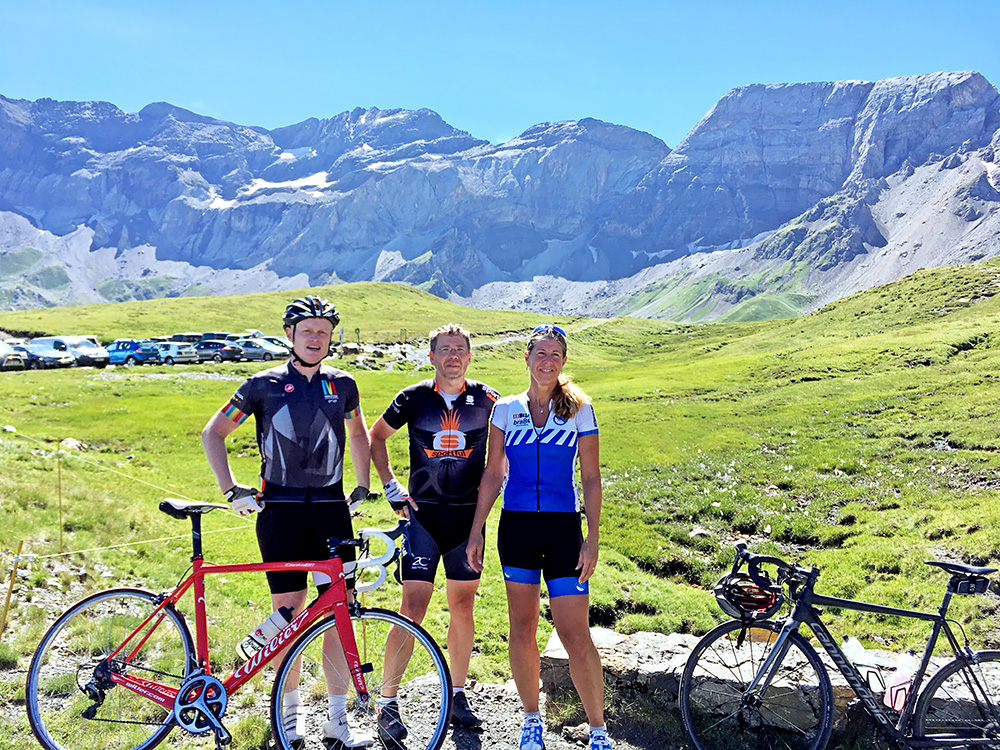 Group photo with me talking while the photo was taken, well … . (Maybe I should also have taken off the helmet.) It was a nice day and a nice climb.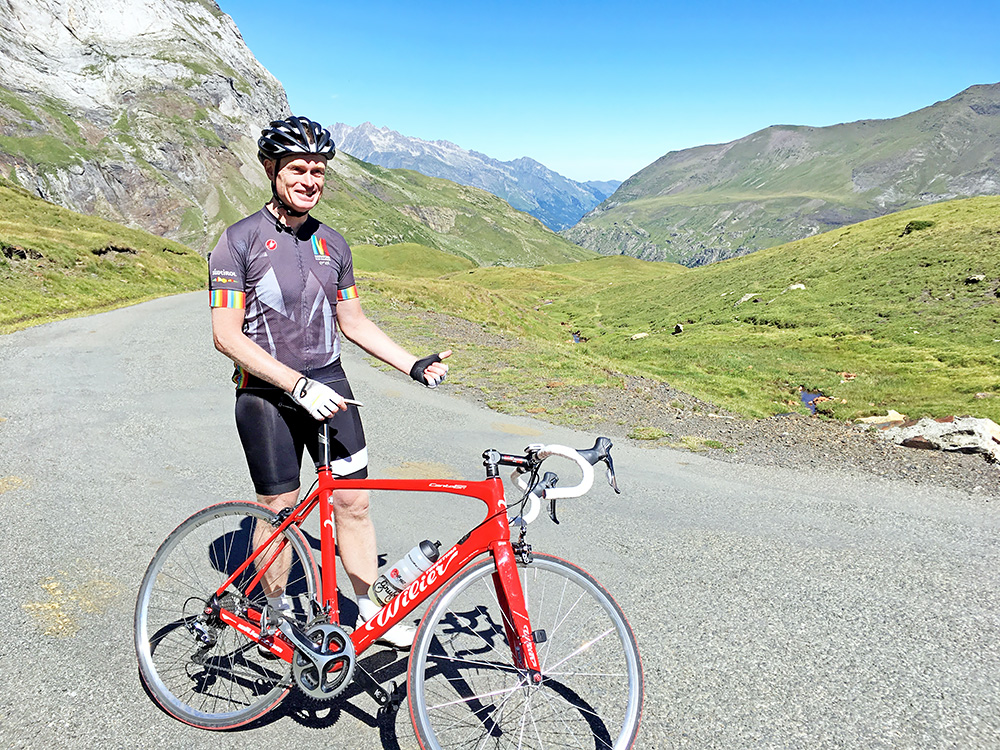 Me trying to look a bit more happy or something.
Time to go down again and on the way down one is allowed to stop for photos and so we did, so have to share a few more here.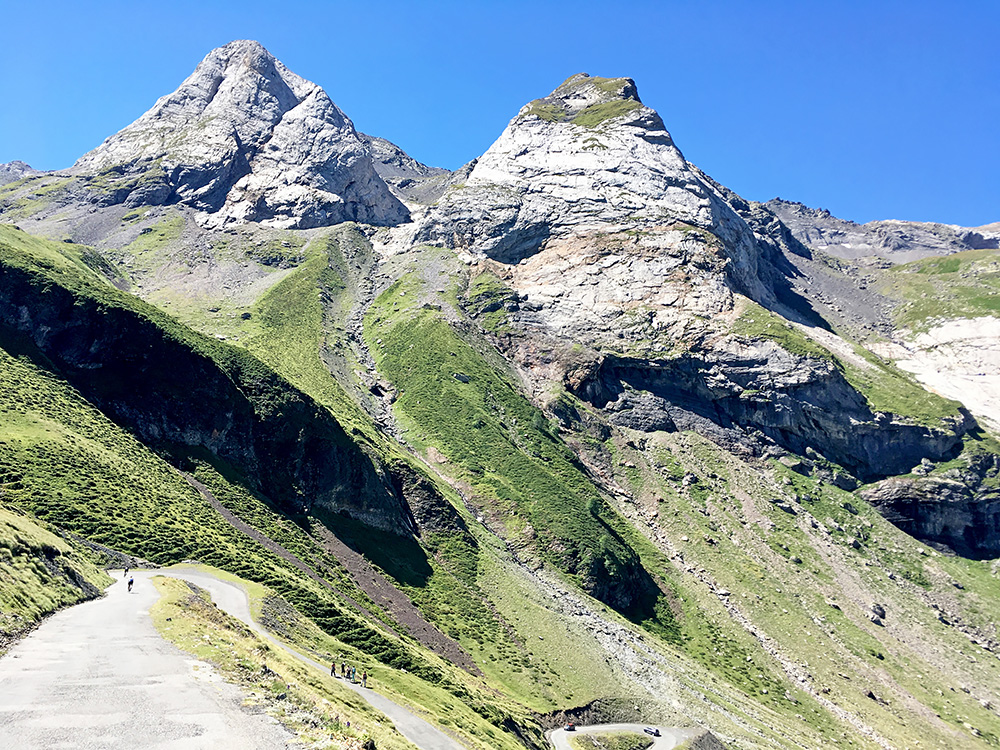 Ulf and Marie going down the first steepish hairpin from the top and they were much faster than me downhill, especially Ulf who won the downhill ride for certain.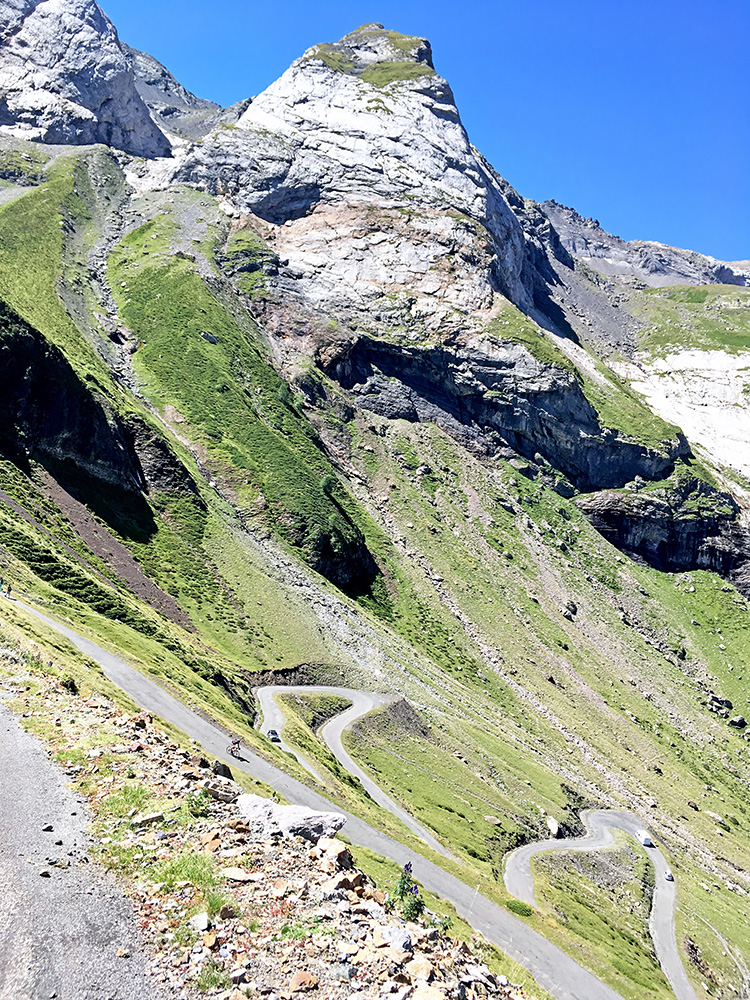 One more photo trying to capture more of the serpentines up the last demanding section. Think Ulf went ahead of Marie there.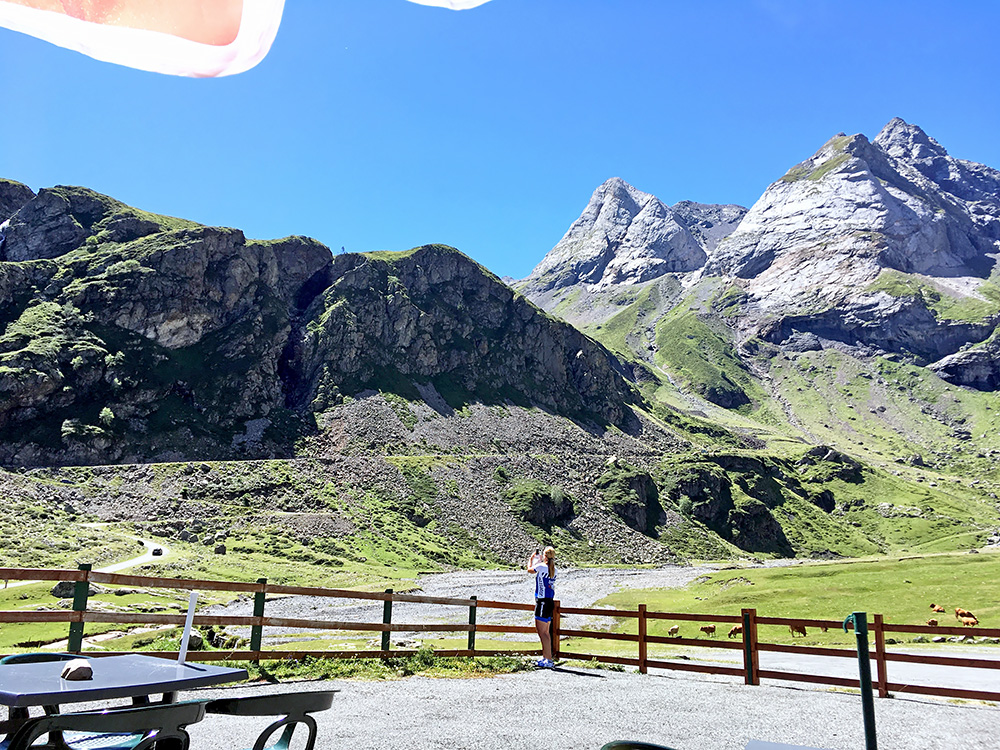 We stopped half-way down the toll road for a beer at the only open restaurant up here. Had a nice Belgian beer myself and this time I was less affected in a bad way with it than at the earlier occasion (but no big problem then either, it was just a bit too hot outside then).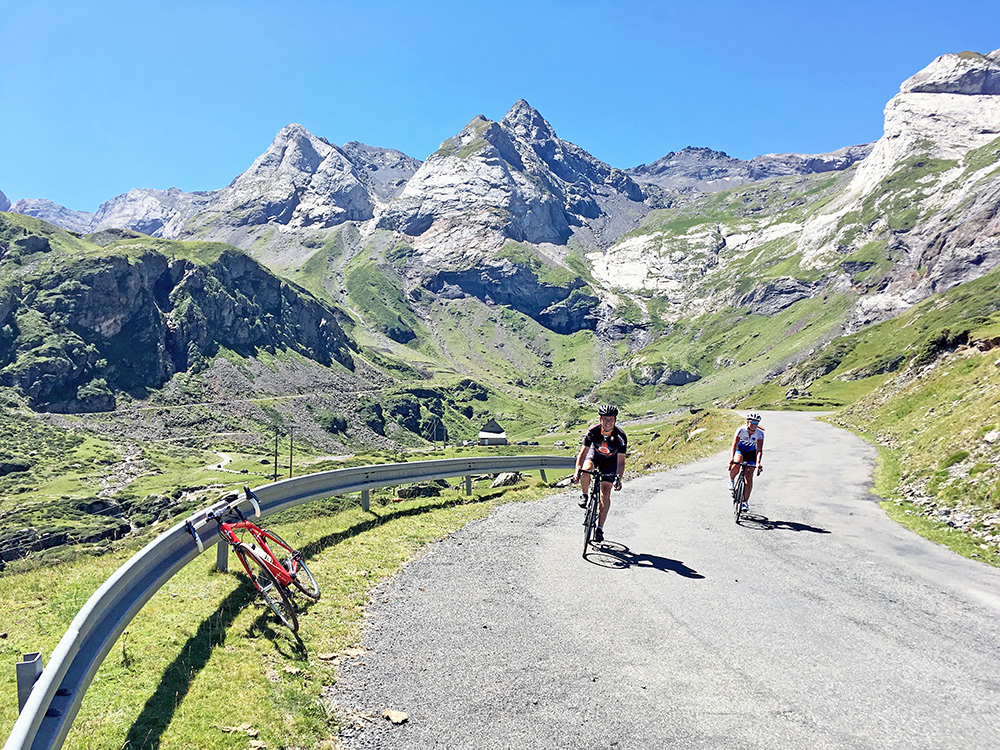 I went a little ahead after the beer to stop and get a good photo of Ulf and Marie descending and think I got it rather well done here. In this weather one really did not want to go down at all, but at least I had to get going.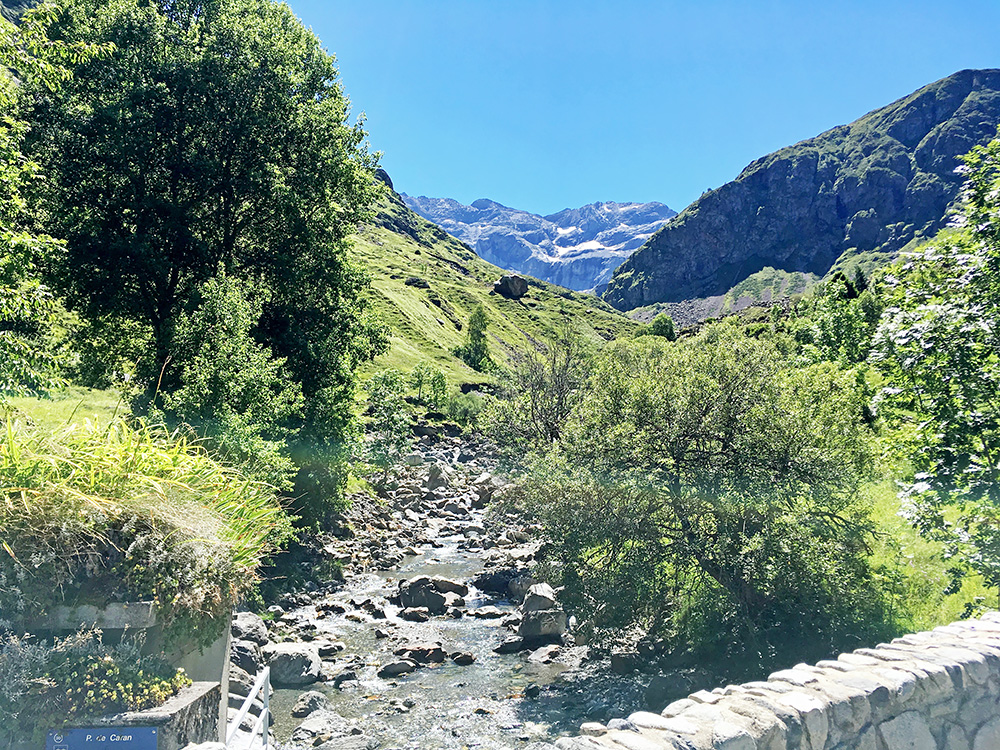 A last photo from lower down looking back up. It is a fairly long climb after all with 1405 height metres from Luz-Saint-Sauveur.
Marie and Ulf went ahead down to Luz-Saint-Sauveur to have something to eat, while I picked up my back-pack. I joined them for a coca-cola and got some fries from Ulf, but did not really want to eat anything more now with another pass to be tackled here now. We said goodbye and were happy about how well things turned out in the end.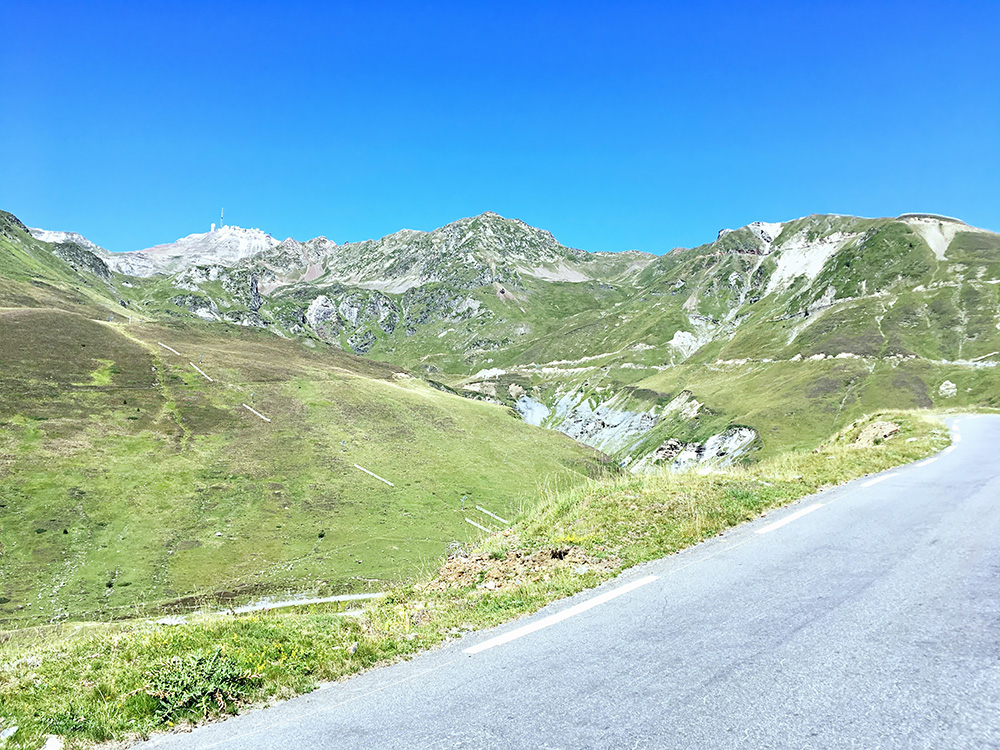 Now it was the middle of the day and rather warm and I was rather tired, but decided to take it easy up to Col du Tourmalet (2115m), which would be the last major climb on this tour. I basically only had to get up there not too late in order to be sure to get back in time for the evening.
Here I am looking up to Pic du Midi de Bigorre, where I tried to cycle up back in 2005, but it was then snow and clouds on the top. The gravel road from Col du Tourmalet to Col de Sencours (2378m) is easy enough for anyone with a road bike, but from there to Col des Laquets (2637m) it is only partly possible to use with a road bike (but the quality of that stretch may well vary from year to year).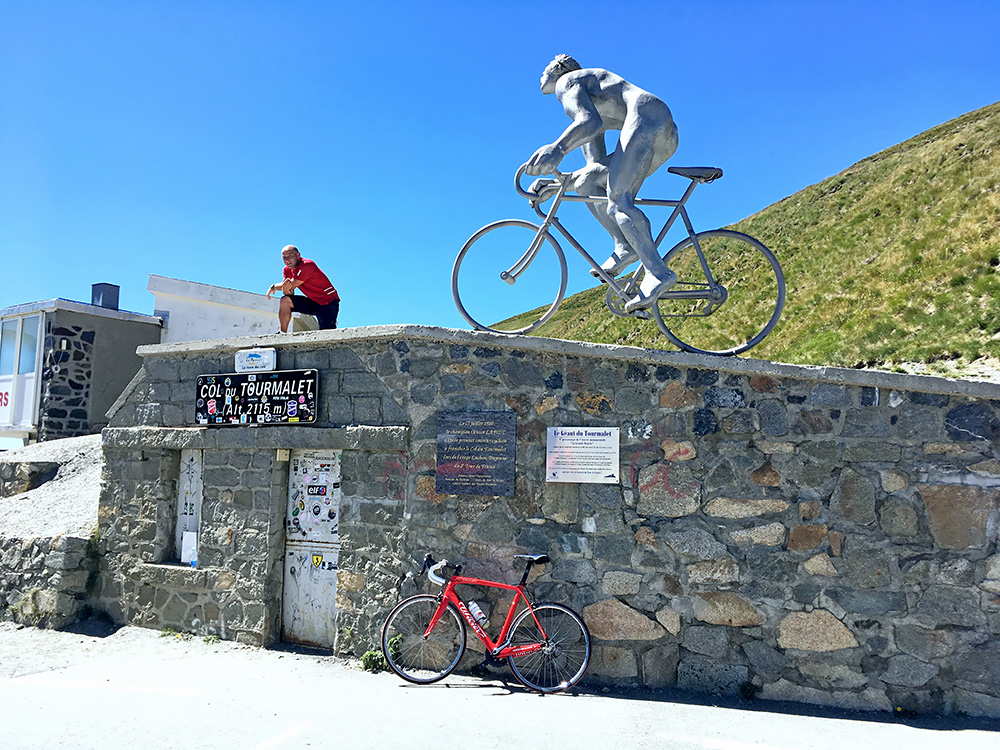 Even if I did not go fast I was close to having to stop more than for this photo as it was getting tough toward the end and slightly steeper too. I managed to keep it up though and got up fine, but tired and a lot slower than up the Cirque de Troumouse.
Quite a lot of people cycling here on this fine day of course since it is the most famous of cycling roads in all of the Pyrenees. Some were heading down to Luz-Saint-Sauveur in "Froome style" sitting on the top tube riding at around 100 km/h, which comes across as a little stupid if I may say so, but younger people are more happy about taking risks.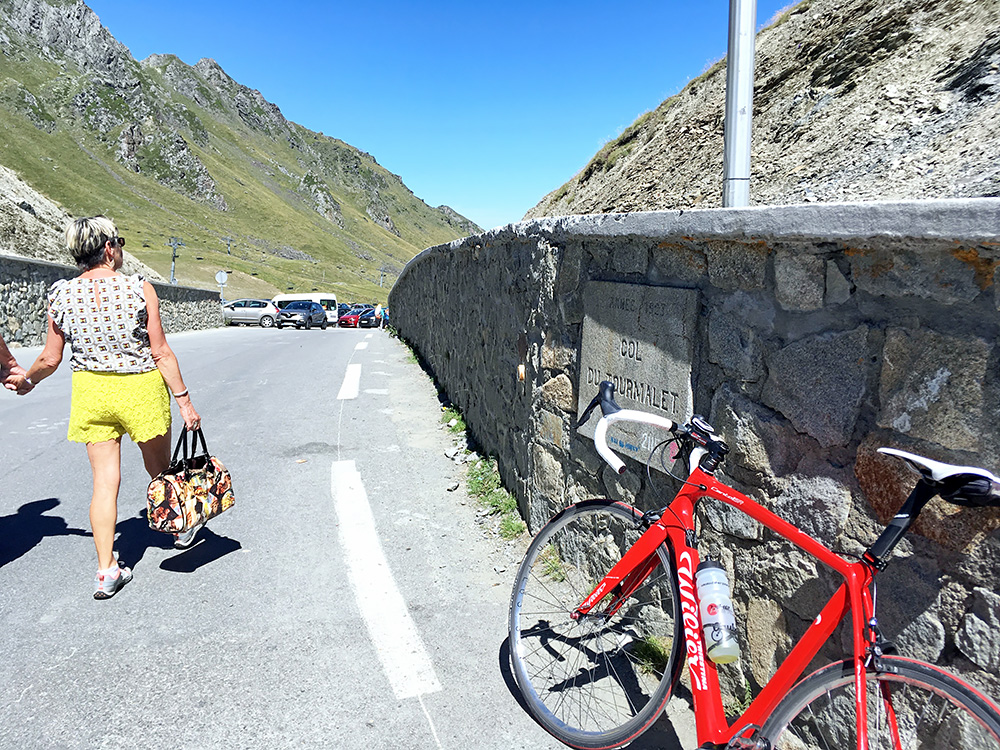 Looking ahead at the top and with another sign for the pass. Not any name variants on this pass.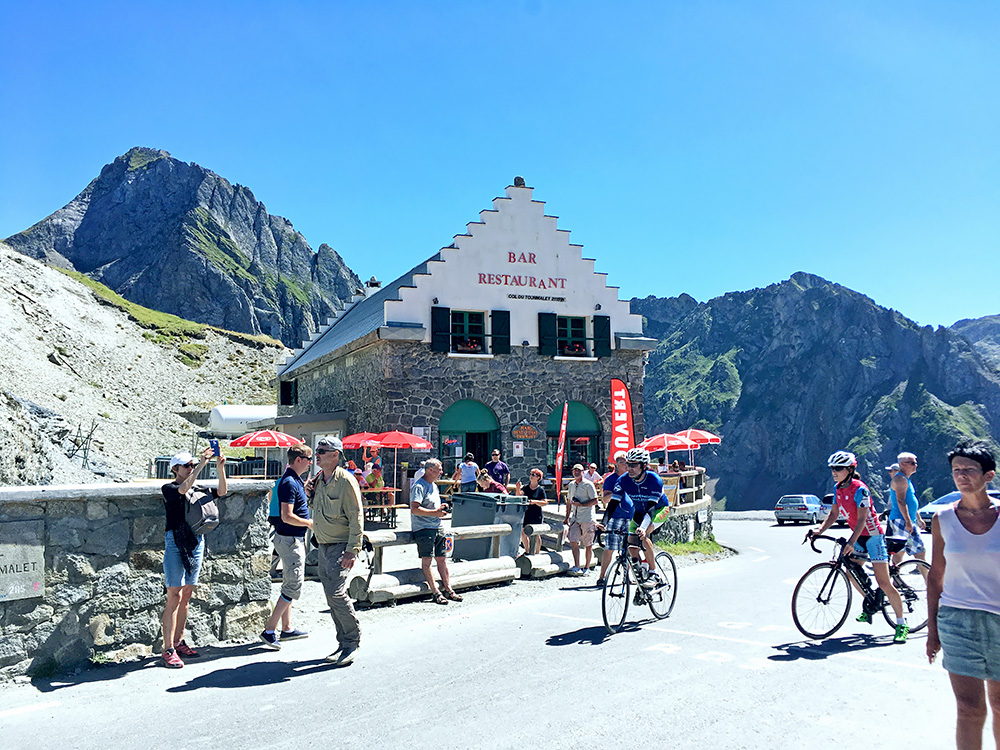 There were lots of cyclists and other tourists walking all over the area, so not easy getting any photos up here without any people in it at this time on a nice day in the summer. Here is where one comes up and it is the steepest just around the corner there.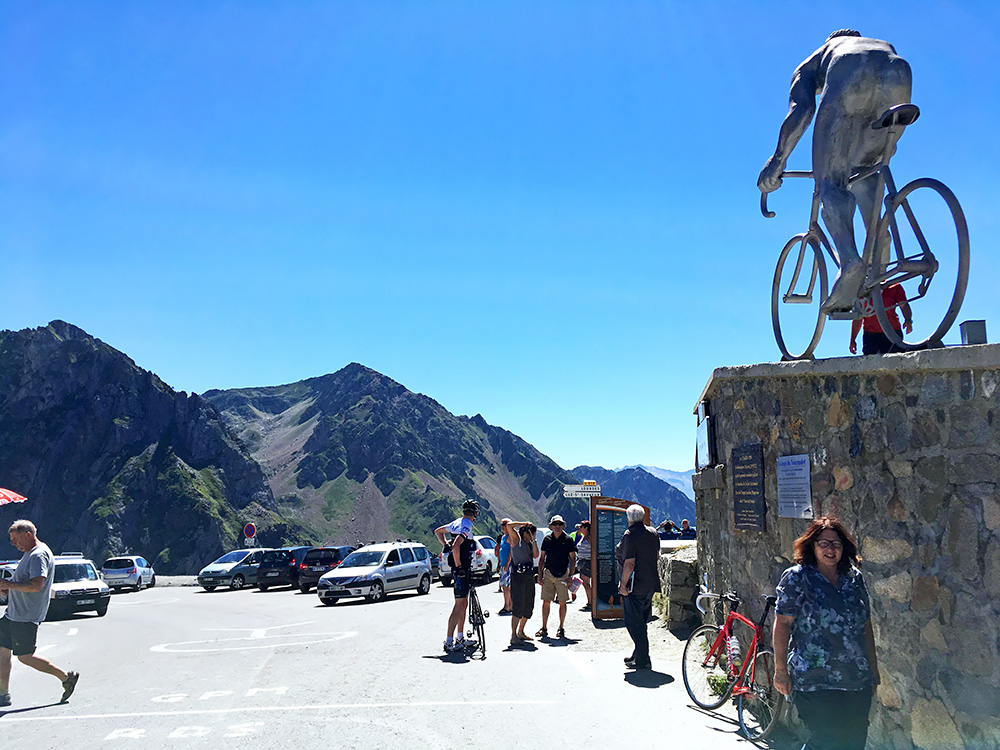 A last photo in the direction where I came from.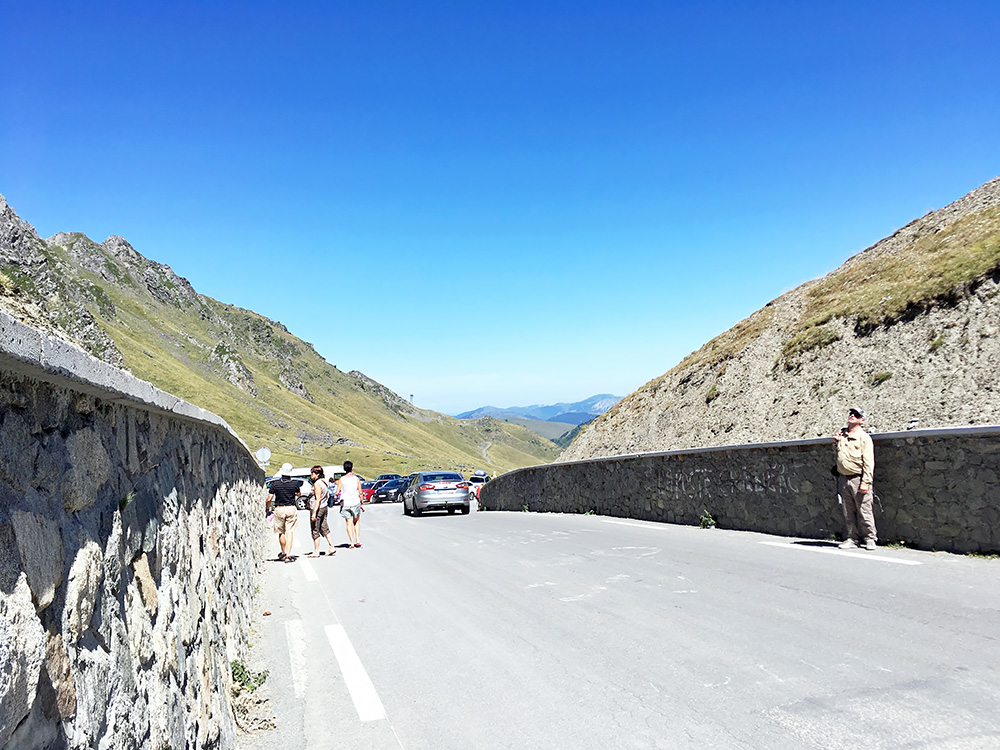 A better view east from the top.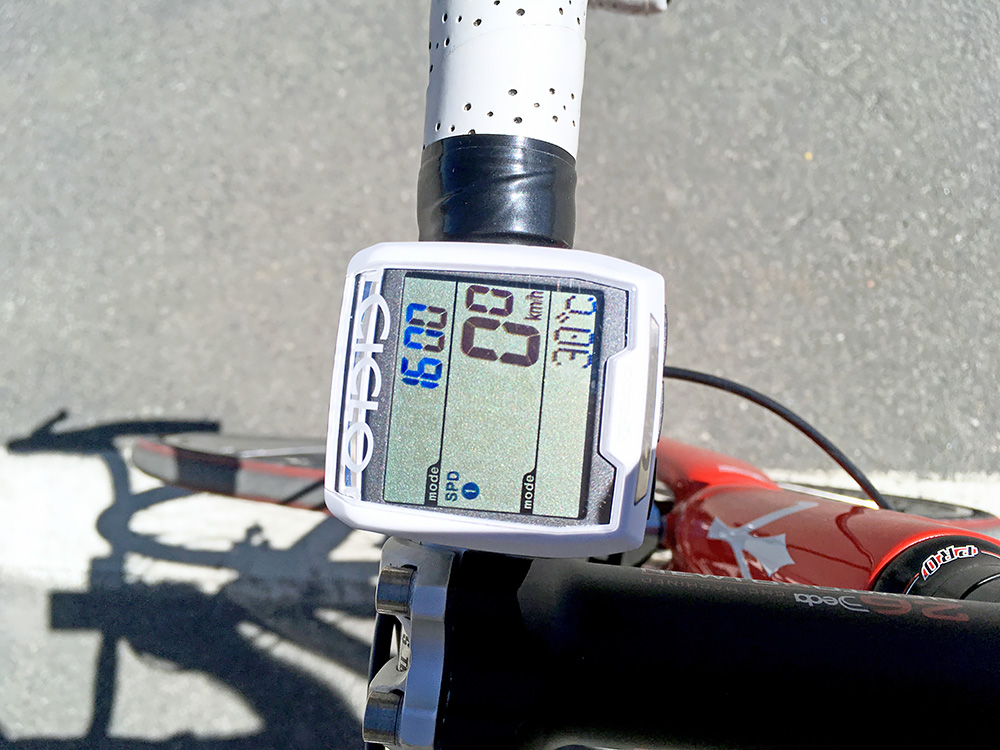 16:00 o'clock and 30°C up here. Time to go down and no more cycling above 2000m for this year.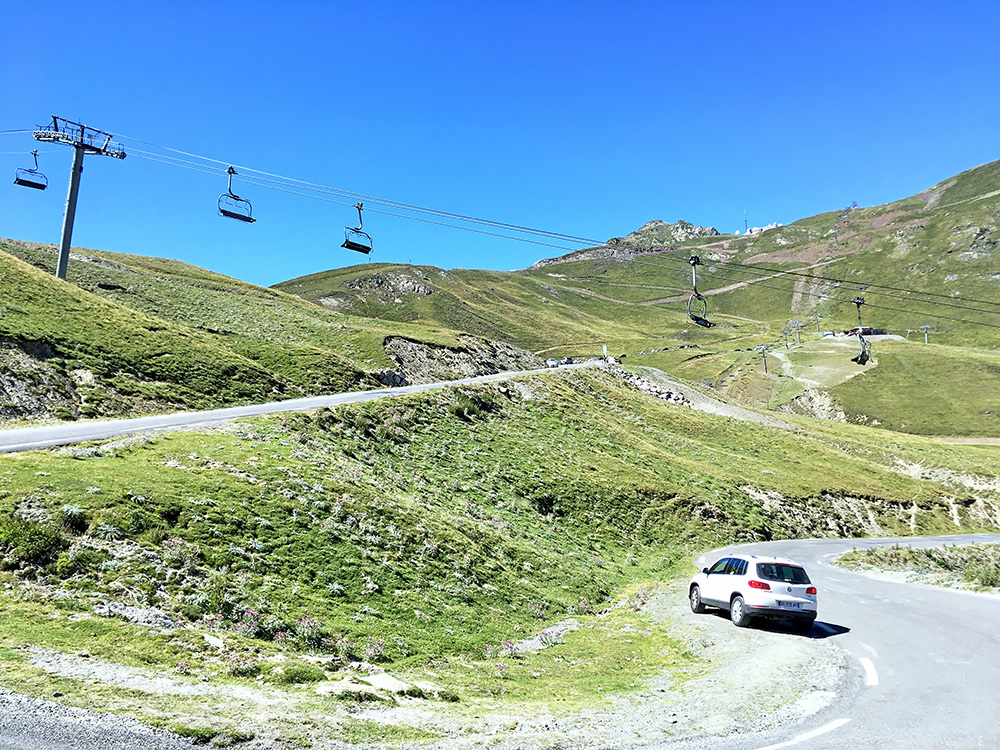 Pic du Midi de Bigorre also possible to see on this day from the east side of the pass. I climbed this side first time in 2001 and the other side in 2005.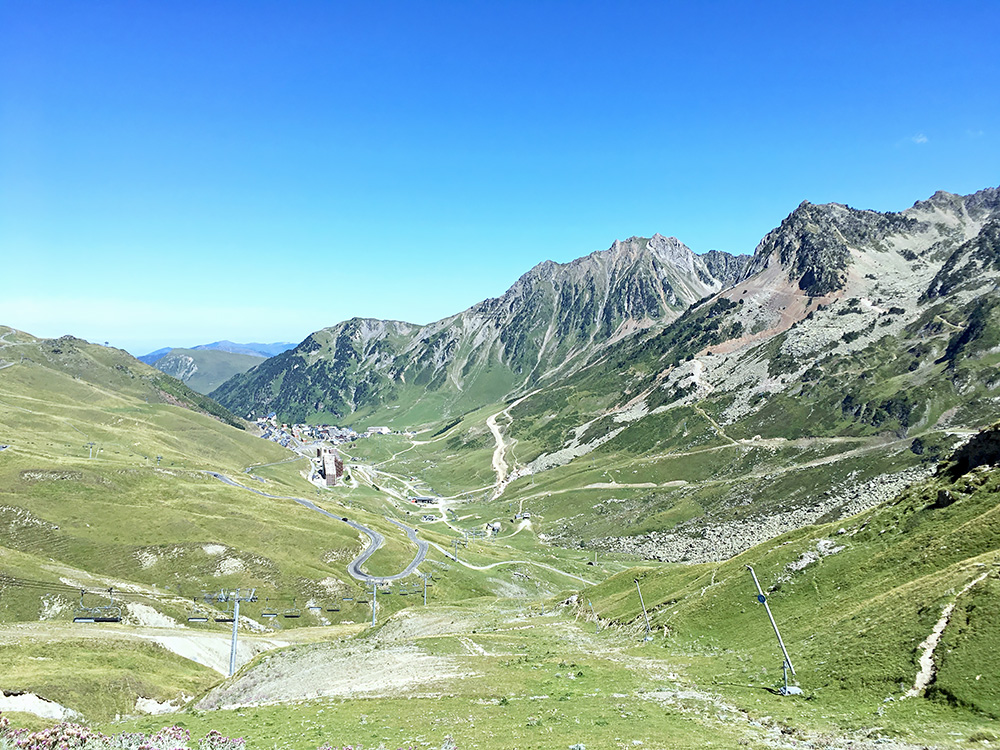 A last view down the east side over the La Mongie ski resort.
Then it was full speed down to Ste-Marie de Campan (851m). From Luz-Saint-Sauveur (711m) it is a longer climb with 1404 height metres (exactly the same as the Cirque de Troumouse), but from Campan it is the a "mere" 1264 height metres. Still it felt like a long way down there and the climb is a little more irregular on this side and partly in the woods. There were a few bad places on the road down and it can be dangerous to descend very fast on this side.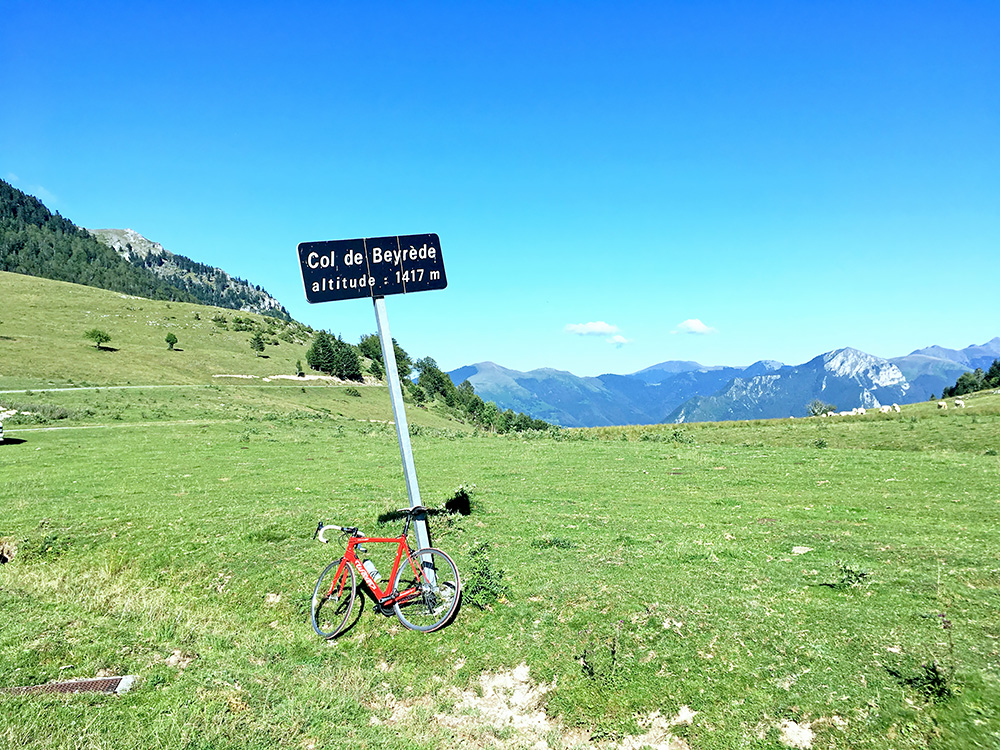 I stopped at the grocery in Ste-Marie de Campan and bought coca-cola, water and youghurt. Then went into the bar obviously operated by the same owner and had a coffee too. Then I was fine for taking on the last real climb for the day and the tour.
I had planned to climb one more pass in the area, the Col de la Courade/Col de Niclade (1285m) and that road is actually over 1300m even if the pass itself is lower, so could possibly counted among the +1300m passes too and then the only one I missed on the French side. It is a also a fairly hard climb from the north side (that I planned to take). However, I did not remember this (conveniently) and instead went on to collect the last obvious paved pass above 1300m that I still had not been too, the Col de Beyrède (1418m).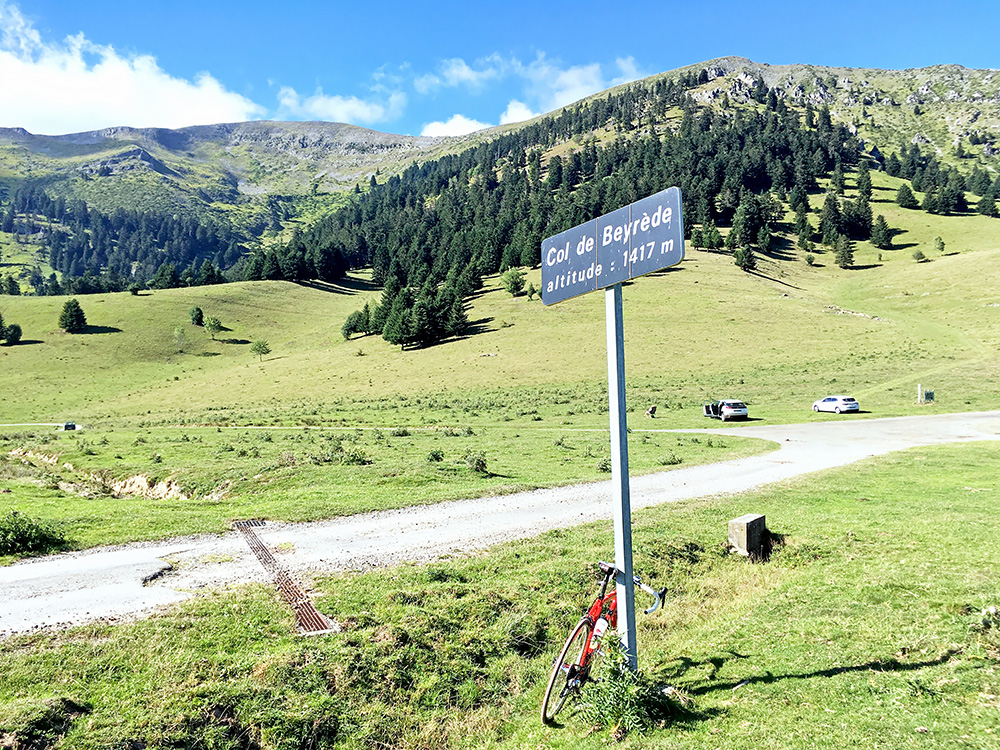 Col de Beyrède is a parallel pass to the famous Col d'Aspin (1489m) that I only did once from the proper east side in 2001, as in 2005 I went over the other parallel pass, the Hourquette d'Ancizan (1564m).
The road to Col d'Aspin is very easy and nearly flat from Ste-Marie de Campan for a long time. I was planning to take the direct/closest route up to the Beyrède that also should be fully asphalted contrary to an earlier road going up there. this direct road takes off the Aspin road after Payolle (where the road to Hourquette d'Ancizan goes) at Espiadet (1096m) (from where the road is fairly steep to the higher Aspin pass).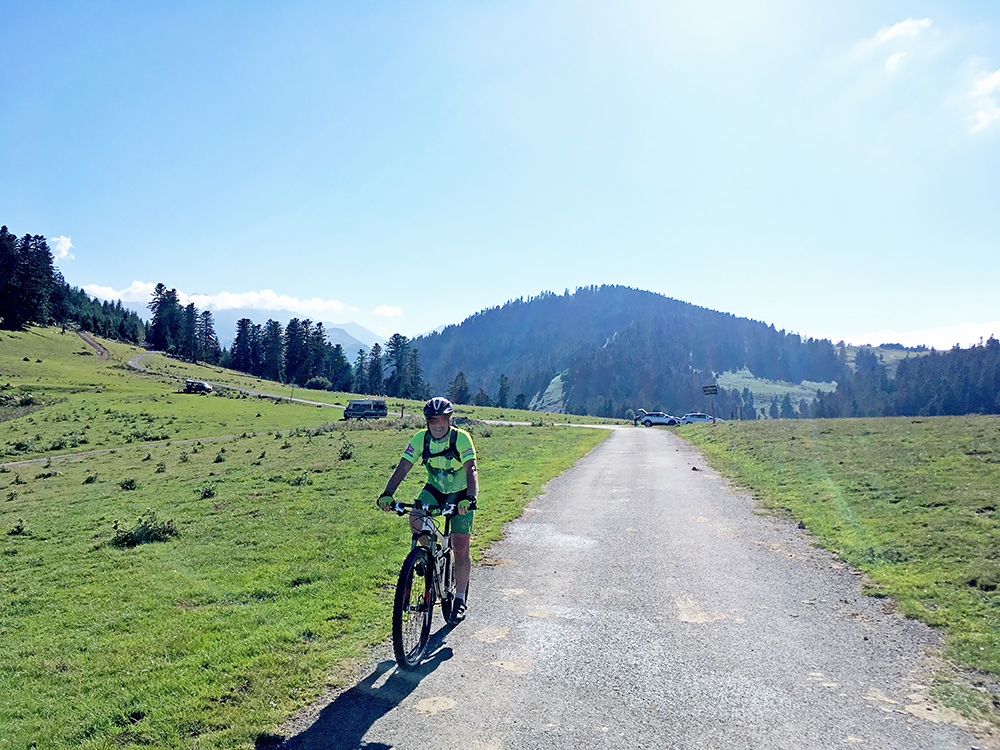 The road from Espiadet is very narrow and I met a car driver early on with a funny look on his face, suggesting I might be in for trouble. It turned out the road misses asphalt in some places, but not very long stretches and it is all doable, but the worst part is still to come on asphalt where it gets really steep up the last part to the pass and I had not quite remembered that. Ca. 2 kilometres above 13% on average, with up to 19% steepness. Even so the eastern climb is longer and harder on the whole, but still this was not without effort for sure.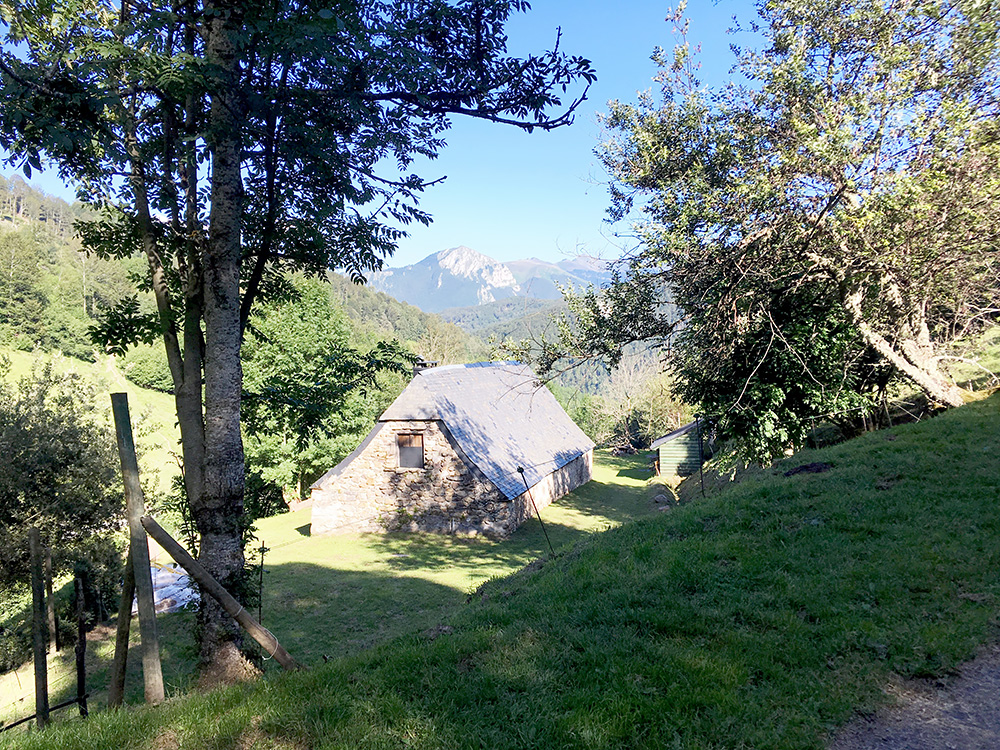 I talked a bit with the man coming up on his mountain bike from the east side (he was going down the same side again on a track/trail on the left hand side of the valley). He was from the area and explained a bit about the roads there. It was a nice downhill ride on the sometimes steep and sometimes not so steep road mostly through the woods (a forestry road) with some good views and nice buildings lower down as in the photo here.
I felt quite fine now that the journey this summer was coming to an end. I made a last stop down in Sarrancolin by a pastry shop that was open and bought a coca-cola and a cake of some sort by the church in the centre.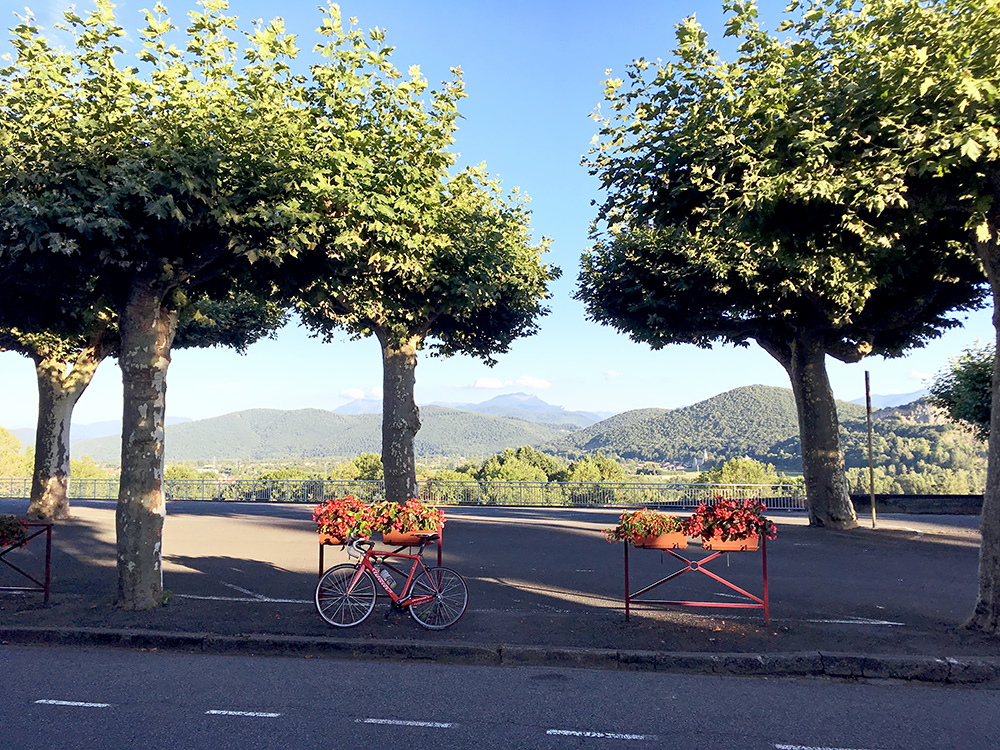 Now it was just the nice evening ride back to the start in Pointis-de-Rivière. The road there is anything but straight though. First I took the road over the minor pass Col de Mazouau (633m), which was the last pass for me in 2017. Part of the way up there was also with gravel on the asphalt. I went down through the village, but it was not the fastest way ahead and had to join the same road a bit later after consulting my map again.
Then down to Gazave on a nice road. From there the road was going up slowly seemingly forever to Montsérié and Hautaget, from where the road quickly descended to Nestier. From Nestier it was a bigger road to Aventignan where I met a group of cyclists. Here I crossed the river and went up to Montréjeau from where I took the last photo for the day/tour at 20:20, but now I was almost back and only had to go downhill to the bridge over to Gourdan-Polignan crossing La Garonne again. Then I more or less from memory could find the way, but think I double-checked it) via Huos to Pointis-de-Rivière.
The bed & breakfast La Place Carlo Guzzi is a bit after this village along the same road. I was there well before 21:00 in perfect time for a shower and nice dinner. Talking with some nice motorcyclists from Germany and Holland in the nice evening. All ended very well and a fine ending with both Cirque de Troumouse and Col du Tourmalet on this last day. Those climbs seemed so far away from down here on the plains. I had a good breakfast the next morning and got my bicycle cleaned up and packed down before I got a ride to the train station and leaving for Toulouse and the travel back home, that also went fine.