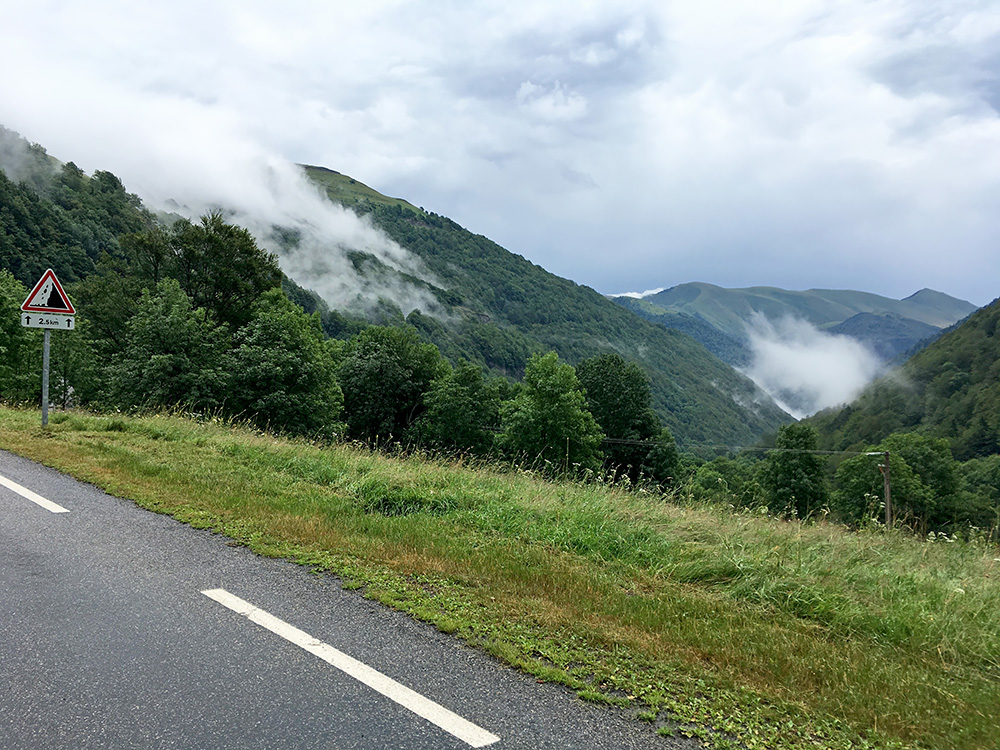 I took my time in the morning knowing I would have to wait a little before I could expect the bicycle to be fixed. The shop opened at 9:00 and I was there around 9:20, but they were just starting to look on it and apparently was very concerned not to show customers how they worked and what they did. After waiting quite some time and having another coffee at a café the bicycle was ready and for all I could make out it seemed alright (suspected some problem later on when hearing sounds as they did not want to tell me what parts they put in and still do not know as it is still working, which is good enough for me). The sound later heard was likely due to the tube valve vibrating in the rim hole (a curious, but rather common thing).
The weather was bad and rain was in the air. I think I had another coffee (or maybe I had none while waiting for the bike). Eventually I was off around 11:00 – a rather late start, but at least now I was able to bicycle again without worry. I looked in every direction and had planned to start south from Bagnères-de-Luchon (629m) up to Superbagnères (1795m), which was the direction where things looked absolutely darkest. Thought that where it is bad it can only get better and vice versa, so headed right into the dark clouds to south. Here I am on the early stretches up to Superbagnères. I did have a bit of rain early on, but it sort of ended around where I took the photo.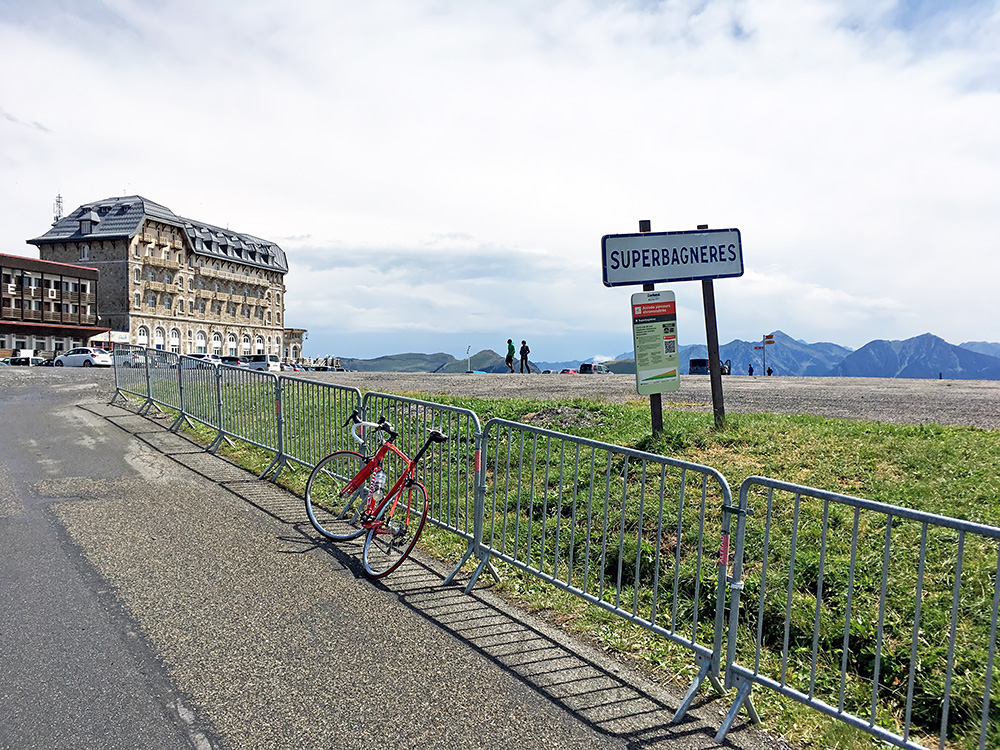 No problem to climb on wet roads and I hoped for luck and that the roads might dry up before I returned down again. The weather got quickly better and when I got out of the wooded area the sun even came out, so when I reached the top the weather was perfect and the views were good as they usually are after the rain.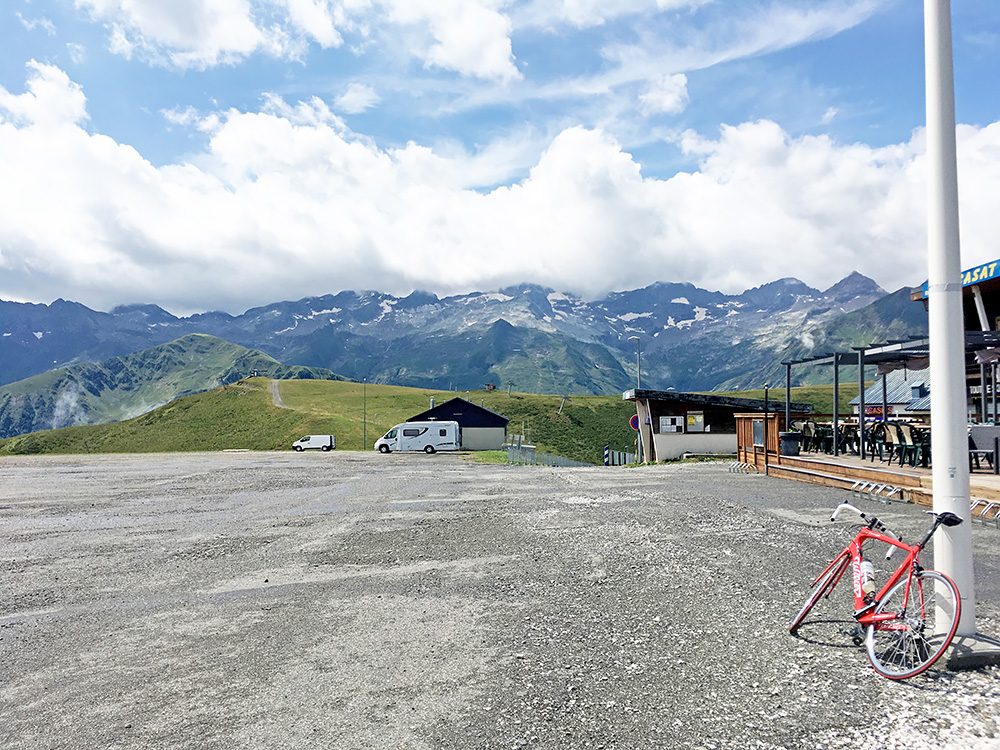 Looking back here from the highest point. In winter I guess there are more activity up here and maybe even the shop here would be open then.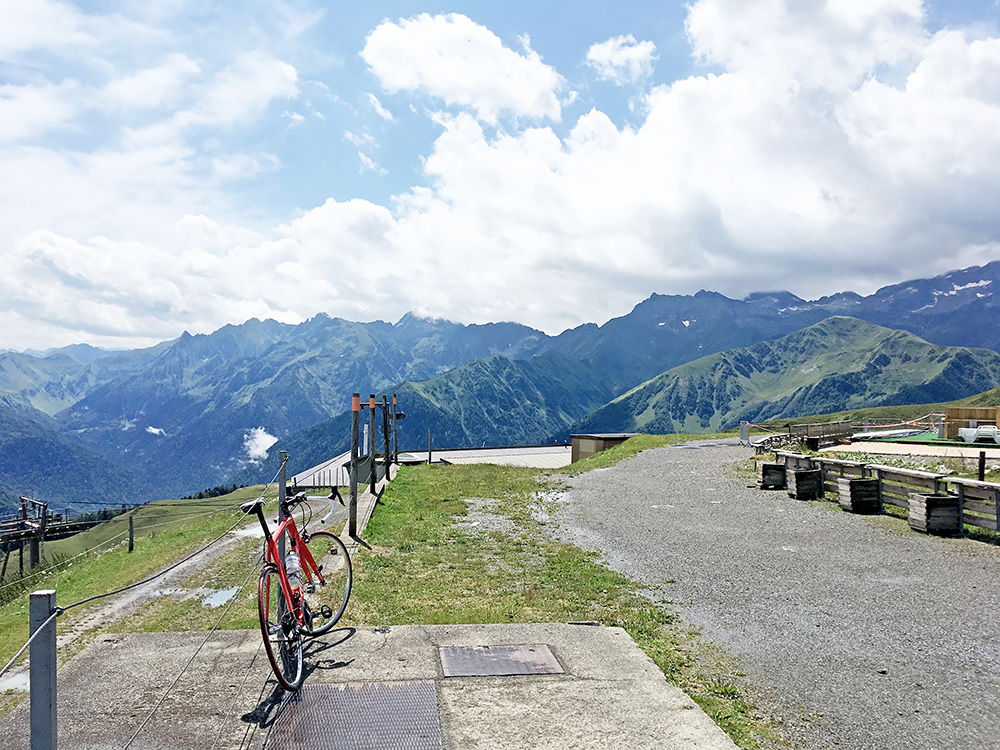 I cycled around the big hotel at the top to see where the best views could be found and stopped for some more photos on the right-hand side of the hotel (not so much views just behind the hotel).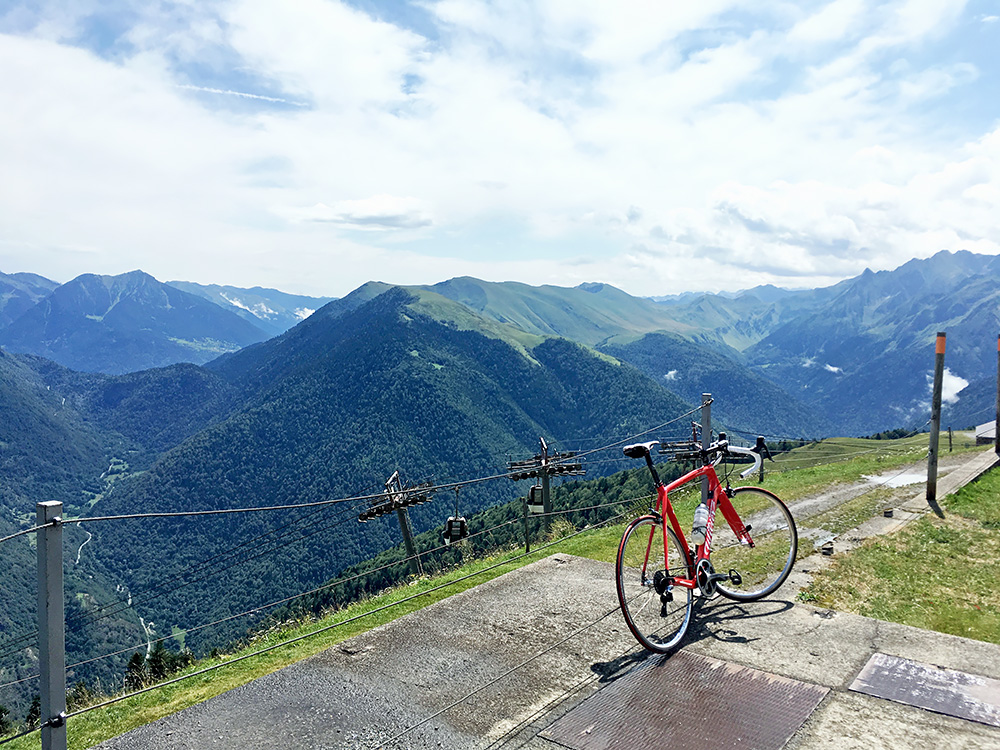 Only some residues of the clouds remaining now over the mountains. Looking up the valley to Hospice de France and the valley to Pòrt d'eth Portilhon/Col du Portillon/Portillon de Burbe (1292m) here.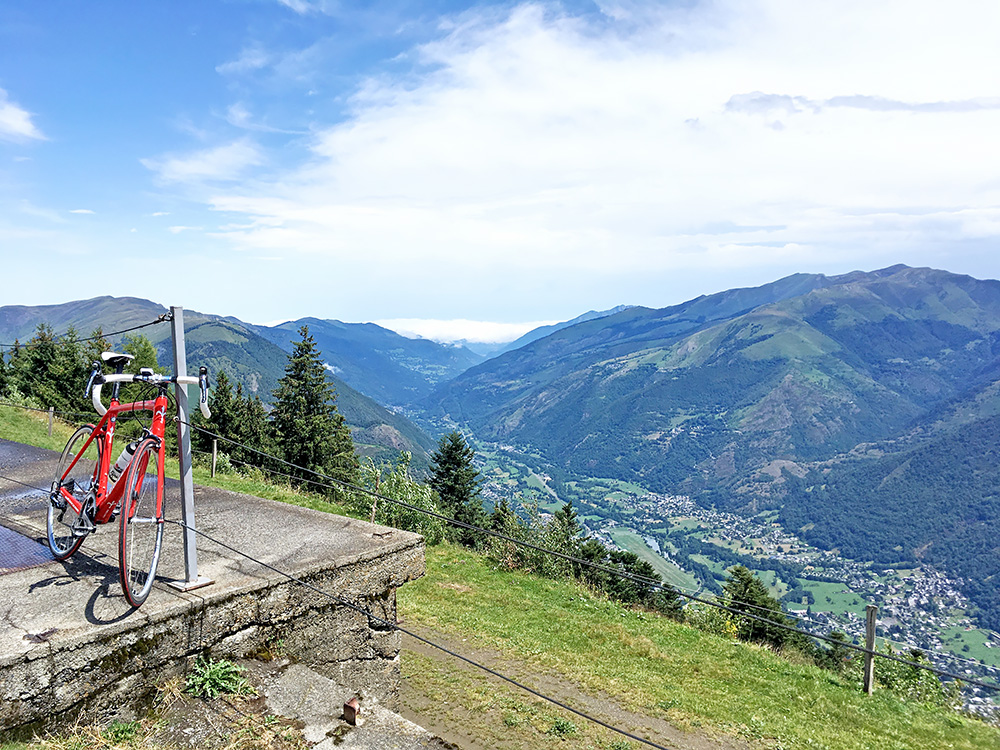 Here looking down to Bagnères-de-Luchon and the valley south where I was going next. Now I notice a cloud cover far down there and think that might have moved a bit up as I moved down there.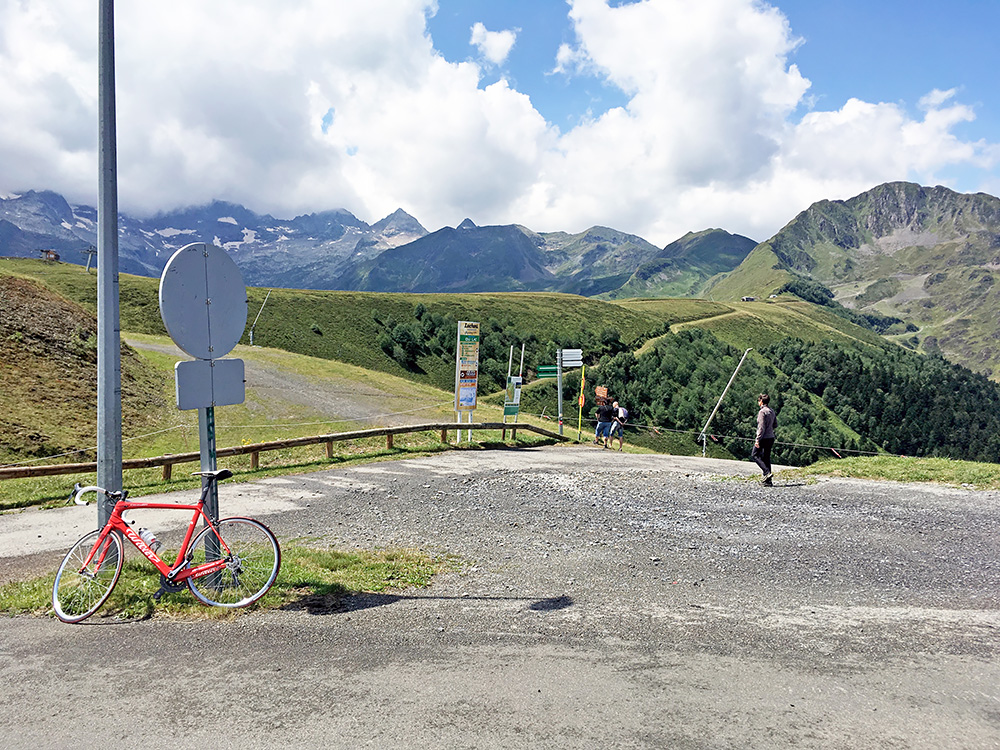 There is a pass-like place just before the last ramp up to Superbagnères. Stopped there to take some more photos (only include this as I had no photos in the west direction above). Superbagnères is also a BIG climb, which was the main reason to go up here, but did not expect it to be as nice as it was.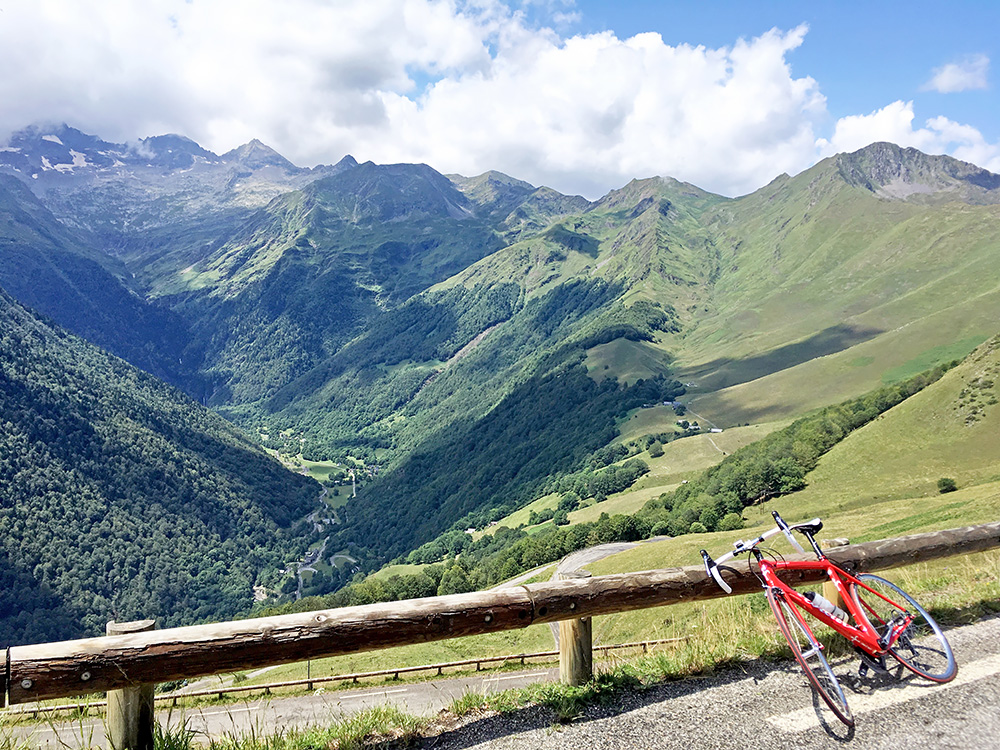 Here a photo from the nicest and hardest part with serpentines up to Superbagnères. Now you see the road has almost dried up completely, so I was indeed lucky and as I got down the road even dried up in the wooded section although slightly wet in some places low down. Now things looked brighter. Only problem was that I was a bit late, but now there was an easy stretch far down north.
I went through Bagnères-de-Luchon and stopped again at a café by the last roundabout when leaving the village. A nice simple place with a good toilet where I put on sun cream.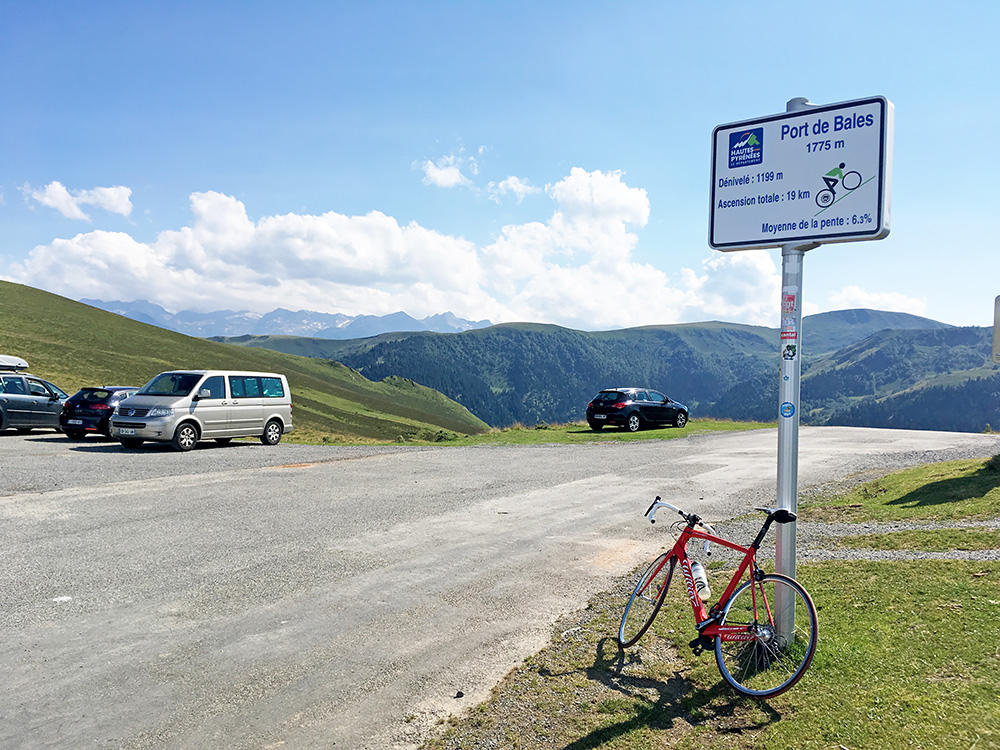 There was only one problem with the long road north – I had to go back up again. But the next climb and the climb most missing of all from my list of to-do climbs since 2005 was the Port de Balès (1756m) (which I think had recently been asphalted properly first around that time in 2005 and was then part of a Tour de France stage after which it has become a very well-known climb, which it certainly was not before). I was aware of the climb in 2005, but left it out then as I then did not attempt to climb all of the high paved passes.
As I was closing in on the start for the climb it got all cloudy, but given I was down on low altitude it was still warm enough though and no rain. I was hoping the clouds would go away as I went up the climb and that there would not be any more rain. I was lucky on both counts there, but clouds stayed above me until the last 1.5 km or so.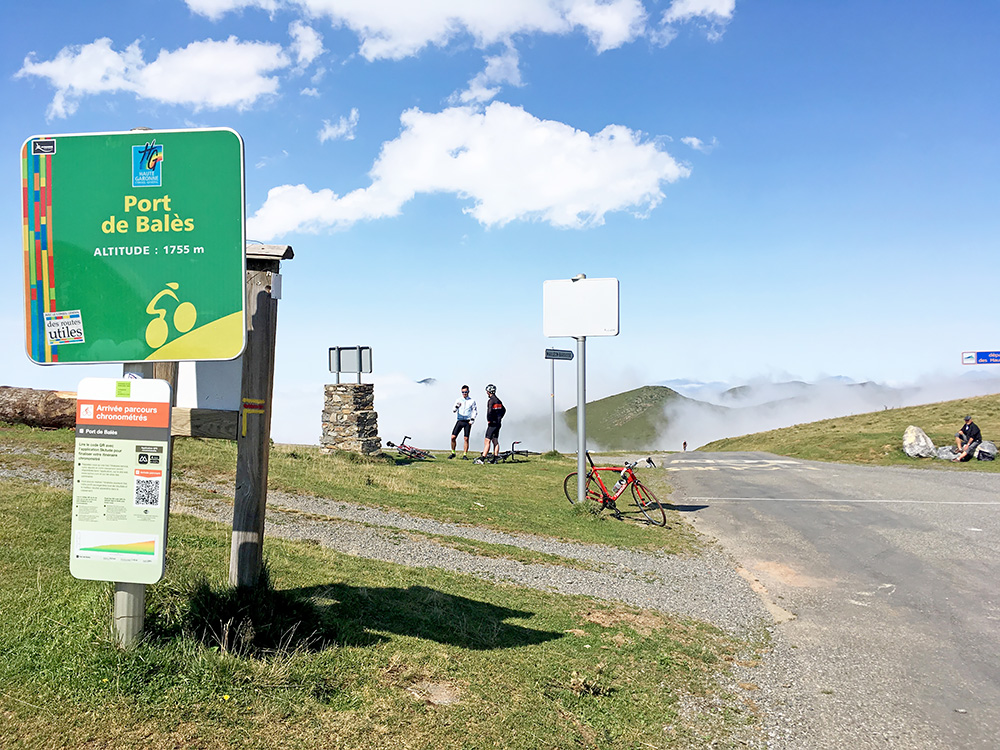 I filled up some water and then turned in on the road to Siradan (460m) and Mauléon-Barousse (570m). Up just before Cazarilh (605m) and the little descent to Mauléon-Barousse another cyclist caught up with me. I speeded up a little and we went down together to Mauléon-Barousse, where he asked me where to go for Port de Balès. I said we should go to the left, but turned out I was wrong and a sign also suggested so as the only road climbing was straight ahead. Another man just came down and said it was just right ahead too.
The man who caught up me said goodbye and went ahead in a speed I could not quite keep up with without getting very tired from start, so let him go disappear and thought maybe he was an ex-professional as he looked like a somewhat able cyclist and so seemed. I kept my own speed and took it somewhat easy. Eventually, and then I remembered, it got a lot steeper on a narrow road and I was feeling fine with that apart from it getting colder, but I had to expend some effort so no problem.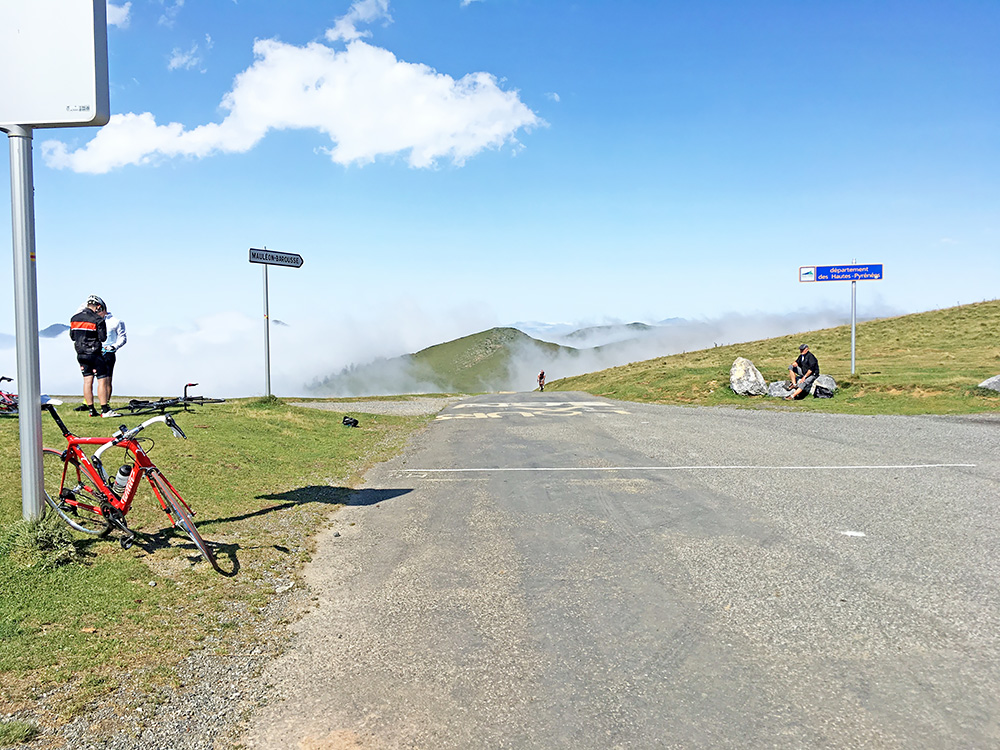 The fog was dense and at the end of the steep section (like 3 km of the last 5 km) I thought I saw a cyclist ahead of me. Cycled on for some more time and eventually catched up with the guy that turned out to be the Pinarello Dogma guy I could not keep up with. The steep part had made him very tired and he even stopped shortly after I passed him by. It is him coming up to the pass in the photo above and here.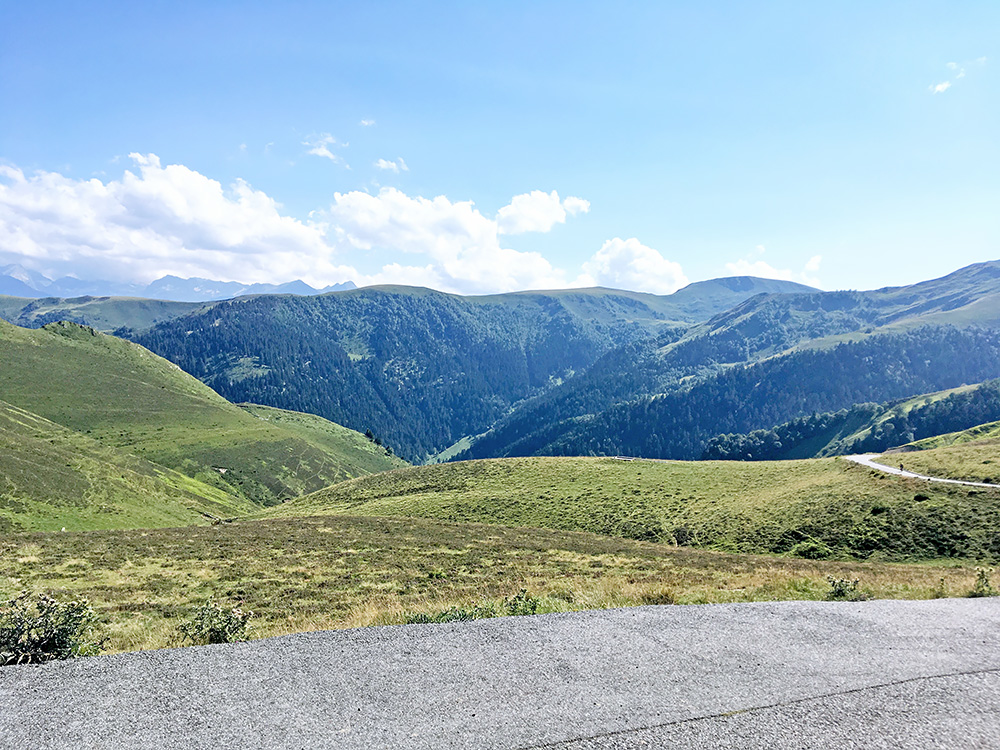 Here I look down the smooth and wider road down the north side that was not asphalted earlier on (there was not even a track here if one looks on the IGN from the 50's).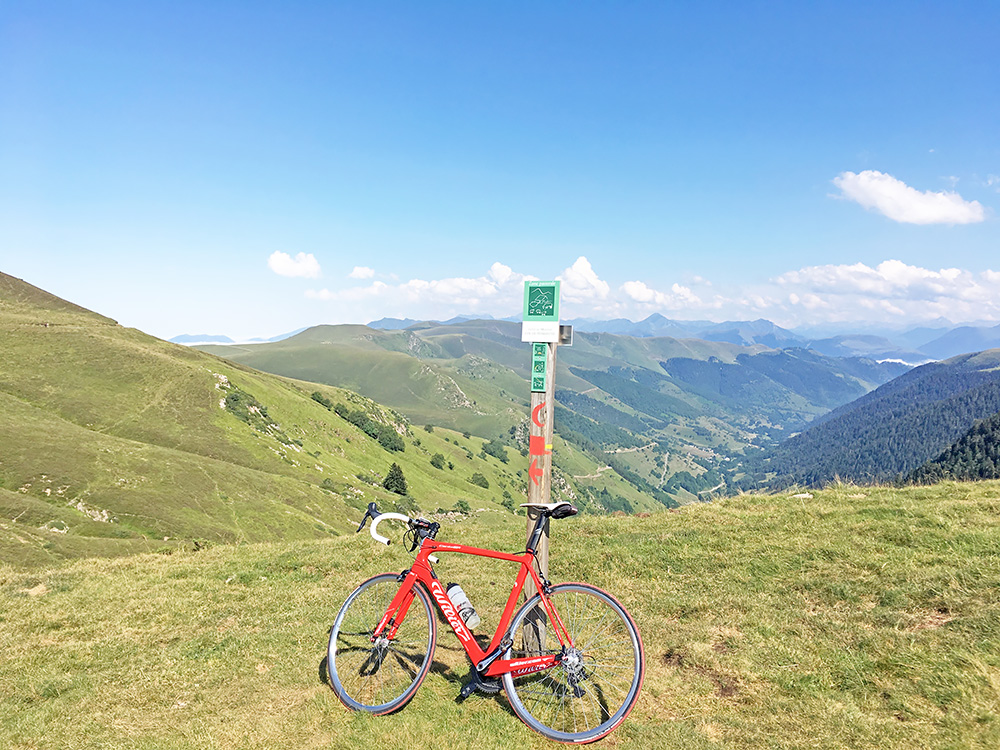 Now, with some hesitation as time was running away, I looked on the side road that goes to a nearby pass. It is blocked for cars, but no problem passing by on a bicycle. The main problem is that the surface of this once asphalted road now is very much half/half paved like the upper part of the road to Roc du Traucadou. After some deliberation I thought to go there as it should not be so long, but it was a bit longer than I remembered. It is a bit better toward the end though. Here I am at Port/Hourquette de Pierrefitte/Col de Peyrefitte (1855m) at last.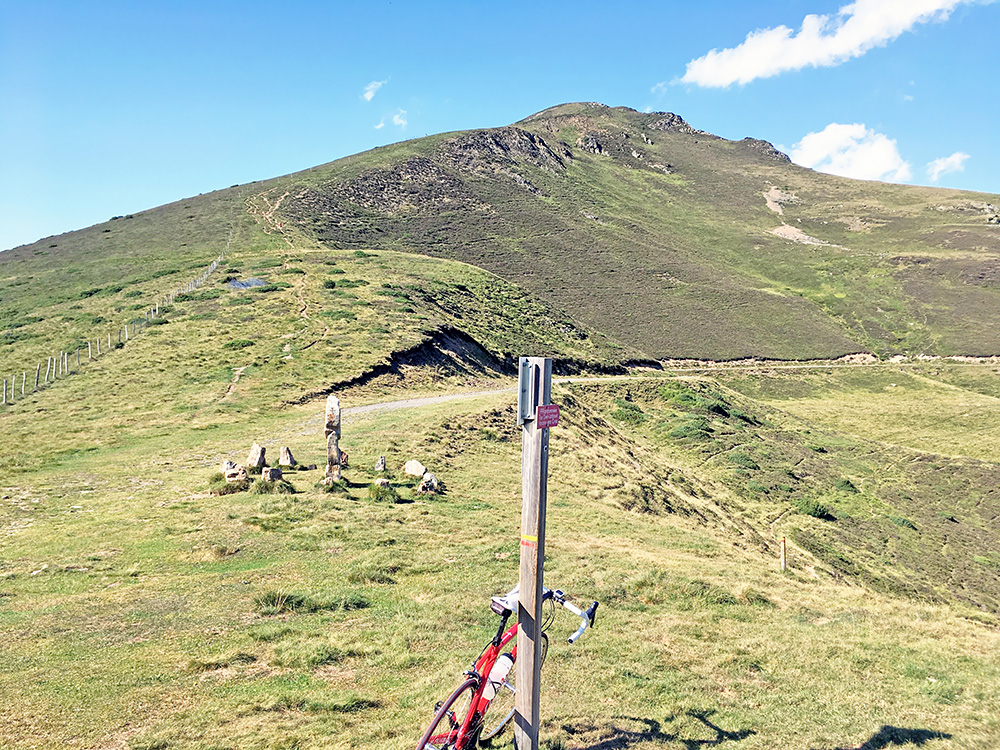 Even a runner passed me by that I could not keep up with on the bad road. He is running up the mountain here (but not easy to see here).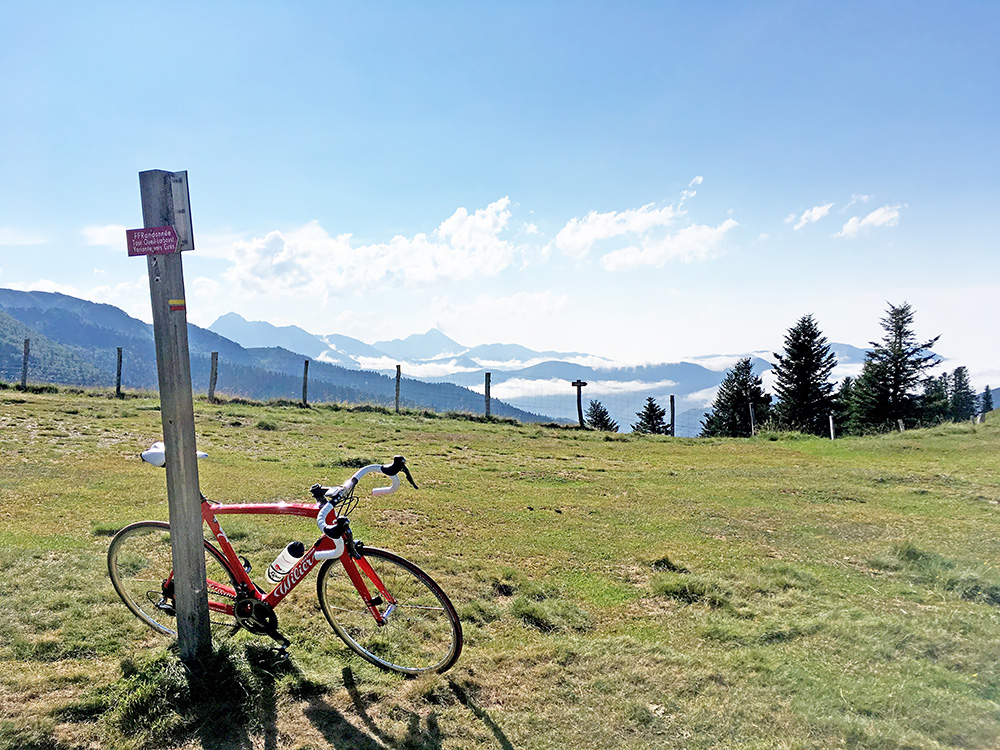 The view west from here was quite nice, but no road down there.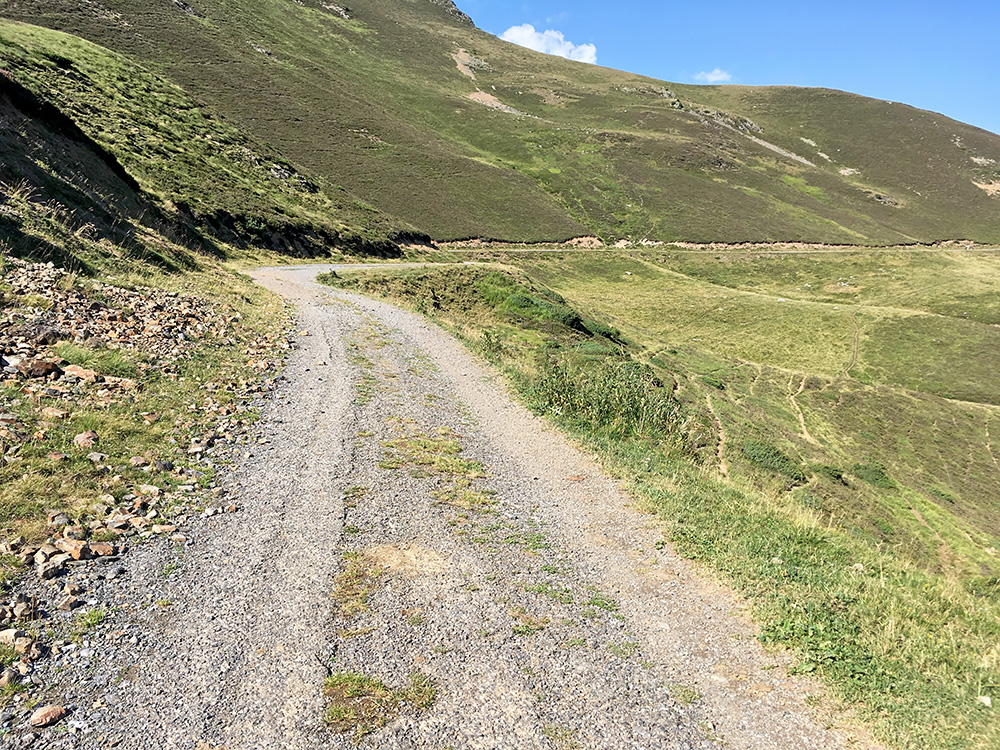 The good last part of the road does not look terribly much like a paved road, but is. The last kilometre is almost totally flat which helps.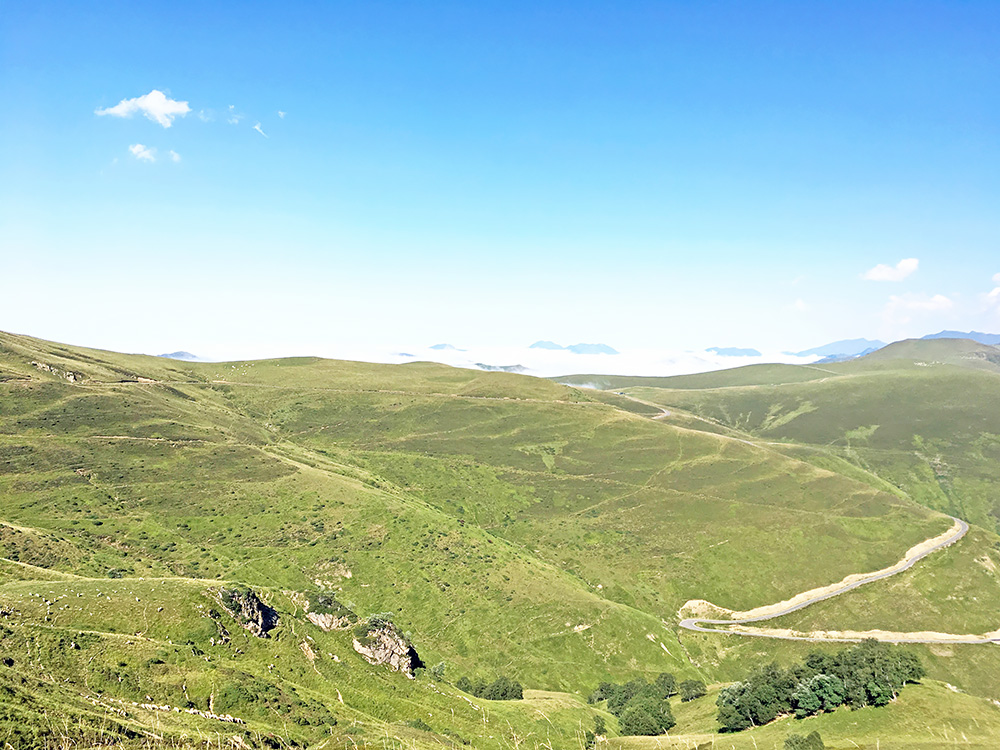 A last look back toward Port de Balès, which is not quite visible here, but almost, and the northern descent I was looking forward to.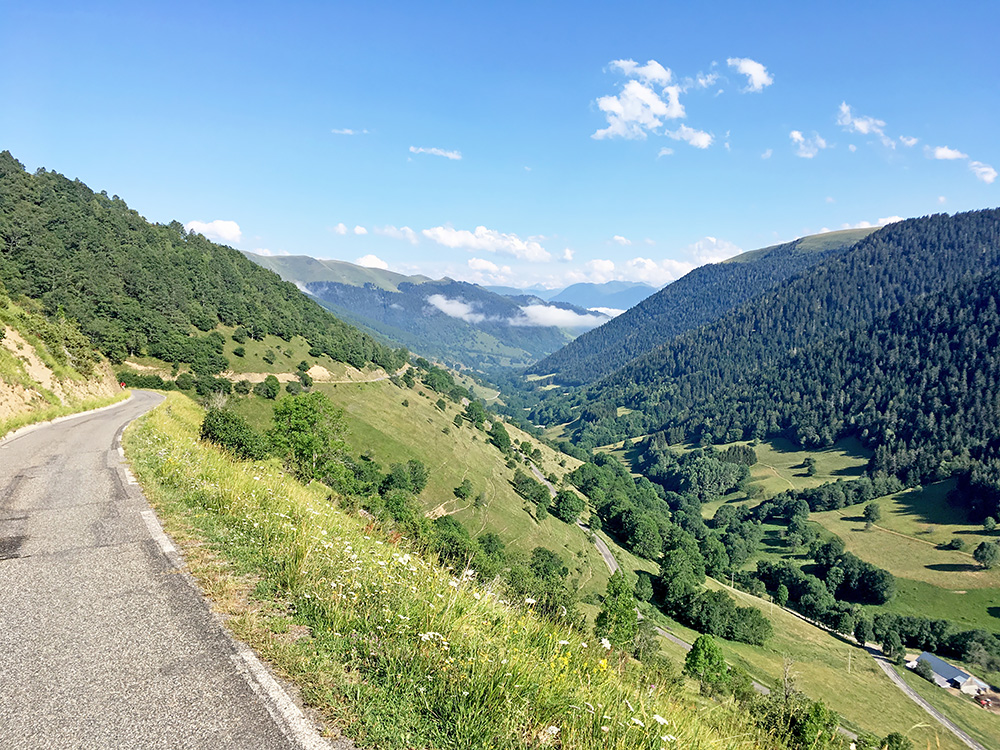 The road was very nice all the way down to the road coming up from Bagnères-de-Luchon. Here I stopped rather high up near Bourg-d'Oueil for a photo.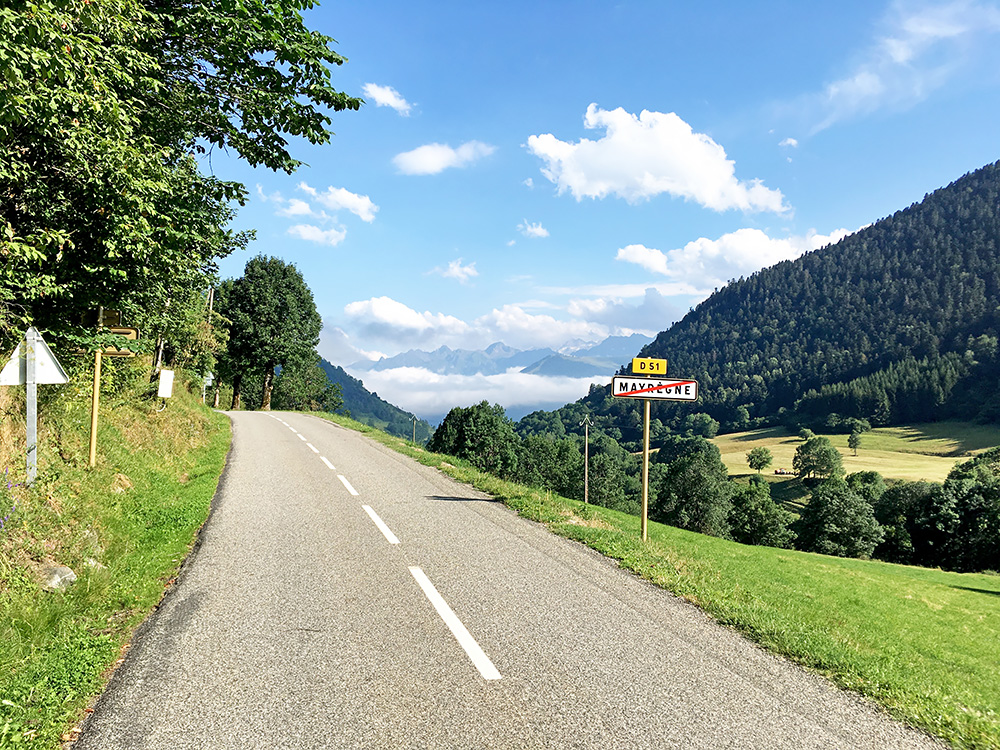 Here I am much further down at maybe the nicest section at Mayrègne.
Down at the junction (829m) with the road to Bagnères-de-Luchon and not far above, I followed the road west up to Col/Passage/Port de Peyresourde (1569m). There is only 200 height metres I gained from not starting the climb in Bagnères.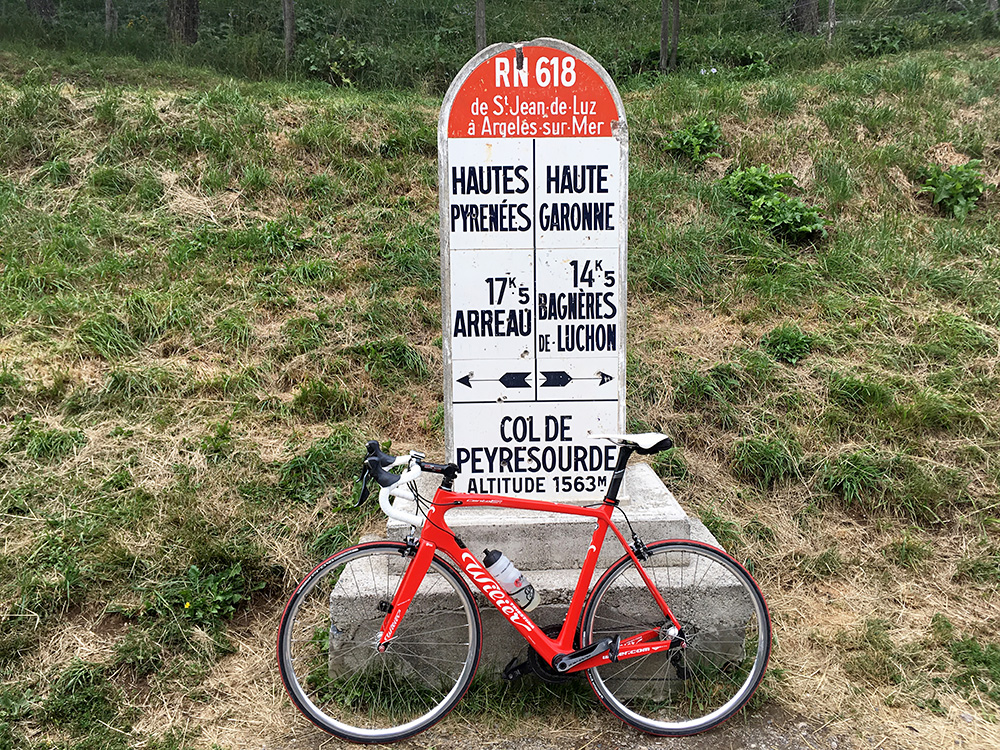 The climb up to Col de Peyresourde was harder than I had remembered (things get easier when memory fades).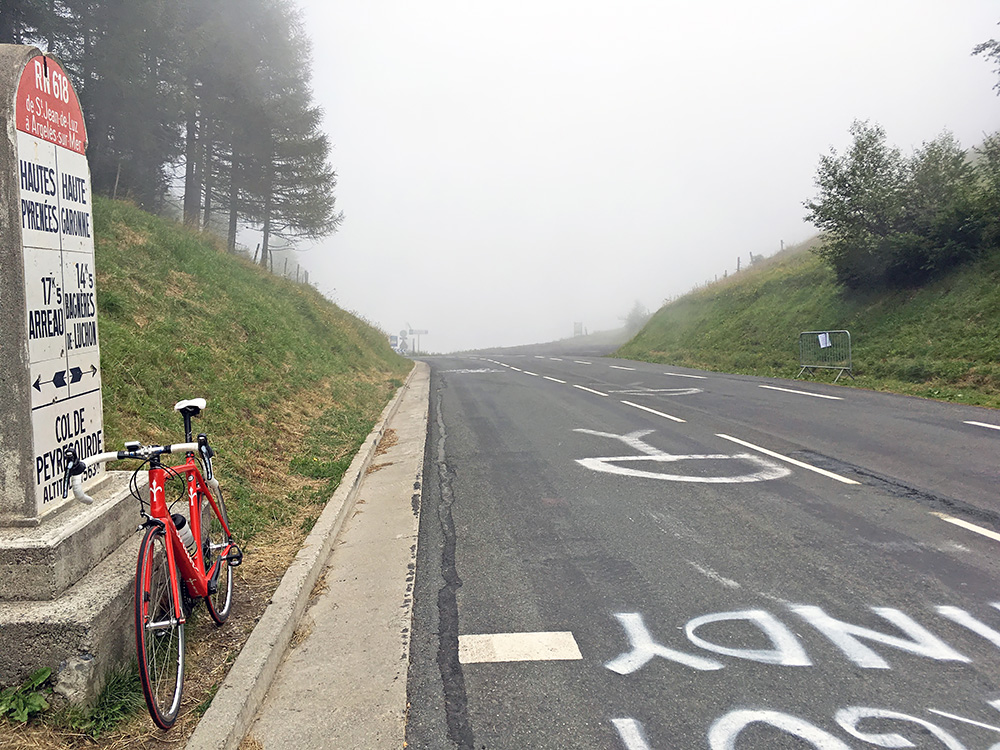 This is a nice and extremely popular climb in the area, so you can expect cyclists here nearly at all times and in all weather, today being no exception, but I was late and the weather got cloudy and grey as I came close to the pass.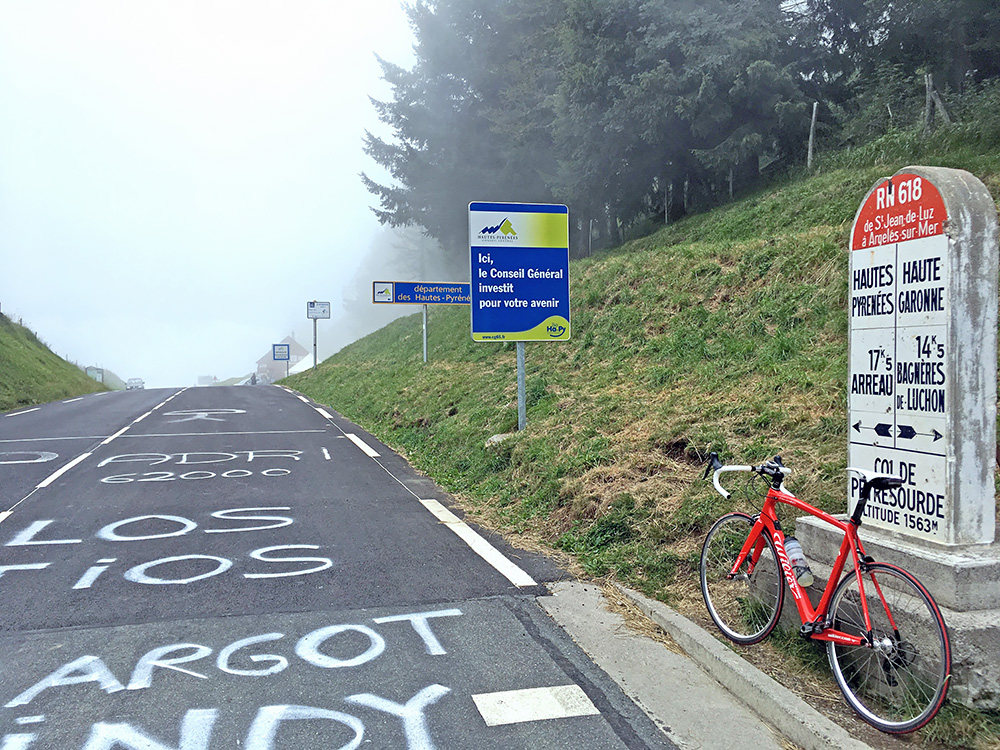 Similar views in both directions at the top (cloudy). I was very tired now and looked forward to stop somewhere soon for the night.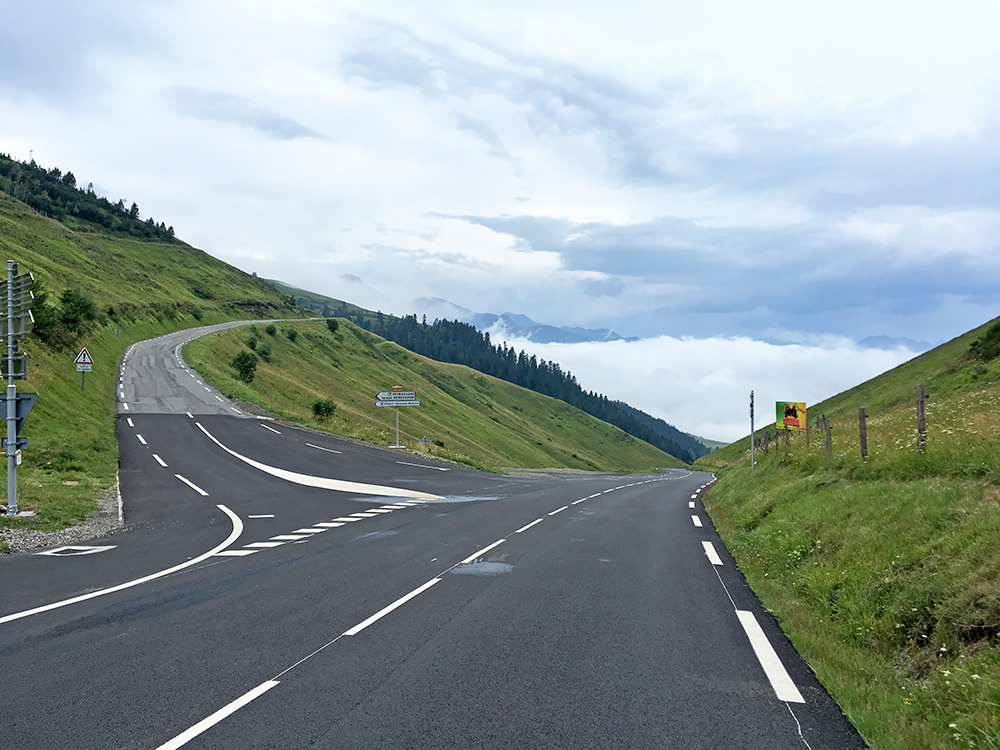 There are some side roads and the one in the photo here goes up to 1640m on the west side, but I was not in the mood for more climbing now and it is just a detour to the ski area. I went down to Génos with some ups and downs on the way there hoping to find a hotel, but the one I saw looked good, but was full. Still I stopped to ask and was directed down to Loudenvielle, which looked hopeful, but it is also a busy camping site. After much confusion I realised there was no beds available anywhere in Loudenvielle.
I went a bit desperate to the tourist information (of course closed when you need them), but there was some phone numbers there and the second one I tried a bit far away in Avajan was open and had rooms, so went down the valley to Avajan (900m). The auberge was a bit simple, but all fine and reasonable prices. Was happy things ended well and that I got there in time to have dinner. Was only a bit worried about the weather and a little sad I would now have to leave out climbing over Col d'Azet/Col de Val Louron (1580m), but have been at the nice before so no problem. Had thought to explore a gravel road pass nearby up there, but does not seem to be of much merit anyway, so for another time.