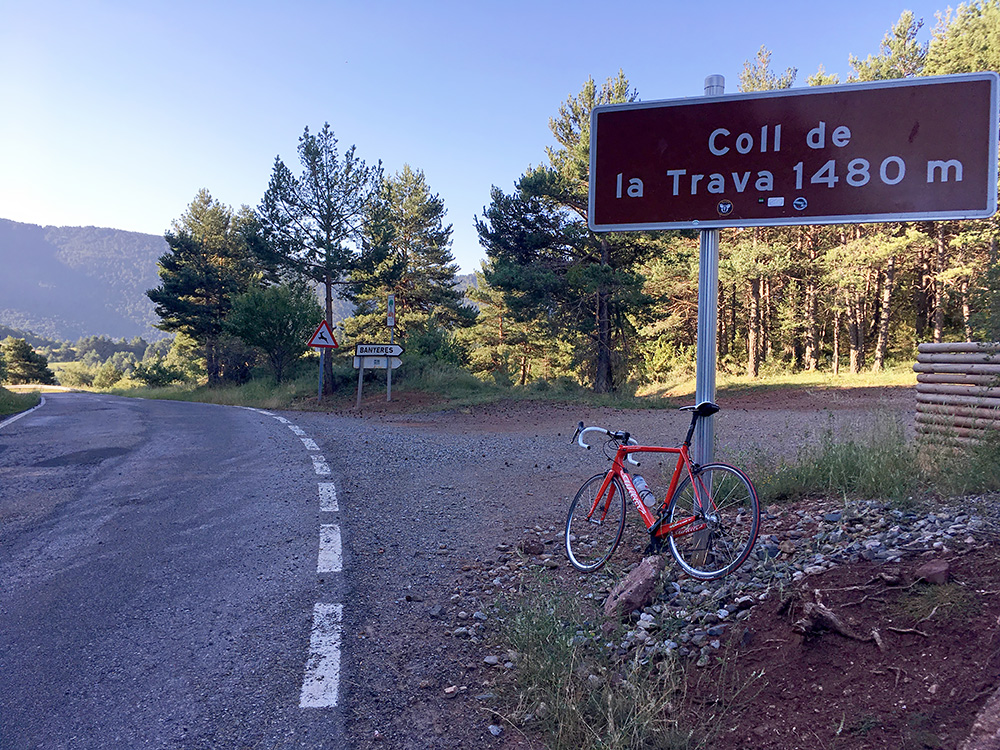 Believe it or not, but this day I went up before 07:00 am to get out and bicycle before breakfast! That is not really like me and I have never managed to become a morning person (which makes Spain ideal to cycle in), but it is rather nice to be able to be up really early and in this case it had the merit that the temperatures were close to perfect after 7 when I got going. It was in fact a bit chilly in the shadows at first (around 15-17°C).
For some reason I felt really good and went in a good speed to collect the two passes I should have visited the day before. Had to hurry a bit to get back in time for breakfast also. There were some ups and downs more than I had counted with though, so it took maybe 15 minutes longer than expected even if I went much faster than expected. It was very nice around Adraén especially. If it had been temperatures like this all day it would have been very nice living here, but this was not the case unfortunately (maybe during the autumn & spring).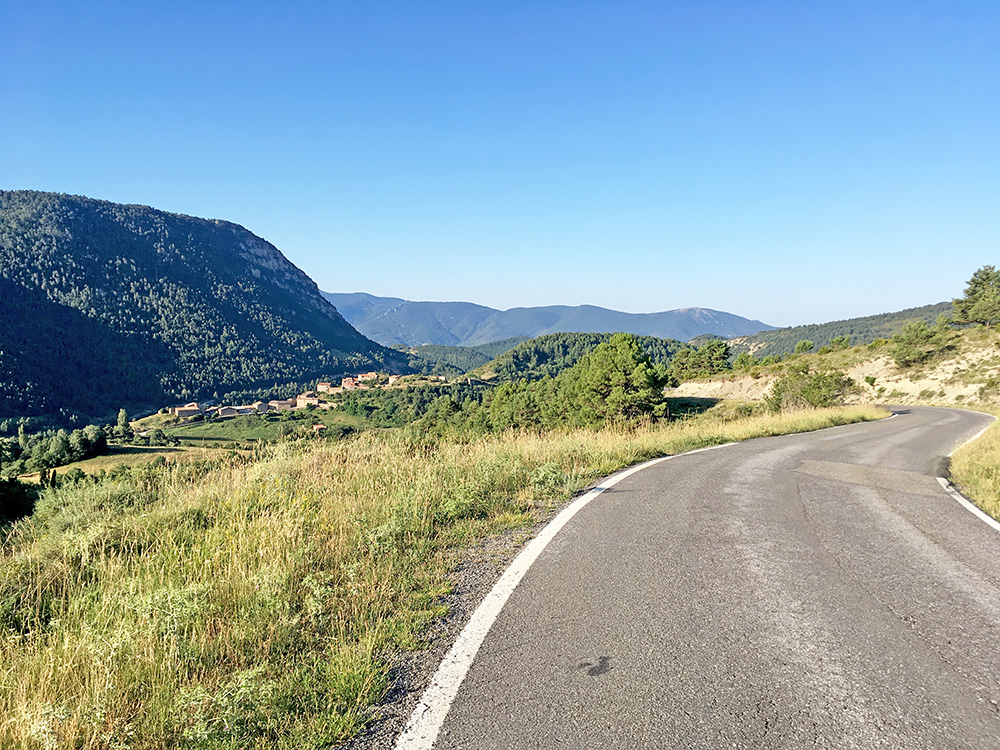 I had to turn around at the pass. The road goes to La Seu d'Urgell and the Andorra area, where I was going later, but I had more climbs to do first to the south.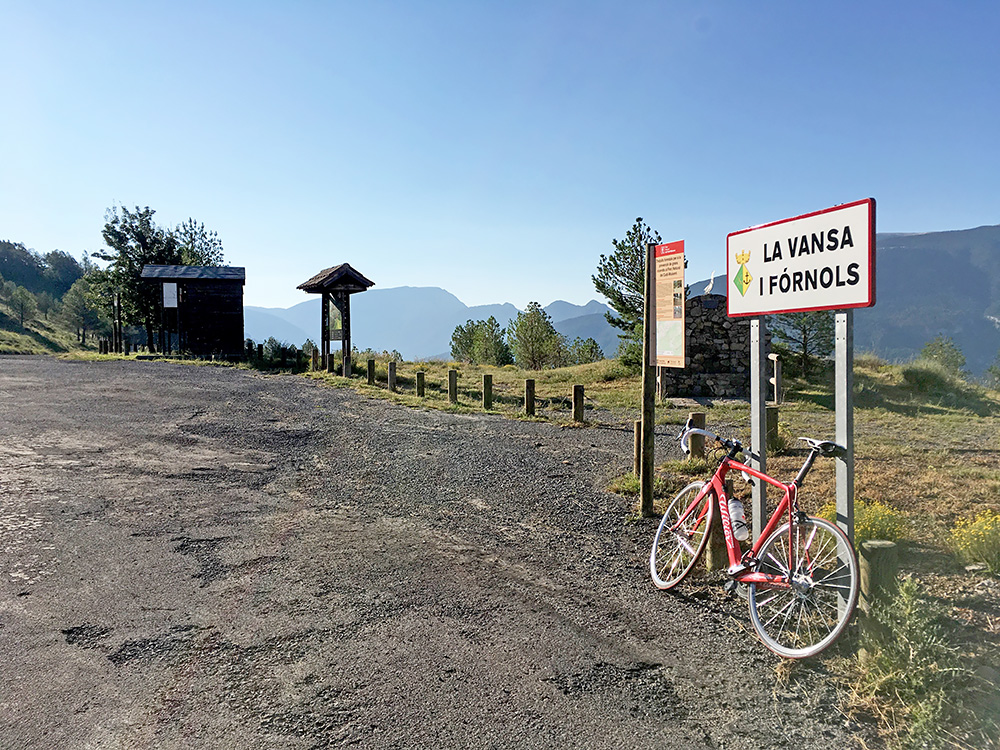 Here I am back again for a quick photo at Coll de Bancs (1384m) from where it is mostly downhill and then 2 km up to Tuixent/Tuixén again. There is a surfaced road going down here to meet a road continuing down the valley from Tuixent/Tuixén, which is called Vall de la Vansa lower down, but no road follows the valley further west. Instead this road then later climbs up again to Coll d'Arnat (1273m) and this is a road that has only very recently been paved. Unfortunately it is not paved from the pass to Montan de Tost, but if it had been it would have been a great alternative road in the area for road bikers as the road over Montan de Tost to above Organyà looks great (especially if one starts the climb from the west).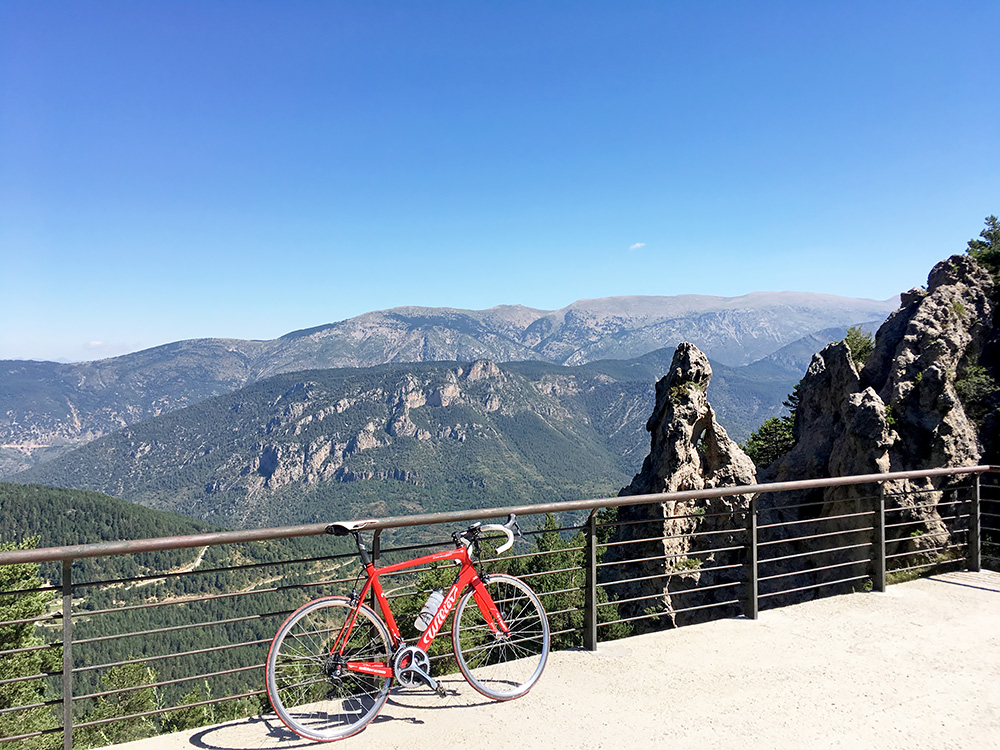 Back in Tuixent/Tuixén I had time for a nice breakfast and a little rest before taking off up the road to Coll de Port (1670m). Now it was starting to get very warm again, but luckily no problem on the way up even if it got warmer even though gaining altitude.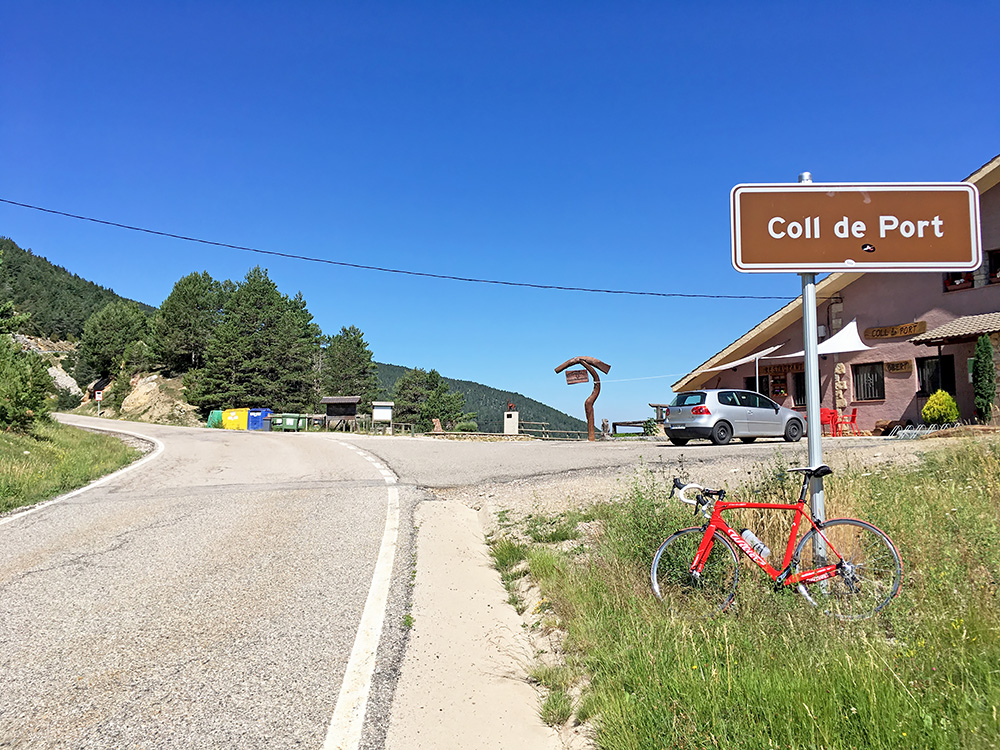 Just before the top of the pass I did meet a cyclist, but few were out cycling this day. There is a road going even higher to a little ski resort here at Refugi de l'Arp (1933m) (still not a 1000m climb up there, unless starting at the lowest point (873m) on the road in Vall de la Vansa). Starting down the south side in Sant Llorenç de Morunys at Pont de la Pedra (903m) would make it a more direct 1030m climb though! Another time.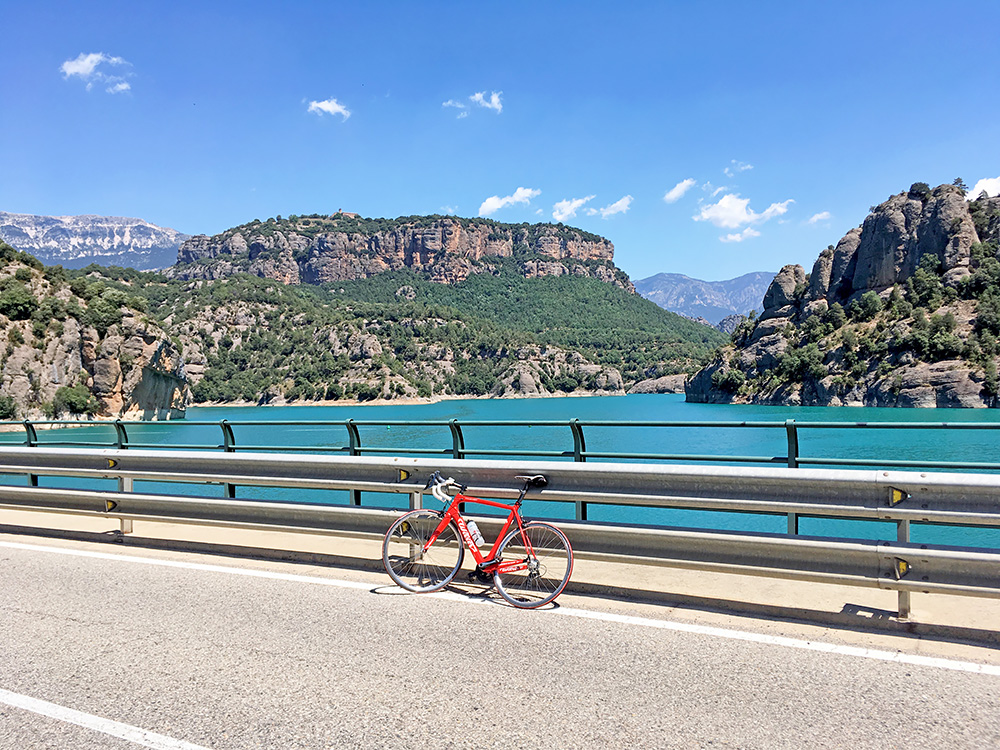 It was nice to descend to Sant Llorenç de Morunys, but it felt disheartening as I noticed just too well what heat that awaited me down there. Took a photo early on, but it is surprisingly boring woods only early on. I tried to find some water on the way. Later stopped in the village/town by a fruit/vegetables shop and had some fruit and something to drink before I continued down to the big dam, the Pantà de la Llosa del Cavall.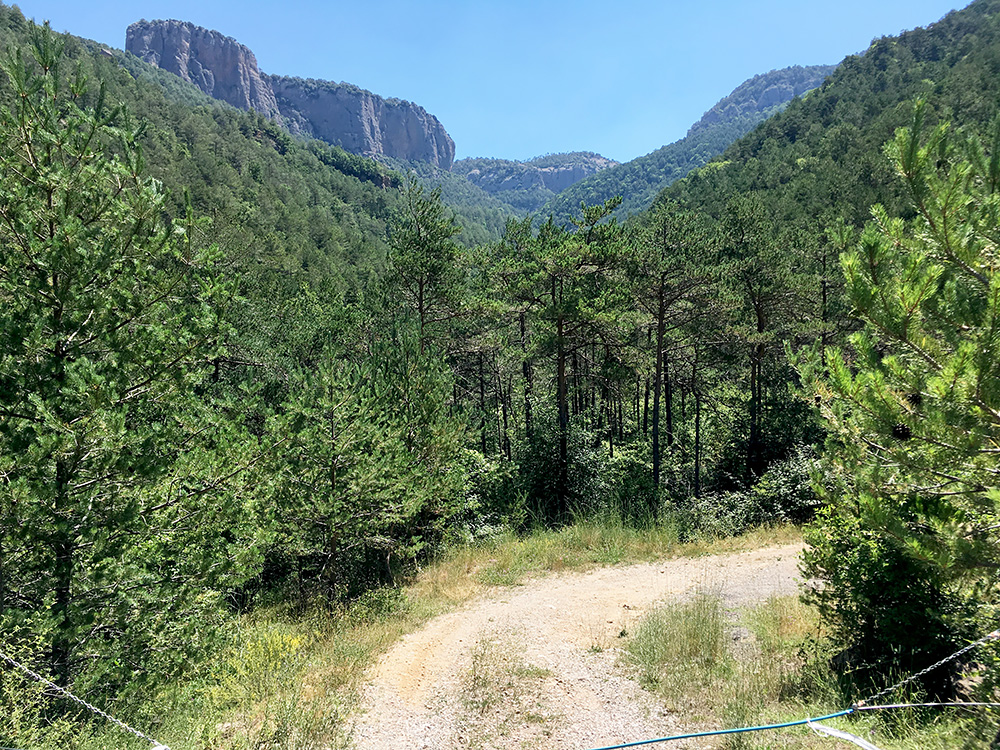 There is a minor pass along the dam called Collada de les Cases (867m) and just after it in the next curve below at 816m I took the photo here showing the entrance to a track (thought it was a proper gravel road before) that I had asked the tourist information about beforehand in Sant Llorenç de Morunys and they just dryly said it was not suitable for road bikes (there are mountain bike itineraries in the area, but a longer route up here is used that did not look any better to me and also being much longer). However when seeing the start of the road I decided it was obviously too bad for me, but that was also a bit saddening as the only other way up to the asphalted pass above that I wanted to visit was very far away on the nearly opposite side and would take a me a long time to get to the start of. This photo is the most hilarious to me of all this summer after what happened later … .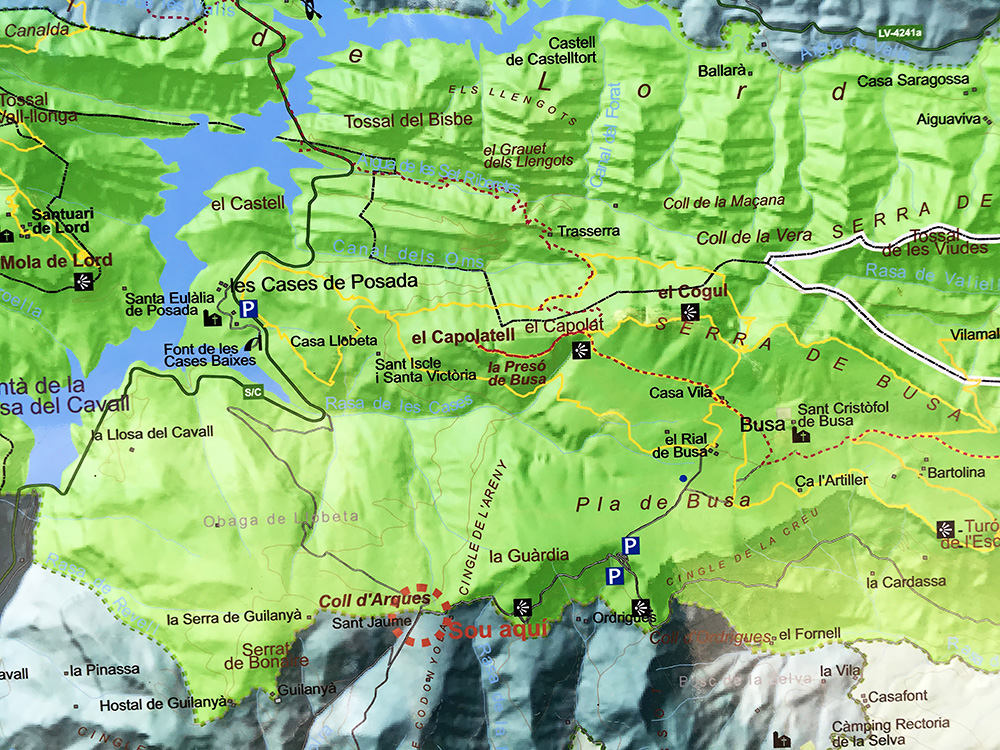 Reluctantly I continued down south from the dam and the temperature only increased and the mountains got lower and sights less interesting. You see the gravel track in the photo of the location sign that I snapped after eventually reaching the other end from the south. I took a little short-cut road at first on bad asphalt and then came out on the main road below the mountains going east to Berga from nearby Solsona (which is on the main road from Barcelona to Andorra). Down at 535m and now I registered a new record high temperature for me out cycling with 43°C (in the sun, as if it matters – it was above 40°C in the shadows too here).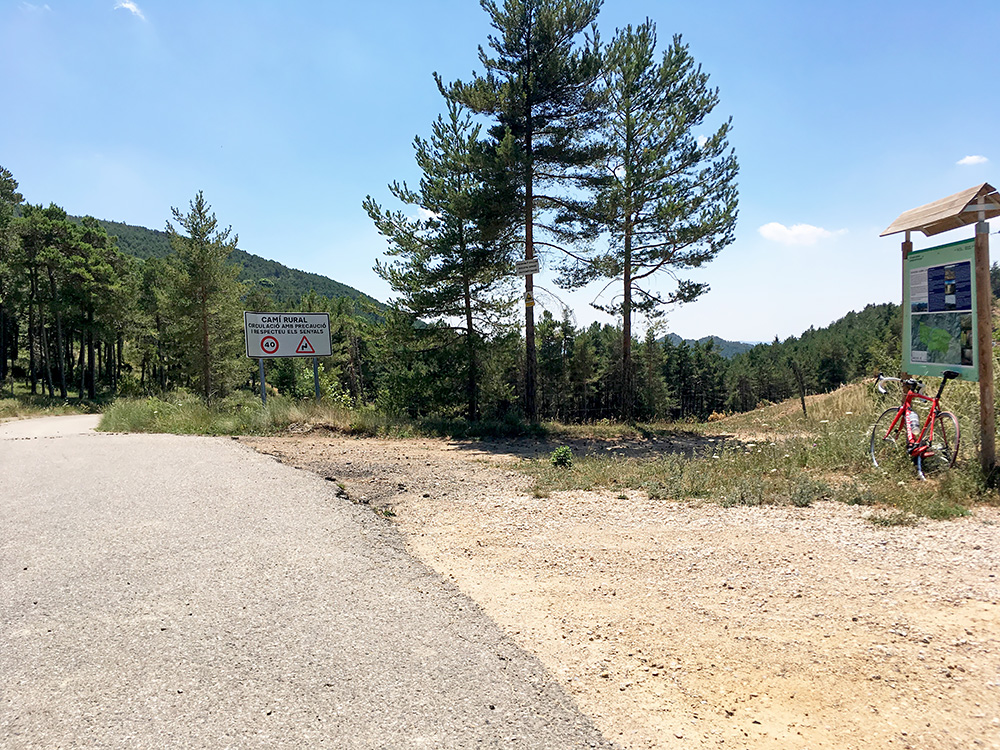 I looked at the temperature just as I turned off the main road at Pla de l'Àliga (621m) and now the next climb started in 43°C. I saw some cows standing trying to get some shade from trees that gave no shades and they looked like dying. I felt like dying, but had to steel myself and just make sure not to expend too much effort at any place so I could endure the climb and the hope was of course that it would be a little less hot higher up. A few cars came by and a local young lady made thumbs up (or something such) which just made me a bit more worried about what was to come. The photo here shows the poor views back down from the Coll d'Arques (1242m).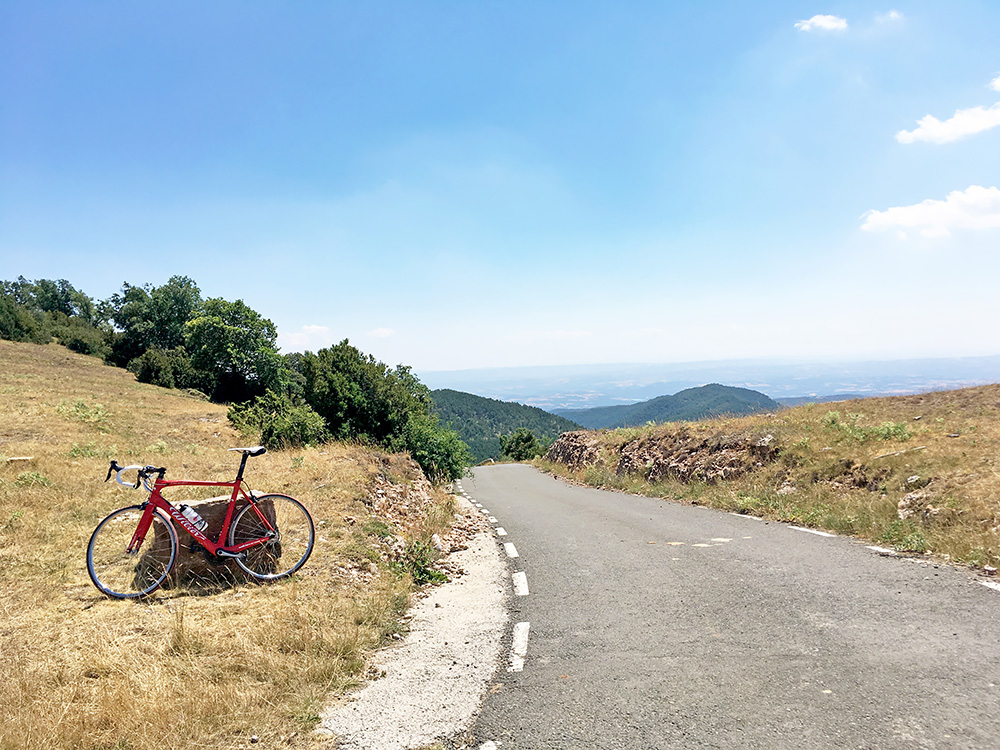 The road up here was nice and good at first, then it started to get steep. It then changed in quality, width, steepness etc. quite drastically all along the way. The scenery turned from dull to fabulous and it is very varying along the road much to my surprise. The road at one point had a speed limit of 10 km/h which could give you an idea of what to expect. There was drainage gullies, there was steep concrete sections at 20%, there was even a shorter gravel passage (only like 75m, but no obviousness that it will be paved). I had in vain tried to get an idea if it was indeed fully surface or not beforehand, but luckily it was more paved than I actually had expected, so it surely qualifies as a paved climb. This climb would be very hard in less hot weather and now it was just so I could make it up. It is indeed a very cool climb even if surely not looking so at the start, but I said to myself that you really have to hate the one you recommend this climb to. I doubt there is a harder climb anywhere in the Pyrenees, but I could be exaggerating because of the hot weather. Here is a profile of the climb.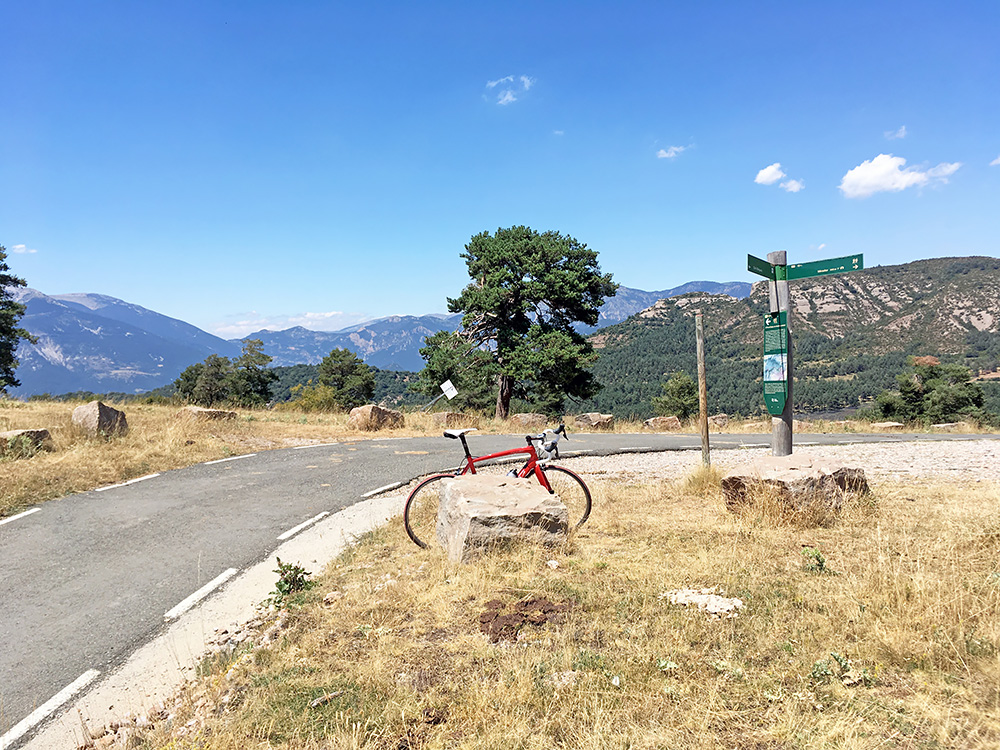 This road is not for Coll d'Arques, but for Busa as the sign says on the main road. I had noticed that the high point to Busa was having a pass name locally at least Coll de la Creu or Creu de Busa as the map says and it was over 1300m at 1372m, so therefore I had to go there. The road winds its way oddly from the Arques pass and eventually at a fork one climbs steeply up a last section to the pass in question and the plateau of Busa where the road ends. At the fork below one could in a short while on a surfaced road also reach the Coll d'Ordrigues (1261m), which I normally would go and claim, but was too exhausted to think much of it and it being below 1300m made for a good excuse forgetting about it. The surface ends at that pass, but the gravel road ahead might be fine and will become paved again down the next valley (that road might be surfaced some years ahead too as it seems this road had only been surfaced some years ago).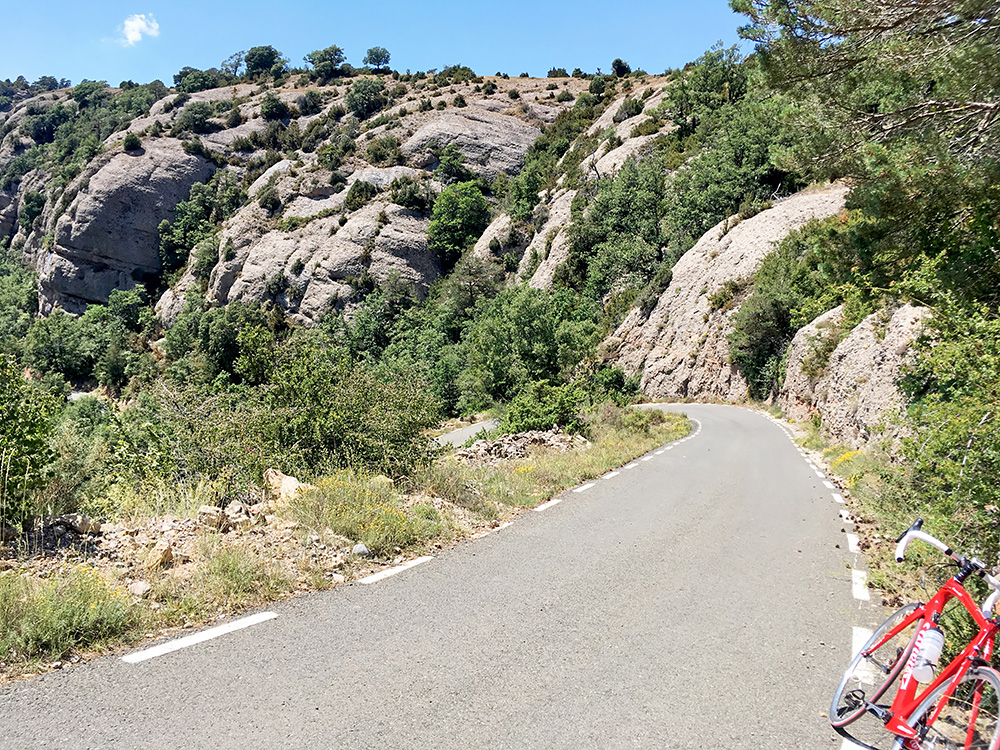 Above is the view north from the pass and here is the last steep serpentine up the pass on the very nice road (here). I noticed at the pass that I felt a bit affected by the heat, but luckily I made it and now just wanted to go down safely. However, I felt really bad about thinking to go back the same road which would be almost as hard in this direction and then a long climb up in the heat on the big road to the dam. So When I got back down to the Arques pass, I decided that it made more sense walking down the track here than cycling around and it would likely be faster even if I had to walk all the way. I took off my bicycle shoes and put on my lightweight Nike shoes (do not think they make as good ones any longer).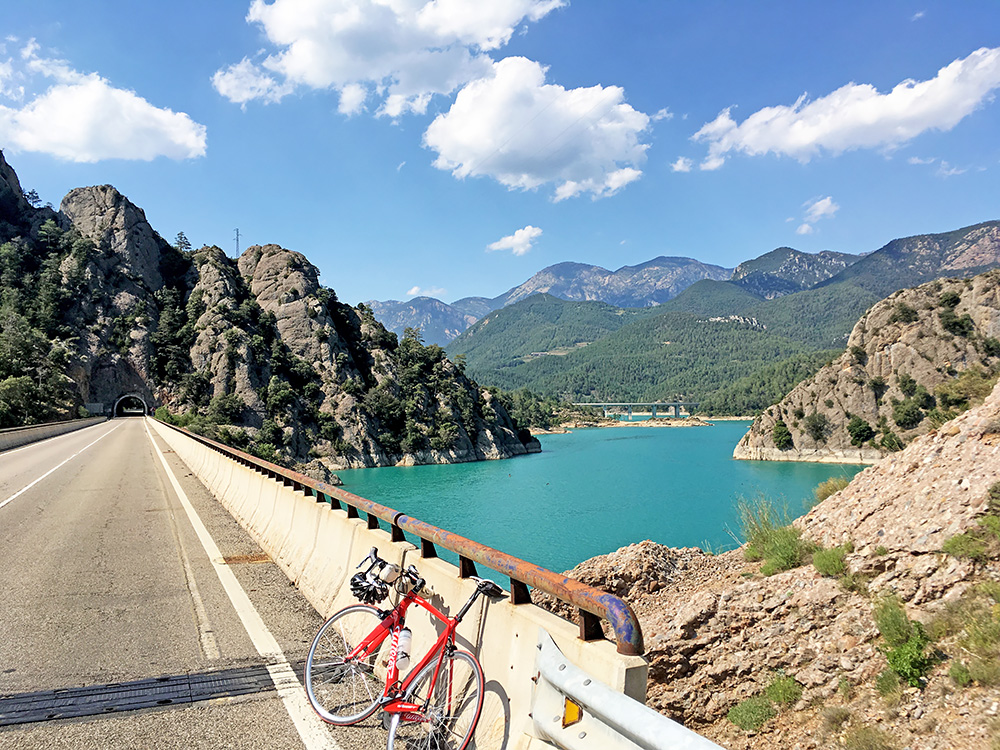 I felt relaxed and thought it would be a nice walk down the mountain. The road was almost possible to use with a road bike in parts very early on, but soon it got really bad. It also got very steep. I looked at the temperature and here among the trees at around 1200m it was still 40°C. I bent down to remove some stuff getting stuck on my socks and got all dizzy as I raised myself up. From there on I was dizzy most of the way down and had to be very careful not to pass out or fall or even bend down. It was tough going and never had thought it could have been so tiring walking down. Could not have any accident up here as there would likely be no one coming by on this track this day. The track is so bad that you would have to be an expert 4-wheel driver to have a chance to navigate it. It was apparently sketchily built by people putting up the electricity cables over the mountain here.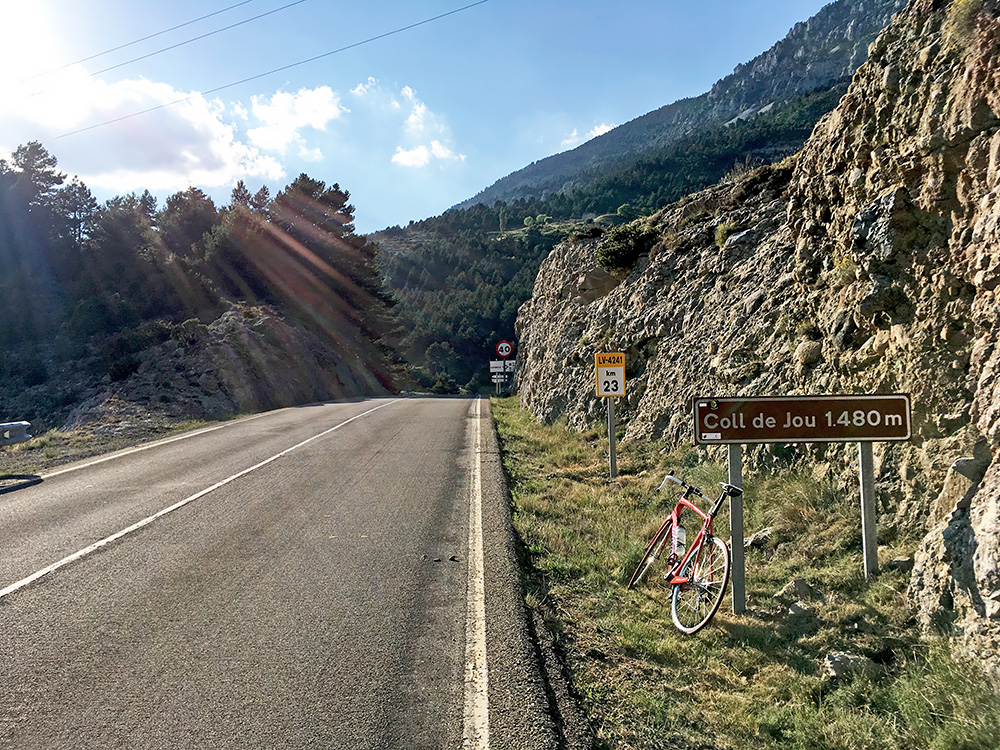 An hour later or so I was down by the road where I took the photo above and I was totally exhausted. I could not for the life of me put on my bicycle shoes again and instead got on the bike and started to slowly, slowly go back up to Sant Llorenç de Morunys. Above you see my bicycle shoes well fastened to the handle bar (in a smart way I think). Just here I saw the only other cyclists today coming down the road looking a bit confused seeing me cycle in the Nike shoes. I was happy he did not stop to ask about why as I was too tired to tell the story.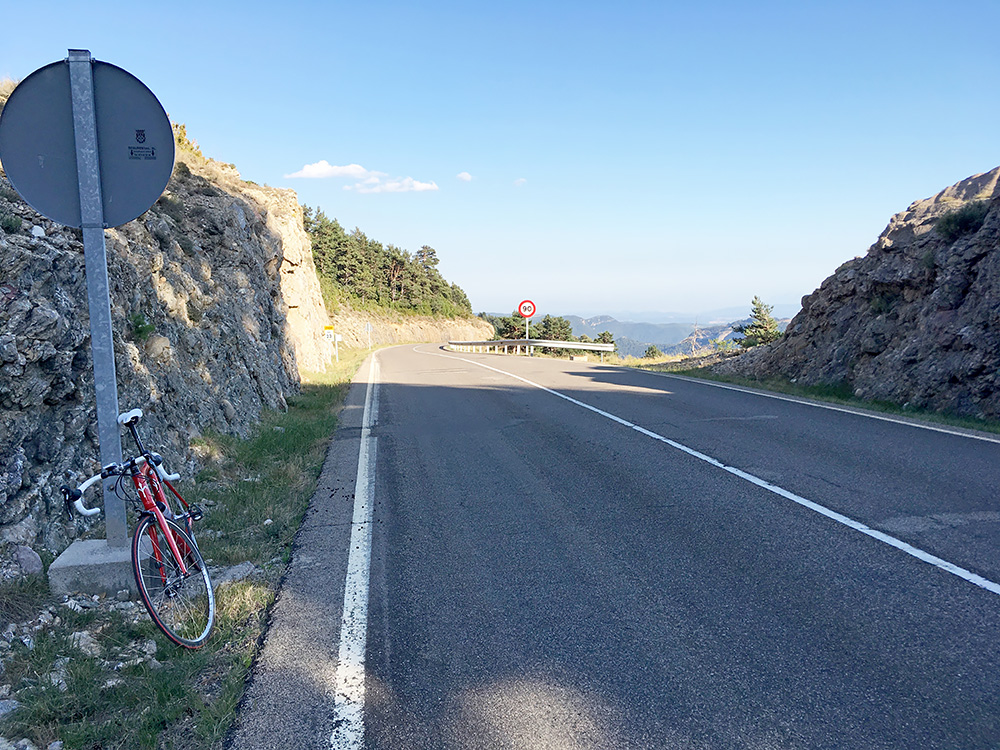 I got back to the village and now found a grocery that I had been looking for before and bought an ice cream and a lot to drink. After that I went into a bar to have a small beer and visit the toilet. I think I was drinking at least 3 litres and that was what I needed. Temperatures started to go down a little now and I started to feel fine again, so got on my way up to Coll de Jou (1465m) and was at last going west again. It was not a fast climb, but it was also not so difficult. At the top the weather was perfect and the temperature too. Here looking south at the pass that is actually located on the south going road near the crossroads up here.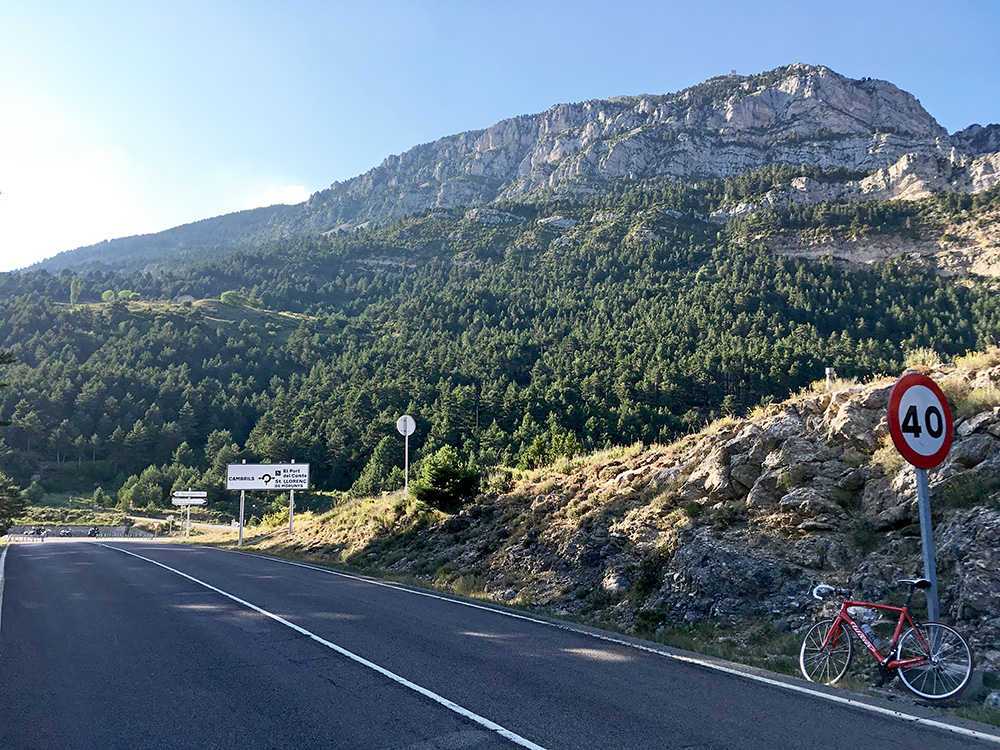 A view from the pass over the area where one arrives on the road going east-west. Now there is also a road going up the mountain there. It is a very small one that starts with concrete pavement. That road promised to be mostly paved and goes much higher than the Coll de Jou road. Unfortunately the concrete soon was filled with debris and cycling in the water canal by the side was best at one section and when the steepness ends the road turns to gravel a bit earlier than I had expected. The gravel also lasted a bit longer than I had hoped for, but it was mostly a good enough gravel road for a road bike (similar to the day before, which made me a bit tired).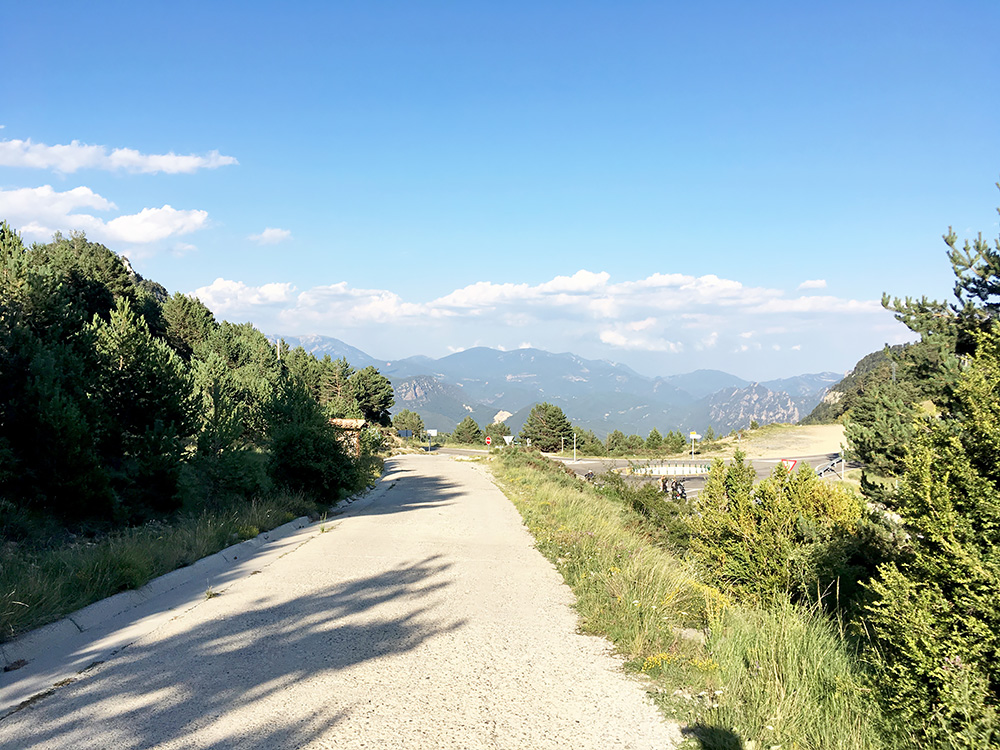 Here you see the first nice part of the concrete road overlooking the Coll de Jou in the direction of where I came up from Sant Llorenç de Morunys. From Coll de Jou or instead of going up to Col de Port from Sant Llorenç de Morunys, one could climb up another high road to another ski station – El Porte del Comte (1935m) and a gravel road goes up to Coll de Tancalaporta (2115m) that I had originally in my plans hoped to explore, but had to strike out this day). That gravel road goes down to the top of the road I was now climbing from Coll de Jou. Not sure the Tancalaporta pass road would have been possible with a road bike though, but know mountain bikers use it.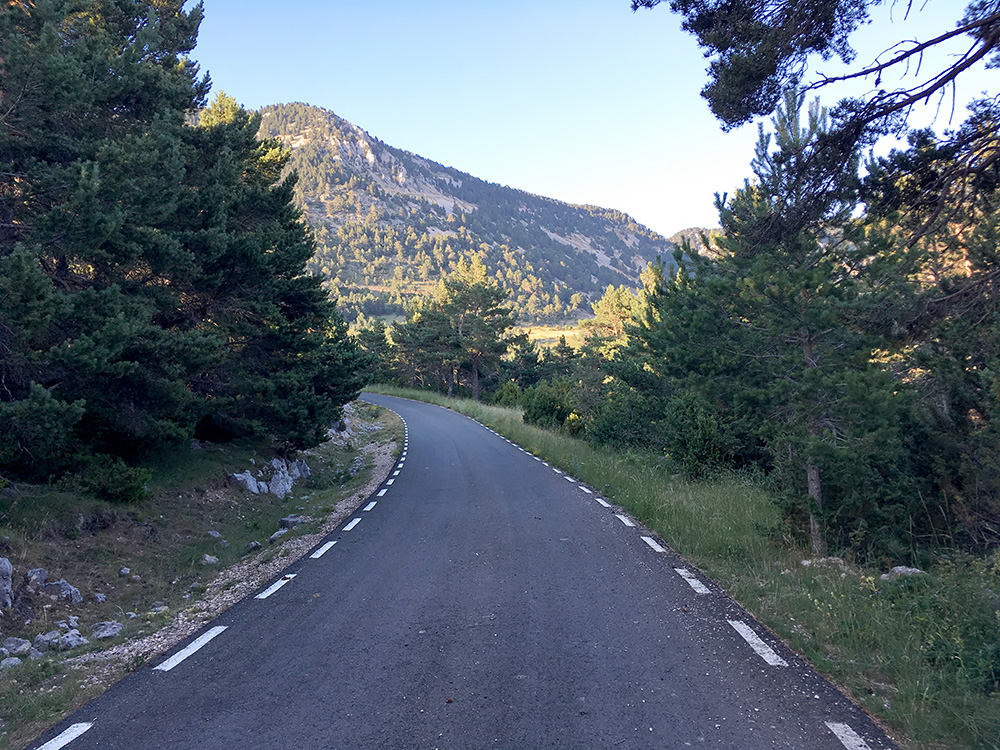 Eventually I came up to where the asphalt started, which is a bit odd to meet high up after a long climb on gravel. The asphalt was very nice and now I thought it would stay like this over the unnamed pass up here, that I name after the lower pass on the same ridge, the Collada de la Mata (1761m) (this pass could be seen as the road version of the same pass, but it is not quite the same). Photo here is from looking back at the pass height. With that asphalt there could be no doubt of this being an asphalted pass, right? Well, after going down the supposedly all surfaced side, I am not sure I could claim it to be a surfaced pass – it is a borderline case.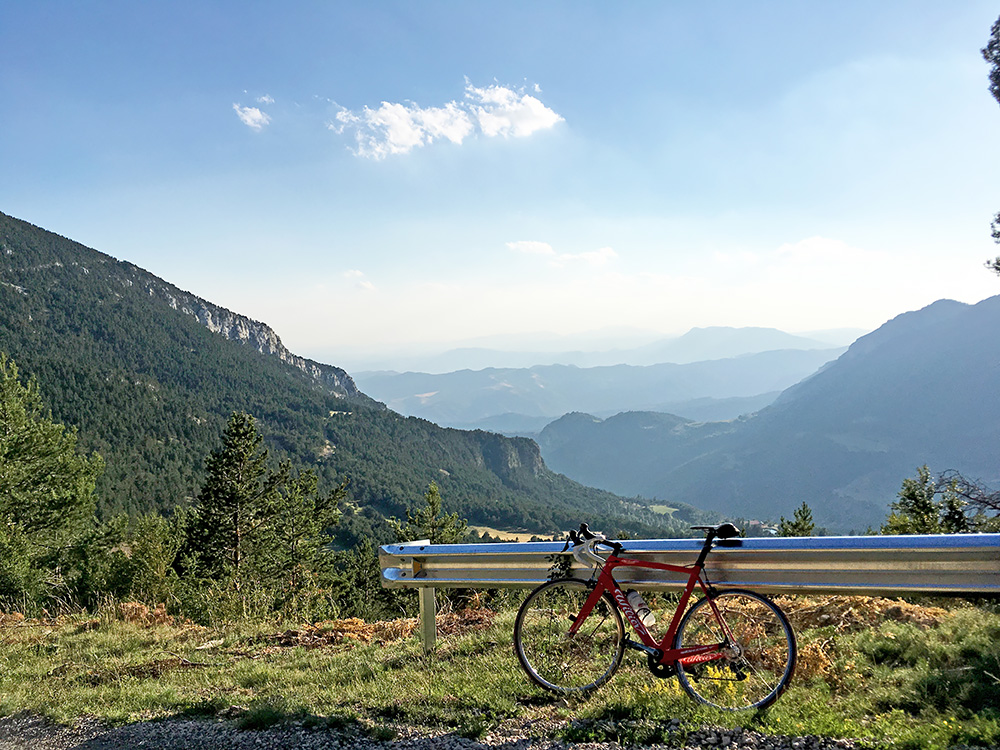 At least I was greeted with a lovely view on the west side of the pass taken near the highest point at the top of the last ramp up from where the walking pass takes off, but the asphalt up there was so damaged I could not cycle all of it down even. Then I could cycle down, but the asphalted road was damaged almost all the way down, so it was not a fast ride. It was a very awkward and tiresome descent on a seemingly all paved road, but as it is in Spain, either it is perfect or severely bad. It was a little better lower down, but even there the worst of French roads would have been better, so a "paved" pass road without a proper name at the actual pass (not sure what to make of it).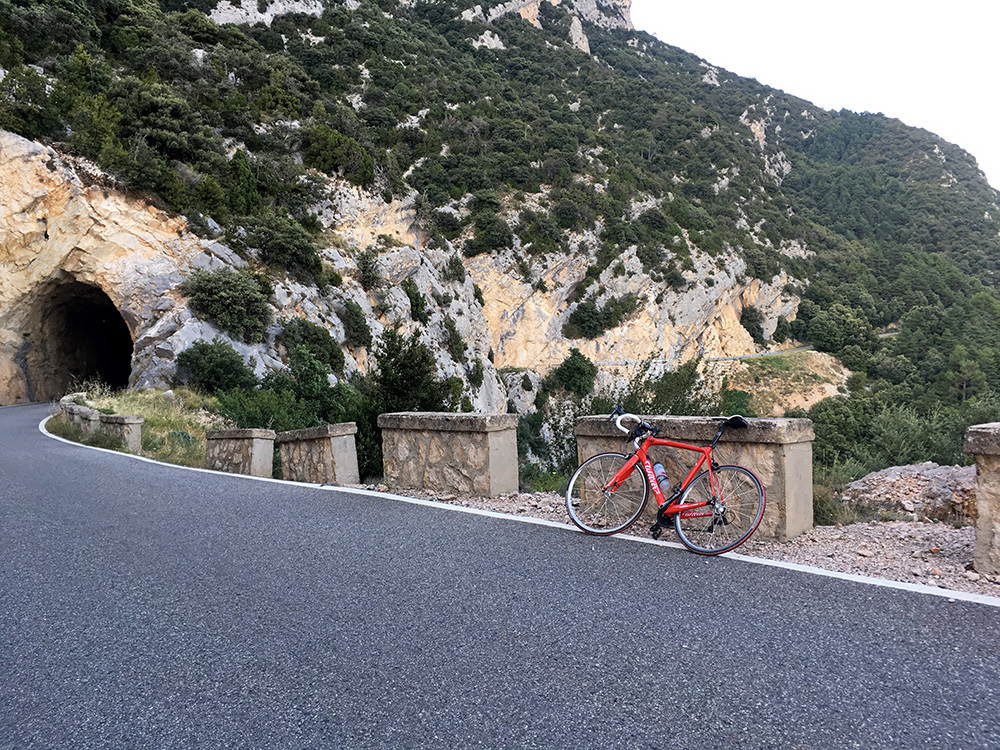 I felt very relaxed when I at last got down on the Coll de Jou road and continued west in the late evening and now the road and the temperature was perfect and it is also a very nice and scenic road that could be much recommended, but without my detour. Here a nice tunnel along the road to Cambrils.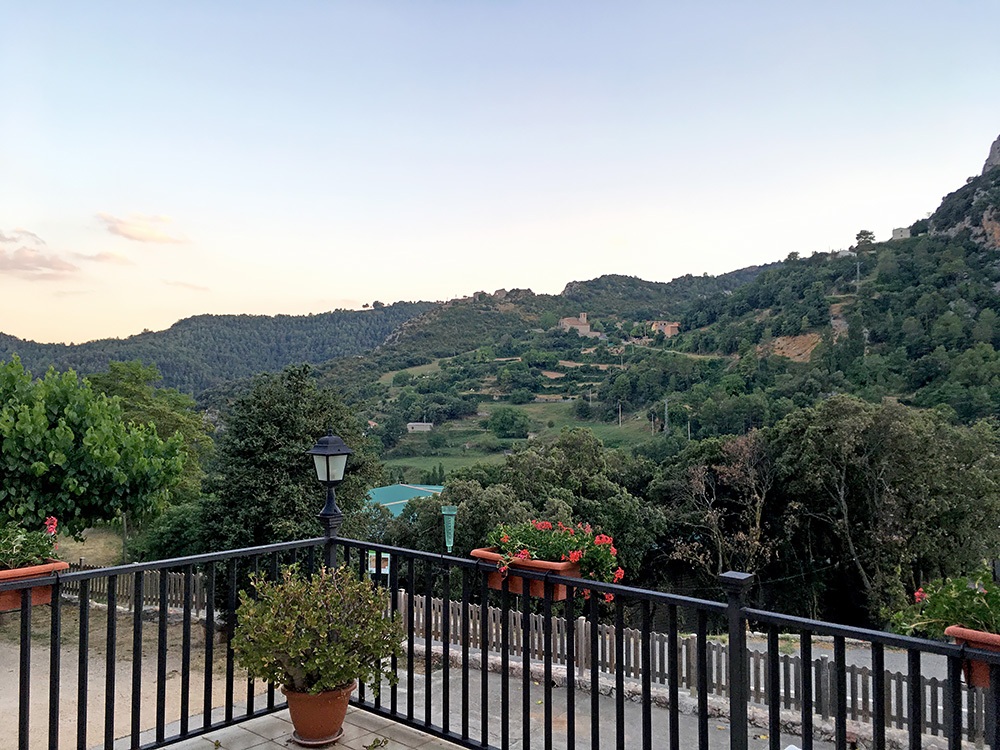 At Cambrils I was ready to find a place to stop at for the night and the first best place there was a hotel and they got room for me. The Fonda Casanova was also a hotel I can much recommend! They did not understand any English, but somehow we got things right and think a younger person helped out with translating something about the dinner or the stay. Very affordable, clean rooms, good dinner and a nice area.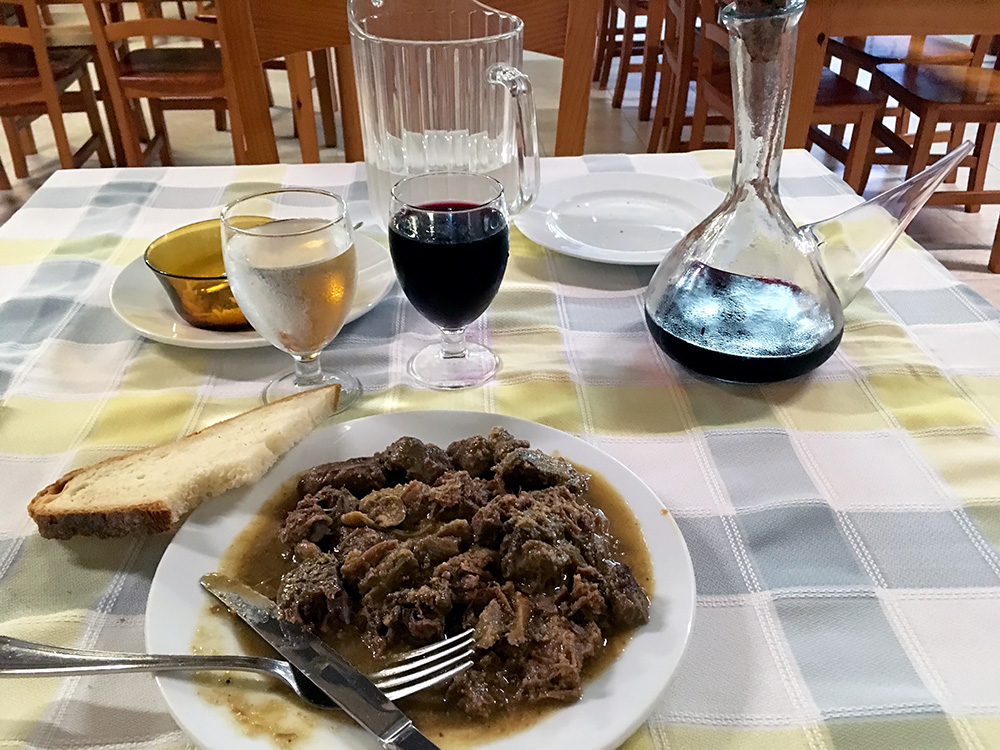 I did not dare to continue ahead if I had not found any more place nearby and I would never have wanted to go down the mountain to sleep as it would be too hot and hard to sleep there. The dinner (meat stew) did not look so good, but it tasted great!