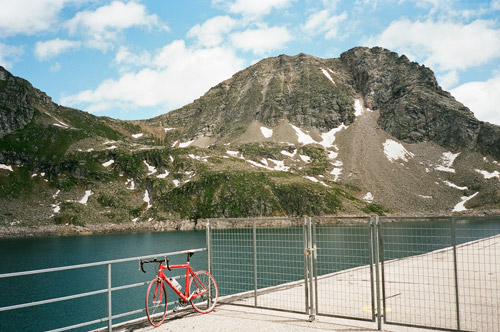 Now I was back in the really high mountains again – it is almost always nicer to go bicycling with really mountains around. This day was going to be one of the hardest of my life and I expected it to be so and was thus prepared mentally as far as I could. Today I was going to push my limits and score a new climbing record for myself. I was lucky with really good weather this day! I started on my way west toward the Grossglockner road, and was worried about how slow I proceeded at first (the road climbs slightly).
At Ausserfragant (692m) I stopped even though I was not yet hungry in order to fill up with more energy – coke, yoghurt and ice cream. This is the start for the climb up two of the toughest mountain roads anywhere. Few knows that it can take you anywhere else than up the Mölltaler Gletscherstrasse (2378m). I had read that the start for the other climb up to Grosse Oschenikensee (2394m) takes off at the Hotel Badmeister (also a restaurant). But I managed to pass by the restaurant without seeing any obvious road taking off right for the Oschenikensee and went up to the nearby lift station where the passage by cars up the Mölltaler Gletscherstrasse is blocked with a bar across the road. Here I understood that I must have missed the turn-off. It is a very anonymous road without any sign, apart from one suggesting it is a private road. It starts some hundred metres before the Hotel Badmeister, just where you reach the flat section. The climb up here was at first steep, but then it was even descending a bit and then up again.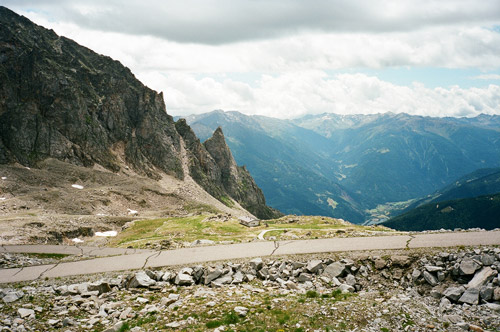 The road up to Grosse Oschenikensee (2394m) from above Innerfragant (1040m) is difficult, but asphalted. You will have around 10 km with an average of ca. 13%. It is for the most part a climb without many resting places. There is a short section that is fairly flat. The problem at first in the woods is all the debris on the road and the road is perhaps steepest here. When you arrive at a bar across the road stopping further access by a car, the road goes out of the woods and you will have nice views along the rest of the climb. Up here there are some running water on the side of the road where you could fill your water bottle too. The road actually continues all the way up on the impressive dam, where they warn you that you are absolutely not allowed to go up, as if anyone was there stopping you ;-), but the final ascent up the dam looks a bit frightening.
You can see the height of the road on the inside wall of the dam when you are there (maybe it is actually 2395m). Continuations from the dam is only for walkers (possibly). I was tired and thought it was a bit senseles to climb the last part of the dam, but it was nice and I could recommend it. I did not think the climb was quite as hard as I had expected though, but maybe that was all part of me being prepared for more climbing this day.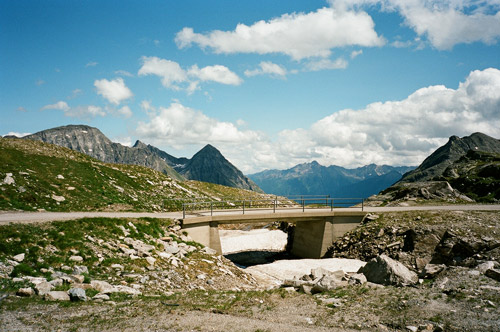 Going fast down the Grosse Oschenikensee road is like trying to descend quicker with a parachute by cutting holes in it – not recommended! Having a race up and down this road would be about as dangerous as anything one could imagine (at least in the condition the road is in now). I think I was never above 25-30 km/h on the way down.
I went directly up the Mölltaler Gletscherstrasse/Weisssee (2378m) when I came down to the Hotel Badmeister. One could just precisely pass by the bar over the road at the lift station with a bicycle. From here there is a long set of serpentines with an even inclination around around 12% for 3,5 km, then comes a little unlit tunnel and then a descent to a work area with much gravel on the road. Then a similar section to the first starts, but with fewer serpentines, but now the inclination is more like 13% on average and the road is more narrow. Then you arrive at a crossroad and you see a gallery in front to the left below you and here you will have to descend and now the road is getting less good. After the gallery the road starts to climb again and you think you are soon at the Weissee, but then again comes a little descent, followed by a somewhat flat section. Now you will see by the cable car station here that the road continues up to the left and steeply. There you still have more than two kilometres above 10%. Finally you arrive at the start of a gravel road, which seemed that it would be too bad to get far on with a road bike. (You can sense/see the serpentines of the gravel road to the right in the fourth photo here.)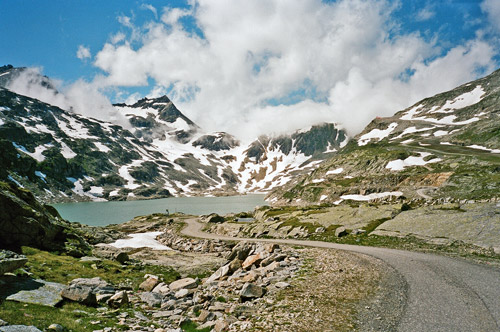 Now I was really tired, but the views were lovely up here as you can see in the photos. As I do not wish to damage my wheels I do not dare to go down quickly over bad drainage gullies (as I see many other cyclists do), so I was seldom above 20 km/h on the whole way down this climb as it has these gullies all the way down to the bar across the road. Some may be able to pass quickly, but you never know well in advance which are good and which are not, so a lot of braking and a slow return journey to Ausserfragant (692m). I stopped again in Ausserfragant and had another coke. Then, tired, I continued toward the start of Grossglockner road. Time was now around 17 pm.
I passed by Winklern village (a little climb) and was then on the flat start of the Grossglockner road. When I started to get some views ahead, I looked after a place to stop and eat something more as I knew it would be late and that I maybe would not get much more to eat that day. I stopped by a roadside restaurant in Mörtschach which looked very worn down and an obvious stop for truck drivers and lost tourists. I had a good Wienerschnitzel with potatoes (very dry dish), which was good enough for me to be able to get on cycling.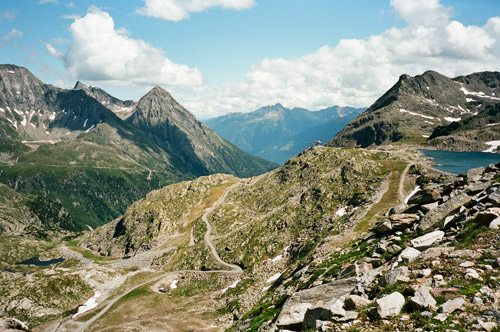 Now the clock was over 18 pm, but I fearlessly went straight ahead and figured that if I could reach the true start of the climb no later than 19 pm, then I should be able to reach the top before the dark came. After another roughly 15 km, I reached Heiligenblut and the real start of the climb (it starts a bit before) and the clock was now exactly 19:00. I had originally planned to take an alternative road from Großkircheim via Apriach to join the main road above Heiligenblut again, but I did not want to take any risk in being delayed and I did not know for sure how long that road might take in comparison to the main road, which is somewhat fast to Heligenblut. I was happy with the photo at Heiligenblut (the one with the church in).
Perhaps the hardest climb is up to Kasereck (1905m) on this side of the climb, with long sections above 10% on average. Kasereck is a small kind of pass in itself, which was actually one of the main important points for the day to reach my goal of having passed all surfaced passes above 1700m in the Alps. The views back from here are lovely as you can see in the photo. There are good views everywhere along the Grossglockner road and it was built in the 1930's with the expressed purpose of creating a tourist road through the mountains. There are always tourist traffic on this road, but by going up at odd hours like me, you can escape seeing a lot of them.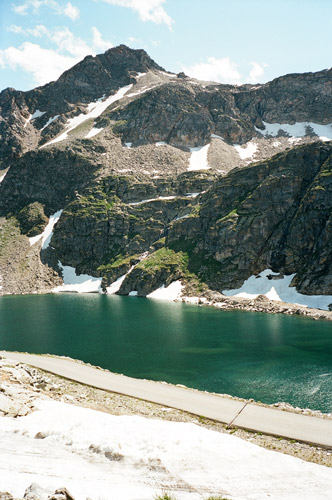 There is then a little descent down to the crossroad where one could turn left up the Franz Joseph Höhenstrasse to get a close up view of Austria's highest mountain, the Grossglockner (3798m). Now the road starts to climb again and you now get up to the more stony Alpine landscape. I now started to get really tired and was thinking about staying at a mountain hotel not far from the top even when I could see the top of the road. But as usual I do not want to stay for night at high altitudes due to the cold temperatures there and I also had an ambitious scheme for the next day, so I summoned my last strength and continued to the Hochtor (2504m). I had so little energy left that I was starting to have problems keeping balance on the last stretch and when stepping off the bike at the pass, but I soon regained enough energy to get clear in my mind for the icy drop down from the tunnel to Mittertörl (2375m) (a minor pass at the tunnel down there) and Fuscher Lacke (2262m).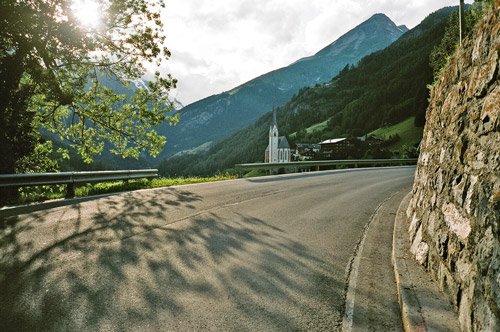 Then I tried (somewhat in vain) to get quickly up the last little climb to the Fuscher Törl (2428m) in order to gain a little warmth before the long descent down to Fusch. At Fuscher Törl it started to get really dark. It was now 21:30 and there were only some Indonesian tourists here, one of whom took the photo of me at the sign. I told them the road was closing down at 22 pm which I had seen when passing by the toll both (for car drivers) above Heiligenblut and suggested they might want to get down soon. (I am not sure they really lock all acces out/in to the road though after this hour. It was open when I passed by the toll gates above Fusch.)
I had planned (again) to visit the Edelweissspitze (another little climb here on a cobblestoned side road to a very nice viewpoint). Hoever it would have been insane to try and get up there this late, so instead I hurried down as fast as I dared to get down as long as possible before I would had to slow down because of the darkness. Halfway down it was totally dark, but I could still sort of see the road and I went down as fast I dared (probably faster than most sane people would dare to).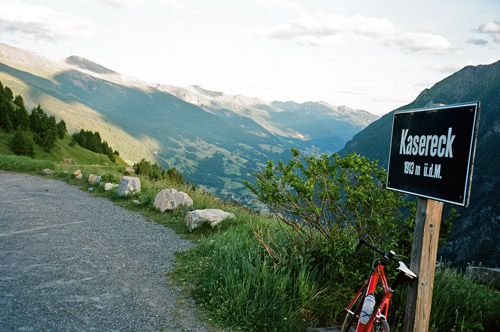 Well down this side of the pass there was no point in waiting long for finding a place to stay for the night at. It was just too chilly up by the toll gates and even if there seemed to be a place one could stay at here, I decided to get down a bit more towards Fusch, and just outside Fusch I stopped at a motorcyclist hotel, called Bärenwirt. I bet they have very few visitors that are not motorcyclists, but it was kind of a fun place and I at least got a sandwich and a beer from the lady there before going to bed. Many photos this day, but I guess you can see why! I did it all (nearly) as planned this day and was pleased with it!