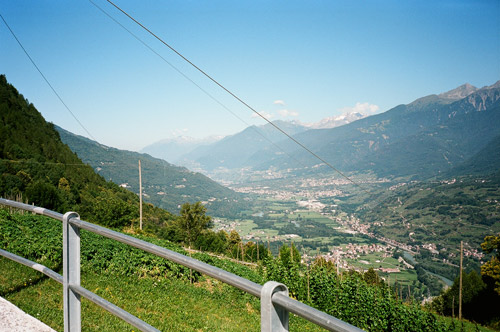 Beautiful weather this morning just like the previous one in Prutz. I had decided to take a small road down from Aprica – just after passing by the last houses in Aprica on the way down the valley toward Tresenda, there is a small road going to a power station. This road then climbs for a while on the other side of the valley up toward Carona. This is a wonderful road, but unfortunately it does not last long before you have to descend to the horrible valley anyway (you only escape a couple of kilometres of the main road) down in Valtellina. The main road here is as trafficated as the main road in the Swiss Valais/Wallis valley, but the difference is that this road is mostly more narrow. Actually it looks like you can escape the main road totally if you wish, but then you should plan on spending close to a full day going through the valley as it would involve a lot of climbing and zig-zagging. Some parts may be better suited and I might well try alternative routes out if I will go here again as it can sometimes be a very nice experience even if one does not manage to conquer any new passes in the process. (See my route in the Wallis/Valais valley in 2002 – that was an unforgettable 'alternative' to the main road down the valley.)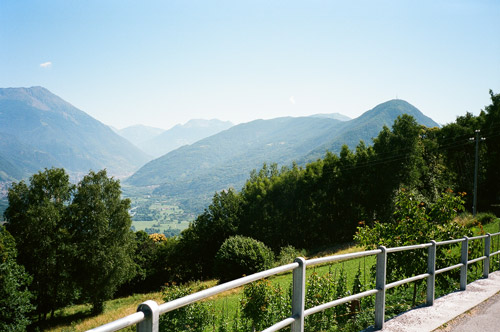 I managed to keep a good spirit until I reached Morbegno anyway at around 12 in the very hot midday. I had a very good sandwich and two sodas at a grocery there. I asked for a bicycle shop, but was told it was closed but would open again at 15:30 – I just could not help but mumbled that "people here do not work much, do they?" ;-) –That is probably unfair as they have longer working days and it is bloody hot in the middle of the day also. From here I had noticed that I should be able to take an alternative road without any extra climbing involved on the other side of the river and so I did. That side is also a bit trafficated, but is the logical road for bicyclists (at least if you plan to go north).
Eventually I got out of the long Valtellina valley and rounded the corner (199m) up north toward Chiavenna (325m). I was trying to get quickly to Chiavenna, but it was a little bit longer than I had I thought and I was starting to get a little tired as I reached the village (it was a bit too long in the warmth). I was thinking to stop in Chiavenna for a lunch break or coffee break, but somehow I did not like the place in the centre and started out on the climb up the Splügenpass/Passo della Spluga (2115m) trying to find another place at this end of the village, but there was nothing open. I was not really into climbing up there without having at east one stop before, but I continued up the steep and hot first part until I saw a restaurant, where I stopped (quite unsportsmanlike of me … ;-)). – I just had to have an ice cream and a coke then I was off again!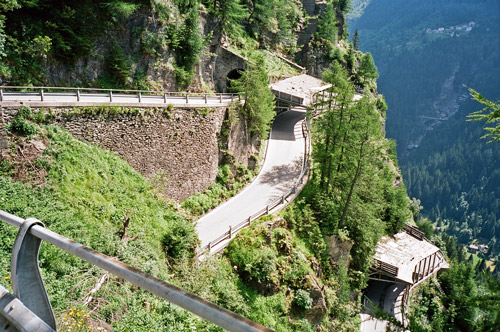 I had for long wanted to do this southern climb of the famous Splügenpass. There are some nice serpentines on the north side, but the real climb is on the south side and it is one of those really long classic Alps pass climbs with 1790m height metres over 30 km. "Standard" Alps pass climbs in my mind involves 1000m climbing typically over a stretch of 12 km or at 8% steepness on average. Longer climbs are always exciting, but the longer climbs also usually receives relatively low points for how hard they are (on sites like salite.ch that ranks these climbs according to certain formulas). This is because the longer climbs usually are not consistently as steep as many shorter climbs. The hardship of the climbs is however not simply a matter of adding up points for each km of the climb, but there needs to be extra points for the added length as well (some sites takes this into account, but may anyway go wrong on other counts). In the end, how difficult a pass is depends on so many factors (not taking the cyclists fitness, his preparations, and his equipment (incl. what he carries) into account), like the weather, the road quality, the unevenness of the climb, the traffic, other cyclists (may be motivating), the time of the day, etc.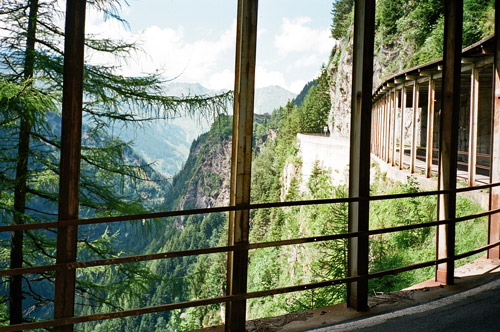 Despite my stop early on, the first part up to Campodolcino (1062m) was the hardest part, both because of the steepness and especially the warm weather. The road really forces its way up a narrow and steep valley one would not easily figure out how to build a road up (as is also evidenced in the road building). From Campodolcino and up to the big dam below the pass it is a more exciting and shifting road that now clings to one side of the valley and the main road (there is an alternative less interesting road choice I took down in 2002) continues up in serpentines through a series of galleries. The galleries offer beautiful views and I stopped to have some nice photos here.
The weather was perfect all the way up and a lot of people was out in the sun by the big dam below the pass. After the flat stretch at the dam there is only a short way to the pass, which is enough to make you remember that this was a long climb. At the pass height it was also quote nice with the views opening up into Switzerland. Two German bicycle guys were at the top – they spent a week in the area and were based in Thusis, which is actually a really good location for visiting a lot of the passes in the area. There are so many passes and places that could be visited in a day from here, that I cannot make a list easily, which would start with Glaspass (which is a really tough pass beginning in Thusis). One the guys apparently wanted to be in photo as he did not move … :-) (the idea with that photo was to get the only height sign I could this time find at the pass saying 2117m).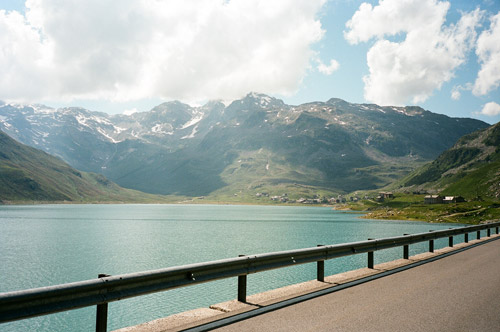 The other photo from here shows the guys descending into Switzerland ahead of me. I stopped down in Splügen (1457m) to see if there was a bicycle shop here and I was lucky to find one and with a bank note machine next by. Their tires were a bit expensive, but my Michelin Pro 2 rear tire was totally worn out now – they apparently only last for two weeks of cycling ;-). I got a half-cheap Vittoria tire, which I do not like as much as Michelin tires, but that was it. This was good timing as I was about to climb a road with a gravel part.
I was going to visit a pass very few road bike cyclists know about. It is the Lai da Vons (2075m) pass. It has no real pass name – in my search for a pass name I found only a local official document on the web referring to the pass as a "sattel" (saddle-pass), but they gave no name. At Salite.ch (search on 'vons') the one who supplied the graphs calls it 'Vizanpass', but I have found no other such reference (the highest mountain on either side is called 'Vizan'). I also asked a local about it, but he confirmed it had no pass name. (So Club des Cent Cols may have to wait to find a reason to include it in their approved list of passes.) Anyway, this pass is fantastic! On the south side it starts in Sufers (1428m) and although my plan was to take the hardest side up from the east side starting in Andeer (995m), I decided it was getting a bit late in the day and that it made no sense going in a circle by passing by Sufers only to get back up there later on and then going down again. However, it turned out to be an excellent choice going up from Sufers in all ways: it is actually slightly steeper on this side (even if shorter) (10.4% according to salite.ch against 10% on the other side); it was the sunny side; and it had better views (+ it saved me time and some hardship).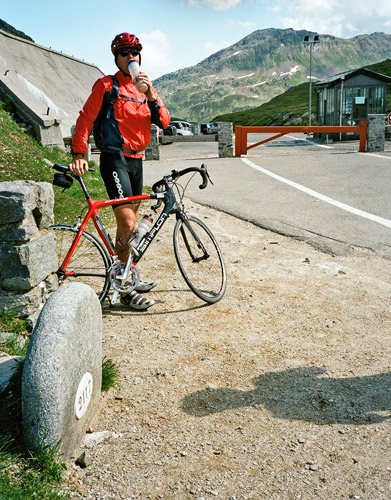 You can sort of guess the way up there, but I asked and got some helpful hint on the start of the climb. There is a first sign in the village that is wrong (as it leads you up the walking alternative), but just serpentine your way up the village and you should probably get on the right way (keep to the right I think it was mainly). The road is of excellent quality with little traffic and magnificent views, while being steep. What else could we "cycloclimbers" hope for?! When you get up to the lake (Lai da Vons) the road is more flat and there is only a short way to the pass top. Just before reaching the top you will find that the road turns into gravel (unless they decide to asphalt it as there may be reason to suspect they will do one day). The gravel part only has like 5 metres where it is steep that may be a little difficult, but otherwise it is no problem at all with a road bike.
At the top of the grassy saddle you have nice views everywhere, see the last two photos. The gravel continues for about 1 km until you reach a road fork (the gravel get slightly less smooth down here, but no problem if going slowly). Actually, I was advised to go straight at the road fork to see the group of classic alp houses of Promischür. The gravel road looked slightly less good ahead, so I decided that I did not want to spend the now rather late evening walking around high up in the mountainside if I could not bicycle much of the way. Apparently the road should be good from there and down to Andeer though. In retrospect I think I made a wrong decision there. A bit further down the asphalt road was forking and I thought that maybe here was the good road to Promischür or the way down. It certainly did not go down and after going a bit further I turned around here (not sure why). I tried to ask a lonely dog standing at this crossing for advice, but he did not offer me any … . (Looking at the map now at swissgeo.ch (not very reliable for what roads might be used by a road bike or not), I guess the more proper road to Promischür was at the next crossing after this. There might also be a totally different road down from Promischür to Andeer that might be cyclable.)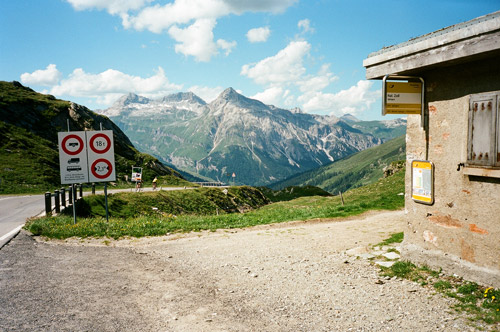 He road straight down was the right way down. This road is pretty narrow and looks a bit dangerous here and there as it is very narrowly cut in the side of mountain wall at some places and with not so good protection on the outside. One need to be careful when descending here! Andeer seemed like a nice village and I found a nice looking restaurant in the village that also was a small hotel, which seemed ideal for me to stop at for the night, but they were fully booked. I asked at a Bed & Breakfast place, but it was also fully booked, so I had to move on. I stopped at the next village, which is Zillis (945m). They had two hotels and I asked at the second less well-looking one. Here I got a room without trouble. I also managed to get some decent food, so all was well (even though it might had been nicer in Andeer at the first place).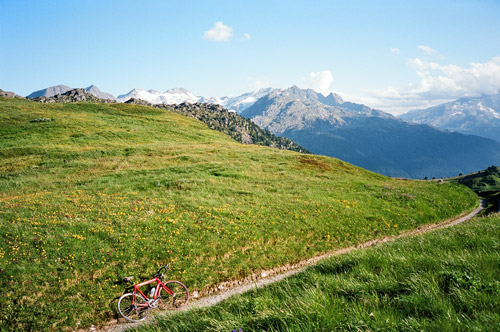 I talked a bit with a local man. He told me a funny thing about Obermutten, which I had planned (originally, again) to visit as it has two very hilarious approach roads (an old gravel and a new asphalt and then the same gravel at the end). Obermutten is essentially above Zillis, but these roads starts from the other side on the road going from Thusis toward Julierpass. My question was about how difficult it would be to try and get up to Obermutten from Zillis (as I knew there should only be a short way where is no road shown at the Swissgeo map). He said that although jeeps occasionally go up all this stretch to Obermutten from Zillis, that it was often too difficult for jeep drivers to manage the road up there because f the steepness and road quality. So no chance to cycle all the way up there with a road bike for sure. The road starts as an asphalt road and I walked up a bit on this road later in the dark. Well, the funny thing he told me was that a girl from Obermutten had married an American and moved to America with him and they had built a replica of the church in Obermutten there is America. The location was in Telluride, Colorado, which was the base for my Summer bicycle tour the year before! So, now I was even more irritated that I would have to skip climbing up to Obermutten. I did decide now anyway not to do Obermutten because of concerns with my plan at large. I hope to get there another year though.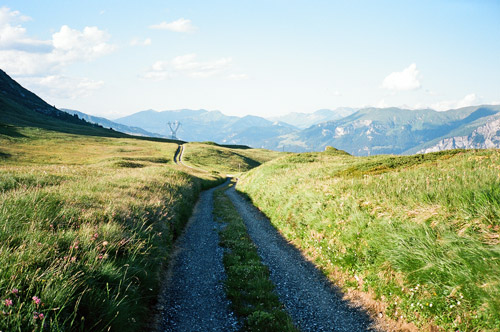 If one went first over Lai da Vons and then over Obermutten via Zillis, one would essentially escape all the narrow passages up to Splügen from Thusis – first the Rofla Schlucht and then the Viamala gorge. These passages might have been difficult to use before the roads up here were built and maybe the road over Lai da Vons and Obermutten once was the way to walk. Zillis (945m) is also the start of another infamously difficult climb up the cul-de-sac road to Alp Anarosa (2348m).
I am not sure I should tell the world, but I did a really stupid thing at this hotel. But to let you have some fun "at my expense" ;-/. When I should wash my clothes just like every night, I could not get the sink to keep the water from going out in the bottom as I could not get the plug(?) down properly. I then got the "brilliant" idea that this plug was possible to dismantle and then I could put the top part of the plug down in the sink and then it would stay tight so no water would run out. (If you know what I am talking about, you have probably by now figured out what was wrong here.) The problem was that there were now absolutely NO way of getting the plug out of the sink short of dismantling most of the piping leading to the sink (or using some super glue). I tried to find some tape to sort of lift it up with and I tried with a sharp knife I found, but it was futile. I just had to tell the lady about it before I went to bed so I maybe still would get some breakfast in the morning. She was not happy … "men", she said. I will not try this again!