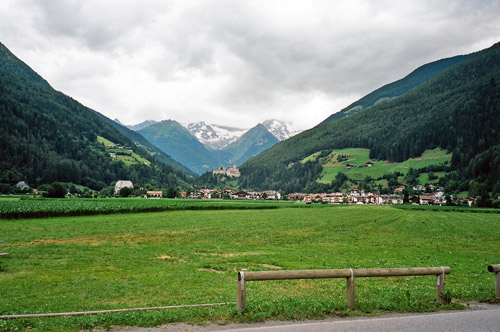 I was sleeping a bit longer than usual the day after the Maratona, but surely I was going to bicycle this day too. My friend Ola decided to walk with his girlfriend in the mountains instead of cycling and the other guy wanted to take a short ride up to Würzjoch/Passo delle Erbe. I have already been up to Würzjoch twice before, so I decided to get over a pass which is gravel as the other guys would not go with me there anyway the next day.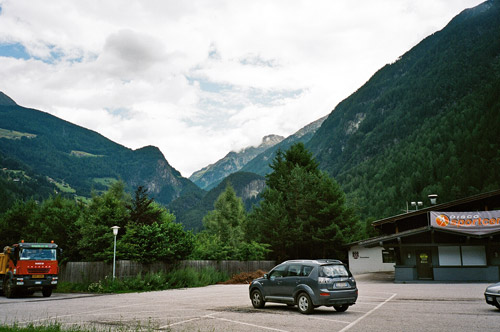 I descended to Bruneck/Brunico (835m) – a nice and easy start in the day. From here I took the busy and flat road up Tauferer Tal/Val di Tures to Sand in Taufers/Campo Tures. Looking right here and you see a valley that looks nearly impossible to build a road up, but there goes the road up the Raintal/Valle di Riva. This is a steep and spectacular road which is very cold partly because of the enormous amount of water that falls wildly down the valley just beside the road. The steepness is up to 15% and relentless. It goes flat for a while when you arrive at a small see by Rain in Taufers/Riva di Tures. Sometimes after (climbing again) this village the asphalt runs out and you soon come to a parking place. Here a nice and good, but narrow, gravel road continues up the valley, mostly flat at first. This road is only steep near the Knuttenalm to which it leads.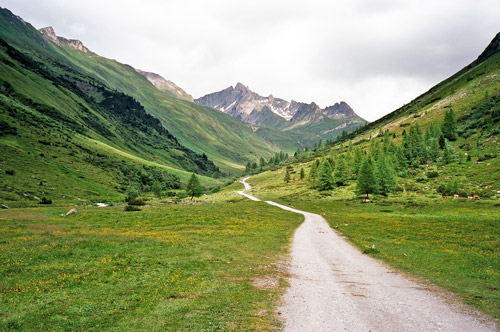 The gravel road that continues to Klammljoch/Passo di Gola (2288m) is in a good state and possible to use with a road bike with 23 mm tires. It is up to 12% and thus somewhat hard going with a road bike. The views on the Austrian side are much better. At the top there is a closed toll both, which I heard from a family picnicking there was manned until just some years ago when new European Unions directives made most toll booths like this one superfluous.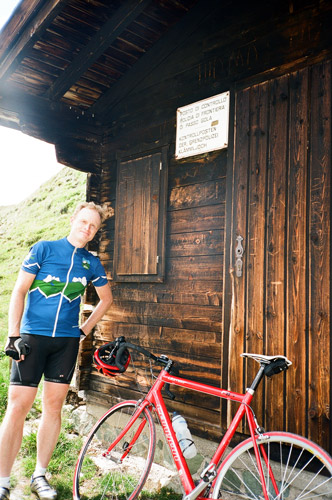 The gravel road down the Austrian side to Erlsbach (1549m) is of similar quality (slightly less good lower down). I managed to go wrong at the only possible place down this road. You should not turn off to the first little group of houses (unless you are curious over these, I believe, abandoned farmhouses). The road becomes grassy after these houses and takes you up a dead-end curious and extremely remote side-valley a lonely walker went up while I was there. I took a short-cut back to the proper road and had to carry the bicycle up a slope – why make things easy … ;-).
I passed by a farmhouse still in operation and a man was digging holes (drainage lines) through the gravel road with a small spade (I wondered if he had ever been outside this valley …). Later, after opening and closing myriads of gates, I reached a parking place and the Oberhaus hütte, where I stopped for a very good strudel with ice cream and coke!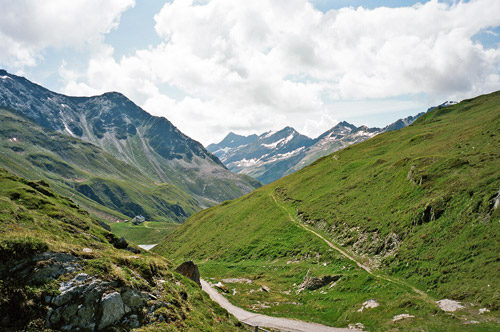 Soon thereafter the asphalt returns and continues the last ca. 4 km down to Erlsbach. Then I was climbing the road to Staller Sattel/Passo Stalle (2052m) that I also climbed back in 2000 on my first bicycle tour in the mountains. Now they have made the first part up here wider and of ridiculous high standard compared to the rest of the road over the pass, with warning signs as big as on the biggest of motorways. It is a relatively boring climb up here, but it is nicer at the top with the lake. The Italian side is quite something else and has superb views at the top and a notoriously hilarious road from the Lago di Anterselva that you see below from the pass top. Stallersattel is always dangerous down the Italian side against with red lights 45 min every hour. Again I did not want to wait for green light, but was very careful descending. The real problem is not scaring oncoming motorists that you at many places cannot see even if they are just 5 m in front of you and the road is not much wider than a normal sized car. There are perhaps 40 places along the road where you cannot see more than 5-10 m in front of you, thus going down against the traffic is very dangerous at best!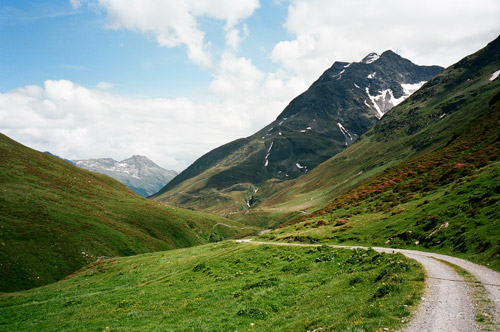 The road down from Lago di Anterselva (1637m) to the crossing with main road going down to Bruneck/Brunico is one of the fastest descents in Europe. I was going in 80 km/h through a curve on the way down! I think I was up to around 85 km/h without pedalling at all. (Only the last photo here is from the Stallersattel pass climb.)
I decided to get as quickly back as possible, so no more climbs this day than the moderate climb up from Bruneck/Brunico to La Villa/Stern, where I went really fast (I do not remember the average speed, but it was good). Still this climb takes a while and I was back in La Villa around 20 pm (one wonders why I even thought about doing another climb … ).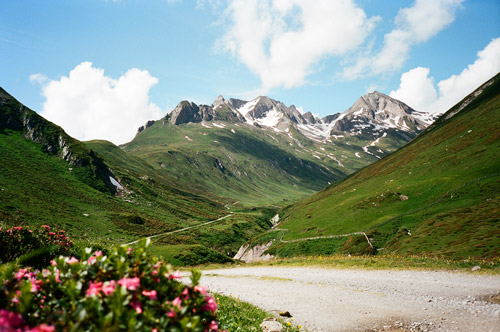 We went out to eat something good again up in Corvara and again a little shower of rain toward the night. (I think we were eating in La Villa the day of the race.) Next morning we were going to go cycling together on a route I vaguely suggested this evening :-).