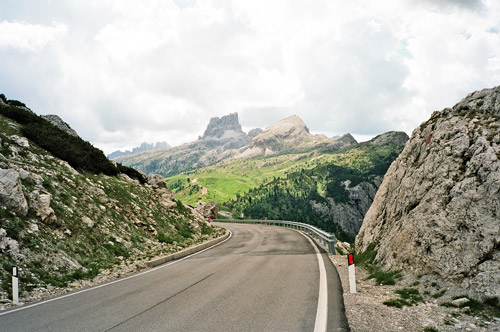 Today it was time to move on eastwards in the Alps. The weather was fine at start, but a little cloudy. The road up to Passo di Valparòla/Ju de Valparola (2196m) is always nice and the views from the pass itself are among the best in the Alps and the Dolomites. There were a few raindrops in the air on the way up, but no rain on the way down to Cortina d'Ampezzo (1211m). After a short stop in Cortina I went up to Passo di Cimabanche (1529m) with only a few switchbacks until the pass is reached. The rain came in on me here, but not too heavily and I more or less escaped it and had a cloudy, ominous-looking photo back toward the Cristallo mountains on the way down to Toblach/Dobbiaco (1217m) (photo no. 2 here).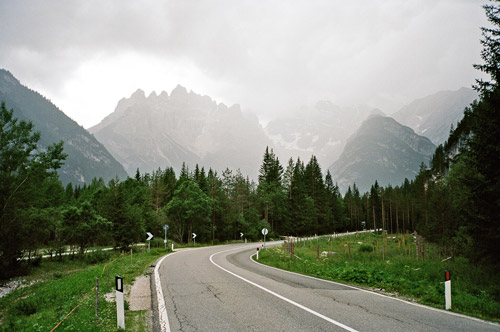 On the way to Innichen/San Candido (1173m), it started to rain again and I was no longer able to escape it. I decided to have lunch at a restaurant there and had a good wienerschnitzel at a nice place almost on the road up to Kreuzbergpass/Passo di Monte Croce di Comélico (1636m) to where I was heading. I waited an hour or so before I thought the rain was subsiding, but the rain never really stopped fully and up at Moos (nice village, apparently popular with rich tourists) I took cover for the rain again. After a while the rain almost stopped and I took off again up the last part of the pass. Oddly enough it had even snowed higher up on the pass, even though this is Italy in July and far below 2000m height. Very cold thus!
It was slightly better weather on the south side of this fine pass – there are really good views of the mountains around on this pass even though it has often been considered not to be so nice. So I was somewhat positively surprised. Also the next pass I was going over was far better nicer than what I had heard beforehand.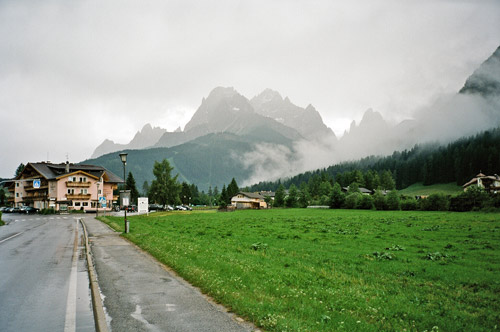 Passo del Zovo/Passo di Sant'Antonio (1476m) was not that easy even from the relatively easy north side. I stopped for a coffee down in Pádola (1211m), before climbing up this pass. The climb is wooded on the north side (and mostly on the south side too), but the pass height has nice views as you see in the photo below. It is a lonely road, but has a bus service. At the top of the pass there is a road going over to Danta di Cadore (1398m) – I took this road but never went into Danta (which should be a nice village wit nice views). At the first bend of this road one could go straight ahead on a gravel road for approximately 200m to collect another pass – Forcella Zambei (1435m) and so I did (no great views, no climbing, no problems).
The road down toward Danta was very good and wide oddly enough. At the crossroad I went back to the south side of the climb up the Sant'Antonio pass and here started a steep descent with a seemingly endless series of hairpin bends down to Auronzo, where I took the last photo for the day by the lake.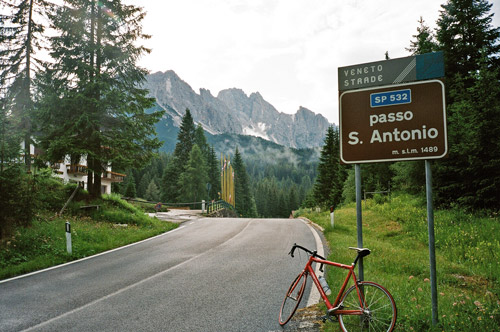 From here I went down a bigger road toward Pelos di Cadore (730m) and turned off up the road to Passo della Mauria (1302m), which is a nice and not very steep road, but then also a bit longer climb than what one might think. I had a good speed most of the way though and as I got higher up it was getting colder so I went on in a good speed to keep me somewhat warm for the downhill ride on the other side.
This road is rather nice and feel s a bit remote. Not many people are living along this road. There are a few small villages eventually, but not much in terms of services. I passed over another small pass eventually (a long and winding road) called Sella Corso (868m) that some say is almost imperceptible, but that is not true, nor is much of a climb though. There are two places with small climbs on the descent to Ampezzo and this is the last of those. From Ampezzo to this pass it is a pass-like climb though. Before reaching Ampezzo I saw the road taking off to Passo della Mauria (1302m) that I had planned to climb this day also, but as it was soon getting dark I decided it was dubious that I would get over and down before it went dark, so I reluctantly went down to Ampezzo and decided after asking for the price at the main hotel (which did not look too good) to go back to the first little hotel upon entering the village and there I had a good stay and cheaper (the personell was also friendlier).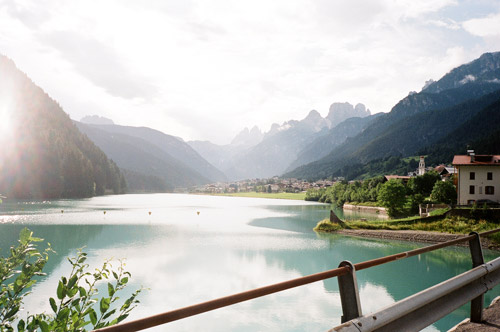 Went to have a pizza at the other end of the village – a long walk! The village looked a bit shabby and certainly not touristy, so I was a bit surprised they had choices of hotels. There were also a place by the turn-off to the Mauria pass, but I skipped it as they seemed occupied with a party (perhaps).