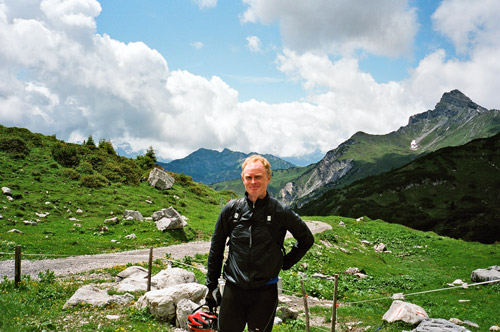 This day had very gloomy weather for the most part, but I was always lucky in closely escaping any significant rain and the day was rather successful in the end. I continued up the Lechtal to Steeg and just as I passed by a heavy rain shower came and I stopped early for a coffee there at the milcherei (milk bar). From Steeg the road finally starts to climb. The climb is easy on a fine and wide road with little traffic to Warth (1495m).
From the junction here with the road over the Hochtannbergpass (1676m) I followed the road to Lech (1444m) which is almost flat. The road here is a bit more narrow and it is common to meet with tourist buses here, so watch out here! I have been to Lech before and the weather was a bit gloomy that time too. This time I was going to visit one of the passes I had missed above 1700m, which is the Formarinjoch (1871m) (2nd photo). The road is not (well) sign-posted, but it starts in the lower part of the village going west. This is a lovely road, but it soon after Zug, where the road is blocked to motorized traffic, becomes a very narrow road where buses goes in shuttle traffic during the day in a tight schedule, so you will have to meet up with buses at least a few times on the way to Formarinjoch (take care and be polite). Eventually one reaches a junction with the road to Spüllersee, which also could count as a pass, but there is no official or local such recognition. It would probably have been nice to get up there too, but I thought it would be enough for this day to only get up to the Formarinsee.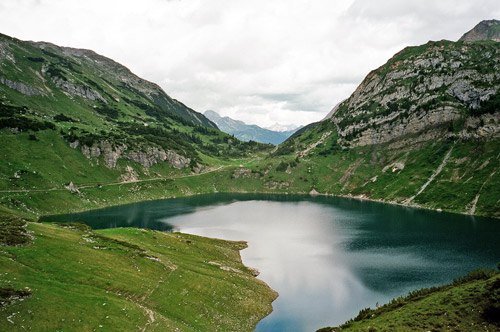 The last bus stop is just at the Formarinjoch. From there a gravel road continues down to the Formarinsee and around it and up to the Raues Joch (1918m) and the nearby Freiburger Hütte (seen from the Formarinjoch). There are occasional traces os asphalt on this gravel road and it was just about cyclable with my road bike. I was rewarded by very nice views (as I expected) from the Raues Joch (first photo) and noticed there was a gravel road/track down from there which I had not seen on any maps. I asked some locals (?) who happened to have met up just at the crossroad here and asked about the road down there, but they said it was difficult even with a mountainbike and strongly advised against taking it. I went back the same way and it was a nice return journey in good speed where I could stay away from getting caught up by the bus starting just after me from the Formarinjoch.
I actually saw some road bike cyclists who had stopped for a coffee break at a restaurant above Zug (the only place open along the road serving anything), so some people know about this nice road apparently.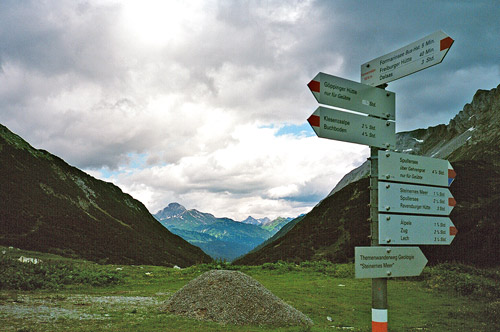 Down in Lech I stopped for a coffee and cake at the same café I stopped at the last time I was there (a very good café at the higher south side along the main road of the village). Then I was climbing up to Flexenpass (1773m) on a somewhat steep but short climb half of it through a tunnel, which was good as the rain was starting to come down again. Up at the Flexenpass there was only a few drops of rain in the air and I was hoping to get a nice travel down through the famous old galleries down to the Arlberg pass road. Now it turned out that they were working on the road/tunnel lower down and as I went against the traffic down (worked well), they were drilling in the tunnel ceiling and I got covered with stone dust! :-( Not so nice.
Fine weather at Arlberg pass (1793m) which is only a short climb from the Flexen-road junction. I took a photo here, but it was looking like a building-area which makes this pass a bit different … . It was a nice journey down to Landeck (794m) and I was feeling fine.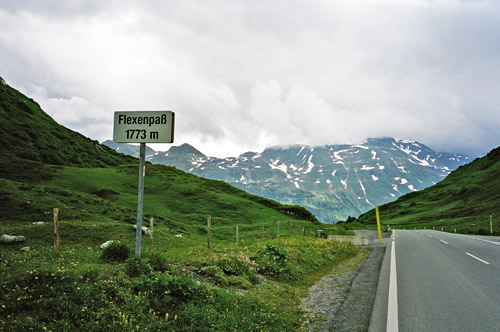 I had been arguing back and forth with myself about whether or not to climb over Pillerhöhe (1559m) via Fließ (1073m), which should be a really hard climb, but ultimately decided against it at the last second while taking a short break with a radler at 16 o'clock in Landeck as I would likely not then get up to the next planned destination and back before dark. The next destination (as explained to the father of the owner of the café) was going to be the Kaunertaler Gletscherstrasse (2751m) (cul-de-sac). The father was justly a bit wondering if I was not over-optimistic in thinking I could get up there this evening, but that was not an option –not getting up there – in my mind, so off I went.
I had also wanted to get up the gravel road above Fiss to Fisserjoch (2432m), but decided with some regret to skip this. I took the main road up from Landeck even though you are not supposed to bicycle there on some stretches (another odd regulation), but I did not want to waste time on trying to find the other alternative up there, which at some places seemed like a big detour.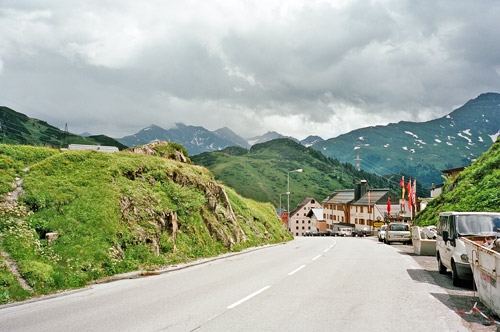 At Prutz (864m), I turned off and onto the Kaunertaler Gletscherstrasse, which is a very long road – 38,5 km! I think it was around 17 when I started out on this climb and ca. 2 hours later I reached the cold top of the road, which is actually pretty good as you can see on the times at the Kaunertaler Gletscherkaiser road race results (they start a bit earlier in Ried with some downhill at first) and I do not know the exact time I had up.
I really do not know why I happened to go that fast up here – must have been the radler (mix between beer and soda, like shandy in the UK (I never see it in the UK these days though)) down in Landeck ;-). It was probably because I wanted to get up before it was too late or I got too cold or the rain would come. The steepest climb is just before the big Kaunertaler stausee (dam) (1772m). Along the dam there are roads on both sides, but only the side on which you come to was open (there was road work on the other (shaded side)). Just after the dam there is a bit steep ramp up to the Gepatsch-haus (restaurant). From here the real serpentines (numbered from 24? (maybe with the curves before the dam) starts and you quickly get past most of the serpentines and think you will be up there in no time, unless you have ever read a description of the pass climb before (as I had). The real hard part of the whole climb from Prutz really only starts at serpentine number 7 or 6!!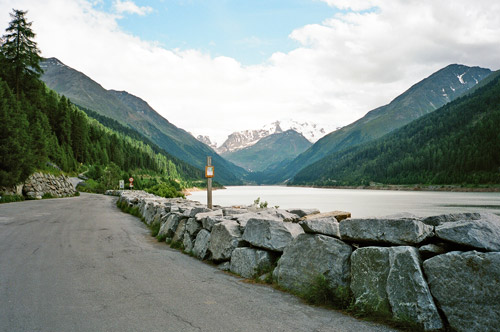 The last 7 serpentines will seem like they take forever to climb past! I had been going really quick up here so I was almost breaking down. I do not know what got to me (as I said) and their were ominous rain drops in the air as well. It was now so cold (around 6-7°C) I did not dare to think of the descent.
I really felt lonely up here this late and as I arrived at the top nearly totally exhausted the last people left the place for the night. I went up on the outdoor serving area of the big restaurant at the top which is the highest point you could get to without tripping up the ski slopes in snow and had a photo. I took the last two photos on the way back down (the next to last was from the other side of the restaurant (closed, of course)).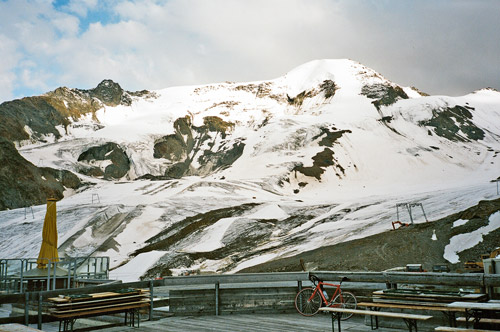 I descended as fast as I could (slightly dangerous down the serpentines from around the last photo, so take it carefully here!). It only took an hour down to Prutz (it does involve quite some pedalling along the dam for example) and I started to get warm first as I arrived down there. So I was lucky to be back in Prutz while it was still light outside and now I just wanted to find a pace to stay at for the night. I asked at one place just outside the village, but it was a closed down hotel. I went into the residential area of the village and soon found a small sign for Haus Marianne and decided to try there. Someone arrived there in a car just as I came, but apparently it was just someone living there, but then I met the lady of the house and got a room with breakfast for a fair price (25 euro). I must recommend this place as it was ridiculously good for the money! (Not exactly like in France … where you would have to sleep outside for this price.) Double luxury bed with new flat screen TV and perfect shower facilities in the room and then a full breakfast with eggs served by the lady of the house!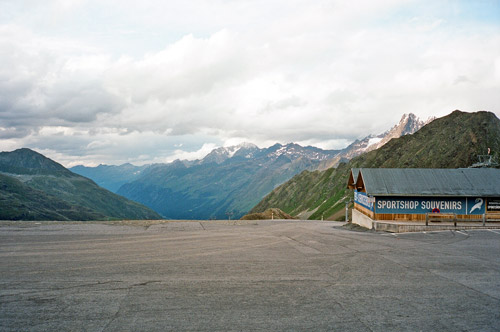 The lady was only wrong about the opening hours of the restaurants in Prutz. She thought they would be open to half past 9, but they all strictly closed at 9. So when I arrived at the nicest looking restaurant there at 5 minutes past 9 the girl was delighted to ask me to go ;-(. There was a cheaper looking hotel with a kitchen that seemed like it could be open (the last place I tried) and they were serving beers outside (in the cold), but luckily some late english tourists had managed to get served there, so they thought it was okay to serve me something too – another wienerschnitzel, I believe, but then I was going to leave Austria behind me the next day, so it was okay.
Kaunertaler Gletscherstrasse (2751m) was the highest point of my tour this year and one of the highest asphalted points in the Alps, which was a reason for wishing to get up there. There are not so very many cul-de-sac asphalted roads above 2000m in the Alps left to do now either, but still plenty of them and I have no plans on doing them all.