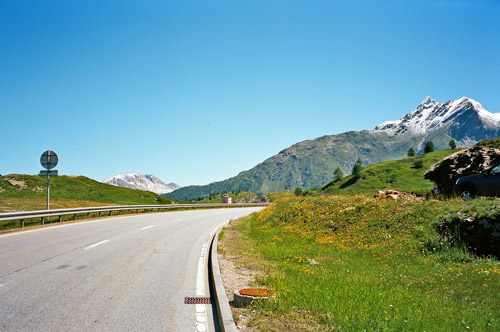 The morning in Zwischbergen was beautiful and I had breakfast before fixing the flat from the day before. Some border police guys was also up here for breakfast, but otherwise it was a quiet sweet place. I was down in Gondo (839m) rather quickly and then started the harder southern climb of the Simplonpass/Passo del Sempione (2005m) pass which was new to me. This side is even nicer even if the tunnels are not so fun. This is one of few national roads that one are allowed to bicycle on. Traffic was moderate though, so I could well enjoy the climb. The Simplon pass (to repeat) with all the high surrounding mountains, gorges, galleries and old buildings is really very nice! There were helicopters busy at the top running with water to and from a little lake there – I wondered if they were training or if it was a fire somewhere that I could not see.
I was soon back in Brig and the lower Wallis (Valais) valley, which is immense in size and it is a valley that will always bring hardships. The heat, traffic and wind are always considerations here. Those considerations can be dealt with in part by using alternative roads and by climbing high above the valley, but then the climbing will be hard and take a very long time, but if you have the time have a look at my trip through here in 2002.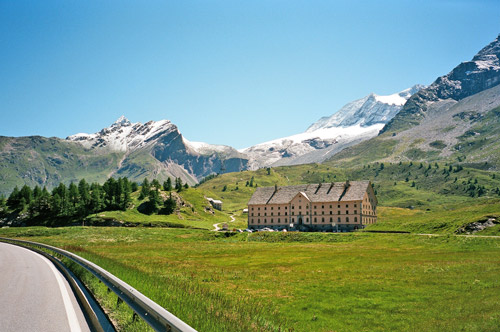 I stopped in Visp (652m) at the Mcdonalds there as I have been before (because it is easy to stop by and I do not know of any other good places for a quick lunch around here). Visp is where the road up to Zermatt and Saas Fee goes – still have not visited those places, but probably should do that one day. One could also try the road from Saas Balen up to the Grubengletscher/Seewjine (2860m), but the last long gravel section should be a bit too difficult with a road bike according to the linked report (still he made it up on such a bike). Another pass I wanted to explore in this area that I believe is possible with a road bike even though the last part is gravel is Gibidumpass (2201m) above Vispterminen. For those wishing to do other climbs here, but only on asphalt I would recommend Moosalp (2048m) from Stalden and possibly Täschalpen (2214m).
But, alas, I continued on my way toward Martigny. The day was fine and all went very well. It was not so much traffic and it was sunny without being hot. But it was going to be a long trip to Martigny, especially since I had a plan for a climb on the way there. There is one pass climb here in Wallis above 1700m on an asphalt road that I had not done before, so now I had to do it. There is one of these commonly named passed called Col de la Forclaz (or simply 'La Forclaz' – adding 'col' before the pass name is here a redundancy as locally 'forclaz' is simply a type of "col" anyway). This Col de la Forclaz (1750m) is the highest asphalted pass with this name and is located near the end up the Val d'Hérens on the road that goes to Ferpécle.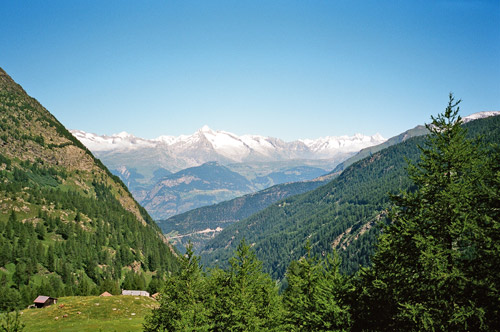 To get to the start of the climb up Val d'Hérens one has to get down to Sion (or just before). First I took the main road down to Susten (there is a bicycle lane/small road) nearby most of the time, but it simpler to just use the main road which is pretty wide for the most part. From Susten to Sierre I took the alternative road through Salgesch (which is probably the road one should take when bicycling down here anyway). In Sierre the French speaking part of Switzerland starts. From Sierre I managed to find some way over to nearby Chippis/Chalais and followed the road on that side (it is narrower and rougher, but still has nearly as much traffic as the main road, so no real advantage to take this alternative road).
I went through Bramois (499m) and was close to take the road up toward Nax (which looks inviting), but I knew it would climb higher than needed and I would have to descend later to the Hérens valley, so I continued until I met the main road up the valley. There is a short-cut through Bramois village, but the Michelin map being of no big use as usual in Switzerland, it looked like it would not get through there as it did. (It would probably be a steep shortcut though La Crettaz. Zoom in one level (more than their printed maps) on viamichelin.com then they show you how the roads actually goes there.)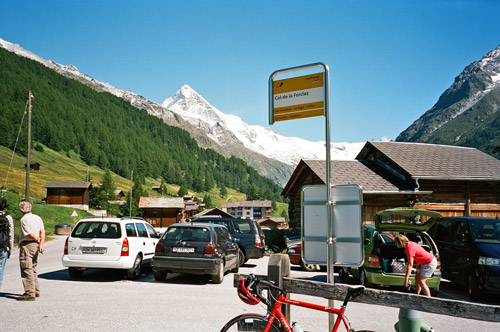 The climb up from outside Sion was very hot at first as it was now in the middle of the day. I was not going very quickly up the serpentines when two guys passed me by. This was good as I got an incentive to get the speed up a bit. I hanged on to them until Vex, where they turned off and where it was more normal temperatures again. Then it is more or less flat until Praz Jean (where the road to/from Nax goes up). From here it is a good climb up to Evolène, which is a nice little village (rather touristy). I passed by it on the way up. From les Haudères one has to turn off the road as the main road goes up to Arolla (which is a more popular goal and perhaps nicer road really). Now it is only a short and steep climb up a smaller road to the little pass. The road is rather busy mostly with people going to Le Sage – they continue ahead in the first and only turn, while you turn and soon reach La Forclaz. From this place the views are very nice and I took three photos here.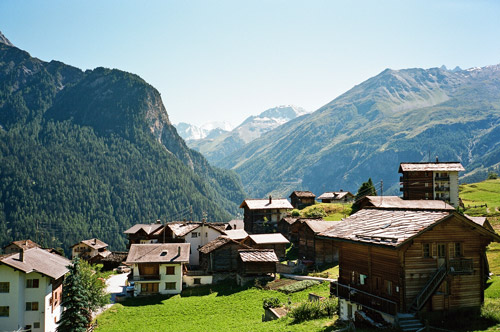 A bit boring, but I descended the same way as I had to take the quickest way. I went through Evolène on the way down as I figured there might be water in the village and luckily I was correct. Here I saw some other cyclists. There were lots of traffic here. Then I had a nice and very fast descent to beyond Le Praz. Soon after Euseigne I came back to the little tunnel were there are many earth pyramids (such are popular to visit in the few places where they appear (like above Bolzano/Bozen) but this is actually the first time I have encountered them myself and I stopped to have a photo (below).
The descent went quick. I found the road continuing on the south side (right hand going to Martigny) of the river and followed it until Riddes, where you come back to the main road down the valley. This road came across as a bit longer than expected (not looking much on the map). The last 15 km to Martigny is where the valley decided to make me remember that it cannot be cycled through without difficulties. suddenly (well it started little before Riddes) I was faced with a horrible headwind as I was trying to get to Martigny as fast as possible, to be sure to get over Col de la Forclaz and Col des Montets before it turned dark outside.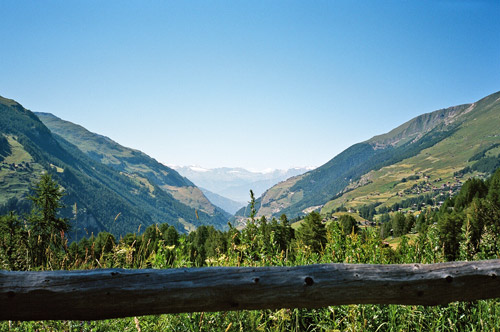 I stopped in Saxon by the Migros to quickly buy sun cream (they have a good one) before leaving Switzerland and I was just running out of it. I also bought a half litre coke which I emptied in record speed. Then full speed ahead to Martigny. This meant maxing out at around 18 km/h and I am sure the best riders of Tour de France would never have managed to go faster than like 23 km/h here despite that it is perfectly flat!! Actually I think they would have gone slower (maybe 20-21 km/h). If this seems unlikely, you should have been there! When coming closer to Martigny there was a sign for wind-warning – at that point the worst was soon over and when arriving in Martigny the wind disappeared (as expected). I saw a bunch of riders that I had glimpsed earlier when coming down from the Hérens valley, standing in a corner looking exhausted. (It was just before the wind started – had I known about the wind I would probably have tried to hang on to them.)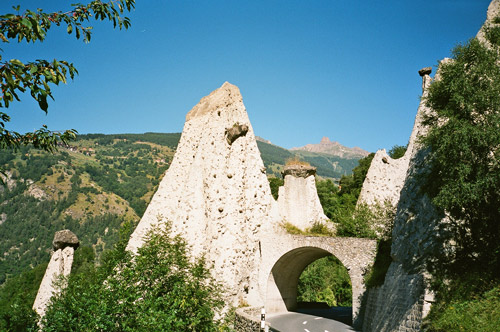 I just continued straight through Martigny (474m) and noted that the clock was exactly 19:00 as I started on my way up to Col de la Forclaz (1528m). I had wanted to take an alternative road up there (which should be somewhat steeper), but as I was late I did not want to waste time on trying to find the start of this road, so I just took the obvious road up that I have descended once before.
You might think I should have been a bit tired here, but guess what? I reached the pass after exactly 1h5m, which I think is reasonably good (I am sure I could have done it in 1 hour or less during perfect circumstances, but I was still thinking it was good). First third of the climb I was keeping a constant 13 km/h and then slowed down to 10 km/h and then the last third I again kept a constant 13 km/h. I was thinking for a while I would make it in one hour, but it was (as usual) a bit longer.
I had a photo up here (looking rather bleak as the sun was starting to go down). Then I went down the other side before it went too chilly. So far so good. Now I just had to do the minor climb up Col des Montets (1461m). The climb starts just before the border to France at 1094 metres, so it was less than 400m to climb.
Soon it became clear that I was now totally exhausted and for once hit the wall (as cyclists says when drained of all energy). I was trying to find a telephone to announce my late arrival in Chamonix to my sister there, but the one I found needed a telephone card, so I just continued up. I more or less had to zig-zag my way up in a very slow speed now. It was hell, but at least I knew I would soon be up anyway and then it was all downhill from there.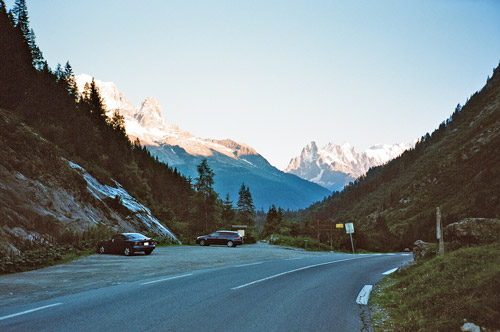 It was cold now, but the descent to Chamonix is rather quick. I went through the main shopping road and stopped at an Italian grocery/restaurant at the end asking to use a phone at 21:00. Luckily my sister answered as her description of the way to where they live was not so easy to understand and she described it again more fully. I arrived there and found out that the owner of the house was also (a little older) bicyclist and talked a little with him (he was going to do a tour around Mont Blanc with his road bike with a friend of his the next day! (well, they took the car through the Mont Blanc tunnel, but still a nice trip via Col des Saises, Cormet de Roselend and Col du Petit St. Bernard.
I was too tired and late for going out on town, so I think we just had something to eat in the house and I decided to stay another night, so we could get out on town together also. I also learned they had an english friend who had wanted to get out ride with me if possible and I thought that might be a good idea for the next day.