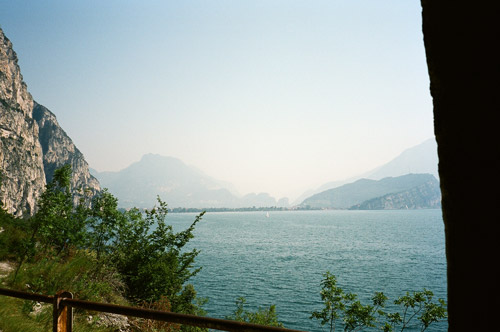 Nice weather from start (as usual in the Summer in Italy). This time I was going up the west side of Lago di Garda – the side with all the tunnels built by Mussolini during the war. It is never dark in the tunnels so no real problem to go bicycling there without lights, but the road is not always wide. I thought this side was as nice as the other, really. I had two photos near to each other on the way to Riva del Garda – the busy little town on the north side of the lake.
Via Torbole I went up the very busy road over to Mori via Passo San Giovanni (272m). You are supposed to use bicycle paths higher up, but I was disobedient and skipped that (it's just a short while before reaching the top of the pass and on the way down you are hardly in the way of the traffic if you keep a decent speed and it is not a motorway anyway, but apparently local authorities can put up signs forbidding cycling wherever they feel like down in the Alps). I stopped down in the heat in Mori for fruit, soda and something more at a grocery.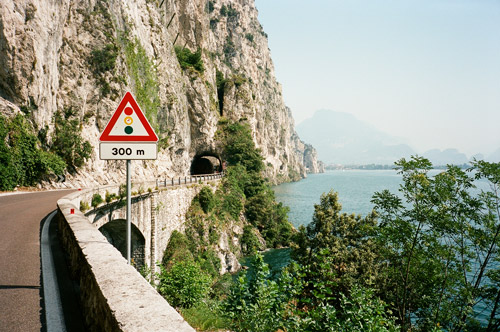 Then I started out up to Passo di San Valentino (1314m) and later Bocca del Creer (1617m). It was hard in the start up to Brentonico with the heat and a somewhat steep road, but it got easier with more breathable air and temperatures higher up. Above San Valentino it is very nice. One only glimpses Lago di Garda at Bocca di Navene (1423m) on the asphalt road up here. (Had a photo there by a German tourist but it was blurry, so skipped it here.)
After the descent from Bocca del Creer to Bocca di Navene, the road is rather flat and very good. Soon one comes to a road that takes off uphill to Bocca di Tratto Spino/Tredes Pin (1717m). This road is well asphalted at first and very steep before it turns into gravel (just when I was beginning to think they had asphalted it all the way up as I had read there were some plans to do earlier). The main gravel road continues (not so steep) up to the stazione teleferica (where cable cars comes up from Malcesine by the lake). The pass is below to the south and you could walk down there (I walked part way down there). One could also try the less good gravel/jeep road that goes off directly to the pass.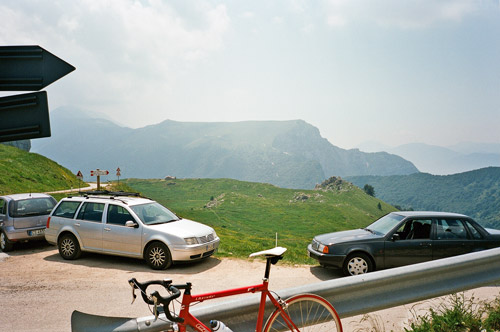 I went back down and took the last photo for the day just before returning on the asphalt descent. Then I went south and east – doing the loop road that takes one back to Passo di San Valentino via Passo Pozza della Cola (1289m). The road here descended further down than I had thought it would before it climbed up again to San Valentino. This is a popular loop (excluding my trip up Monte Baldo (stazione teleferica)).
I have had thoughts on doing much more this day, but I knew I had been a bit over-optimistic in my plans and had to get to La Villa/Stern in Alta Badia for the Maratona dles Dolomites there a few days later and still had much I wanted to do before. So I skipped going up to Passo di Santa Barbara and Passo Bordala. I also had seriously thought to do the Monte Finonchio road over to Serrada this day too, but as I was not sure it was cyclable in all (top section should be gravel of some sort), I decided not to take the risk here (maybe it would had been fun, though I am pretty sure I would have had to stop a bit earlier this day if I had taken this road).
Instead I took the regular road up to Serrada (1269m) (which is a pass without a pass name) from Rovereto (200m). Serrada was hard enough for the evening (a rather moderate climb really) which is still not to be found at salite.ch or elsewhere oddly enough. I went up there quickly and then down to Folgaria (1162m) on a wooded road.
There was a short climb up the Passo del Sommo (1343m), which I climbed the same way back in 2006. I noticed they were going to have a bicycle race there sometime later which I did not know of. The road down to Carbonare is somewhat steep and with some nice views. I stopped for the night at a hotel on the main road in Carbonare and it was ok. Carbonare is yet another unnamed pass at 1087m.