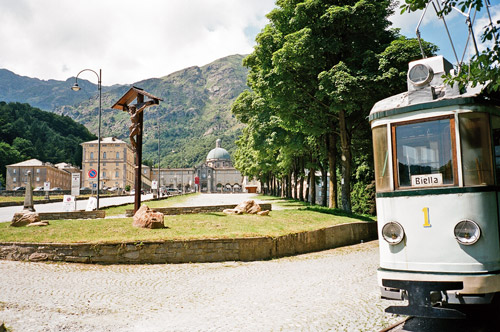 Ok, I had decided that I probably did not want to cycle back over the Po plain via Milano (or south of it) to Bergamo. I had also decided that I probably did not want to cycle back up all the way past Torino north toward Aosta, but that was less clear to me beforehand. So the idea was to take the train up to Biella (straight north until I hit mountains again) from Cuneo or somewhere closer to Torino, but as most trains leave Cuneo that was also a reason for getting to Cuneo. I managed to get up at 5:30 or something and showered and dressed and was on my way soon after 6 am.
It was kind of nice being up so early on a day when the TdF was to depart from the city later. The city was full of people and activity already at 6 am. Nearly all obviously local people working. Tourists and cyclists were sleeping :-), except me. I rolled over to the train station and was told that I could not buy a ticket. There had been a strike as of this morning, but it was a bit unclear what that meant. Apparently there might be trains going and there might not. Next in line was a young woman and her mother (I think) and they got tickets all right, so I asked them what was up with that. Apparently they were allowed to buy a ticket on their own risk to Torino only. So I went back in line and just said I wanted a ticket for Torino and that was okay – weird!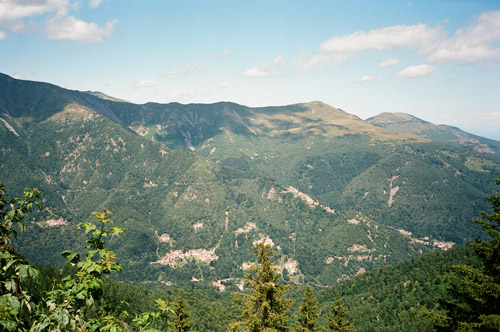 Eventually a train left for Torino, but it was clear by then that I would at least miss the first connection north from Torino. Well in Torino it was almost a two hour wait for the next train north, so I went out on the town and cycled around quite a bit there and found a café on the other side of the river (plenty of cafés all around, but difficult to spot any nice looking ones near the station). (It was a good café.) Then back to the train station via a grocery.
Eventually the train went toward Biella, but there were one more change at Santhiŕ. Here I jumped on a nice looking train that should leave for Biella, but soon I after I started to talk with someone on the train we heard that this train was affected by the strike. I thought that now I had to skip trains and start bicycling, but it was still a boring flat stretch up to Biella. I talked a little with a girl also left stranded here on her way to Biella. She talked with some other girls who had a car here and was going up to Biella with the car. There were some question about whether they could get me in the car with the bicycle, but since we were talking of the option, I thought I could as well try and get with them and managed to get the bicycle in the small bagage compartment. Nice girls and we talked a lot during the ride to Biella (they did not know english very well, but it worked and was fun).
Biella (409m) is a town not totally unlike Bergamo – it also has a funicolare and it has even more cobblestoned roads than Bergamo … . It was very hot today, so I felt very fortunate to arrive here feeling somewhat fresh still. In retrospect, I could probably have been able to get here bicycling from Cuneo and arrive at the same time as I did now, if I had started right away to bicycle, but then I would surely have been very tired by the time I had gotten here.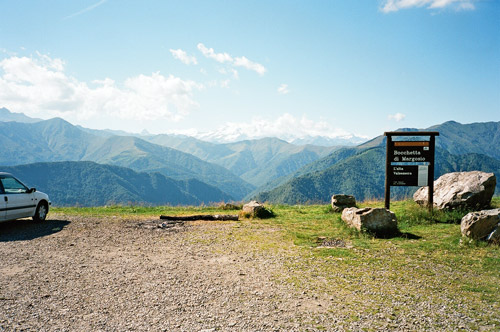 I mentioned to the girls that I was going up to Oropa and she thought it would be very hard ;-). I tried to explain that that was only part way up the first climb I had to do this day. The road up to Oropa is not hard to find and it starts to climb rather quickly out of Biella. I wanted to stop and have a little lunch break before starting the climb (it was now a little after 14:00). I did not find any nice (or any) place to stop at in Biella (on the way to the Oropa road), so I started to climb and then stopped at a bar on the way early on (in S. Giovanni).
The road to Santuario di Oropa (1150m) is a nice wide and very good road that is somewhat steep, but not very difficult. The Santuario is quite impressive and apparently they used to have a railroad up here. I managed to catch both the train (tram?) and the santuario in the same photo (above).
I then found the continuing road behind the santuario that goes up to Colle della Colma (galleria Rosazza) (1488m). This road could be talked about for long. It is a quite nice road that was fully asphalted only last year, which was why I could not find any confirmation about this fact beforehand on the web or elsewhere. It is very nicely built and the only problem for race bicyclists may be the drainage passages which are a bit similar to the ones on Col de Sarenne (Alpe d'Huez), but rougher, because of very coarse cut big stones to make them (but nice and no problems if going slowly over them).
There is a tunnel at the top and you have splendid view from up here over Biella and the area. I stopped to talk with a man taking a break here who lived down in Biella. I said that I talked with some girls from Biella, but they did not know of this tunnel and he thought it was typical and that most people down there probably had no idea of much outside the city and the history (I think he was a history teacher).
The I passed through the old narrow tunnel (which still might have been gravelled). On the other side the views were even better and here I found some cyclists, with one of them wearing a Maratona dles Dolomites jersey from the ame year (2006) when I also took part in the event, so I stopped again and talked a little. I was just in such a good mood right now, finding this lovely road and perfect weather up here and no pressure (by myself) on what to do for the remaining trip.
This east side of the Rosazza road is even more narrow and you cannot just take your car and drive up here as there are a million regulations on this road (for good reasons, it seemed like). The road is pretty steep most of the way down to Rosazza (865m) and very nice. I had a photo on this side of the tunnel at the top overlooking the next mountain and passes I were about to climb (the Séssera panoramic road).
Down at (just south of) Rosazza a local cyclist asked me about the road up to the tunnel. From here one more or less cross the road and start on the evenly paced climb up to Bocchetto di Séssera (1382m). This is a cyclists paradise. A wide winding road in perfect condition with fantastic views most of the time. First you pass Sella del Cucco/Capanna della Sella (1262m) (it is really from here the good views start). Then you eventually reach Bocchetto di Séssera (1382m), where gravel roads goes into a wide area of more or ess hidden valleys as there is no surfaced road into this area from any direction. There is a forest gravel road over Bochetta Boscarola (1425m) allowing a short cut north, that might be possible with a road bike, but it will be a quite long ride on gravel roads. You can see this pass from here.
One reason for taking this road is that it has plenty of passes along the road to collect! It is claimed (by some) that there should be a Colle Moncerchio (1530m) and you can find a mention of it on maps, but it is not clear that there really is such a pass and it is usually claimed to be asphalted, but in fact there is no asphalt road going above ca. 1490m here! So I believe this is simply a myth. However, next (after climbing to 1490m, which is the steepest stretch) you descend to Bocchetto di Livera/Luvera (1284m) and then Bocchetta di Margosio (1332m) which I found had the best views of the passes here and my last photo on this page over the Monte Rosa peaks was taken here. Then I went up a gravel road to Bocchetta di Rubello (1333m), which was not worth it and the road was only just precisely possible to negotiate with a road bike. Then I swooped down the serpentine road collecting Bocchetta di Stavello (1206m); Bocchetta di Caulera (1070m) and Colle Craviolo (940m).
At Trivero I turned left down to Cóggiola (where the other girls who got hike with the car to Biella lived). I took a smaller road toward Borgosesia, but it was also pretty busy. I wanted to stop in Borgosesia (350m) to have something to eat again, but they only sell expensive handkerchiefs to vain girls (I am sorry, but that was what was on my mind while going through the small town) and then the shop keepers buy city jeeps to run over bicyclists with ;-). Eventually I found a monstrously big Supermarket (Coop) where I bought something. I was not allowed to NOT take my receipt with me – ok … . I got a bit less happy after the visit to this sad place (Borgosesia). But the weather was fine and I just went on to nicer places.
I had planned to make at least one more pass today (more if the trains had been running as they should). Passo della Colma (942m) is a relatively low pass and I thought I could go over it in high speed, but eventually got a bit tired just before reaching the pass as it was a bit longer and steeper than anticipated. It was also quite nice.
It was a fun and somewhat long ride down to Omegna (302m) with some climbing on the way there (maybe I took a wrong turn somewhere as I did not bother to look at my map). It was starting to get late now. I think it was 20:00 when I reached Omegna and thus it was time to start thinking about where to stay for the night. Omegna did not look very fun and it was in the shadows (it was a bit cold here even though the altitude is low here).
I continued to Verbania (202m) by the Lago Maggiore (as planned), and it was basically and industrial area in between these two cities, so no place to stop there either. I had originally planned to climb up a high road here to Il Colle (1242m) and then down to Cannero, but it was unfortunately not possible this late. I continued in high speed (in order to get as far as possible before it turned dark). When arriving at a pizzeria in Ghiffa, I had escaped the busy city. I stopped here and they had a room. It was a bit mediocre place (as one would have guessed), but what was good was the lovely views over the Lago Maggiore and it was nice sitting there, especially in the morning to eat breakfast hearing the sea outside. I was happy that I at least had managed to bicycle around 140 km this day and collected quite a lot of passes. I was more or less on schedule for the last day, thankfully.