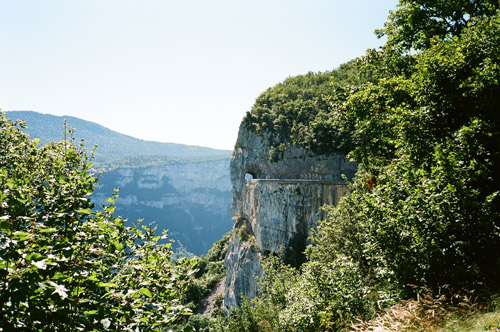 I had a good breakfast at Le Jorjane in Choranche before leaving. Then I rolled down to Pont-en-Royans (215m), where I also could have found places to stay at (that was my goal for the previous day, so I was close to do most of what I had planned for that day). Then a bit up and down to St. Jean-en-Royans (277m), which seemed like a very touristy place and there was apparently some motorcar racing event going on there as the village was almost blocked with sport cars and people. From here I started out on the main attraction for the day – the spectacular road over Combe Laval, which as famous as the Gorges de le Bourne.
It is a somewhat steep and pretty boring start up to the first pass – Col Gaudissart (889m), but here the landscape opens up as you turn around the corner of a ridge and come out of the woods. From here to Col de la Machine (1011m) the road is cut into the steep mountainside and has some nice short tunnels (as you see).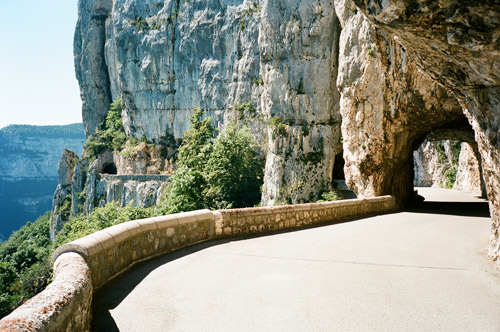 At Col de la Machine (where the road does not go down, but continues up) you have reached a very far-reaching plateau that is mostly wooded and is a bit of an anti-climax after having travelled up this previously spectacular road. The road up here seemed sweet and easy at first though, but soon they had started to put out gravel on the asphalt here and there which turned rather tiresome after a while. Then it was still very hot up here and some flies started to team up with me.
I was on my way to the highest pass for the day – Col de la Chau (1337m). I had only kept its height in my mind, but I was starting to wonde as the road continued to climb more than it possibly had to in order to reach this pass. I was soon up on the bare grassy mountain peak I had seen ahead of me (and actually there is a road continuing up there to a ski resort not much higher than where you get here). One reaches a high point at 1431m before the road descends sharply to the pass. Actually the high point itself come across more like a pass than the Col de la Chau.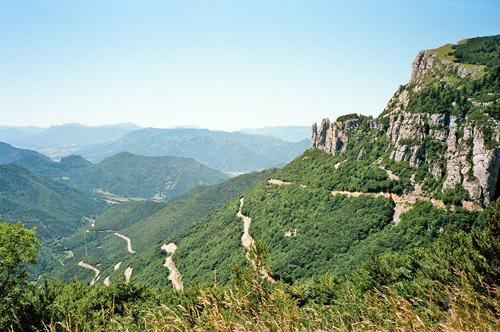 With one switchback you get down further to a vast plain with a little village called Vassieux. They had a coffee place and some cyclists had stopped there. But it was too hot outside here for me and I wanted to get on a bit more before stopping, so I went up the almost unnoticeable Col de St Alexis (1222m) and then over to another close famous pass – Col de Rousset (tunnel) (1254m). This pass has a spectacular south side, which was spectacularly hot today also. I felt really lucky going dow there. It looked very hard to go up there in the heat and there were quite a lot of cyclist on the road working their way up.
I stopped down in Die (and remember it as if it was yesterday). I stopped on the way down for a photo of the nice lavender fields (of which I saw more than I needed later on the next day). I was mumbling to myself about that one could die in Die due to the heat here. It was difficult to find a place outside with shadows to eat what I bought at the supermarket there, but I got some fruits here. It was a bit discouraging to continue further down from here, but I continued down west on the big D93. At Pontaix (330m) one could take a smaller road southwards, but it looked boring, so I just continued on the main road down to the next turn-off at "Vercheny" (the D357). I went over a bridge where a lot of people were bathing (below). This was the lowest point (296m) and it was feeling like I was down in Sahara or something (very warm).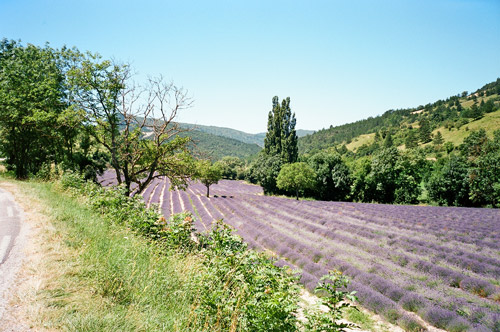 I followed the D135 toward St. Nazaire-le-Désert (572m) on its winding way with many people hiking out here (most bathing in the river, which seemed like a good idea this day). I had originally planned to go over the Col de Pennes (1040m). When I arrived at the crossroad (the first) with the road coming down from that pass I found a Dutch cyclist stranded there, waiting for a cyclist coming by with a pump as he had a flat higher up on the road. Apparently the road over Col de Pennes was pretty rough even if tarmacced.
I then eventually came to the little village of St. Nazaire-le-Désert laying in the middle of nowhere. I stopped for an ice-cream and coke. I had a photo while leaving the little nice village (below). The it was time for pass-collecting. One can go any road one wishes around here, but you will find passes everywhere around here. And especially if choosing the road I took, which is actually the same (D135) as I already was following. Very few use this road from here though. I was almost getting worried something would happen along this lonely road as there were so very little people along the road.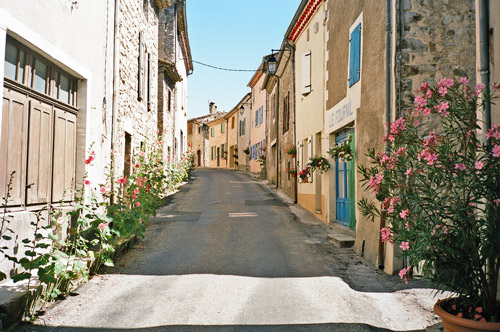 It is a wobbly (typical southern France countryside) road that was bleeding a bit due to the heat and it sounded as making popcorn when going over the asphalt bubbles. It was quite nice in its solitude though. Here I passed over the following cols: Col des Guillens (802m); Col du Portail (805m); Col de la Vache (887m) and Col des Roustans (1030m).
I stopped again at Rémuzat (446m) after filling my water-bottle in the nicely placed Chalancon (763m). Another pastry shop! Then I was out on a big road that I only followed a few hundred metres south to the D162, which is a nice little serpentine road to Col de Soubeyrand (990m). This road is built just like what you expect of a pass road in the Alps, except that this goes over a low pass and the road is very narrow. It was fun going up here and the climb was quite steep. From the pass itself I had the first view of Mont Ventoux, which is where I was heading now! (The next to last photo is from here.)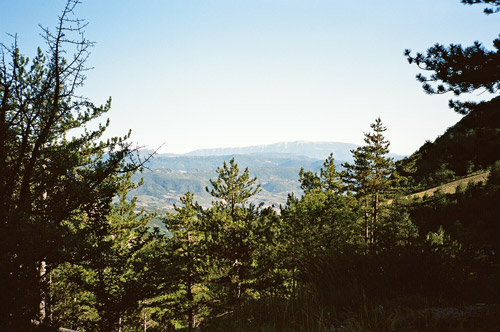 On the south side of the Soubeyrand pass I decided to take a small alternative road down via Le Poët-Sigillat (the village looks interesting, but I never went up there). This was a little short-cut down to Ste Jalle (403m). This valley in Les Baronnies is very rural and somewhat boring as one is now going out of the higher mountains. The next little pass was quite visible all the times since arriving at the Soubeyrand pass. It was the Col d'Ey (718m), which is mainly remarkable for its good views of the Mont Ventoux, which you can see we are closing in on now in the last photo taken from this col.
After getting down to Buis-les-Baronnies the area seemed much busier and with more people around everywhere. I just continued up and down the road toward Mont Ventoux. I crossed some more passes (more or less visible): Pas du Voltigeur (328m) and finally Pas du Loup (285m). I asked at a place along the road at Entrechaux for a bed, but apparently they knew that all the dozen places or so that one could stay at in that village were all fully booked. I had to go on even though it was starting to get very late now. I went in a good speed to Malaucène (320m) and this last part of the road was almost all flat.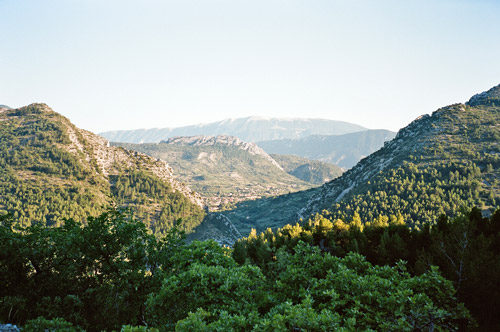 I had been a bit worried about finding a room in Malaucène, as I know how popular Mont Ventoux are in the Summer among cyclists and now I arrived on a Saturday on this nice weekend in the middle of the Summer. I asked at a bed and breakfast very close to the start of the climb up the Mont Ventoux and an old lady opened and by luck had a room for me, so I was quick to get out and have a pizza at the nearby restaurant (not the best one perhaps). I had a small walk on the village and looked at the bicycle shop at the corner where the road up the Mont Ventoux starts and looked into the window of a bookshop that nearly only had bicycle related literature in the window! I had a beer and went to bed – it had been a long day again and I was satisfied. Now I only had to get back to Bergamo again in four days! :-)