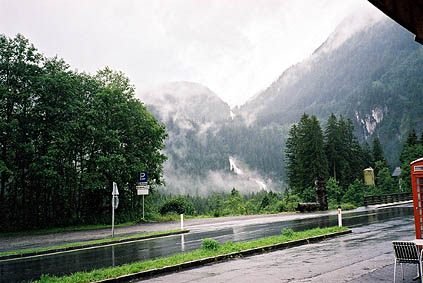 Yet another day that started with bad weather. It was cold and raining from start. When I arrived at Krimmler Wasserfälle I was nearly soaked by rain and stopped in order to try and avoid getting totally wet. (My overshoes helped keep the feet dry when it was not raining too heavily and the same with my wind jacket.) The whole place seemed like a waterfall and I was very puzzled by all the tourists that were bussed out to see the waterfall even on this day. It should be the biggest waterfall in Europe with three sections.
The road was nice, but it was a bit too cold for me to enjoy. It was 5 degrees all the way over the Gerlospaß 1531 m (road height 1628 m). On the other side of the pass it stopped raining and eventually it got slightly less cold. I had originally planned to go on the Zillertal Höhenstrasse, but I was too cold to think of it now and it looked like it was either snowing or raining up there.
I cycled fast down the Zillertal valley to escape the rain that was threatening again. I used the main road all the way, but was probably not allowed to cycle all the way on that road, especially not in the tunnel at the end I understood from some angry car drivers honking. I was a bit worried when cycling in Austria and especially around this area for the car drivers that seemed to drive a bit dangerous. I was probably thinking much on it because of my accident in Schwaz last year that I was now approaching. I thought, if I only manage to get through that town without an accident again, then I would not have an accident this year. But it was like some new accident was in the air and many car drivers seemed to drive dangerously close to me. A bit frustrating, but I thankfully escaped another accident.
I had a pizza for lunch in Schwaz 545 m and then continued to Innsbruck. At the west end of Innsbruck I stopped at a café and now it was better weather. I was perhaps not still in the best mood. I asked for a cappuccino and was asked if I wanted milk in it! I told her that it would not be a cappuccino if there were no milk in it. ;-) Afterwards I realised she might had been thinking about whether I wanted some non-whipped milk in the cappuccino, but I do not know.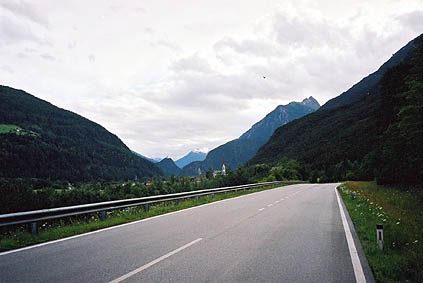 Out of Innsbruck I got some company and help at keeping a good speed from other cyclists. We had a very good speed up to Telfs where the last one waved goodbye.
I continued up to Imst 827 m where I visited McDonalds. On approaching Landeck I took the other photo of the day. One could see a castle on a hilltop in the middle of the valley ahead. At Landeck I was getting tired, but decided to continue until the rain or dark stopped me, whichever would come first. I got up to one of the last villages before the Arlbergpass 1793 m, called Pettneu 1222 m. I found a decent place to stay for the night (though the lady was not sure she wanted me for the night at first, probably because I only was to stay for one night).
I had something to eat at a restaurant and back to bed (in rain and slightly difficult to find the way back in the dark).
Day 1 – Day 2 – Day 3 – Day 4 – Day 5 – Day 6 – Day 7 – Day 8 – Day 9 – Day 10 – Day 11 – Day 12 – Day 13 – Day 14 – Next Day – Day 16 – Day 17 – Day 18 – Day 19 – Day 20 – Day 21 – Day 22 – Day 23