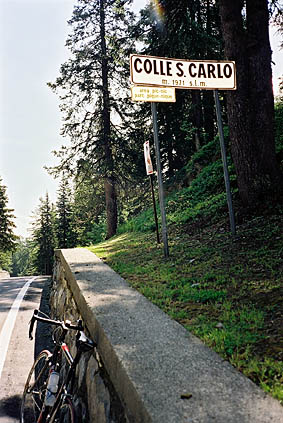 After a night with heavy rain, it was now clearing up and the road were beginning to dry up. I started out on the Colle San Carlo road in sunny weather. The climb up from Morgex 923 m to Colle San Carlo 1971 m is one of the harder in the Alps, but it is evenly graded and I had had a long night of sleep, so this posed no special problem to me.
There was however some annoying flies higher up. I do not remember if they were of the "Kamikaze" type I had named some before because of certain flies seems to care only about hitting you rather than landing on you. Most seem to be content with just being annoying.
I overtook some riders also on the way up and felt like I was in good shape. The climb is actually nicer lower down and it is completely wooded at the pass height.
The passage down to La Thuile 1447 m is short and easy. La Thuile is a busy touristy little village, but I do not know whether I could have found any good accommodation here or not. The road up to Col du Petit St. Bernard 2188 m and it takes surprisingly long time to get up there (probably just because it is not so steep). It is a pretty busy road with lots of tourist traffic. It is also somewhat nice, so I found it agreeable.
Near the pass there was a wedding being held out in the fields. I do not know if this some kind of tradition. I saw photos of other activities up at this pass. Maybe it is used for many kinds of occasions. I remember there were a lot events going on around the Col du Mont-Cenis (also a crossing between France and Italy) and it might be popular (especially among Italians) to arrange events on pass heights. Maybe there is some other reason for a wedding up at the pass (I suspect so – maybe they were cycloclimbers!).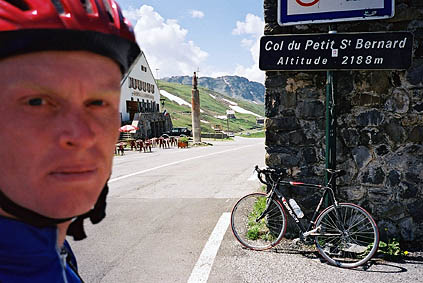 Just after the pass I met another "Cent Colist" and this time it was in fact a "Mille Colist" as he had climbed over 1000 mountain passes (some way to go for me still). Otherwise I unfortunately understood him very little – I have to get better on French. I was trying to ask him about the Col de la Traversette, which is at he fort (that you probably cannot see) at the top of the mountain between the statue on the column and the white house on the Col du Petit St. Bernhard photo.
I had found a path going up to Col de la Traversette from the Ancien Hospital du Petit St. Bernard, just a 150 m ahead, but the paths leaving off there seemed a bit confusing to me, so I went further down to try and figure out whether there was any more paths up there. I was almost thinking that I should probably forget about that col, but then I noticed a small bad gravel road and followed it. It looked like it ended just after 100 metres or so, but it actually continued all the way to Col de la Traversette 2383 m. I could cycle only a few hundred metres of the road. Upon reaching a ski lift below the fort I noticed that I might not be able to get up to the fort as there was an obstacle ahead – a big snow field across a slope that looked like it was 45% and rather long up to the col.
I started out anyway and thought it would be interesting to see how difficult it could be. It turned out not to be steeper than around 33%, which is the stretch you see in the photo even though it does not quite look as steep there (as usual). You see I tried to climb up on the side of the snowfield but from here I had to zigzag my way up the snowfield, using the bicycle as a crutch. By being methodological it worked fine and I was soon up.
It turned out to be more rewarding than I thought as the views were really much greater up there than down at the St. Bernard pass. I met someone living nearby who took a photo of me.
There is also another col on the way down to the main road again (now on a mostly cyclable gravel road) called Col des Embrasures 2305 m. The fort was also nice and I had an even better view of it after having taken the first photo, but did not want to take too many photos (I do not have a digital camera – in fact I bought a new simple Olympus camera as I was disappointed by the APS camera I had the two previous years (APS is no good)).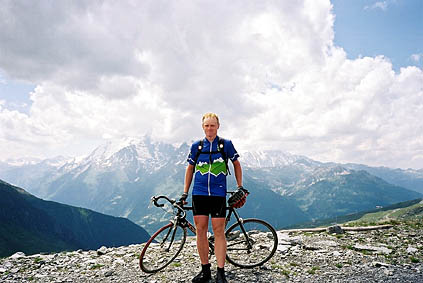 The gravel road to La Rosière 1779 m is mostly good, but not always, though it is cyclable. The main road down to Séez 836 m is a lovely descent. Col du Petit St. Bernard was supposed to be the last surfaced pass above 2000 metres in the Alps that I should visit, but I still had Col de Granon left as I did not manage to do it before the La Marmotte race.
I had tried to make up my mind the previous evening about what way to go to the Granon col, but found it quite hard to decide upon. I had originally quite different plans and had among other things planned to go to Col du Joly 1989 m and the highest surfaced pass I have not done in the Alps by now and also to go over the gravel road at Cormet d'Arèches. The question now was whether I should go over Col de l'Iseran and Col du Galibier or over Col de la Madeleine, Col du Glandon and Col du Lautaret. I here decided to do the last of the two alternatives because it involved doing some stretches I had not done already and would allow me to get in both Col du Glandon as well as Col de Sarenne on the way to the Granon.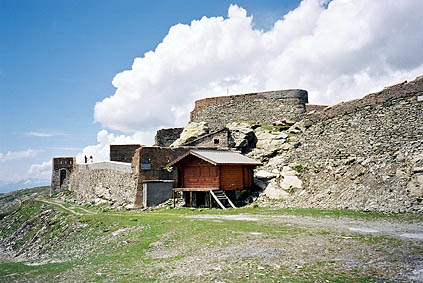 The best thing the village of Bourg-St. Maurice has to offer apart from access to some of the best passes in the Alps is the McDonalds restaurant. (I hate that village! I found one shop after a long time last time I was there, but now even that was gone. It is crowded, dirty and boring.)
I cycled down the valley to Moûtiers and had to pedal a lot as the wind was coming up from below. I again had this "middle-of-the-day feeling" of being irritated and tired. Things took longer than expected. I stopped at Moûtiers again at a big supermarket and bought something more to eat. Eventually I understood what road to take out from the village that lies crammed in a corner between mountains. A little later I also found a place to wash my bicycle.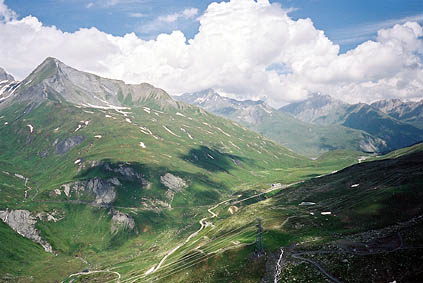 Then a little late I started on the climb up to Col de la Madeleine 1993 m, which starts at around 420 m height. It is a quite long climb with three parts to it. The first part is steep; the second is almost flat and the last part is (somewhat) steep again. It is a nice pass, but nothing out of the ordinary in terms of views. There are few passes that are so perfectly shaped – it is almost like the archetypical pass: with valleys that rises more or less similarly on both sides and mountains on both sides of similar height that rises high above the pass itself.
It was nice going down the side to La Chambre, just like I remembered from 2002; the pavement on the south side was very good. I was trying to hurry down as I wanted if possible to get over the Col du Glandon pass also this day, but I was seriously doubting that I could do it now.
I started out on the climb from St. Etienne-de-Cuines 418 m anyway and hoped that I could find a place to stop for the night on the way up. I thought I had heard about a good place to stop at in St. Colomban-des-Villards.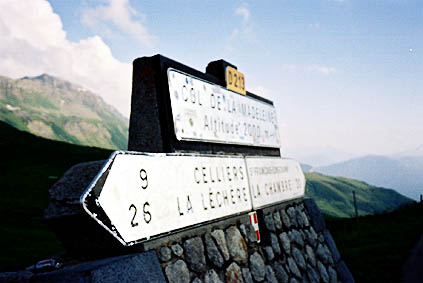 The pass road to Col du Glandon is very respected by cyclists for its steepness, but it is not very steep up to St. Colomban-des-Villards. When I arrived there it was already twilight outside and I thought it would be foolish to try and cross the pass this day that late. It turned out, however, that both the hotels o the main road were fully booked (I had first tried with a place on the other side of the river, but could not find the one signed for and heard from a man it was near the top of the mountain).
However, they were nice at the second place I asked and tried to phone someone they knew to get me a bed (and the more I stayed around there the less good it was to try somewhere else), but that did not work out. So I asked if there could be any other place among the different small villages up there. Then she remembered a place and she called in advance very nicely. I had to take a very small road going back but on a level with St. Colomban-des-Villards. I guess it was in St. Alban-des-Villards 1050 m where this place to sleep for the night was located. I believe it had been (or was) some kind of schoolhouse. It was very much like a youth hostel or very rudimentary anyway. Two funny ladies (who interrupted each other all the time) showed up and showed me to the room and followed me to the local restaurant/shop/meeting place so I could get change back from my 15 euros that I gave them and they persuaded the man at the place into preparing something to eat for me! (He was not as enthusiastic as the ladies though, but I got some pasta.)
They oddly enough had a very good assortment of beers there and very special ice creams, which I had to try out! The ladies also wanted to introduce me to some other (German) cyclists who had found their way to this lodging. They were not very talkative and soon left the restaurant. They had German beers with them that they drank back at the hostel and they were nice and let me borrow a towel for the shower, as I got none from the ladies (I forgot to ask). I did not get any breakfast, but it was only 13 euro.
Day 1 – Day 2 – Day 3 – Day 4 – Day 5 – Day 6 – Day 7 – Day 8 – Day 9 – Day 10 – Day 11 – Day 12 – Day 13 – Day 14 – Day 15 – Day 16 – Day 17 – Day 18 – Day 19 – Day 20 – Next Day – Day 22 – Day 23