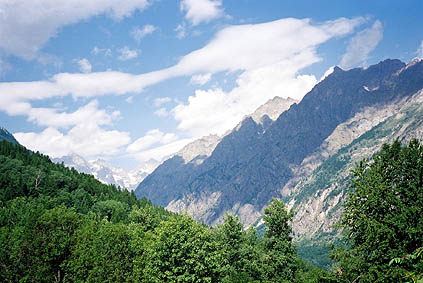 Now it was back to more and more hot weather just like the tour started. It was a fine morning. I had not really planned the exact route for the last two days, and especially not this day. Originally I had a clear plan for this day, but it was totally obliterated by my decision to climb up Col de Granon on the way back.
As I began cycling I thought my fast sketch for today looked a bit uneventful. I must at least have one potential real adventure each day I told myself. I soon decided to go over Col de la Pousterle (as I had in my list of extra things to do on the outward journey). I thought this would be easy enough and possible within my time limits. Honestly, I did not intend to get lost on footpaths as I eventually did. :-)
It was for the most part a very good idea to go over Col de la Pousterle, even though I essentially would come back on t same road just a few kilometres further down toward Guillestre. The climb starts in Les Vigneaux 1081 m. I asked two mountainbikers about the road to take to the col and thought I had understood.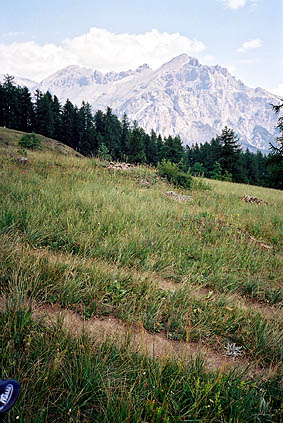 There were more beautiful views than I had believed on the climb up to Puy-St. Vincent Station 1600 (a very good road). I went really fast and was very soon at the ski resort. So far so good, but then I took for granted it was just to go as far up the tarmac road as possible and when it turned to a gravel road I still continued even though I had not seen any signs. After climbing above the building area I came to a dead end with a garage mechanic who hardly had heard about the pass.
I had to cycle down some time again and at a parking place I saw a gravel road leading off in the right direction and thought that would probably be the one. I soon met a couple of walkers who tried to describe how to get to the pass and somehow I should still go down for some time further along this gravel road, but I could not see the sign they referred to and continued straight ahead and soon found myself cycling on the track you see in the second photo here. Well, I had escaped the busy traffic down to Guillestre, for sure.
I sort of knew in what direction to go, I thought, so I just continued and eventually had to walk down to a farm (and this probably was a bit higher than the col despite that I had descended to it). I asked someone about whether there was no other way and yes there was. Then I asked which way would be fastest and of course it turned out that going down for a long time was the fastest way! I started on a small, just rideable gravel road down from the farm and after around 2 km reached the good gravel road up to Col de la Pousterle 1763 m. From here it was only around 3 km to the col.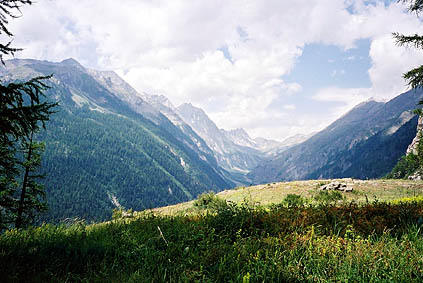 I had seen on the Michelin map that the road should be properly paved on the south side. That was quite an exaggeration by the Michelin mapmakers. The gravel road on the north side is in fact much more cyclable than the paved road to the south, which is broken up concrete with loose gravel. Thus it took some time to get down the somewhat steep and very hot south side. Only after all the serpentines the paving becomes good.
I had not believed it would take all this time to get over this moderately high pass and I was now a little late. At least, now I knew there would be no more gravel roads for me that summer and that was a very comforting fact. However, there were some demanding roads left to travel. It started soon after leaving L'Argentière-la-Bessée 993 m. I had not much thought on it, but in order to avoid the busy main road down the valley toward Guillestre and Embrun, one have to climb up to Pallon 1127 m, which is slightly below a 200 m climb, but it is very steep and it is very hot there.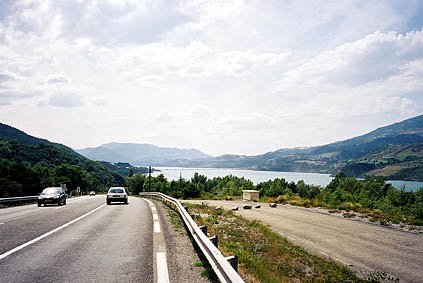 It was a nice bypass road anyway, surely worth taking. On the way down one of those cyclists that lay on their back cycling passed me by and I really had no chance to hang onto him. I did not believe it was possible to go that quickly downhill on those cycles. (I still do not quite understand why one would want to use such a bicycle though.)
Eventually I was on the main road to Embrun, only to shortly have to turn off it as no cyclists are allowed for the last stretch to Embrun. One has to go via Châteroux-les-Alpes. (I should have looked up that a fellow "Cent Colist" that I had talked to lived there. Sorry Roland G. – another time!) At Châteroux-les-Alpes there was no sign telling me where I should go, so I went down to the main road again. It was still prohibited to cyclists down there, but I did not give a damn and cycled on the main road down to Embrun from here.
Embrun was very expensive. I had planned to have a late lunch there. But paying 2.50 euro for a half-litre Coca-Cola in an ordinary grocery made me walk out again and continue. (At home that is the cost of a Coke at a Michelin star restaurant being served, including tip. Well, almost.) They wanted more than 10 euro for a Kebab – would I be served by a real Maharaja then? (I pay 3.50 for the best Kebab in town at home. All right, this placed looked better.)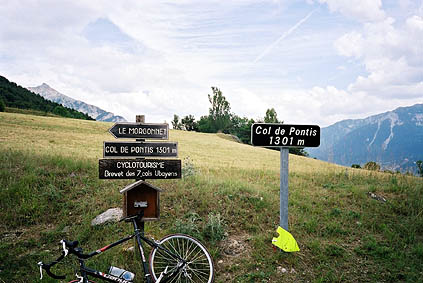 I found a cheap shopping centre outside Embrun, which was preferable. I got off the main road at Savines-le-Lac and from here it was sweeter again. On the climb up to Col de Pontis 1301 m, I had not many views of the big Lac de Serre-Ponšon (the biggest dam in the Alps) to the west, but the road was nice and steep. I had heard it was a very steep road and it was in fact even steeper on the south side, which must be very hard!
I met some cyclists when coming down to the road that goes by side of the dam, but they were on their way to Barcelonette. I was on my way to get on the Route Napoléon toward Nice and soon turned up an evenly steep road (not really steep, but around 5 %) up to Col St Jean 1333 m (from around 950 m).
It was an easy pass and a taste on what was left for me on my way to Nice. I had however an interesting last day going to the Grand Canyon du Verdon.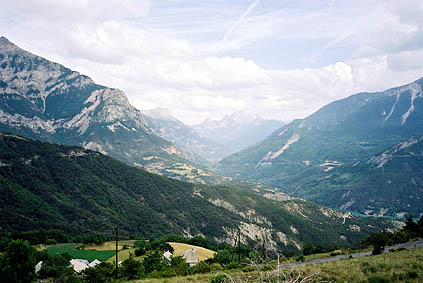 Approaching Seyne I was getting very tired rather suddenly. It must be the accumulated distance that began to make a real impact on me. I stopped for some pastries and a Coke. Someone stopped to ask me about where to find a nearby bicycle shop … .
I crossed Col de Maure 1346 m and then the even easier Col du Labouret 1240 m. From there it was downhill and then very flat to Digne-les-Bains 599 m.
I stopped for the night at a Logis de France in Digne-les-Bains. I had a decent dinner with Indian food for a change and wine. The last time I used my shorts and shirt – the only photo I have of me in those clothes are from the last day on the 2002 tour. (I keep the shirt and shorts just for the cycling trips, that is why I still could use them, but I might need something new next time.) Now proceed to read about the final day!
Day 1 – Day 2 – Day 3 – Day 4 – Day 5 – Day 6 – Day 7 – Day 8 – Day 9 – Day 10 – Day 11 – Day 12 – Day 13 – Day 14 – Day 15 – Day 16 – Day 17 – Day 18 – Day 19 – Day 20 – Day 21 – Day 22 – Next Day