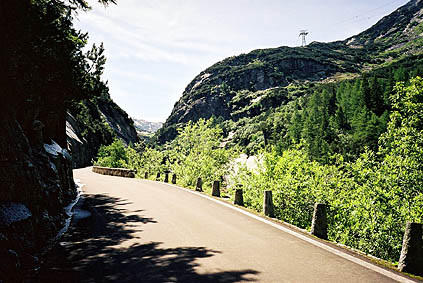 Had I waited for the return of sunshine? Today was perfect weather: sun and not too hot. It is quite a long climb from Meiringen 594 m to Grimselpass 2165 m. It is however rather easy as it is never very steep. The road is somewhat busy, but it is quite nice most of the way nonetheless. It is especially nice at one of the tunnels half-way up, where a road goes outside the tunnel (and is supposed to be used by cyclists). On this alternative road I took the first photo. Just a little later (or earlier) I met a group training mountain climbing down and up the ravine on the side. Here you also get a first glimpse of the mountains towards which you are going.
I felt some new energy by the fact that I needed not to worry about not being able to climb over the planned passes ahead. I had been somewhat lucky with the bad weather happening just when I had not really any plans for going up gravel roads and other awkward places.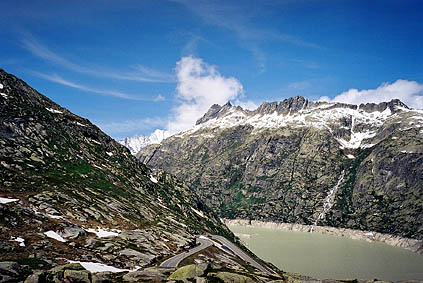 There are some huge dams on the way up to the top and the views are actually very good and you can glimpse some (I believe) 4000 m mountain tops here – the Lauteraarhorn 4042 m and the Schreckhorn 4078 m. See the second photo. After many hairpins above the last dam one reaches the pass, which also offers quite good views. It has a flat stretch along the little lake in the next photo.
Then it was down the spectacular hairpinned valley to Gletsch, where the one meets the road that goes up to the Furkapass. I had one photo one the way down the Grimselpass overlooking the hairpins up the Furkapass and one the other way near the Furkapass. I stopped shortly in Gletsch 1757 m to buy something, but it was rather expensive, so I was happy with a Snickers bar. It was slightly cold there also, so I did not wish to stay for long.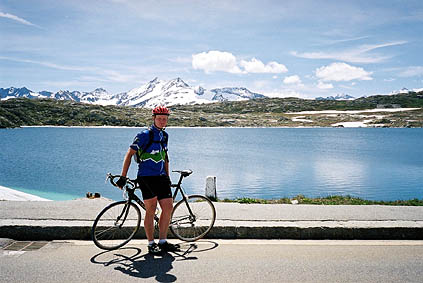 There is a railway going up here parallel to the road up the Furkapass, which goes into the mountain somewhere, which was a bit hard to see exactly where it was. You can see it crossing the road in one of the photos. One could visit the Rhonegletscher on the way up to Furkapass, but the place seemed a bit too touristy to me. I was soon up at Furkapass 2431 m. It felt good to pick one +2000 m pass after another in the same day! I did not have many new left to do now in the Alps. Here was the second time on my trip that I met any Swedes and asked one of them to take a photo of me.
The descent toward Andermatt was very nice on very curvy and different hairpins. After the hairpins, though, I noticed I had a very strong headwind for the remaining part and had to pedal even though it was downhill and still only was at around 20-25 km/h.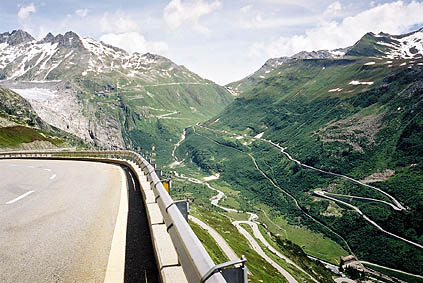 At Hospental 1495 m, I turned off up to St. Gotthardpass 2108 m (where I had been in 2002 coming from the other direction). Now I had he wind in the back and it was not steep just like I remembered it, so I went up easily in a speed around 15 km/h. Eventually I lost the wind in the back and it became slightly steeper, but I was still very soon at the top. (I swished by two other touring cyclists.) I never thought much about taking the part of the old road that was possible to use with cobblestones as it was so close by and offered the same views, only a worse surface and less traffic. I saw two other cyclists going up the old road and wondered for some time if they might get up before me, but soon I saw they were working on the old road a little further up, so no worry. ;-)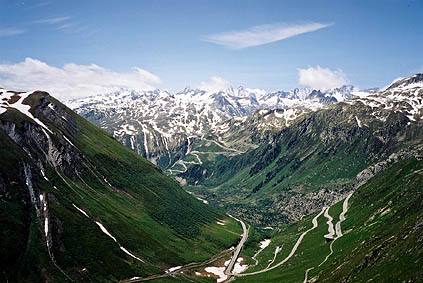 The idea to not return at the Furkapass and go ahead down the valley to the Simplonpass (that I still had to do on my way back to France) was because I had learned that there is indeed a surfaced col above the St. Gotthardpass that I had missed the last time I was there. I also knew what little road leaving the top of the pass it was that I should take and went directly ahead to the Bassa della Sella 2162 m – a pass on a service road to a dam further up.
I had been studying the Swiss maps online and had seen another pass further on a side road called Passo Scimfuss, but understood this pass to be unsurfaced and it seemed also a bit doubtful it was a true geographical pass (I still am not sure). However, seeing the directional sign for Passo Scimfuss and noticing that it started off very nicely surfaced, I went away and after a little while it became gravelled, but it was only gravelled as far as one could see clearly the surface, which was like 100-120 metres. Then it was nicely tarmacced about 1 km until and 2-3 km after the pass height.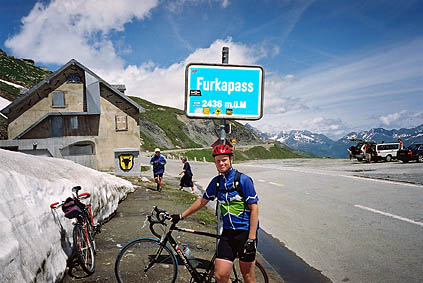 The views from Passo Scimfuss 2242 m are the best around St. Gotthardpass on either side from surfaced roads. The first photo I took around here was soon after this pass.
A farmer told me that I could continue down this road to Airolo (he said many goes here by bicycle). Later on I guess that he meant those bicyclists were mountainbikers. I even asked another man on the way down, as I began to be a bit doubtful, whether this was the road to Airolo. He said "yes", but looked as if he was saying, "if you call this a road then I guess, yes."
The gravel road was okay at first, but soon after talking to the last man, several choices of roads appeared and none seemed like the right one. After trying to see how they continued (which was mostly impossible) I took a chance on the one going most straight and that looked best. There were some directional signs that told about places I had not seen on maps, so they were of no help (nor did I print out enough of the area of the detailed map as I had not planned to go here). It was soon hard to trace that road in the grassy fields, but after having at last having to give up cycling, the road was soon more discernible. The only problem was that it was going down steeply and was so bad it was difficult to even walk down the road with bicycle.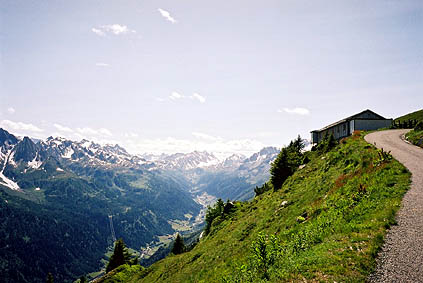 After some more walking and coming to some houses I began to feel sure this was the right road. I could cycle most of the way down from here, but DO NOT DO IT! Not with a road bike anyway. It was a cheap thrill and I guess I have hardly gotten that much adrenalin on my way down anywhere. The reason was that it looked like it was fine to cycle on and it is actually partly tarmacced (for a much longer stretch than you are likely to realize, it might at one point have been tarmacced almost all the way), but it was covered with loose old asphalt used as gravel. With sometimes thick gravel on hard tarmac that does not look like loose gravel and it is up to 20% steepness and curves, you better have a lucky day. Actually, I did not realise fully how dangerous the road was until I had reached the good road p to Airolo. The road is partly cyclable from the first houses and only becomes good 100 m before the road to Airolo. I had to walk only around 2-3 km, but should have walked around 6 km. I thought the farmer must have joked with me suggesting the road afterwards and I wondered why they referred to it as if it was a road that could somehow be used by ordinary cars (not possible up the steepest short part).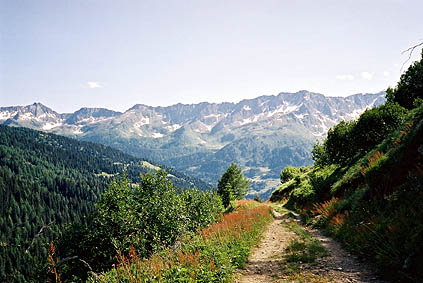 It took a much longer time to get to Airolo than I had first hoped at the superb beginning of the road. I guess it took nearly 2 hours from the pass to Airolo.
In Airolo 1178 m, I visited the only grocery I found there last time too inside a shopping market. A very boring cooperative grocery with militantly unhelpful personnel, but they allowed me to buy some stuff anyway. I found an open pastry shop to get something extra (where they were much nicer).
Still fine weather, so no excuse to not go on. Now it was time to go over Nufenenpass and down the upper Valais valley. I had originally planned to go over Passo di San Giacomo from up the Valle Bedretto (the valley from Airolo to Nufenenpass) and into Italy to thus have another new +2000 m pass (gravel road on Italian side, path on the Swiss side only). It would also have allowed me to cross the Simplonpass instead of using it as a cul-de-sac. The reason I did not try this was that the Passo Scimfuss road had made me too late and had already given me a new extra +2000 m pass for the day. It might have been possible to get over it before dark, but I strongly doubt it. It also looked as if there were much snow up on the Swiss side and I almost felt scared by the thought that I could have tried to go over there.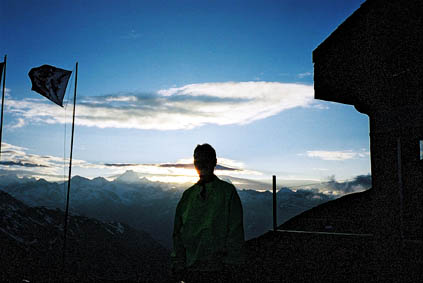 I had a quite good speed again up to Nufenenpass 2478 m and it is only the last part that is somewhat steep. It was getting late and the last photo of the day really caught the last glimpses of the sun. It was taken by the mother to one of the girls working at the café on the top.
Very cold, but not too cold, down to Ulrichen 1347 m. I begun to find a place for the night, but soon decided to try and get a bit lower down the valley as it was a bit too cold up there for my taste. However, the valley does not go consistently downhill from Ulrichen and it is 20 km until it drops under 1000 m. As it was getting dark very fast now, I finally found a place that looked right. A room in Reckingen around 7 km up and down the valley. The woman hiring the room was delighted to find I was from Sweden as she had just returned from her first ever visit/holiday to Sweden. They have really nice tree houses up this valley. Reckingen was nice in that it did not come across quite as touristic as the places further up the valley. I had something to eat at one of the two restaurants and there seemed to be mostly local guests there.
Day 1 – Day 2 – Day 3 – Day 4 – Day 5 – Day 6 – Day 7 – Day 8 – Day 9 – Day 10 – Day 11 – Day 12 – Day 13 – Day 14 – Day 15 – Day 16 – Day 17 – Next Day – Day 19 – Day 20 – Day 21 – Day 22 – Day 23