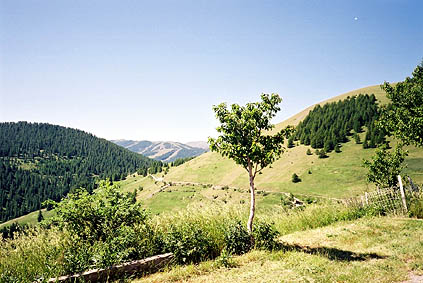 From Guillaumes there are two roads up to Valberg. I opted for the slightly longer road via Péone. There is a very nice view upon entering the village of Péone, but I hoped to get an even better view above the village, but that never happened, so no photo there. From Péone 1172 m to Col de Valberg 1673 m the road is somewhat steep, but nice. Valberg is a ski village with many hotels and shops. I bought a postcard there for my parents, which I did not manage to send away until Kartitsch (not quite in this area).
I was planning to go out in three different directions and back again from Valberg in order to collect some nearby cols. First aim was to visit La Colle 1787 m. I finally found the correct road to La Colle. It is asphalted until Col de l'Espaul 1748 m and is essentially a flat road. After some time the gravel road deteriorated and I thought I understood where the real La Colle was as I saw some sign up the hillside and climbed up the grassy slope, but was surprised not to find this pass indicated. I noticed the road went to a nearby house where it ended and walked over there and asked the lady of the hose if his was indeed La Colle – and it was – only that it seems like it was the house that was called La Colle (photo from the house). But since there was indeed a geographical pass up at the signs we may as well design it as La Colle (the name of the place was probably derived from the pass anyway). I was recommended not to try out a continuation of the road and went back again. (I also went up the hillside at another place lower down to collect another pass: Col des Huerris 1765 m (quite obvious).)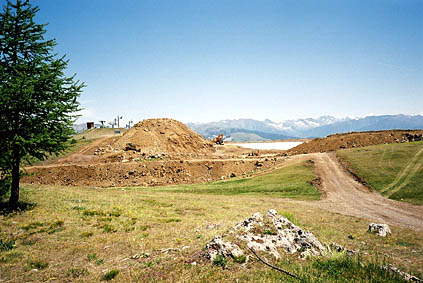 It all took an hour. Now it was up a more difficult road (paved only 200 m) to Col de Maty/Col du Sapet 1749 m (I never got clear on where exactly this was (two places to choose between). The gravel road was very dusty at the beginning but got better. Later it got worse and was actually non-existent close to Col des Anguillers 1856 m as there was big construction work going on. After a very steep ramp where the road effectively ended, I had to walk through the wood shortcutting up to the highest col on the road – La Bréchette 1901 m. Then back the same awkward way to Valberg again. It was hot and I saw some workers who where sleeping under some trees.
I did not think that latter excursion was worth the effort, but was happy anyway. The small road to Col des Atres 1674 m starts near the east end of Valberg and is just a very short climb up a concrete laden steep and stony bad little road. It was also of doubtful interest and now I got tired of not getting anywhere, understandably. Time to move on (I had more such deviations planned for the day, but skipped all but one from now on).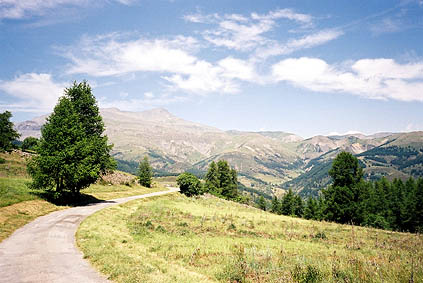 Asphalt again, thank God! Very comfortable ride to Col de Ste Anne 1551 m along the road to Beuil 1442 m. Just after Col de Ste Anne, a road goes up to the south-east (signed Bergians). This little road was thankfully paved all the way to Collet du Guérin 1638 m (very small and patchy asphalt). It was a very nice little road indeed and when presented with a choice of directions, I did not look at the map and took the wrong way. I soon discovered I was going around a hilltop and turned back eventually and took the other road to the pass where the tarmac ends, then back again and down to Beuil.
Beuil is the place you arrive at if going up the Gorges du Cians (referred to earlier). From Beuil the road goes east up to Col de la Couillole 1678 m. It is very easy from this side, but the climb from the east is one of the harder climbs in the south French Alps. It came across to me as a pretty dangerous road to go down. There were many breathtaking views all along the way down and that was part of the hazard. It is very small and with very many varying curves and varying steepness as it contours the mountainside. This all makes it very difficult to cycle fast down.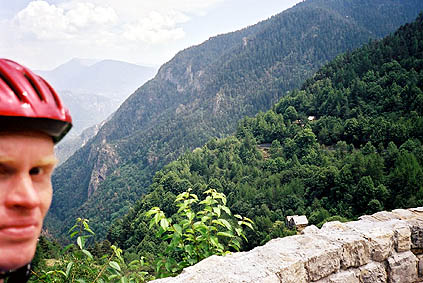 Down in St. Sauveur-s-Tinée 510 m I refilled my water bottle, but was apparently some minutes late for finding the shop open. Now it was time for a little longer climb up to Col de la Moutière 2444 m. This is the road up to the famous Cime de la Bonette 2802 m (highest paved road in France). When arriving in Isola I was on the part of this road that I travelled in 2002, when visiting the Cime de la Bonette in rain, wind and 4 Celsius. I stopped for something to eat in St. Etienne-de-Tinée 1144 m, which is the best place to stop at on the way up, as there are not many more places where you can get something to eat.
I felt that I moved on very slowly and regretted a bit my planning of the trips from Valberg. I had originally planned to go to Col de la Moutière and then to Col de la Bonette and collect some nearby passes that I missed last time I was there and now I wasted time on less interesting passes around Valberg (though I had of course originally thought I could do all).
To get to Col de la Moutière, which is located just below Cime de la Bonette to the west, one has to take off at Pont Haut to St. Dalmas-le-Selvage. There were never a sign for the pass and they do probably not want much traffic u there as the road enters the National park of Mercantour. The only thing that suggested I was taking the right road was a sign saying the road was closed! I hoped that did not mean much … . I was passed by 2-3 cars and felt it was probably no big trouble ahead. It is a very small, beautiful, steep road with many hairpins. After a while I was beginning to get cramps in my legs. At times it was both legs at once and it was really getting problematic to cycle up the mostly 14% slope. I had to go slowly and change positions all the time.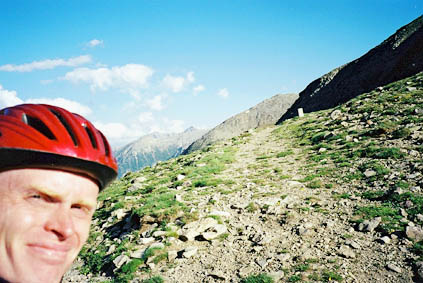 Eventually I reached a plateau. A very green area with lots of cows. It was apparently to this place that most went in their cars. I climbed on and got out of the wooded landscape where the last serpentines took me to the top. Quite near the top I discovered that a large snowfield blocked the road, but there was 10 cm free to let me pass by on my bicycle (it was not passable with a car and no kind of 4-wheel jeep had tried either). Another reason why no 4-wheel vehicle had tried to pass presented itself on the other side of the pass as you see in the photo of the tarmac road with big boulders on.
The sun was beginning to get lower and it was rather chilly out up there. Since I planned to go west on the unpaved road below to Bayasse on the Col de la Cayolle road, I could not permit myself to any more excursions in the area.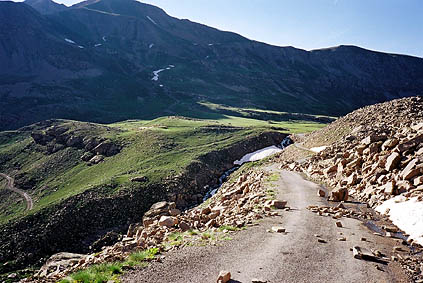 The road down to Bayasse was one I had wanted to take already in 2002, but couldn't hardly see he road in the terrible weather then (supposing I had wanted to see it). It would have been too muddy to be possible to use with my road bike. These gravel road often looks okay in the distance, but often turns out to be more difficult to cycle on than you first think. It turned out that I could only cycle about 50% of the way down to Bayasse even being inconsiderate of the well being of my bicycle. At one point it looked like I better hurry on as it looked like a landslide could (again) happen any second there (the road went through a previous landslide). I hoped all the time that the road surface would soon improve, but that only happened when I was like 150 m from the main road.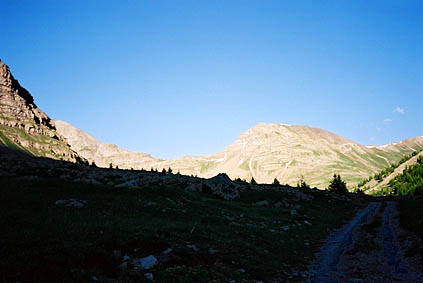 Just before going out on the main road I noticed a place where it seemed like I could stay for the night. It was a rather big walkers hostel. It was very good indeed. Maybe the place I stayed at during this trip, mostly because they were very, very nice and served me some delicious fish and more. I got a towel. All inclusive with a standard breakfast in the morning was no more than around 30 euros, including beer and dessert. It was a nice place to sit and see the sun go down.
Day 1 – Day 2 – Next Day – Day 4 – Day 5 – Day 6 – Day 7 – Day 8 – Day 9 – Day 10 – Day 11 – Day 12 – Day 13 – Day 14 – Day 15 – Day 16 – Day 17 – Day 18 – Day 19 – Day 20 – Day 21 – Day 22 – Day 23