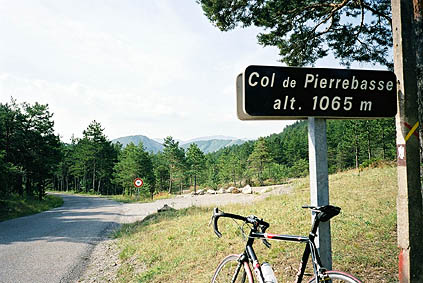 The last day is here and no accidents and no problems that I had not been able to overcome. This time it really worked out better than earlier!
I felt a bit at ease since I knew that whatever hardships ahead, it would only last this day. The plan was very ambitious for the last day and was to become almost 30 km longer than any day earlier. There were no real giant climbs on this day and that should make things easier.
I decided not to take any shortcuts from my original plan today and started up a small road going east from Digne-les-Bains. A very sweet and lonely road brings you to Col de Pierre Basse (or Pierrebasse as the sign says). I took a photo here for the single reason that I had not been aware of it while planning the journey and thought that maybe it was not known to the Club des Cent Cols and presented in their "bible" – 'The Chauvot Guide' (which lists over 8000 cols in French (many not cyclable)). Of course it was listed – I had missed it.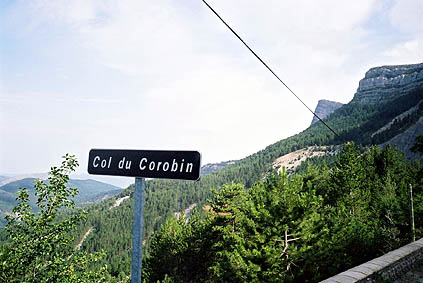 Col de Corobin 1261 m is located not many kilometres later along this little road and there are only a few houses up here. It looks very much abandoned and sad. This road is actually part of the real Route Napoléon, rather than the main road to the south, which goes by this name.
This was a nice start to the day. Now I was soon down on the main road to the southeast and Nice. At Barrême 721 m I started to look after a place to do a final clean up of my bicycle, but the Total petrol station was perhaps not the best equipped. Here it was very flat and I tried to keep a good speed, but after some time the road started to go up again to the Col de Lèque 1148 m. On the way up here you get a very nice view looking back to a hole in a mountain comb that you just cycled through (third photo).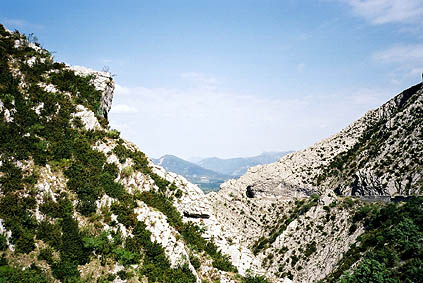 The road down to Castellane 721 m from Col de Lèque was a very nice and fast descent. Castellane is a very touristy place with plenty of campings as it is the main entrance village to the famous Grand Canyon du Verdon.
I had a Coca-Cola at the shopping market (there was too much people there so shopping was out of the question). Make sure you have water on the trip around this Canyon as it get very hot here and there are not many places where you will find water along the road. I found one outside a little café – apparently the tap was so hard to see for most that it was seldom used and the café owner wondered what I was doing there (almost as if she had forgotten herself).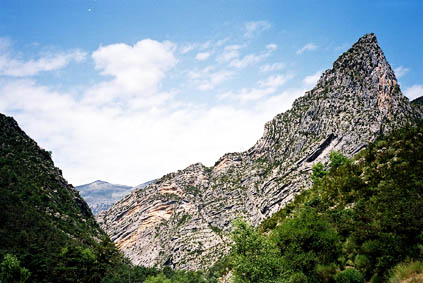 The views around the Canyon are mostly very good and the traffic is just about manageable (few such small roads have so much traffic). The road is certainly not flat. It starts out flat from Castellane but when you at a junction continue on the north side the road goes up and down and it is here not very close to the Canyon. At La Palud-sur-Verdon there is a circular circuit road, which is very popular, but I chose not to go on it as I thought I would see much of the same area from the south later on, which is mostly true. I stopped here at a grocery and had a little lunch break. There are impressively many water taps here, but this is the only place of that kind around the Canyon, so refill you bottles!
Soon after La Palud you reach the highest point on the north side Col d'Ayen 1032 m. Here there are some enchanting lavender fields that are hard not to photograph (thus, a photo). Now you are closing in on the more spectacular part of the Canyon. It is downhill via Col de l'Olivier 711 m to the rock bottom of the river in the Canyon and the lake it goes to at around 495 m. There are many nice views here down in the canyon where many people are going with pedal-boats they hire at the lake. They look like colourful insects down on the river.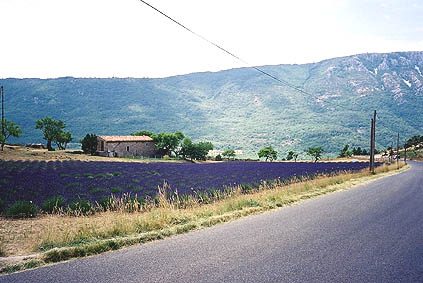 Down by the lake, where there was more tourists than anywhere else it was blazingly hot (as I had suspected and been worried over – more than the cols). Why do so many tourists want to be in extremely hot places? – It makes no sense to me anyway.
I tried to hurry back up on the south side of the Canyon. It was a very hot ascent to the little village Aiguines 789 m. I should have refilled my water bottle there but people sat eating around the only visible tap in the village, so I continued.
There are indeed many nice views up on the south side and the south side is much more beautiful on the whole. It is also much more difficult to cycle on the south side from the lake. You go over the ridge for the first time at Col d'Illoire 964 m, with wonderful views of the Canyon and the road down on the north side where I had been cycling just an hour earlier. (I had a bad photo there.)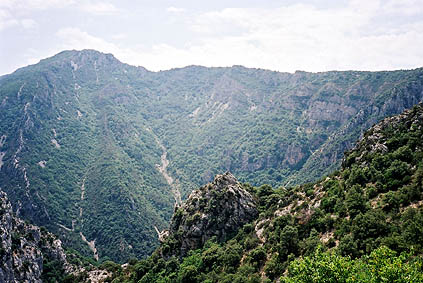 The hairpins do not stop there, but continues up on the comb of the ridge until the road finally decides to stay on the Canyon side. Here it still goes up until you arrive at the highest point around the Canyon – Col de Vaumale 1201 m. Just before the highest point is a water tap half-hidden by the roadside – do not miss it! On the way up here I felt that my knees were beginning to think I had climbed enough mountain roads and I had to think on changing positions on my cycle a lot. I also noticed that my rear tire (Michelin Carbon), which was new at the start, was now starting to show the threads.
At the highest point was also the best view and I took my final photo for the tour here. Now I thought I had completed the hardest part. However, it soon became apparent that the road ahead, even though it was beautiful, it also had a harsher surface and it went very much up and down. It seemed much longer than what I had thought it to be.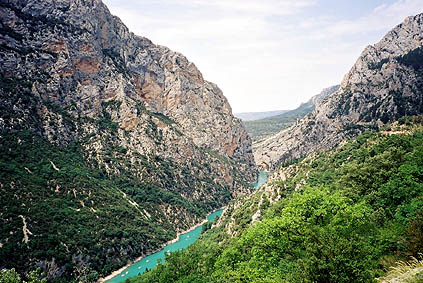 After leaving the Canyon at Balcons de la Mescla, and having had good views of the circuit on the north side, the road enters a rather flat rolling landscape that is hot and not very fertile, but with large forests on the south side. The south side here is actually a very big military area (Camp de Canjuers) where cycling is not allowed. My host in Nice, Bernard Langlade, had after long negotiations with the military been allowed to cycle through the area one day with a couple of other "Cent Colists" to collect some of the cols in that area. Bernard even showed me the true map of the area, which looked quite different from commercially available maps. (It is not quite as barren as you would believe from the Michelin and IGN maps.)
After quite some time I arrived at Comps-sur-Artuby 891 m where I had a sandwich and a little rest at a good café. From here I went back to the Route Napoléon again, via Col de Clavel 1069 m.
Upon reaching Col de Val Ferrière 1169 m, it felt like it was only downhill to Nice then, but it was a little too early. It is however the last pass above 1000 metres. There are many fine views on the way south here and it is quite enjoyable to cycle in this direction. I made a final food stop at Escragnolles and had a big chocolate bar and some fruits. The next pass is the Pas de la Faye 981 m and the road actually goes down some here before the pass to give you a last 115 m climb.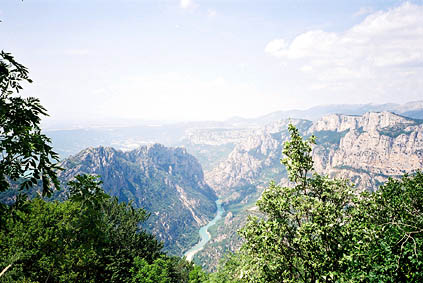 The last pass before Grasse is Col du Pilon 780 m but is only a bump on the road. I was a bit too tired to look at the map and just went by memory. I knew I should try and turn off the road just as I entered Grasse, in order to avoid having to climb up later or going by the seaside to Nice. I think I must have taken the right road and after some time going east through this high laying city road, I got back to another place I had visited before – Pré de Lac, where I had made my first stop on the trip.
I did not want to do any more climbing so I took the easiest road just straight down Villeneuve-Loubet, where I also found a place to wash my bicycle at last. (I had tried in Castellane also.) This was perfect, thus I could wheel down the last stretch to Cagnes-sur-Mer and get it dried up in time so it would be clean when I packed it down in my bike bag!
After 234 km I reached my destination. I was lucky Bernard had given me his telephone number since I could simply not find the way there (it is a very confusing area). Back at 20 in the evening, just as I had warned Bernard about. I was lucky to get some sleep and good food and had a nice journey home, where it was cold and almost raining (but that was what I crossed my fingers for). It had been 3613 km in the 23 days since leaving Nice – a new length record for me!
Day 1 – Day 2 – Day 3 – Day 4 – Day 5 – Day 6 – Day 7 – Day 8 – Day 9 – Day 10 – Day 11 – Day 12 – Day 13 – Day 14 – Day 15 – Day 16 – Day 17 – Day 18 – Day 19 – Day 20 – Day 21 – Day 22 – Day 23