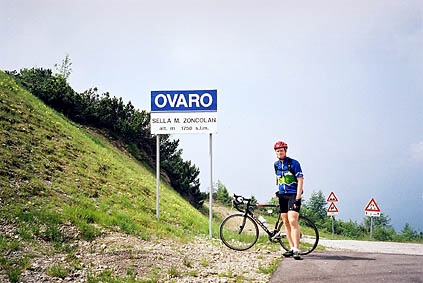 I did not manage to end the interesting day before with the famous climb to Monte Zoncolàn as planned (I think the specific reason I did not even give it a thought was that it would probably mean another wet downhill ride with worn out brake pads). Monte Zoncolàn is famous for being one of the most difficult through roads in the Alps.
I went down to Ovaro 525 m again, which is where the climb begins. It was not very easy to know which way to go (I do not quite remember what the sign said), but one should go via Liáriis. After passing through Liáriis one soon sees that the road starts to get steep. Just where it starts to steepen is a handy water tap (in case you will manage to drink any water for the rest of the climb)! From here the road should be around 15,5% on average for 6 km. There is one place approximately 4 km up where it flattens out for a little while and again near the top, the part with the bad tunnels. Otherwise it is mostly around 17-18%. It was quite hard, even though the climb the previous year up Id-Alpe from Ischgl in Austria makes this climb look rather flat by comparison. (Here maximum is 19%; at Id-Alpe it was 24% on the surfaced part and 18-22% mostly otherwise.) There are always tougher roads and when they are not tougher, weather conditions could come in to help gauge the difficulty level.
Unfortunately, Sella del Monte Zoncolàn 1735 m is not very beautiful climb. There are mostly wood and lower hills around. One could see the nicer mountains near the Panoramica delle Vette to the north in clear weather, but this road's main attraction is really the steepness.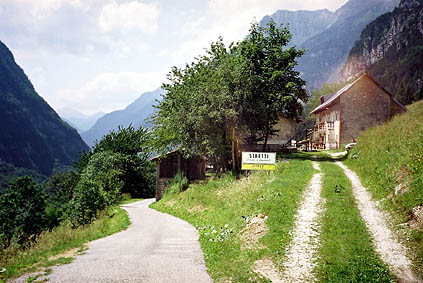 The other side, which was part of the Giro d'Italia last year, is after the steep part at the top (where I do not think they cycled) a rather normal mountain road and it is wide and smooth. There is a ski station and big parking place, which is where the wide road down starts. (Here is also a pass called Sella Baita da Rico 1288 m.)
I cycled down to Tolmezzo 323 m for lunch. I had a sandwich again and a coffee at a café. I looked for some time after a cycle shop, since I thought it was necessary to change the brake pads, but only found one outside town upon leaving and then it was after 13 p.m. and thus closed for some hours. I guess I will repeat this but I found out (at least when not being in my best mood) that no one works in the Alps apart from a few hours early (10-12) on Thursdays, Fridays and some Saturdays and a few hours later (16-18) on Thursdays and Fridays. Otherwise it is lunch; siesta; free day; ruhetag; mittwoch; holiday; and you name it! Okay, this is not fair, but those hours I gave are the only one you could be somewhat sure to find a shop open at.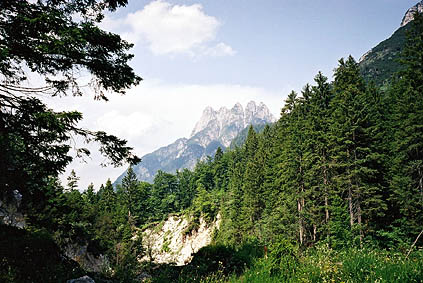 From Tolmezzo I headed east via Amaro and crossed the river delta on a bridge which was the lowest point after departing from Nice on my trip at 300 m above sea level. The Alps more or less ends here or some kilometres further south. It was of course hot here and a motorway finds its way up to Tarvisio and Villach in Austria. This made me long to get back up in the mountains again. It is a rather impressing view looking north up here (or a bit further up) as the mountains looks higher when you are so low down. I went up on a road parallel to the motorway (as there are no good choices here if going to Sella Nevea) to Chiusaforte/Raccolana. Here a road turns right up a small opening between some mountains toward Sella Nevea. This road is soon a very quiet and sweet road. It seemed to me like this is really a valley people had forgotten all about.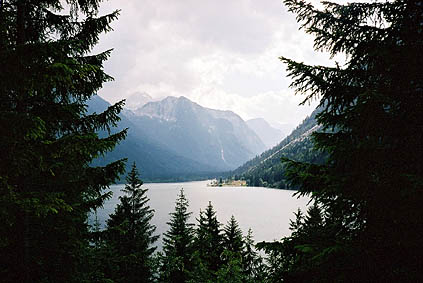 There is a local bus line, but otherwise there are very few houses. I had decided to try a small alternative road for a stretch up the valley which goes through a village called Stretti, which I had found intriguing as a very good song by Belgian composer Wim Mertens has the same name. (I know he had given names to some of his early tracks after small villages in France (like Salernes, Tourtour) and wondered if this name could possibly have been taken from here (not any chance I believe). The road is difficult to find if coming from down the valley. I had to look twice and saw a small wooden sign almost not visible announcing Stretti, where you would doubt a decent road went off. It is surfaced all the way though. It has a steep part up to the village, but then it is very nice and easy. It joins the main road soon again. The hairpins up the final stretch are quite nice.
Sella Nevea 1190 m was another ski resort that looked a bit like most entrepreneurs had given up all hopes for the village. After the pass height the road goes down a bit and the scenery is shifting into a more wooded area with a big beautiful lake and very high mountains around. This seems like a very popular hiking area for Italians in the region. This is very close to Slovenia and not far from Austria.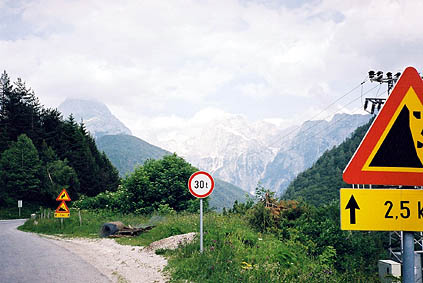 After the lake a road goes up to the east in a few hairpins to Passo di Predil/Predel 1156 m, which marks the border to Slovenia. Here I had to show my passport and this was the first visit to Slovenia for me. Oddly enough on this half-obscure pass, the first car that passed me by after entering Slovenia was a Swedish registered car (I guess I do not often mention I am from Sweden, so if you wonder … ).
After a short descent with really beautiful views, I was taking off the first road that goes off to the left. This road is the highest surfaced road in Slovenia and goes to a little farm called Koca na Mangrtu (I think it is the farm or maybe it is the place). It is probably surfaced for touristic purposes, while it may also have served some military interests. There is a loop road at the very top that is only allowed to follow in one direction and it is unsurfaced. I met a German cyclist on the way up on a mountainbike. We talked for a while and on the way down he told me he was going to Bovec for the night and I was not really sure if I would do the same. Thanks for the cookies by the way (if you read this)!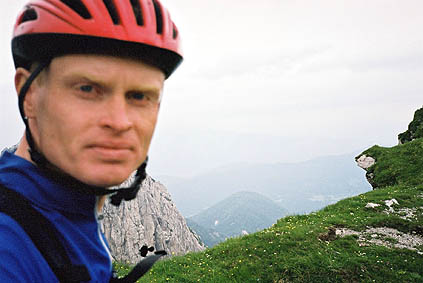 I walked most of the surfaced part of the road up as it was not so good (and went in the direction I was not supposed to go in). At the highest point one could climb up the grassy slope to the edge of a cliff and the Klan_ka_krbina/Forcella della Lavina 2055 m is like 40 meters away from where I stand in the photo. This pass is more of a climber pass than for walkers though (I could not make out if it would be possible without climbing equipment to get down into Italy, but do not believe it is recommended). I was looking rather serious in the photo as I did not dare to go closer to the edge – I could not see anything below and the first I saw below was like at least 600 meters straight down.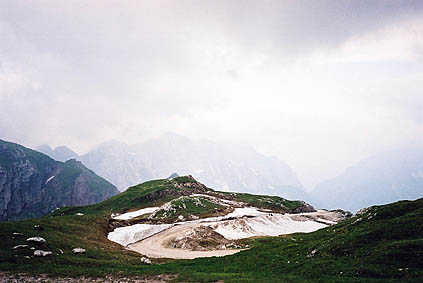 It was very nice up here and the road was itself quite interesting. There was a very steep ramp (around 20%) rather early on, where the road seemed to have been rebuilt due to a landslide. The weather started to get cloudier and I would not want to have another experience like the day before, so I did not stay for long (it was also slightly chilly up there with snow lingering).
I was soon down to Log pod Mangartom 650 m where the road started to flatten out a bit. Not many people live up in this corner of Slovenia and it is quite charming, but also catering to tourists a lot. Nearby is the Triglav National Park. Just before reaching Bovec, a road takes off up the Triglav Park and this is the road over the highest tarmacced pass in Slovenia – the Vrsic pass at 1611 m. This road starts at around 413 m and follows an extremely green coloured river, which I thought several times to stop and take a photo off (but never did). There seemed to be a lot of camping and tourist activity along the road.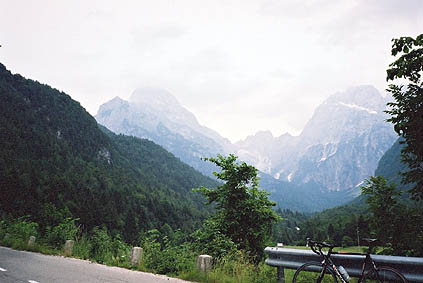 It is really lovely scenery along the whole stretch of the road apart from possibly the pass height itself (which were the only place I took a photo … hmmm). I was getting very, very tired as I approached the real start of the climb up to Vrsic and I was looking after a good place to stay for the night, but never found quite the right place and somewhat unhappily decided to get over the pass as I figured that I could possibly do it before dark and since the ominous looking clouds never really could decide upon whether to give me a hard time or not.
I needed water (I did not see any suitable place earlier on) and after some hairpins saw a couple who had stopped with their car to fetch some water from the water running down the mountainside here and they helped me refill my bottle. Now I really had a testing time –and it was that kind of pass where physical strength is not enough, but where the psychological strength is also put to test. This psychological test is really something you cannot experience in a cycling race (unless we talk about something like the Race Across America (RAAM), Paris-Brest-Paris, and similar). Knowing you can handle psychologically testing situations may help you in other similar such situations to achieve your goals. But the main point is that you get happier the more you achieve. I do not think you will get happy by just sitting on a beach. (I guess this is already implicit in my stories.)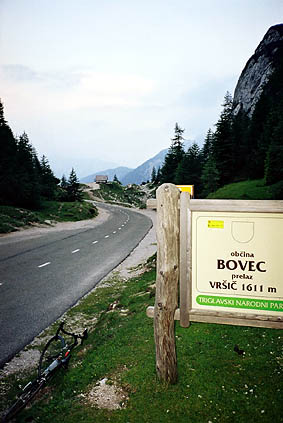 I arrived after a number (15?) of cobblestoned hairpin bends at Kranjska Gora 810 m. This is a well-known Winter Ski town in Slovenia. There are plenty of hotels here and I must have found one of the cheaper, but still quite okay place, called Penzion Borka (20 euro). It was a very rustic place with a "rustic" lady running it. I told her that I should possibly have a pizza for the night on the town. Then she said that it was better to eat at her restaurant, so I guess I had to obey ;-). I thought perhaps it could be nice with something more "Slovenian". In the restaurant I asked her what she would recommend given that I was very hungry and she suggested I tried the Mixed Grill. I have never eaten that elsewhere before and thought that maybe it was not so Slovenian, but I should probably have that. It was a lot I could tell you – even though I know some of you may have an idea of what this means, it was still very, very much to eat. But I was hungry and with two big beers there was soon nothing at all left (not even of the bread). Thereafter I thanked for myself and walked out to buy another beer and a big ice cream at a night open café (open until 5 in the morning). Here everything was not closing down at 10 like at so many other places around in the Alps and it was an agreeably nice little town/village. It was also much cheaper here.
Day 1 – Day 2 – Day 3 – Day 4 – Day 5 – Day 6 – Day 7 – Day 8 – Day 9 – Next Day – Day 11 – Day 12 – Day 13 – Day 14 – Day 15 – Day 16 – Day 17 – Day 18 – Day 19 – Day 20 – Day 21 – Day 22 – Day 23