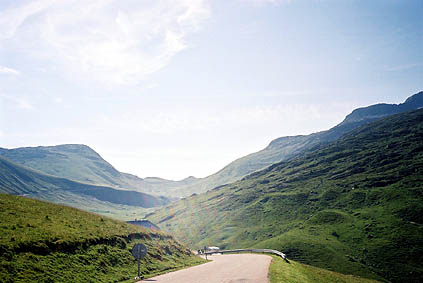 Col du Glandon 1924 m was now only a 900 m climb as I started from St. Alban-des-Villards in the morning. But this is the steep part of the climb and the last part to the col was a bit hard, especially as I saw another cyclist approaching from behind.
There were plenty of cyclists on the other side of the pass and down to the Barrage du Verney were I once again this Summer was back cycling the same road in even the same direction to the Alpe-d'Huez, via Villard-Reculas.
I only had a meagre breakfast at the hotel I was helped at the night before in St. Colomban-des-Villards. And was looking forward to a lunch break in Alpe-d'Huez. The whole place was more crowded with cyclists than when I was there before the La Marmotte. It was now only a few days before Lance Armstrong and company would arrive and every square inch on the side of the road up to the Alpe-d'Huez had been occupied since some time back.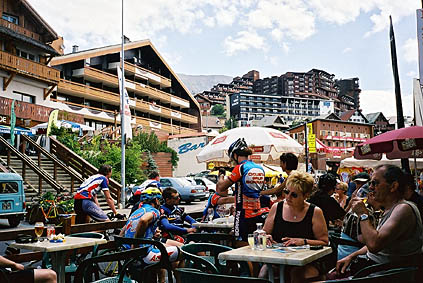 I took a photo sitting at a café at the Alpe-d'Huez and felt like it was a good atmosphere there. I guess there are few other places around where cyclists are so welcome guests at cafés or at least such a natural part of the village life. But on the other hand, this is not a very natural village.
I continued toward the Col de Sarenne 1999 m – a pass mentioned with a +2000 m figure on some maps. I could have done that pass after finishing the La Marmotte race while waiting for my friends, but as I did not know when they would be back I did not take the chance to get away there then. (It was also very hot and I was tired, but it was not fun waiting around there.)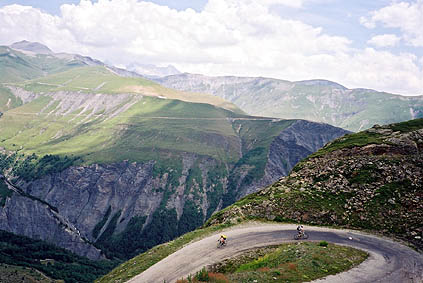 The road goes down some and then up again to the Sarenne pass. There are many awkward "drainage depressions" in the road. I could not understand one guy who went full speed ahead down from the pass over some of those badly cobblestoned sections of the road – it did not look (to me) like it was possible at all to go at that speed over those drainage obstacles. I guess the guy who was very light looking was not out on a longer tour.
It is actually quite beautiful here, very unlike the Alpe-d'Huez. There were very few buildings at all here. But later you come to the nice village of Mizoën and finally down to the Barrage du Chambon (dam) 1040 m. It should be nice going up to nearby Besse also, I believe.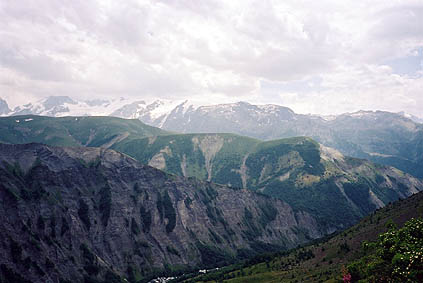 Then it was time to actually cycle, for once, the valley up to Col du Lautaret 2057 m. It started out fine, but it is a long way to the pass and I got very annoyed (middle-of-the-day syndrome again perhaps) by the heavy traffic there and had thoughts that motor traffic should be banned in the Alps – quite unusual for me as I am certainly no "greenie", but sometimes it just gets too much. I was almost on my way stopping the bicycle and going out in the road stopping the traffic! The only thing I did though, to get even with the cars, was to stand up cycling a bit unbalanced to annoy the drivers a little. It was hard to breath because the valley was filled with gasoline fumes and there was no wind at all, and constant traffic. It was like driving in a tunnel on a motorway with heavy traffic, but the scenery was better here.
It air was getting slightly better on the Briançon side, but not the traffic. I had something little to eat at Le Monêtier-les-Bains and refilled my water bottle. It was Tour de France on the television and many came to the bar just to look at the race it seemed like.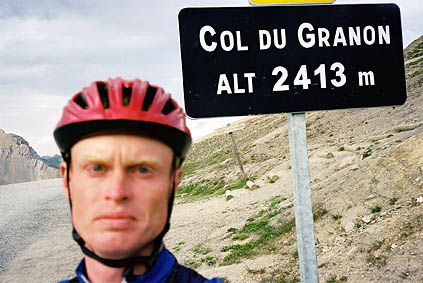 Down at Chantemerle 1356 m (5 km before Briançon) I noticed the weather had started to get worse, just when I was about to finally finish off all the surfaced road passes in the whole of the Alps! I guessed on the road to take to the Col de Granon 2404 m, but I am not sure there is a single sign for it and one can take at least two different roads up at the beginning to Villard-Laté. Someone came down on his road bike looking very happy he had made this col. I decided that there was no point in waiting to see what the weather would be like. I had to hurry up to be able to do it at all that evening.
In fact I had perfect weather for climbing the pass in the cloudy weather as long as it did not rain. The road was, like I had heard, rather steep, but I was feeling very fine and it was no problem at all for me (a bit surprising to myself). I had to take two photos to make sure I got this last of my paved pass roads above 2000 m in the Alps on photo! The road down on the other side of the pass is only a gravel road, but it did not look as bad as I had heard it should be (but maybe it was worse further down). I had planned to visit some other nearby cols that should be accessible on gravel roads, but it was getting late now and it could start to rain at any time.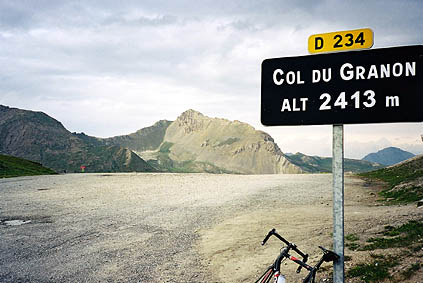 I had no detailed map of the area with me and first tried a gravel road going east that looked fine and thought that was the one for the closest and easiest pass (Col de Barteaux). Someone had his tent there and I asked him if he had a better map, which he had. It turned out that this gravel road was wrong and that it was one a bit further down. So then I decided to take the closest gravel road going to the west instead, to try and get to the Col de la Cibières 2525 m. The guy did not think that would be a good idea with my bicycle. But I assured him I might very well be able to cycle on that road. Hmm, well, that road was not the best one and I had to walk a little later on. I was lucky that I did not have a puncture/flat here.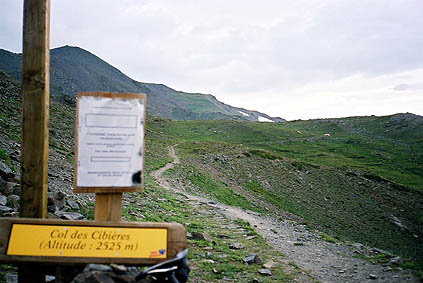 I was almost going to skip the pass when I realised how long it was to get there. Apparently no great pass comes easy! I was mostly worried about the prospects for rain and that I would have no chance to get back to the asphalt road in time if it started to rain there. I had already felt a few drops, but I never actually had any more rain that evening. The pass was not very exciting as there were no exciting views on the other side of he pass. I would probably have gotten much better views at the Porte de Cristol pass which would be closer than the way back to the asphalt road, but it was so late now that I could not justify going, actually mostly walking from there, further away from the good road down.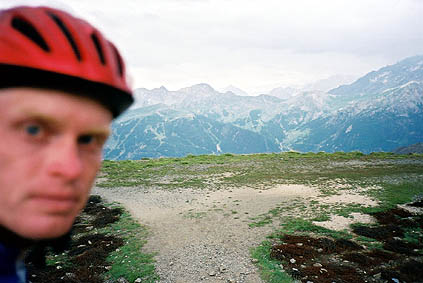 I had another photo across the valley up from Briançon thinking it might be too dark for a decent photo, but it was fine. I finally got back to the tarmac road and stopped right at Villard-Laté (just above Chantemerle) and got a room there for the night. The owner knew a Swedish person working in a hotel in Chantemerle, and I believe that was the hotel that Uli (who went to the La Marmotte race with me and Ola (see day 6)) had stayed at. It was a good place.
Day 1 – Day 2 – Day 3 – Day 4 – Day 5 – Day 6 – Day 7 – Day 8 – Day 9 – Day 10 – Day 11 – Day 12 – Day 13 – Day 14 – Day 15 – Day 16 – Day 17 – Day 18 – Day 19 – Day 20 – Day 21 – Next Day – Day 23