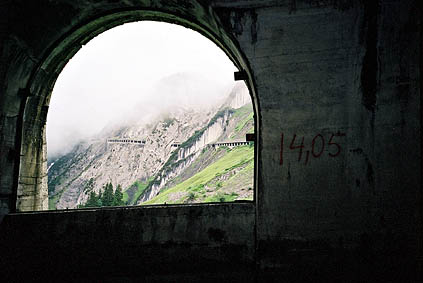 Again it started with a light rain. I was thinking of giving Austria a more suitable name and that it should be called after the ruined building up at Grossglockner – 'Elendboden' (The Misery Shed). When I reached the Arlbergpass 1793 m, it stopped to rain and I was very undecided about whether to go around Flexenpass (and thus also Hochtannbergpass and Furkapaß) before descending to Feldkirch and Lichtenstein. I thought that the weather would probably not get worse, so I proceeded slowly up to the Flexenpass 1773 m (only around a 250 m climb). The first photo is from one of the nice tunnels that kept me protected from some rain.
After the pass it begun to rain heavily, but it was only a short distance to Lech 1444 m. Here I decided to take an early break to make sure I got some warmth back again before proceeding and had a coffee. I was now at last beginning to think that maybe I should buy some better gloves simply, but the gloves they had in a sports shop was simply too expensive and not exactly what I wanted anyway. I decided that if I had survived this long, I would do so for some more time.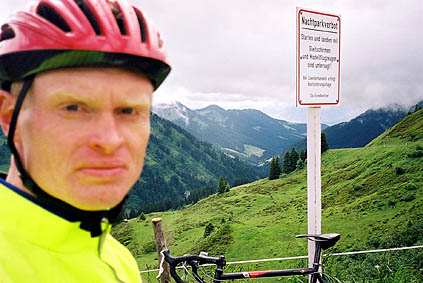 Rain was hanging in the air all the time and occasionally it rained a little until Hochtannbergpass 1676 m. The road was (mostly) dry down to Au 792 m thankfully as it was a rather long and fast descent. At Au I saw that a very heavy rain would be upon the village in around 3 minutes. It was looking really ominous and it looked like I might be able to escape it by going fast up to Damüls 1425 m. The road was, however, not the flattest mountain road around and I had a real challenge going up at around 14 km/h with gradients above 10% most of the time. I almost made it to Damüls safely, but just 200 metres before reaching the village the rain spotted me and caught me. I took shelter, but it soon stopped raining again. I went up to the nearby Faschinajoch 1486 m (it is only a 2 km tunnel ride extra). Too bad weather for a good photo, but I found that they had compressed air outside the little hotel. (I had not put any air in the tires since Nice (maybe I checked them before the La Marmotte ride too).)
Back to Damüls again, I took the road up to Furkapaß 1761 m, which is actually a quite beautiful road. Furkapaß is (I believe) the most western of all passes in Austria and despite this it is rather high. It is really like reaching the end of the Alps when arriving at this pass. (No ideas about the strange grim look on my face in the photo.) Going up from Rankweil 502 m to Furkapaß would have been a very demanding climb as the road for a long time below the pass is very steep. The road is small, nice and good.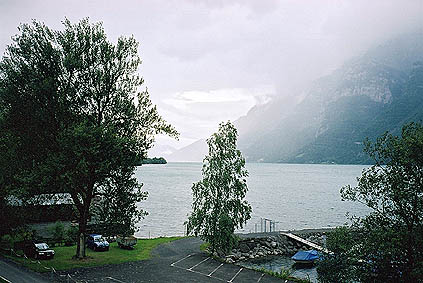 A short time before the border to Lichtenstein in Feldkirch 458 m, I had a lunch break outside a busy grocery shop. It was nice to see another new country for me as I have never been to Lichtenstein before. I had not expected that suddenly most cars would be Lichtenstein registered on the road. The main road through Lichtenstein is very busy and for the most part rather narrow – apart from one stretch where I thought they had to build a bit of very wide road also to make sure no one would say that they do not have wide roads there. I was also surprised they had some factories, like Hilti (which is common in Sweden, but which I had not suspected to be a Lichtenstein company (they make "spike guns" etc.)). I thought it would be a big castle, plenty of stamp shops and very many banks. They do however have a little bit of everything it seems like. It would have been nice to get over to Malbun up their only mountain road (another time).
I went over a bridge and was (this time without any border station) suddenly in Switzerland again. I went almost all the way through Lichtenstein and it took 45 minutes. In Switzerland I changed money as they still have Swiss Francs (just like we still have Swedish Kronor), but did not quite think of the exchange rate and only changed enough for one day.
I now continued north toward Walenstadt 427 m, which is located at the spectacular Walensee. I found a good restaurant in Mols, where they also served 'Mixed Grill' like I had in Kranjska Gora, but best was their salad buffet with fresh ruccola (rocket salad).
The road ahead is going up from here to 743 m, before going down to Mollis 444 m. This road is quite nice. From Mollis I took the little road via the Airport up to Glarus, where I hoped to find a good place to stop for the night. I was not happy with the place and the look of the hotels though, so I went further up the valley. However, there were not many places to spend the night up the valley, even though there were villages all along the road. Many hotels were closed. I found a Hotel Post eventually and asked about the price, but it did not look nice and when they gave me a price higher than the one on the door, I decided I could as well go on. This meant I had I had to cycle in the dark up to Linthal (there were so little traffic and such a short stretch that I never cared to put on my lights). In Linthal 662 m I took in at the first hotel (of two) and it was a rustic old hotel, slightly cheaper than the Hotel Post. I had something to eat there and went to bed.
Day 1 – Day 2 – Day 3 – Day 4 – Day 5 – Day 6 – Day 7 – Day 8 – Day 9 – Day 10 – Day 11 – Day 12 – Day 13 – Day 14 – Day 15 – Next Day – Day 17 – Day 18 – Day 19 – Day 20 – Day 21 – Day 22 – Day 23