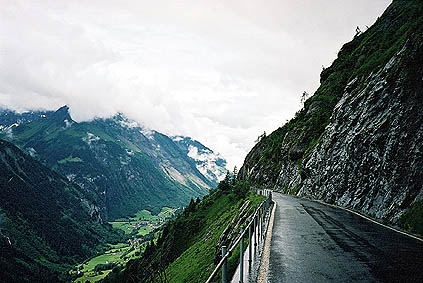 No, it was not only in Austria that the weather was bad! Yet another day starting in rain with 5 degrees over the first pass. In the morning I had noticed that the air had gone out of my rear tire and that one of my cleats on the cycling shoes was almost dropping off. I thankfully got that fixed before leaving, but I did not change tube and hoped I would not soon have to change it. It turned out that I had to pump up the rear tire every morning in the next few days, but thereafter it stopped to leak, oddly enough.
It was not the kind of day when you will meet many cyclists. A few cobblestoned hairpin bends and a steady climb started just upon departing from Linthal 662 m. It was a very watery morning with fog and rain. Somewhere in the distance I heard some very strange noise and wondered if it was someone calling on the cattle or if it was something else. After first long and somewhat steep climb one reaches a plateau, where there is much farming and a small village. It seems like most buildings where temporary shelters built for the summer months. However, this was no summer judging by the weather. I saw a wretched old farmer looking angrily to the ground and it was almost amusing. Some young kids were out playing and one of them had his little bicycle and tried to give me a lesson in going fast, which resulted in his cowboy hat flying off in the wind, and thus I won, but he was good!
After a couple of kilometres the final climb to the top of the pass starts. Here a farmer was spreading manure on the field while his wretched dog sat on the side looking like this was misery all over and it was. The smell was very difficult to endure and it lasted for almost two kilometres. There are some even more feebly looking shelters up closer to the pass. The Klausenpass 1948 m is truly one of those classic and major Alp passes, but is not so often mentioned. From here it was another 5 Celsius descent in rain at first. The first photo here was taken just after the rain stopped and on the very nice cliff road down to Unterschächen 995 m.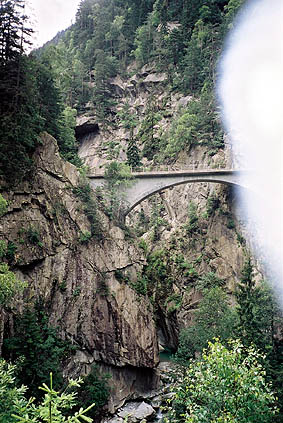 I even got some sun lower down and at Unterschächen the road was dry. Was the bad weather over for now? It was beginning to weaken my self-confidence in completing a very good tour. From Altdorf I was on the road up to Andermatt and the St. Gotthardpass. It was still rain in the air and occasionally there was a little shower. I had a little lunch (sandwiches) from a very good little grocery some time after Erstfeld 452 m.
The road up to Wassen 916 m is quite nice despite the nearby motorway. I had another photo just after starting the climb up to the Sustenpass 2224 m. Unfortunately it was not a day for photos. As I closed in on the Sustenpass the rain started once again and at the cloudy top it was snowing with snowploughs working hard. Down on the nicer other side of the pass I had wanted to stop for a photo, but it was in all honesty not possible as the rain was very heavy here and it was only 3 Celsius. I have never been feeling as cold in my life as on the way down here. Another day of this and I would quit. My front tire had developed a problem – it was not straight and had grown bigger at one place (I could not quite judge if it was a big problem or not but continued).
When I arrived at Innertkirchen it was once again dry and above 10 degrees. I decided to go down to Meiringen 594 m and find a place for the night there. I had planned at the start of the day to do so, but also to climb the Grosse Scheidegg 1962 m and go back. The weather still did not look good though and it was now after 19 pm, so I could unfortunately not justify to myself to try and climb up there. I knew that would mean I would not do it the next day either (as you might understand after reading the coming days stories), which was a bit sad as it was being so close and it should be a very beautiful pass.
I took in at a cheap multiple bedroom place at the start of Meiringen centre. It was not very good (standard similar to youth hostels), but it worked. I had trouble finding a place where they served any good food. I tried an "Italian" restaurant that looked good, but it was quite bad. It had a better wienerschnitzel served as a hot sandwich in a pub that I later visited (and at half the price).
Day 1 – Day 2 – Day 3 – Day 4 – Day 5 – Day 6 – Day 7 – Day 8 – Day 9 – Day 10 – Day 11 – Day 12 – Day 13 – Day 14 – Day 15 – Day 16 – Next Day – Day 18 – Day 19 – Day 20 – Day 21 – Day 22 – Day 23