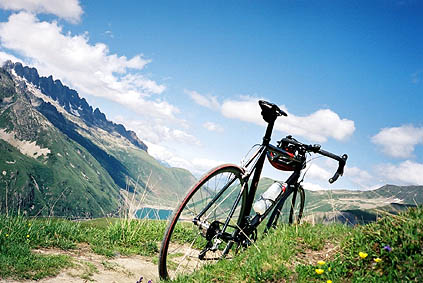 The reason I was meeting up with my friend Ola in La Grave was that another goal for my trip was to take part in the now famous La Marmotte race and we had planned to both take part in this race. We took it both easy this morning and after breakfast and a little shopping, Ola pointed out that yet another friend of ours, Uli, was also going to take part in the race (I only vaguely remembered hearing about it earlier). The good thing was that Uli had his car with him and he came and picked us up with bicycles and all. We drove up to Alpe-d'Huez 1880 m to get our start numbers and look around a little.
Of course, I wanted to bicycle some even this day before the race. I had very ambitious plans at first, but had to take the interests of my friends into consideration too. Anyway, sometime around 13 p.m. (or a little earlier) Ola and I went off to get up to Col du Sabot, which was a minimum for what I wanted to do this day.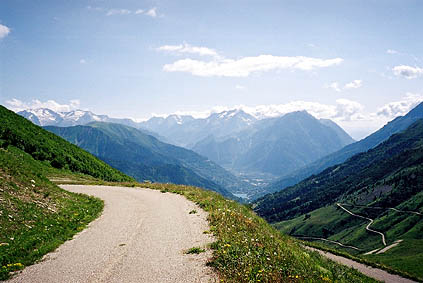 We first went through the little village of Huez without noticing the road leading off west and had to go back. There is a small, very beautiful road going from Huez to Villard-Reculas. From Villard-Reculas it is downhill for quite some time until one gets down to Bge du Verney (a big dam) 820 m. At the other end of this dam a little road takes of up to Vaujany and later Le Collet (de Vaujany) 1400 m. While approaching Vaujany it turned out that Ola had problems with one of his cleats (or so he thought), so he met up with Uli and later found out it was another problem that he could fix in time for the race (fortunately). I continued up to Col du Sabot 2100 m on my own. The road to this pass was rather recently surfaced for a stage finish in the female Tour de France in the late 1990s. There is no road continuing from the top and the top itself is not tarmacced, there are only paths leading in different directions from the pass.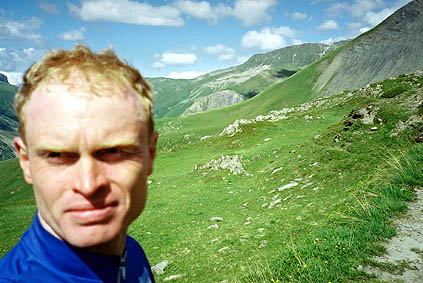 The road surface was fine, but not very smooth. From Col du Sabot one can see how the top part of the road up to Col du Glandon and Col de la Croix de Fer looks, which were where I should be going the next morning. Below my bicycle in the first photo you see the Lac de Grand Maison, which is another big dam on the way up to Col de la Croix de Fer. What I did not see from the pass, however, was the most difficult stretch of the road up to Col de la Croix de Fer, which is earlier.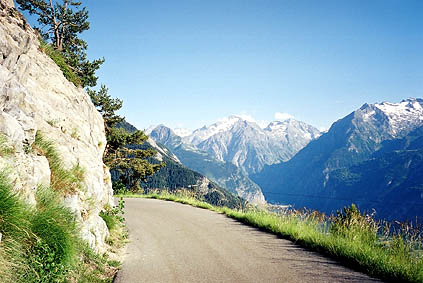 There were some snow even at Col du Sabot (and I made a snow ball there), and it seemed like snow was lingering a little longer than usual in the high Alps this year. I cycled back the same way all the way until the Huez village. It is quite some climbing involved getting up there from the Barrage du Verney. Then I went down the Alpe-d'Huez road until next little village called La Garde, where another small and spectacular road takes of in the other direction (east). This was a very, very nice road indeed – the only thing was that my Michelin map was not very helpful here and I had to guess a couple of times on the way to take (and I still do not know exactly which road choices I made, looking at a map).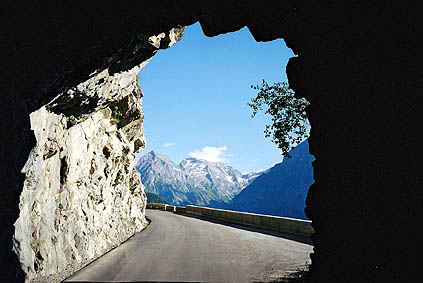 There was much, much more climbing again than I had anticipated and I started to look at the time more and more worried I would not be back for dinner at eight in the evening as I had promised my friend. By the time I reached the main road going up to La Grave the clock was already almost eight. I decided to try and get someone to stop and take the bicycle and me up to La Grave. I was unsure about whether this would be easy or not and the longer I waited trying to get a lift up to La Grave, the later I would be if I would have to bicycle the whole way back on my own after all. Luckily a nice man (a teacher) stopped and picked me up in his van.
We had a little to eat at both a pizzeria and at the pub I was at the day before (which was empty tonight). (We did not get much to eat at either place.) We had to be up early the next day.
Day 1 – Day 2 – Day 3 – Day 4 – Day 5 – Next Day – Day 7 – Day 8 – Day 9 – Day 10 – Day 11 – Day 12 – Day 13 – Day 14 – Day 15 – Day 16 – Day 17 – Day 18 – Day 19 – Day 20 – Day 21 – Day 22 – Day 23