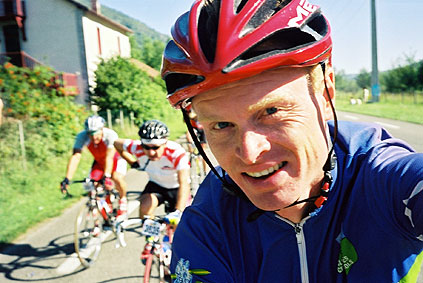 When I came back with the train to Lourdes yesterday I asked someone at the train station if it might be possible to get the train back to Pau in the morning with the bicycle and he said it would be ok. Thus my only chance was to get up at 5:30 am and catch the first train to Pau in the morning. The odd place that Lourdes is makes it very geared toward the tourist and I managed to buy some things for breakfast at midnight before. I think Lourdes has the second most tourists in France of all towns (only behind Paris).
I waited in the dark for the train in the morning and noticed a couple who was apparently also going to take part in the race. An very nice english couple (the girl had won some women races of the kind I think and the guy was better than me uphill (at least)). We managed to get on the train and helped each other with putting on the starting numbers and so on. We managed to use the time very effectively and they also knew one could take the train a station further to Artix and from where it was only 4 km to the start. (My ticket was only for Pau, but they do not always check tickets on french trains I have noticed.)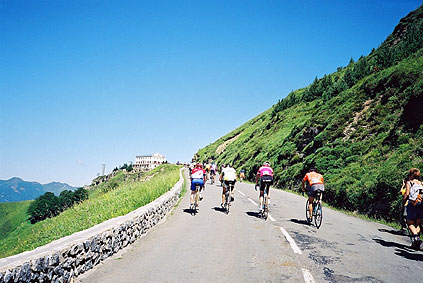 I did not think of it, but another friend of this guy had some sun cream that I borrowed a little of and that was indeed good for me as it turned out to be a very sunny day. I managed to get a real pump and inflate my tires (about time). Ok, time for start. I rolled up there and was amazingly in good time for the start and had to wait almost 20 minutes before I could take off. Had time to wonder how I managed to get there and I was not exactly in the mood of doing any fast cycling – I still felt exhausted from yesterday.
I did not see my friend (so many people that it is nearly meaningless to try and meet up). People seemed to look forward to the race. I just wanted to get going. Finally we rolled off after many others had started and the start was a bit slow. It took a couple of kilometres before I could get up the speed. But a nice slow start fitted me. Just as the speed was raising I noticed my friend and cheered him on as I passed him by. I tried to hang on to the quickest around and finally it turned out a (I believe) Swiss guy had the best speed and seemed to know better than most how to race professionally, so I hanged on to him even if I barely could and sometimes it was difficult with so many other cyclists around. I said thanks and goodbye to him (knowing I would not be able to hang on) as we came to start of the first real climb – Col d'Ichère (674), which is a minor pass.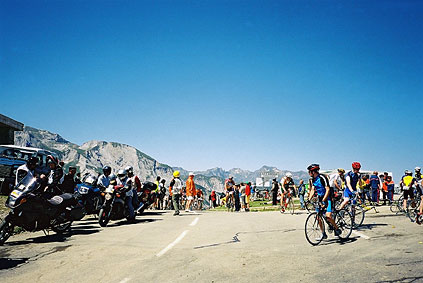 I was a bit confused that all things went as easy as they did and it felt fine even on this first climb. OK, I was tired from start to finish, but was able race in about my usual speed nonetheless. The surface on these roads were not the best and the descent was a bit tricky, but not too many passed me by. The Ichère pass was a good warm-up before the coming killer – Col de Marie Blanque (1035).
The Col de Marie Blanque is at first a sweet and lonely road, but the last 4 km are quite steep around 10-14% all the time. I simply had to accept that I was weighing more than most and that I had to watch out not to go too hard. Most people were going about my speed anyway and even here I think I passed by more than passed me by. There was no food and drinks at the top and I just ran out of my last drops soon before the pass (only used my one 750 ml bottle – most have 2 bottles, some have the more race tuned ones at 500 ml). The food and drinks were at a plateau half-way down the pass on the west side near another col on the way (Col du Porteigt (875)). (There had been one earlier place to stop at after the Ichère pass, but it did not seem necessary for me to stop there.)
On the way up to Laruns I saw another guy in front take a shot of himself with his camera while riding, so as I brought my camera with me I had to try that myself! (Results in the first photo.)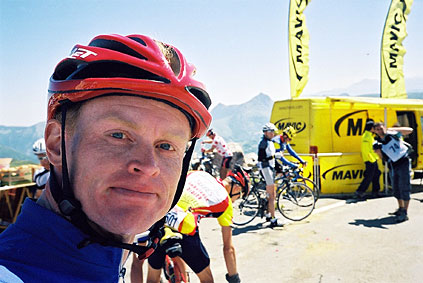 So now there was only the main attraction of the day left – Col d'Aubisque (1709). As it had went so well as it had thus far, I did not feel frightened at all by the big climb ahead and even thought it would be fun. It was getting warmer and I was slowly waking up. I think I managed to get into a good rhythm on the way up and passed by many more cyclists than there were cyclists passing by me (not many did now, as the best ones was probably already ahead of me).
I noticed at two times that among the people looking at us from t wayside, there were a person counting us loudly and at the first such person I was number 1001 or 1002 and next time around 980 or so. That was also inspiring to go on as I surely wanted to be among the 1000 best, which was about all I had hopes for. The second photo was taken as I approached the Aubisque (I thought the summit was just ahead there, but it involved some more climbing after the house on the top in the photo.) The two last photos was taking during a somewhat long stop up there (5 minutes). I think the photographer one could see in the last photo was the one that caught me in a photo that appeared in next day's local paper. (He was taking a photo of a tandem riders couple who I had passed by half-way up the climb and I was jumping on my bike in the background. Seemed odd that tandem riders could be that quick!)
Then a bumpy ride down and up to nearby Col de Soulor (1474). A lot of people there cheering us on by the roadside. Full speed down the north side of the Soulor pass. I heard from the english couple in the morning that they had cycle this road just a few days earlier an found that it was filled with loose gravel, so I was a bit worried. It had been cleaned up thankfully, but still there was an occasional loose little stone and someone had fallen a bit lower down. I remembered the road from 2001 as being very narrow and very bad lower down, but it was now in much better state. I let some people pass by on the way down, muttering for myself that they would not be able to get away from me later on anyway, so what was the point of heading down there so carelessly fast?
Sure enough I caught up with a bunch of cyclists just after the steepness ended (most of which had passed me earlier on). We had a decently big group and we went on rather comfortably at around 40 km/h. I talked a little with a Dutch guy and some others on the way. I had forgotten about some small "bumps" on the road not far from Pau that turned out to be hard for many cyclists and we all split up. I was actually cycling away from all the others at the last and longest rise and then kept going in as high speed as I could all the way to Pau. Last little rise in the town was hard, but then it was over.
It was terribly hot, but found some trees to take cover under and eat up the food package received at the finish. The l'Etape du Tour was in fact very well organised this time (I had read some criticism of their arrangements in earlier years, but they must have improved). I met the english guys and girls again and stood talking with them while waiting for my friend. They finished at around 6.12 and I thought I had finished at 6.23 (but I forgot my HAC4 does not count the time standing still – this is a very annoying thing with that cycle computer), so my real time was 6.30 and 18 minutes less is quite a lot better. Still we all got gold certificates for the race (I still do not quite know what the time limit for that was). I was very happy with the result no matter what others had achieved (the english guys had hoped to get under 6 hours and were less happy than me).
Finally met my friend and his girlfriend a bit later and they took me back in their rented car to Lourdes and we had something to eat there. Next day I was staying in Lourdes and took it a little easier, but went up to Col du Tourmalet and some cols above on a gravel road.
Day 1 – Day 2 – Day 3 – Day 4 – Day 5 – Day 6 – Day 7 – Day 8 – Day 9 – Day 10 – Next Day – Day 12 – Day 13 – Day 14 – Day 15 – Day 16 – Day 17 – Day 18 – Day 19 – Day 20 – Day 21 – Day 22 – Day 23 – Day 24 – Day 25 – Day 26 – Day 27