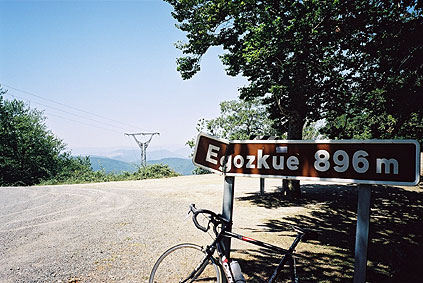 After breakfast at he nice little hotel in Banca (300), I cycled south toward Spain again and would not return to France for over a week (night of 26th of July). I passed by the small village of Aldudes and then went directly up on the road over to France. I had originally planned to take another route at first as there are many cols in the area that could be climbed if one had time for it. Many passes in this area are reached by tarmac roads that does not appear on any maps and thus it would also take time to figure out how to reach some of them. The road up there is sometimes a bit steep, but not really hard. One comes first to one col called Ahadilepo (654) and then to a more pronounced one that is also on more maps: Col de Garzela (705). From here a road comes up from the side (which I had thought to go up from the bottom at first), which is paved contrary to maps. I went down to Col de Paradar (605) simply because it was a relatively short way (1 km each way), but it was a bit steep (as 100 height metres per km would indicate).
Then further up to the border (Col d'Esnazu (755)), where I stopped by a shop for an icecream and water. They had a map of the area outside the shop – a very "Basque" one! – No borders anywhere in sight on that map and no French or Spanish names of anything. I guess they had painted over the border sign as well (if there was any). The Basque nationalists (or rather young ETA kids) can rather unopposed paint over signs and write slogans everywhere in the French Basque, but that is not quite so on the Spanish side as there most slogans are crossed out and contrary slogans added. So maybe that is why one hears that known ETA terrorists are searched for on the French side? I guess one should not confuse Basque nationalists with ETA (which is a strictly far left organisation) though, but I wished I had discussed the situation more with some people.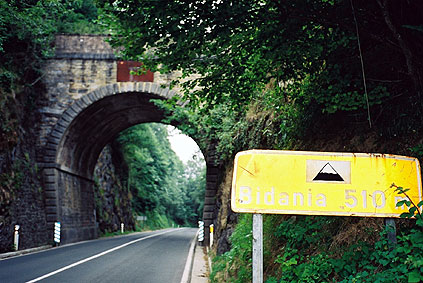 The road goes down a little and then gently up to the highest point along the road – Collado de Urquiaga (890). Here on the Spanish side the road is of course much better and wider. It was a nice ride down in a wooded recreational area down to Eugui and the big dam there. After the dam a road goes west and it is quite good and pleasant (but hot here) until you reach Iragui, then it turns to gravel (I did not expect that as I had not heard anything about it and it looked lika a paved road on the Michelin map (but you cannot always trust Michelin in Spain (either)).
After a little climb on a decent gravel road I reached Alto de Egozkue (894) and finally had a first photo for the day. (It is quite nice in the Aldudes valley, but nothing is very outstanding, so unfortunately no photos from there.) The gravel road down to the Egozkue village was quite bad though and in the little village the road was overfilled with cow dung (thankfully I did not have to stop … ). Then a nice tarmac road down to the main road/hell. First down here I had to stop and put on sun cream (should have done it a bit earlier, but better late than never). The road up to Puerto de Velate (847) was very busy with heavy traffic and the sun was blazing at 38 Celsius. Near the top one escapes the traffic, that goes through a long tunnel here). The top area and the road down the other side was wonderful (wide and fast down).
I tried to find some water before reaching Doneztebe/Santesteban (130), but only found some rusty water that I unfortunately took a sip from before realising it was not drinkable. I had a sandwich and something to drink in a bar at Santesteban and felt better again. Now I started out on a minor and very fine and sweet road to Puerto de Usateguieta (695) and Leitza. It is very easily graded, but quite long. At Leitza, I had still not decided on which road to take next, but decided to take the straightest one to Tolosa over Puerto de San Antón/Artaleku (494). This seemed as if it was one of the least used roads there as it was rather narrow and with little traffic. Some industrial buildings as I was closing in on Tolosa and more industries to come later on.
I had a coffee somewhere in Tolosa (80), which seemed like a somewhat okay town. I went full circle around the town before I managed to figure out how to get out in the right direction (not very easy). The directions are always for Madrid, Bilbao and Vittoria-Gasteiz (which is not very enlightening or precise from a cyclist point of view). The cycling up to Puerto de Bidania (510) is somewhat steep and not very interesting. The pass is marked with something like looked like a train bridge above (but I doubt it is for trains). A little later one comes to Puerto de Iturburu (550) (if one goes that way) which looks just like the previous passage (see the two photos). Thereafter it is very nice down to Azpeitia, where it is not nice at all. I had first thought to stay there for the night or in the next similarly sized (on the map) small town. I continued to the nicer Azkoitia, but could not find any place to stay the night at there.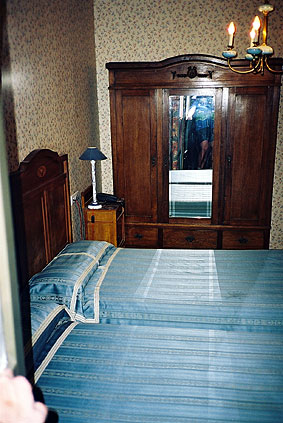 I decided to continue despite that it was getting late. I also had a rather hard climb over the Elosua (618) pass. I think I climbed it in near record speed. Sometimes one gets energy from sources unknown to oneself and this was surely such an occasion (probably due to lower temperature outside now). In a constant speed of around 15 km/h I climbed to the top in a short time. I was keeping a good speed also since it was getting late and I wanted to get as far as I could before total darkness would fall upon me and there was a chilly mist around the top.
It was late twilight when I reached the pass, but it never got totally dark until just as I reached down to Bergara (135). The whole road over Elosua was very, very good and it was a real pleasure descending to Bergara! Bergara seems (as I somehow had picked up) like a more fashionable little town and I guessed I would not find any cheap accommodation. I managed to get directions to a hotel (hotela) just on the most busy shopping street in town. It was not cheap by spanish standards, but not very expensive by french standards, so … . I reckoned food would be served late in Spain and took a shower and a photo of the very nice room I had.
I was told about a pizzeria and went there, but incredibly enough did not have any place for me to eat at. But I was really into pizza and had not seen any other open restaurant around, so I decided I should not understand what they said ;-). I hanged out in the tiny bar a while and begun to talk to a guy there who was a friend of the personell at the restaurant. I explained I really needed to eat something and he managed to convince them that I could eat the pizza at the bar desk (not much to their happiness), but I was happy and the pizza was good!
Day 1 – Day 2 – Day 3 – Day 4 – Day 5 – Day 6 – Day 7 – Day 8 – Day 9 – Day 10 – Day 11 – Day 12 – Day 13 – Day 14 – Day 15 – Next Day – Day 17 – Day 18 – Day 19 – Day 20 – Day 21 – Day 22 – Day 23 – Day 24 – Day 25 – Day 26 – Day 27