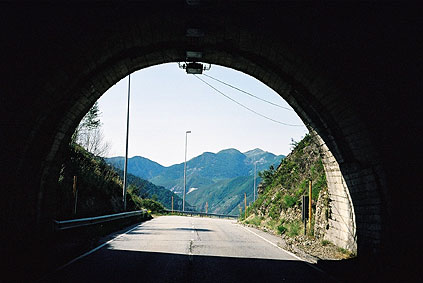 Today was no rest day either. It was in fact the day with most height metres of all at 4270m and a long hard day. I had a rather pleasant start of the day up the lonely Puerto de Rañadeiro (1181) (apart from some stone quarry work high up on the north side). More lorries than cars passing by. It was rather damp, misty and felt like the French side of the Pyrenées. Much trees and few houses.
At the top, which took a longer time to reach than expected given that the pass is not very high, there was a tunnel. So I had a tunnel photo here looking south. I could have taken an alternative road to Villablino via Puerto de Leitariegos (1525) and that pass would have been higher, but on the road I took I got two passes, though lower. Had a hard time to decide and there were many other passes nearby in the area that could have been fun to climb, but the days were beginning to run out and I could not spend too much time in the area. In retrospect it would had been smarter to take a train skipping the lower parts around Bilbao, to spend some more time in this area instead!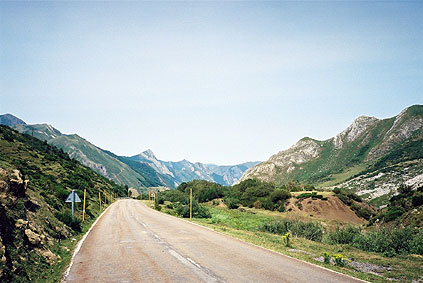 Puerto de Rañadeiro was the most western place I visited during the 28 day trip and one is close to the most western Galicia part of Spain. The way between Puerto de Rañadeiro and Puerto de Cerredo (1341) goes down to Degaña (920) and Cerredo. I think it was only at Cerredo where there was a shop (the only shop between Cangas (perhaps) and Villablino). It is very rural up here and life seem to move somewhat slow (apparently it is a national park area). I stopped at the shop in Cerredo. Only remembered there was a cat not afraid of the sun, that I played a little with and that some farmers (obviously) just stopped with their car on the road outside while shopping.
Now it was very hot, but at least I were up on higher altitude. Puerto de Cerredo I do not really remember much of, but it was not very difficult nor very scenic. I had a photo earlier and I think the second photo was somewhere on the way up to Cerredo, with a nice bending mountain ridge that the road followed gently.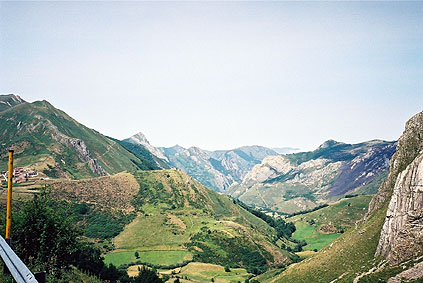 Down at Villablino (1000) there was heavy traffic (as many roads meet there). From Villablino one is not far from Portugal (a day ride). I went in the other direction, finally turning back toward France and Lourdes for the last time (I hoped). Next I was going the easy way up the fine Somiedo pass. Somiedo is known for the big national park land and its beauty. I did not take the short-cut (small mistake) but went to Piedrafita de Babia, which to me look like a pass for all that I can understand, but I have not seen any sign or mention thereof. From here the easy road to Puerto de Somiedo (1486) goes. It actually goes down a little first.
The north side of this pass is like most other passes in the region the far nicer and spectacular side! The photo looking north I think is taken a little after the pass itself. The road is good here too.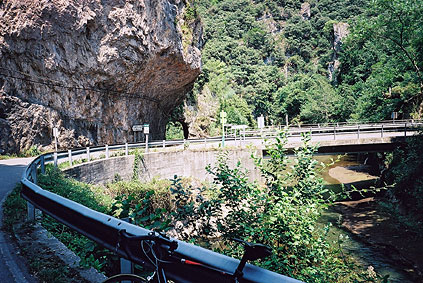 A long way down the pass I had a photo of where a road takes off across a river in a gorge. That road would take you over Puerto de la Mesa (1709) and one of the very highest passes in the region. I am not clear on the condition of the road as it is marked only as a path on the online map att viamichelin.com on the south side. But it is marked as paved on the (I believe) later paper edition in 1:250 000.
Further down the pass road (where the northern climb up Somiedo seem to start) at La Riera, I went off to the right/east up the Puerto de San Lorenzo (1394). As this pass was lower than the Somiedo pass and the road up to Somiedo did not seem very steep I was under the impression that this pass would be somewhat easy too. Was I wrong? This was the hardest climb out of the Pyrenées after the Angliru climb. It was hot and with many moderately steep serpentines it looked like the road went up to a plateau higher up that I wished to reach fast. So, I went up the first hot stretch at a good speed.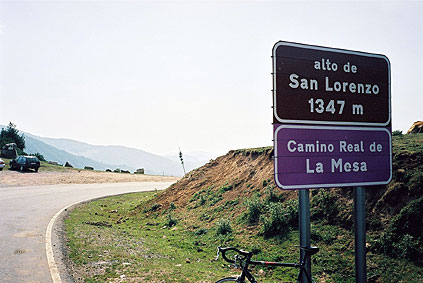 Indeed there were sort of a plateau (maybe even a pass up there) and the road dipped down for a little while before starting to rise gently again. Rather pleasant up here. I tried to figure out where the road was heading – always a pastime while ascending pass roads (that are very often difficult to know where they end). I could not make it out until the last stretch up to he actual pass. It was now common with up to 15% steepness and it was indeed rather relentless. I wondered why I had not heard more about this pass as it was one of the harder passes in all of Asturias and Cantabria. I was getting very tired and needed to use my whole body getting up there as I was becoming acutely aware of all the days before that had worked me down quite a bit by now.
The pass is sweeter on the east side and somewhat hard on that side too, but not quite the killer of the west side. After a very joyful descent and nice road down to La Plaza and thereafter, I stopped by a little bakery by the side of the main road. It said sandwiches outside on the building and indeed, I got a big bread filled with salami and a pepsi and ice-cream. It was good (almost Italian style). There is a nice gorge down here and an alternative walking path with myriads of tunnels (I think there must have been around 50 or so) that I guess one could use as a cycle lane too. It looked very nice for tourists, but oddly enough it did not seem much used and even looked as if it was not being well kept anymore … .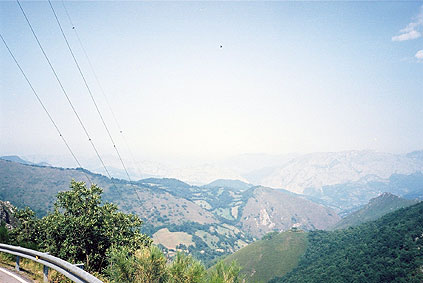 At Caranga, I turned back south again and was now on the road up to Alto Cobertoria (1179) on the way over to Pola de Lena, where I had started out on the day before. It was getting down to less hot temperatures now, thankfully. This climb is also quite hard, but it is actually harder on the Pola de Lena side (east side). It was a bit lower than the San Lorenzo pass though.
When coming to Caranga, you are on the west side of the Angliru mountain and I tried to look up there trying to figure out whether there could be any path up this side, but could not tell for sure. There are some difficult side roads up here – to Bermiego for example (noticed on the altimetrias.com site). The road up to Alto Cobertoria is smooth and wide, but steep. There is a crossroad at the pass height and the nice asphalt road going south along the ridge may go to another pass along the way before it eventually comes to a dead end. There is another road going further up to Gamoniteiro (1786) which should be paved for some time, but it did not really look so to me. That road goes to the highest mountain peak in the Angliru mountains and should be very hard too – especially if climbed all the way from Pola de Lena (301) (you will also pass one more pass on the way there)! (The owner of the hotel in Pola de Lena had showed me a photo of a feast they had been to at Gamoniteiro many years ago.)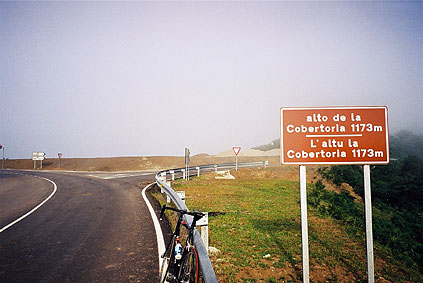 If I understand the altimetrias.com web site I should also pass another pass on the way down to Pola de Lena from Cobertoria – Alto del Cordal (922). T road down to Pola de Lena was as night and day in contrast to the western side of the Cobertoria pass. It was the worst surfaced road I think I have ever cycled on. I even came to a grinding halt at one place (I had to stop) !! Even the cars could not "max out" to more than around 20 km/h down here!! (I'm serious!) Hopefully they will fix this road soon (there were signs of road work high up).
After the shaking experience descending the road to Pola de Lena I was damned tired, but really did not wish to spend another night in that boring place and had also planned to get further. Thus, I continued to Figaredo and over a nice, but very populated area, to reach Alto de la Colladiella (860) in mist and twilight. Then down on a small road to Sotrondio (260), where I hoped to stay, but they apparently only had a youth hostel and even that was fully booked. They had a hotel, but it was full and another was closed, I think. I asked some people and after much discussion got advice to try a place in nearby Blimea. I came there to the one star hotel and there was absolutely no problem having a room and something to eat (very simple hotel). They asked me for my passport, but then I realised that I never got it back when checking out of the hotel in Cangas del Narcea!!!! And now I had just cycled the record stretch of my whole tour finally getting back toward the Pyrenees for the last time – damned! I really needed my passport for the flight back to England and Sweden and I had to get to England in time for a 25th anniversary concert by my favourite musicians (Eyeless In Gaza, who were expecting me also). A swedish consulate would probably by possible to find in Bilbao, but when I would get there it would be weekend and no one there to help me (unless I skipped some of the most nice parts of the remainder of my trip). It dawned upon me that I really had to et back to Cangas del Narcea and pick up the passport and I also still had about a day to spare for incidents just of this type … . This did not make me go happy to bed this night!
Day 1 – Day 2 – Day 3 – Day 4 – Day 5 – Day 6 – Day 7 – Day 8 – Day 9 – Day 10 – Day 11 – Day 12 – Day 13 – Day 14 – Day 15 – Day 16 – Day 17 – Day 18 – Day 19 – Day 20 – Next Day – Day 22 – Day 23 – Day 24 – Day 25 – Day 26 – Day 27