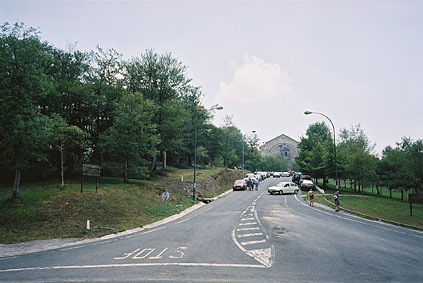 After a good breakfast at the hotel in Bergara (135), I continued westwards up to Puerto de Elgeta (468). It is a bit steep up for a few kilometers. At Elgata I turned west up to nearby Puerto de Karabieta (565) and then returned down again. There seemed to a be a local cycling race going on up to the Elgata pass from the west. However, it was Sunday and these hills were filled with cyclists going in all directions.
I the wet south at Elgata over Alto de Asentzio (547) down to Puerto de Kanpazar (457), where there were more cyclists than anywhere else. Here I was at last beginning to see some higher mountains not all wooded like much of the area between Puerto de Ibaneta and here. I went straight down to Durango on a big road.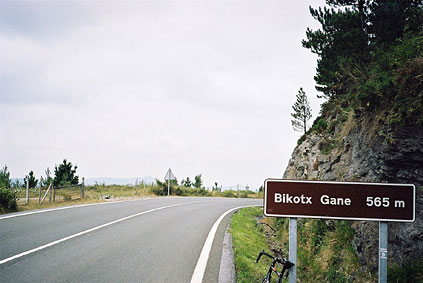 Durango is a town with a somewhat big centre and big church. The town looks very old and is a bit charming. I did not find many places open to buy something to eat however. An expensive-looking pastry shop was open and there I bought some pastry and something to drink. Thereafter I started out on a classic climb in the area – Puerto de Urkiola (713) – which has been used a lot in races, like the Vuelta, I believe. The climb is a bit long and steep given its moderate height. There was unfortunately also much traffic and the road up there was not in good shape. One could continue up even further to the church at the top, but that is not the road ahead and I did not bother as it seemed the place was overcrowded
The road only gently descends to Otxandio (588) on the south side. I got a bit irritated by taking the wrong road (my fault, I guess) and had to drive around the village of Otaxandio that looked mostly like construction site and it was nearly not possible to get out of the village once I entered. I got out and on the road back north that I had decided to take out of two choices. I took the lesser one that passes over Puerto de Dima (592), which had very little traffic and was a wide and good road with a nice descent on the north side. I stopped later for lunch at a place along the road.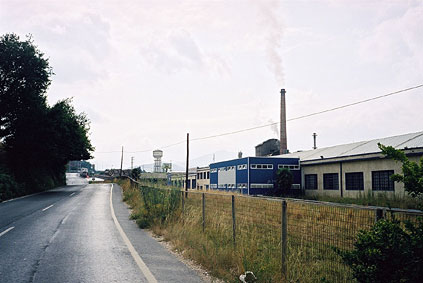 I should have taken a short-cut over Lamindao (probably hilly) but missed it and instead went down to Igorre before going back south again to Artea (125) where a nice a steep road up to Puerto de Bikotx-Gane (565) started. I knew beforehand that this road would be steep and so it was. Very much a lonely forest road but with excellent paving. This road took me to Zubiaur and later to the extremely ugly town of Llodio, which would make any suburban part of Russian big town seem like paradise. I got confus about which road to take west from here, but think I found the one I planned to take and soon escaped the place.
I got over to Sodupe and continued via ugly places like Aranguren (85), where I had a photo of one the ugly looking industrial places along the road as I thought I should have something represent that part of the experience too, but this photo now almost looks pretty in comparison to how it looked in reality (it was certainly not my intention to make this place look nice … ).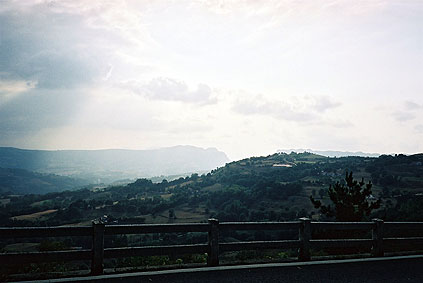 However, soon hereafter the surroundings improved radically and I got more happy again. I went on roads that would eventually take me to the next pass and it is hard to tell how to find the right one. I had to stop a myriad of times and consult the Michelin map, but nothing much got clearer thanks to it. I basically ended up guessing my way to the west and somehow I got where I had planned to go. Alto de La Escrita (430) was an easy pass and it opened up very nice views to the west.
I wheeled down the nice countryside to Ambasaguas where I stopped at the petrol station by the main road. I soon detected that petrol stations are among the only reliable places in this part of Spain where you can find anything to buy when you need it. They had a chair outside and I sat down having an ice-cream and other things.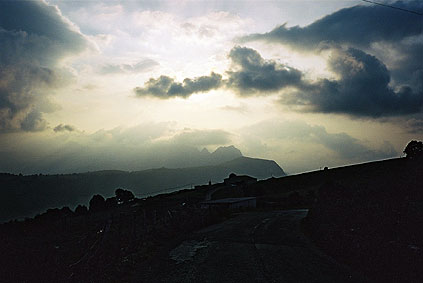 Then I took a very minor road going from Ambasaguas via Concha (164) (where there are two possible alternative roads) to Puerto de Ubal (634) (which may not be located exactly on the main road over to Lanestosa from here, but it is still essentially the pass you pass over going there. It is a somewhat easy pass, but somewhat steep at first. The last photo is from the Ubal pass and the previous from La Escrita.
It was getting late and down at Lanestosa I hoped to find a place to stay for the night. It turned out to be a very small village though and there was no bigger villages along the road south the way I was heading. I asked at the little square about a place to stay and I learned about a place just north of the village. They apparently had not seen any tourists for ages and had a hard time deciding what the price would be for a night. They were quite nice however and I got some food and beer while talking with some local youths in this farm village. They got excited about me coming from sweden as Henrik (Henke) Larsson is playing for Barcelona FC and they were football fans. I thought they would be more excited about a Bilbao football team, but that was apparently nothing much to consider. I got some advice about the villages I were about to see tomorrow, which I wanted as they were going to be far apart and few.
Day 1 – Day 2 – Day 3 – Day 4 – Day 5 – Day 6 – Day 7 – Day 8 – Day 9 – Day 10 – Day 11 – Day 12 – Day 13 – Day 14 – Day 15 – Day 16 – Next Day – Day 18 – Day 19 – Day 20 – Day 21 – Day 22 – Day 23 – Day 24 – Day 25 – Day 26 – Day 27