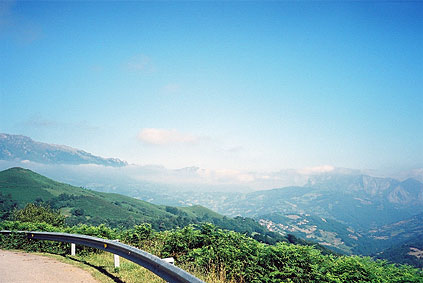 Now it was time for some serious mountain climbing! The person in the hotel suggested that I may not wish to go the shortest way to La Vega and Angliru as that also involved a very steep climb. But I surely wished to climb that road. Alto Cordal (798) is indeed rather steep out of north of Pola de Lena (301), but it is a sweet road, which is a bit surprising as it is surely not sweet down where the road takes off.
To the far right in the first photo you see the Angliru mountain that I was next about to climb. Angliru has become very famous in this part of Spain for its steepness and for being included in the Vuelta a few times now. It is surely the steepest ascent in Asturias, even if there are other steep roads here as well. It was a very pleasant ride down to La Vega (303). I was a bit confused about not finding a sign for Angliru down there and went down to La Ara and back up again and took the wrong road (the one marked on the Michelin map going to Riosa), as I had heard the road to Angliru started at Riosa, but Riosa is an area and not a place as the Michelin map suggests. I turned around back down at what is marked as Riosa on the map (after asking someone there). It was first after starting out on the right road that I 500 metres later found the sign for Angliru (as it happens in this part of Spain).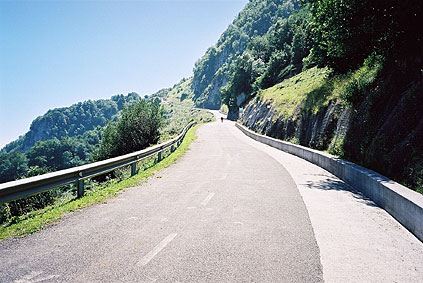 I had not memories the steepness of the various parts of the climb beyond that I knew the steepest part would be the later half. Quite correctly! I was indeed somewhat confused about the relative easiness of the part of the climb which is never more than around 12% and then you come to a flat section before you get up to the series of serpentines clinging to the mountain wall.
Here it starts, but from there it is "only" about 5 kilometres to the top. It starts out with a stretch going up to around 21%, which is hard, but not unbearably hard and then it "flattens" out for quite some time to a mere 13-17%. It can be quite hot here too and drinking is needed. Then you come to the real sections, first around two troublesome sections at around 22%. Then you begin to feel really weak. But you know there was supposed to be an even harder section ahead – Les Cabres. This section I stopped on the way down to take a photo of in this second photo here (the spot on the road is a cow!). It doesn't quite look like in reality. Spontaneously I uttered for myself "damned!" (in english) when coming to this spot on the way up.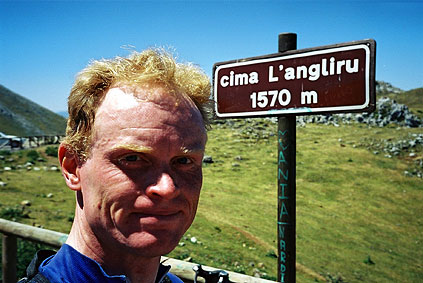 The Les Cabres section is supposed to be 23,5% for 400 metres, but according to my inclinometer (Ciclosport HAC4) it stated the maximum was 26% and I do believe it was like 300 metres at exactly 26% in fact (and I should know as I have climbed 25% and 24% slopes a couple of times before). It is rather easy to determine the exact percentage in these slopes as they are very close to what I could possibly do with my weight (just below 90 kg) and 39-27 chain rings. I could do max 26-27%. I tried 28% (or more) on the Hardknott pass in England, but it was impossible (maybe I weighed slightly more on that occasion and had more clothes and whisky in my back-pack ;-)).
So if you go here prepare yourself for a 26% slope! I had to exert maximum effort all the time and did not allow myself to look up to see how long way was left to go as I might very well have given up then. A triple front chain rings would have been helpful (and a more intelligent choice here)! In a race up here I would have had to have at least something like 34-29 or it would have been pointless to cycle up (it would probably be faster running/walking up otherwise). I would think only the more lightweight professionals would be able (or consider) to race up here with 39-27.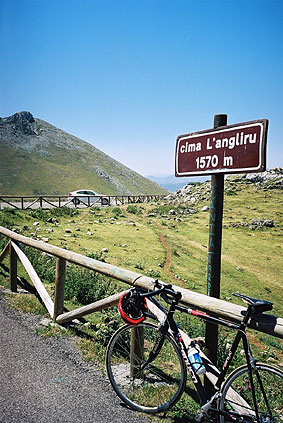 It was not quite over after Les Cabres either, but then I at least knew I had made it. It is in fact very steep until one comes up on the top. Then the road is flat and goes a bit down and up to the end of the road where the sign for the Cima L'Angliru (1570) is found. The end of the road is only a kilometer from the end of the climb and it is worthwhile to go there for further nice views.
Actually it looks a bit like a pass, but I do not know if the path down from the parking place actually goes down the other side to the valley below – it may not as the other side looks very steep at most places when you cycle below on that side. I returned back to where I came up and started to climb down the rocky mountainside to get a better photo of the serpentine road up there. I got a decent photo of some of the serpentines and a good view of the area below. Approximately in the direction behind the smaller mountain in view, Oviedo is placed half-way between there and the coast (somewhere around where you see some very thin clouds).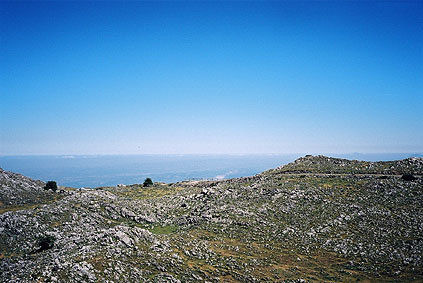 When I came back up again a man and his son (I believe) came up walking (I had passed them by earlier) and they were kind to take a photo of me there and we talked a little as the man knew english pretty well. He thought it was best to walk or cycle up here (rather than taking the car or motorcycle) and I guess he is correct in this, given that you are fit for it!
I had noticed on the way up that one spoke in my rear wheel had broken, but thought that it was not a concern for me until I got down again. I hardly could stop the bicycle to take the photo at Les Cabres, but managed just below the worst steepness. had to do a lot of braking before coming down to the flat stretch again, where I took an alternative road down via Sta Eulalia (that is about as difficult as the ordinary approach, some say it is a little bit harder and that may be so). None of these roads are on the Michelin maps. The Eulalia road had a little problem a just a bit down the road, but maybe it has been fixed until you come there, but was otherwise a nice road too.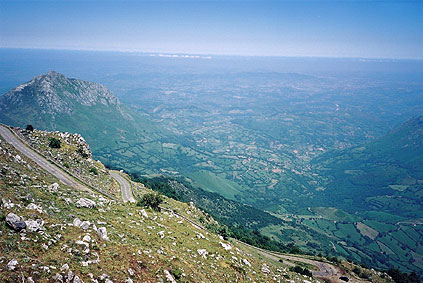 I went straight to Oviedo, but I had been advised by the man up at Angliru not to take the big road into town, and I got slightly confused later on as he suggested I should go very near a power plant visible from above and thought I should go on the west side of it, but that road would have led me a long way around Oviedo (I think). The big road on the left side was probably not the biggest one, but I may have gotten this all wrong.
I cycled around Oviedo for a while looking for a bicycle shop without much success and got a bit tired as Oviedo is a VERY hilly town, even though it looked perfectly flat from up at Angliru. Finally I found some unfriendly looking teenagers that I asked and one remembered there was a shop very nearby. I first thought they only sold mountainbikes as that was all I saw in their windows, but, hey, we are not in Sweden here. The place was run by a very competent woman who seemed to know all about race bikes. She called to my attention that I may be interested in switching the rear tire as well as the broken spoke. The inner tube was peeping out quite much through a hole in the tire – I was happy I had not noticed it earlier as I may not have dared to go down the Angliru like that otherwise.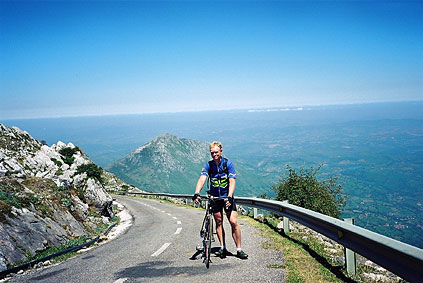 Yes, I DID want a new rear tire and finally decided to take the cheapest tire she had – A Maxxis foldable tire, which worked out quite fine actually (as she suggested it would). I only had to wait 15 minutes or so and meanwhile had a boccadilla (sandwich) and soft drink in the bar next door. The wheel was fixed (I think she even fixed it with a new Sapim CX silver spoke that I have in the Tune wheels). All done for 16 euro! That is service!! (If you think something like that could happen in Sweden, where I live, then you are out of your mind.)
So that helped me cheer up and get a more positive view of Oviedo! It is probably one of the nicer bigger towns in the Asturias, but I could not really tell. It was very hot now! It took quite some time to find the correct way out of town. The signs and the Michelin map were only peripherally helpful (maybe I should have noticed the town map on the back side of the map). There is a lot of traffic around Oviedo and the traffic was a bit heavy until I got further away from the city. The road goes a bit up and down all the time toward Grado and beyond. I stopped at Udrion for a Coke and exchanged some words with an old local man. After Grado comes a little pass I had not seen mentioned anywhere called Alto de Cabruņana (375). Just after the nice downhill ride from this pass I took off on a way up a new valley following Rio Narcea.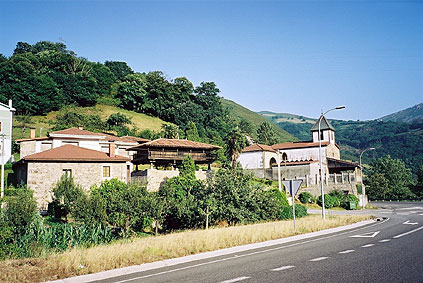 This road was wide and nice. It was flat at first and then only extremely gently climbed up the valley. (there were some nearby passes on side roads, but it was getting late and wanted to get to Cangas del Narcea before dark. I did get to Cangas del Narcea by keeping a pretty good speed all the time up in the increasingly nice mountains. The last photo here is of one of the many very typical tree houses built on poles. I first thought this was something original only this far west in Asturias, but later found them in many other places in eastern Asturias too.
I tried to find some choice for a hotel in Cangas del Narcea, but did not find much and took in at a hotel that seemed okay and I had some decent dinner there. I went around town and had problems finding any place serving anything but liquor and beer (as usual). I wanted to have an ice-cream, but all they could offer was Nestle ready-made ice-creams, if at all (and of course there was nothing to eat anywhere despite that it looked like a charming and touristy small town). I had a nice walk around the town anyway and had a Nestle ice-cream and beer (cerveza) at the hotel. Unfortunately I did not become happy with the hotel late next day I you shall discover if you read on.
Day 1 – Day 2 – Day 3 – Day 4 – Day 5 – Day 6 – Day 7 – Day 8 – Day 9 – Day 10 – Day 11 – Day 12 – Day 13 – Day 14 – Day 15 – Day 16 – Day 17 – Day 18 – Day 19 – Next Day – Day 21 – Day 22 – Day 23 – Day 24 – Day 25 – Day 26 – Day 27