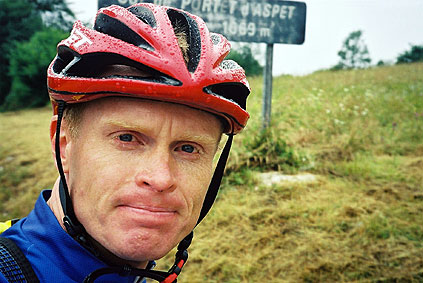 Today it was going to be a totally different day. No hotness, only dripping rain and chilly weather most of the day. Well, that is life up in the Pyrenées and most other mountains too – radical changes of weather are to be expected. For a number of reasons I did not manage to go a very long distance this day (either).
I took the easy way north out of Luchon, instead of climbing the Col du Portillon (1293) that I already climbed from the other (easier) side in 2001. So I went around the Bacanère mountain via St. Béat and then south toward the spanish border. The very last chance to escape going into Spain is by taking a very small road going east just before the customs. This is a lovely, interesting and sometimes steep road, with an acceptable surface. After a first set of steep serpentines hugging the mountain side, you reach the little village of Melles who has a warning for bears (because someone once upon a time lost their life there to a bear). So, a little worried I continued up the mist-filled mountainside. (I think you could get water in Melles too.)
The pass this road leads to is not so very high, but the road seems very long with many serpentines. The surface becomes a little less nice higher up, but poses no problem. Jus before you reach the not too well-defined col the road turns into a good gravel road and the road is almost flat here. You would probably have good views on a clear day while going up here. There are actually two passes up there, the first is called Col d'Artigaux (1382) and the second one is Col d'Artigascou (1345) (I am not totally clear on their exact location – the first is supposed to be on the asphalted part and the second on the gravel part). There are alternative road choices up here and no signs, so you better have an idea of where you wish to go! The gravel road that goes rather high and over to (on the map) nearby Col de Menté is not very good at first but eventually it improves and then the asphalt comes back after around 5 km. After a first short bad section from the last col you could go down and that road is probably better if you do not wish to go to Col de Menté. The road I took first goes up for a long time before it starts to go down again. There is another little col on the asphalt road to Col de Menthé called Col de Lagues (1405).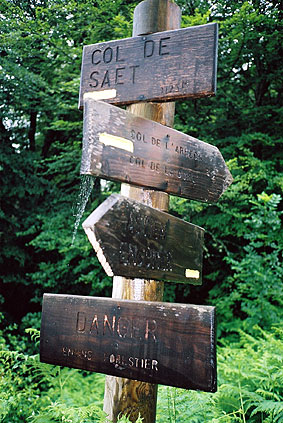 At Col de Menté it was more pronounced drizzle than before and it started to get real cold as I was now descending.I had first thought to go up the valley on the other side to climb two more asphalted cols there and possibly take a path over to Col de Portet d'Aspet to collect one or two more cols on the way, but the weather was really against it and it had taken me ome time to get here already, so I decided to take the obvious road to Col de Portet d'Aspet (1069) instead. Col de Portet d'Aspet is rather steep on the west side near the top, but is not such a long climb. At the top it stopped raining and I had the first photo for the day. (I had tried to find a good place for a photo on the way up the Artigascou road, but it was foggy where the views would have been best.) Here I took a photo of a dutch couple coming up the same road on a tandem, that I had passed by just before the col. I saw some MTB riders going up in the direction of the path I had thought a bit about taking (so obviously it would have been ok with an MTB anyway).
I had really planned in a lot of odd cols by the help of very useful overlays for the IGN 1.100000 maps available online at www.centcols.org. So next I decided to try out one of these odd ones by trying to find a path that would connect to a surfaced road at the col. The path should start at the Portet d'Aspet village and go to Col de la Hourque (908). I thought I had found the obvious road just opposite the little church, which was a very steep little partly concrete-laid road that I soon had to start walking up on. When coming to a house with a dog the road ended. I managed to explain to a person there where I was trying to go and he said it would probably not be worth it and that it would take 20-30 minutes at least to walk there, but I was optimistic and proceeded. I was uncertain on which way to go as no path was very clear from here and the dog decided to follow me and I soon noticed that the dog knew the way and I thought he would probably lead me right. Eventually I came down a long-forgotten path that could have been a road some 100 years ago or so, but was slightly sceptical about having come to the right place. Said goodbye to the dog, but soon noticed the church which looked very much like the one I had just left behind almost an hour ago earlier. The dog just led me down an alternative path from the house to the village – oh well! – An odd excursion with a road bike!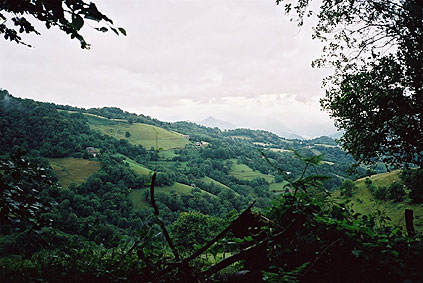 I rolled down the road to Audressein (508) and it started to rain heavily. I noticed the only thing that was open there was the Logis de France and noticed the dutch couple had stopped there too. I thought it was an obvious late lunch break and had a very fine sandwich plate. Talked a little with te dutch cyclists, who decided to stay there for the night, but I thought the day had hardly started and was determined to leave as soon as it stopped raining heavily.
I took off an hour later up via a small asphalted road with a col – Col de Auech (595). Here I also took a wrong turn up a steep dead-end road, but eventually found the right one. Then up a rather long asphalted forest road that got worse as I went along to Col de Saët (1123). This was a somewhat steep climb. At the top the asphalt disappeared. I had first thought to take a forestry road over to Col de la Core, passing over another col on a gravel road, but as it had rained and the road would be somewhat long, I decided that it might become messy. (That gravel road looked really good at the start though – but I had to go like 2 km back again from Col de Saët and that was part of why I did not want to take that road.)
However, I got a bit regretful when I noticed how terrible the road down Col de Saët was. There was a sign saying cars could not go over 40 km/h, but I doubt they could go faster down there even if they wanted to! Thankfully it was dry again now and I soon came out on some very nice and interesting paved roads. First up Col de Portech (862) (very short from where I came) and then down some nice slopes to Alos (very nicely placed tucked in between small peaks). Then up again to Col de Catchaudègue (893) on a sweet and steep road. Then I decided to once again do an odd move and take a gravel road to nearby Col de l'Artigue (885) that I had not planned in at all, but it turned out to be quite a decent alternative. But already it started to get dark (took a really bad photo there). Then there was good asphalt just 100 m after this col down a very twisting small road.
Then I went south on a flat road coming from St. Girons to Seix. As it started to get late I started to look for a place to stop, but was adviced by a man that I could as well continue south to the next place at Pont de la Taule (567), where there really only is a small hotel and nothing much else. It is run by a dutch couple (there are many dutch and english people both touristing and living down here in the Pyrenées). I managed to convince the lady it was not too late for something to eat and got something actually very good (cannot quite remember what it was).
I was a bit worrying about my plan now and it looked like I would have to skip many things I had hoped to do. First was that I had hoped to get up to Port d'Aula (2260) just south of here (many kilometres of unpaved road) and back, but the worst clouds in the region was over that place and I had no chance to do it this day and the next day I really had to move on (plus that it would probably be a too difficult road up there when it had so recently rained). That was one of the two passes that I had to leave out, that I had most wanted to visit. (I was prioritizing the paved roads when I had to make a choice.)
Day 1 – Day 2 – Day 3 – Next Day – Day 5 – Day 6 – Day 7 – Day 8 – Day 9 – Day 10 – Day 11 – Day 12 – Day 13 – Day 14 – Day 15 – Day 16 – Day 17 – Day 18 – Day 19 – Day 20 – Day 21 – Day 22 – Day 23 – Day 24 – Day 25 – Day 26 – Day 27