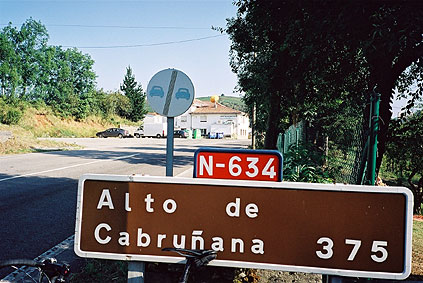 All right, I was trying to get my passport from the damned hotel in Cangas del Narcea and get back on schedule as fast as possible, but shortest way there and back again would be over 300 kilometres. At least I had to cycle a new road (mostly through industrial suburbs) back to Oviedo. After much confusion I found the way over Manzaneda and Cruces to Oviedo, which is fine, but was not the one I had in mind. It is also a bit steep at first.
Now I managed to find my way out of Oviedo rather quickly as I started to get to know that place. I tried to get someone to pick me up just outside Oviedo, but no one stopped and eventually I cycled on until Grado and over the Alto de Cabruņana (375) pass again (the photo was taken the day before, but as I did not have so many photos for this day, I had it here instead (would probably have skipped it otherwise)).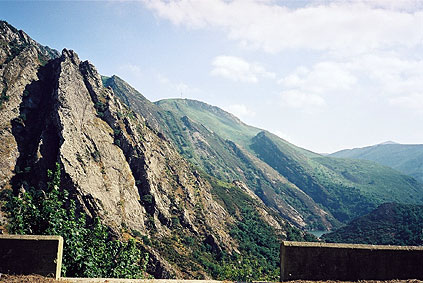 At the crossroads after the pass where the road leads up the valley along the Narcea river I stopped and was determined to get lift up the valley. It was terribly hot though and I had to stand there for over half an hour (some other guy came and also tried to get lift and managed to get it much faster than me (as he did not have a bicycle) and maybe he knew the people stopping – it seemed so).
A man with one of the smallest cars passing by stopped and I accepted the ride even though he could not drive me all the way to Cangas. He was very nice and even though he did not understand any english I got to know that he was also cycling a lot and would be going out the next day to the Somiedo pass himself. He lived just above Soto de la Barca along the road. From there I cycled up to Cangas, which was now only an hour up the valley.
At Cangas I went into the hotel and muttered a bit angrily about the trouble they caused me, but went away rather quickly as nothing would be gained from standing there complaining. I went down just outside the city and waited for someone to pick me up and drive me back toward Oviedo. Someone first stopped but did not really go where it was any point to go (Tineo) and I had to wait some time before a very suitable delivery van stopped. It was the pharmacy guy! He could absolutely not understand any of what I tried to communicate, but he was very nice nonetheless. And he was indeed going all the way straight to Oviedo (+80km). I took a photo on the way down by the big dam around Soto de la Barca, where it is very nice. He understood this and stopped.
I managed to explain I wold want to get to the train station as I was hoping to take the train out of Oviedo to escape the roads around the city.
He left me not far from the station at around 19 pm. I found a grocery and made some shopping and headed over to the station to see what trains there were going out. It soon became clear that no trains going outside Asturias leave the station after 19 pm. I went p on the second floor where one buys tickets for the local trains, but even there I could not get where I wanted according to the lady in the reception. I went down and was about to jump on my bicycle, but then realised I had not really looked carefully into the local train schedules. I went back up again and figured out I could take a train going in the right direction even if it would not take me as far as I had hoped for and decided to wait for that train. There were no problems bringing the bicycle. The only problem was how slow the train was. Had I cycled right away out of Oviedo I would have been in Nava before the train, I think. I went off at Nava, which was the end station at this time, and cycled (now at around 21 pm) toward Infiesto and there I decided to stay as I found hotels and it was getting dark.
I had managed even to get a few kilometres in the right direction on this day! ;-) I had something to eat at a restaurant and when I was about to leave a bit after 23 pm, a family with small kids came in to eat – that could only happen in Spain, I suppose (in Europe). The downside of the Spanish eating times is that you cannot ever expect to get breakfast before 10 am in the morning. I had to find somewhere else than my hotel to get a coffee in the morning. The cleaning lady took my money for the night before departure (after 10 am).
Day 1 – Day 2 – Day 3 – Day 4 – Day 5 – Day 6 – Day 7 – Day 8 – Day 9 – Day 10 – Day 11 – Day 12 – Day 13 – Day 14 – Day 15 – Day 16 – Day 17 – Day 18 – Day 19 – Day 20 – Day 21 – Next Day – Day 23 – Day 24 – Day 25 – Day 26 – Day 27