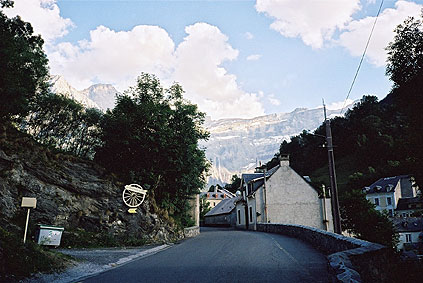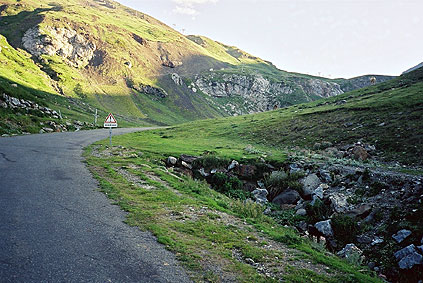 Some facts

27 days of cycling, of which 24 days was days that I could cycle the whole day. On 27 days I cycled 4474 km (165,7 km/day); 83551m (3095m/day) (height meters) and visited ca. 241 cols (mountain passes). (Only counting the 24 full cycling days, I did 4131,5 km (172,1 km/day) and 77108m (3213m/day).) The longest day was 274,5 km from Esterri d'Aneu in Spain to Lourdes (via Mourenx). Max height meters on one day was 4270m. Got a gold classification in the l'Etape du Tour race (the day after cycling 274,5 km) on a half-decent time around 6h30mins (around 2 hours slower than the Tour de France winner this year). Steepest was the famous Angliru climb in Asturias where my HAC4 showed 26%, which seems to be correct. It is sign-posted 23,5% at the Les Cabres section, but that is probably the average for the half-kilometre ramp. (It felt like 26% all the time (300 meters), which is just exactly what I could manage with 39-27 gears.) Hardest for me was Puerto de San Lorenzo (1394m) because I was not prepared for its steepness (very often between 13-15%) and it was quite hot weather. Well, still harder was Col de Portet/Plan d'Adet, where I actually had to stop and take a break because I got so tired – it was 41 degrees in the sun all the time, a constant 10% and just before the bad road up to Col de Portet started, I simply "hit the wall". I also had a very hard time on some gravel roads.

Same info as last year for myself, packaging and the bicycle – best new acquisition was a Montane Featherlite Velo jacket – had heard some mixed comments on it, but it is highly recommended! (Light, small, breathable, wind and some shower resistance.) Also decided to buy a Gillette Lady Shaver and use a Mach 3 blade for men, since the lady shaver handle can be cut down and does not weigh as much as the male version and no need for more than one blade+handle. The packaging weighed around 3 kg. My bicycle weighs all-in-all (with filled water bottle and tiny saddlebag) around 10 kg. I weigh 87-89 kg. I have 39/53 &12/27 Shimano Dura Ace 9-speed gears. 23" tires (Michelin Carbon, but the Pro Race version lasts as long. HAC4 cycle computer (still irritating limits, but still the most fun). SPD-SL pedals finally – cut the cleats to make Kool Covers for Look cleats fit them (stay away from Look crap). Assos Mille shorts (not the Bib version, but the waistline one) should be good enough for anyone and recommended if you do not know that you want something else, even though they cost some (stay away from Pearl Izumi, not made for serious cycling!).

Click here for a revised packaging list (will be updated). Go to cycloclimbing.com for my other tours and links to sites with more information and help for planning your own trip.

Note: Internet Explorer is not recommended. Instead use a good browser like Opera, Chrome, Safari or Firefox. These pages looks best in Safari on a Mac.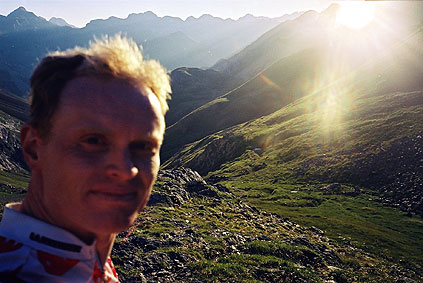 I took off from Sweden the day before and stayed the night in England, so I could take a plane directly to Pau in the Pyrenées. I arrived at Pau in the middle of the day and waited some time for the train to Lourdes. In Lourdes I had chosen a hotel not so near the train station, but thought I could go there with my big bicycle box (with bad small wheels). It was cumbersome, but around 5 pm I was off cycling up the mountains. I did not want to wait until the next day and had thought I should be able to get up to Port de Gavarnie and back again before dark. That was when I thought I would be able to leave off from Lourdes at around 3 pm. But I decided to go anyway as I knew I had a place to stay the night at.
I did not quite remember the way out south of Lourdes since I was there in 2001 and ended up taking the motorway for a while and soon understood I was not supposed to use that road. Going up the mountains from Lourdes offers some of the best scenery in the Pyrenées with towering mountains awaiting all around in front of you.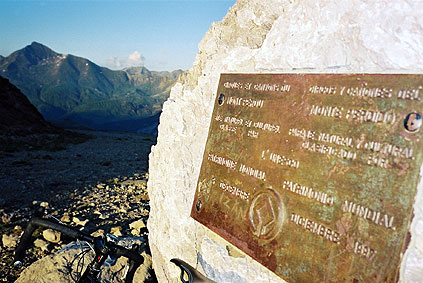 It is first after passing by Luz-St. Saveur that the scenery becomes really fascinating and you feel you have entered the high mountain area. At Gèdre comes the first serpentines and the real start of the climb to Port de Gavarnie. Gavarnie is a small village that looks a bit chilly in the evening as the sun goes down quickly here (around 19 I believe), due to the high mountains around.
From Gavarnie (1379) and up there are not really any more houses. Just some ski-lifts and cows. The climb up here to Col de Tentes (2215) is around 10% on average and a bit hard. The road is wide and mostly good though. At Col de Tentes there is a parking and the views improve. One is not supposed to use the road continuing up Port de Gavarnie/Boucharo (2270) even though it is surfaced even by bicycle as it is part of a protected parkland. Apparently some people have been fined here – it seldom happens that guards in other parks are so strictly enforcing such rules. However, the road is also blocked by stones/rockfalls, so you will not get far with a car anyway and even with my bicycle I had to lead it at one place (not to risk falling down the mountainside). It is also little use in going up there with a car as the path down the other side to Spain is not practicable even with a 4-wheel vehicle. (Maybe the path down could be used with a mountainbike, but surely not with a road bike.)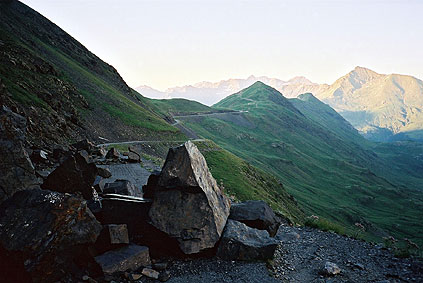 The views from Port de Gavarnie are very good, but best back into France. The sun was going down as I was about to get back down again. I just hoped to get down to Gavarnie, at least, before it got really dark. I stopped at Gavarnie to have dinner (maybe hoping it would not get totally dark on the way down later). It took some time before I got something to eat though and the restaurant was not very good (maybe there was another place too). When I got on my way again it was totally dark and there were no wayside lights until Pierrefitte-Nestalas, I think. But I am somewhat used to bicycle in the dark without lights and it worked out fine in the end – just that I had to go a bit slower and accept some cars honking at me … .
I was not back at the hotel in Lourdes before midnight, but had a good night sleep.
Day 1 – Next Day – Day 3 – Day 4 – Day 5 – Day 6 – Day 7 – Day 8 – Day 9 – Day 10 – Day 11 – Day 12 – Day 13 – Day 14 – Day 15 – Day 16 – Day 17 – Day 18 – Day 19 – Day 20 – Day 21 – Day 22 – Day 23 – Day 24 – Day 25 – Day 26 – Day 27