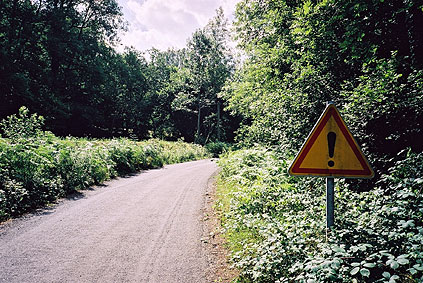 I had decided to take things easy this last day and only try to enjoy cycling to the capacity possible after all the hard long days before. I went up late and only got away around 12 o'clock. It was yet another sunny day.
I went up to Argelès-Gazost (422) on the old road on the west side that I have cycled on in 2001. Stopped for refreshments and then cycled straight up to Gez and there missed the road taking off up to Col de Spandelles and instead went down to Sère-en-Lavedan before I realised the mistake and went back again. The road up to Col de Spandelles (1378) is rather small and slightly rough asphalt. I took the first photo of one of those funny exclamation point signs that are popular in France – I do not really know what it means, but it seem like a placeholder for all kinds of warnings and problems you might imagine. – It is like a "you fill in the blanks" warning type of sign. So I took note, but usually it does not seem to signal anything really out of the ordinary on bad french roads.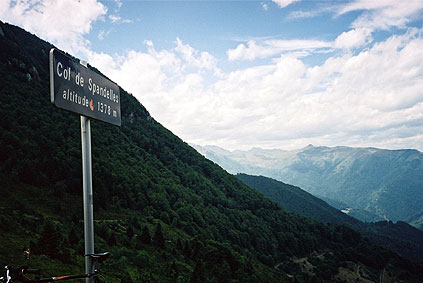 It is a bit steep after Gez and then almost flat for a long time and then steeper again after the crossroads for Col de Couraduque. There are some drainage gullies on the road and I would not be happy going down at full speed as some I met did.
At the pass itself I finally got some very nice views. It is almost entirely wooded on the east side that I climbed. The west side should be more open and much harder to climb. There are several paths going off from around the pass and some possibly cyclable gravel/forest roads further down, but they were so many it would be hard to tell which of them to try out. I cycled back down to the crossroads for Col de Couraduque (1367), which is a gravel road to the top and at first it looked like it would be very hard going. But after just a few hundred metres, the road flattened out and was very smooth all the way to the top.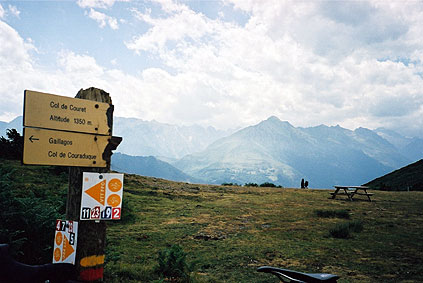 At the pass height I went eastward on one of the two gravel roads going in that direction. After just a kilometre one arrives at Col de Couret (1351), where the two gravel roads meet again. I took the second photo there and cycled back on the lower gravel road (both cyclable with a road bike). I guess it might be possible to continue on a gravel road there to yet another col, but the road may deteriorate. I noticed that MTB riders started out on the Col de Couraduque for rides, so apparently there were many good options for them up here. There were even a shop selling or renting MTB bikes. I had an ice-cream at the restaurant.
On the smooth and nice road down to Aucun (847), I stopped and took another photo looking westward. The road was slightly dangerous I noticed (be a bit careful not to go too fast down here).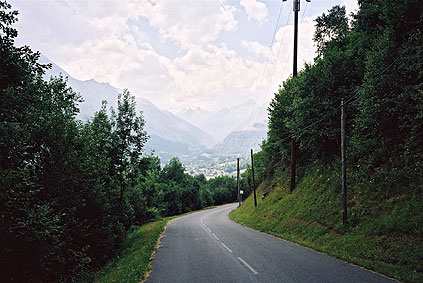 At Aucun I went up to Arrens-Marsous. There go through the village and choose the left-hand road and continue until the start of the climb for Col des Bordères. Here a small private road sign-posted for Esplaous takes off. I cycled up this road to the end, where I believe the Col d'Esplaous (1038) is located. It is a nice little climb and it does not take much extra time. (The people in here does not come across as if they like tourists.)
I returned back again and climbed up the easy road to Col des Bordères (1156). No grand views here, but lower down there was very good views up the Vallée d'Estaing and the mountains. I took a photo just below Estaing on the small road going up the valley up in this direction (after the Bordères photo).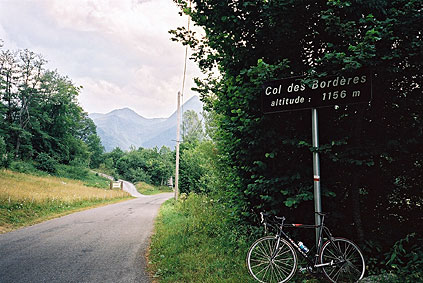 I had thought of taking the road down via Arcizans-avant, but that road was closed to traffic, so I took another nice road down to Argelès-Gazost. I stopped a bit too long at Argelès-Gazost eating a sandwich. I was planning to end the day with a ride up the Hautacam road to Col de Tramassel/Buraou (1616) and the nearby Col de Moulata (1675), but now was beginning to get late. I had promised to be back around 20 pm or earlier as I needed to pack things for the travel to London early the next morning.
I cycled toward the start of the Hautacam road full of confidence I would get to the top. But, without me having noticing it, there was rain upon me. I continued and thought that maybe it was just a shower, but it soon became clear this was more than so. It was heavy thunder like the previous day (but then much later in the evening).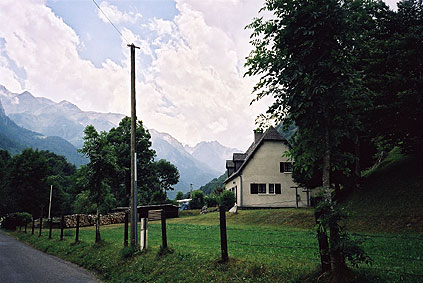 I had to take shelter at a closed very old-fashioned café (they let me stand inside though). They joked with me as they saw a woman cyclist descending the mountain road in this heavy rain and thunder. Yeah. Eventually it stopped raining and thundering, but now I had lost even more time and was uncertain about the weather. I continued up for some time to try and get some better idea of whether things may be clearing up or not. The weather did not substantially improve and I did not want to get stuck in a terrible blizzard near the top on this day, so I gave up and it was rather an anti-climax for the tour to have to end like that, but I decided to let reason have its say this time. I took the last two photos and returned slowly back to Lourdes on the now discovered much preferable eastern road down the valley. (There was even a fourth alternative road down the valley – a bicycle lane that I had never seen or noticed before.)
Of course now the weather just kept improving when I went back to town and it was actually dry at Lourdes. A few hours later the rain and thunder was back again though and I am not sure it would had been a good idea getting up to Hautacam anyway (probably I might have succeeded in using the time slot between the bad weathers though).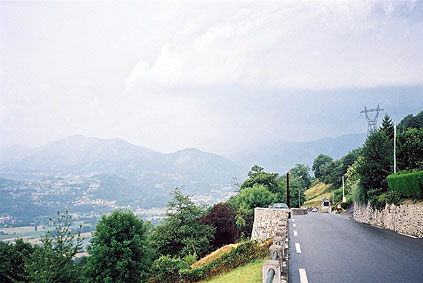 I went around all of Lourdes to finally find a petrol station that had washing facilities that I used to get my bicycle less messy for the packing. I bought some food for the travel the next day and for an early breakfast and returned to the hotel. I packed my things down and had a dinner on the town and guess I visited the Internet café again where they only have the french keyboard which is a nightmare trying to type English and even more so Swedish on.
The next day I was up very early and the nice ladies at the hotel had helped to order a taxi for me in the morning to get in time to the train station. So I got away with the train to Toulouse and took the plane from there to London and a bed & breakfast there. Thankfully I found the place where my favourite musicians (Eyeless In Gaza website run by me) were going to play together at again for the first time in England since 1987 and had a good time.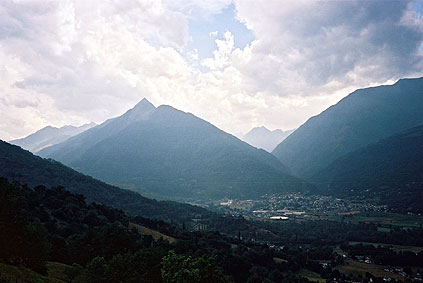 The whole trip was a bit too long in my own estimate and I promised myself not to exceed 21 cycling days in a row again! Maybe I even said I should not go for more than two weeks, but memory is weak on things like this. However, for practical reasons I would not recommend anyone going for more than 19-21 days in a row like I did, since there is no way the knees and much of the rest of your body will accept this (unless you have a medical team with you). 2006 will bring me to the Dolomites and Maratona dles Dolomites yet again, but all the details are not yet clear.
Bonne route!
Day 1 – Day 2 – Day 3 – Day 4 – Day 5 – Day 6 – Day 7 – Day 8 – Day 9 – Day 10 – Day 11 – Day 12 – Day 13 – Day 14 – Day 15 – Day 16 – Day 17 – Day 18 – Day 19 – Day 20 – Day 21 – Day 22 – Day 23 – Day 24 – Day 25 – Day 26 – Day 27