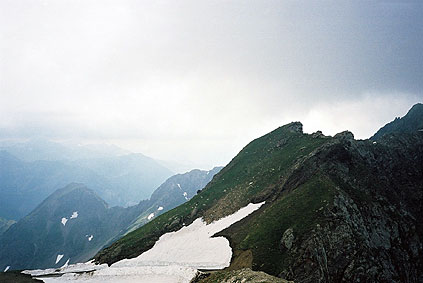 I was sleeping a bit longer than usual, but think the nice lady at Hotel Cazaux gave me breakfast anyway. I was away around 12 o'clock and had decided to take things very slow and easy today. I said to myself that I would really only go up Col du Tourmalet (2115) and very slowly that would not be a problem.
On the way up I came to realise that I had promised myself to also go up the gravel road above Col du Tourmalet to visit two more cols up there and perhaps go all the way up to the observatory (esp. as I heard they had a café there and that it thus could be a nice resting spot). I stopped at Luz-St. Sauveur (actually it is the village before that where the crossing to Tourmalet is and where I stopped) in order to eat something more. The weather was perfect and I just tried to enjoy myself going slowly and looking around.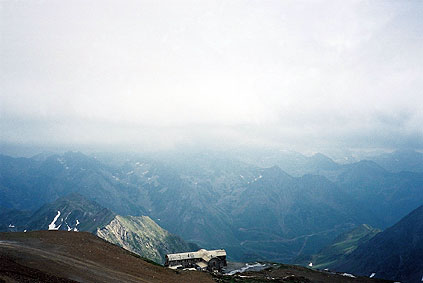 It is a bit steep up to the Tourmalet pass, so I got time to notice I had raced the day before, but it was not stopping me. At the pass I saw the gravel road (that I had never noticed in 2001 when I passed over the Tourmalet in perfect sunshine). I had heard that it might difficult to get around a gate stopping entrance to the road, but I could pretty much cycle around it and wondered what people had been referring to. The gravel road is fine and not too difficult up through a tunnel and to the first pass – Col de Sencours (2378). There are lots of walkers and some sheep on the road.
From this second pass, you see the serpentine road above and it was in a very bad state when I was there, but I tried to really cycle for quite some time before I more or less gave up. I tried and jump on the bicycle every 50 metres again, but usually could only cycle a short distance. It is a pretty steep road and the lake below seem to like to welcome you falling down the mountainside. As I had forgotten about the gravel road excursion when I left I never brought my shoe covers with me, so the shoes got even more worn down here. (Still have mixed feelings about the Nike Poggio II shoes – very nice and good fit, but the first thing I had to do was to get them to a shoe repair guy to trim the upper cap above the feet as it was too long and too hard. Also I got a tremendous ache in my right foot after riding the Maratona dles Dolomites in 2003 and still sometimes get a bit ache there even on short trips. Maybe new shoes in 2006.)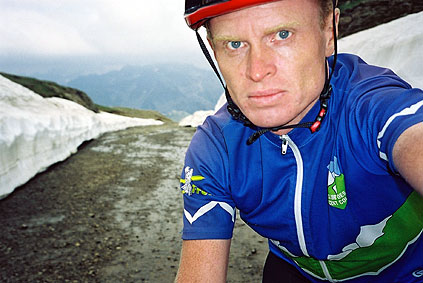 The scenery of the surrounding area improves a lot higher up toward Pic du Midi de Bigorre (2876). The last metres to Col des Laquets (2637) was cyclable and I managed to take a photo of me there on the second try (I really had to be super concentrated to succeed with that, as you see … ). I started out on the path up to the Observatory, but it got increasingly more steep and less good. Also the Observatory was now in a cloud that did not want to move away – I waited a little to see if the cloud would go away, but apparently it had parked there and I thought it was meaningless to struggle up the last part only to find myself in a cloud, so I walked down again.
I guess I could cycle down a bit more than up, very carefully. The gravel road excursion took some time despite not being a very long road (5,5 km each way). On the east side of Col du Tourmalet I had to zig-zag down the road between Llama animals. A bit down I took off on another little gravel road to a nearby pass I had spotted on the centcols.org map overlays – Col des Iris (2030). This gravel road is cyclable and not long to the pass (1 km or so). From this pass I took a photo of the Tourmalet pass (the last photo). Oddly enough I noticed that from this pass a paved road took off, but I do not know where to (not shown on maps and probably just a short stretch).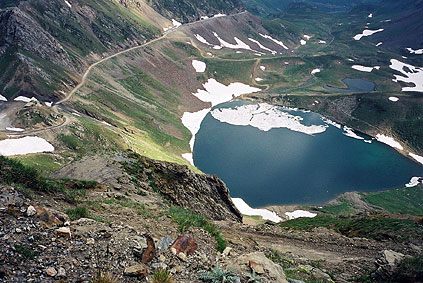 I had planned to go up a couple of more cols in the area around Ste Marie-de-Campan (851), but as the passes did not seem very interesting and I was tired, I left them for another time. I had a very good speed down the east side of the Tourmalet and if I had not been as much of a coward I could probably have reached speeds above 90 km/h. I heard the englishmen the day before talking about a British rider who went down (I would think this side) in 100 km/h in a race once, which is really hilarious, but at least the roads are closed off from other traffic in the professional races.
I stopped in Ste Marie-de-Campan to eat some stuff I bought in a shop there. I tested one of those cheap Cola drinks, but it was almost not possible to drink at all (I doubt they would have been able to sell such stuff in Sweden, but … why not).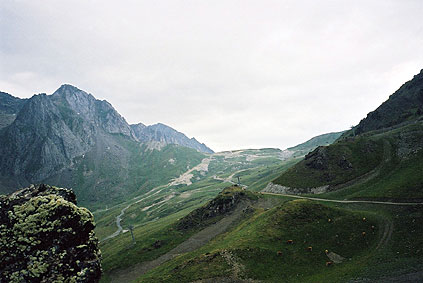 The time had gone by quickly and it was now 7 pm. I went down to Bagnères-de-Bigorre (544), where I managed to find a petrol station to wash my bicycle at. Then I went over a superb road to Lourdes via Neuilh and Col de Lingous (575) to Lourdes. I never took any photo as nothing was outstanding, but it was very pleasant in the late sunshine to go on this small curvy road. The road has very little traffic even though it is a through-road between the valleys as almost all use the northern more straight road. You come down to the pass and you go perhaps 100 meter higher on the way there.
Maybe it was night that I went to the Indian restaurant on the main road in the centre of the town (it was not good). I would stay away from the Logis de France in Lourdes too (very unfriendly and arrogant people). The best place to eat in Lourdes was a pizzeria, despite bad service. I cannot remember the name of the place, but think it was on the Grottes road or one of the roads leading down to the most bizarre part of the "religious" shopping centre "The Blue Light District" as I dubbed it. (You could have a Madonna full sized … . ;-)) The next morning I would leave Lourdes for two weeks before finally returning to go home again, this time heading west.
Day 1 – Day 2 – Day 3 – Day 4 – Day 5 – Day 6 – Day 7 – Day 8 – Day 9 – Day 10 – Day 11 – Next Day – Day 13 – Day 14 – Day 15 – Day 16 – Day 17 – Day 18 – Day 19 – Day 20 – Day 21 – Day 22 – Day 23 – Day 24 – Day 25 – Day 26 – Day 27