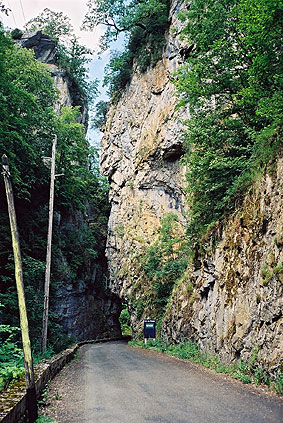 Today was really a col collecting day more than anything else. There are myriads of cols in the area, mostly a bit above 1000 metres height. So I found it a real challenge to make a route taking in as many as possible. Of course my first plan was much more ambitious than what I managed to do in the end, but still did 21 cols this day. This was also not a long distance day and it is indeed very difficult to go over 150 km in a day with several stretches of difficult gravel roads. As my original plan for the day had a different starting point and because I was behind schedule as always and had to prioritize the higher coming asphalted roads, I had to drastically amend my plans. This day I changed the plan as I went along a couple of times, which is always fun. I also climbed one of the very few asphalted +2000 metres cols in the Pyrenées.
One thing was certain and that was that I should first go up to Col des Sept Frères (1253) and easy 250 m climb from Belcaire. From this unexciting col there are several road choices. I took the almost flat narrow paved road going to Niort. One comes very close to a col I decided I could not claim as it was more than 20-50 m from the road which I find acceptable for claiming to have visited a col, especially if I do not go through the passage (here one actually goes through a slightly different higher passage (with no col name …). But I decided to make up for that by taking in a nearby asphalted col. You will need the IGN :100000 maps and col overlays from centcols.org to really understand this. But (for those who cares) on the way down toward Niort a road takes off to the left/north and then you take left again and climb a somewhat steep road to the top where the asphalt runs out and Col de Feilles (1109) is found. (In hindsight it would had been smarter to take the more direct good gravel road to this pass by leaving the Niort road earlier on.) Then back down to the last crossing and continue north for the next col – Col d'Ubi (1055) which comes sometime after the asphalt runs out (at a new crossroad one takes left). Then I took a very bad choice of road (partly not cyclable) directly down to nearby village Espezel, found on most maps.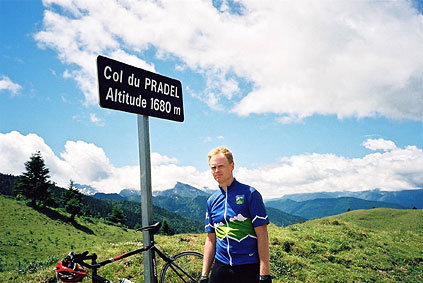 Outside Ezpezel you cross Col des Rives (907) and then drop down to a river that I followed on the way up to Col du Pradel (1673) through the Gorges du Rebenty. Just before getting out of the Gorge, I took the first photo on the page. It is a very nice road that offers a lot of shade in hot weather and with some tiny nice villages. I was cycling up the pass at a comfortable speed when a boy and probably his father caught up with me. He overtook me and went ahead and I let him go, but slowly raised the speed a little to see if he was going to continue at his speed for long. Eventually I caught up with him again trying to give the impression it was hard. I exchanged a few words and we went together up at a good speed, but around 2 km before the top he gave up and I waited for him at the top and he took the photo at the Col du Pradel. A little nasty of me, but I did not like it when I was young when older people tried to make it easier for me to win in games.
It seemed like it was slightly steeper on the south side of this pass. I descended to Lavail (ca. 1100), where I started the highest climb for the day up to Port de Pailhères (2001). This side is not very interesting. The road is pretty steep up around the ski station (around 12%), but on the whole it is not a very difficult pass. Near the top where there are some houses I went up to a pass (Couillade de Font Nère (1955)) that is actually on a path above those houses. The Cent Cols guide says it is not cyclable, but I could actually cycle all the way (or very closely). I took a photo there, but it was not so interesting, so left it out (there was a snow field lingering close by).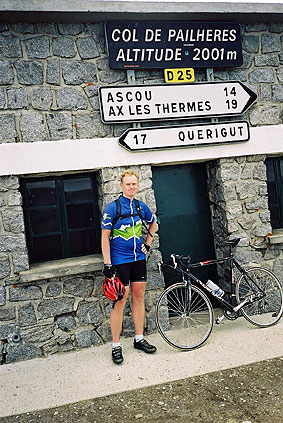 At Port de Pailhères it was slightly chilly (as one would perhaps expect above 2000 m). Some other cyclist took a photo there. On the road down one crosses yet another nearby pass – Col des Trabesses (1920). Soon after this second pass I took the nice photo of the serpentine road below and here it was quite nice! The road was also very good. (Funny, I most remembered from 2001 how bad the roads where in the Pyrenées, but this time they seemed better on the whole (maybe I was a bit unlucky in my road choices last time).)
I stopped for lunch at a café in Mijanès (1130) – just an expensive sandwich and something to drink (I am beginning to think it is cheap at home – Sweden is becoming a "banana republic" … ). From here I took a nice road (D25) going almost directly to Quérigut (1205). At Quérigut I decided to collect a nearby col that I had planned to go over from the other direction – Col de Carcanières (1207). Only a few kilometres forth and back, but up and down and it is seldom easy to get extra cols, even though it may look so on maps.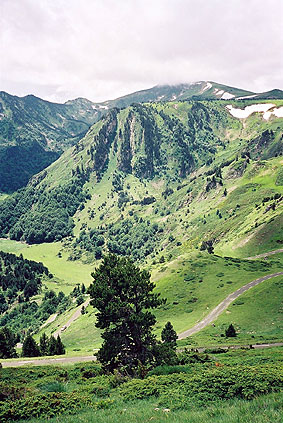 Back to Quérigut, I continued climbing up to a high and wide plateau. I think one really goes over a geographical col on the way up here, but there is no sign and the climb was steeper and higher than I expected, but not difficult.
Up on the Capcir plateau, I took off to the other side and the small village of Réal (1422). Soon after this village (where I had water) a gravel road goes up the woods to the ridge on the north side. I had actually planned to go straight up to Col de Creu (1708), where there the only asphalt road crosses the ridge nearby. But somehow I took a wrong turn and came to the first col (from the direction I came from) on the ridge, called Col de la Sansa (1775). The gravel road to this col was mostly fine, but it was a bit hard here and there, due to erosion of the road and some loose gravel. However, as I expected, the gravel road from Col de la Sansa to Col de Creu was not very good. There are two choices and I possibly took he less good one. But the reason was that there was a sign pointing to a col I had not found out about beforehand called Coll dels Agrellons (1865) (Centcols.org has just recognised this now also) and also because this road obviously went higher.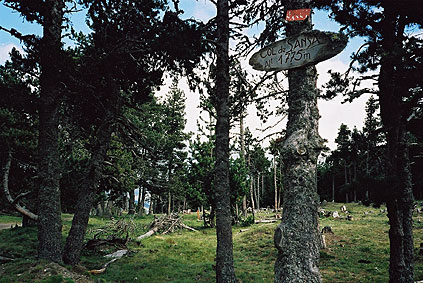 I took the only photo over the Capir plateau near this Agrellons col. It was quite nice up here, but the road was hard to use with a road bike. You also can notice that the clouds were slightly ominous and I would surely not want to be caught up on this long gravel ridge road in heavy rain. I was lucky to escape rain though. The nicely paved and single lane road at Col de Creu looked very inviting, but with some resignation I had already decided to continue on the ridge road to collect a lot of cols up there. This road does not really have any signs telling you whether you are on the right way or not and (now I remember) I took the wrong choice (to the right) at one point and had to return on a very water-filled grassy gravel road. A more detailed map (IGN 1:25000) would be helpful here! This road is of varying quality, but possible to cycle all the way with a road bike (so no problems at all with an MTB bike). It is a little better than the road from Col de la Sansa, but it has to be dry weather. Unfortunately there are not very many open views along the road.
With a road bike it is very tiring, but for those of us who thinks asphalted roads are kids play, then it might serve as an option. The cols you collect here are: Les Collades (1815); Coll del Torn )1895); Col Dourmidou/Coll del Dormidor (1939); Col de la Jaginthe/Jacinta (1875); Col du Comail/Coll del Comall (1869). You finally reach tarmac again at Col de la Llose (1861), where the next to last photo is taken. I look a bit relieved there and that was very true … .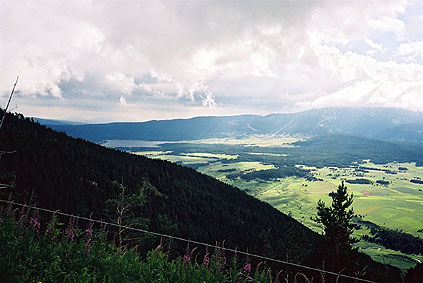 From there I started the descent toward Mont-Louis, but just a little after the pass there is another road that takes you to the end of the ridge and around the mountain that makes Col de la Llose a pass. This road is a military road and as such is not so well maintained. Obviously they do not want tourists there. As if I was not tired enough of bad roads, there were ongoing road work on this road (because they really had to). After that the road looks like they had dropped bombs at random on it, but still more asphalted than not. There were a lot of old tanks (or maybe it is state of the art for the french military ;-)) and bunkers for soldiers up here.
I battled my way up to the pass (Col/Coll de Brilles (1965)) which is at a crossroads with the danger sign in the last photo. (Also had a photo of another danger sign higher up.) This place would be a nice place to go in better weather. There are also an interesting gravel road going to some further cols up here and that may offer even better views down the valley below Mont-Louis. Not for me that day though.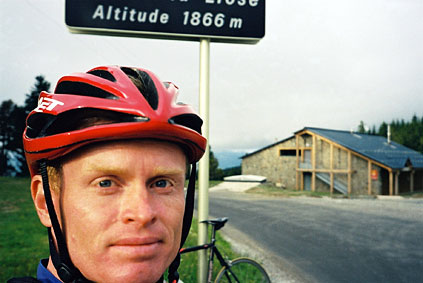 Now finally the end of bad roads for the day, but then the day was almost up also. It was cold and I had to take on my very good Montane wind jacket.
After coming down to the main road at the upper end of the Capcir plateau, I went back toward Quérigut for 2-3 km just to pick up two more cols. The first on the main road – Col de Quillane/Casteillou (1713). Then I went off to the south and took a parallel road back down to Mont-Louis over Col de Mel (1756).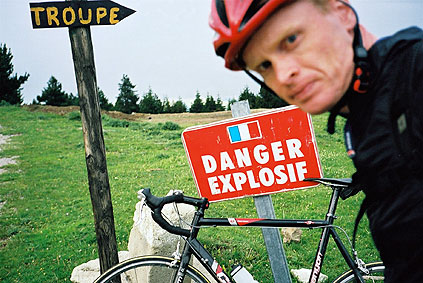 At Mont-Louis (1573) I was not to sure on where to look for a place to stay for the night. I first did not imagine that there was actually a little town in that little fortification with the name and thought it must be the houses below, but soon realised there was in fact a little town inside the walls of the fort. Mont-Louis is the highest laying fortified city in Europe and it is actually guarded by military I later found out. I went around until I came to the very back side of the town and found a little hotel (Lou Rouballou) there which was not cheap, but one of the best I stopped at during the whole trip. Unfortunately here was no place inside or outside the fortification where you could eat food after 9 p.m. as the lady of the hotel did not believe. (I should have eaten first.) I had a sandwich at the restaurant by the main road and walked around a little in the town, but all places closed down very early and I had to go back to the hotel. Information about Mont-Louis.
Day 1 – Day 2 – Day 3 – Day 4 – Day 5 – Next Day – Day 7 – Day 8 – Day 9 – Day 10 – Day 11 – Day 12 – Day 13 – Day 14 – Day 15 – Day 16 – Day 17 – Day 18 – Day 19 – Day 20 – Day 21 – Day 22 – Day 23 – Day 24 – Day 25 – Day 26 – Day 27