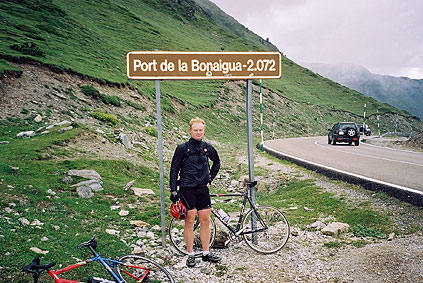 I think I left Esterri d'Àneu (960) somewhat early or at least around 9 pm. The climb up Pòrt de la Bonaigua (2072) was pleasant. I was first grey and misty, but then the sun came out until near the top where it was a bit cloudy again. I did not go at a very high speed and there were at least one section where it was a bit steep (like 10%). This side of the Bonaigua pass is quiet and not as developed (with ski stations) as the other side.
Another cyclist came up from the other side at just the same time I came up. (I had only seen one cyclist earlier heading down in the direction I came from who looked very serious.) He took the photo of me and we headed down his side together. It was just his morning exercise trip I gathered as he lived down in Viehla and he obviously knew the road as I had a difficult time hanging on to him down. He told me the best ski resort in Spain was the one in the first village we passed by, called Baqueira. I managed to stop and hastily take a nice photo of one major side valley on the way down.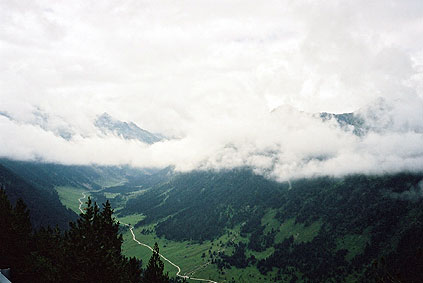 Now this guy got my speed up and I continued full speed to the border to France. I also glanced at the clock knowing there could be problems getting in time to Mourenx, but it still looked okay to me. I stopped shortly at Fos where there are loads of shopping frenchmen. On the French side there is quietness and among the few shops there are some have closed down. A good example is comparing the price of a Coca-cola in Spain and in France, where it costs almost exactly 100% more. I think (drinkable) soft-drinks in France are more expensive there than anywhere else in the world, with the possible exceptions of Norway and Japan. (It seems alcohol is more popular among the border-shoppers though.)
It went much more hot when I came to France, but then I came from high mountains in Spain. I tried to take the most easy, but nice way back to Lourdes first. I was hoping to visit some minor col(s) on the way.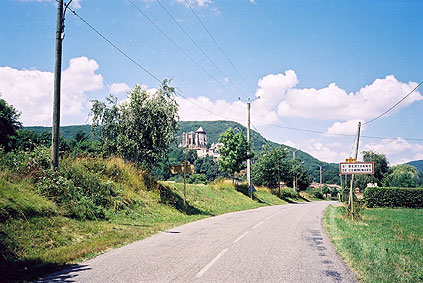 I took the road on the west side down the Garonne and then crossed near where a road went east from the east side road. It is the D26 road that I took and that eventually could lead you (if you manage to take the right turns) to St. Bertrand-de-Comminges, where I had the third photo of the day. This road is a lovely smaller road in the lowlands just out of the main Pyrenées mountains. At Aventignan I managed to take the wrong road. I looked for a place to stop and buy something to eat but there is no open shop or bar in the vicinity unfortunately (asked a woman in Aventignan). I took the D71 to Nistos-Bas – a road that continues straight up the mountain to Cap Néstes. (Or one could go over the Col d'Estivère (1217), but that road should be a bit rough I have heard and it was surely not the fastest, so I returned on an almost parallel road toward the main road (via Bize from where I should have taken right to get over the planned col, but skipped that now). Just before the main road to La Barthe de-Neste, I found a Logis de France at Nestier, where I had a fine sandwich with a Coca-cola.
Then I took the fastest road back to Bagnères-de-Bigorre, which has a large dip and rise where it is quite nice. The last photo was taken here.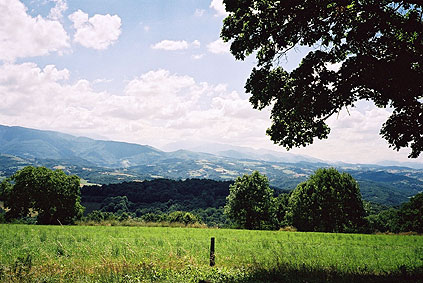 I did not go down to Bagnères-de-Bigorre, but instead took a short-cut road down to the main road over to Lourdes (a very steep (down) little road only sign-posted for a golf course). (It is on the crossroads at the top on the road just before descending to Bagnères-de-Bigorre. Then it felt like I was close to Lourdes and that I would make it in time for Mourenx in the evening. I stopped at the hotel to leave some stuff and to call my friend who should have arrived at Pau for the race.
I was at Lourdes around 18 pm and left around 19 and thought it should only take an hour to Mourenx, but I had forgotten to look on the map and thought the distance was like 20 km to Pau and then 10 km to Mourenx or so. It was a bit over the double – ca. 63 km. Doing 63 km in less than 2 hours is not totally trivial when you had already cycled about 200 km before earlier in the day. I also did not realise the length before I was half-way to Pau and slowly raised the speed all the way until Mourenx, where I arrived at the check-in area 3 minutes before they closed it down and was the absolutely last one to register for the race! The helped me around to be able to pack down their gear faster themselves. I was driving really fast the last part into Mourenx and met some cyclists who looked like they was saying I would not get there in time. I wondered slowly that even if I would get there in time, would I be able to go anywhere near this speed in the race tomorrow!
I was hungry and heard they had some pasta party, but it had obviously closed down too, so I had to go to the nearby MacDonalds. Called my friend and told him I was in time but that I might not be able to start tomorrow as I was really exhausted and did not know how and when to get back to Lourdes for the night and then back in the early morning to Mourenx. I reluctantly cycled out slowly back to Pau from Mourenx in the late twilight. At Pau it got totally dark and I decided to see if I could possibly take the train back to Lourdes from there. I was lucky again! The train left 2 minutes afterwards and I was back in Lourdes already a little after 23 p.m. and had a big ice-cream dessert and belgian beer at a restaurant downtown before I went back to bed. – How is that for preparation for a race!
Day 1 – Day 2 – Day 3 – Day 4 – Day 5 – Day 6 – Day 7 – Day 8 – Day 9 – Next Day – Day 11 – Day 12 – Day 13 – Day 14 – Day 15 – Day 16 – Day 17 – Day 18 – Day 19 – Day 20 – Day 21 – Day 22 – Day 23 – Day 24 – Day 25 – Day 26 – Day 27