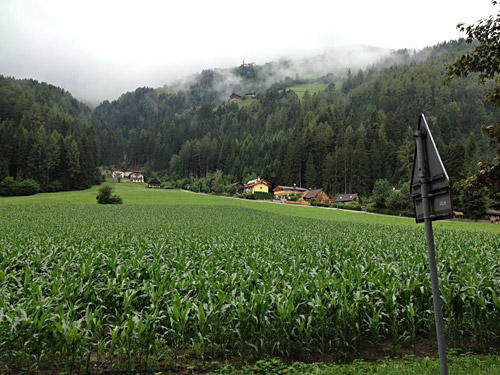 Unfortunately the weather was not better despite being in Italy now. It was a disappointing start of the day in rain. It did not rain as I took off, but it soon started again and eventually I had to take cover for some time and then a later again etc. Here looking up toward Ellen/Elle from an unnamed pass on the little short-cut road from Ehrenburg/Casteldarne.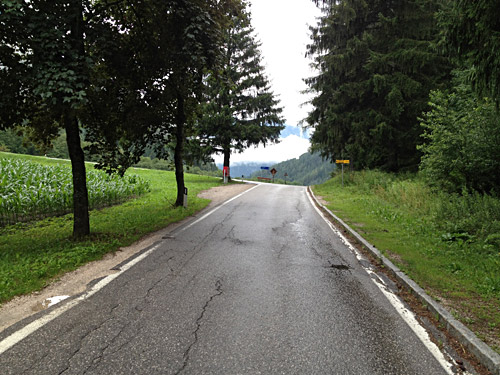 This is the turn-off for Ellen/Elle looking in the direction from where I came up.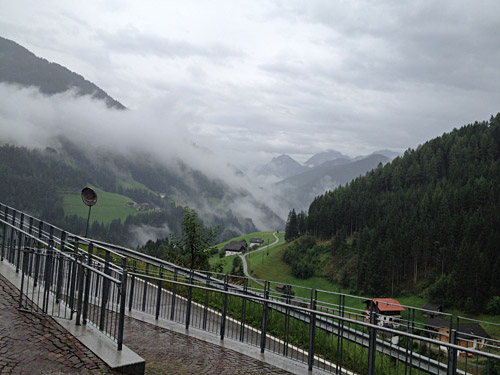 I decided to go on the mountainside road to the right of the valley up to Alta Badia as I had planned to do so, but in the weather it would likely have been smarter to take the main road up through the many long tunnels to avoid getting wet. In the photo here I stopped shortly by the church in Onach/Onies to take a photo and wait a little for the rain to subside as it soon did.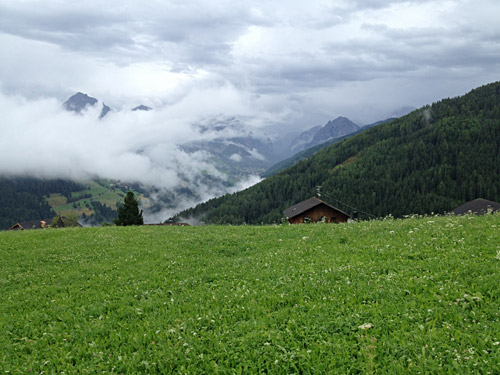 I soon had to find shelter again above Onach/Onies in Tintal/Vallarga, where I had to wait some time by a house talking a little with a nice local living there. The photo here is from there or nearby, looking up the uninviting Alta Badia (this day), but that was were I was heading, hence I was not all that eager to go quickly up to even colder places.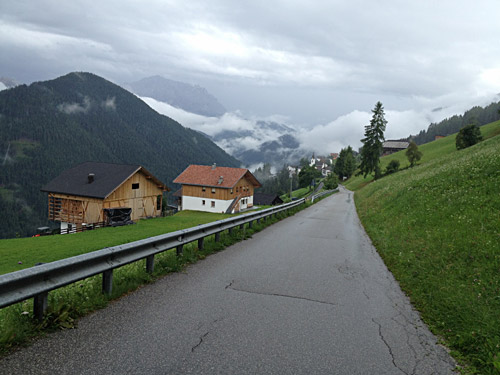 Here I arrive in rain in Welschellen/Rina and managed to hold the camera still enough to take a photo even if shivering of cold. It surely does not look any better ahead … .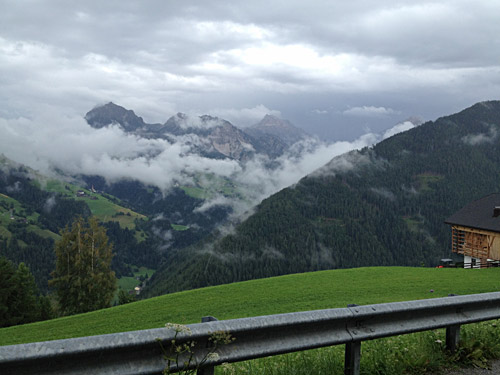 Again contemplating if I really should continue up there this day, but this was the way to the south and hopefully better weather, so just to continue.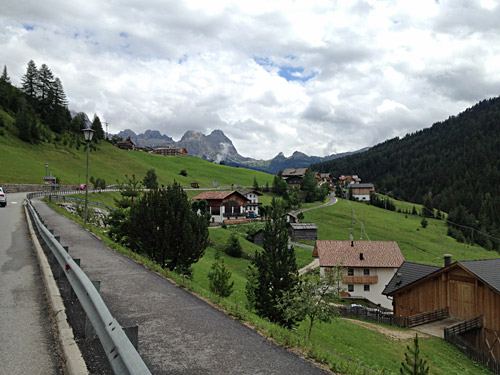 After stopping for a late lunch along the main road in Pederoa (not so good) I continued even though it was raining both when I came there and went away. However, it soon stopped raining and now up in Alta Badia it was almost dry on the roads a bit surprising given how it looked in the photos above up here. The skies are clearly breaking up now.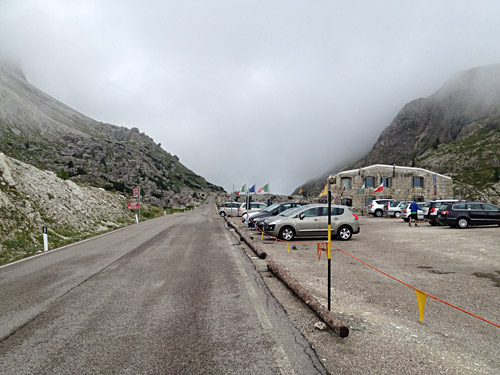 However it was still cold, but not much of a problem when going up, so on I went and eventually after stopping in S. Ciascian/St. Kassian/S. Cassiano to get a new tyre or maybe only get more air in the tyres, I got up all fine to the wonderful Ju de Valparola/Valparora/Passo di Valpar˛la/Valparolapass (2197m). A bit clouded still up here this day though.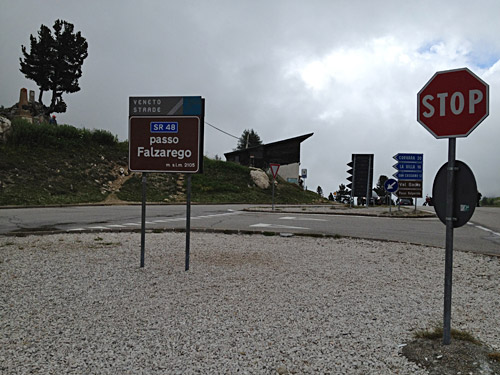 Down the short ramp to Passo di Falzarego/Fouzargo/Jou de Fauzare/Ju de Falzares (2105m).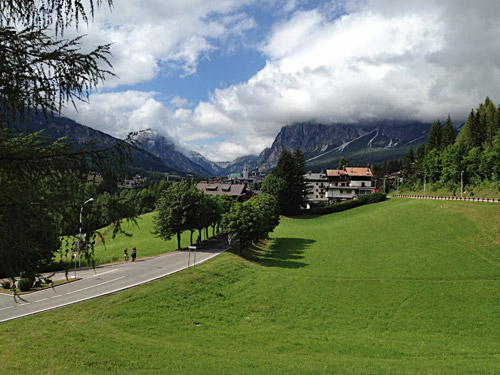 Then a dry and nice descent to Cortina d'Ampezzo (1185m) and finally nice Summer weather. Here just turning around to get a photo of Cortina as I left it to to continue the valley further south. Think I stopped for an espresso and expensive ice cream in the town.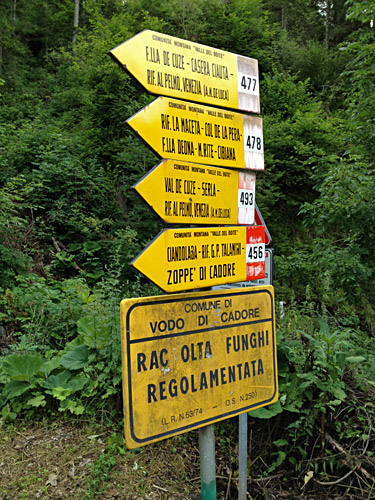 Now, looking at the sign in this photo, down at the river crossing at Vodo di Cadore (828m) on a very small and obscure road, made me shudder and likely most normal cyclists knowing of the place would feel the same way. It announces the Rif. Talamini (1593m) & CiandolÓda and also the Forcella di Cuze (which is a shorter road and easier, but also terribly steep and a one-way road).
It starts nicely, but at the turn-off from the road to Forcella di Cuze, it starts to get ridiculous. I only half-heartedly tried to climb the first little ramp but dismounted as I got worried of not making it.
Now this is a road few road cyclists have heard about, which in part is because it still has gravel sections. Apparently there were plans on asphalting it all, but somehow some were worried that would bring too much traffic here, which does not come across as very likely if you have been here, but a few more cars there would likely be. Still the gravel sections poses no problems to anyone. The problems lies in the asphalted sections.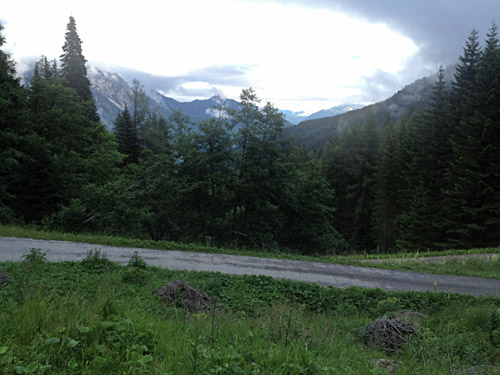 This road goes parallel to the much more scenic and moderate climb over (Passo di) Forcella Cibiana (1533m), which many thinks is a tough enough climb. The photo here shows about the only place you get some views on the way up and this asphalted serpentine section is great an at a moderate steepness, so if the road would have been like this all the time, it would be hard to come by a cyclist not having been here already.
However, there are several ramps above 25% on the way up and I cycled all below, but walked up those steepest ones. Those steep ramps are rather short though but as the road is extremely narrow you have no chance of zig-zagging up. The official pass up here – Forcella/Forzela CiandolÓda (1577m) – is located at a strange place slightly in on a terrible forest road (25m or so) at a bend on the west side just where the road starts to descend. Probably that is the location as the first paths over here likely went that way, but for all practical purposes today the pass is located at the Rif. Talamini (1980m). The road goes slightly higher up to 1593m between the rifugio and the turn-off for the CiandolÓda pass, so that is the height I give for this pass. The longest stretch of gravel is down from the CiandolÓda to above ZoppÚ di Cadore.
Here I arrive above ZoppÚ di Cadore roughly at where the asphalt returns for good on the way down the nice road on the west side to Forno di Zoldo.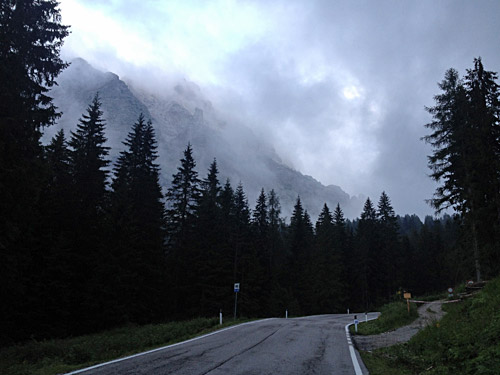 I think I continued straight up Passo Duran (1601m) from Dont (941m). Here I am close to the pass on the east side.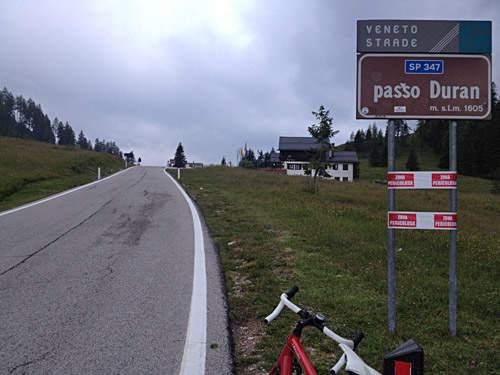 Here at the pass sign on the east side looking up over the pass.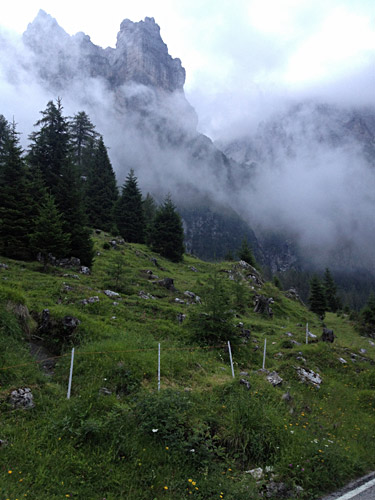 On the way down the west side and it is still cloudy this day. Now it is a very steep and tricky descent where one has to brake a lot on the way own and it always hurts a little in the hands and one does not want to gain too much speed down on the straight roads lower down, nor build up too much heat in the rims.
It was getting late now after the slow start early in the day, but was happy to at least get over this pass, but now wanted to stop as early as possible and preferably before reaching the valley down at Agordo. I stopped in La Valle which is the village before Agordo an asked if they knew of a place in the village and I had just not looked carefully as the house just before where I stopped was a simple hotel – Albergo al Cervo (visible in Google maps, but no website I think) which had a small bar and was run by an older couple. They had a room which was simple, but with a good shower – great place and would love to stay there again!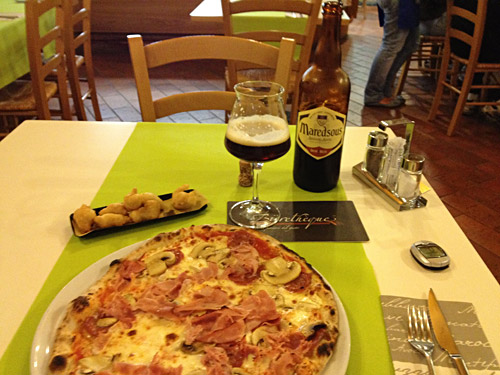 No place to eat in La Valle, so had to take the bicycle down a kilometre just out of La Valle and in the upper area af Agordo, where there was a good pizzeria. Had a beer at the hotel when I returned before going to the room washing clothes and going to bed.