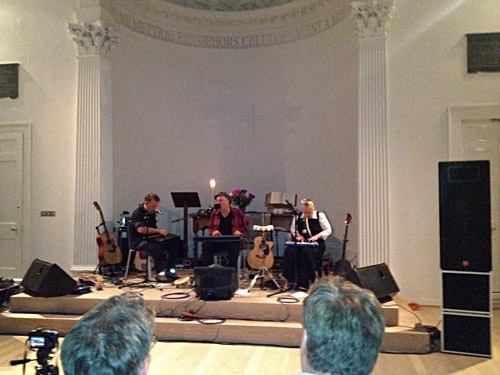 Yes, the main reason to end the Summer trip in England was to see a great music band perform one of their rare gigs these days. Eyeless In Gaza is the band and I have loved them since 1983 (and manage their website). They used to be very popular back in the 80's, but after having toured with Depeche Mode and nearly signing a contract with a major label, they took time off and only reunited 6 years later and then most people had moved on and had forgotten about them. Still they have pushed on and are really as good as ever to this day and continue to release new material and some people still mention them, like Björk, but few actually buy their new music, which is a shame.
But back to how I got to London in one day from Belfort. I got up very early (before 6 am at least) and knew I had to take maybe the first bus for the train station to catch the first TGV train as the next might have caused me not to get in time (I think I had thought initially that I had another choice, but think I realized on the day before only that it was either the first TGV or disaster of the plans). Now the most nervous part was the bus in the morning as I learned you had to have a ticket to get on the bus from the signs and another passenger waiting for the bus, but there was no way to get those tickets at this time and not possible on the bus. One guy waiting there actually let me have one of his tickets (I think I bought one ticket from him, but maybe he gave it to me). Luckily the bus went on time and I got to the train station. I also got on the train with bike and with tickets bought for the whole journey to Namur and had no problems apart from it being a long journey.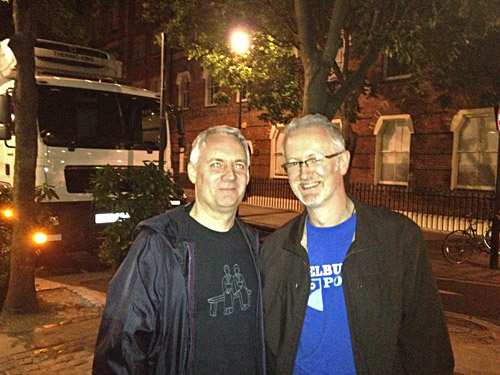 I had to wait for a long time for another train near the Disneyland Paris (a long way outside Paris to the east) in Marne-la-Vallée which is basically an empty space out on the fields with a big Disney park. I first thought to walk or bicycle to some village nearby for a coffee or something, but it was very far away. Then thought that maybe I could walk around a little in the Disney park while waiting for the train connection, but they would not allow me in the park with the bicycle and it was not a good idea to park it outside without a locker, so no Disneyland for me.
Eventually the train to Belgium arrived and another long journey. I think I had to go to Brussels first and then change to Namur, but that is a rather short distance. Got to Namur just before 16:00 and had to leave before 18:00. In the meantime Daniel Gobert met me and I packed down the bicycle, we went to a grocery to buy food and had something to eat. Very nice of Daniel and his family, and I was also lucky not to miss the train as Daniel was about to go on his own trip for more bicycling the next day. All worked out well and Daniel got me to the train station in time. I got on the train and got on the Eurostar also in time (slightly confusing with different trains, but it went fine and think I had gotten a decent price beforehand on the ticket). This is a fast train, but again quite a distance to London. It got dark as I cam to London (or before). Had booked a good bed & breakfast outside London in the Wimbledon area and warned the lady I would be a bit late. I got there around 22:00 after the long subway ride with the bike bag. Then managed to find an Indian restaurant that just about let me have dinner and thus all ended fine on this little ride from Belfort to Wimbledon! :-)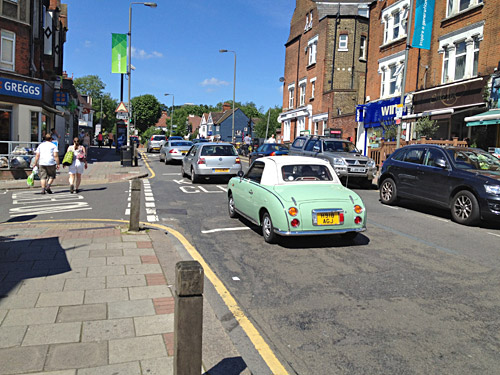 Next day in Wimbledon in sunny weather and all looked very English.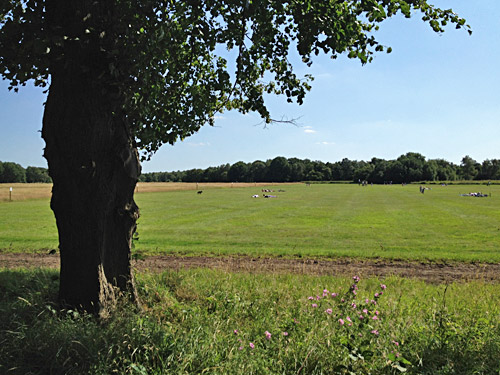 Went up the area and as this is on the border of the London town, I could get out to open spaces like the Wimbledon Common here in a somewhat short walk from the busy roads in London. Found a very English restaurant (the Wimbledon Tearooms) out there and had some disgusting dish with homemade sausage, gravy and peas … (oh well). Anyway a nice area and good start of the day helping me get back to life after the demanding trip yesterday.
Then I got into London and got some coffee and cake not so far away from the Swiss church (of all places having come from Switzerland) where Eyeless In Gaza was scheduled to play this evening. Walked over there and sometime before the concert bounced into the band and the nice chaps in the second photo from the top, which are the founding members (Gary and Cameron) of the legendary In Embrace band that got all too little attention already back in the 80's, even if played and highly rated by the radio legend John Peel. The first photo is from the Eyeless In Gaza performance and even if they complained about the acoustics, the sound for us in the audience was quite fine and it was an thoroughly enjoyable evening. Got a beer with the band and some of the others including an author of a book on Joy Division (always a band closely related to Eyeless In Gaza), but Eyeless In Gaza were busy to get back home afterwards, but I was to meet them the next day up in Nuneaton.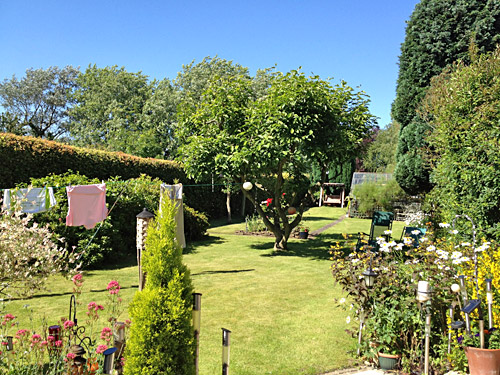 Lovely Summer up in a Nuneaton backyard.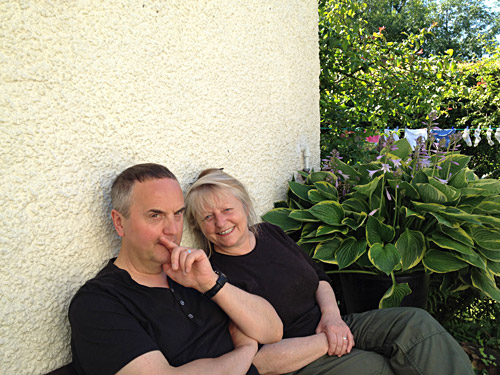 Here is Martyn Bates and Elizabeth S of Eyeless In Gaza who invited me up there for a few days relaxing end of the 2012 tour.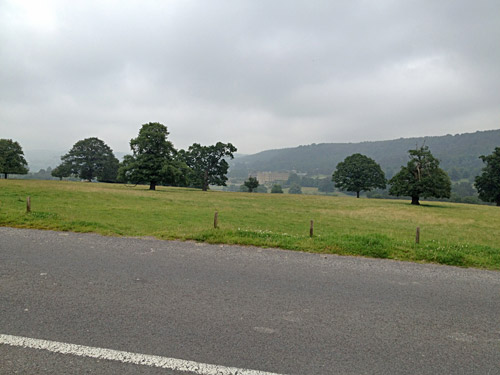 One of the days I had dedicated to a little cycling tour up in the Peak district though. I think it was on the Thursday that I took the train up to Matlock (I got there a bit late) and from there I cycled on up the Peak district and here passing by the Chatsworth House, which is a bit hard to see the size of in this little photo by the road. A rather famous little house out in the countryside! ;-). No time for a visit this time as the mountains had more appeal to me.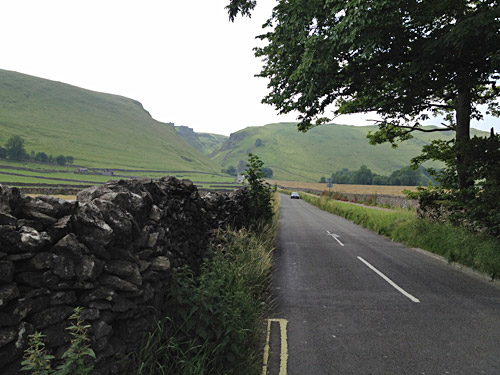 First up was the main attraction for the day really, namely the Winnats Pass (416m) which is a bit steep, but a short climb. Still it is a very nice one and the best place is in the photo here and below.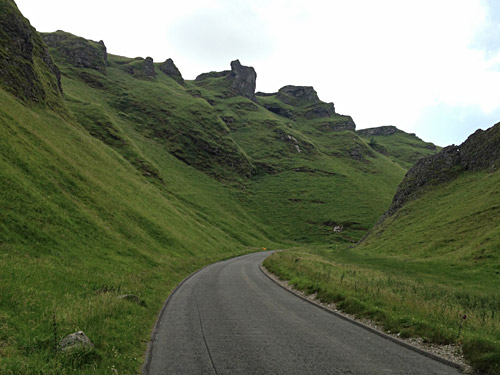 This is the steep exciting section with a very narrow road, so there could be problem with tourists of all kinds going up here at the same time.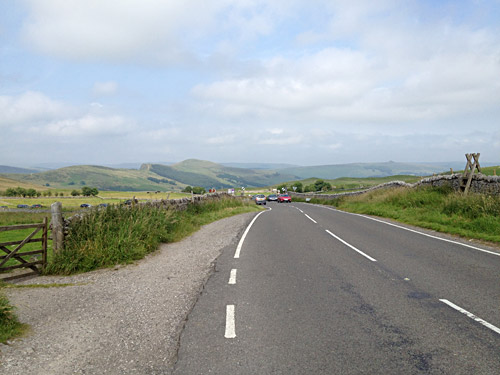 Here I am at the top of the Winnats pass looking in the direction I was going now – up the Mam Tor (464m).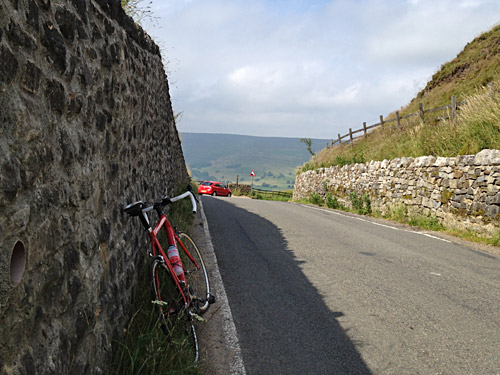 Here at the Mam Tor, which looks more like a pass than the Winnats pass indeed. Then down via Edale to Hope from where I had passed by earlier, but stopped now for a coffee at a modern looking café in this little village, but soon I took off north again on the Snake Road which is a pretty nice bigger road, but also has more traffic.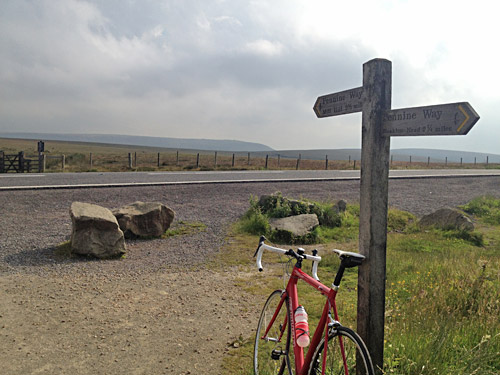 The road snakes its way to the top of the Snake Pass (512m) which is a rather flat plain.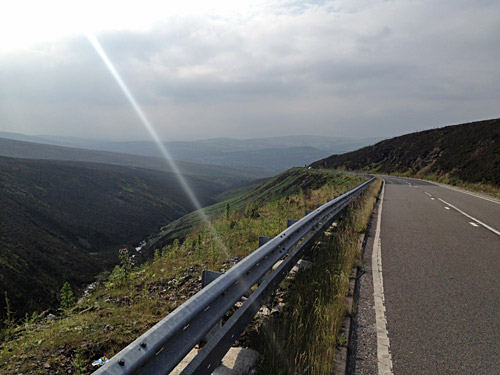 It is slightly steeper down to Glossop and it was a very nice descent on this big road with open views. Down in Glossop the roads are small and the whole place was like a traffic jam, but maybe I was getting close to rush hours.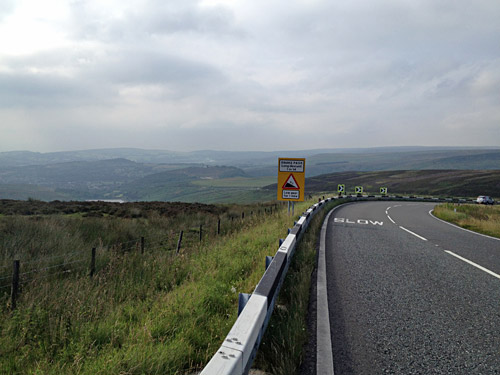 Here I stopped soon again to show they actually warned about the 7% slope (not very impressive, but probably just because of much traffic).
I eventually found the B6105 road going north out of Glossop (missed to turn off in time). The road goes up and then down to two dams (the Torside and Woodhead reservoirs). One here comes down to a very busy road, which is the main road east-west in the region and goes between Manchester and Sheffield (and more). There was a total traffic jam here on the way toward Manchester and was even asked by someone if the road over Glossop might be better, but the jam I saw there was maybe caused by the same jam as here so guess they were stuck unless they wanted to take a big detour.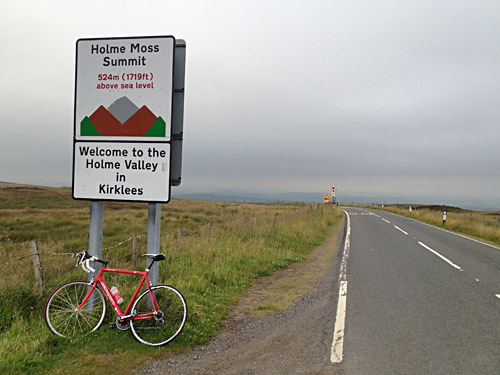 I soon turned off the road full of still standing cars up on the climb to Holme Moss (524m) and I think the highest pass in the Peak district (have not checked that carefully though). This is also a BIG climb, just like the Snake pass and the Mam Tor, so got three more of those this day. This climb was indeed a bit steeper and a bit impressive for the area. Had to take a little care when going back down again.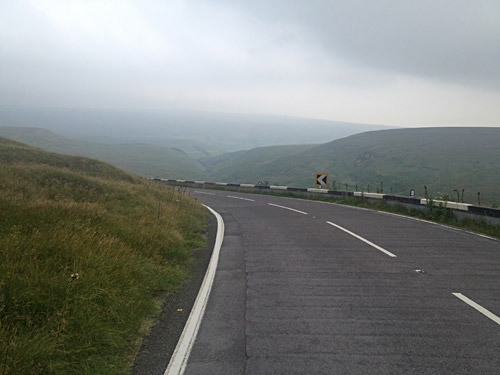 Here is the cool descent that I went both up and down. Guess some car drivers down on the main road was still the same as when I went up as nothing much happened down there. Slightly less good weather now, but it improved soon again when I went back south.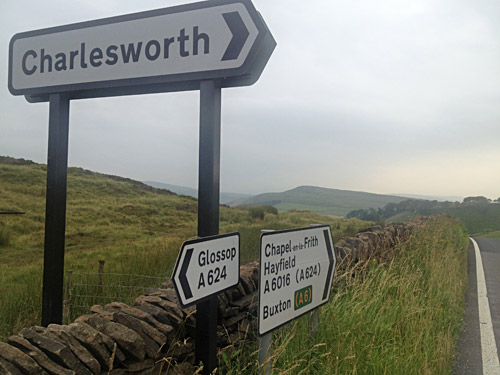 Same way back to Glossop, which made me wonder as I was running late, but in the end I was happy to have been up the Holme Moss and it made the day more memorable. Just went straight through Glossop and up the other side to the unnamed pass where I am now in the photo. I see in Google street view there is a sign here warning for 10% slope down where I went ahead down to Hayfield, but cannot remember it being very steep. It was a bit of a climb out of Glossop to here.
From here it was still a long way back to Matlock, but I started to push on a bit better. It also turned out that the road back was not flat, but had a lot of climbing. Then up and down to Chapel-en-Frith and up to Buxton (as I think looked like the easiest/fastest way back even if slightly longer). Still up and downs before getting to Bakewell and from there an easy way to Matlock. In Matlock I noticed that (well in Bakewell already I think) that I had missed the train I had hope to get back on the latest, but I knew there were other later trains and this way indeed correct. I was hungry and stopped for a quick pizza in Matlock by a nice pizza place. Got a good pizza, but got hurried as I could not miss the next train and burnt myself a little on the hot pizza. The roads I think I took is as on this gpsies-map.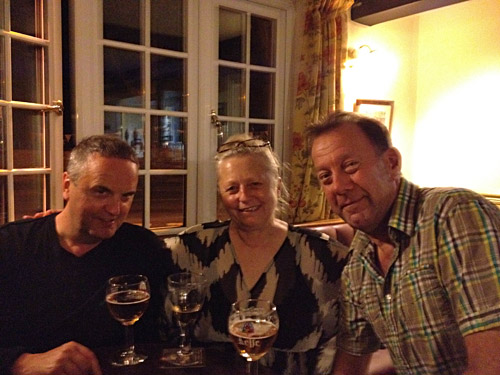 Got on the train and it all felt fine and I looked up the connection on from Derby, but it turned out that even though I could get to Coventry and Birmingham (and Leicester I think), I could not get back to Nuneaton by train this evening as the train before was the last one that could take me back all the way. I decided Tamworth was closest, but since it was dark and I did not bring the lights I had to take a taxi back to Nuneaton, but the driver was nice and at least I got to see what I had wanted to this day (but should have went away earlier in the morning).
Friday evening in the photo and beer at a good nearby pub with the band before going back home after a successful Summer tour.