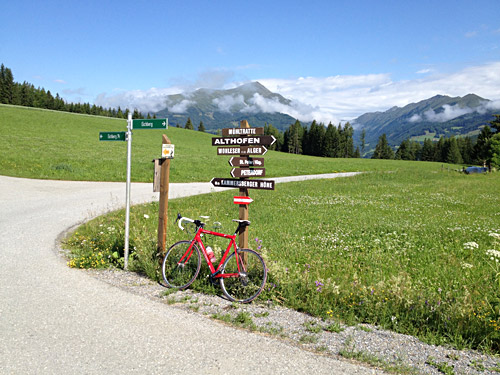 Another lovely day, well maybe not the end of it, but it started with just perfect weather. Here at a first little pass Mühltratte (1080m) in an idyllic environment (short gravel section up here, but a good road).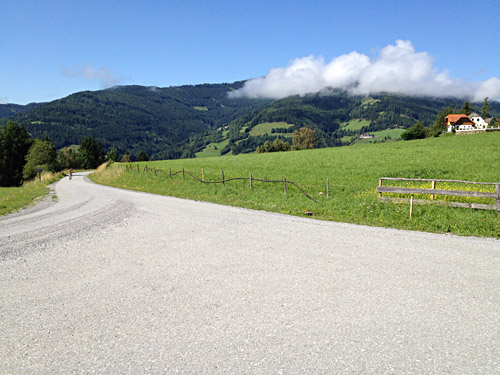 Here a cyclist coming up from another direction.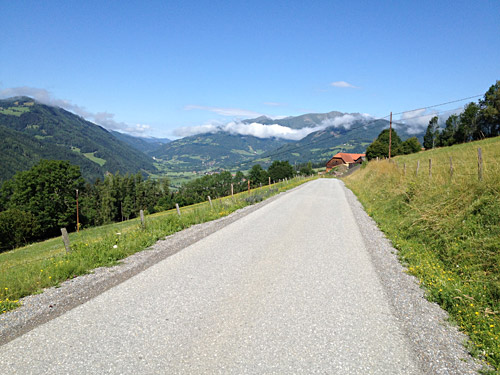 Then a little descent on a good asphalt road to St. Peter am Kammersberg. From there I went on to Schöder where the classic climb to the Sölkpass starts (one of the most well-known higher Steiermark passes). I think I stopped there for an early coffee and cake, then continued straight ahead on very narrow road to Krakaudorf.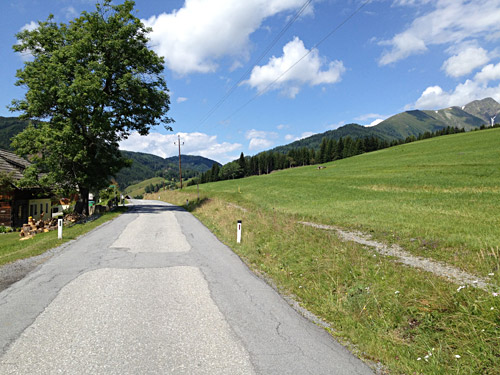 Here on the way above Krakaudorf looking ahead and it is very nice here.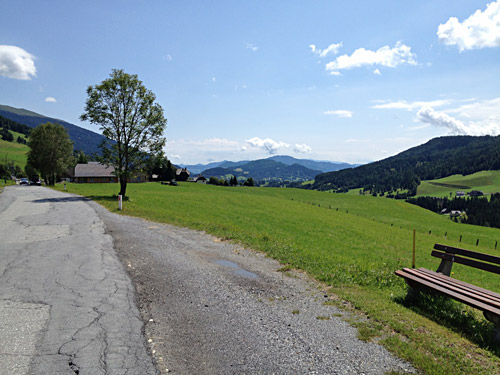 Here a photo of where I came from.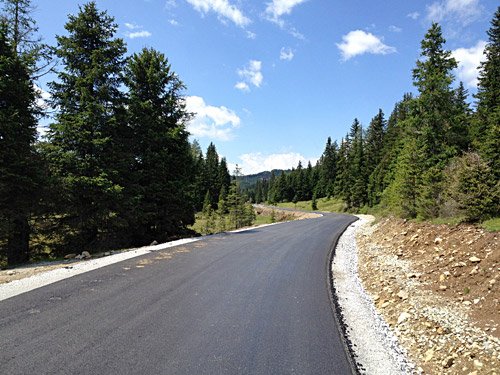 My idea was to climb the Prebersee (Sattel) (1529m) from this east side, which unfortunately should be gravel surface for the last couple of kilometres, but from what I read the road should be good enough for road bikes, so on I went. Now after a short descent and a little climb up to the woods ahead there was a sign saying the road ahead was closed and that was an unpleasant surprise, but thought that I could probably pass by whatever work was going on with my bicycle, so just went on and eventually I came to where the asphalt was supposed to end and noticed why the road was closed – they were putting asphalt on the road.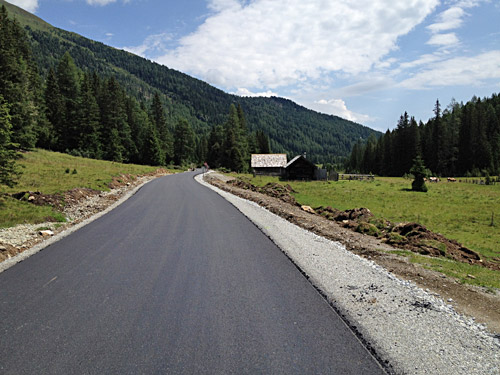 It was lunch time and no workers out working on the road and it turned out that they had just completed the first layers of asphalt (or maybe all) and the road was to be reopened the coming weekend. So I got this pass road all with perfect asphalt and all for myself – now that is the kind of surprise one always dreams about when trying out odd roads!! I was very happy. The road is most known for the Prebersee lake (a small little lake of the type common at home in Sweden, so utterly boring and uninteresting to me and no views of any kind here, but the asphalt was a good enough reason for me to be happy. Also good views out of the woods on either side of this pass.
In the photo above I looked ahead at the vague saddle point, and here I look back.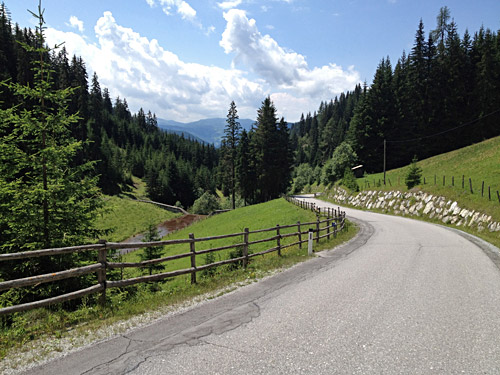 Here on the west side of the lake the old asphalted road is quite steep and it is much more of a real climb on that side up from Tamsweg. Now we enter the Salzburg part of the Alps and we get closer to the white peaked mountains more centrally located in the Alps.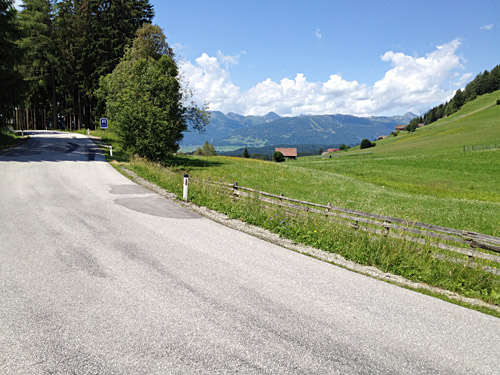 Here the views just above Tamsweg on the Prebersee road.
I stopped again for a coffee and an apfelstrudel in Tweng just at the start of the climb up the Radstädter Tauern. They had nice ddors to the toilets taht were shut closed by some heavy mechanism sounding like you were being locked up there for life.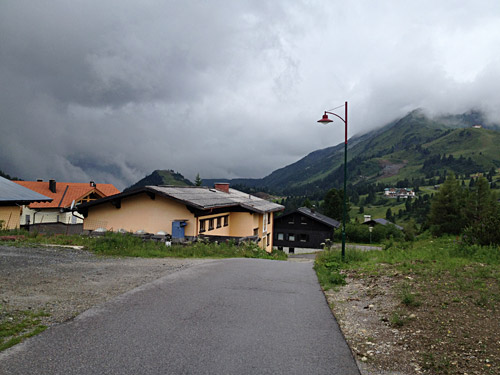 I had decided to revisit the Radstädter Tauern/Freithofhöhe (1739m) for the first time since 2004 and it is the first south/north passage from the Sölkpass here and the next one west is only the Hochtor (if cycling), so a pass that is hard to avoid (also easier than other two). The weather turned worse and it got windy and the rain was near just like in 2004. It looks rather gloomy ahead in the photo here down the north side (same direction I went in last time here too).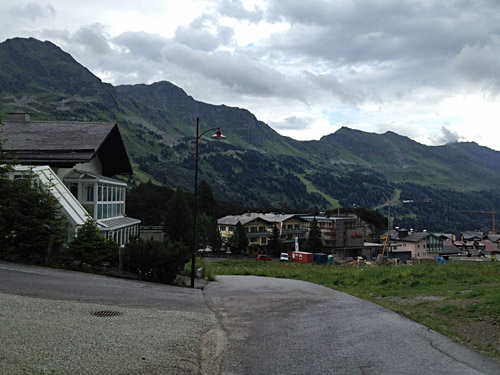 I explored a little this time how high one could get above the pass on the asphalt roads at the ski resort/farmland up here. Not having studied the roads before, I only went up on the nearby Panoramastrasse to 1772m, but the Seekarstrasse seems to go up on asphalt to 2000m (not sure). Here looking back from the Panoramastrasse.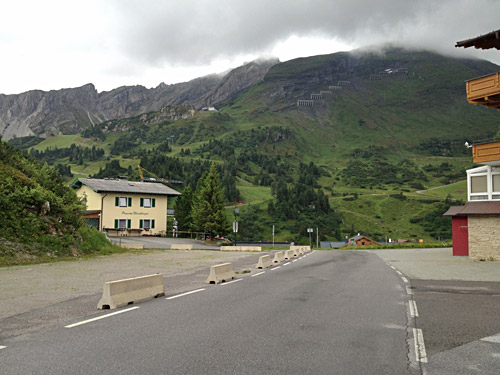 Went down to take some more photos.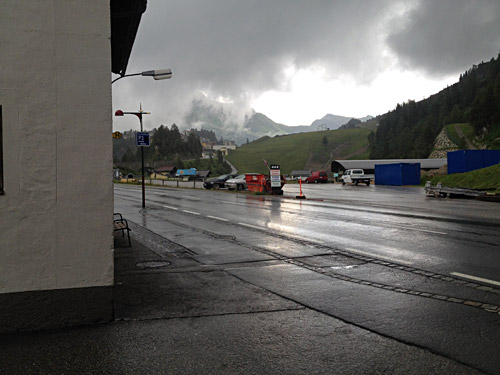 But as I started on my way down the north side I only came a few hundred metres before the rain came down and it was best to take cover for a while. The rain stopped soon again and I continued slowly down not to get more wet than necessary and down at Radstadt it was dry again, but still gloomy weather.
It all went fine for a while and I started out on the nice and somewhat narrow road up from Bischofshofen (552m) toward the Dientner Sattel, but I was going to turn off in Mühlbach am Hochkönig (837m).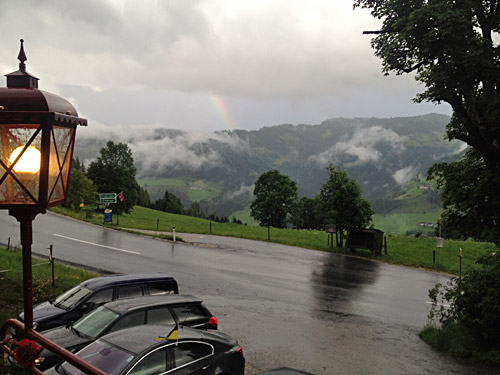 As I turned off I only came a short way before it started to rain again and decided that it might be a good idea to have dinner now and then not having to worry about that later, so I stopped by a nice hotel and had a wienerschnitzel, beer and guess also an apfelstrudel. The rain just continued but eventually it almost stopped and I got out and went up to Arthurhaus (1504m) (a BIG climb), which is a bit steep through a long straight alley at the end up to the restaurant/hotel. Here at the hotel I stopped for dinner.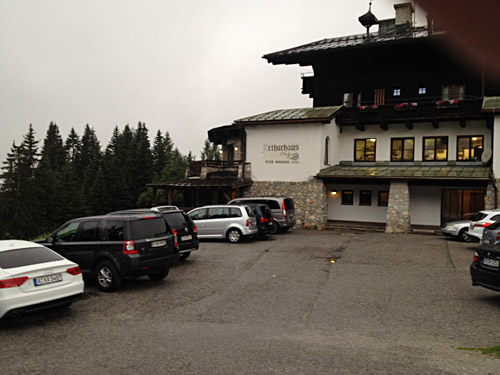 Here I am at the Arthurhaus on the way down actually.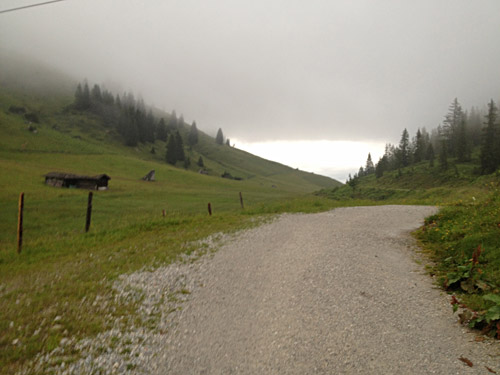 I had noticed there was an easy to reach pass just above the Arthurhaus, and even if it was wet and gravel, the gravel road was easy enough to use up to the pass as it was close to flat and not long. Here at the Mitterbergsattel (1520m) and it looks a bit better with the weather down where I came from, but had to return back now.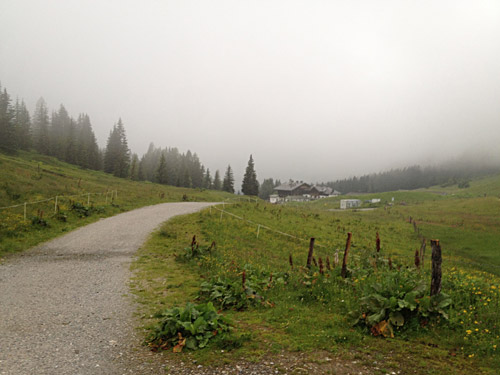 You see here how near the Arthurhaus is, so an an easy extra pass for the pass collector. A man working in the kitchen came out looking a bit like seeing another hopeless cyclist … .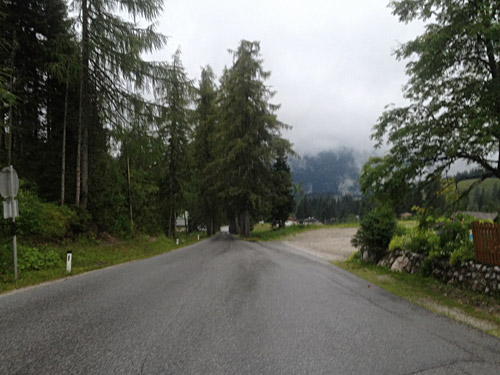 Here also a view of the steep final ramp up through the straight alley – very unusual ending of a climb. It started to rain more again as I descended, but tried to continue. However not seeing any cheaper hotel and noticing the forest ahead at the edge of Mühlbach looked very dark, I stopped at the last place which was a more modest, but good hotel and spent tghe night there. It was likely a good idea as I do not think there would have been any other place to stay at before the next pass. So a little shorter day this day.