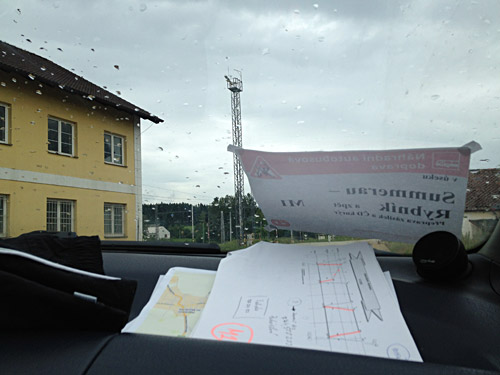 This day was mostly a train riding day. I went up early, but not too terrible with the little sleep as I knew it would be an easy day. Got down to the train station in Prague and got a ticket straight south down to Amstetten in Austria. It was a long ride with some surprises. It started fine and was sharing a compartment with a Chinese family on vacation in Europe. They were quite well off (the daughter had a new iPhone and they had good jobs in Shanghai, I think it was). They thought Europeans would have to focus on the tourism business for the Chinese now when they had become better off economically.
Then later on the train was not running all the way so the few passengers continuing the last stretch south in Czechia would have to change to a bus in Rybník to get to Summerau in Austria. I got to ride in a car that took my bicycle also as they had no place in the bus for the bicycle. Felt a bit spoiled that way – they would never have been that considerate in Sweden, that is for certain.
After changing train in Austria, I came to Amstetten in the late afternoon and eventually got on my way to the foothills of the Alps just south of here. First arrived in Waidhofen an der Ybbs and here the Alps starts coming from the north here. There was only time a for small climb this day over the Grosse Kripp (696m) pass – a nice short and steep little climb on a narrow road. One takes off the main road in Opponitz, where I think I bought a tooth brush.
The I continued up to Lassing where I was supposed to do the main climb I was interested in doing in the area, but it was a bit too late to start out on that this evening now, so instead tried to find a place to stay at for the night and there was a nice looking hotel, but it looked a bit expensive so I continued down the other side of the unnamed pass in Lassing and found a bed breakfast (Bauernhof Familie Buder) just a bit down there and it was a nice place to stay at. There was one other earlier hotel in Lassing also a little less expensive (I think I asked there), but this was likely the best deal. I went back up to the nice 4-star hotel later for a dinner though and likely had a wienerschnitzel … . The day ended well and I was now in the Alps again!