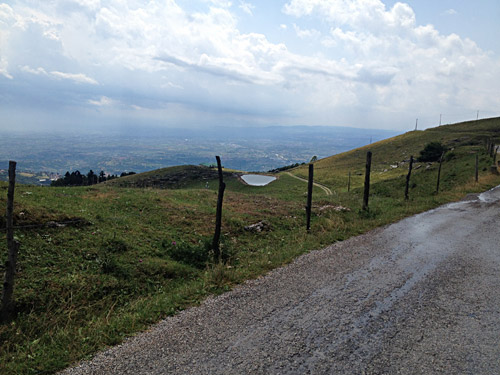 The road up toward Asiago from Bassano del Grappa is quite a nice road. The weather was fine at start, but it got more cloudy soon after I got on my way. Just as you reach the Bocchetta Galgi (pass and locality) a road takes off to the left to follow the edge of the mountain. One has increasingly good views from this road on the way west here, as seen in the photo here.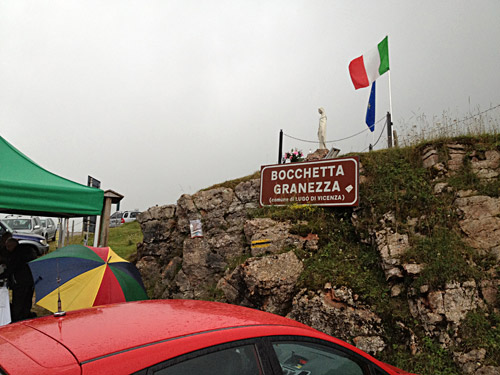 The destination here was the Bocchetta Granezza (1271m) and got a photo of the pass sign. Just after taking the photo it started to rain and I went down to the nearby restaurant to have an early lunch at Baita Monte Corno. Had a big pasta dish (took time as there were many people here) and waited out the rain.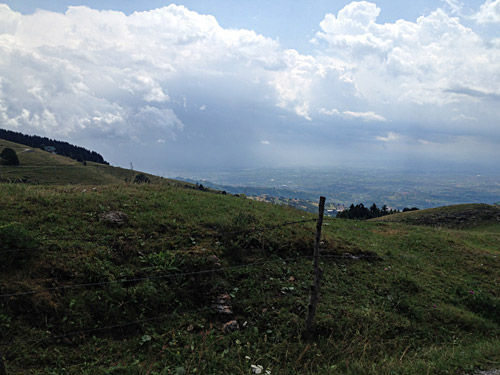 Here is a last photo back from Bocchetta Granezza before the rain. The bad thing with the rain was that I knew there would be a stretch of gravel to get back to the main road to Asiago from here, but luckily the gravel road was compact enough and was no big problem and soon I was on the good asphalt road again.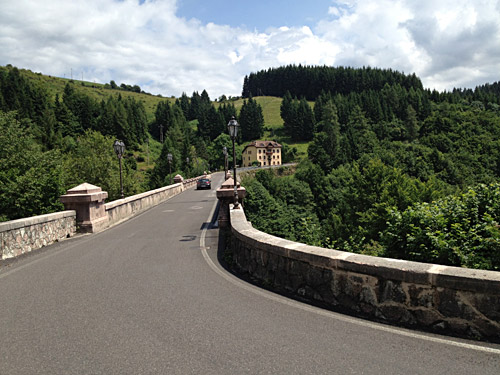 The weather soon improved again and I went through Asiago and found my way (really had to look on the map) to Roana and here is the nice bridge, Ponte di Roana (934m), over to Roana.
I was again out hunting for high passes and had noticed the Bocchetta Campolongo (1534m) up here on the road to Albergo Verenetta (1654m). The climb starts in Mezzaselva (1002m) after a 10m descent. The road is actually quite steep up to the Bocchetta Campolongo, but not very steep. It is a nice road, but mostly through the forest. The pass itself is extremely vague and possibly it could have been confused with a pass on the road to the left (to Rifugio Campolongo) after the pass, which has no name, but it is in the same area so whatever.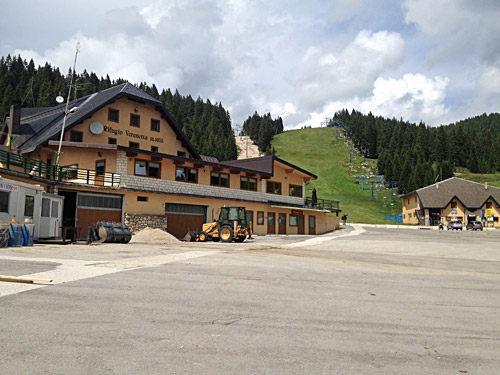 I continued straight ahead and the road is unevenly steep up to the turn-off for Albergo Verenetta and this turn-off marks the most pronounced pass along this road, but still it has no official pass name, but I call it (Passo di) Casara di Campovecchio (1593m). The side road to Albergo Verenetta (1654m) is moderately steep and short, but it is the highest asphalted point in this part of the Asiago plateau (and possibly anywhere on the plateau when I think of it).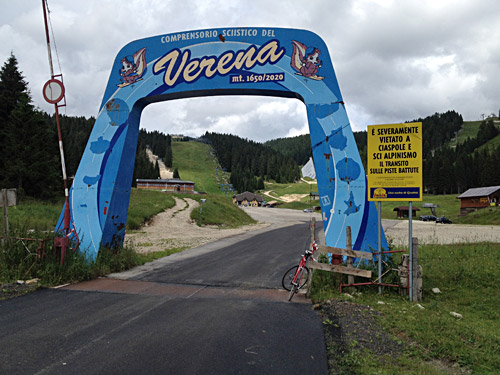 Still the views up here are rather poor and hence it is not such a popular destination for road cyclists and unless travelling a distance on gravel, one has to return back down the same way as I did.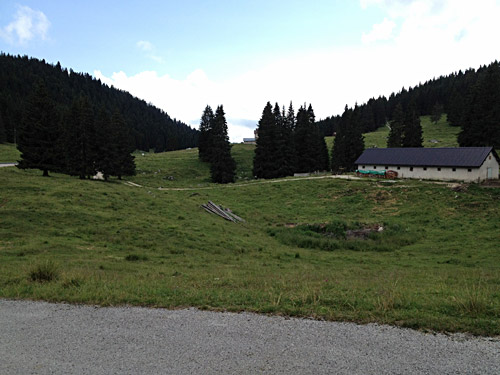 This is the (Passo di) Casara di Campovecchio. I went down a little on the other side where the road continues nicely on asphalt, but it turns to gravel a bit before reaching the Trentino/Alto Adige border further ahead (asphalt returns before one reaches Passo Vezzena though).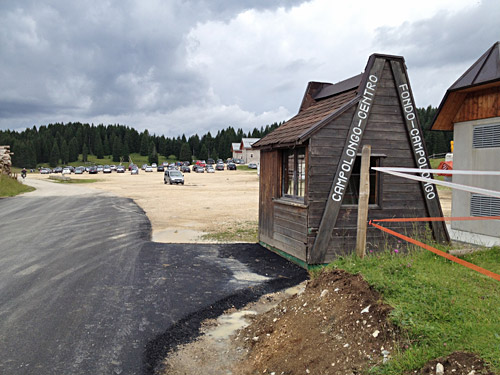 Here I went in a bit on the road to Rifugio Campolongo, but it turns to gravel at the big parking lot here.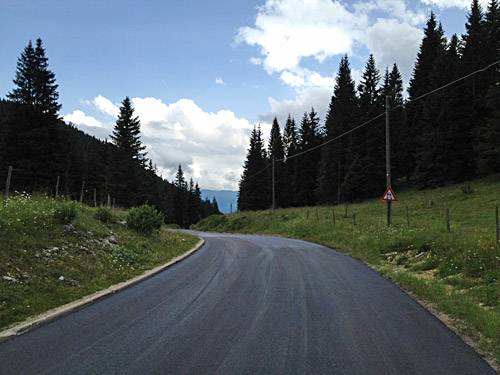 Then a photo at the actual Bocchetta Campolongo where the road was just newly asphalted and it looked as though they had taken down the pass sign as two iron tubes stood up without a sign here on the side of the road. There are two alternatives roads up here from the road below and now I took the one that one would take if coming up from Pedescala (311m), from where it would be quite a climb up to Albergo Verenetta with over 1300 height metres!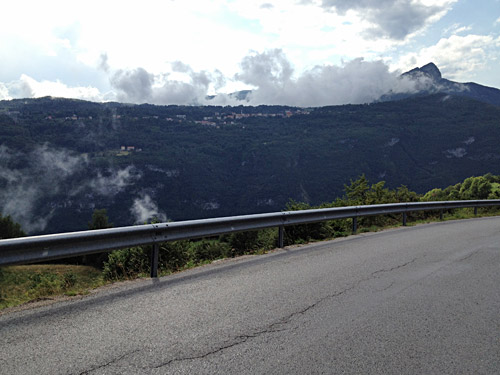 On the way down to Pedescala I took this photo over the valley to Tonezza on the other side where I was going now.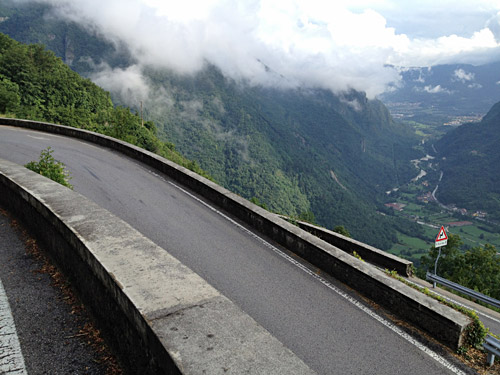 First some delicious serpentines down and some young car drivers came down driving like it was a rally competition, but no problem.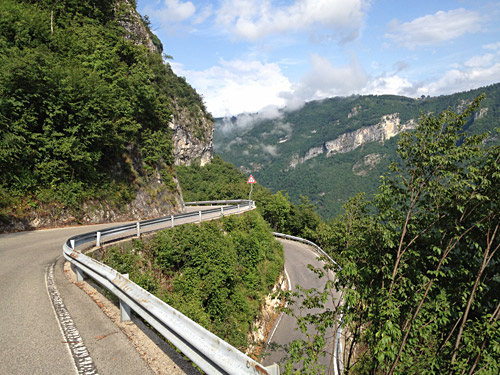 Another view.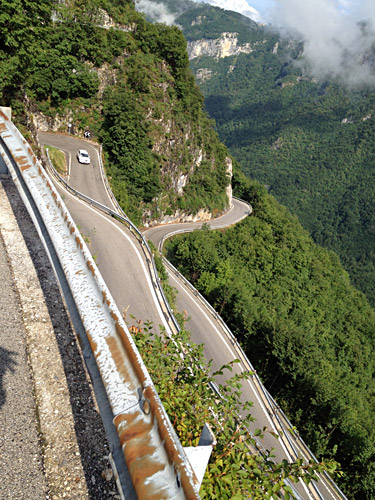 And here you see the car driving in very high speed down here.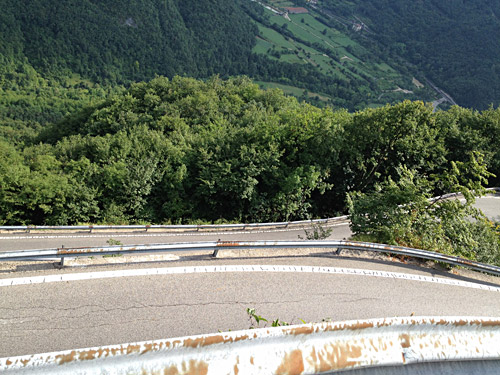 Seems I was fascinated by the serpentines, so yet another photo here. Would be nice climbing up here, but it is not very steep.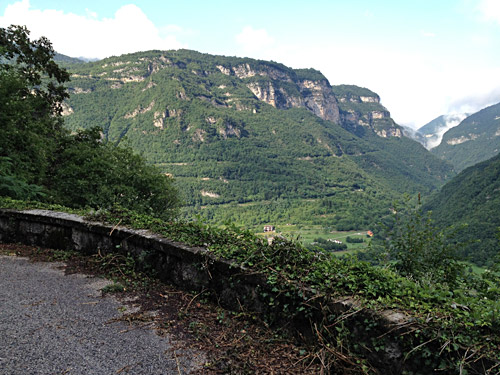 Eventually I was down to Pedescala and went down the main road just a little to Barcarola (303m) where I after some guessing found the road I had found out about going up in numbered hairpins to Tonezza on a very nice and little used road that few seems to know about (but sure the local cyclists knows of it). This is really the most interesting road anywhere near here to climb! It is not steep, but a very narrow road and also in good shape. It is not signposted for at all in Barcarola, so you have to guess it. It is also hardly not visible in satellite images, nor in google street view, unless you know where to look for where it comes up to the main road.
Here is a view back to the serpentines I had descended not long ago.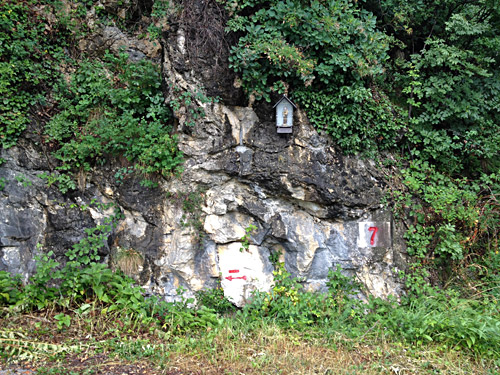 Here is one of the hairpins numbered nicely (a bit like the serpentines on the much steeper Rionda climb in Switzerland).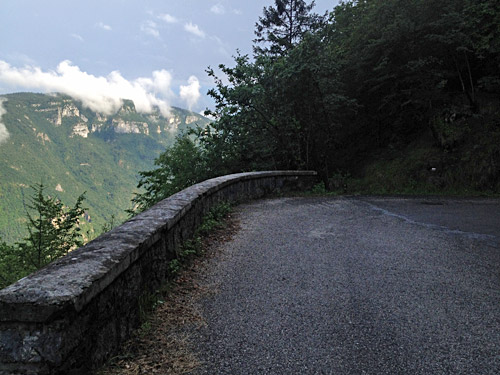 A very lonely road but with some good views.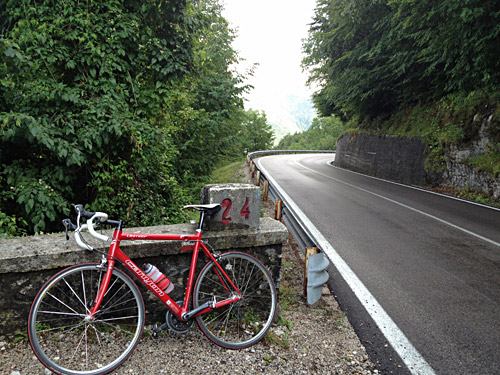 Here I finally got up to the main road from Arsiero at turn number 24!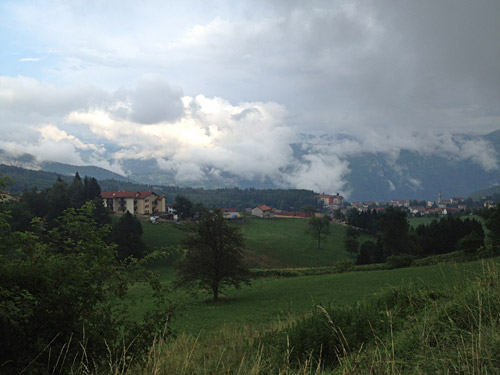 At Tonezza I took the more direct road up through the upper parts of Tonezza. Above Tonezza one comes to a restaurant and a turn-off for a road that is often closed, but it is normally passable with a bicycle. I went up this way as I on my previous visit thought that it maybe was sort of closed, but having learnt that closed does not always mean that it is closed in Italy.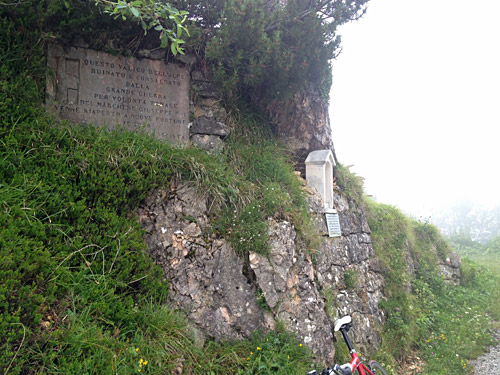 It was a bit steep and now the long climb started to feel in my legs so it got a bit hard for me, but up I came to Passo della Vena di Sotto (1496m) with a dedication to the fascists that built the road. Now it was quite cloudy and not so warm again.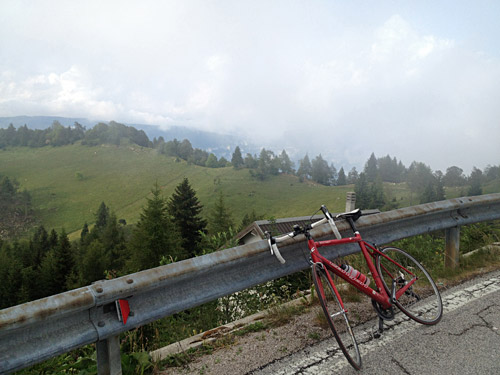 I continued up to Passo della Vena di Sopra (1545m) where I went the previous time from the main road back and forth. Then on the main road again, I was not going up to Valico di Valbona (1781m) like last time, but it would have been a really nice climb if going up there and all the way to Monte Toraro (1890m), which is one of the longest climbs in all of the Alps!
The photo here is out on the main road while I still had some visibility on the way to Passo del Sommo (1342m) which is a pass I have visited several times now and a pass hard to escape in the area. Surprisingly boring given the nice area otherwise. This way I now took is fairly easy, but long and it was cold this day.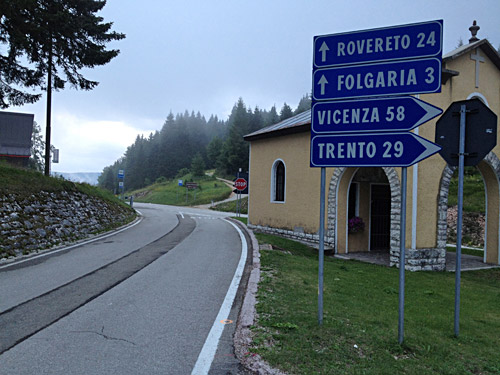 Here at Passo del Sommo, not looking so bad perhaps. Then I went down to (Sella di) Carbonare (1072m) and arguably a pass as well as a village as any pass one could think of. Then north down over Valico della Fricca/Passo de la Frica (1110m), which might be debated as a pass as it is a bit unclear and maybe one should take it as the high point of the road over the Carbonare pass really.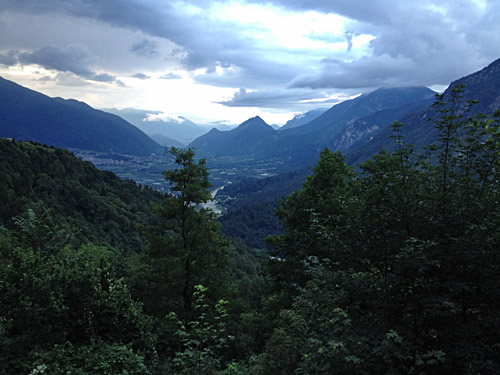 The photo here was taken on the way down from Carbonare/Fricca to Vattaro and it was now a nice evening, looking down over the Valsugana.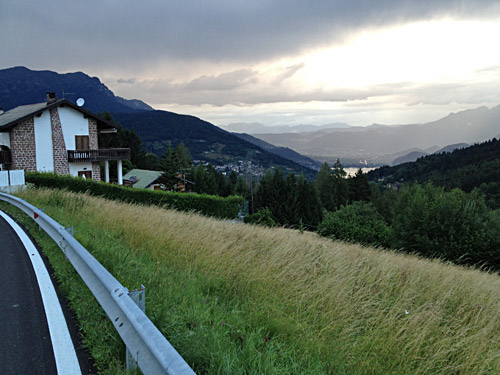 Here a last photo just above Vattaro and then I stopped for the night at one of the first hotels ahead. It was cheap and good, but nothing special. A very shifting day. I was still hoping for a more reliable weather.