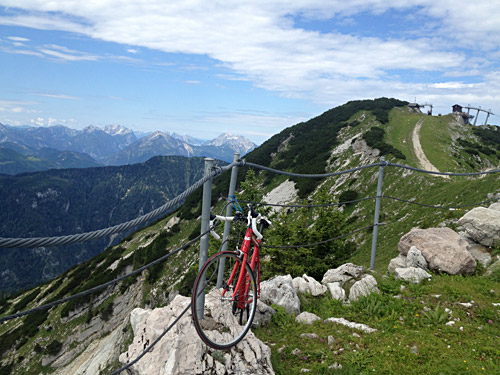 After breakfast it was time to get out cycling and the weather was great this day. Back up to Lassing and then there is a small road going to Hochkar and the Geischlägerhaus (1769m). This is quite certainly the most impressive climb in this part of the Alps. The climb starts at 683m height and ends by the Geischlägerhaus (1769m) almost 1086 height metres later after 11 km at 9.9% steepness on average, but the road is not so steep until one comes up to the ski station, but from there it gets very steep, only a shorts steep ramp first and then an easy section, but the last part is very steep at up to 19% or so on a very narrow road to the top.
The views from the top are outstanding and the whole area above the ski station is very nice.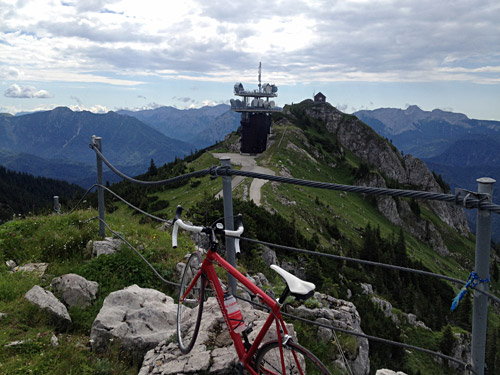 Took several photos in every direction. Wish I had had a better camera.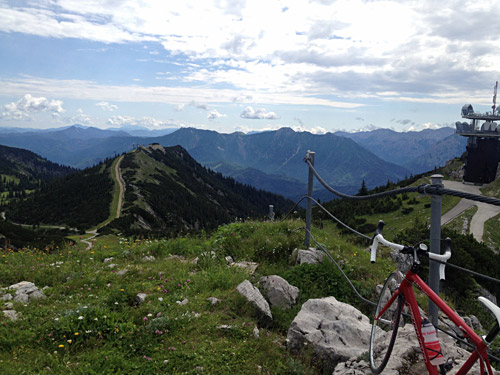 Here you see the road coming up and how it climbs the ridge.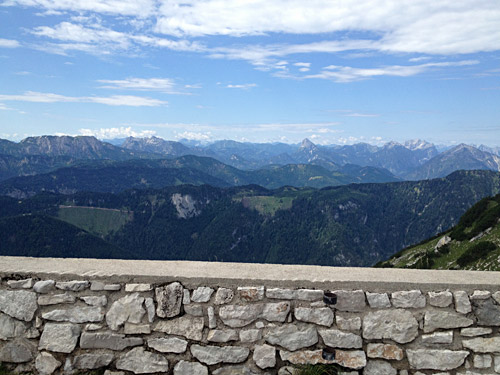 Mountains as far as you can see into the Alps. The area really gives a sense of the expanse of the Alps, knowing it is more commonly associated with far westward areas you cannot even see from here.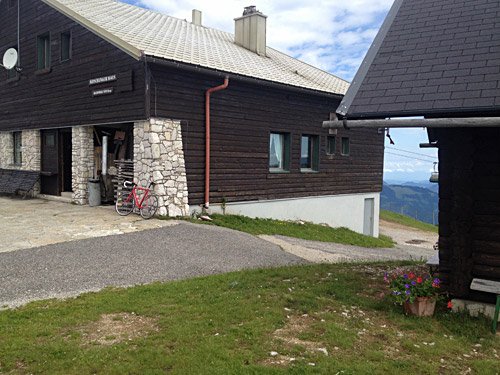 The Geischlägerhaus itself with a sign saying 1770m.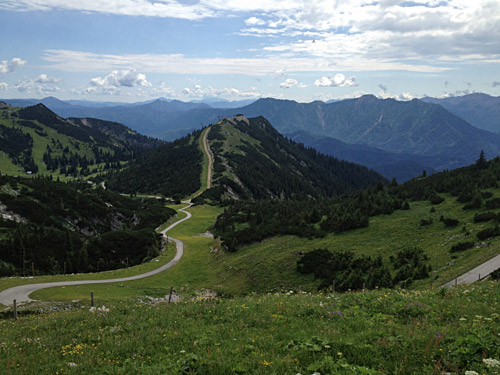 Another view on the way down.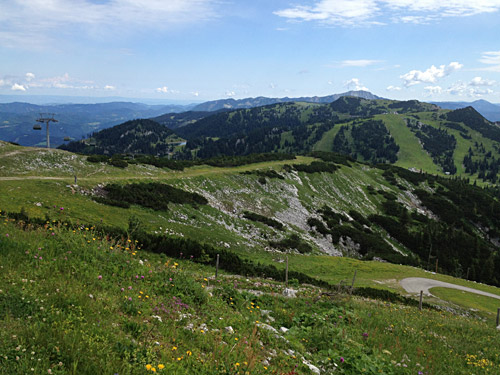 A view to the north and no higher mountains seen there.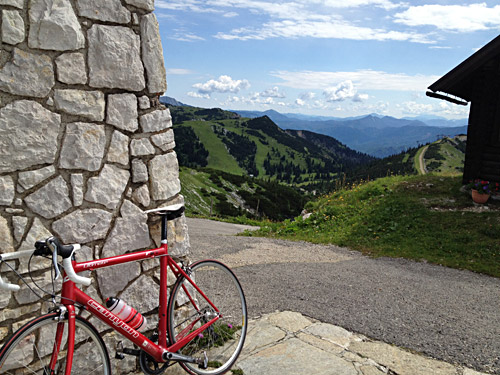 This is where you come up.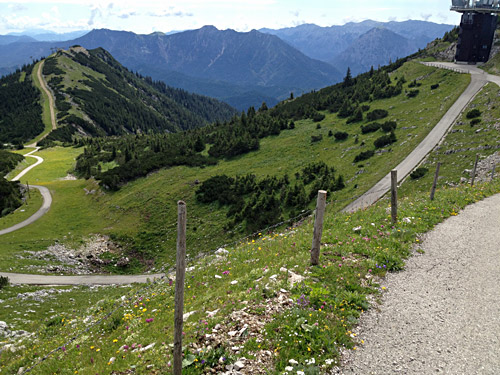 Trying to show the steepness of the serpentines up here, but not quite clear in the photo.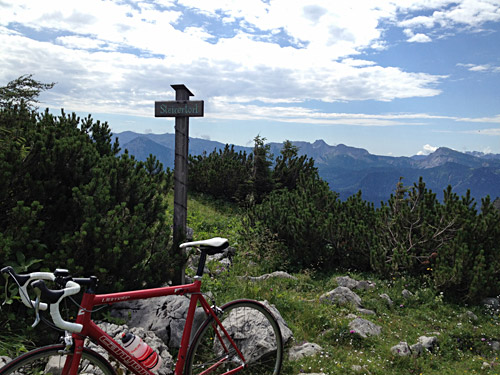 There is a sign for a pass on the way up: Steirertörl (1673m), seen here on the last photo before going down and continuing.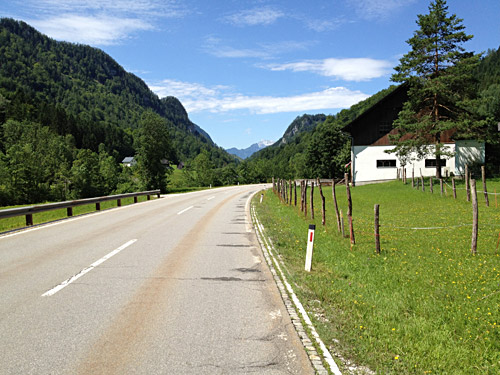 Crossing south into Steiermark/Styria on the nice main road. Would have wanted to take the lonely Wildalpen road, but guess I have to explore more the very northeastern corner of the Alps up to Wien/Vienna another time (really the only area that I have not been to now, but there are mostly pre-Alps type of mountains there).
I here took the little road over Radstatthöhe (637m) (not much of a pass, but a small one it is).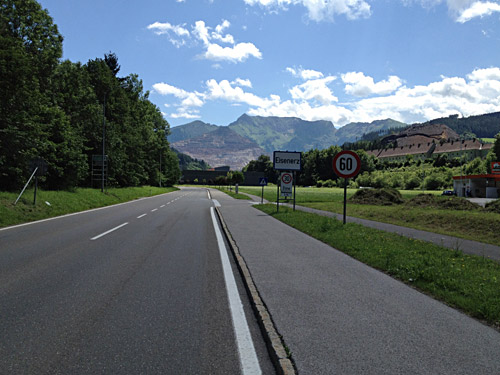 I arrived in the photo here at a little different place, the Eisenerz village with a long iron mining history and it is obvious at a look even from a distance. The village gained importance during the first and second world war when steel was in high demand.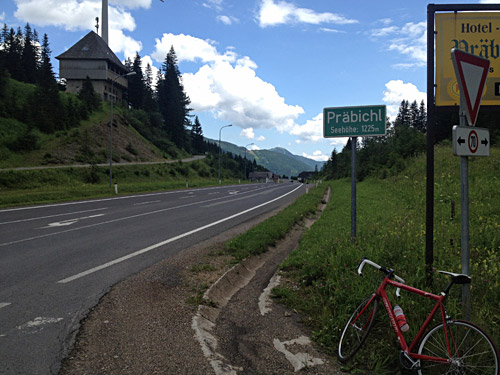 The village and the Präbichl (1226m) pass also has an infamous history as 200 Hungarian starved jews in 1945 were killed in a death march up this pass by people from Eisenerz (12 were sentenced to death in a trial in 1946). There is a monument at the pass. The pass is not a hard climb from Eisenerz by bicycle.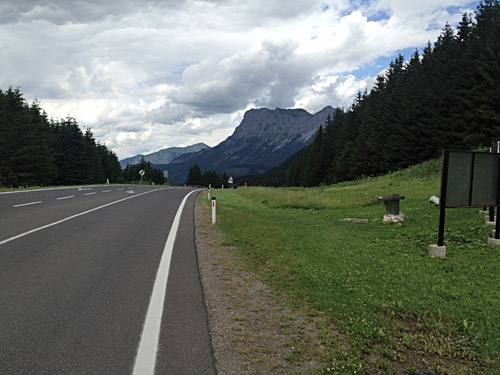 Looking south.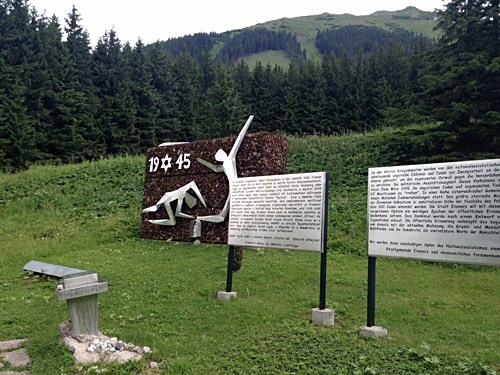 Here the monument to the killed jews.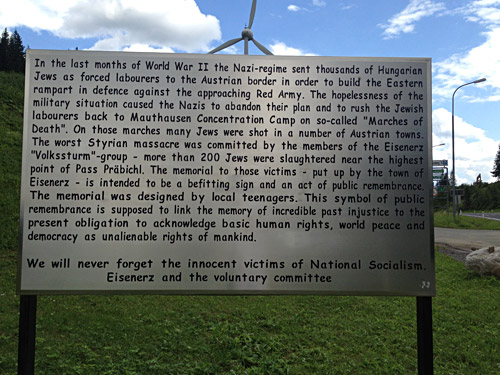 And the history described at the site.
Then I got down to Leoben and close to as far east in the Alps I have ever been (it is slightly more to the east down at Deutschlandsberg). I was stopping at an ordinary café to have a coffee and a cake and it was a welcome stop on this rather long day.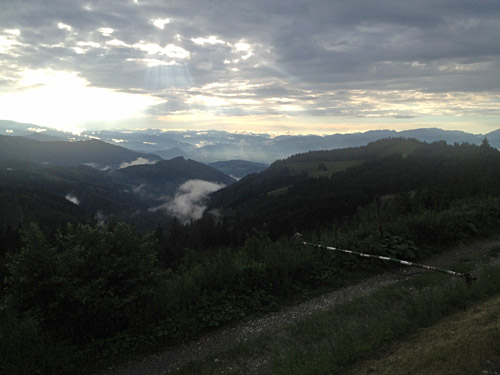 Next up was the climb via Großlobming (644m) and Kleinlobming (756m) and a steep road up to the ridge road at Birkerhöhe (1083m) from where it continues rather steep but irregularly to the Gaberl (1547m) pass. I continued up to the highest asphalted point here at Plankogel (1598m) for close to a 1000m climb again (from the south it is over 1000m, but not so steep I think).
Very nice light this late afternoon and evening.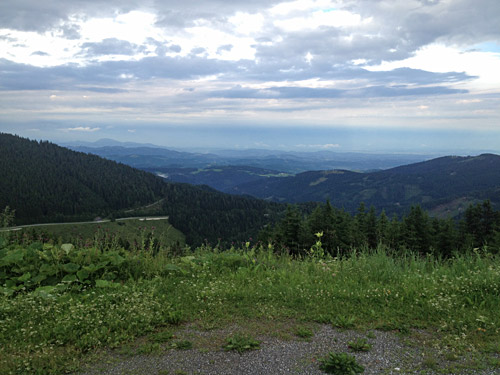 It was well worth to climb to Plankogel since there you get much better views all around. Here looking south.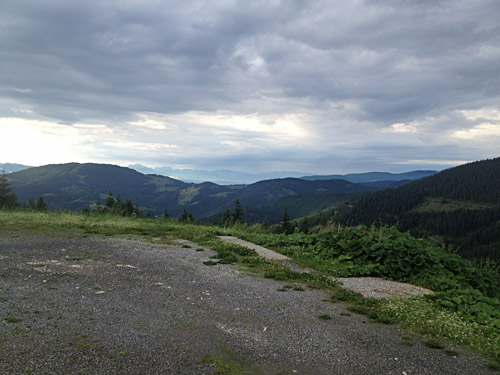 Here I believe I was looking north.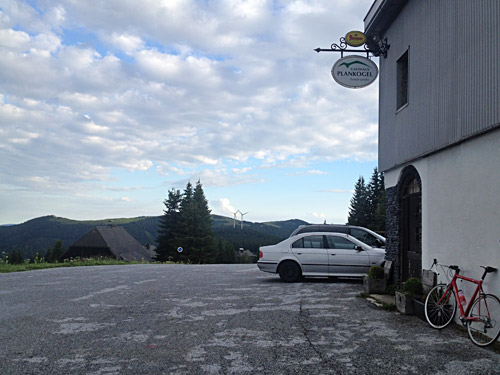 And here the sign and looking west as it must be.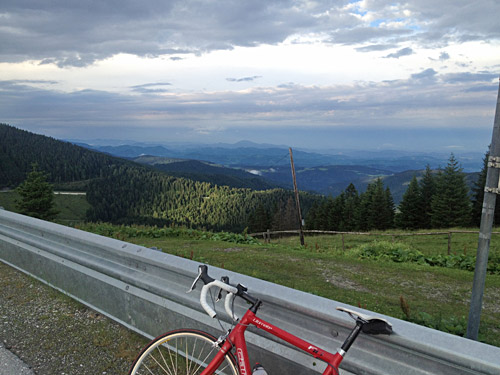 Views down by the Gaberl looking south are good too.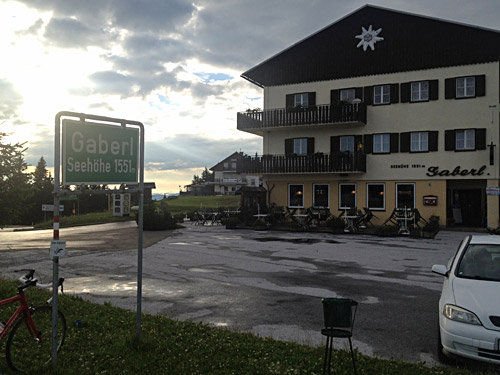 And the pass sign before leaving and going down the same way I came up, but now following the ridge road all the way down.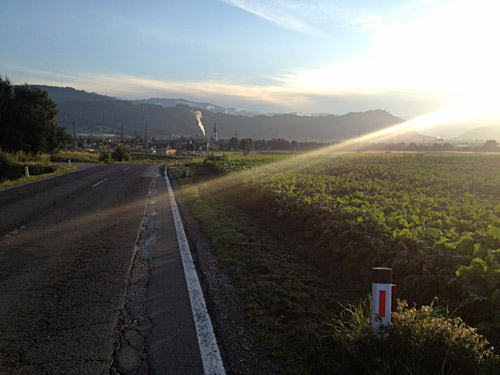 The photo here I took after coming down from the Gaberl and starting out on the road west with Weisskirchen church and industry in view in magic light – might be my favourite photo that year.
I continued on to Judenburg, but decided it was to early to look for lodging, but soon it should be time. I got out and continued on the road over Pöls(hals) (815m) toward Hohentauern, but turned off at Oberzeiring. I started to look after places to stay at on the way here, but most were closed and hoped to find a good place in Oberzeiring, but did not find anything obvious there either so even though the dark was arriving soon I decided to continue. I had thought about climbing up to Klosterneuburger Hütte (1878m), because I thought there is a high pass along that road and later in 2015 had to take a long detour on my Summer tour to get back here again and climb that road, but could then also enjoy some other climbs north of here.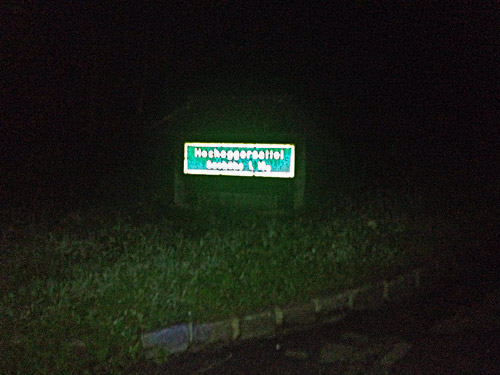 After quite some time in the evening the houses got sparse and no lodging in sight and it got very dark as I reached the Hochegger-Sattel (1328m) and almost impossible to see the sign and likewise impossible to make it readable in Photoshop later on … (it says Hocheggersattel Seehöhe 1318m).
I turned right after the pass as it looked like more buildings there and the first house looked like a gasthaus, but was not, so I continued down on a very dark narrow road (and had a car overtake me) down to Oberwölz where I was lucky to find a good hotel not too expensive where I got bed & breakfast. Managed to find an open pub later and got a micro-oven made pizza, but that was clearly better than nothing this evening.